Fun and easy to make, these grain-free waffle cones and bowls are the perfect accompaniment to ice cream or frozen yogurt. They're perfect for parties and kids love being able to make them.
This time of year, in the heat of the summer, there isn't much that appeals to me more than ice cream or sorbet. I've been experimenting with making different types of frozen desserts, and I'll share some of my favorites with you soon, but meanwhile, I'm really excited to share with you my latest success.
I was actually quite surprised to find how easy it is to make your own waffle cones and bowls.
I have been making them homemade for several years now after investing in an inexpensive pizzelle iron for making thin cookies and ice cream cones. It is possible to make them even without the iron, though. I have seen many people online make them with a panini grill, and others who make them in either a skillet or an oven. (You can see some ideas for how to make them in my post about making fortune cookies as the process is basically the same.)
I will say that the grill makes it much easier because it presses your mixture into just the right thickness for perfect ice cream cones. It also cooks them evenly all over and on both sides.
While eliminating gluten from my diet, I was a bit sad when I saw my grill, thinking I could no longer make ice cream cones…
Or could I?!?
Making gluten-free and grain-free waffle cones and bowls
I was thinking back to some incredibly tasty grain-free waffles that I had tried making after reading about them on a friend's blog, Health Starts in the Kitchen. If you haven't tried her grain free waffles, I highly recommend them. Not only are they great freshly made, but you can freeze them and heat them up in your toaster or your oven for a quick breakfast or snack (or dessert).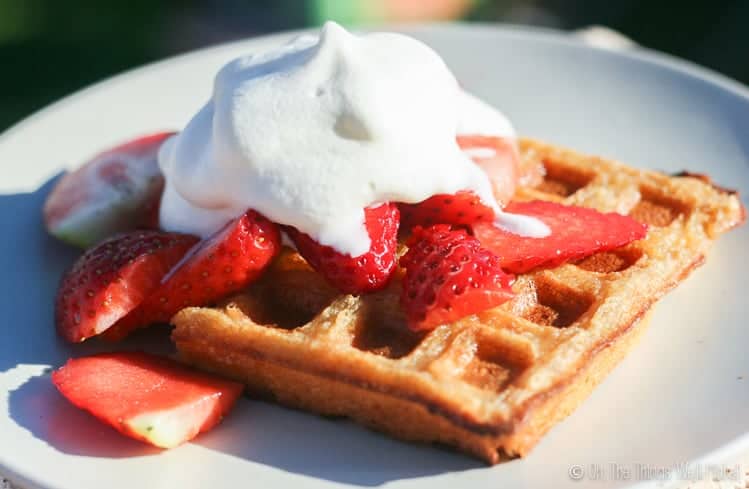 I realized that grain free waffles are just as good as their traditional counterparts. In fact, they may even be better.
That inspired me to give making grain-free waffle cones a try. Looking at my iron, I couldn't help but wonder if I could come up with a similar recipe that would result in tasty, crispy, grain-free waffle cones.
Lucky for all of us, not only was I able to come up with a recipe, but it worked out magically. They are absolutely delicious and better than the waffle cones that you'd buy at the store. (Plus, you can save yourself a bit of money by making them yourself.)
After a bit of trial and error, I came up with a recipe that consistently works well with my iron. I haven't tried making them in my oven or in a skillet, though, so I'm not sure how it would turn out using those. If I try it and get it to work, I will update this post to share how I did it.
Grain Free Waffle Cones and Bowls
Craving more?
Subscribe to my newsletter for the latest recipes and tutorials!
Grain Free Ice Cream Cones
Fun and easy to make, these grain-free waffle cones and bowls are the perfect accompaniment to ice cream or frozen yogurt.
Print
Pin
Rate
Servings:
8
cones or bowls
Instructions
Preheat pizzelle iron.

Combine all of the ingredients together until well combined

Spoon a small amount of the mix onto the hot iron, and close. I used a heaping soup spoon full of the mixture, and that was perfect for a larger sized cone. Experiment with your iron, to see how much to use for the size cones you want to make.

Close the iron and wait at least a minute or two before opening it to peek at how your cones are looking.

After the minute has passed, you can start to occasionally open the iron and check for doneness. You need the cookie to start to brown. If you take it out of the iron before it browns, the cone will not hold its shape. On the other hand, you don't want it to burn.

Remove the browned cookie from the iron, and immediately, while still hot, roll into a cone shape. You can use a special cone shaper, or make your own cone shape from thin cardboard or some other material. The cookie will start to harden as is cools, so if you wait too long, it will become too brittle to form.

If you want to make waffle bowls rather than cones, place the cookie into a cup that's about the width you want your bowl to be. While still hot, carefully press a smaller cup into it to help shape it.

Keep your cookie in position until it cools. Once cool, it will have hardened and will hold its shape. (Meanwhile, you can begin to cook another cookie.)

Sometimes, you may find that either you haven't rolled it up tight enough, or part of the tip of the cone stays open for some reason or another.

If you are worried about the cone leaking, you can either drizzle some chocolate into the bottom of the cone, or you can dip the tips of the cones into melted chocolate.

Allow the chocolate to harden up before filling the cone with ice cream. (You can speed up the process by placing the cones in the fridge.)

Use immediately or store in an airtight container. See other storing suggestions below.
Serving:
1
cone or bowl
|
Calories:
185
kcal
|
Carbohydrates:
11
g
|
Protein:
2
g
|
Fat:
15
g
|
Saturated Fat:
6
g
|
Cholesterol:
49
mg
|
Sodium:
80
mg
|
Potassium:
13
mg
|
Sugar:
3
g
|
Vitamin A:
140
IU
|
Calcium:
28
mg
|
Iron:
0.5
mg
How should you store these homemade waffle cones and bowls?
The most important thing for storing these is to keep them away from excess moisture or they will get soggy and lose the crispness that makes them so delicious. You'll want to store them in some sort of airtight container to keep humidity out. Even then, though, you'll want to use them pretty quickly so that they will be at their freshest.
I left a few out on the kitchen counter, and the next day they had absorbed enough humidity to completely lose their shape. If that happens, you can try reheating them and shaping them again to save them.
Surprisingly, that very same day, the few that had left in the fridge, where I had placed them to harden up the chocolate into which I had dipped the points, were as good as new, despite me not having covered them or done anything special to try to keep them dry.
Freezing your homemade waffle cones
I also tried storing a couple in the freezer in a baggie. I immediately filled them with ice cream after taking them out of the freezer, and they were good too. So, freezing does appear to be a valid way of storing your homemade cones for longer than a day or two.
One thing that I haven't tried yet, but that I think may work well…
I'm thinking you could also make pre-filled cones to store in your freezer for quick and easy serving. If I were to do it, I would drizzle some chocolate into the cone first, to prevent the cones from getting soggy from the ice cream. If anybody does try it, I'd love to hear a comment about how it works!
So, were these grain-free waffle cones as good as traditional ones?
I really didn't find there to be much of a difference between these grain-free waffle cones and other homemade waffle cones. I think they're absolutely delicious and much better than anything you'd buy at the store.
As for the rest of the family?
I expected my son to love them, and I was right. He has been obsessed with the idea of eating ice cream out of a cone after seeing ice cream cones in books and movies. I have been trying to keep his intake of gluten down, too, after suspecting that it may be one of the aggravators of his atopic dermatitis, so these are great. He really loved seeing that something like this could actually be made at home.
What surprised me, though, is that even my husband loved them. He normally hates any recipes made with almond flour, and yet he was asking if there were any more ice cream cones left the next day!
So, whether or not you are looking to take grains out of your diet, I think you should give these a try. They're the real deal!