Ditch the processed candy this Halloween with these fun Halloween inspired food ideas for kids.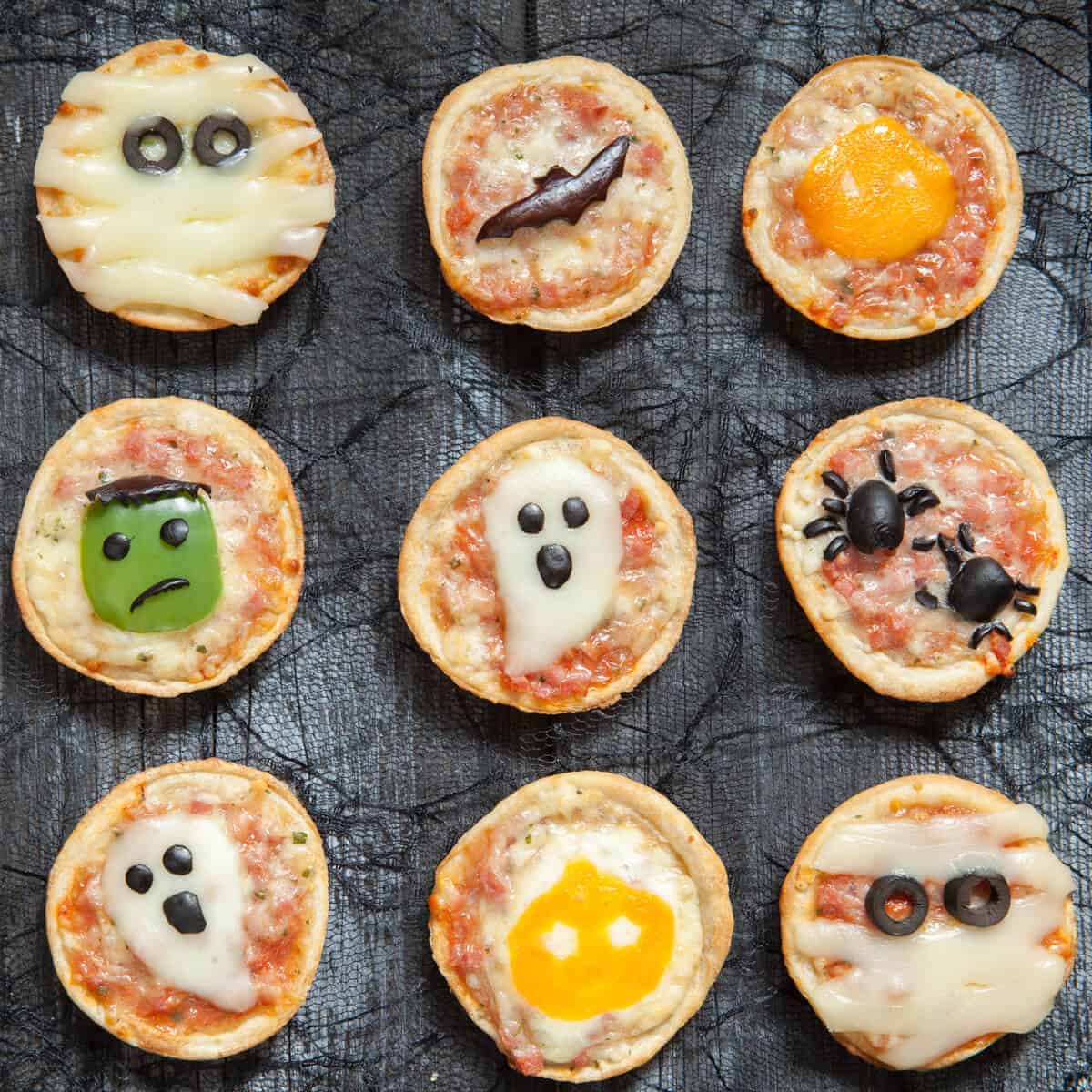 I have always loved Halloween and Halloween parties.
Let's face it: Halloween is fun! It's an excuse to dress up and be somebody different for a day! No matter who you are during the rest of the year, on Halloween you can be Superman. Or a princess. ? Or a cowboy. ? Or be yourself. Unless you can be Batman. ?Always be Batman. ?
As a kid, I carefully planned out my Halloween parties, trying to think up how to make fun Halloween inspired foods. From the fun and silly to the gory and gross, I have always loved Halloween treats.
What don't I love? The over-abundance of sugar at Halloween time. Even as a kid, I wasn't a fan. While I looked forward to trick-or-treating every year, every year my mom would throw out most of the candy that I had picked up the year before because I hadn't eaten it.
How to Make any Food fun for Halloween
When it comes to making fun Halloween foods, you just need to get a bit creative. Hopefully, I can give you some ideas that will get those creative juices flowing.
Just about any food can easily be turned into something that is Halloween themed. You just need to decide if you're looking to make something cute, something spooky, or something slightly gory.
Depending on your goals, there are a lot of fun Halloween themes that can easily be represented in food…
Cute Monster Foods
While monsters are supposed to be scary, movies like Monsters Inc. have changed our perception of them. Instead, they can be funny and cute. Younger kids especially tend to love monster inspired treats.
Mummies
Mummies can easily be made by either wrapping school lunch foods in paper, or using cheese strips to decorate foods like sandwiches and pizza.
Check out the cute paper-wrapped mummy in the bento school boxes above and the cheese "wrapped" mummy pizzas below…
Creepy Spider Snacks (and other creepy crawlies) ?
Haunted houses are almost always covered in lots of dust and spiderwebs. That's probably why spiders and spiderwebs end up decorating so many Halloween treats.
Spiders
You can easily make spiders out of black olives, or, if you're really short on time, you can decorate any party food plate with a few plastic spiders. ?
Spiderwebs
A couple of years ago, I showed you how easy it is to decorate a soup puree with a cute, spiderweb design. You can use the idea to decorate a variety of thick soups and dips.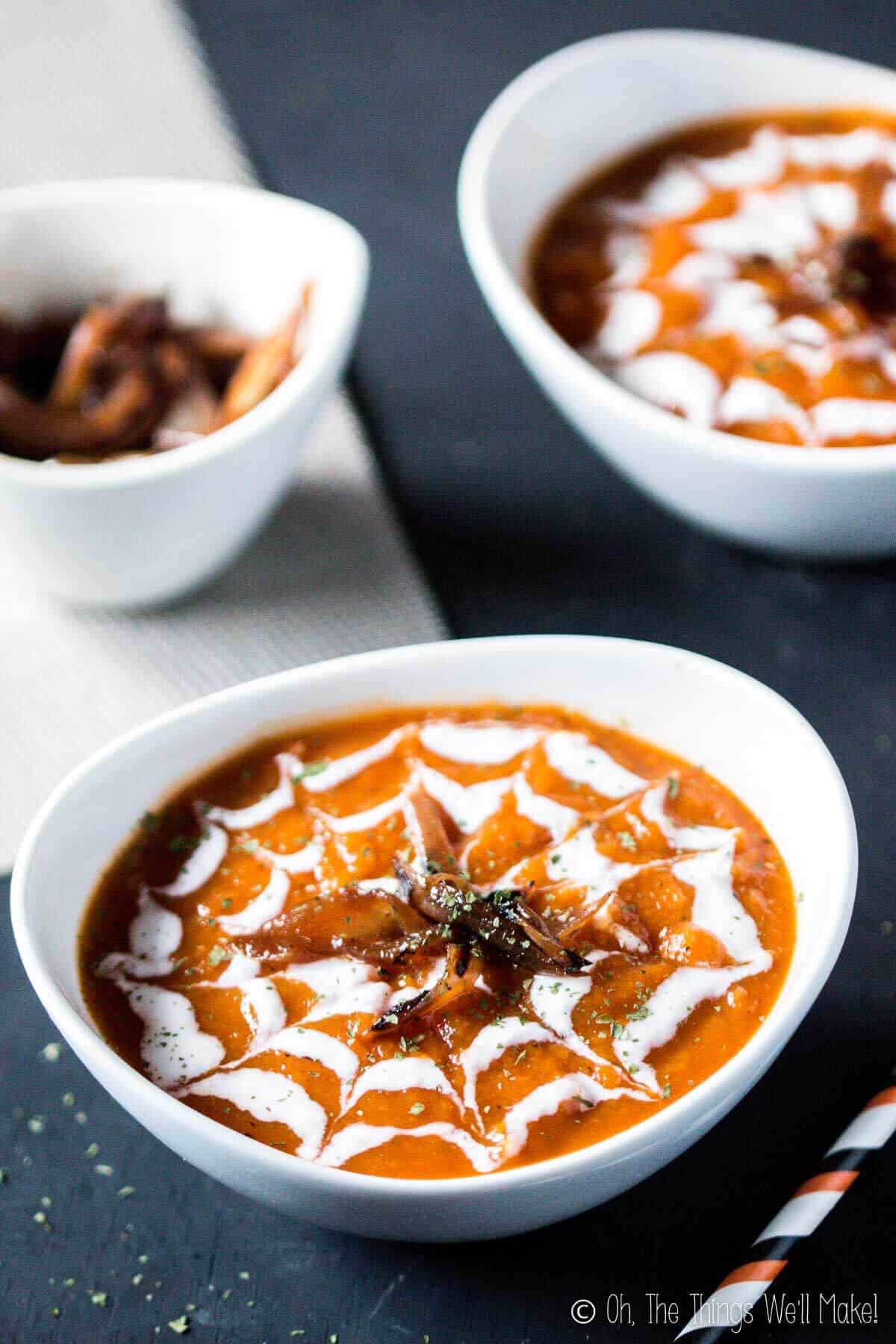 Find the tutorial with the recipe for a tasty roasted pumpkin soup with red peppers and caramelized onions.
Gummy worms and leeches
It isn't just about spiders and spiderwebs, though. The thought of eating worms and leeches can make anybody squirm. ?These gummy treats are fun and easy to make.
Jack-o-Lantern Fruits and Veggies
While the classic carved pumpkin ?is probably the most iconic symbol of Halloween, you don't have to stick to carving pumpkins (which most people never end up eating anyway).
You can either carve other fruits and veggies to look like a jack-o-lantern, or you can just decorate them with paper cutouts to give them their faces.
Hollow veggie and fruit jack-o-lanterns can be either filled with led candles or stuffed with other foods (like dips, pasta, or rice dishes).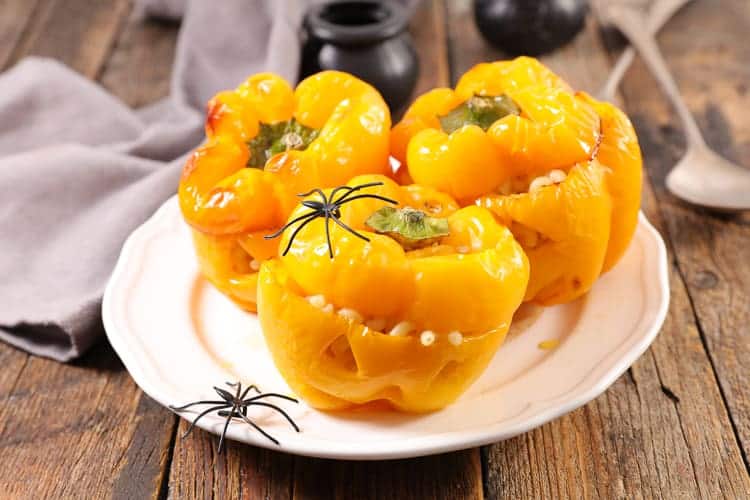 If you don't want to bother carving jack-o-lanterns, you can just use hollowed-out pumpkins as serving bowls or decorate your Halloween treats in pumpkin shapes.
These pumpkin-shaped gummy treats from Kristin at Live Simply use fruit and veggie juices for natural colors and flavors.
Gory Body Part Foods
Horror movies have probably been the main inspiration for so many gory Halloween party foods and activities.
I remember one specific Halloween party as a kid where we had to touch different foods blindfolded. We touched eyeballs ?(grapes), brains ? (jello), teeth (corn kernels), and "guts" ?(Spaghetti), and other slimy unknowns. It creeped us out, but it was a lot of fun!
Ketchup "Blood"
Something as simple as stabbing your food with a knife and letting it ooze ketchup blood instantly transforms it into fun Halloween fare!
Eyeballs
Eyeballs are probably the most commonly represented body part at Halloween.
I had fun making these spooktacular gummy eyeballs with coconut milk, fruit juice, and blueberries.
Other body part inspired Halloween foods
From pretzel bones to witch finger cookies, dismembered body parts find their way onto many a Halloween platter.
I played with the muscle look of proscuitto ham to make this eerie-looking antipasto platter.
Other Halloween food ideas
There are so many other designs that you can use based on witches, zombies, and other ghouls.
Tombstones and ghosts are other fun ideas to play with.
Think of old horror movies with Characters like Frankenstein or Dracula (or bats) to get even more inspiration…
You are only limited by your imagination!
Happy Halloween!
*This post was originally published on Oct. 12, 2014. It linked out to real food recipes and other Halloween party ideas on other blogs, many of which have since disappeared. It was completely rewritten in October 2019 to remove broken links and give new, fun ideas!