There's no need to rely on sugar-laden treats to get your kids excited about Halloween. Try these fun Halloween food ideas for kids!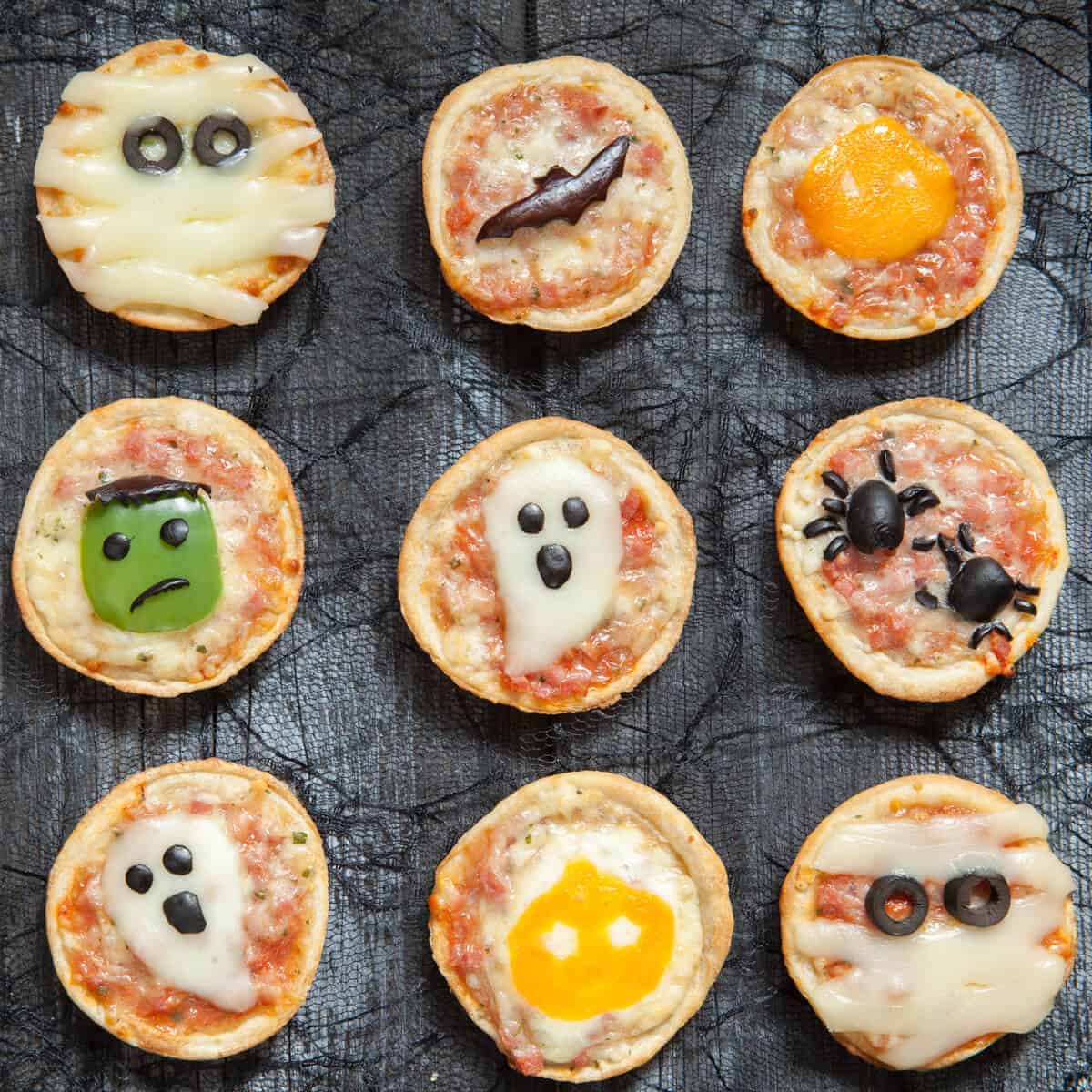 I have always loved Halloween and Halloween parties.
As a kid, I remember one Halloween party where we had to touch different foods blindfolded. We touched eyeballs (grapes), brains (jello), teeth (corn kernels), and "guts" (Spaghetti), and other slimy unknowns. It creeped us out, but it was a lot of fun!
I also enjoyed planning my own Halloween parties and thinking up all sorts of Halloween party food ideas. From the silly and spooky to the creepy and gross, I love it all.
What don't I love? The over-abundance of sugar associated with the holiday.
Halloween doesn't have to be about candy apples and candy corn. You can make fun, healthier snacks and meals or even healthier Halloween desserts. To make healthier Halloween treats, you just need to get a bit creative. Just about any food can be decorated in a way that makes it fun for the holiday.
One easy way to make foods fun for the holidays is to use Halloween cookie cutters to cut them to shape. That's how I made some fun-looking Halloween chicken nuggets for my son!
There are lots of other ways to make your food fun, though. You can make something cute, something spooky, or something slightly gory. Choose depending on the age of the kids and the type of party or occasion where it will be served.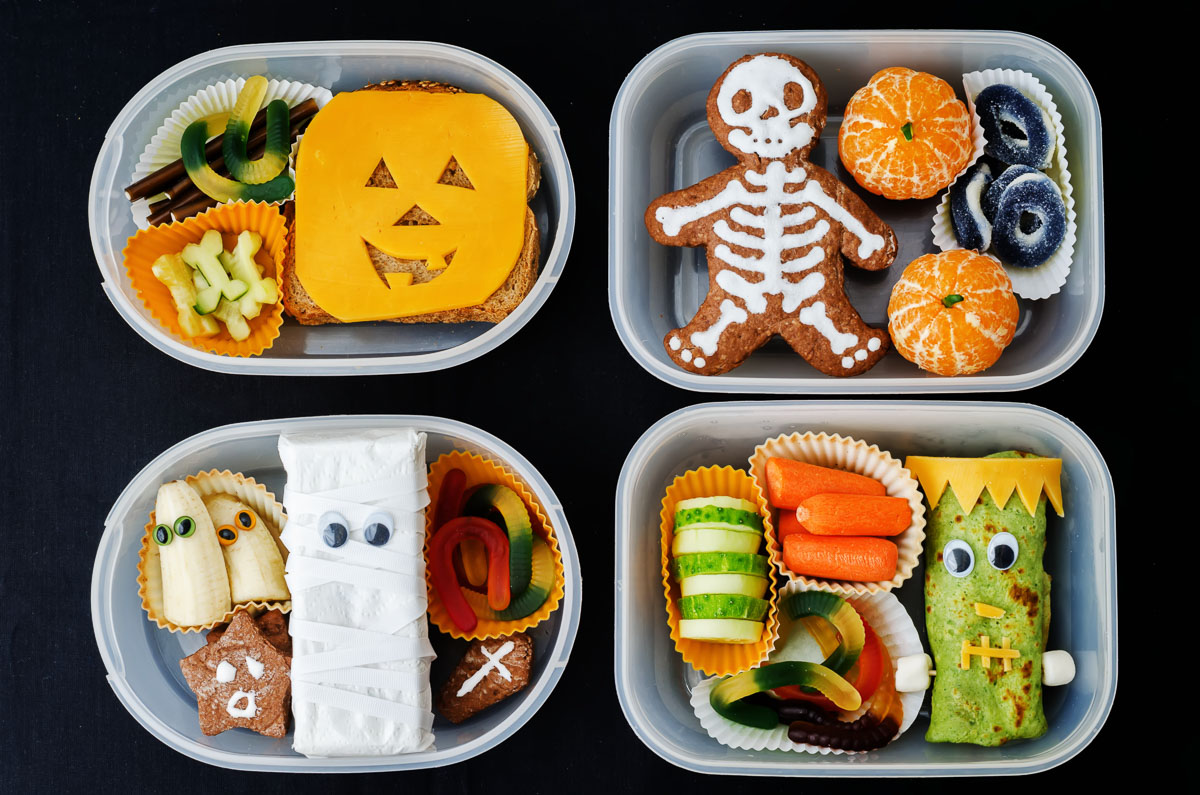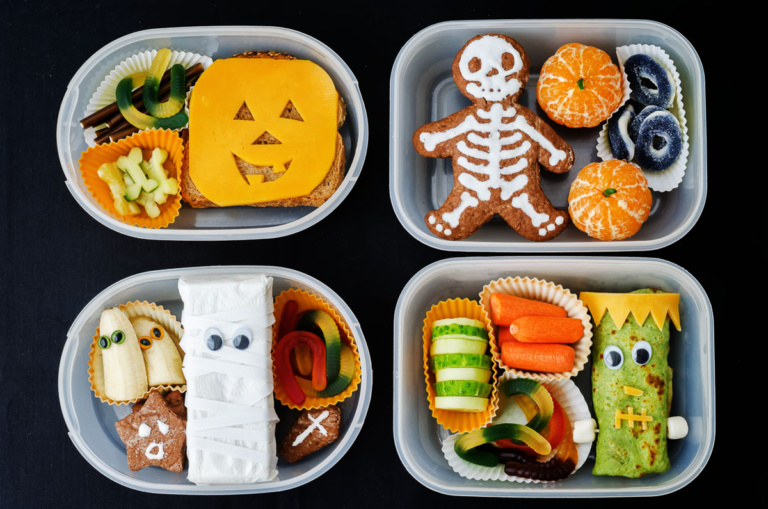 1. Cute Monster Foods
While monsters are supposed to be scary, movies like Monsters Inc. have changed our perception of them. Instead, they can be funny and cute. Younger kids especially love monster inspired treats. Cute monsters can be made by adding "eyes" to pretty much any food using toothpicks. Check out these cute monster hamburgers and the silly looking monsters made from apple slices, nut butter, sunflower seeds, and strawberries.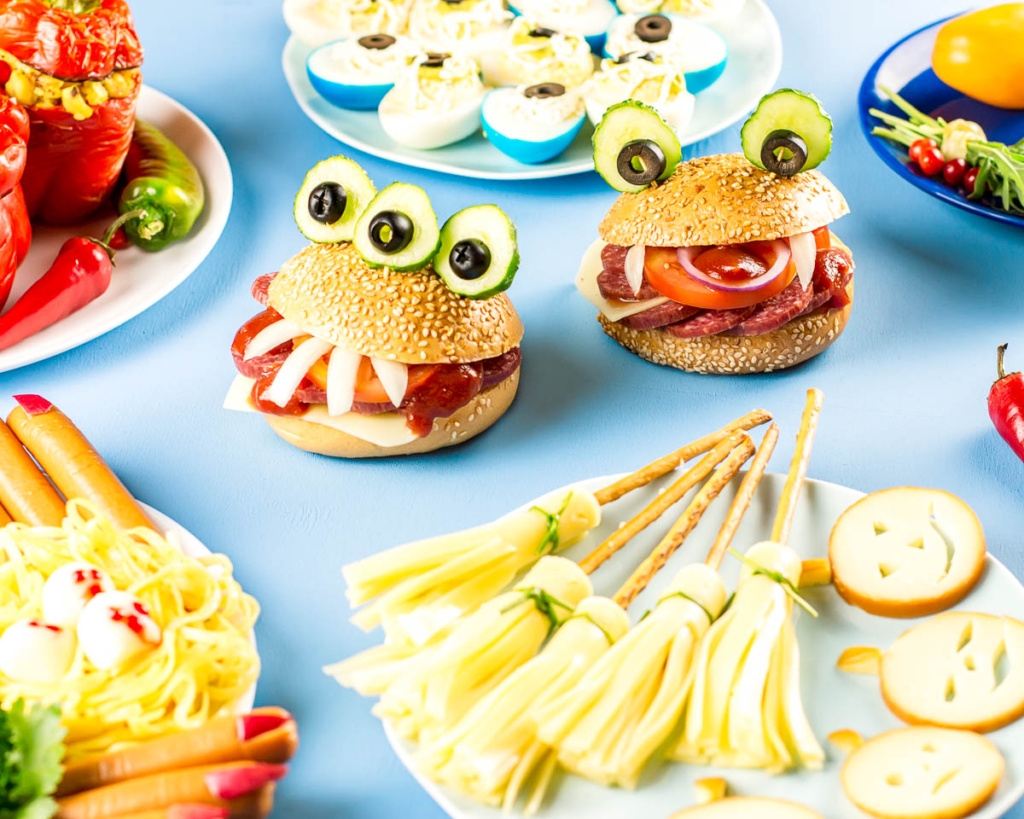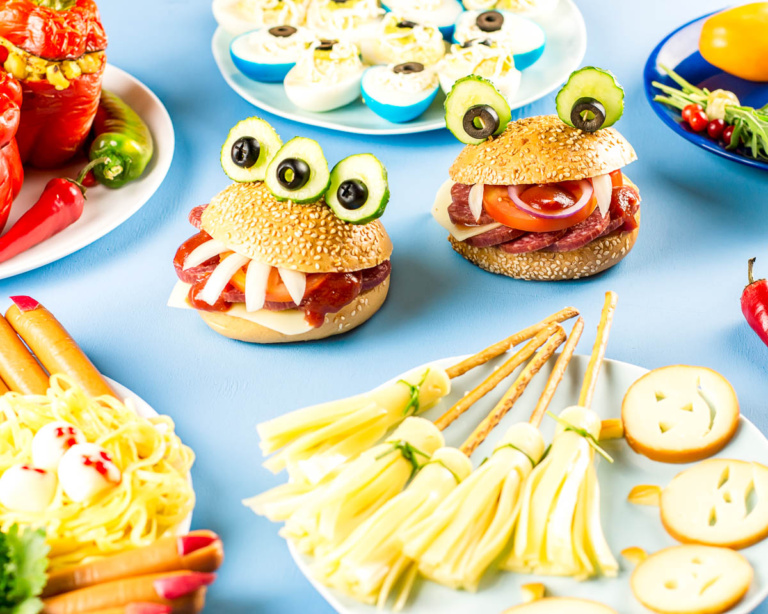 2. Mummies
Mummies are another fun theme that can easily be made in a number of ways. For a super easy idea, wrap fruits and other school lunch foods in paper or gauze. Then add paper or googly eyes to finish the design.
For a completely edible mummy, wrap or decorate foods with cheese strips. This works especially well for decorating foods like sandwiches and pizza.

3 . Frankenstein foods
Another classic monster theme that's a lot of fun is Frakenstein. Because Frankenstein is green, you can sneak in some healthy foods when making him. In the Bento boxes photo above, you can see how they converted a spinach wrap into a cute Frankenstein. A homemade guacamole spread is another great way to get the perfect shade of green.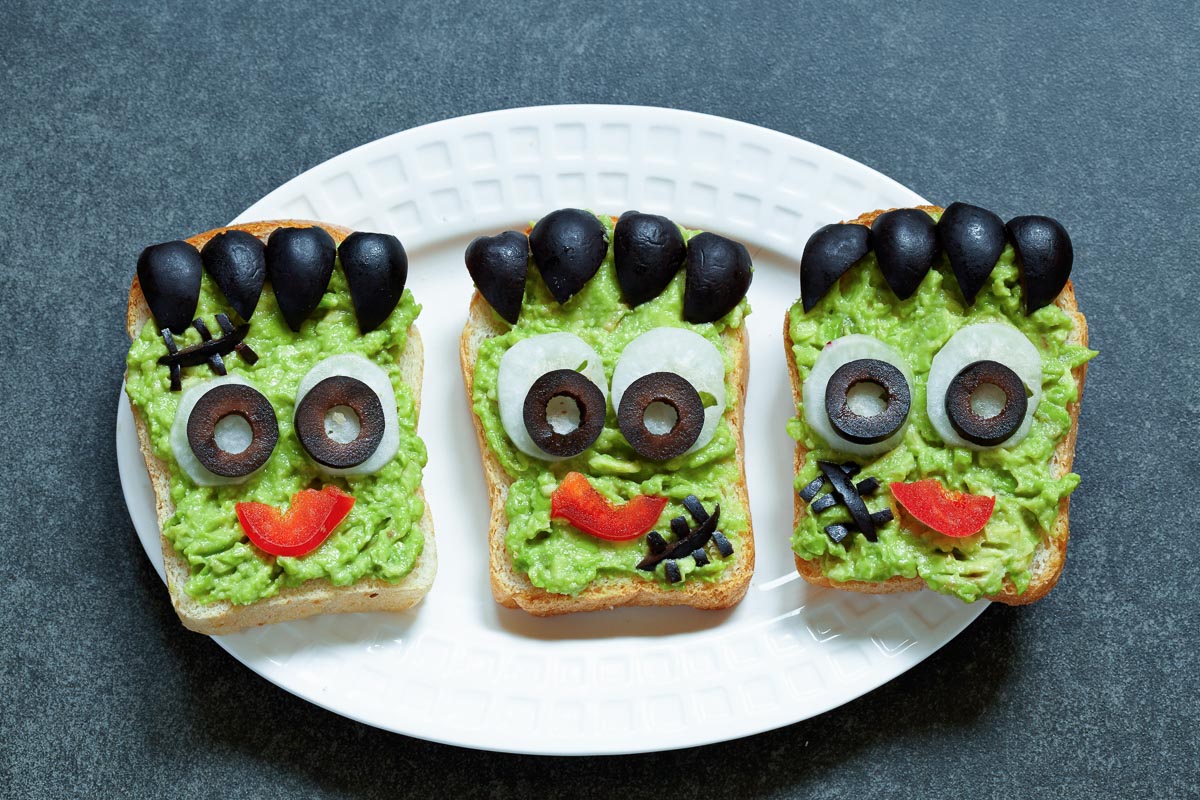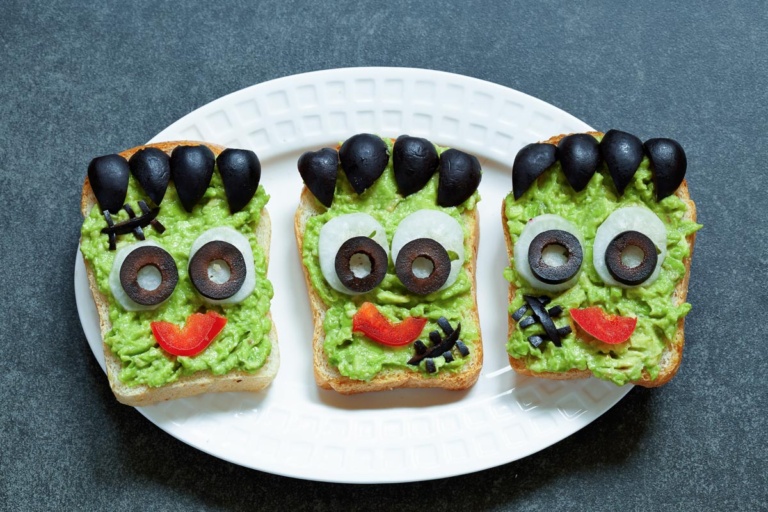 4. Spiders and spiderwebs
Haunted houses are almost always covered in lots of dust and spiderwebs. That's probably why spiders and spiderwebs end up as the decorations for so many Halloween snacks.
You can easily make spiders out of black olives, or, if you're really short on time, you can decorate any party food plate with a few plastic spiders.
For the spiderweb, you can arrange some spaghetti strategically or try my method for decorating soup with a cute, spiderweb design. The same idea can be used to decorate a variety of thick soups and dips.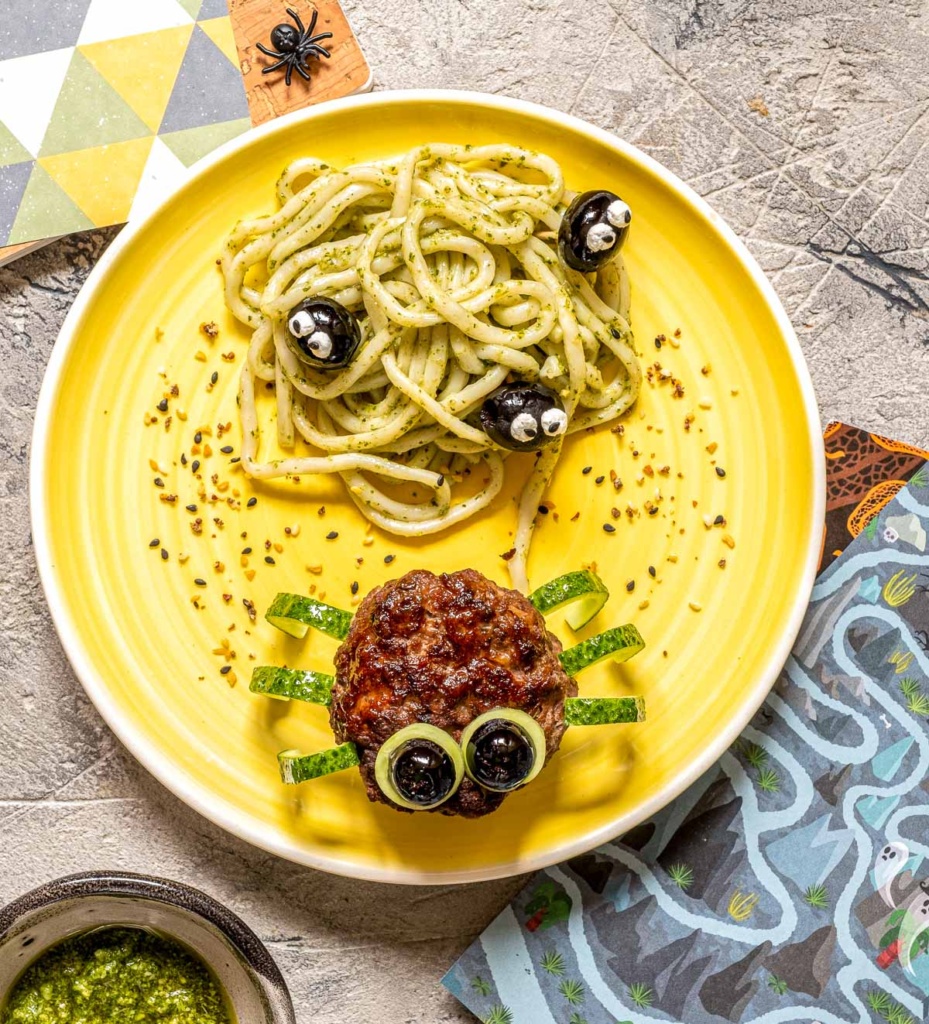 Check out my tutorial for making the spiderweb design along with the recipe for a tasty roasted pumpkin soup with red peppers and caramelized onions. It's the perfect appetizer for your Halloween dinner!
5. Gummy worms and leeches
It's not just spiders and spiderwebs. Lots of creepy crawlies are popular at Halloween. While gummy worms aren't only associated with this holiday, the thought of eating leeches would make just about anybody squirm. These gummy treats are fun and easy to make and much healthier than commercially sold candy.
6. Jack-o-lantern fruits and veggies
While the classic jack-o-lantern is probably the most iconic symbol of Halloween, you don't have to stick to carving pumpkins (which most people never end up eating anyway). You can either carve other fruits and veggies to look like a jack-o-lantern, or you can just decorate them with paper cutouts to give them their faces. While oranges would be an obvious choice for decorating, look how fun Jack-o-lantern pineapples look!
Hollow veggie and fruit jack-o-lanterns can be either filled with led candles or stuffed with other foods (like dips, pasta, or rice dishes).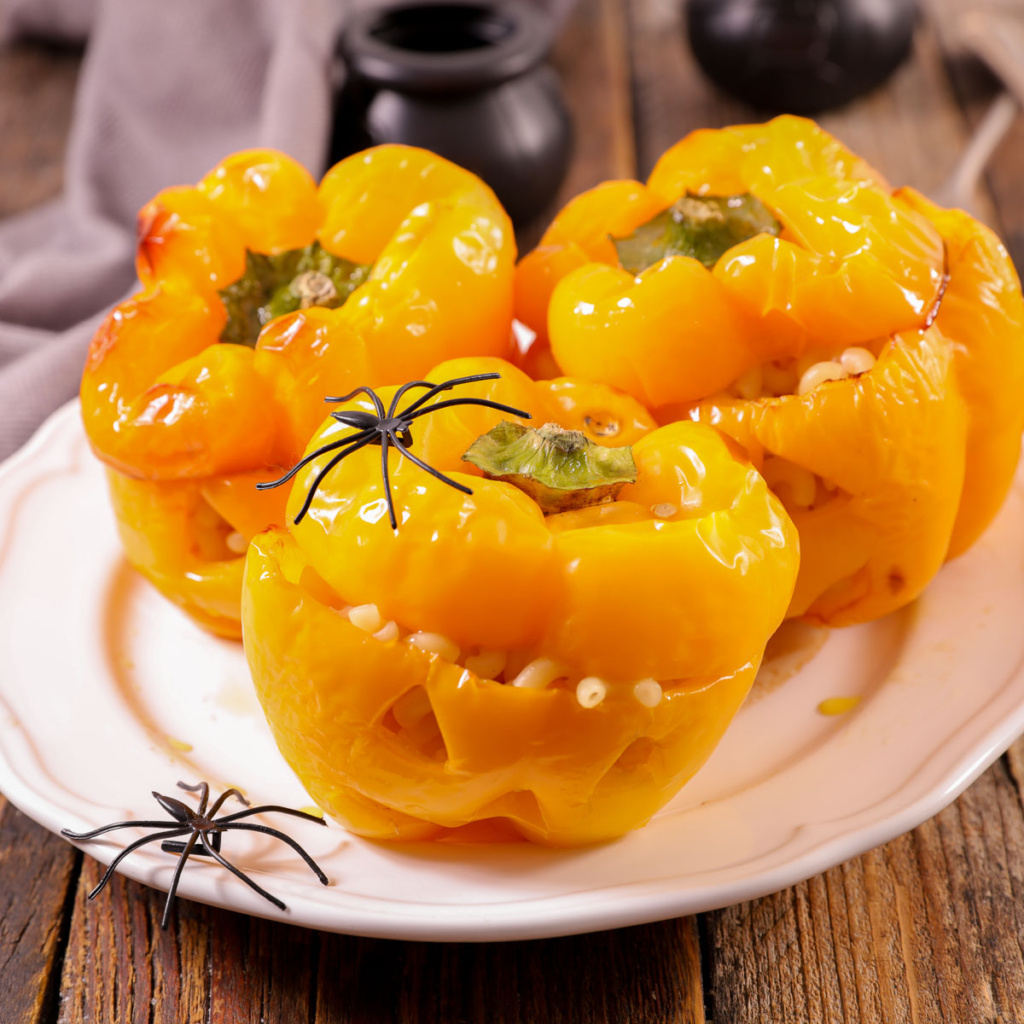 7. Veggie candies
Another healthier alternative is to make gummy treats using fruit and veggie juices and taking advantage of their natural colors and flavors. By forming them in Halloween-shaped molds, you end up with super cute and delicious candies that don't need artificial food coloring.
8. Witches' fingers and other body parts
Horror movies serve as inspiration for so many gory Halloween party foods and activities. These often include foods representing dismembered body parts. Some ideas for your holiday platter include pretzel bones and cookies shaped like witches' fingers. For the spooky fingernails, use almonds. Either bake them in place or stick them on with melted white chocolate. (For a cookie recipe you can use, why not try my pumpkin spice biscotti?)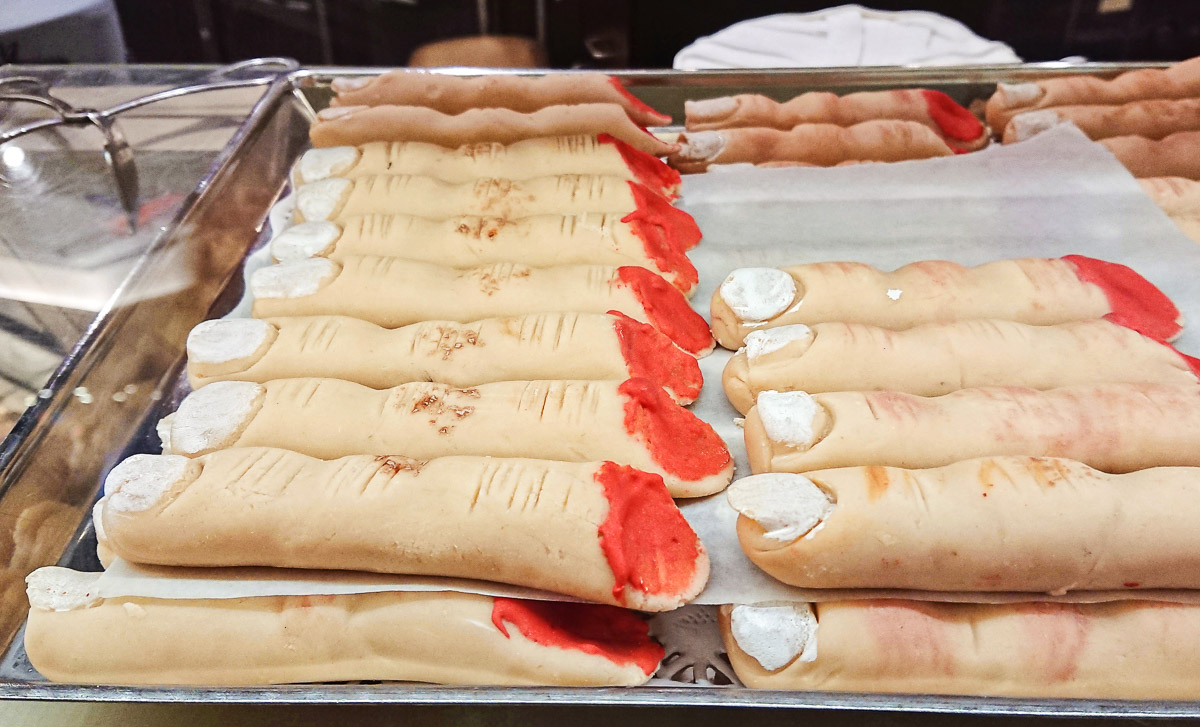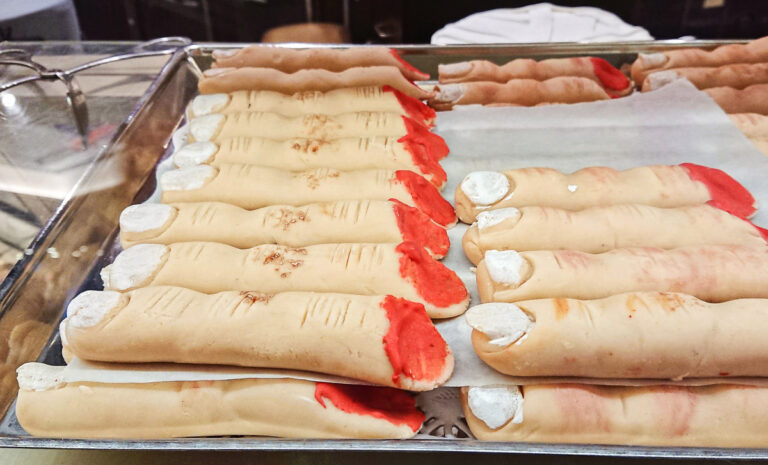 9. Ketchup "Blood"
Another way to add a bit of gore to your Halloween foods is to add a dash of "blood". Something as simple as stabbing your food with a knife and letting it ooze ketchup instantly transforms it into fun Halloween fare!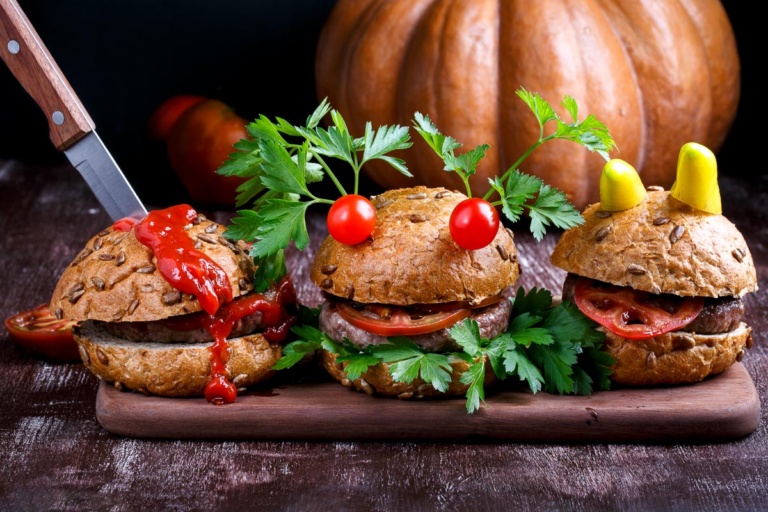 10. Eyeballs
Eyeballs are another commonly represented body part in Halloween foods. I, myself, couldn't resist the fun of making some spooktacular gummy eyeballs with coconut milk, fruit juice, and blueberries. They're simple to make and are delicious!
11. Creepy skinless face
Another gory body part food is fun to make and completely sugar-free! For a spooky Halloween antipasto platter, cover a mask (or a face shape made with paper and foil) with ham or other deli meats. I like the look of using cured ham like prosciutto or jamón serrano, but you can experiment with whatever you have on hand. Cream cheese works great for sticking olive eyes in place.
12. Tombstone cakes
Another fun classic is to cover your desserts with "tombstones" and "dirt". This can be done with a variety of Halloween recipes. Decorate cupcakes or cakes (why not cheesecake?), chocolate mousse, or pudding cups with "dirt" made from crushed chocolate cookies or chocolate chips. Then, add some cookie tombstones and maybe even some gummy worms. Your guests will surely love them!
13. Pumpkin serving bowls
If you're really out of ideas, cut off the top of some small pumpkins and hollow them out so that you can serve other foods inside them. Bake the pumpkins first if using them to serve cooked dishes like soups and stews. You could even garnish them with pretzel broomsticks (shown above) to make them look like a witch's cauldron!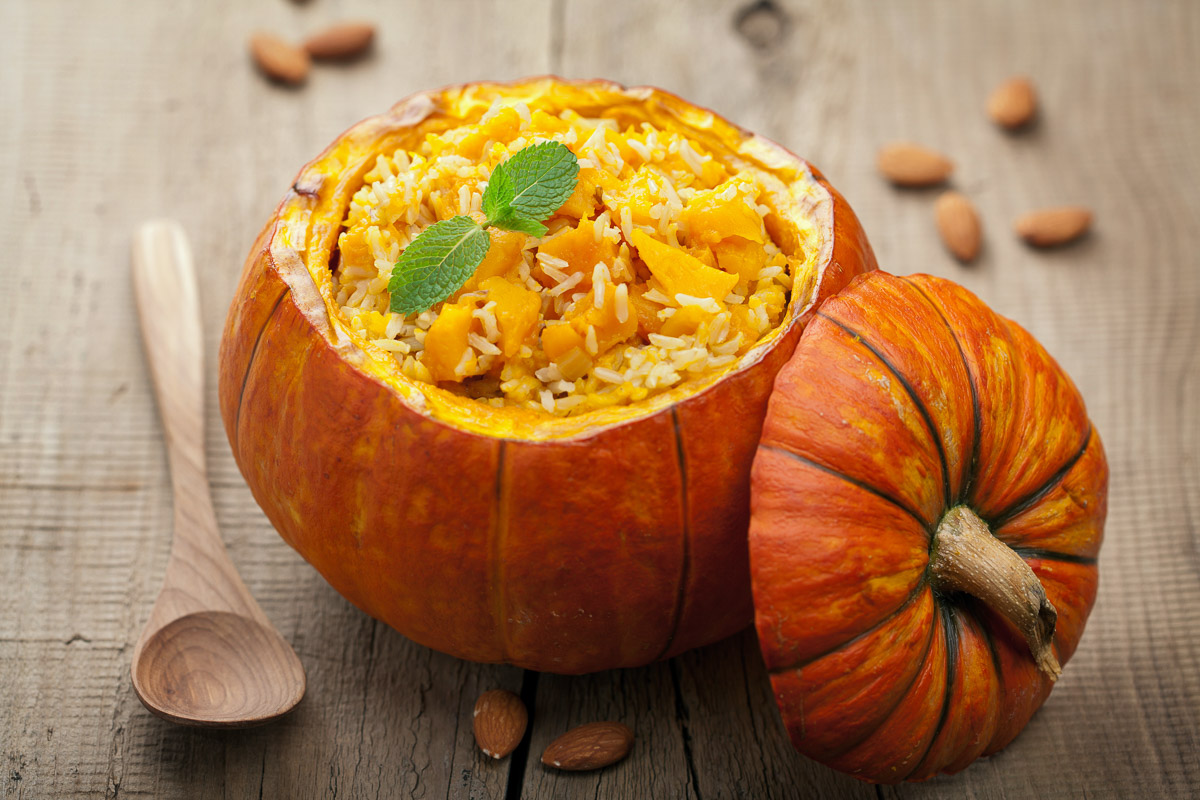 I hope you have found some fun ideas to use for your next party!
This post was originally published on Oct. 12, 2014. It linked out to real food recipes and other Halloween party ideas on other blogs, many of which have since disappeared. It was completely rewritten to remove broken links and give new, fun ideas for easy Halloween treats!