With it's beautiful natural orange color befitting of cheddar, this paleo vegan pumpkin cheese is a fun and healthy way to enjoy pumpkins and butternut squash. You can also use my tips to make other types of vegetable cheese.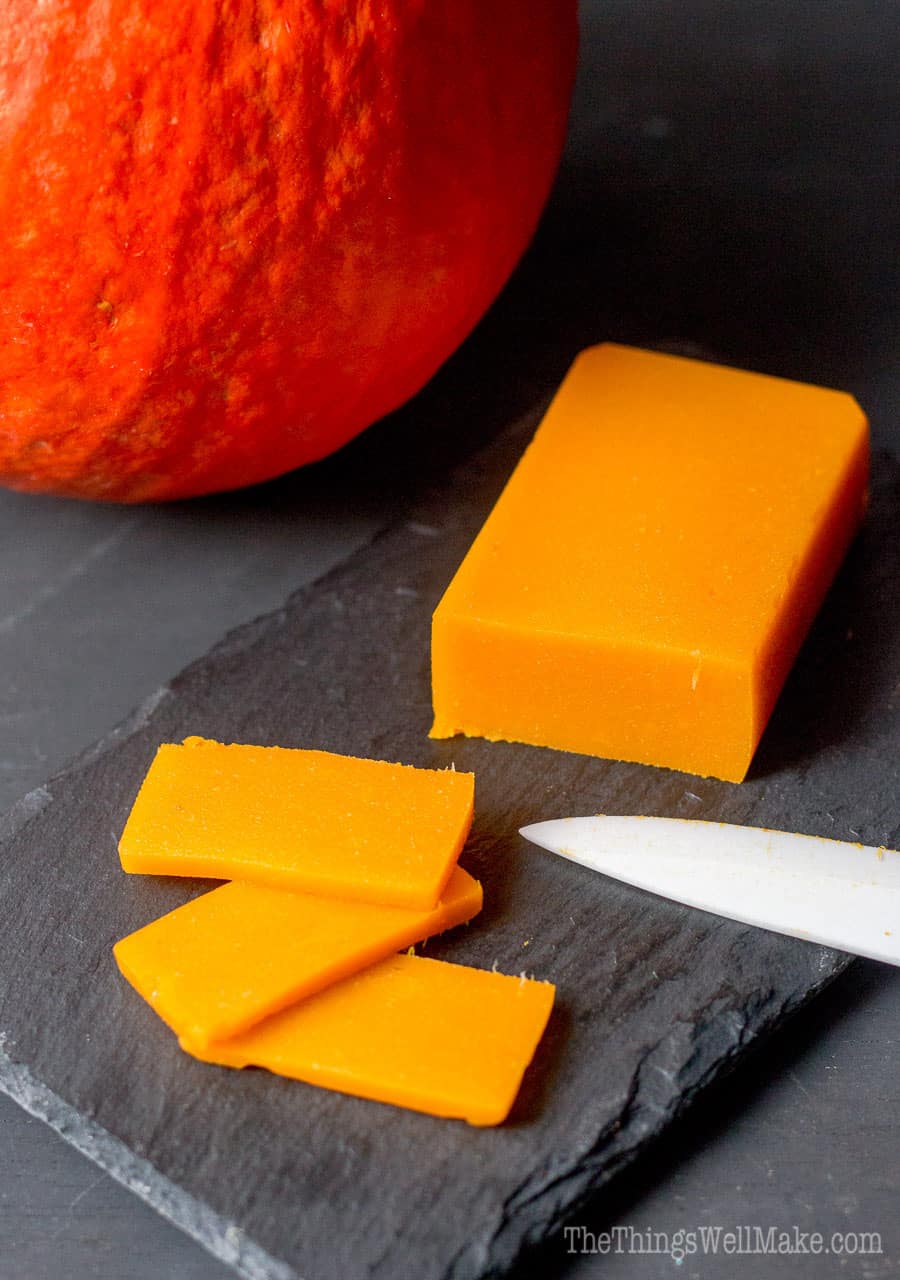 Every once in awhile, I come up with a crazy idea that I haven't seen elsewhere on the internet. You'd think it would happen more often, especially since I'm always mixing up new, weird things in my kitchen, but there are a lot of people in this world, and a lot are probably just as crazy as I am. (Some, even more!) 😉
How the vegan pumpkin cheese came to be…
A couple of weeks ago, I found something that I had been looking for for a long time here in Spain: nutritional yeast. Up until now, I had only been able to find brewer's yeast, and while it is OK, it just doesn't have the great flavor of nutritional yeast. I love it so much that I sprinkle it on salads, put it in sauces, and, well, try to make non-dairy "cheese" with it. Nutritional yeast is often used for making "cheese" because it is said to have a nutty, cheesy flavor.
First came the parsnip cheese…
Before I found the nutritional yeast, I had already been experimenting with brewer's yeast for making fun and unusual non-dairy cheeses. My favorite, up until now, was a parsnip based cheese. I can't remember if I used agar agar or gelatin at the time, but I thought it was a really fun way to eat parsnips. I didn't even know I liked parnsips until last year, and I grew such a fondness for them, that I started looking for fun new ways to enjoy them… which brought me to making vegetable cheeses.
The problem with parsnip cheese, despite the fact that I liked it, is that it is fibrous and that might make the texture a bit off putting for some. Plus, it has a pretty distinct flavor, which, if you love parsnips wouldn't be a problem for you, but the flavor isn't exactly cheesy per se. I've tried lots of store bought non-dairy cheeses, though, and there are very few that I consider to taste like cheese either. One cheese I bought, made from almonds, had such a bitter almond flavor that I could barely stomach it.
Back to the point…
I'm telling you about my parsnip cheese adventure because it will give another option to those who like parsnips and who want to try it out. All you have to do is to boil the parsnips in water, and blend them into a puree when soft. You can then use the puree in the place of the pumpkin puree in the recipe for vegan pumpkin cheese. While I haven't tried them yet, I'd imagine that you could also try using carrots, sweet potatoes, or other root vegetables too.
Switching to pumpkins (or butternut squash)
With the coming of fall, though, I had some pumpkins on hand, and I wanted to give making a vegan pumpkin cheese a shot. I figured that pumpkin puree (or butternut squash puree, which is what I usually use in "pumpkin" recipes) is smooth and a pretty orange color that makes you think of cheddar. Plus the flavor is relatively mild which allows the nutty/cheesy flavor of the nutritional yeast to stand out better.
With my first attempt at making the vegan pumpkin cheese, it didn't set very well, probably because I never brought the agar agar mixture to a rapid boil and instead just warmed it/lightly simmered it for a few seconds, enough to dissolve it. To be honest, I tend to use gelatin more often than agar agar, so I wasn't very accustomed to working with it. I found out the hard way that you need to bring agar powder to a boil in order to make it set properly. I love trying new things, though, and wanted to give making a vegan cheese a shot, so I kept with it. Plus, agar agar has the benefit of not falling apart at warm temperatures like gelatin would. (A gelatin gel will melt at around 35ºC, but an agar gel won't melt until around 85ºC.)
In my second attempt, I dissolved the agar powder in the tiniest bit of water and lemon juice and brought them to a boil before adding in the rest of the ingredients. I have since learned that acidic liquids can impair the agar's ability to properly hydrate and gel, and while I didn't have any issues with that method, I have since tried by mixing some water with some of the pumpkin puree at the beginning to start the hydration process instead. The water is likely unnecessary, but I have added it each time because my pumpkin puree is pretty concentrated, and I wanted to help get it to boiling without having it burn. I make pumpkin puree by baking the pumpkin or butternut squash. If you make a pumpkin puree by boiling, though, the pumpkin puree will have a lot more water in it to begin with, and I probably wouldn't add in any more or your could end up watering down the flavor/texture of your cheese. In that case, just add in the agar powder to the pumpkin puree from the start.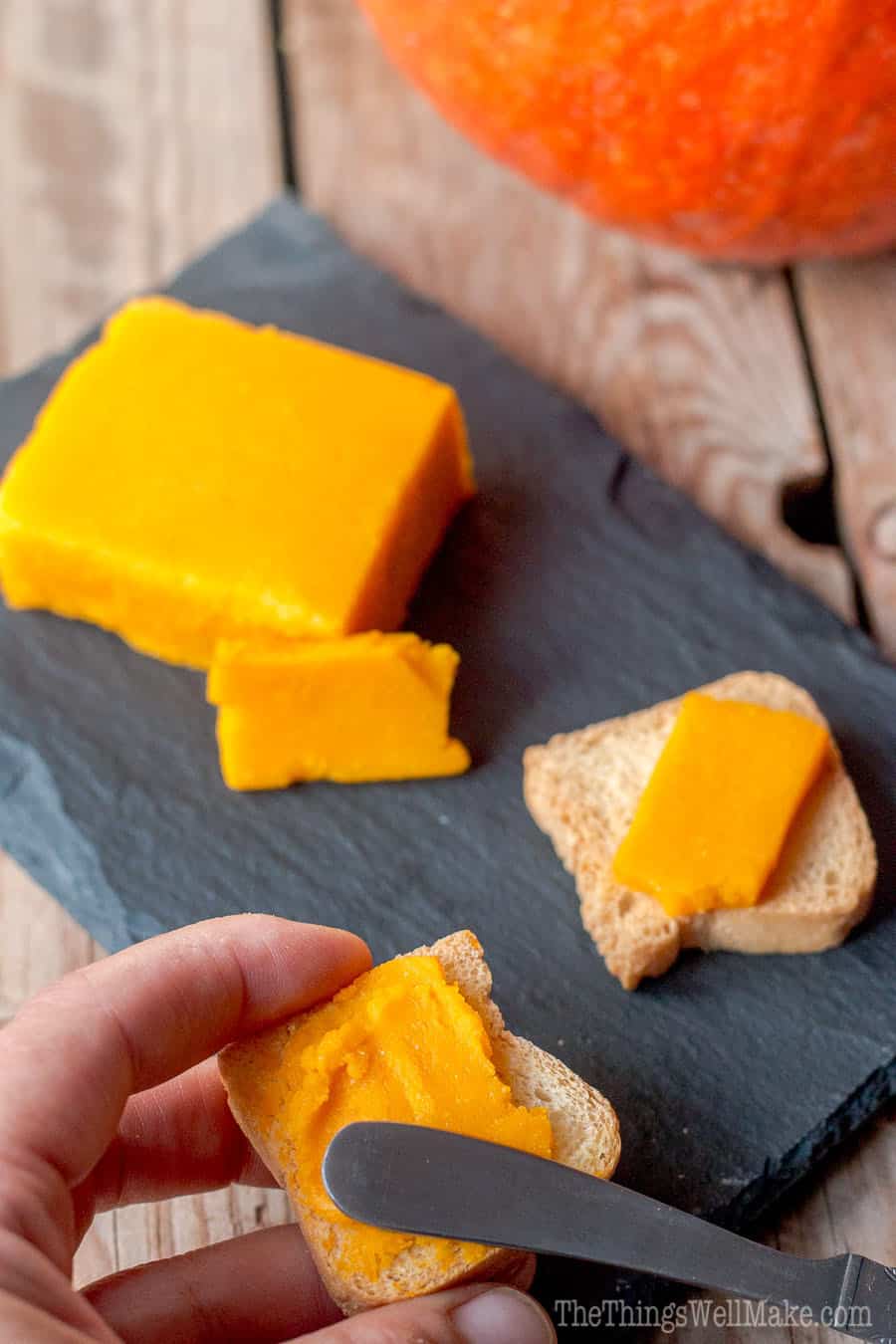 Notes on texture of agar vs. gelatin
Agar makes a different sort of gel than gelatin, so those of you who aren't vegan may enjoy experimenting with gelatin too to see which texture you prefer. I've heard people describe gelatin as being "creamier" and gelatin to be firmer. I'm not sure I consider gelatin to be creamy really, but I guess I sort of understand what the are trying to say. There are vegan alternative to make a creamier cheese, though. I've read that locust bean gum can be added to make gels made with agar powder creamier, which would be great in the case of "cheese," but I personally haven't tried it yet.
I will say that this recipe is a guideline. You can add in more agar powder or gelatin to make a thicker, more firm cheese. You can use a little less to make it more spreadable. I tried it as a spread, but I will say that it isn't as creamy as a spreadable cheese, and I think I prefer a more firm version myself, but I'm sure some people will prefer it as a spread. You can add salt, or not, to taste. You can add in herbs if you like, and adjust the amount of nutritional yeast. Just have fun with it!
Paleo Vegan Pumpkin Cheese
Craving more?
Subscribe to my newsletter for the latest recipes and tutorials!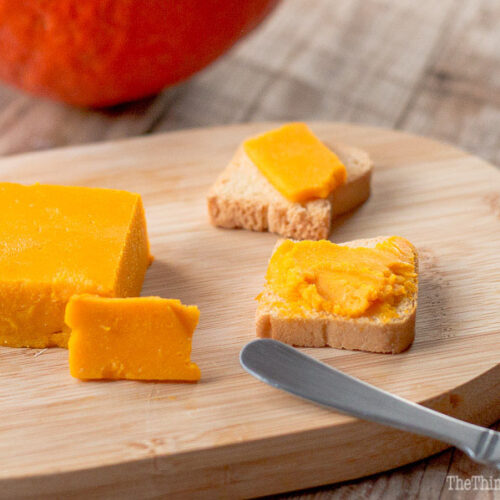 Paleo Vegan Pumpkin Cheese (And Other Vegetable Cheese Ideas)
With it's beautiful natural orange color befitting of cheddar, this paleo vegan pumpkin cheese is a fun and healthy way to enjoy pumpkins and butternut squash. You can also use my tips to make other types of vegetable cheese. Makes about 14 oz.
Print
Rate
Servings:
14
1 oz. servings
Instructions
Mix together the water and agar powder with around a tablespoon of the pumpkin puree.

Heat the mixture in a small saucepan over medium heat until it starts to thicken, stirring all of the while to help dissolve the agar powder.

Immediately add in the rest of the pumpkin puree and coconut oil and lemon juice, and mix together well until the mixture boils. Simmer the mixture for 3-5 minutes to assure that the agar is fully hydrated and that it will gel properly.

Remove the mixture from the heat and blend in the nutrional yeast until the mixture is smooth and creamy.

Pour the mixture into a silicone mold and place in the fridge for an hour or two, or until the agar powder has set. (Agar doesn't need to go into the fridge to gel, but I use the fridge to speed up the gelling process.)

Remove the cheese from the molds, slice, and serve.
Calories:
37
kcal
|
Carbohydrates:
3
g
|
Protein:
1
g
|
Fat:
2
g
|
Saturated Fat:
1
g
|
Sodium:
4
mg
|
Potassium:
105
mg
|
Fiber:
1
g
|
Vitamin A:
4085
IU
|
Vitamin C:
3.1
mg
|
Calcium:
10
mg
|
Iron:
0.6
mg