OK, let me start off by saying that this post has been in the works for quite some time now.
Why? You ask.
Well, I had started off by making gummy worms after having seem some very cool looking gummy worms on instructables.com. They were seriously cool looking, but made with processed gelatin brands and chocolate milk.
I was determined to make a healthier version that would be just as cool.
My gummy worms
Unfortunately, just as I was writing up my post, another blog posted the very same worms that I was making. (I originally linked to her post to show you hers, but her site has since disappeared.) To top it off, I had chosen to make them using lime juice, having had an abundance of limes on my lime tree, and she made hers in the same flavor and had photographed them in "dirt" like mine too!!
If that wasn't frustrating enough, actually getting to the stage of having finished my lime gummy worms was quite a process.
I had tried several ways of making them, all involving lots of straws, of course.
Attempt 1: Big mess!!
My first attempt took place while I was making the gummy eyeballs. I used the berry gelatin that was leftover to make my worms. The idea is to take flexible straws and pull the flexible part apart so that the resulting worms will have a realistic rough section towards one end. Most of the places I had seen showing how to make gummy worms said to put a little gelatin in the bottom, stick in the fridge to set up, and then to finish filling up your straws…
For some reason, though, the flexible straws here in Spain seem to be a lot thinner than the regular straws. I couldn't get the gelatin to go all of the way down my straws after letting the bottom part set up. I figured it was because the centers of the straws were too small and that the air inside the straw didn't have room to escape.
Attempt 2: Also messy and ineffective!
So, I decided to try again with some wider straws without the flexible part. Basically, though, I had the same problem, and only ended up with worms that were as long as the filled up part of the glass (from the first pour).
I decided that the only way to truly make it work would be to fill up the entire glass with the gelatin, which would mean that the straws would also fill up at the same time. I had learned form my mistakes, and used a taller glass and packed in the straws to avoid waste. By that point, I no longer had berry gelatin, but, like I said, my lime trees were full of limes, so I decided that lime juice would make a decent worm color and had at it again!
The third time was the charm; I ended up with a bunch of lime gummy worms. To get the gelatin out of the straws, I ran them under some warm water, not letting it get into the straw because that quickly turns them into mush. Then I pushed them out by pulling the straw through my fingers. It wasn't difficult, but I was bothered by the amount of wasted gelatin around the straws. Don't get me wrong, you can eat it, but it's messy and not a quick and easy process. I'm all about quick and easy!
I was determined to make worms in another way!!
In the end, I used the grill of my oven…
I pushed a sheet of aluminum foil into the spaces in the grill, and poured my gelatin into the resulting "mold."
It really couldn't be quicker or easier!!
Then I let them sit there for around half an hour to set up. It sets up even at room temperature because it's getting cooler out and I use a lot of gelatin. (I use several tablespoons per cup of juice- by now I no longer measure, but work to get a thick, yet dissolvable, mix.) You can see my recipe in the post about the gummy eyes.
Once somewhat set, I put the foil into the fridge to fully set.
If you make them thick enough, they are very easy to peel off from the foil. If you have made them thinner, though, or want to work more quickly, a spatula can help you to peel your worms/leeches off quickly and easily!
I decided to call these "gummy leeches" because they are rounded on the top, and flat on the bottom.
If you haven't carefully poured the gelatin into each space without touching the area between worms (like me the first time), you will end up with a little bit of gelatin "flange."
To me, it just looks more like a leech that way!!
If you don't like that look, though, you can always quickly cut off the flange with a scissors. They are still less messy and much quicker and easier than the straw-made gummy worms! Plus, you can eat what you cut off! 😉
That's all there is to it!!
If you really want a quick and easy way to make something worm-like out of gelatin, you can also use silicone molds made for making long ice cubes for water bottles. I tried it, and while it was very easy, the results weren't very credible.
Would I make the worms again? Possibly, but it would have to be for a very special occasion (Halloween party or something like that). If not, I think that they are just too much of a hassle to make!
As for the leeches?!?!?
Definitely! They were so easy to make, and fun to eat. It was like eating licorice (kinda, sorta)!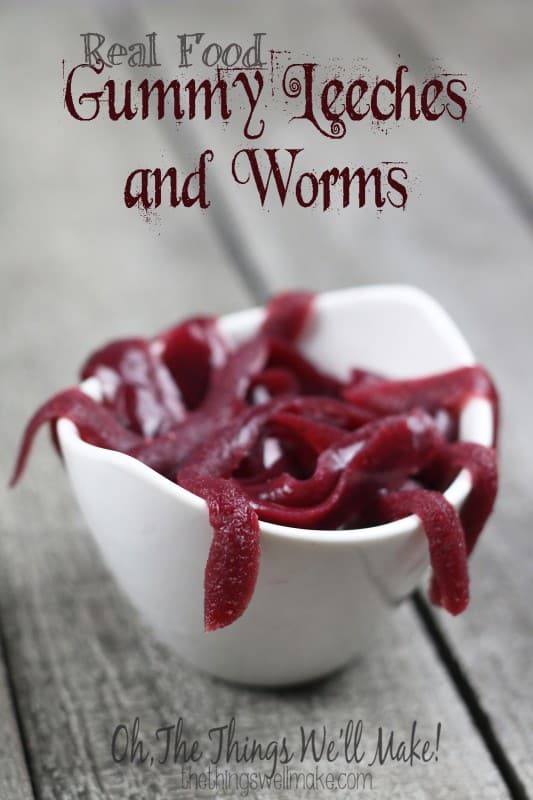 This post is also available in Español.