I am not a javaholic.
Sometimes I feel like that makes me seem just a bit strange.
Don't get me wrong, I love a good cup of coffee every once in awhile, but I don't wake up feeling like I need it, nor do l feel driven to drink some every day.
As the weather gets cooler, though, a warm, steamy cup of coffee is comforting, and appeals to me much more often. I see a coffee break as a relaxing break in my day, but coffee by itself just isn't as much fun as coffee accompanied by a sweet autumn treat. Coffee should be accompanied by something that you can dip into it. Perfect for that, and for this time of year, is my grain free pumpkin spice biscotti.
I used to make biscotti quite often. I love dry, crispy almond cookies of almost any type. Once I started giving up wheat, though, I also stopped making them. While most biscotti do use almond flour, usually their main ingredient is still an all purpose wheat flour.
I decided to start experimenting with trying to make grain free biscotti. Over the last week, I've tried different combinations of almond flour combined with tapioca starch or coconut flour, or both. I've burnt some, and some haven't dried out to my liking, but I have finally achieved a cookie that I really enjoy eating!
The secret to making any biscotti is baking them twice, which is how the cookies got their name.
Cooking them twice allows you to get the shape you want, and end up with a crispy cookie in the end. The only problem with cooking them twice is that you have to be careful not too cook them at too high of a temperature, or they will easily burn. That seems to be especially true for the grain free varieties.
Don't let that scare you, though. These cookies are quite simple to make, and I love the way they taste.
Grain Free Pumpkin Spice Biscotti
Ingredients
Instructions
Preheat oven to 300ºf (150ºC).

Combine all of the ingredients together. I used a food processor to combine them all easily, starting with the dry ingredients, and slowly adding in the wet ingredients like the pumpkin puree, the egg, and the honey.

Line a baking sheet with parchment paper.

Take the dough and form it into a long, flattened log-type shape on your baking sheet. To keep the dough from sticking to your hands, dampen them before trying to shape the dough.

Bake for 20 minutes, keeping your eye on it to make sure they aren't browning too much. You want it to begin to firm up and begin to turn a light golden color. If it starts to get too dark, turn down the temperature a little.

Take the log of dough out of the oven, and let it cool enough to handle it. Meanwhile turn the oven down to around 260ºF (125ºC).

With a sharp knife, cut the dough into slices.

Spread the slices out, on their sides, over the parchment paper, and return the biscotti to the oven.

Bake for around 10 minutes, and then flip the biscotti. Bake for another 5-10 minutes before turning the oven off.

Leave the biscotti in the oven until it cools. The heat from the oven will continue to crisp the cookies.
You are now ready to serve them. Try not to eat them all at one sitting. 😉
Store any leftover biscotti, if there are any, in a sealed container to keep them from absorbing humidity in the air and getting soft. If they do become soft, you can re-crisp them over low heat in the oven.
Happy autumn!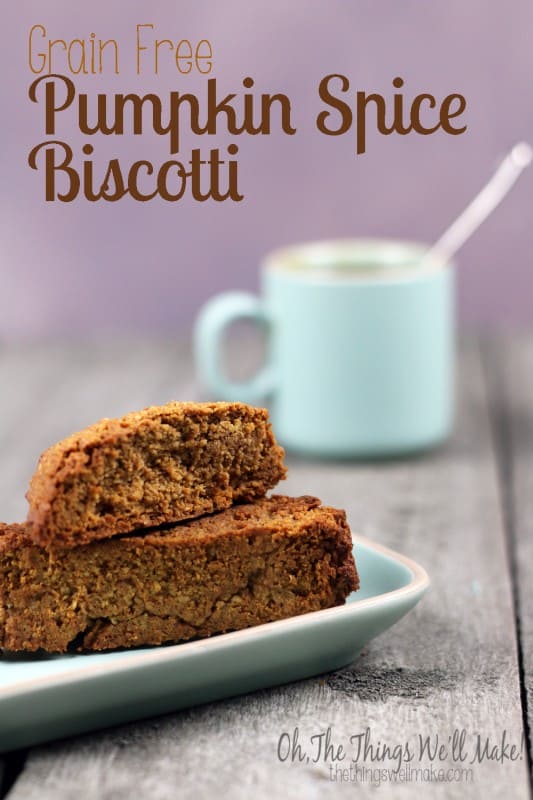 This post is also available in Español.