Pumpkin pie biscotti are crunchy almond cookies that are perfect for dipping in coffee, chai tea, or my sweet pumpkin pie dip. They're also a guilt-free indulgence without grains or refined sugars.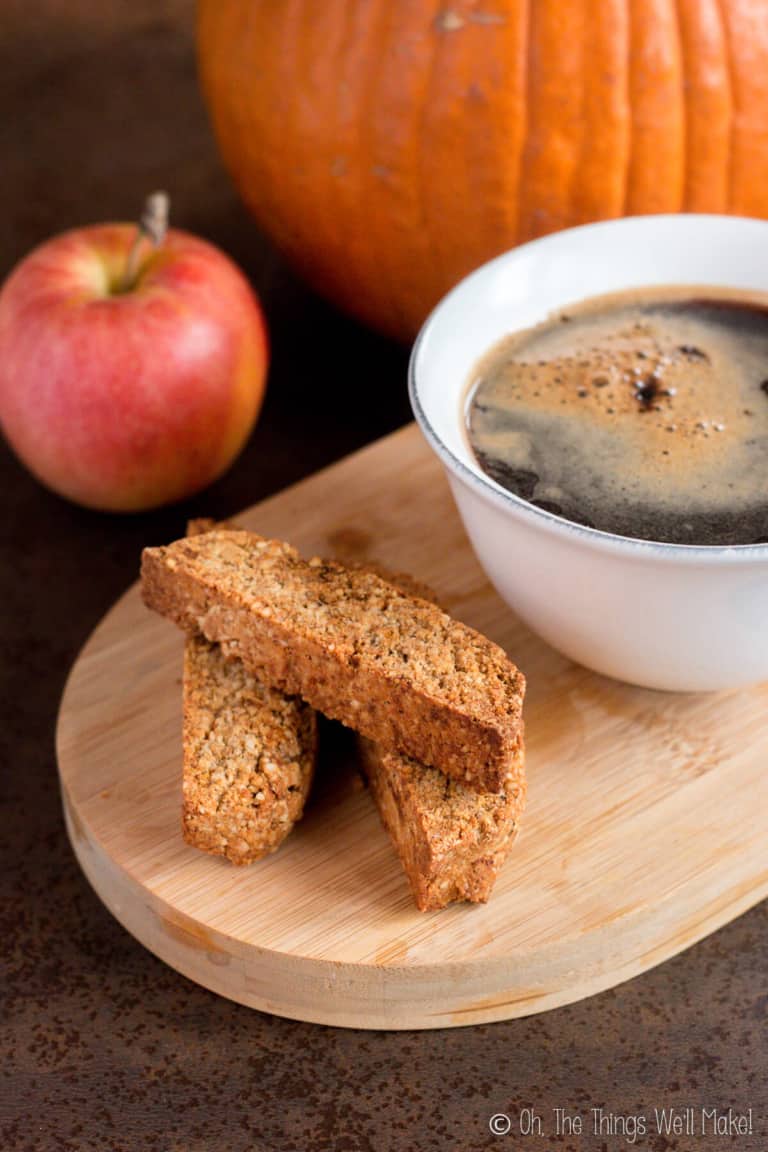 I have a confession to make. Despite my having posted about how to make a super tasty cold brew coffee, I am not a javaholic.
Sometimes I feel like that makes me seem just a bit strange. Don't get me wrong; I do enjoy an occasional good cup of joe, but I don't wake up feeling like I need it, nor do l feel driven to drink some every day.
As the weather gets cooler, though, a warm, steamy cup of coffee is comforting and appeals to me much more often. I see a coffee break as a relaxing break in my day, but coffee by itself just isn't as much fun as coffee accompanied by a sweet autumn treat; something that you can dip into it. Perfect for that, and for this time of year, is this pumpkin spice biscotti.
What are biscotti?
Biscotti are almond-based Italian cookies that are usually served with coffee. They are crunchy and dry, which is what makes them perfect for dipping into a beverage, normally coffee. The name "biscotti" actually means "twice baked" in Italian. That's because they are baked in a log shape and then cut into individual oblong cookies before being baked again. This second baking session dries them out to give them their characteristic crunch.
I used to make biscotti quite often. I love dry, crispy almond cookies of almost any type. Once I started giving up wheat, though, I also stopped making them. While most biscotti do use almond flour, their main ingredient is often an all-purpose wheat flour.
During my experimentation with my diet to find what was causing me digestive and other issues, I decided to try to make grain free biscotti. I tried different combinations of almond flour with tapioca starch or coconut flour, or both. I burnt some, and some didn't dry out to my liking, but I finally achieved making a cookie that I really enjoy eating!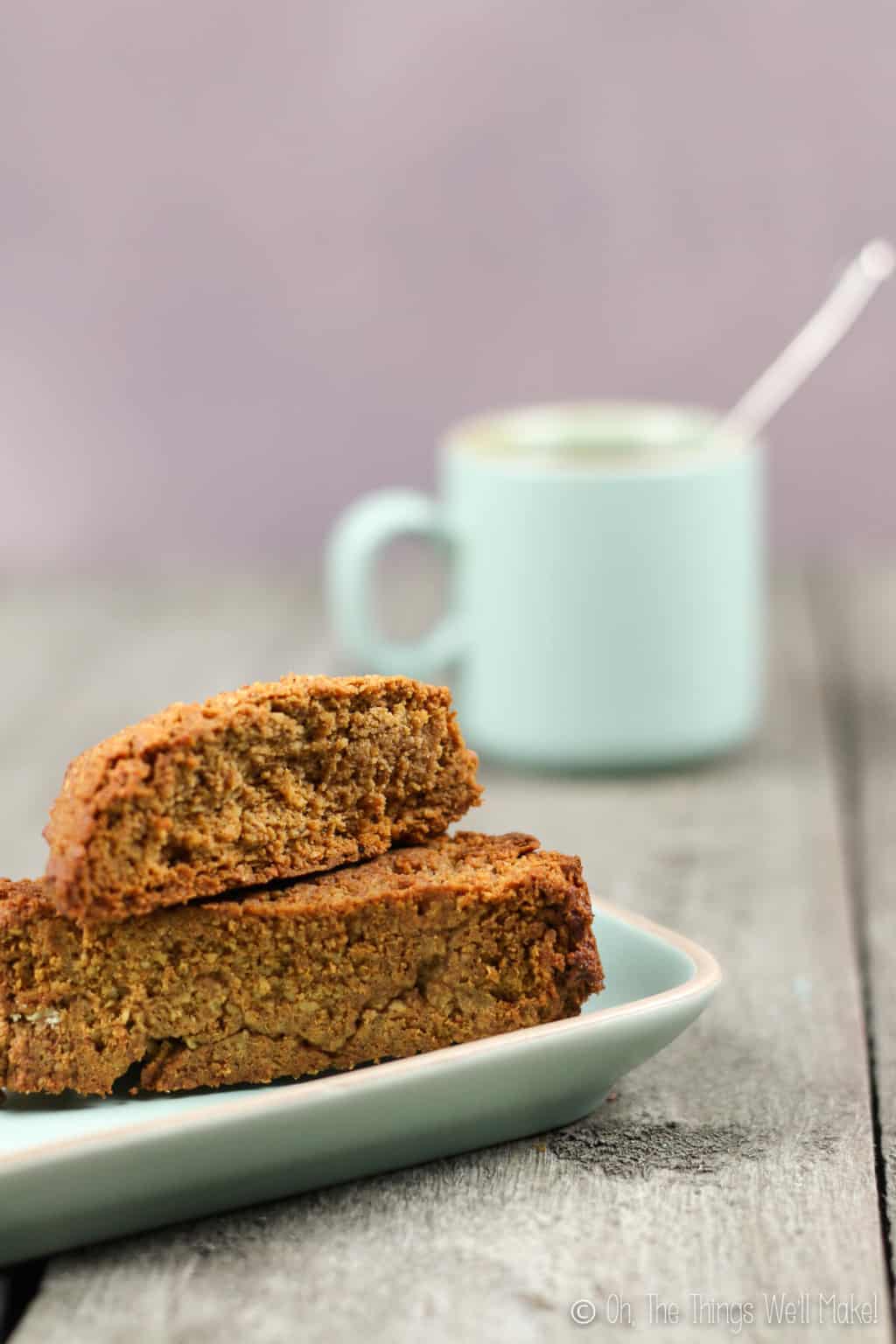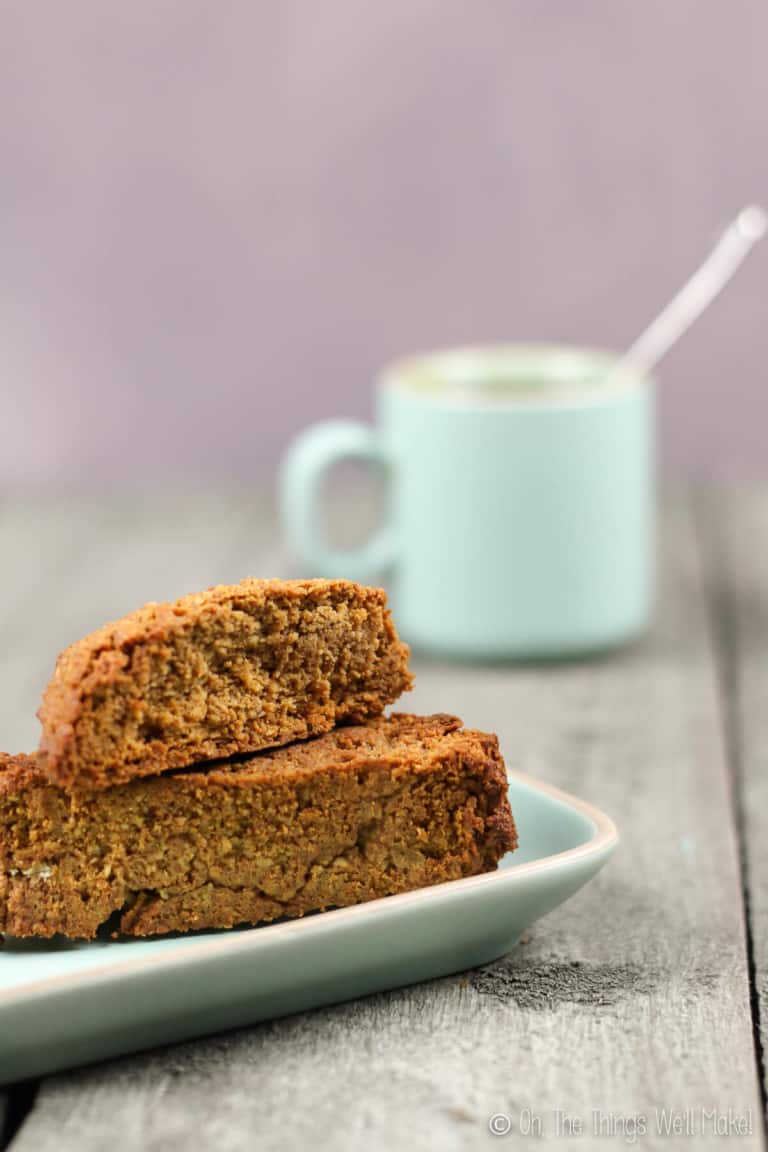 Updating this recipe
When I first posted this recipe, some people found these cookies to be "cakier" than crunchy. That was, in part, due to a difference in ovens, environmental humidity, etc.. Their use of the word "Cakey," though, made me think of brownies. Those who want cakier brownies usually use more eggs!
That's when it hit me that perhaps these cookies didn't need eggs at all. And I was right. I had been using the eggs as a binder, but in reality, they were unnecessary and only added extra moisture to the recipe, meaning that the cookies needed a longer baking session to get them to fully dry and crisp. I decided to update this recipe here on the blog. Not only are they easier to make, but they have the added advantage of being vegan-friendly! (Win-win, right?)
If you came here looking for the original recipe, you'll be happy to know that the only thing that I changed was to remove the egg. So, if you want to make them as before, just add it right back in. I'd suggest you try them first without it, though!
As before, though, be careful not to cook them at too high of a temperature to keep them from burning. Adjust your oven as needed to get golden brown cookies.
Serving suggestions
As I mentioned before, biscotti are normally served with some sort of hot beverage. I recommend either coffee or a nice, steamy cup of chai tea. Chai tea has a lovely blend of spices that perfectly complements the flavor of these biscotti! (I show how to make chai tea in bulk from scratch on the blog.) Also, if you've never tried making cold brew coffee, I highly suggest it because it gives a nice, smooth, almost sweet coffee that can later be served cold or warm. (And you don't even need a coffee maker to make it!)
Some people like to dip half of their biscotti in chocolate or drizzle some chocolate over them to flavorfully decorate them. I imagine that these would be tasty with white chocolate. To keep them paleo, though, you could also try a mix of coconut oil and cocoa- basically, my paleo chocolate bars melted and drizzled over top. Or you could make your own chocolate from cocoa nibs, and drizzle some of it over them while the chocolate is still in its liquid state.
These biscotti are also quite tasty paired with fall spreads like my sweet pumpkin pie dip or some spiced pumpkin butter.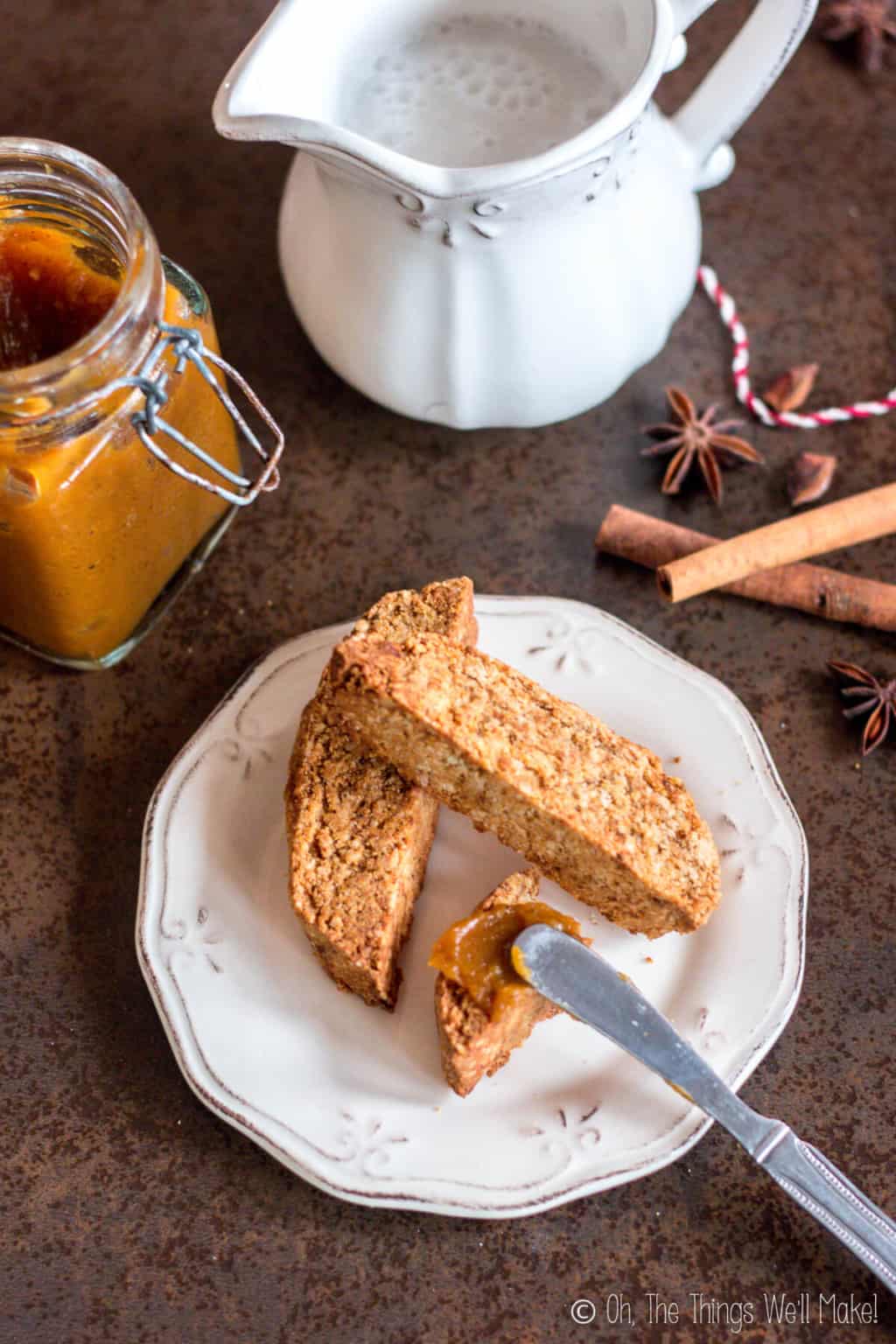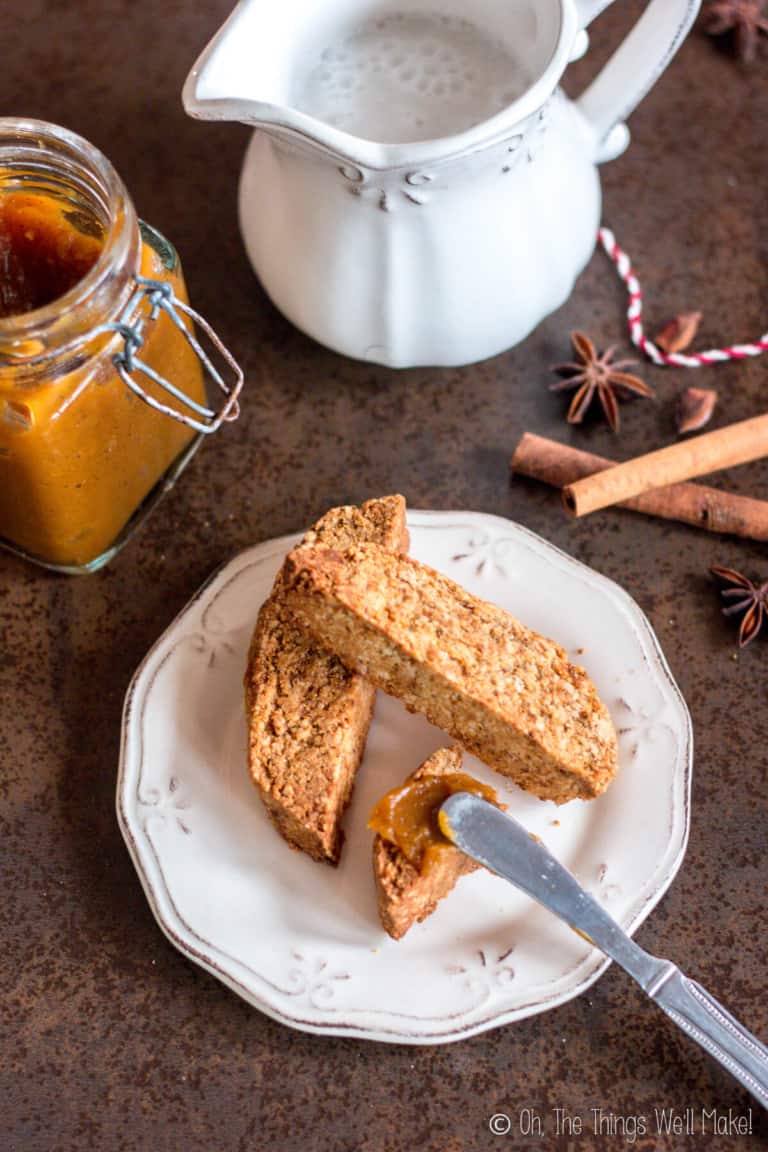 Pumpkin Spice Biscotti Recipe
Craving more?
Subscribe to my newsletter for the latest recipes and tutorials!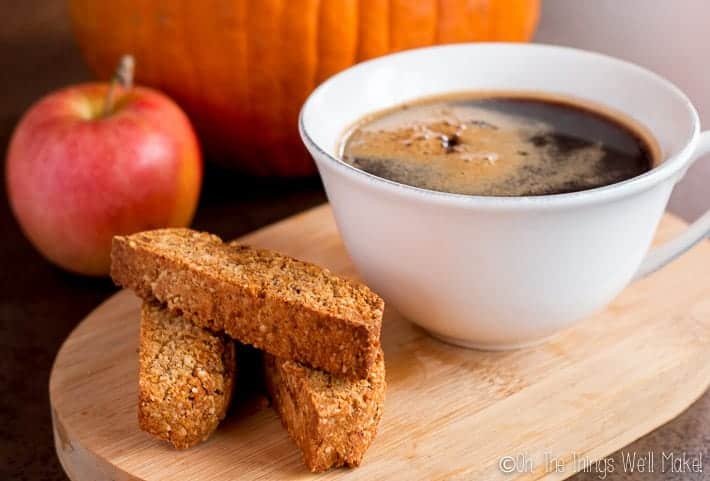 Pumpkin Spice Biscotti (Paleo, Vegan)
These crunchy almond based Italian cookies are perfect for dipping in coffee, chai tea, or my sweet pumpkin pie dip. They're also a grain-free, guilt-free indulgence.
Print
Pin
Rate
Instructions
Preheat oven to 300ºf (150ºC).

Combine all of the ingredients together. You can use a food processor to combine them thoroughly and easily, starting with the dry ingredients, and slowly adding in the wet ingredients like the pumpkin puree and the maple syrup.

Line a baking sheet with parchment paper.

Take the dough and form it into a long, flattened log-type shape on your baking sheet. If you're having a hard time keeping the dough from sticking to your hands, dampen them before trying to shape the dough.

Bake for 20 minutes, keeping your eye on it to make sure they aren't browning too much. You want it to begin to firm up and begin to turn a light golden color. If it starts to get too dark, turn down the temperature a little.

Take the log of dough out of the oven, and let it cool enough to handle it. Meanwhile turn the oven down to around 260ºF (125ºC).

With a sharp knife, cut the dough into slices.

Spread the slices out, on their sides, over the parchment paper, and return the biscotti to the oven.

Bake for around 10 minutes, and then flip the biscotti. Bake for another 5-10 minutes before turning the oven off.

Leave the biscotti in the oven until it cools. The heat from the oven will continue to crisp the cookies.
Serving:
1
cookie
|
Calories:
138
kcal
|
Carbohydrates:
10
g
|
Protein:
4
g
|
Fat:
9
g
|
Saturated Fat:
1
g
|
Sodium:
74
mg
|
Potassium:
29
mg
|
Fiber:
3
g
|
Sugar:
5
g
|
Vitamin A:
1060
IU
|
Vitamin C:
0.2
mg
|
Calcium:
52
mg
|
Iron:
0.9
mg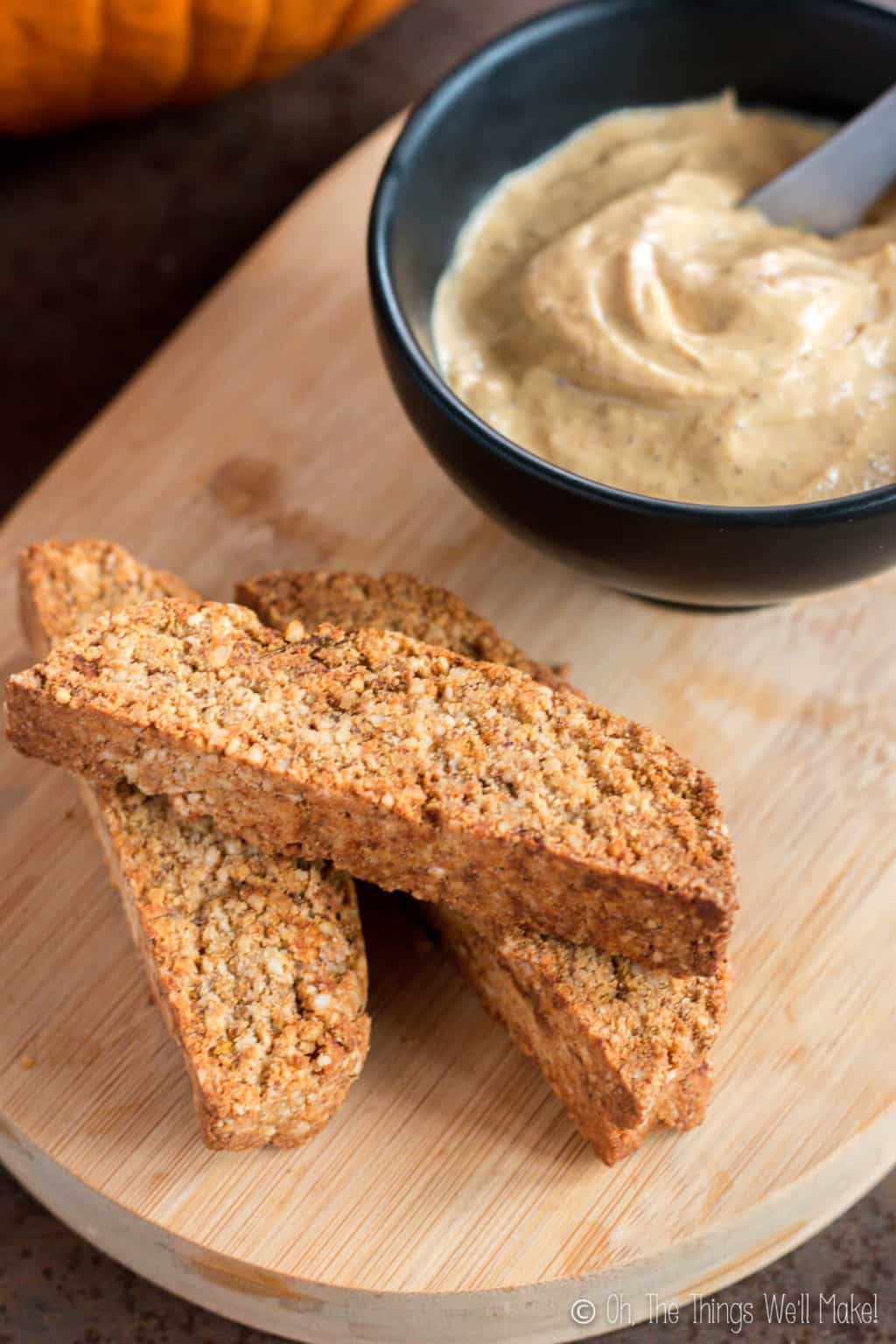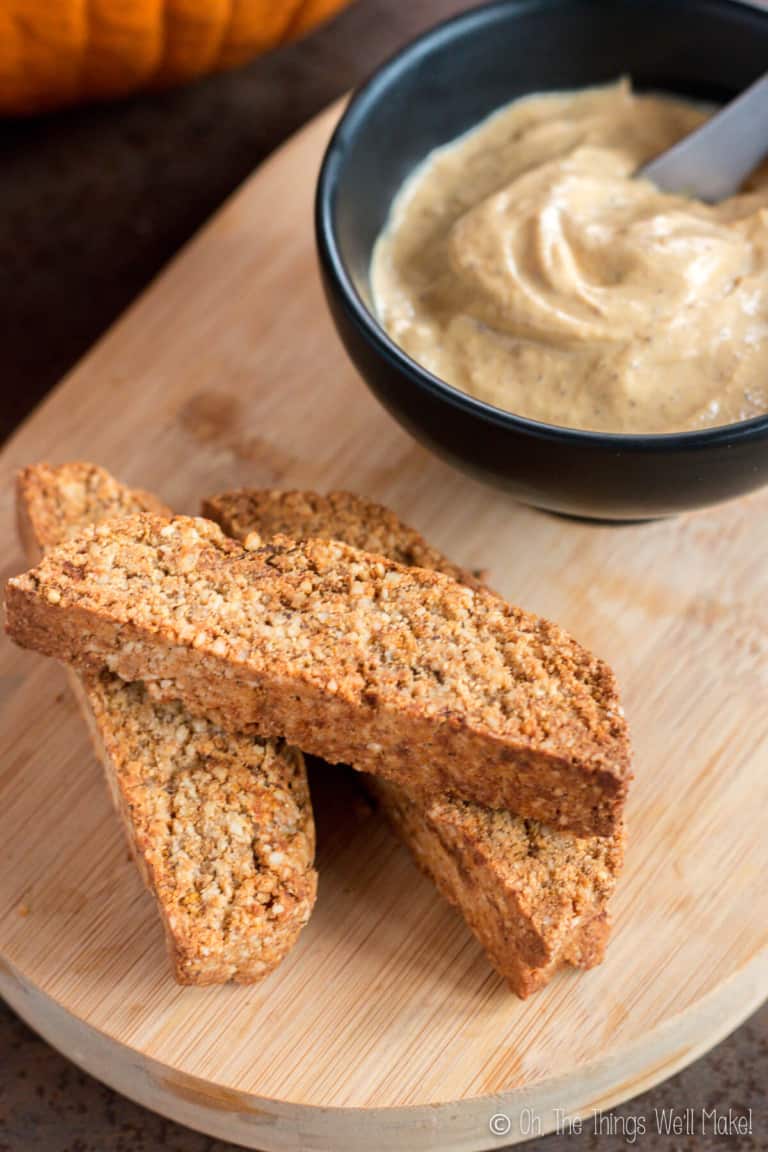 Storing leftover biscotti
Store any leftover biscotti, if there are any 😉 , in a sealed, airtight container to keep them from absorbing humidity in the air and getting soft. If they do become soft, you can re-crisp them over low heat in the oven.
Happy autumn!