Don't let toxic ingredients be what scares your guests at your Halloween party when you make this creepy prosciutto face.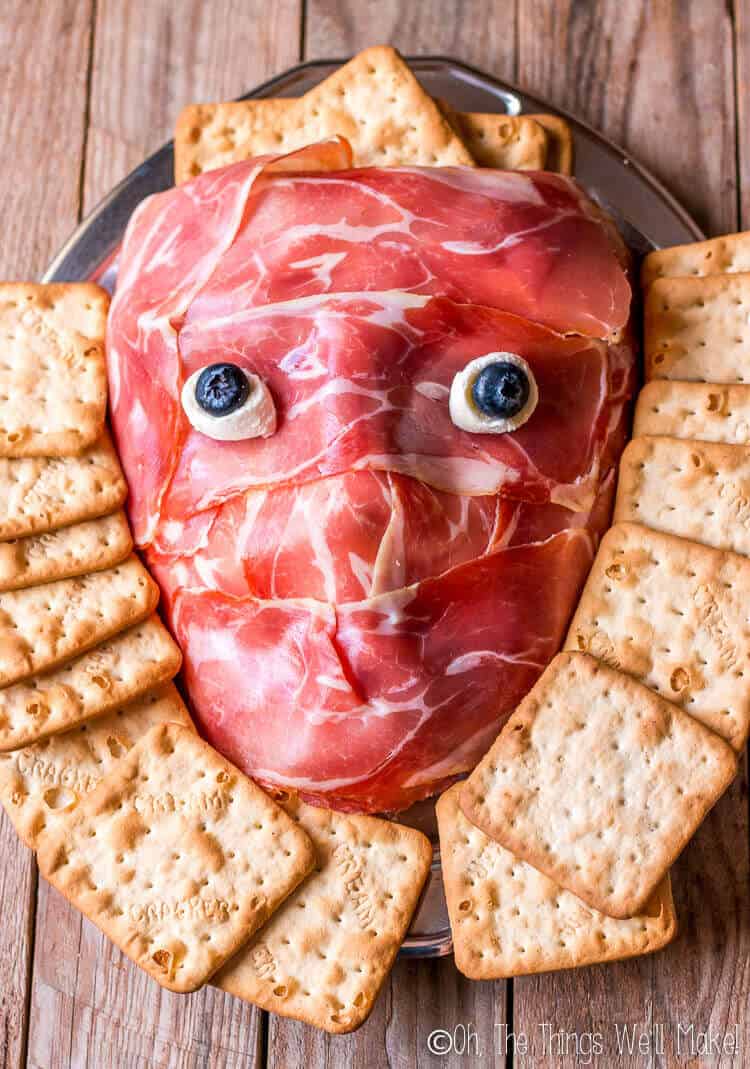 If you read my post about celebrating Halloween in Spain, the creepy prosciutto face that I made for the party may have caught your eye. For those who loved the creepy prosciutto face, I thought I'd show you the different ways I've gone about making this "cute" appetizer over the years.
Most Halloween food is packed with sugar and is quite unhealthy. That's why I like making and finding non-sugary treats that are still fun and fit with the Halloween party theme.
Watch how easy it is to make a prosciutto face
Preparing to make the prosciutto face base
The easiest way to make a creepy prosciutto face is to just go out and buy a mask that you can cover with ham.
The first few times that I made this, though, I didn't make my life quite that easy. Not only was I too lazy to head into town to look for a mask, but I didn't want to spend the money on something that I figured I would never use again. (Little did I know that I'd be making these year after year!)
Instead I decided to make my own face structure using some wadded up paper and cloth scraps. I also "upcycled" some old newspaper sheets into the face structure one year.
Use whatever you have on hand. The day I decided to take pictures of the process, I had some used paper towels on hand. I waded them up to make the main structure of the face, and then covered it with aluminum foil to help it hold its shape.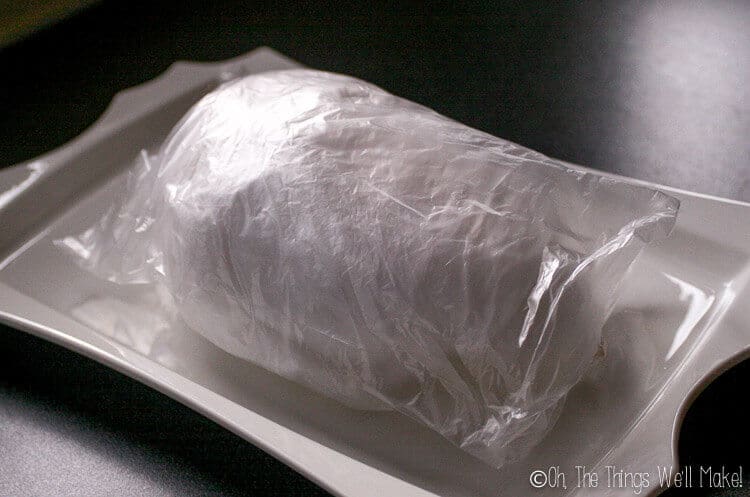 The nice thing about aluminum foil is that it easily is molded into any shape that you want, and it holds its shape well. I started with an oval face structure and then added another ball of paper for the nose. I then covered it all with more foil, pushing into the area of the eyes to form eye socket shapes.
Once you have the basic shape of a face, you can start to cover the face with your prosciutto. I think it looks more realistic when you use strips of ham and criss-cross them over the face structure. Keep adding the prosciutto until you have completely covered up the face structure and used all of the ham that you want to use.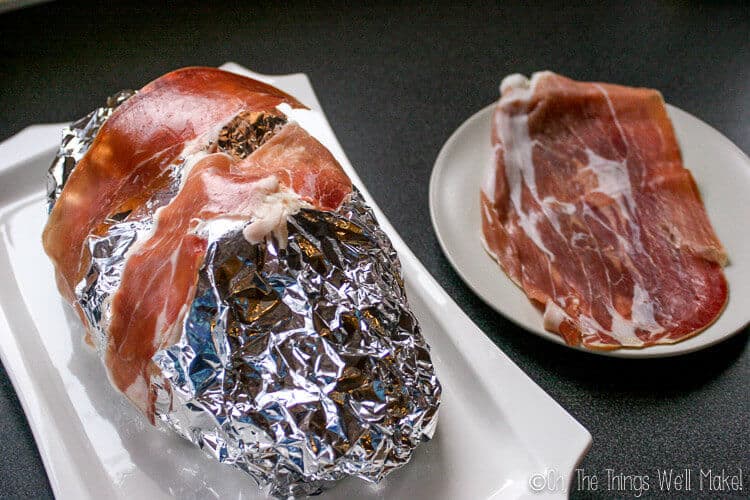 Redder, thicker ham slices look a bit less creepy. Thinner, browner strips of ham give a creepier, more realistic zombie look. Depending upon your audience and party, you can choose accordingly. 😉
While the face mask made the whole process super quick and easy, I think the homemade face structure looked better in the end. Perhaps if I had cut some of the excess width off the forehead portion of the mask, the mask version would have looked better.
Edible eyeballs
No creepy edible face would be complete without edible eyeballs!
OK, so perhaps it makes no sense that the skin has already rotted away, but the eyeballs are still in place. Those eyeball, though, give the face its super creepy look.
For that first Halloween party, I made the eyes out of olives stuck onto the face with some cream cheese. That worked out really well, and was a super easy option using foods many of us already have in our fridge.
While taking photos for this post, though, I remembered that I still had a few homemade gummy eyeballs in the fridge. So, I used those instead. To keep them in place, I wrapped a few thin pieces of prosciutto around them.
Eeeeeeew! Creepy!
When I made my video about how to make a creepy prosciutto face, I used mozzarella balls for the eyes, and scooped out small areas to which I added some blueberry pupils. That was another super easy, less creepy, eyeball you could choose.
How to Make a Creepy Prosciutto Face
Creepy Prosciutto Face
Don't let toxic ingredients be what scares your guests away from your Halloween party when you make this creepy prosciutto face!

Print Recipe
Ingredients
15

slices

prosciutto ham

or serrano or other ham

2

tsp.

cream cheese

or mozarella cheese balls

2

olives

or blueberries
Instructions
Cover mask or face shape with plastic wrap or foil.

Cover entire face with slices of prosciutto. Use at least enough slices to completely cover all of the showing foil. You can keep layering it if you want to use more ham.

Form the eyeballs by scooping some cream cheese into each eye socket. If using mozzarella cheese balls, scoop a small amount out of the cheese to make room for the blueberry pupils.

You can also use a homemade gummy eyeball from my other Halloween recipes instead!

Push olives into the cream cheese. You can also use blueberries for the pupils instead.

You can now serve your ham platter and creep out your guests!
Nutritional Information
Serving:
1
slice
|
Calories:
36
kcal
|
Protein:
1
g
|
Fat:
3
g
|
Saturated Fat:
1
g
|
Cholesterol:
6
mg
|
Sodium:
63
mg
|
Potassium:
15
mg
|
Vitamin A:
10
IU
Garnishing your prosciutto face
Ideally, for a super healthy appetizer, you could surround your prosciutto face with some cut up raw veggies.
To make an original ham and cheese platter, surround your ham face with some slices of cheese.
For the photos, I went the easy route, and surrounded mine with some crackers.
This would be great alongside a cute pumpkin cheeseball. Don't you think?
Now be prepared for your guests to be shocked, grossed out, and amazed all at the same time!
Looking for other real food Halloween treat ideas? Check out my Halloween party ideas from some of my favorite real food bloggers.