Looking for a healthier Halloween treat? Learn how to make gummy eyeballs, paleo style, using real food (not so spooky) ingredients.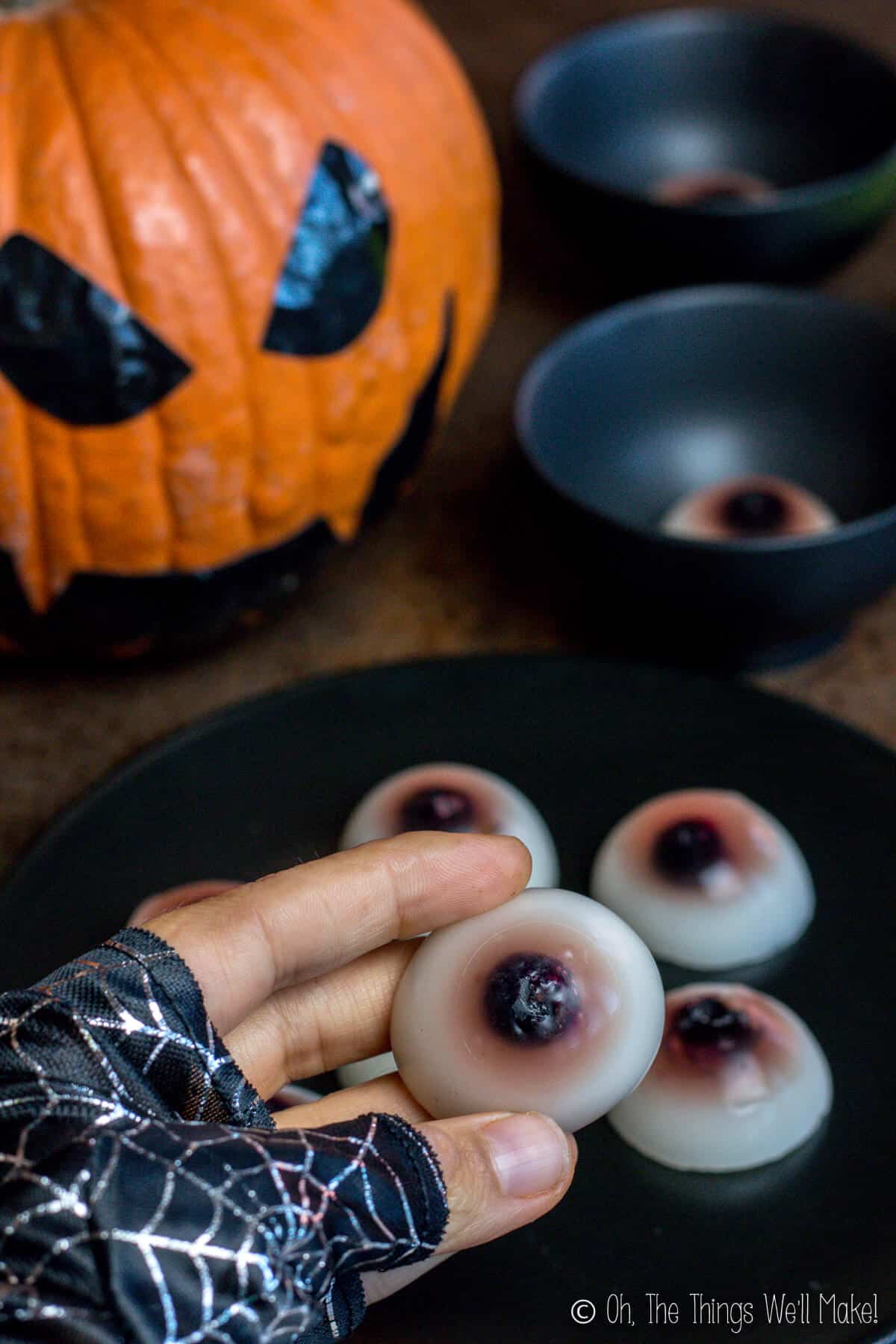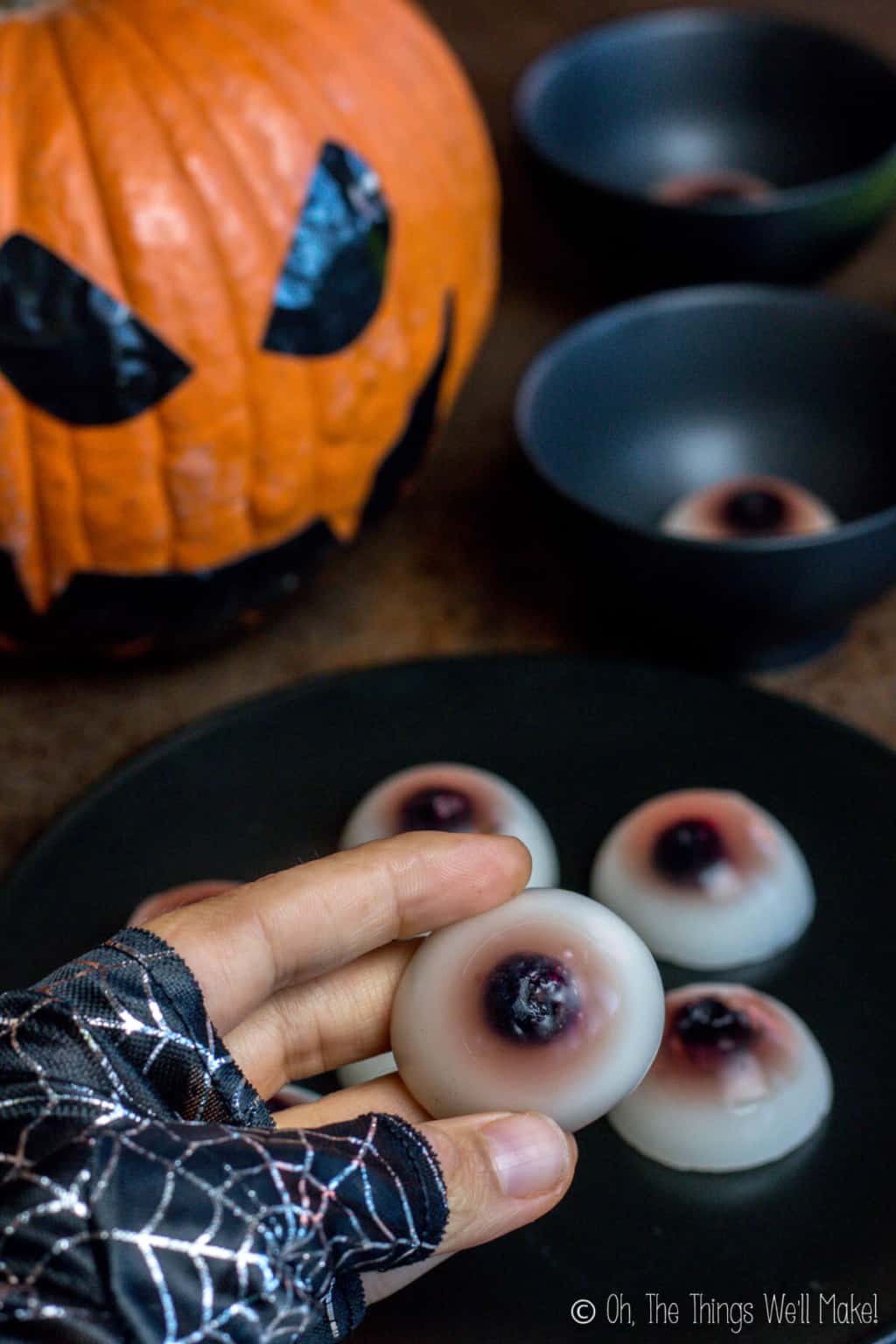 Being a summer girl at heart, the beginning of autumn makes me a little sad. It's not that I don't like the fall, but rather the foreshadowing of what is to come. You see, I sometimes feel that I would prefer to hibernate than to brave the winter.
That said, fall has a lot to offer, and my love of Halloween helps me get over the seasonal blues. Even as a kid I loved spending time planning out Halloween parties; a big part of that was to plan out creepy Halloween food.
I don't know why I find gory food so appealing at Halloween. I guess it's because it's fun and different; an excuse to let us pretend and be kids again.
So, I've been playing around with new ways of making gross, yet ghoulishly good Halloween treats.
Watch how to make gummy eyeballs
Why make your own homemade gummy eyeballs?
It's fun to make your own homemade gummies. Not only does it allow you to avoid the questionable ingredients in the gummies at the store (like corn syrup and starches), but it also allows you to be very creative and have lots of fun. I've been making and remaking these gummy eyeballs, year after year, and I think I've finally gotten down the best way to make a realistic, creepy gummy eyeball.
Perfecting the spooktacular gummy eyeballs:
The first year, I lucked out and ended up with pretty decent looking gummy eyeballs. My idea was to use a berry puree to make sort of bloody looking irises for the eyeballs.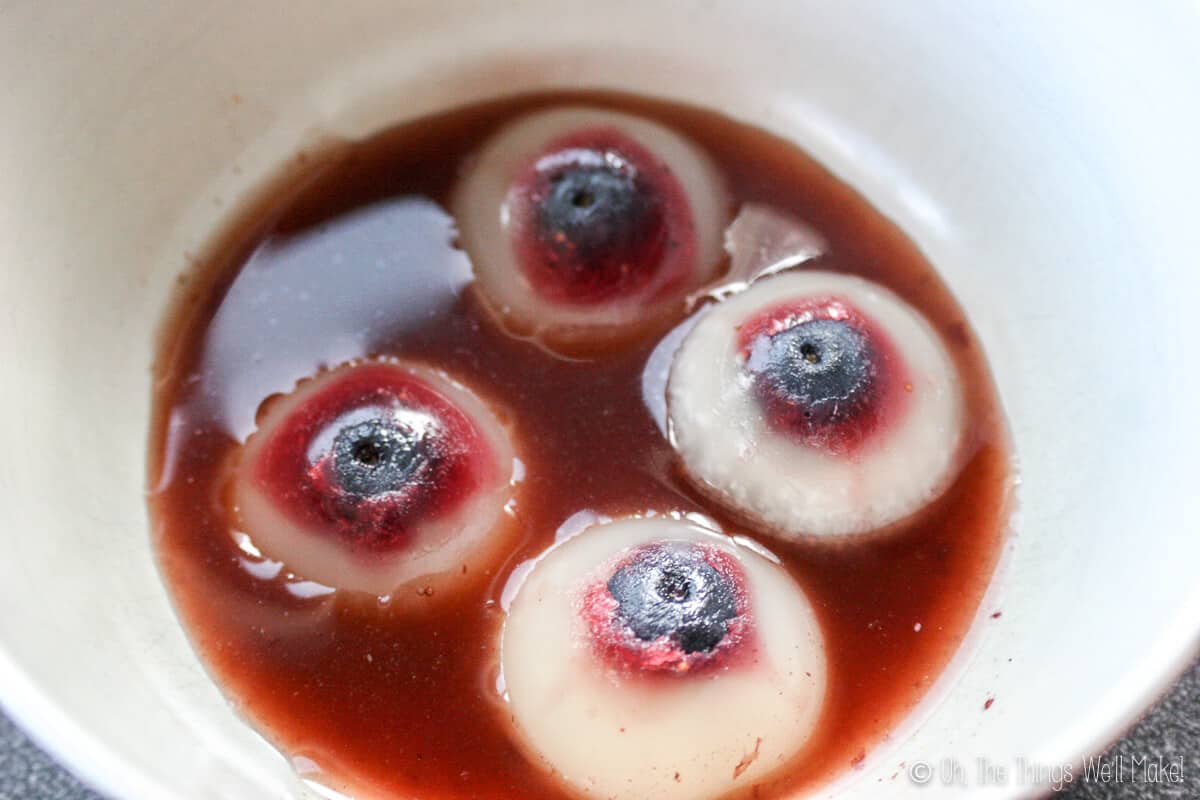 The picture above showed my first attempt at making bloody eyeballs. I even served them in fruit juice to add to the gore. I didn't add a lot of red to the eyeballs, and I think that's why they worked out really well. Because the fruit puree is thicker than juice, most of the blueberry pupils are showing uncovered. For a spooky holiday like Halloween, it isn't really a problem and looks nice and creepy.
Because I hadn't gotten very many good pictures of those first bloody eyeballs, the next year I decided to update the post with new photos. I had learned something the year before: you have to be careful when pouring in the white gelatin.
Important tip:
When you add the warm, white gelatin, it can warm and soften up the red gelatin enough to free the blueberries. That's a problem because they float to the top of the mold, and you end up with eyeballs without visible pupils!
So, the second year, I added more berry puree around the blueberry irises to try to anchor the blueberries better in place.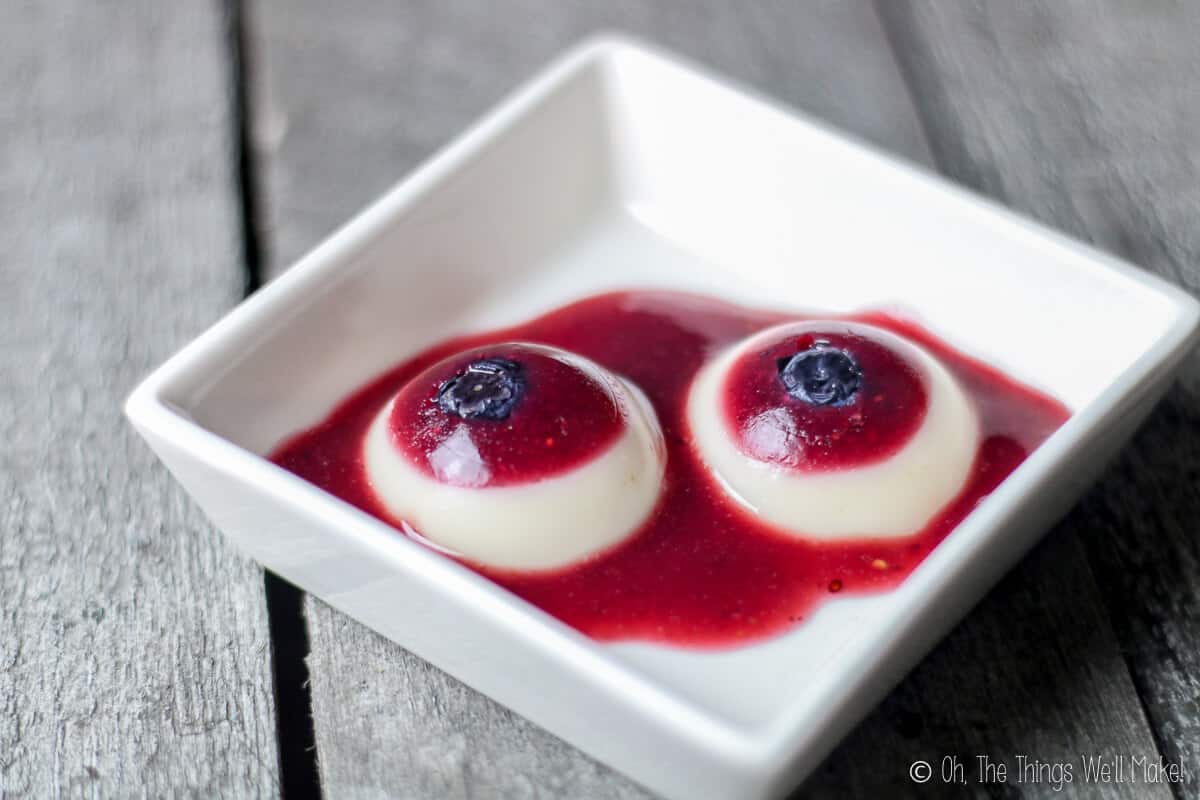 Although my photography skills had improved a bit, I don't think the large, bright red irises did the treat any favors. It didn't look as much like eyeballs anymore. They were, however very tasty.
You can see that once again I decided to serve the gummies in a bloody bath, this time made from a berry puree. I do think that the presentation is a fun one for a creepy Halloween party!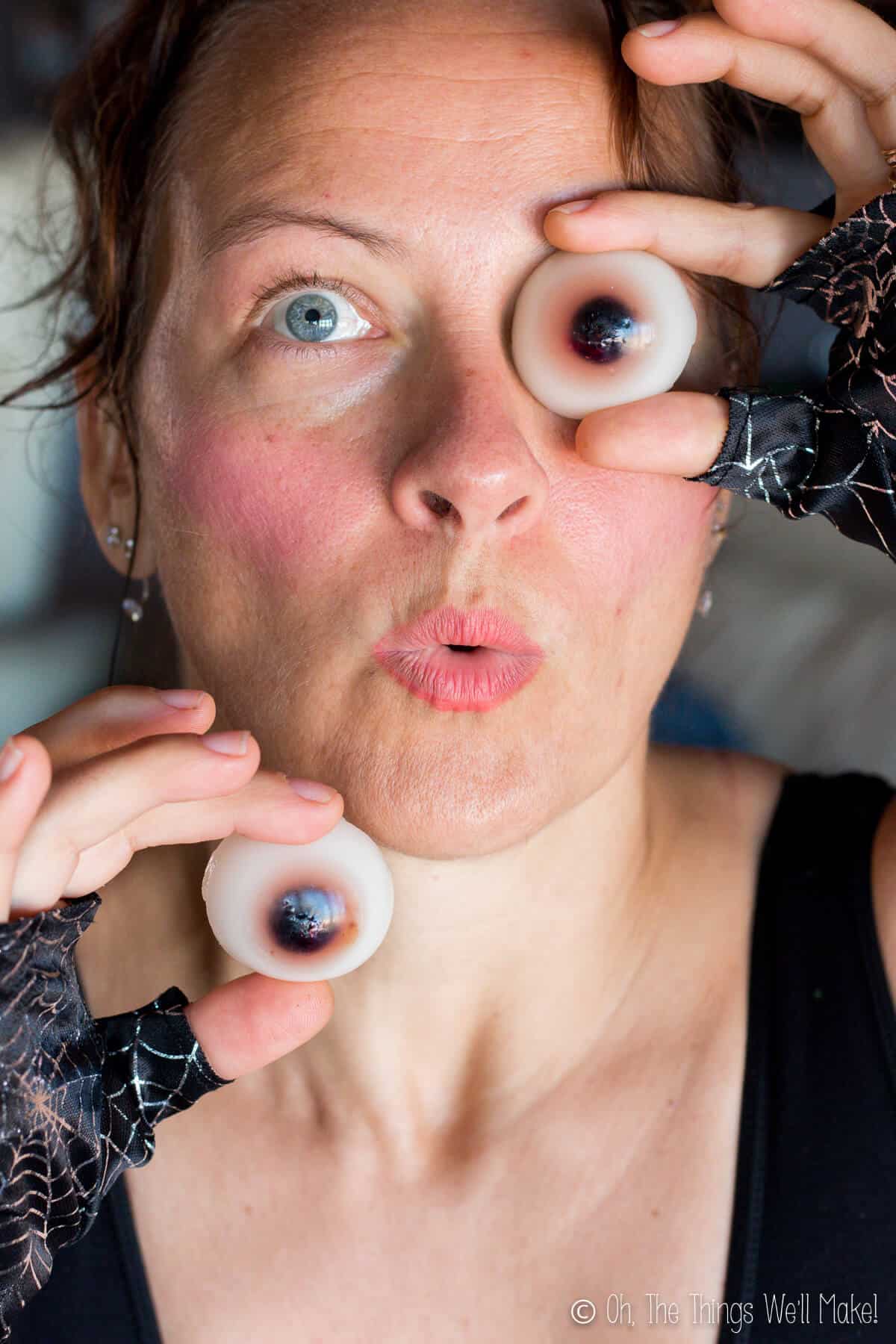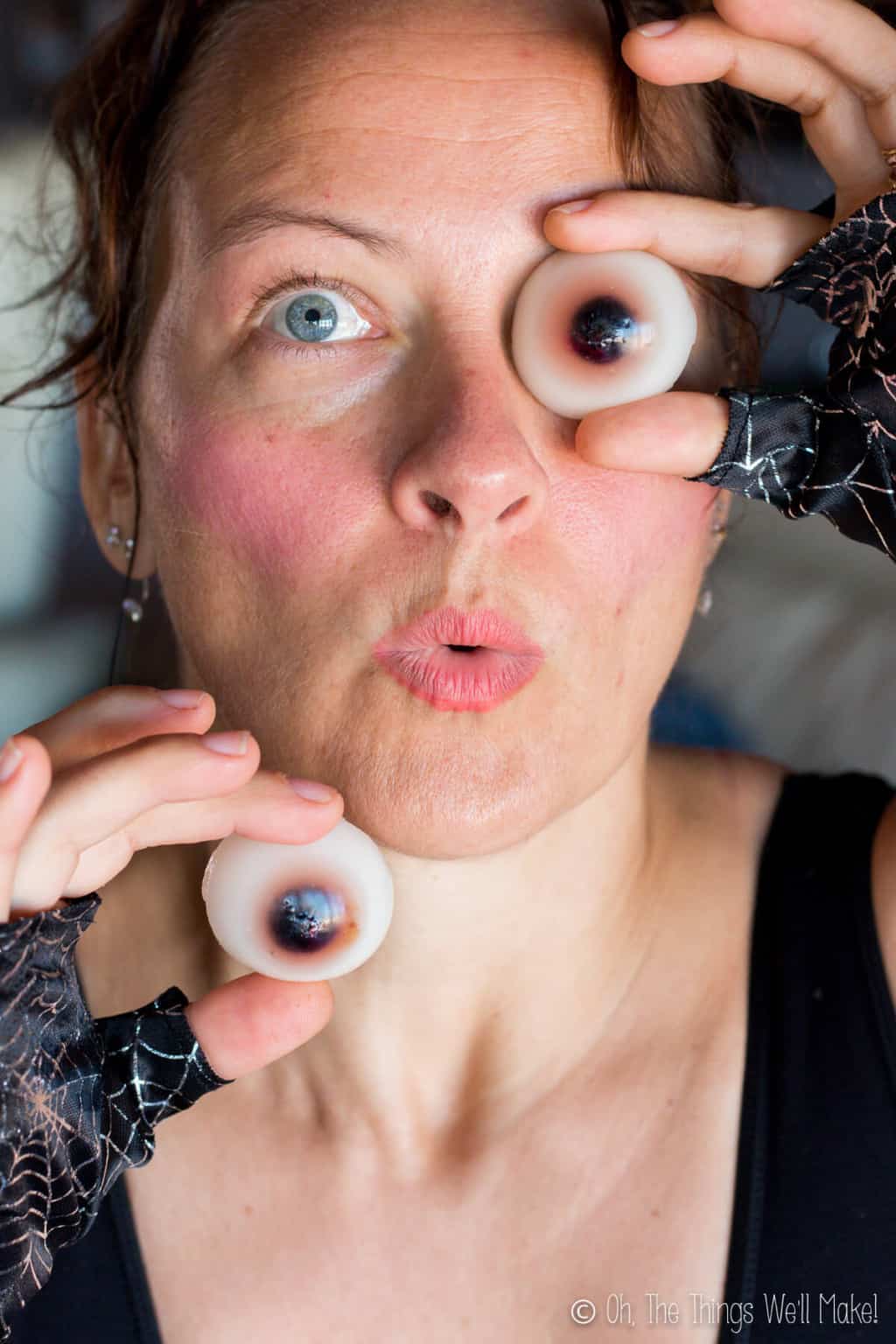 This year, I decided to use pomegranate juice instead of berry puree for the pinkish irises around the blueberry pupils. I think the result was excellent!
Because the pomegranate juice is thinner, it ended up seeping up around the blueberries better- which basically covered up the top (or the bottom in the mold) of the blueberries. This made the eyes look much more realistic because it looked like part of the cornea. (This is starting to feel like an eye anatomy post.) 🙂
To keep the pupils from floating away, I decided to freeze my gummies after adding in the first layer of pomegranate juice gelatin. I'm not sure I would do that again because I got some ice crystals that formed on top of some of the gummies- which made it so that some of the gummies separated at that point between the colors when I unmolded them. Luckily, I was able to push them back together and as they dried out, they stuck back together again. After a day or so they really began to look realistic!
What I did try that was very successful was to pour the white gelatin in layers. I first poured in a thin layer of white gelatin and chilled it. That held the blueberries in place enough so that I could add the final white gelatin layer without the blueberries floating away!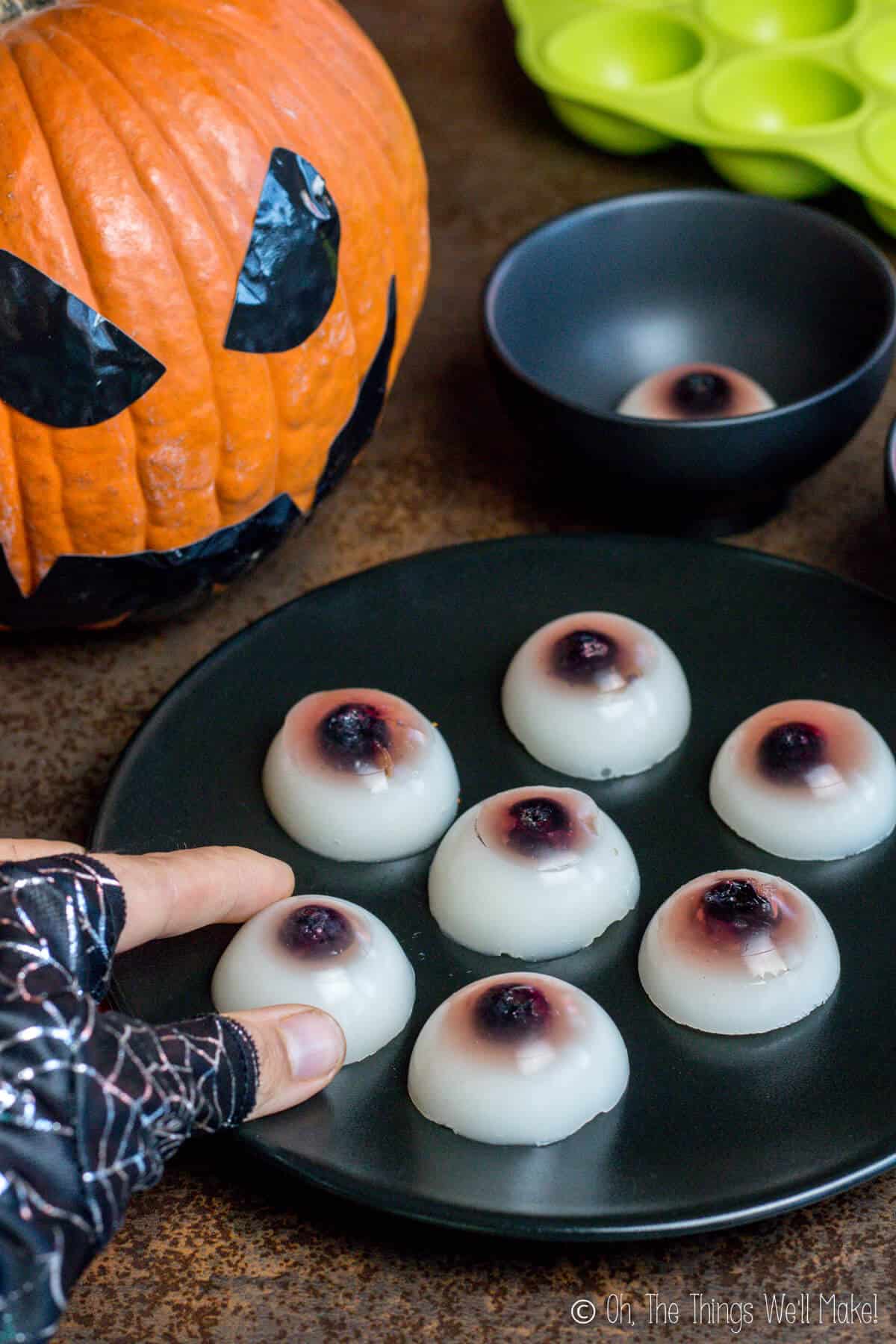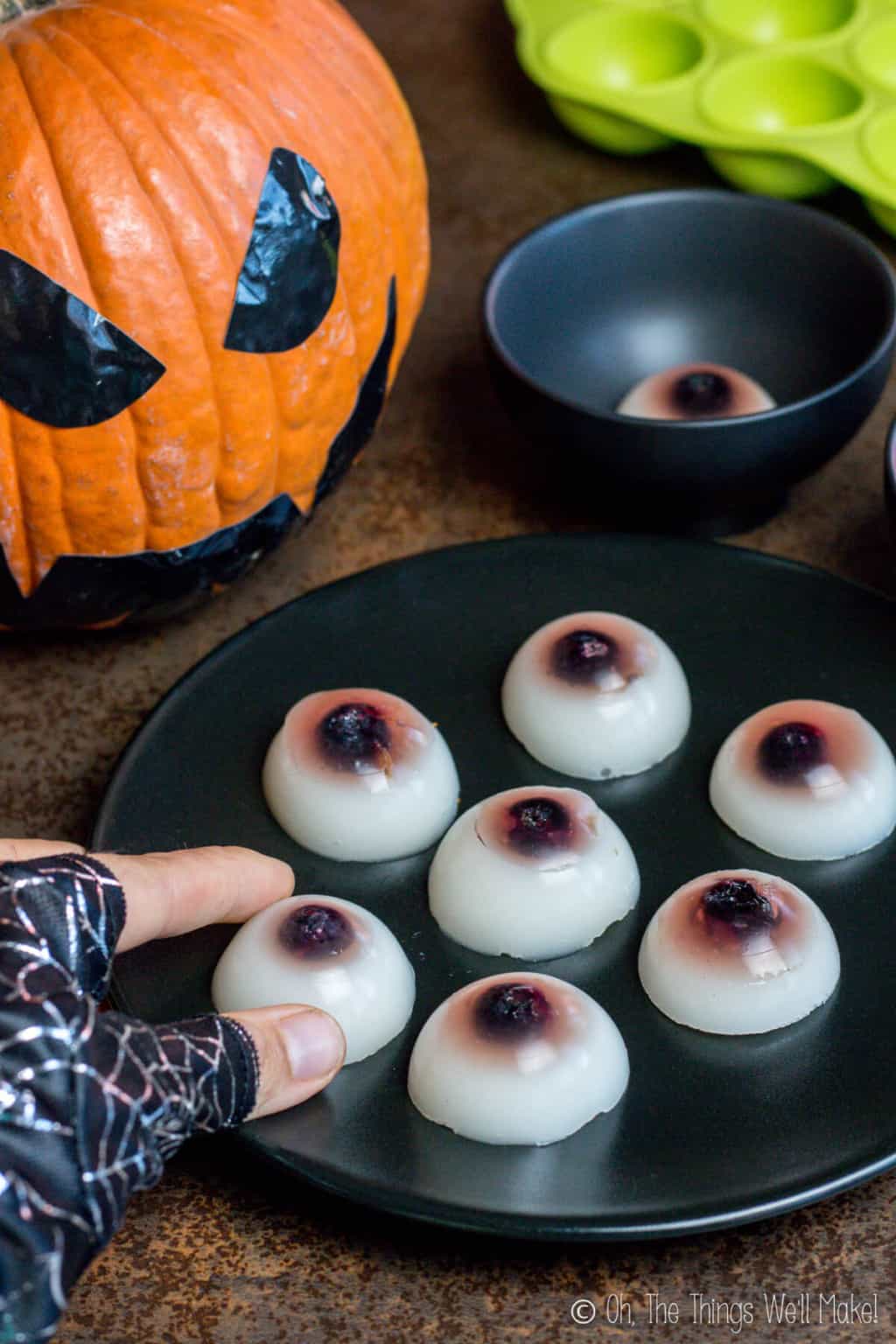 Choosing your ingredients
The first time I made these, I wasn't sure if I would like the combination of flavors because I was really just going for the appearance. Luckily, though, I was pleasantly surprised by how good the flavors came together. they really are quite tasty.
Choosing a fruit puree or fruit juice
As I mentioned before, you can use either a fruit juice or a fruit puree for making the irises of your eyeballs. You'll want to choose a fruit that makes a nice colored iris for your eyeballs.
When using fresh fruit purees, you'll also want to stay away from certain fruits like pineapples or papaya that have proteolytic enzymes that don't allow the gelatin to gel properly. (I have more information about which fruits to avoid in my post about how to make a healthy gelatin dessert.) The first few times I made these, I used a berry puree from which I strained out the seeds. The problem with using a thick puree is that the mixture doesn't seep around your blueberries and they remain uncovered.
It's much easier to use juices instead. Store bought juices have normally been pasteurized so the proteolytic enzymes no longer keep the gelatin from gelling. (So, yes, you could theoretically use pineapple juice to make yellow irises.) This last time, I used pomegranate juice. Using a thin juice worked wonderfully because it seeped around the blueberries which not only helped hold them in place, but it also made the eyeballs look like they had a cornea over the blueberry pupils.
Choosing a healthy gelatin
While you could use any unflavored gelatin, some are healthier than others. Gelatin is a great source of collagen and protein, which makes it great for your hair, skin, and nails. My favorite gelatins are gelatins derived from grass-fed cows. (I'll link to one in the Amazon suggestions below.)
Choosing your coconut milk
Because we are relying on the gelatin for the texture of these gummies, you don't need to use a coconut milk with any added thickeners. This is a great opportunity to use a homemade coconut milk.
If you don't want to make your own, though, I'd look for a coconut milk with minimal ingredients; something without a lot of extra gums or sweeteners.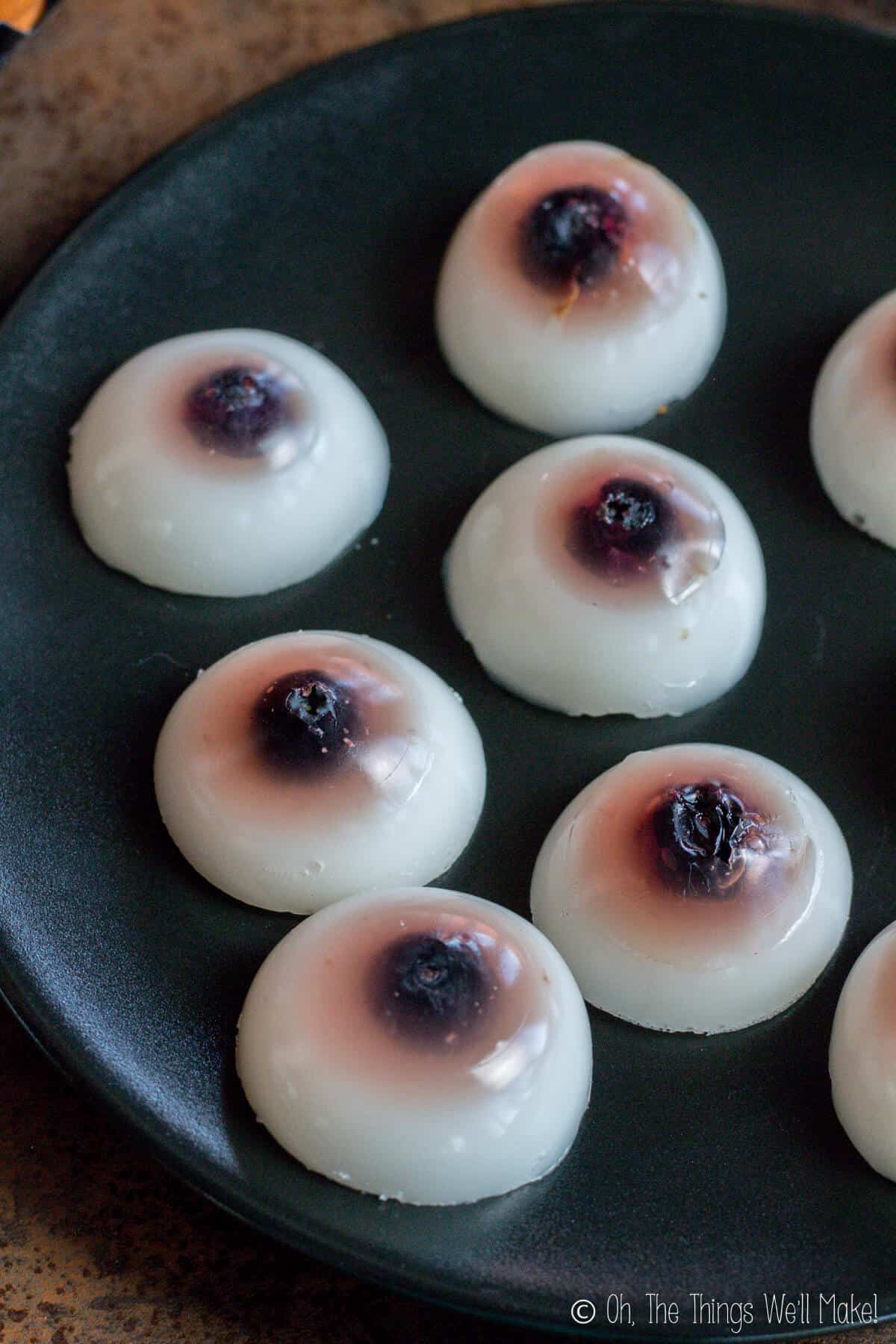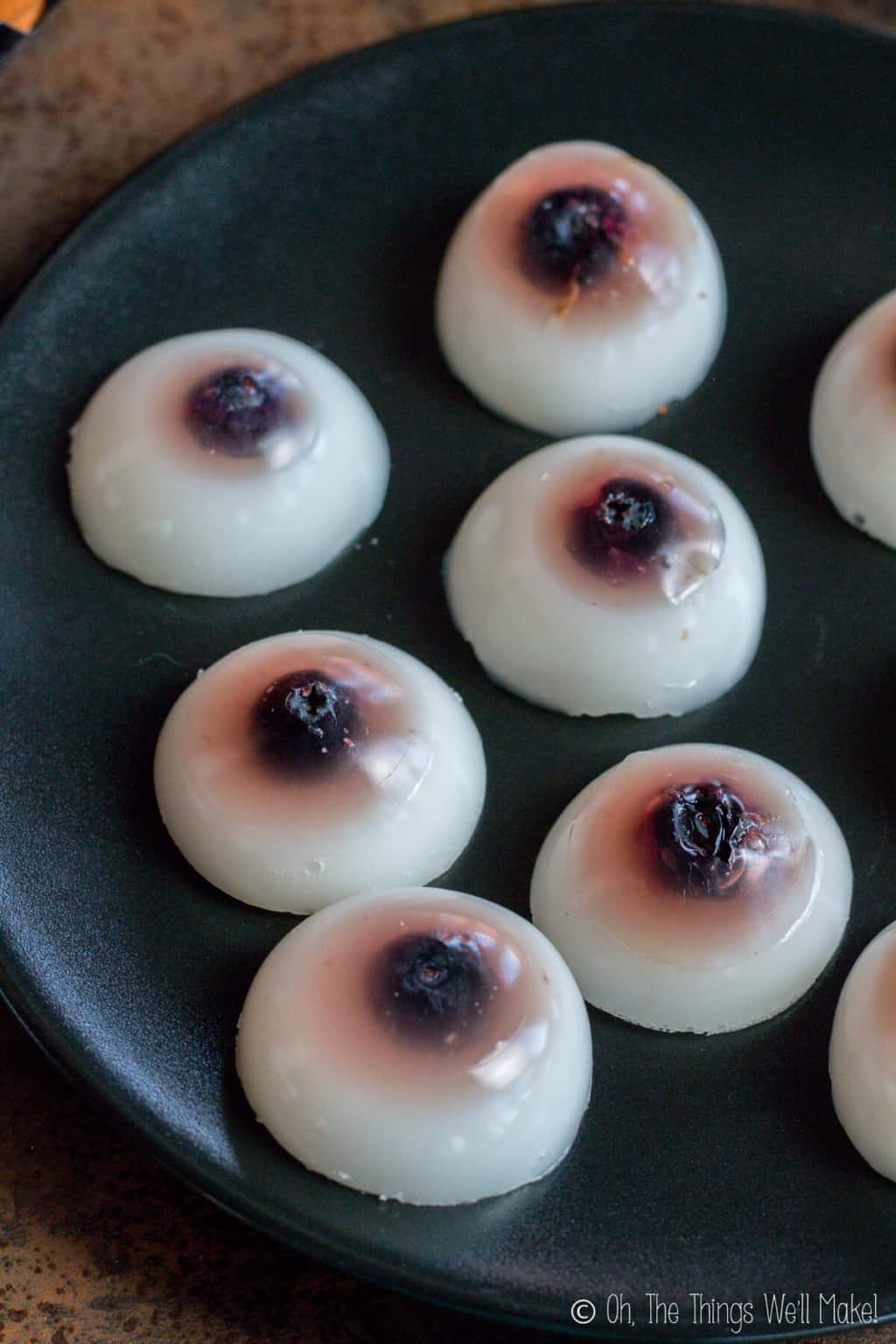 Sweetening the gummy eyeballs
You can use any sweetener of your choice for making these eyeballs as sweet as you like. I didn't add any sweetener to my pomegranate irises but did add some honey to the coconut eyeballs. I'm not much of a sweet tooth, though. Most people will probably prefer to add a bit more sweetener. You could use anything from stevia to honey or maple syrup.
Choosing your molds
Luckily, when I decided to try to make gummy eyeballs the first time, I already had some silicone half-sphere ice cube trays at home. They inspired me to make these in the first place.
I like using silicone molds because they are flexible and they allow you to more easily remove the finished gummies from the molds.
If you don't happen to have molds like mine, you can find similar ones on Amazon. (See one below.) While you're shopping, you may also want to pick up either a syringe or a turkey baster because it makes the job of pouring the gelatin into the molds much easier. You can try to carefully spoon the mixture into the molds, but having something like a syringe tends to be much cleaner.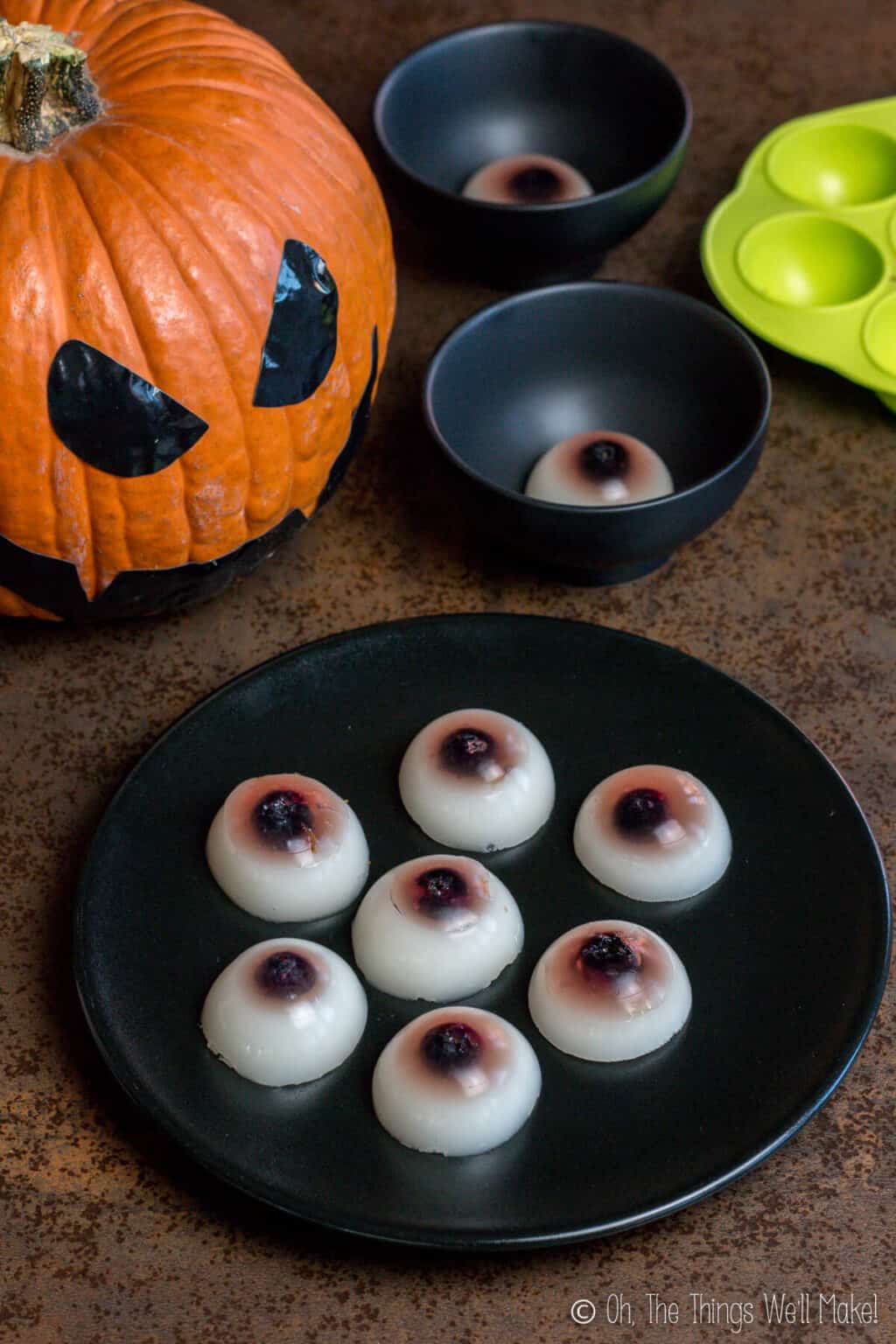 How to Make Gummy Eyeballs
Craving more?
Subscribe to my newsletter for the latest recipes and tutorials!
Spooktacular Gummy Eyeballs (Updated)
Looking for a healthier Halloween treat? Learn how to make gummy eyeballs, paleo style, using real food ingredients.
Print
Pin
Rate
Ingredients
For the irises
1

Tbsp.

gelatin

(unflavored)

.25

cup

fruit juice or puree

1

dash

boiling water
For the sclera (white of the eyeballs)
Instructions
If making a fruit puree like my berry puree…
Blend berries with a hand mixer and strain the mix through a sieve to separate the seeds from the berry puree.

Add the gelatin to the fruit puree and allow it to absorb the liquid and expand (bloom).

Mix the berry puree and gelatin with honey, to taste, in a saucepan over low heat. You can see in the pictures that I made a much larger batch because I wanted to use the rest to make gummy worms. You can thin out the mixture with a dash of water if you like. Cook and stir until the gelatin has dissolved.
If using fruit juice
Mix together the gelatin and fruit juice in a small, heat-safe bowl and allow the gelatin to bloom (absorb the liquid and fully hydrate). This will make it much easier to dissolve the gelatin.

Place the bowl in a pan of water over the stove to heat the gelatin mixture as if it were in a double boiler. I often add a dash of boiling water to help get it to dissolve more quickly and to help make the mixture more transparent for the eyeballs. Continue to heat and stir until the gelatin has fully dissolved.
Preparing the pupils and irises
Place the blueberries in

round ice cube trays

, one in each compartment. These will be the pupils of the eyes.

Pipe in a small amount of your iris gelatin mixture (either fruit puree or fruit juice mixture) around the blueberries. Using a syringe or turkey baster makes this job easier and much less messy.

Place trays in the fridge for a few minutes to help set the irises.

Pour leftover gelatin mixture into other molds so as not to let it go to waste. I suggest making gummy worms for Halloween!
Making the sclera (The white of the eyeballs)
Add the gelatin and half of the coconut milk to a small bowl to allow the gelatin to bloom.

In a saucepan, heat the other half of the coconut milk. Stir in the gelatin and coconut milk mixture once the gelatin is fully hydrated.

Remove the molds from the fridge, and pour in a thin layer of the white, coconut gelatin over the blueberries. We do this in thin layers so that the blueberries don't float away from the bottom of the molds.

Place your trays back in the refrigerator until the gelatin is set.

Finish filling the molds with the white mixture until you've used it up, or until you are happy with the amount you have added.

Pop your eyes out. Ok, not YOUR eyes- the gelatin ones, please! We only want fictional gore!

The eyes look especially gory if you place them in a red liquid or sauce. Using some berry puree or red juice works wonderfully. To be honest, when I took some of the pictures, I didn't have either available and used what I had on hand: red wine! I wouldn't suggest that option for the kiddos though.
Serving:
1
eyeball
|
Calories:
36
kcal
|
Carbohydrates:
1
g
|
Protein:
2
g
|
Fat:
2
g
|
Saturated Fat:
2
g
|
Sodium:
7
mg
|
Potassium:
33
mg
|
Vitamin C:
0.2
mg
|
Calcium:
3
mg
|
Iron:
0.4
mg