Looking for a healthier Halloween treat? Learn how to make gummy eyeballs, paleo style, using real food ingredients.
Being a summer girl at heart, the beginning of autumn makes me a little sad. It's not that I don't like the fall, but rather the foreshadowing of what is to come. You see, I sometimes feel that I would prefer to hibernate than to brave the winter.
That said, fall has a lot to offer, and my love of Halloween helps me get over the seasonal blues. Even as a kid I loved spending time planning out Halloween parties; a big part of that was to plan out creepy Halloween food.
I hate to admit that I'm the one in the ghost costume. You see, even back then I was crafting my own costumes.
I don't know why gory food is so appealing. I guess it's because it's fun and different; an excuse to let us pretend and be kids again.
So, I've been playing around with new ways of making gross, yet ghoulishly good Halloween treats.
Lately I have seen a lot of healthy gummy treat recipes floating around the internet. I have tried making a raspberry-lime, a coconut and a watermelon version so far. Although my favorite was the watermelon, I thought the others might be better combined.
What better way to combine them than to make gummy eyeballs?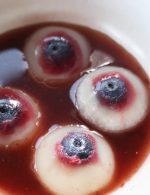 Spooktacular Gummy Eyeballs
Looking for a healthier Halloween treat? Learn how to make gummy eyeballs, paleo style, using real food ingredients.
Ingredients
Instructions
Blend berries with a hand mixer and strain the mix through a sieve to separate the seeds from the berry puree.

Mix the berry puree with honey to taste in a saucepan over low heat. (I added around 2 Tbsp., but I don't have much of a sweet tooth.)

Add half of the gelatin and stir until it is dissolved.

In another saucepan, blend the coconut milk with honey and the other half of the gelatin and stir until dissolved.

Place blueberries in

round ice cube trays

, one in each compartment. These will be the pupils of the eyes.

Pipe in a small amount of your red, berry gelatin mixture. I tried piping it up the sides a little, the first time I made them, to give a bloodshot look, but I found that it all ended up in the bottom later on anyway.

Place trays in the freezer for a few minutes to help set the red gelatin.

Spoon in the white, coconut gelatin.

Place your trays in the refrigerator until the gelatin is well set.

Pop your eyes out. Ok, not YOUR eyes, the gelatin ones!!! Please!!! We only want fictional gore!

The eyes look especially gory if you place them in a red liquid or sauce. Using some extra berry puree or juice works wonderfully. To be honest,when I took last year's pictures, I didn't have either available and used what I had one hand: red wine! I wouldn't suggest that for the kiddos though. This year I used leftover berry puree so I wouldn't have to eat them all myself.
Something to keep in mind when making these spooktacular gummy eyeballs:
If you put too much white gelatin in the mold, the blueberries will float!
I didn't realize this with my first batch because at first they were stuck to the bottom with the red, set gelatin. When I added the warm, white gelatin, though, it ended up softening the red enough to free the blueberries. They floated to the top, and my pupils were gone!!!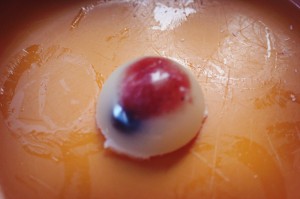 In any case, I think these taste better with less coconut gelatin overpowering the other flavors.
The first time I made these, I wasn't sure if I would like the combination of flavors. I mean, I was really just going for the appearance. Luckily, though, the flavors come together in such a way that I really liked these better than either of the gelatins on its own.
I was pleasantly surprised by how good these really are!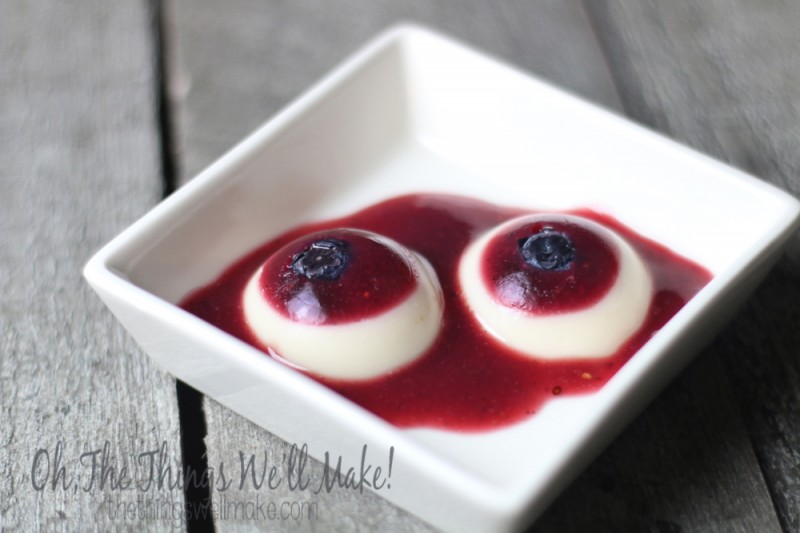 This year I added in more berry gelatin than last year. While they are really good, I think I like the way last year's eyeballs looked better. In any case, it's fun to experiment with these. I may even add some shredded coconut next year to try it out!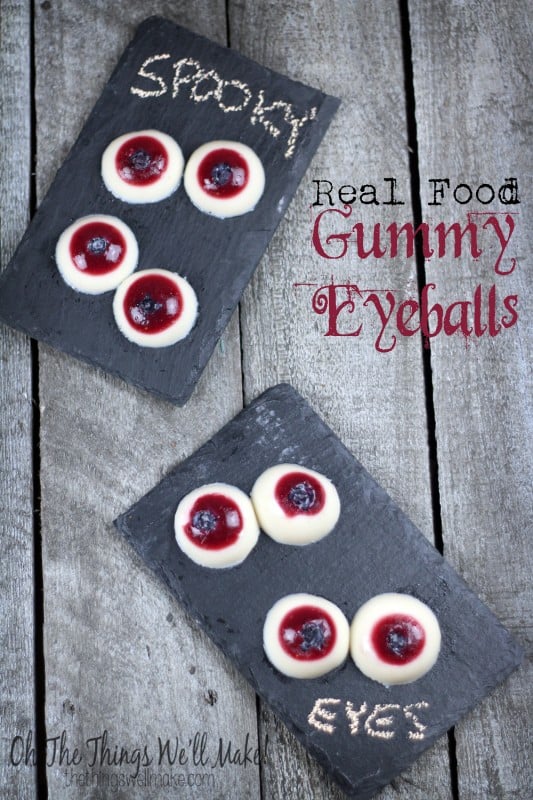 This post is also available in Español.