If you have some Halloween inspired cookie cutters, you don't have to use them for cookies! You can use them to make some super cute Halloween Chicken nuggets instead!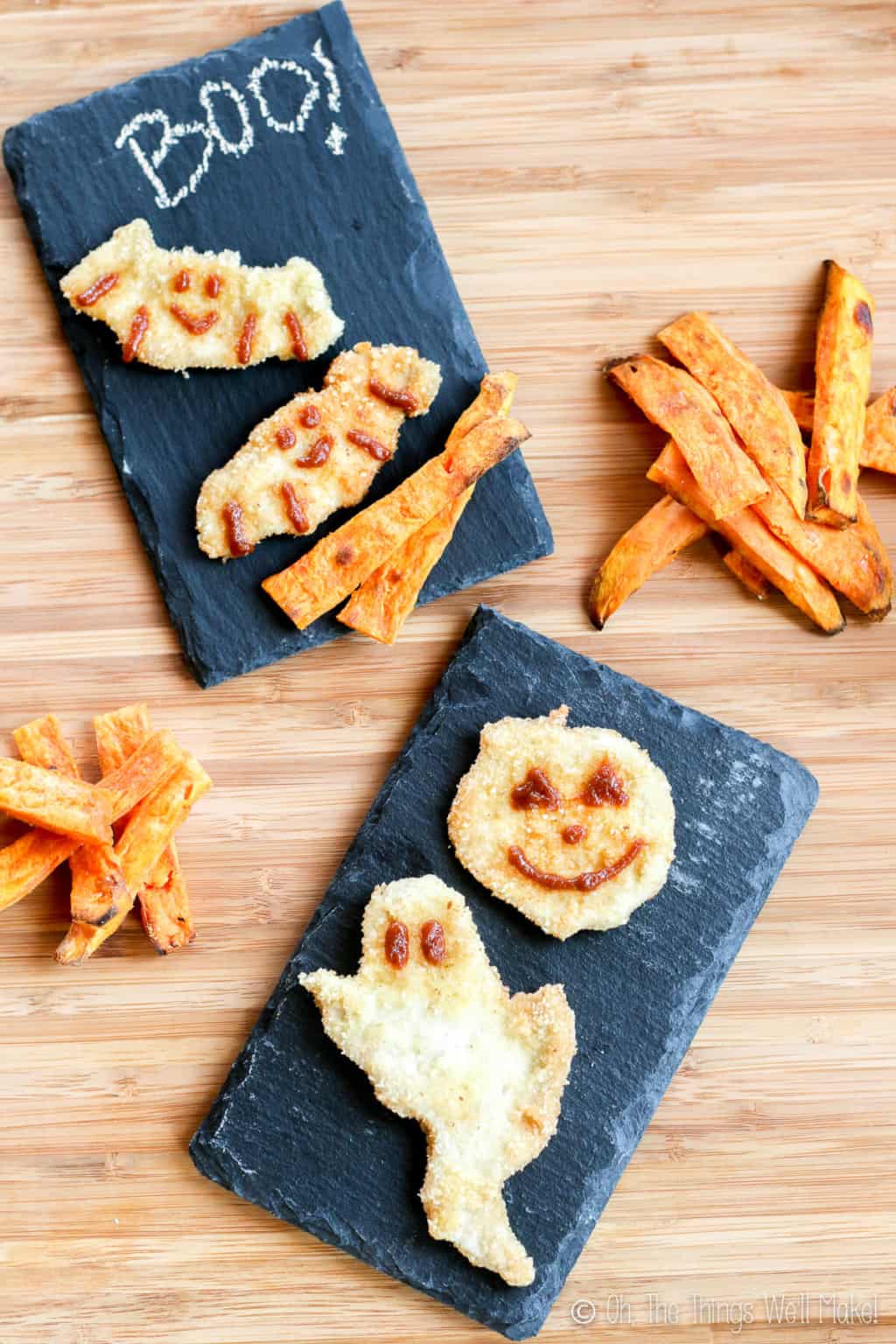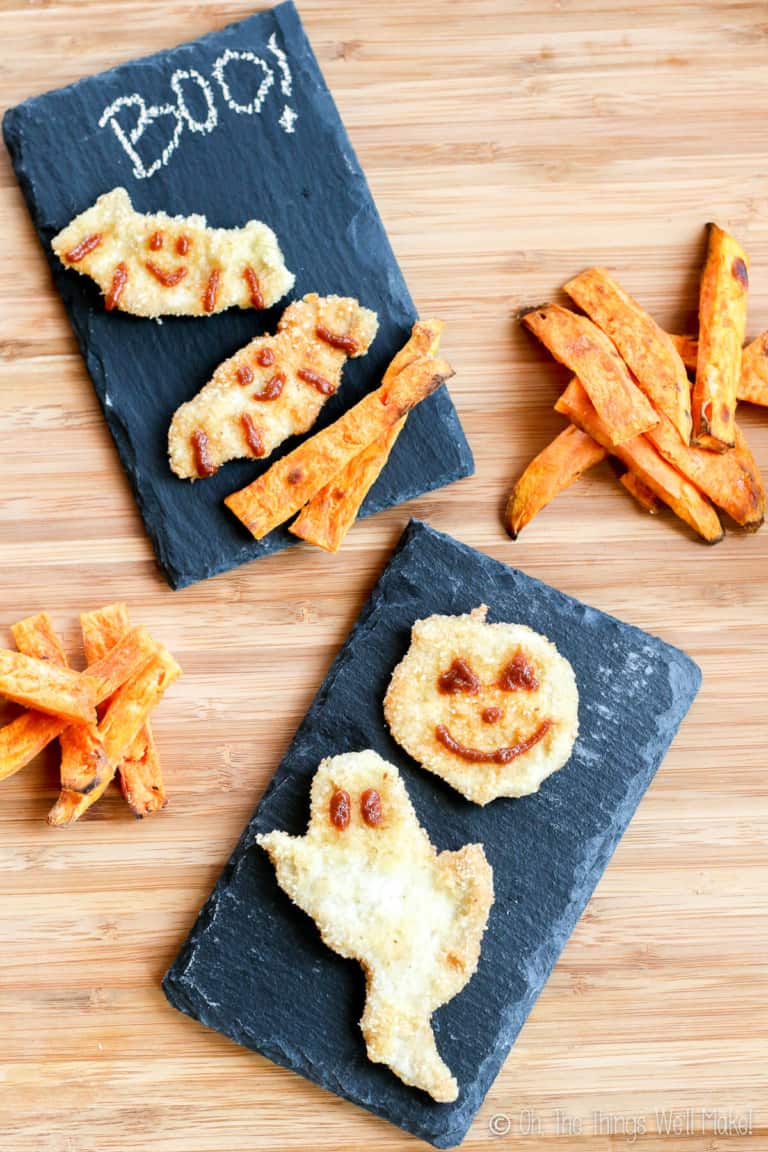 Today I'm going to share with you another young child approved meal.
For years, I've been making different combinations of grain-free breaded chicken. It's always been one of my son's favorite recipes, especially when paired up with something as fabulous as baked sweet potato fries.
One of the great things about making breaded chicken yourself, apart from the obvious control that you have over the ingredients, is that you can make it a lot more fun. This is especially great when cooking for kids.
Decorating the Breaded chicken for Halloween
One year, I decided to make use of some fun Halloween cookie cutters that we happened to have at home.
I didn't want to make anything sugar-laden, but did want to make a fun food that my son would love. I settled on making some Halloween chicken nuggets in the shape of pumpkins, ghosts, and bats.
(I have a whole other post about non-sugar Halloween food ideas for kids.)
Making Halloween shapes
I'm not going to lie. If you are using plastic cookie cutters like I was, it can be a bit tricky to cut the chicken breasts into the desired shapes. There are some tricks that will help your nuggets turn out just right!
Preparing the chicken for easier cutting
The best way to make it easy on yourself is to either buy thinly filleted chicken breasts or to slice them thinly yourself.
Once you have the thin fillets, make them even thinner by pounding on them with a meat mallet or the bottom of a strong glass. (Be very careful if choosing the second option.)
Ideally, you want an even thickness that isn't paper-thin, but thin enough to easily cut with the cutters.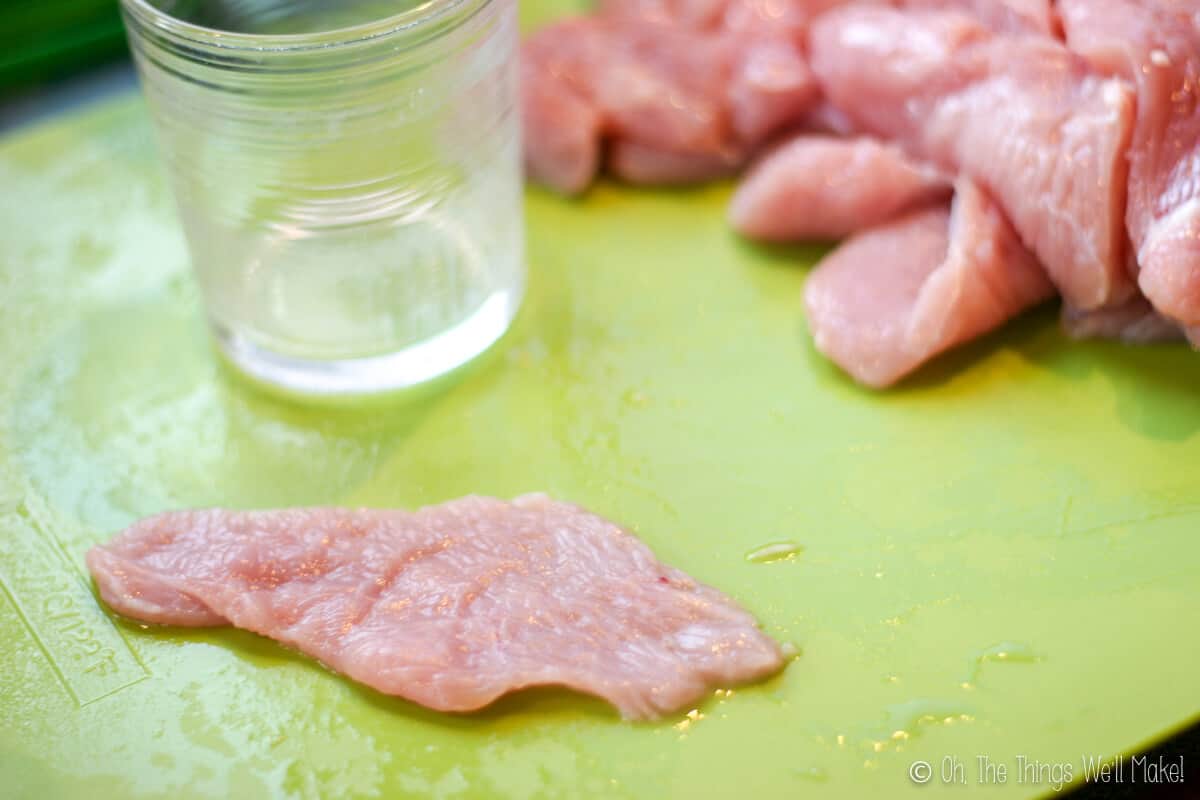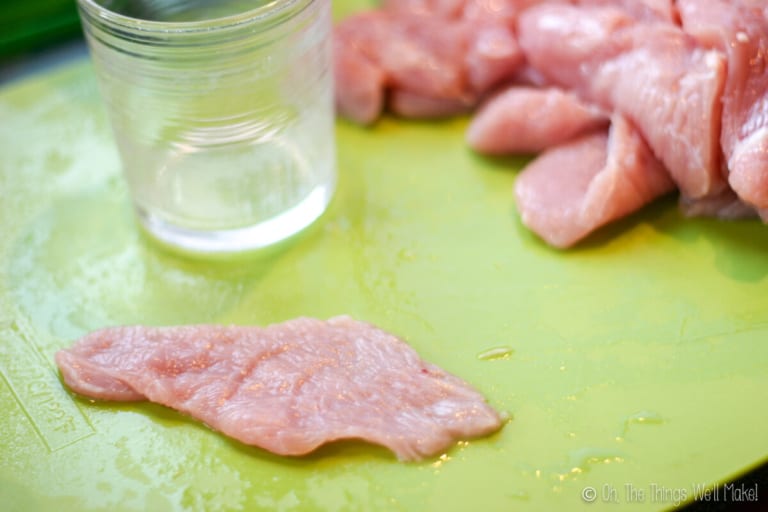 Cutting the chicken with cookie cutters
Once you've prepared the chicken fillets, place one of the cookie cutters on a fillet and press down on it to cut out your shape.
You may find that the cookie cutters haven't completely cut out the shape cleanly all the way around. You can use some kitchen scissors or a knife to help finish cutting the remaining areas as needed.
To be able to make as many shapes as you can with the chicken fillets, it's a good idea to start cutting them out near the edges and plan out which shapes to cut from each fillet. Any leftover chicken "scraps" can be cut into small pieces and breaded to make "popcorn chicken."
Breading the chicken nuggets
Once you have finished cutting out the shapes, it's time to bread them. You can choose any type of breading you like. I've provided both grain-free and breadcrumb based alternatives in the recipe card below. If you have your own recipe, though, feel free to use it.
To get a thicker coating of breading, coat the chicken with a fine flour first before dipping it in beaten egg. The flour will help the egg adhere to the chicken pieces better.
Once you've dipped it into the egg mixture, dip it into the breading of choice.
Breading choices:
Breadcrumbs or panko
Seasoned flour mixture
Seasoned grain-free flour mixture (with tapioca flour and almond flour)
Baking or Frying the Nuggets
While I showed you how to fry these chicken nuggets, you can choose to bake them instead.
After preheating the oven to 200ºC/400ºC, place the uncooked breaded chicken pieces in a single layer on a greased baking sheet (or one that is prepared with a sheet of parchment paper).
Spray the chicken pieces with olive oil or your favorite oil.
Bake the nuggets until golden brown, around 20 minutes.
Decorating the chicken nuggets
To give your nuggets a bit more personality for Halloween, you can decorate them with faces made from either ketchup or barbecue sauce. (If you really like to make things yourself, you can make your own ketchup or use a homemade barbecue sauce!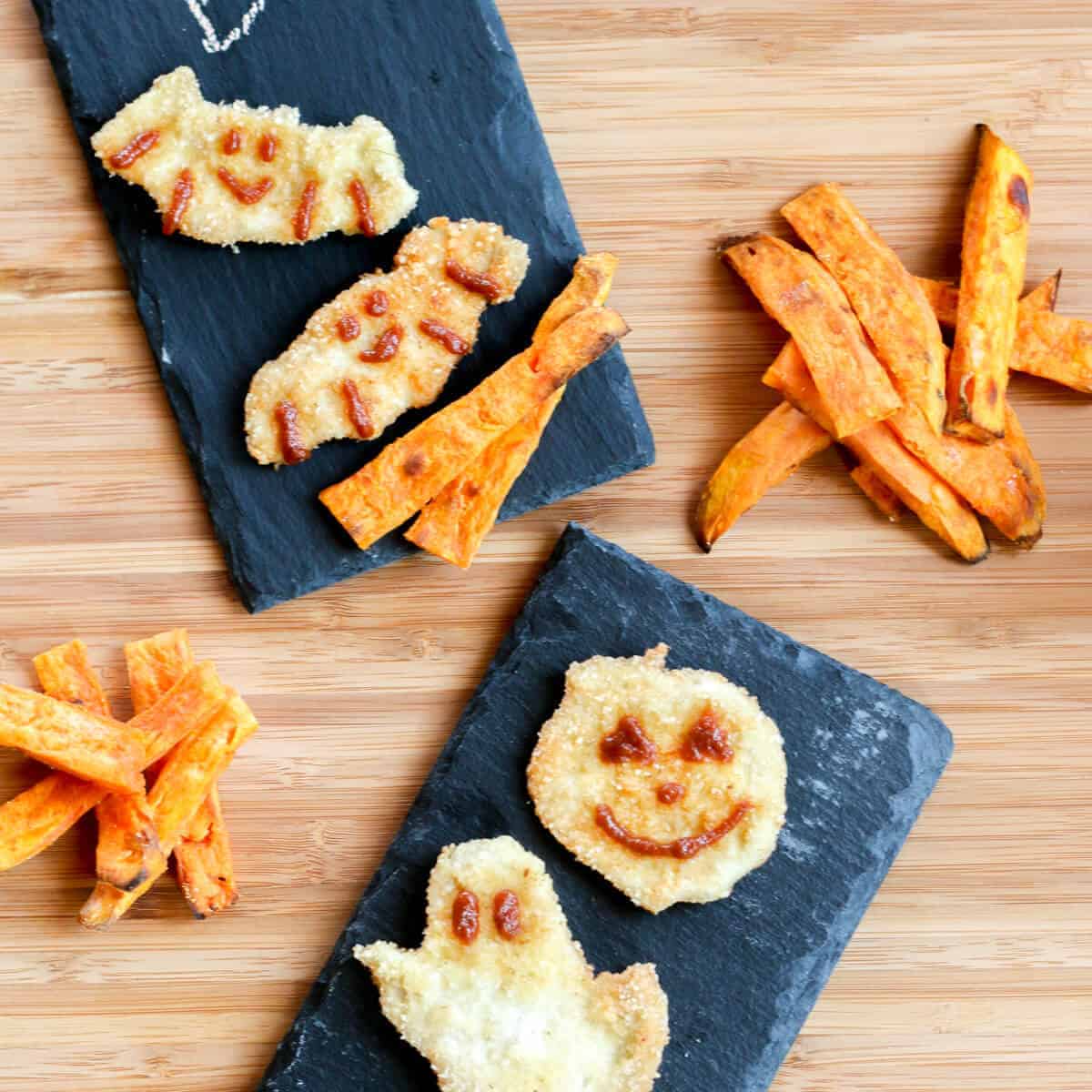 Accompany the nuggets
In the photos, I accompanied the nuggets with baked sweet potato fries.
How to Make sweet potato fries
If you'd like to make some, they are very easy to make!
Preheat the oven broiler.
Clean and (optionally) peel the sweet potatoes
Cut them into strips.
Coat them with oil. (Your choice)
Broil in the oven until they start to get brown spots.
Flip the strips over and broil the other side.
Sprinkle with salt and freshly ground pepper.
Another great choice befitting of Halloween would be to serve them with pumpkin fries, of course!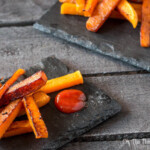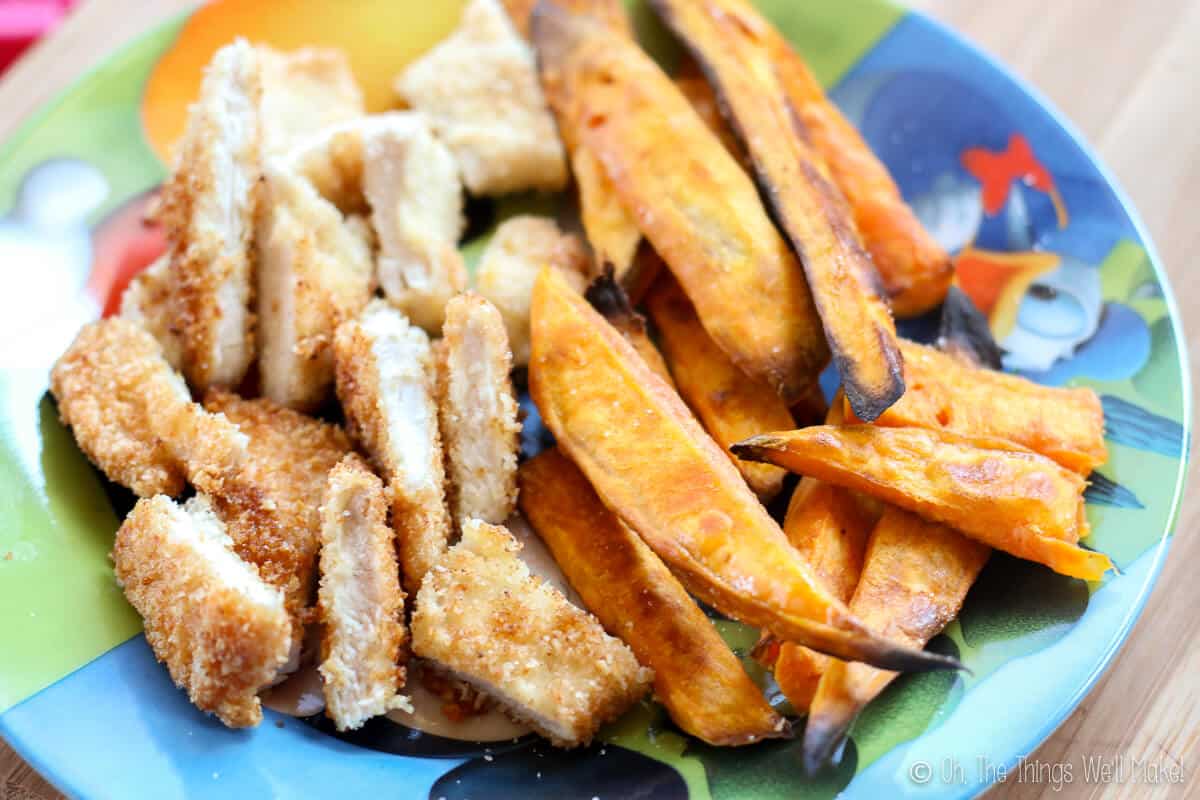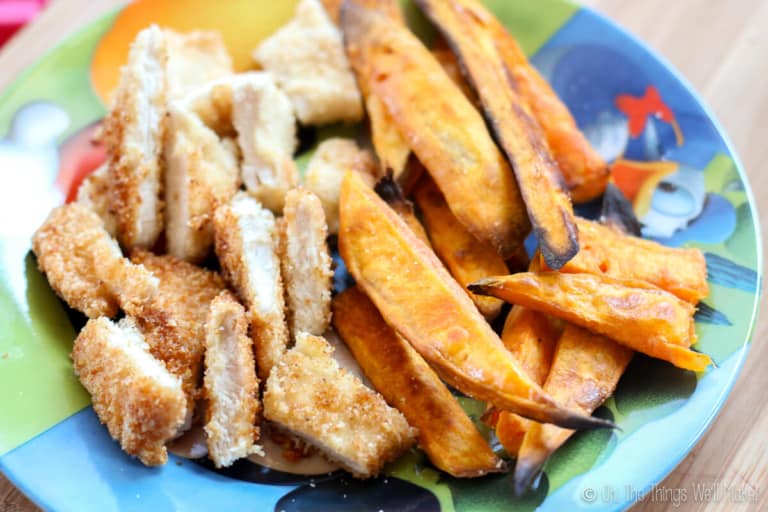 Craving more?
Subscribe to my newsletter for the latest recipes and tutorials!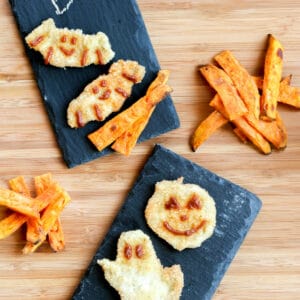 Halloween Chicken Nuggets
Looking for a Halloween dinner idea for kids? These Halloween chicken nuggets are super cute and easy to make. Plus, they can be made grain (and gluten) free!
Print
Pin
Rate
Servings:
4
servings (4 oz. each)
Ingredients
2

chicken breasts

(1 lb., 8 oz. each) thinly sliced

1

egg
For "Regular" Nuggets
1/2

cup

flour

1/2

cup

breadcrumbs
Herbs mixture
other herbs and spices

optional

coconut oil

for frying
Instructions
Prepare the chicken breasts by pounding them thinly before cutting them into the desired shapes. Pounding it with a mallet or the bottom of a glass helps make it easier to cut and also helps tenderize it.


Use cookie cutters to cut out shapes from the chicken breast fillets.


If using plastic cookie cutters, or if the cutters you are using aren't very sharp, you may need to touch up the shapes with a knife or cooking scissors.


Beat an egg in a deep dish or shallow bowl.
For Grain Free Chicken Nuggets
Cover the cut chicken pieces with tapioca flour by dipping them in a bowl with around 1/4 cup of tapioca flour until coated.

Mix together the remaining 1/2 cup of tapioca starch and 1/2 cup almond flour in another dish. Season with salt, pepper, and any other herbs. (See notes below.)
For "Regular" Nuggets
Coat the chicken pieces with the regular flour.

Season the breadcrumbs with salt, pepper, and other herbs.
Finishing both types of Nuggets
Dip the coated pieces in the egg mixture.

Coat the egg covered chicken pieces with either the seasoned, grain-free flour mixture or with breadcrumbs.
(In the photo I was experimenting with coconut flour, but it didn't make crispy nuggets.)

Meanwhile, heat up some oil for frying. I like to use coconut oil or home rendered lard. Both of these oils are good, stable oils for frying.


Fry at medium to high heat until golden brown. Keep in mind that almonds will burn more easily than a traditional bread crumb coating. So, don't turn up the heat too high; and the thinner the chicken, the better, to assure a fully cooked tender without burning the breading.

Flip the chicken pieces and continue to fry until both sides are golden brown, and the center is cooked through.
Notes
These can be seasoned to suit your taste with a variety of herbs. (Parsley, garlic, oregano, and thyme are great choices).

I use about 1/2 tsp. of salt for every cup of the grain-free flour mixture (or breadcrumbs).

Bread the remaining chicken "scraps" and fry the pieces to make "popcorn chicken."
If you prefer, you can bake the nuggets in the oven instead of deep frying them. Bake at around 200ºC/400ºF for around 20 minutes, or until golden brown.
Serving:
1
serving (4 oz.)
|
Calories:
505
kcal
|
Carbohydrates:
44
g
|
Protein:
32
g
|
Fat:
23
g
|
Saturated Fat:
11
g
|
Cholesterol:
113
mg
|
Sodium:
246
mg
|
Potassium:
478
mg
|
Fiber:
3
g
|
Sugar:
1
g
|
Vitamin A:
93
IU
|
Vitamin C:
1
mg
|
Calcium:
66
mg
|
Iron:
3
mg
* This post was originally written on Oct. 6, 2014. It was updated in October 2019 to add clearer instructions and more information.