Last Updated on
Today I'm going to share with you another toddler approved meal.
You see, this grain free breaded chicken is one of my son's favorite recipes, especially when paired up with something as fabulous as baked sweet potato fries.
One of the great things about making breaded chicken yourself, apart from the obvious control that you have over the ingredients, is that you can make it a lot more fun. This is especially great when cooking for kids.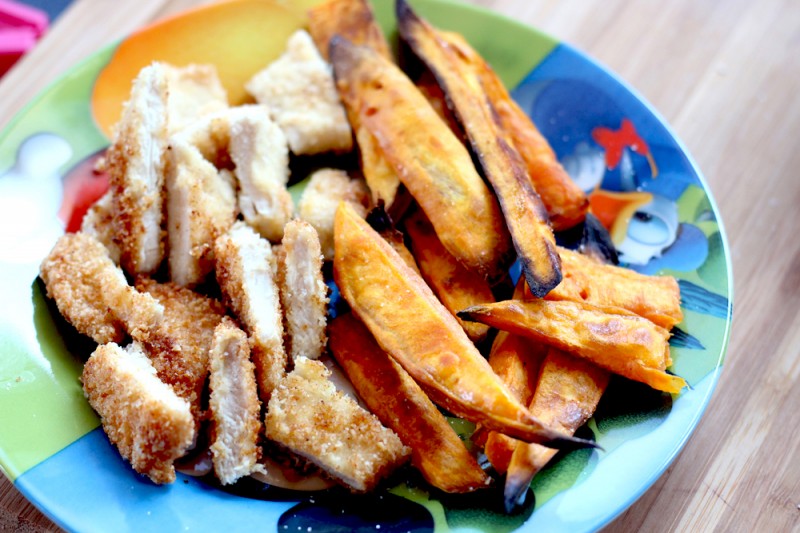 Halloween is coming up, so I decided that I would make Halloween inspired chicken tenders.
Instructions
Prepare your chicken breasts by cutting them into the desired shapes. I like to pound the chicken with bottom of a glass to thin it out and help tenderize it.

If you want to make fun shaped chicken tenders for parties or holiday fun, you can use cookie cutters to help form your shapes.

If your cutters aren't very sharp, you may need to touch up the shapes with a knife or cooking scissors.

Beat an egg in a deep dish or shallow bowl.

Mix 1 part of coconut flour with 1 part of tapioca starch and 2 parts almond flour in another dish (Above measurements make around 3 cups of breading). Season with salt, pepper, and any other herbs of choice (parsley, garlic, oregano, and thyme are great choices). I use about 1 tsp. of salt for every 2-3 cups of grain free flour mixture, and add in some freshly ground pepper to taste.

Dip your chicken breasts into the egg, and then coat with the seasoned, grain free flour mixture.

Meanwhile, heat up some oil for frying. I like to use coconut oil or home rendered lard. Both of these oils are good, stable oils for frying.

Fry at medium to high heat until golden brown. Keep in mind that almonds will burn more easily than a traditional bread crumb coating. So, don't turn up the heat too high; and the thinner the chicken, the better, to assure a fully cooked tender without burning the breading.

Flip the chicken pieces and continue to fry until both sides are golden brown, and the center is cooked through.
Once my chicken bats and ghosts were ready to serve, I decorated with a little bit of homemade BBQ sauce that I had left over from making ribs the other day.
My son really liked them!
I have been experimenting a lot with different grain free breading mixtures lately.
In the picture, I actually used a 1:1 combination of coconut flour and almond flour. That was actually my breading combination of choice for quite awhile. I love coconut, so I wanted to use the homemade coconut flour to add a little hint of coconut, especially when cooking in virgin coconut oil.
The only problem with that combination, if you consider it a problem, is that it isn't as crispy as adding in tapioca flour/starch. Once I was introduced to tapioca starch, I have experimented with using it everywhere, and found it was a great addition to breading meats. If you are following a strict paleo diet, though, the use of tapioca starch isn't universally accepted. So, know that breading without it works, and it works well.
If you are looking for something crispier, though, substituting tapioca flour for the coconut flour will do the trick. I like to use a combination of the two, because I like the final taste and texture the most, but I also love using a 1:1 ratio of almond flour to tapioca starch at times, to get a crispier final result. With the almond flour and tapioca starch combination, I like to add in a lot more herbs and spices to counteract the tapioca starch flavor.
Have fun experimenting to find the combination that you like best!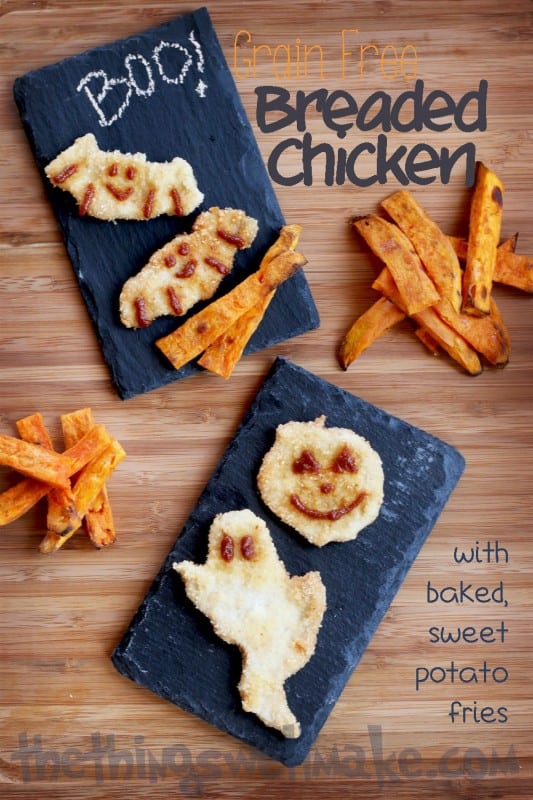 As for the sweet potato fries, they are very easy to make.
All you have to do is to peel (optional, but I do) and slice the sweet potato into strips, coat them with the oil of your choice, and broil in the oven until they start to get brown spots. Flip the strips over and broil the other side, and then sprinkle with salt and freshly ground pepper.
Everybody in my family loves them!