The classic appetizer at Asian restaurants in Europe, prawn crackers are a delicious crispy treat. They're also naturally gluten-free, grain-free, and paleo.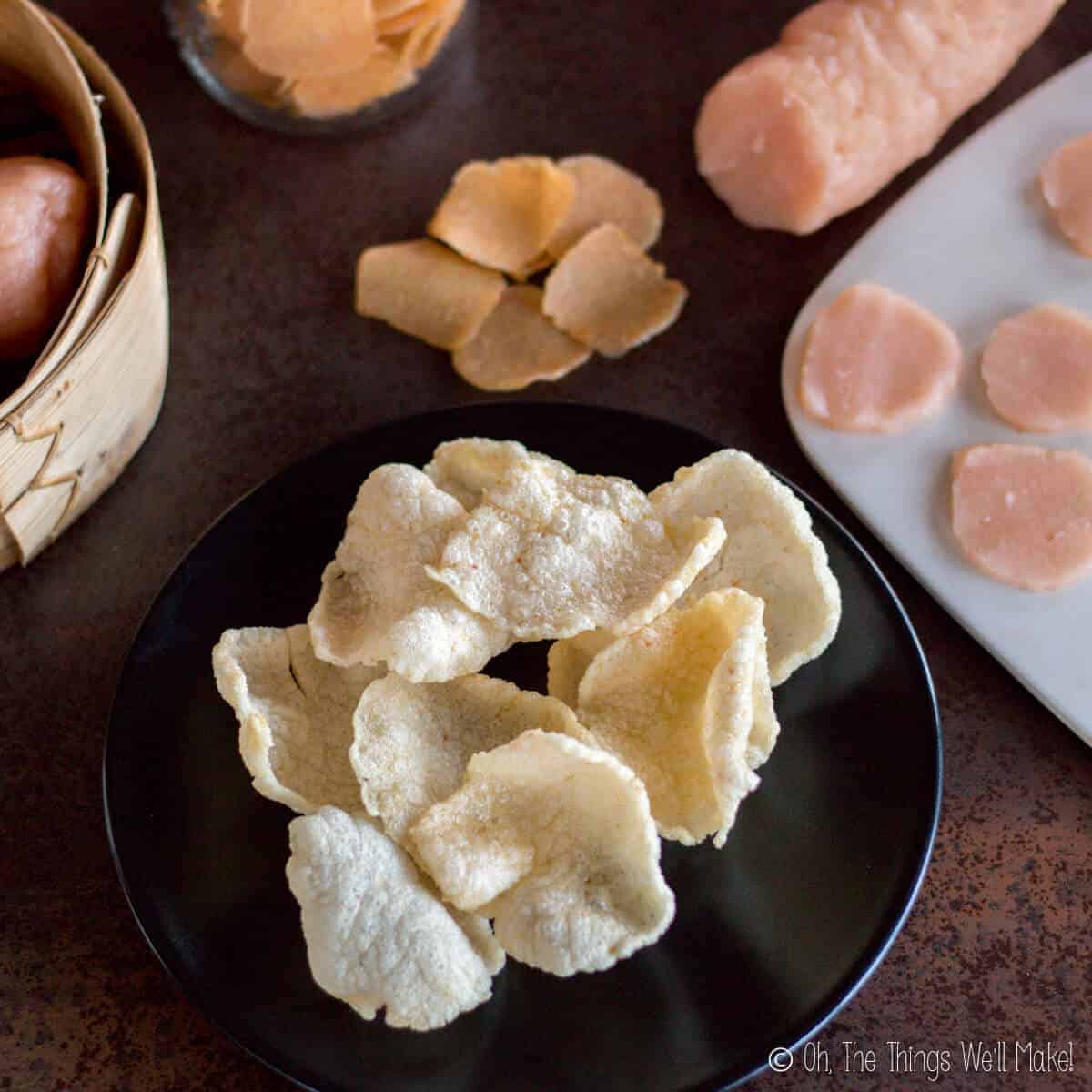 Chinese restaurants in Spain are quite different from Chinese restaurants in the US. That makes you wonder, of course, which, if either, is the most authentic? While certain dishes, like my favorite almond chicken, can be found in the restaurants of both countries, other dishes, appetizers, and desserts are not existent in one country or the other.
What are Prawn Crackers?
Prawn crackers are one of those. I have never been to a Chinese restaurant in Spain that doesn't greet you with a plate of prawn crackers before your meal, nor have I ever seen them at any Chinese restaurant that I've been to in the US.
My son is obsessed with them, and I have a bit of a love-hate relationship with them.
Why love them?
Prawn crackers are usually made with tapioca flour. They don't normally include wheat flour, so they are naturally gluten and grain-free. Plus, I like the texture and find them addictive.
What I don't love
At restaurants, prawn crackers come with a lot of unknowns.
You don't know what oil has been used to fry them, or for how long it's been used.
The prawn crackers served are often dyed strange colors. Sometimes they are white, but sometimes they're an unnatural pink, probably to cover up the fact that they lack a significant amount of prawns in them. I've even seen them in strange shades of blue, yellow, and green. (I have nothing against color, but prefer natural colorants when possible.)
Some prawn crackers include "flavor enhancers" like monosodium glutamate. I am especially sensitive to large amounts of MSG and find myself sweating and with heart palpitations when I get dosed with it. (Even without those symptoms, though, I'd prefer to avoid it.)
Without being able to see the ingredient list of the particular prawn crackers being served, it's difficult to know which ones have ingredients I'd prefer to avoid.
Why Make Your Own Prawn Crackers?
Making them at home isn't difficult, but most people's idea of making them at home is buying a box of prawn cracker disks and frying them at home.
That method does help with some of the problems associated with the prawn crackers from restaurants. By frying them yourself, you can choose which oil to use. (You can also make sure it's fresh.) Plus, you have access to a list of ingredients and can choose which ones to buy accordingly.
Sadly, though, none of the available prawn crackers seem to have much seafood in them at all.
So, I decided to make some prawn crackers from scratch.
Yes, you read that right; completely from scratch!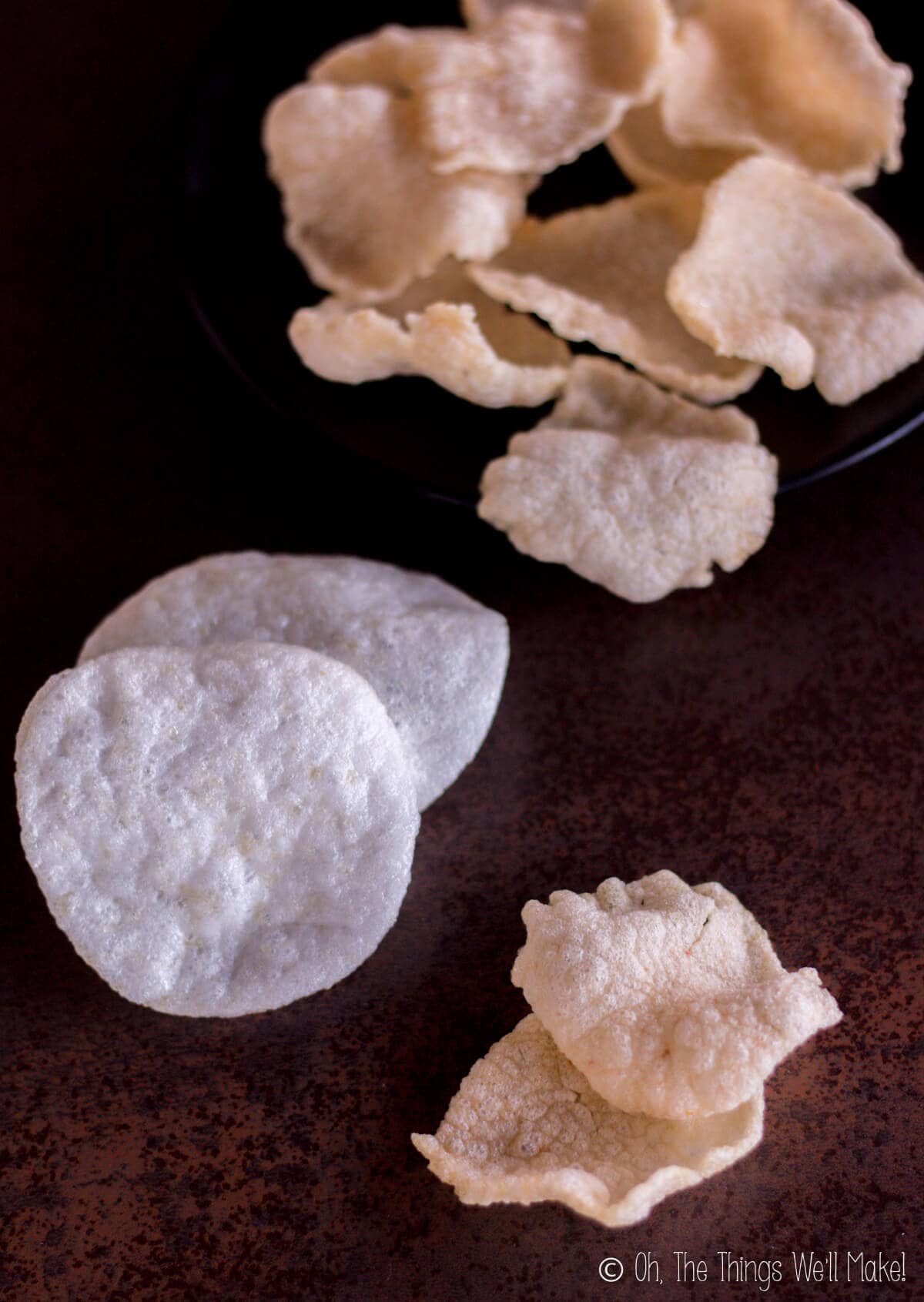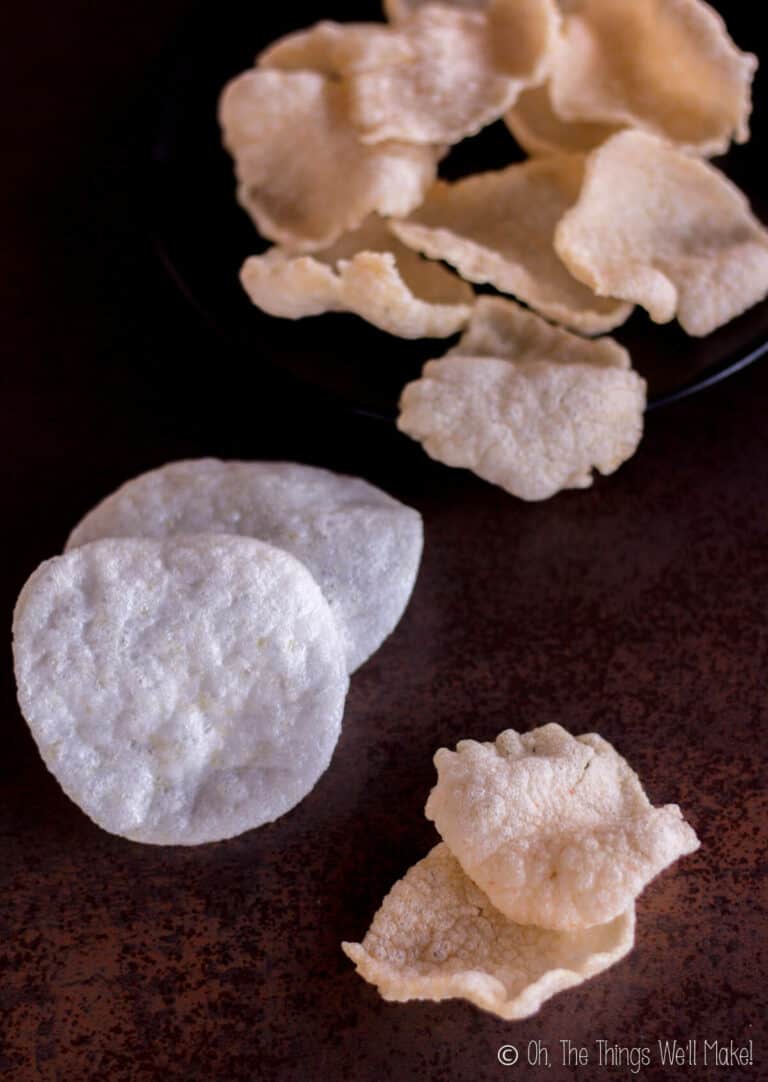 Watch me make Prawn Crackers
How to make Prawn Crackers from Scratch
While they aren't difficult to make, there are a few tips to making prawn crackers that will crisp up as they should.
The Ingredients
First, of course, you need to get ahold of some prawns or shrimp.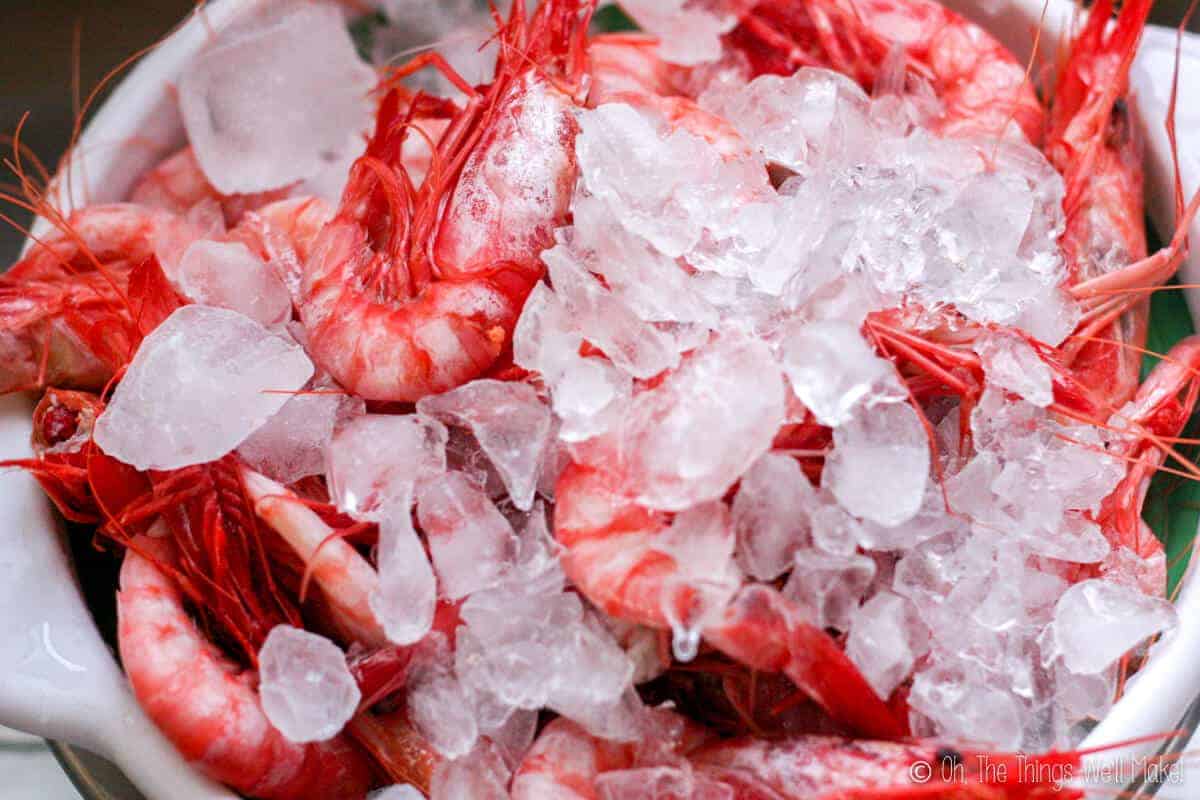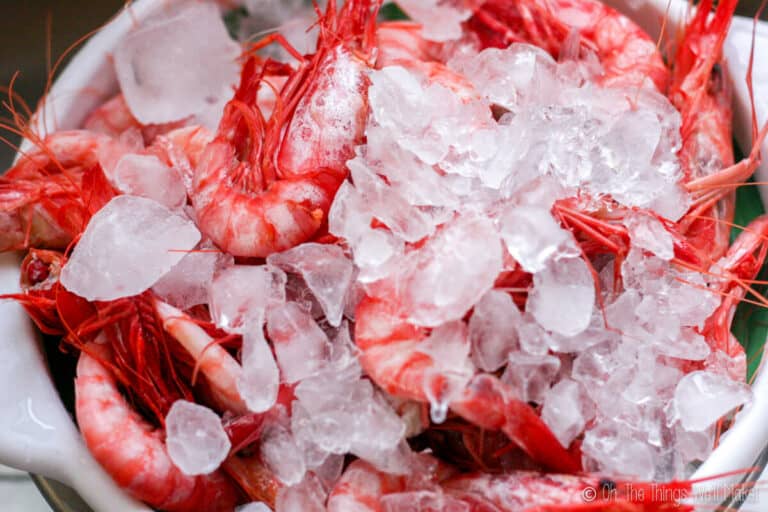 Prawns or shrimp
People here would probably think that I'm crazy for using fresh, Denia red prawns for my prawn crackers. (I told you more about the Denia red prawns in my post about special Spanish Christmas food.)
Denia red prawns are seen by most here as an expensive, gourmet food saved for special occasions. With my husband being a shrimp fisherman, though, I tend to have some to spare. 😉 (Jealous?)
This is actually a great way for me to use up leftover prawns or pieces of those that are broken and not so pretty to serve as-is. The prawns my husband brings home are naturally red so my crackers end up with a natural coral pink color. The flavor and color of your crackers will depend on the shrimp (or other seafood) you use.
Tapioca Starch
The other main ingredient needed for making prawn crackers is tapioca starch. Tapioca starch comes from the yuca tuber. It is commonly used in both Asian and Latin American cuisines.
Tapioca starch is an ideal grain-free replacement for gluten in some wheat-based foods. I used it to make paleo pitas and grain-free churros and buñuelos (pumpkin fritters).
When cooked, tapioca starch has an interesting characteristic. It becomes a bit "rubbery" in texture. I love making boba for bubble tea with it.
In the case of prawn crackers, we'll be steaming the tapioca starch-based dough until it obtains a rubbery texture.
Forming the dough
To make the crackers, first, we make a dough from equal amounts of prawns and tapioca starch. By processing the prawns into a paste, they already have enough moisture to easily form a dough with the added flour.
To make things clean and easy, we can process and mix the dough together in a food processor. First, process the shrimp or prawns until you end up with a paste.
Then add the starch with a bit of salt. You can also optionally add other seasonings. Adding baking powder can also help the crackers puff up more when fried. The first time I made these, though, I only used prawns, tapioca starch, and salt, and the finished crackers turned out fine.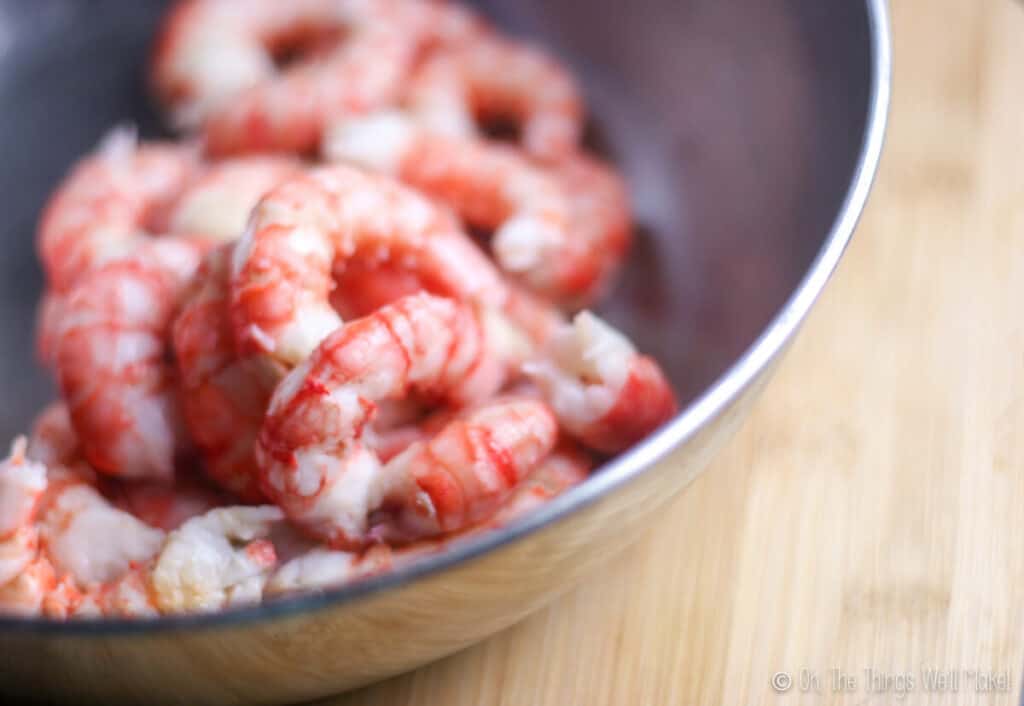 Finish processing all of the ingredients together in the food processor. You should end up with a workable dough.
If the mixture is too dry, you can either add more prawns or add a touch of water. If the mixture is too wet, add a little more flour.
Take the dough and form it into log-shapes. They should be a size that will fit into a steamer.
Cooking the dough
Once the logs have been formed from the dough, they need to be steamed. I used a bamboo steamer. It can be lined with lettuce or parchment paper. I forgot, though, and left mine unlined. Luckily, I didn't have problems with it sticking.
Continue to steam the dough for about an hour. You'll notice that it will change in color and texture throughout the steaming process. It becomes much more firm and should have a rubbery texture when cooked.
Slicing the crackers
After allowing the logs to cool, slice them as thinly as possible. The first time I made prawn crackers, I sliced my crackers in a food processor. It worked really well to get thin and even slices.
There is a problem with using a food processor, though. While it made the best prawn crackers, it is also very easy to break your food processor with the hard, rubbery dough.
The next time I made prawn crackers, the dough slipped into the space between the disks of my food processor and the lid. If that happens, and you don't turn the machine off in time, it can break your disk. (Don't ask me how I know!)
I have also tried using a grater and a peeler, but, in the end, the easiest method was to slice the crackers as thinly and as evenly as possible with a knife.
I tried smashing some of the thicker pieces to make them thinner. Those pieces (shown in the picture on the right) didn't fry as well or as evenly. It's best to just slice as thinly and as evenly as possible.
Drying the crackers
Once you've sliced the crackers into thin disks, you'll want to dehydrate them. This makes it so that they will fry more evenly and also is a great way to preserve the disks for later.
Once dried, you can store the disks in a cool dry place for several months, until you are ready to fry them.
I've used several different methods to dehydrate the prawn cracker disks. One time I used a dehydrator. Another time, I sun-dried them. When doing that, I suggest covering the slices with a netting to prevent flies from landing on your crackers.
If you don't have a dehydrator, and it's not sunny and dry in your area, you can also dry them in the oven at the lowest heat setting.
When the disks are completely dry, they won't be at all flexible and will snap when bent.
Frying the crackers
Once the disks have completely dried, you can cook them.
Prawn crackers are normally deep-fried in oil. Choose whichever oil you feel most comfortable using for deep-frying. Those with a subtle flavor are best so as not to overpower the flavor of the prawns.
The oil should be around 360ºF/180ºC. You can test the oil with small pieces of the prawn cracker disks. When added to oil that is the right temperature, they should form bubbles and float up almost immediately.
The crackers normally puff up and fold over themselves somewhat before opening up completely. Once they've opened and puffed up, remove them from the oil using tongs or a strainer.
Place the hot crackers on a plate lined with cloth or paper towels to help absorb any excess oil.
Once cooled, they can be served immediately.
Interestingly enough, a microwave oven can also be used to puff up the prawn crackers. When cooked in a microwave, they don't turn out exactly in the same way, but they do crisp up.
Prawn Cracker Recipe
Craving more?
Subscribe to my newsletter for the latest recipes and tutorials!
Prawn Crackers from Scratch
The classic appetizer at Asian restaurants in Europe, prawn crackers are a delicious crispy treat. They're also naturally gluten-free, grain-free, and paleo.
Print
Pin
Rate
Ingredients
500

g

tapioca flour

500

g

shrimp

or prawns – peeled and deveined

1

tsp.

salt

or to taste

oil for frying

garlic, pepper, other spices

optional

1

tsp.

baking powder

optional – for puffier crackers
Instructions
Form the dough
Add the peeled shrimp or prawns to a food processor. Process until you have achieved a fine paste.

Add in the tapioca flour, and continue to process until the mixture comes together into a thick dough.

Add the salt and any other spices or herbs that you want to add. Adding cayenne pepper will give spicier prawn crackers. If you want the crackers to puff up more when deep-frying them, add in a little baking powder. Process again until all of the ingredients are well incorporated into the dough.

Check the consistency of the dough to see if it can be formed into a roll shape. If it is too dry, add a bit of water. If it is too wet, add more tapioca flour.

Knead the dough until it is smooth, adding more flour or water as needed.

Shape the dough into two log-shaped rolls that will fit into your steamer. Place the rolls in a steamer. Consider lining it with banana leaves or parchment paper first to keep them from sticking.
Steam the dough rolls
Steam the dough rolls for about an hour. You will notice that the color and texture of your rolls will change quite a bit throughout the steaming process. Add more water, as needed.

Remove the dough rolls from the steamer, and let them cool. They should now have a rubbery texture.

Cut thin slices from the rolls of dough. You can use a sharp knife or a food processor.
Slice the dough into disks
Dry the slices using the sun, a dehydrator, or an oven at the lowest heat setting. If sun-drying the crackers, cover them with netting to keep insects away.
They may curl up a little. You can flip them halfway through to get them to dry more evenly. They should dry up into hard little disks.

Make sure the prawn crackers are fully dried. Dry crackers will no longer be flexible and will break when bent.
Deep fry the crackers
Once completely dry, you can deep fry the prawn crackers.
Use enough oil so that your crackers can be submerged in the oil completely. To achieve the right temperature (around 360ºF/180ºC), wait until a small piece of cracker sinks down in the oil and then immediately floats up to the surface and begins to expand. You may have to press down on the crackers to submerge them completely in the oil. If they aren't fully submerged, they may not expand completely, leaving dry, hard, un-fried areas.

Once the crackers have puffed up, remove them from the oil. (A strainer can help drain the oil off.) Place the crackers on plates that have been covered with cloth or paper towels to help absorb any excess oil.

Serve immediately, and enjoy!
Notes
Be careful if using a food processor to slice the rubbery dough. It may break the machine if the dough gets stuck between the disk and the lid and you aren't quick to turn it off.
The remaining dried prawn cracker slices, if well dehydrated, can be stored in a well-sealed container in a cool, dry place for several months, until you are ready to deep-fry them.
Prawn crackers can also be cooked in the microwave. A microwave won't give the same results as deep-frying, but it will allow them to puff up and be cooked.
Nutritional information is an estimate based on cutting 80 crackers from the dough and eating 5 of them. It doesn't include the oil used for deep-frying.
Serving:
5
crackers
|
Calories:
108
kcal
|
Carbohydrates:
22
g
|
Protein:
5
g
|
Fat:
1
g
|
Saturated Fat:
1
g
|
Cholesterol:
63
mg
|
Sodium:
290
mg
|
Potassium:
50
mg
|
Vitamin C:
1
mg
|
Calcium:
47
mg
|
Iron:
1
mg
This post was originally published on February 21, 2015. It was rewritten adding more details, photos, and video in January 2020.
Other Asian inspired recipes…
If you love Asian cuisine, why not try some of my other Asian-inspired recipes? I've made everything from pickled ginger for sushi to homemade soy sauce.