I always love a good challenge, and homemade papadums from scratch is something I've been wanting to try to make for quite some time, but they are made with urid flour, something that I couldn't find here in Spain, even for ordering online.
Last spring I tried out the candida diet for a couple of months. I cut out most grains and sugar, and one of the things I relied on to get me through my snacky cravings was papadums. Unfortunately, the little Asian store where I bought them closed, and I could only find plain, boring, overpriced papadums at the supermarket.
I was determined to make my own, but, after some research, learned they were made with the flour from "urid lentils," and I had no idea what they even were. I searched online for urid flour, but couldn't find any that could be sent to me here in Spain for a reasonable cost.
I gave up on the idea for awhile until….
One day I was shopping in a new fruit and vegetable shop run by a Pakistani family, and found bags of urid "lentils" (aka. urad beans). They also had some papadums for sale (These very ones, actually), which I bought, of course, but I also bought some urid lentils for trying to make my own homemade papadums from scratch.
Having participated in the Wondermill grain mill challenge, I have a great grain mill for making flours, perfect for situations like this one. Ironically, most of the time it isn't used for grains, and I tend to use it mostly for grain free flours.
I made my first batch of homemade papadums with the whole urid bean (lentil), but the peel changed their texture and made them a dark color. The dough was a bit difficult to work with, too, but I was getting the hang of it.
They were good, but weren't what I was looking for.
One day when shopping at a new store, I came across some peeled lentils for sale. I decided to buy those to give making homemade papadums a try. If the urid beans are usually called urid lentils, how different could they be? Right?
Well, not so much.
I told a friend about my plans and she replied, "You know that you can peel your own lentils, right?"
"What!?!?"
I didn't know what I was getting myself into, but I bought myself more urid lentils to give it a try. For some reason I decided that the whole urid would be easier to peel than the split urid (urid dal), so I bought those. (Next time, I'll probably try the split ones!)
I soaked the urids overnight, and while it was true that you could easily rub the skins right off from the urids, I basically had to go one by one, and it was very time consuming.
Determined to come up with a better way, I smashed the urids just enough to split them and get many of them separated from their skins, and decided that I would rinse the skins off.
It worked, more or less, but still was time consuming because not all of the urids had separated well for their skins, and the skins didn't float as well as I thought they would. I put the smashed urids in a jar of water, shaked them to help separate them from their skins, and then poured off the water and skins.
The skins didn't float as well as I hoped, but the process still worked when done carefully because the urids themselves were kept inside by the lip of the jar when I poured the lighter skins off with the water. I repeated the process several times, and then took off the skins of the individual urids with remaining skins. It was easier, but still time consuming. I think that if I had begun with split urids, though, that it would have been much easier.
In any case I eventually ended up with a couple of cups of peeled urid, ready for drying and grinding into urid flour.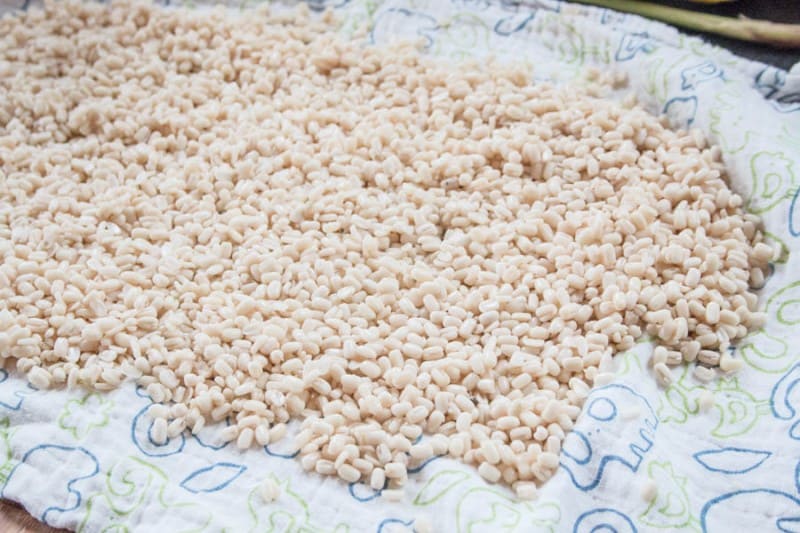 If you can find urid flour, or even just peeled urids, do yourself a huge favor and use those!
After I ground my two types of flour, I was (finally) ready to get started making homemade papadums.
Craving more?
Subscribe to my newsletter for the latest recipes and tutorials!
Instructions
Mix together all of your ingredients until the ingredients just come together. You want to end up with a stiff dough, so don't add in more water than you need to. You may want to adjust the dough for salt and other spices. I made my first batch with only salt and cumin, but then decided I wanted to add a bit more spice. I added garlic and black pepper to the next batch, but would love to try out more combinations next time. I think turmeric would be a great addition to these!

Knead and pound on the dough for several minutes. At first the dough will be sticky, but as you knead and pound on it, it will start to come together. You can grease your hands and counter to help keep everything from sticking; I used coconut oil.

Take sections of the dough and roll them out on the countertop almost as thinly as possible. I used a round cookie cutter to make circular shaped papadums and then took each individual dough circle and tried to roll it out even thinner. (I found it easier to do it that way than to try to roll out all of the dough paper thin.)

Once you have your poppadum circles ready, you'll want to dry them out so that you can store them. If it's sunny and warm out, you can dry them in the sun. If not, you can use a dehydrator or your oven at its lowest temperature. I used my oven with the fan on, and they dried pretty quickly. As they were drying, I set them aside to make room for new papadums.

You are now ready to either store your papadums in an airtight container, or prepare them for eating.

To prepare your homemade papadums, you can broil them in the oven, puff them in the microwave or deep fry them. I tried all three methods, but my favorite was the deep fried ones. The deep fried papadums crisped up instantly in the hot oil, becoming light and crispy, much better than the ones from the store. The broiled and microwaved ones also crisped up quickly, but they weren't as light and flaky as the deep fried ones.

I followed the process and made homemade papadums with both types of flour. The urid flour made something very similar to the store bought papadums, but better. The lentil flour made a lentil cracker that wasn't as light as the homemade papadums. They were also good, but I liked the papadums better.

This is the homemade poppadom being compared with a store bought, larger poppadom. Even with as thin as I got mine, the store bought ones were slightly thinner. It didn't present a problem, though.

Would I make them again?
If I could get ahold of either peeled urids or urid flour, most definitely!
Once I had my flour made, the process of making homemade poppadums was actually quite simple, and I loved the results.
What didn't I love so much?
Peeling all of the urid!!
I'm glad I did it because it was an adventure and a learning experience, but it's not something that I'd choose to do every day.
Next time I'd love to try other spice combinations, like adding turmeric and maybe a bit of cayenne. Cumin is still my favorite addition to papadums, though!

I hope you'll try making them and let me know how it goes!