Making your own sidewalk chalk is a fun and easy project that kids will love. For Valentine's Day, I decided to make heart-shaped chalk and tested it out outside.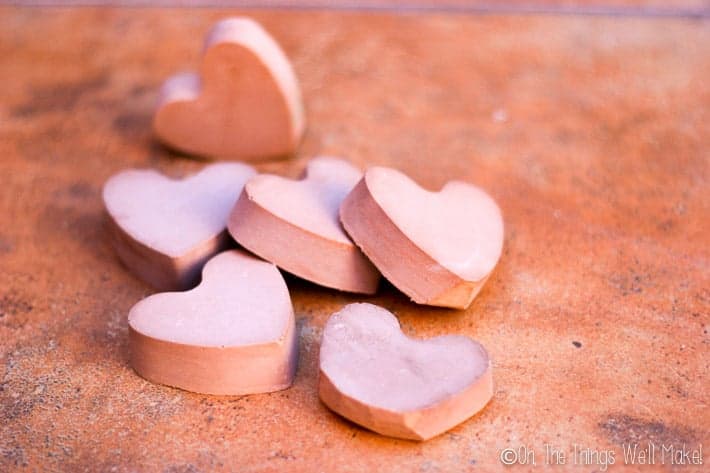 Last time, I showed you how I made a portable, foldable chalkboard heart valentine. It's a super-cute Valentine for kids because you can fold the chalkboard up around some chalk and snap it together making it easy to transport the chalkboard and chalk without making a mess. I even made a homemade heart-shaped felt eraser that you could slip inside.
Following the theme, I thought it would be a great idea to give away some heart shaped chalk with it.
I have been meaning to try to make my own chalk, anyway, after seeing numerous tutorials online, but hadn't gotten around to it until now.
Making your own sidewalk chalk is a very simple, quick project, and uses only plaster and water, and any colorant that you would like to use to make colored chalk. Basically, you mix your plaster according to the package directions, or until you get a consistency that you like. (Usually, you should add around 3 parts water to 4 parts plaster.) Then, you add in your colorings until you get the shade you want.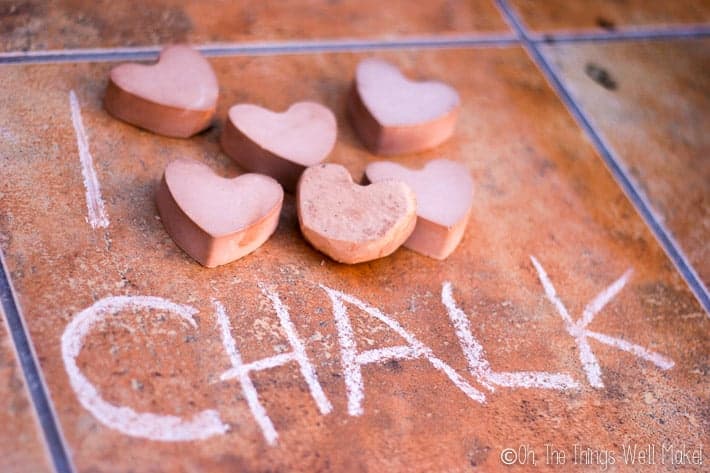 Homemade Sidewalk Chalk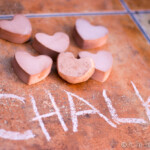 Homemade sidewalk chalk
Making your own sidewalk chalk is a fun and easy project that kids will love. Learn how to make heart sidewalk chalk for Valentine's Day! It's a fun project for kids (or a cute Valentine's gift)!
Print Recipe
Pin Recipe
Instructions
Mix together the water and plaster until well combined.

Color the mixture with tempera paints or food coloring. Tempera paints will provide a much brighter color. Mix together until the color has evened out.

Pour the mixture into silicone molds or cardboard tubes like the ones leftover from finished toilet paper rolls.

Allow to dry completely.

Unmold and have fun writing on the sidewalk outside.
How to color your homemade sidewalk chalk
Most sources chose tempera paint powder for coloring their chalk, but I couldn't find it very easily around here and didn't want to have to buy any specifically for this purpose. I was in a bit of a hurry or I would have ordered a bottle online.
Instead, I chose to use some food coloring that I had sitting around the house. The color isn't as bright as I would imagine a powdered tempera paint would be, but it served it's purpose well enough. Using gel food colorings may also result in a stronger color. This was an old color that I had sitting around and that I wanted to use up.
If you want vibrant, stronger colors, I'd definitely go with the paint powder, though, or add in some liquid tempera paint.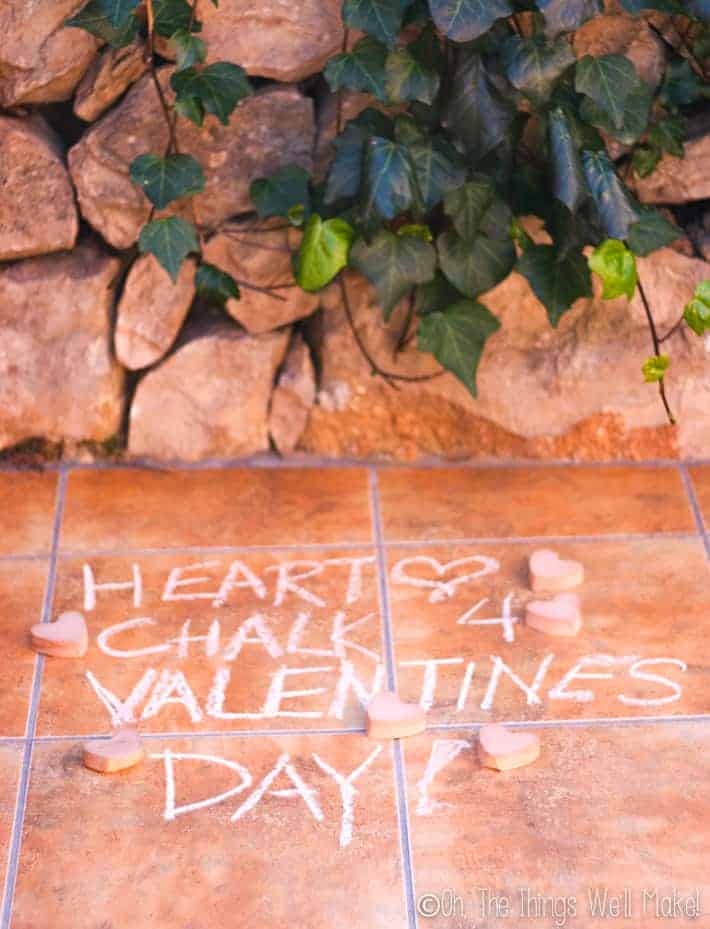 How to shape your sidewalk chalk
Once you have your plaster ready to pour, fill up some silicone molds in your desired shape. With Valentine's Day coming up, I chose to use heart-shaped molds. There was no need to prepare the trays in any way, and when the plaster is set, the heart-shaped chalk will pop out easily.
I let mine sit overnight, just to be on the safe side, and the next morning I excitedly popped the chalk out, ready to give it a try.
Does Homemade Sidewalk chalk work?
With it being wintertime, I began inside and tried it out on my foldable heart chalkboard valentine. I was a little bit discouraged, though, to see that it wasn't leaving much of a mark. 🙁
I sadly gave up on the idea of using the heart-shaped chalk with my heart-shaped chalkboard valentines. In hindsight, the heart chalk was much too big for such a small chalkboard anyway. It would have been cute to have it all work together, though.
I wasn't going to give up on my heart chalk completely, though! It was time to take it outside and use it as most people do… as sidewalk chalk.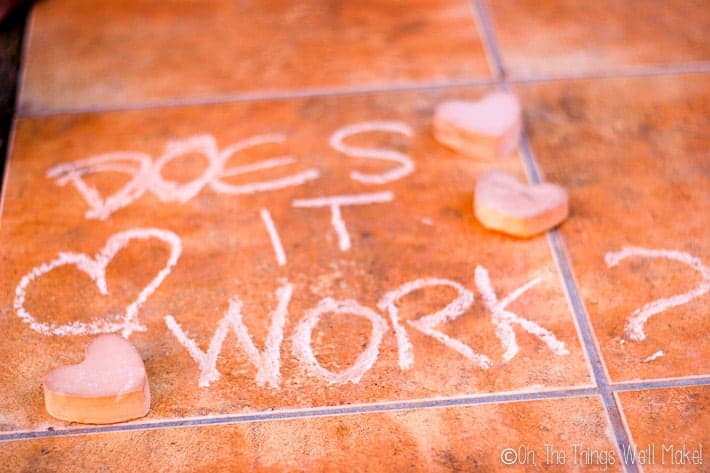 On the sidewalk, my heart-shaped chalk worked much better. In fact, it worked quite well!
The problem with homemade chalk is that plaster, at least the type I used, is more dense and compact than regular store-bought chalk. Just by comparison, it weighs more. (Of course, that could also due to the fact that it was still holding moisture.) The sidewalk and our tiling outside both provide a rough enough surface for using our homemade sidewalk chalk quite easily.
Because the plaster will hold moisture for at least a few days or so, you will notice that it is still a bit tricky to use on the first day(s) after you make it. If you draw on the sidewalk, the chalk will leave it's mark, but it doesn't show up completely until a minute or two later, when the plaster dries. As the chalk dries out more, it gets easier to use. It still is too compact to use on a softer surface like that of the chalkboard fabric, but it does work quite well as sidewalk chalk.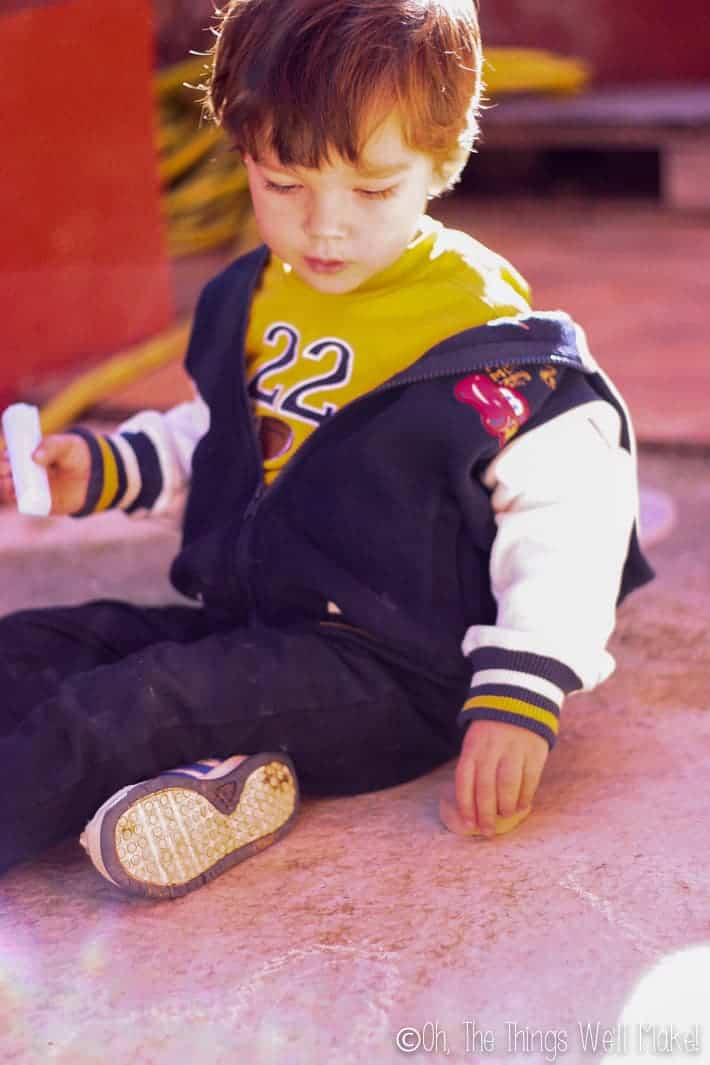 My son had a lot of fun playing with it. (As did I, as you may be able to tell.)
So, while it didn't turn out exactly as I expected, and I wasn't able to use it for the purpose I had intended it for, homemade sidewalk chalk is still a fun project for kids, and I do recommend it. Kids will love being able to make the shapes and colors that they choose, and will be proud to say that they made it themselves!
If anybody has any ideas for lightening up the mixture to be able to make chalk that can be used indoors, I'd love to hear your ideas!