Tangy yet sweet, pickled ginger pairs perfectly with sushi and a variety of other foods. While you could buy it, it's easy to make from scratch and is tastier and healthier than the store-bought varieties.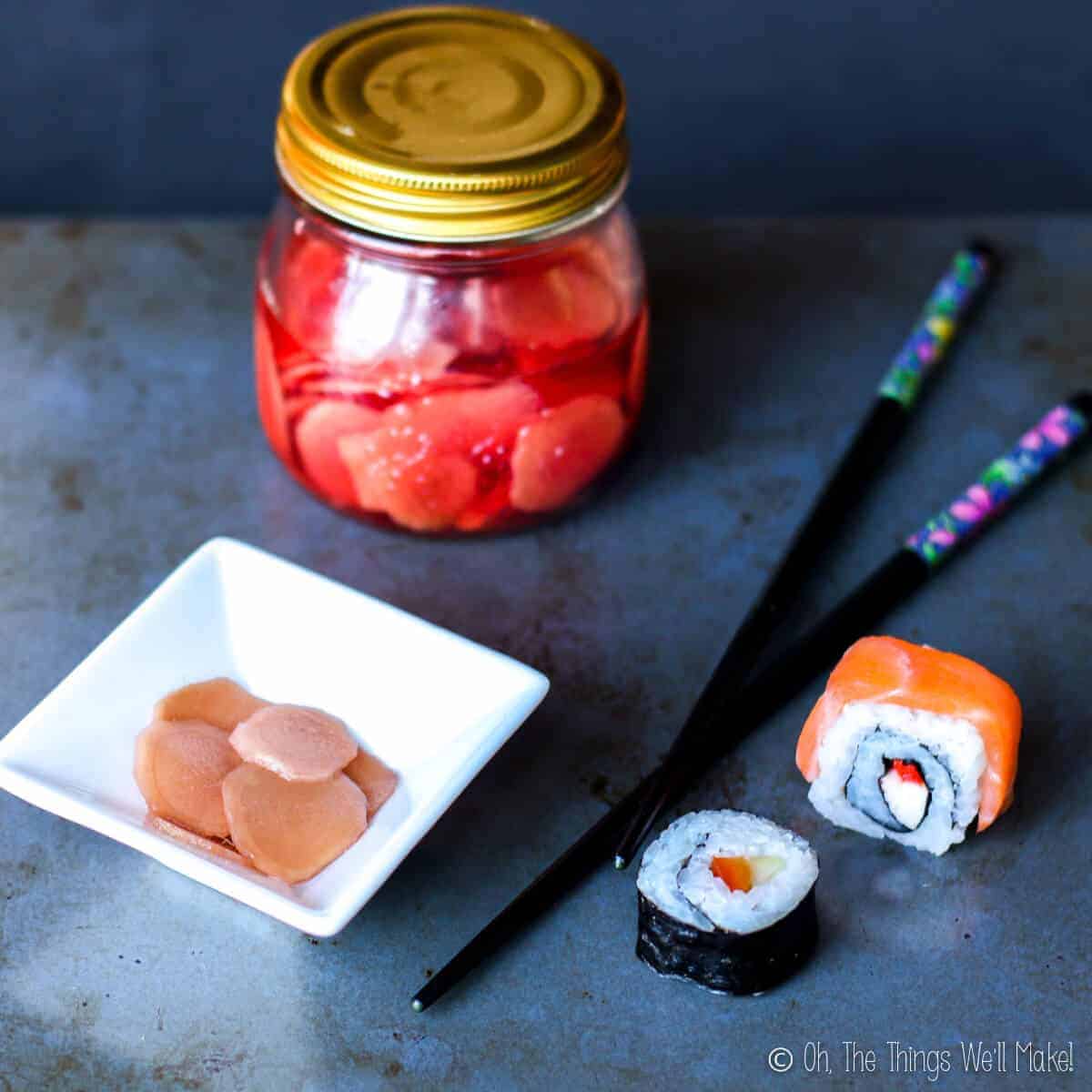 My son is absolutely obsessed with sushi. He's constantly begging us to go to a local sushi restaurant, where he happily scarfs down at least a dozen avocado rolls on each visit.
While there are other restaurants that I prefer, I have to admit that I quite like sushi myself. Perhaps my favorite part of the meal, though, is a simple condiment served on the side, pickled ginger.
What is it?
Pickled ginger is a condiment, normally served alongside sushi, that is marinated in vinegar, sugar, and salt. It has a very pleasant combination of flavors, and the combination of sweet, sour, and pungent pair wonderfully with rice and seafood.
It is sometimes referred to as gari, which is the name for pickled ginger in Japanese. (Gari also refers to tapioca starch in some areas, so keep that in mind when looking for it.)
Pickled ginger can be found in a light, off-white color, but it normally is seen with a characteristic light pink color.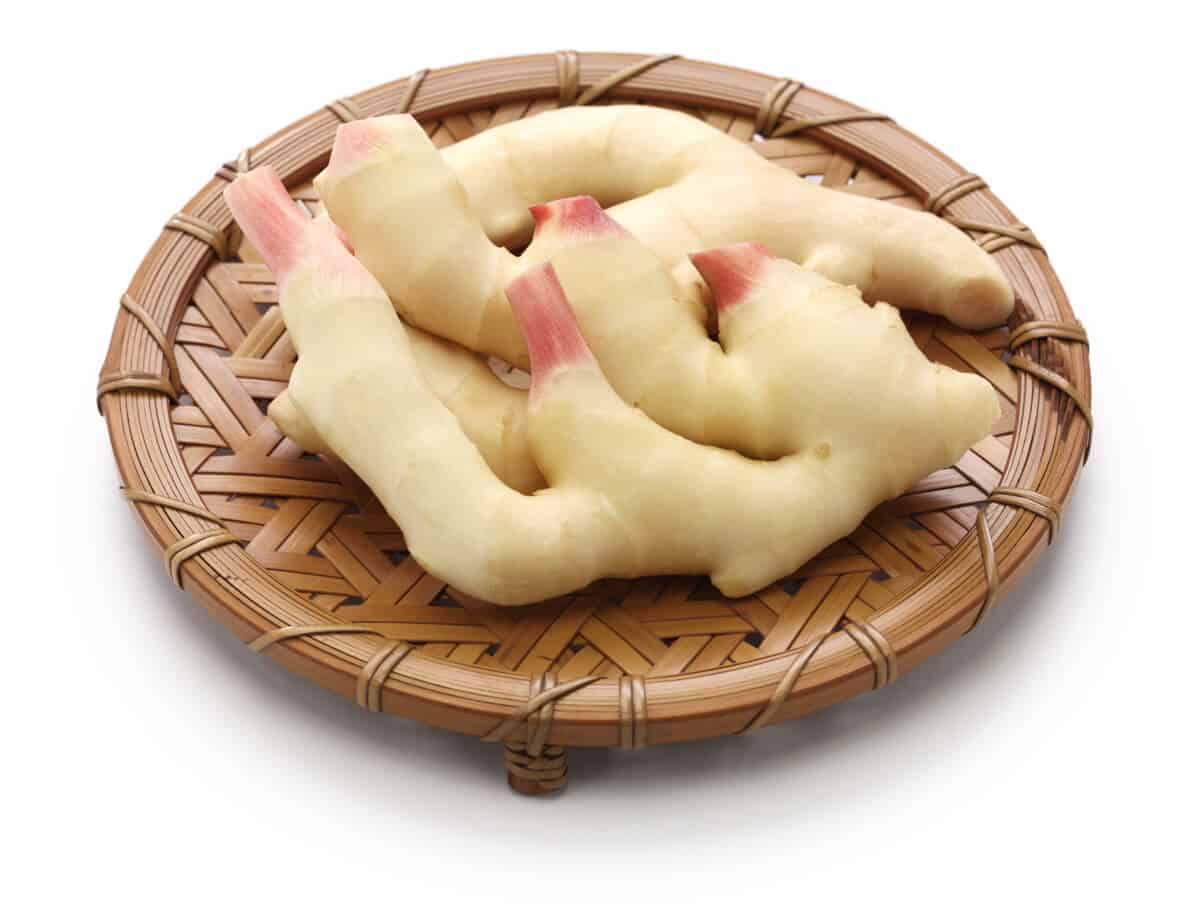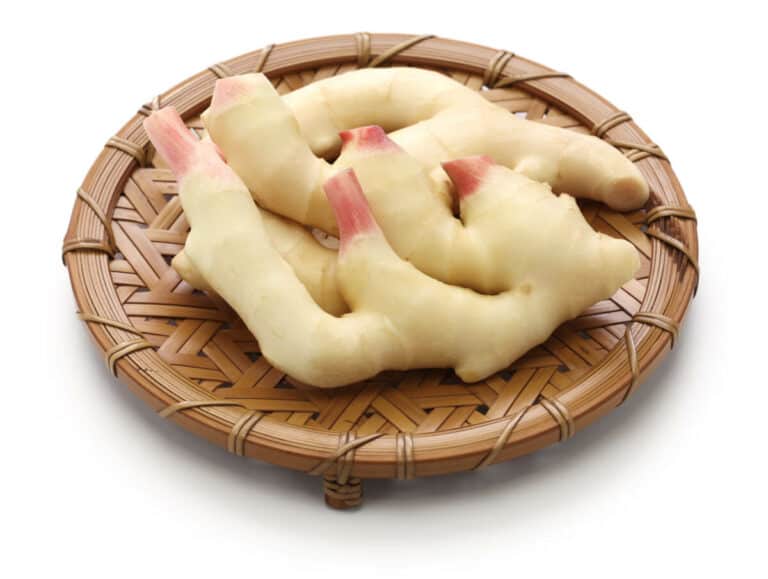 The light pink color can be naturally obtained from pickling very young ginger roots, the ones that have pink tips. Young roots are said to be preferable anyway as they are sweet and mild in flavor. Mature roots are easier to find, though. They will stay true to their color when pickled unless you add a colorant.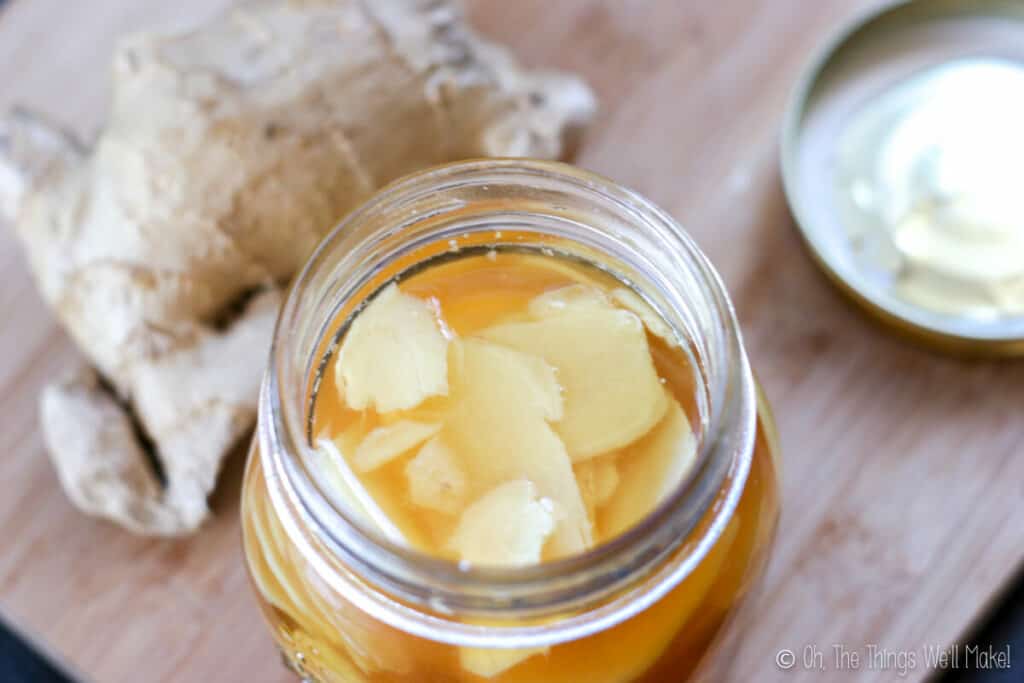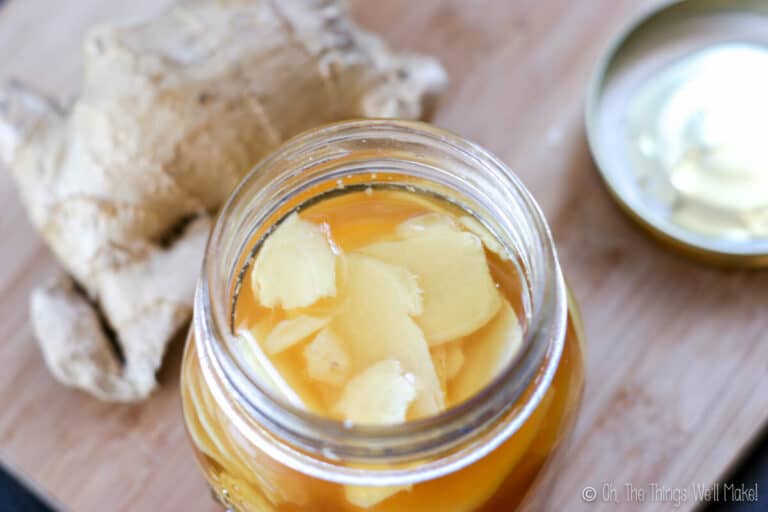 Why make it?
Most modern pickled gingers are colored with artificial dyes. They also, sadly, often include artificial sweeteners and preservatives. While the added coloring didn't surprise me, seeing the artificial sweeteners and preservatives on the label did.
Once I realized that I didn't especially like the ingredient list, I knew I wanted to try to make it myself. Plus, it ends up being a lot cheaper to make it than to buy it.
If you make it yourself, you can also choose to make a raw, more pungent version. Or, you can cook the ginger to obtain a milder flavor.
Ingredients
This simple recipe has only a few main ingredients, mainly ginger and vinegar. It is then sweetened with sugar or another sweetener, and salt is added to taste.
While rice vinegar is the most commonly used, you can choose to try it with other kinds of vinegar too. I have used both my homemade apple cider vinegar and my homemade ginger vinegar. They both worked well in this recipe.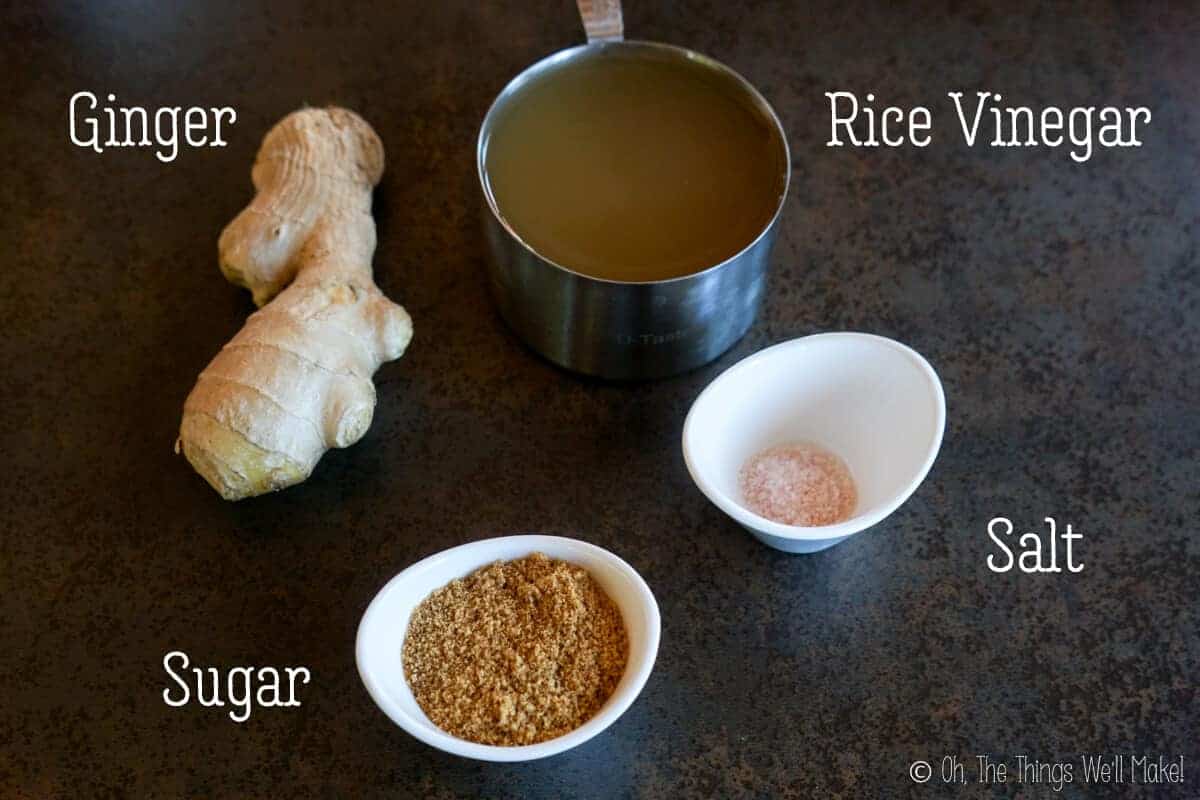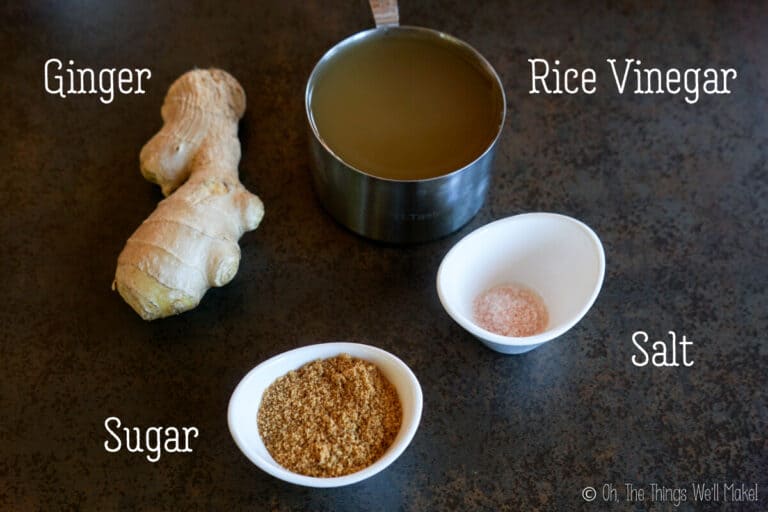 If you aren't using young ginger roots and want to make pink-colored gari, you can add some pink food coloring. I have done this successfully in several ways.
Use a dash of homemade food coloring (or store-bought).
Add some homemade beetroot powder or beetroot juice to the jar.
Add a tiny piece of beetroot or radish to the ginger and vinegar mixture. (Remove it before the color gets too intense.)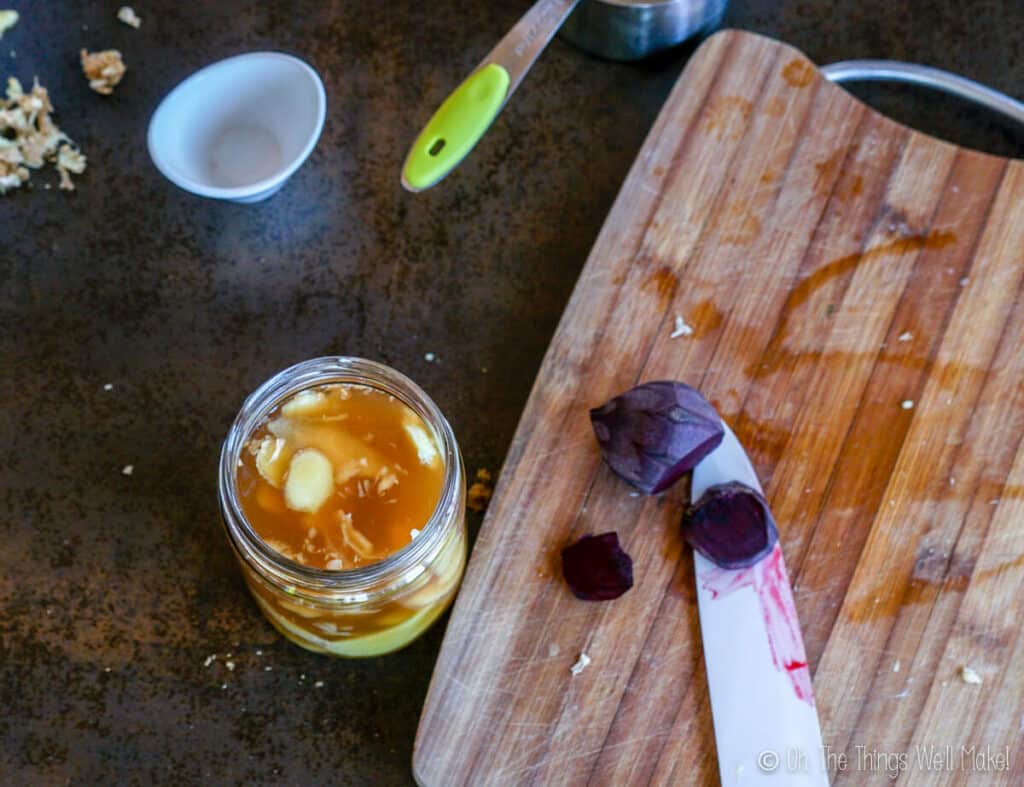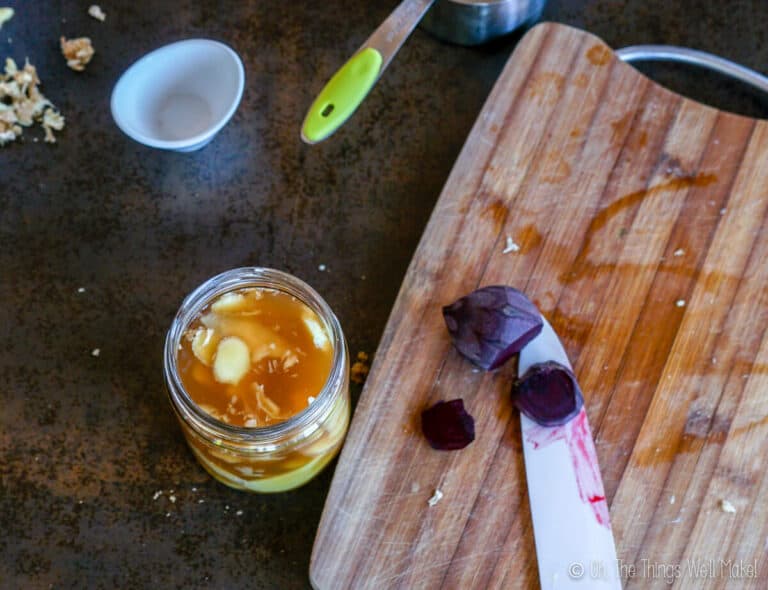 Which sweetener should be used?
Most recipes call for white sugar and cook it together with the vinegar. While I have made it that way before, I have also successfully made an uncooked version by dissolving the sugar directly in the vinegar solution.
I have also made several batches using alternative sweeteners like panela, honey, or maple syrup. These unrefined sweeteners result in darker, golden brown ginger slices. While that doesn't sound desirable, it actually combines well with the more purple-ish shade of beetroot to make a pretty coral pink-colored ginger.
Preparation
Make sure the jar is fully clean before beginning. Ideally, run it through a hot dishwasher to help kill off unwanted bacteria.
Rinse a large ginger root. Then, peel and slice it. Ginger can be easily peeled by scraping the skin off with the edge of a spoon. If you are using young ginger with pink tips, leave the pink tips on. Don't scrape them off.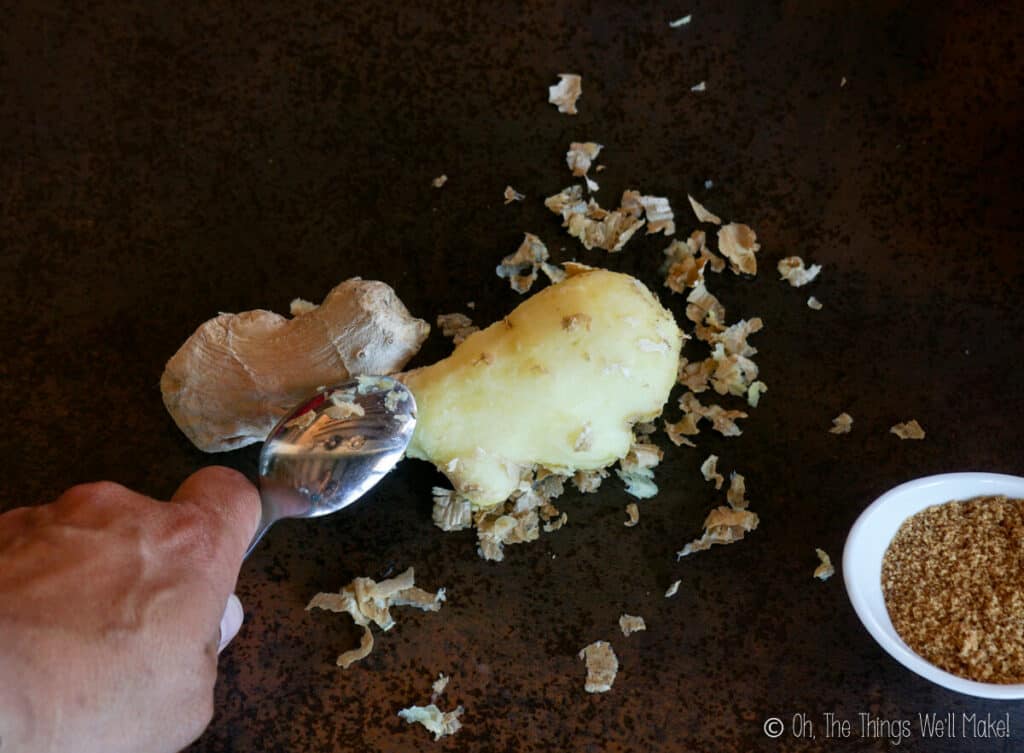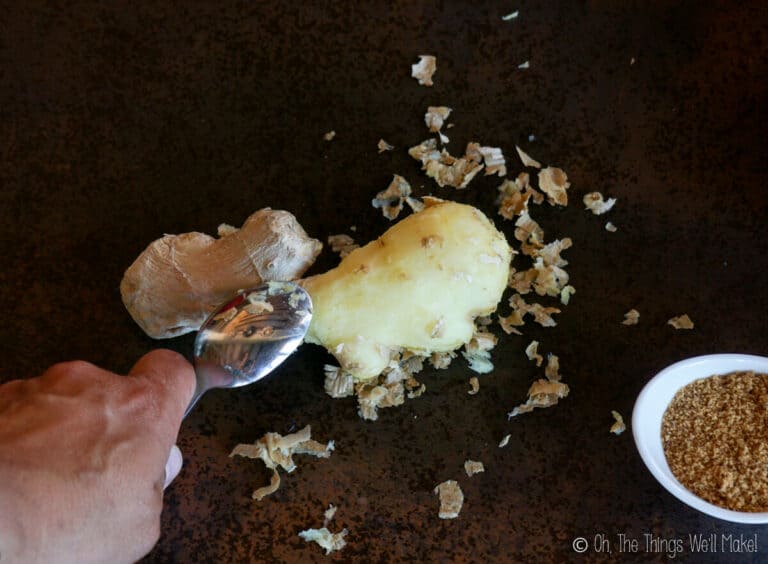 Once peeled, slice the ginger as thinly as possible. You can use a vegetable peeler, a knife, a mandoline (veggie slicer), or a food processor. (I like the thin slices obtained by using a vegetable peeler best.)
Raw pickled ginger
Raw gari is very pungent. Those who love a strong ginger flavor will appreciate the simplicity of this version.
It's as easy as dissolving the sugar and salt in the vinegar, and then adding the ginger slices.
Cooked version
A more traditional gari can be made by salting the ginger and then cooking it in boiling water. By cooking it for only around a minute or so, you'll still end up with a very strong, pungent ginger flavor. Cook it longer if you prefer a milder condiment.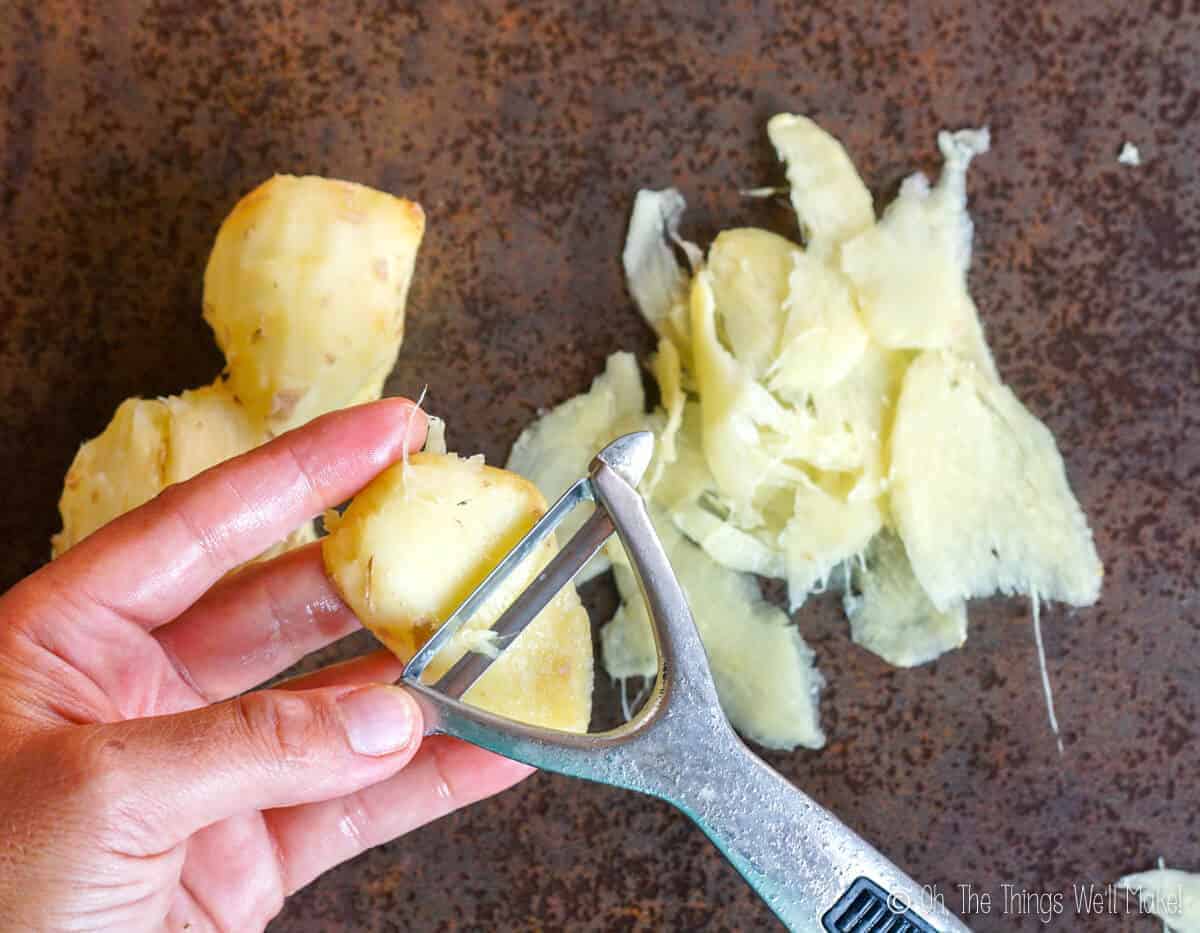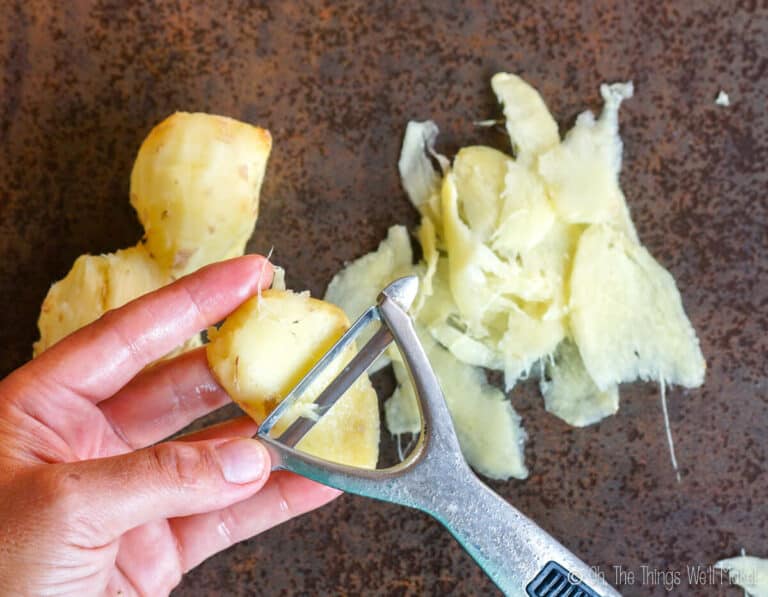 Meanwhile, cook together the vinegar, sugar, and salt until the sugar is completely dissolved. You can cook stronger vinegars slightly longer to remove some of their acidity. (Don't cook it for too long, though, as the acidity is important for picking the ginger.)
Once the ginger and vinegar mixture have been cooked, strain the ginger and add it to the vinegar mixture.
Storage
Store the mixture of ginger and vinegar solution in a clean, well-sealed container. Optionally, add some beetroot or food coloring if you want to make pink ginger slices.
After several hours, the ginger should already have picked up the sweet and sour flavor of the pickling solution. It's best, though, after having been left in the solution at least overnight.
The vinegar, sugar, and salt all work well to help preserve the pickled ginger. While it should keep fine at room temperature, it's best kept in the refrigerator. (It should keep for many months.)
Discard it if you see any unusual changes in color or flavor.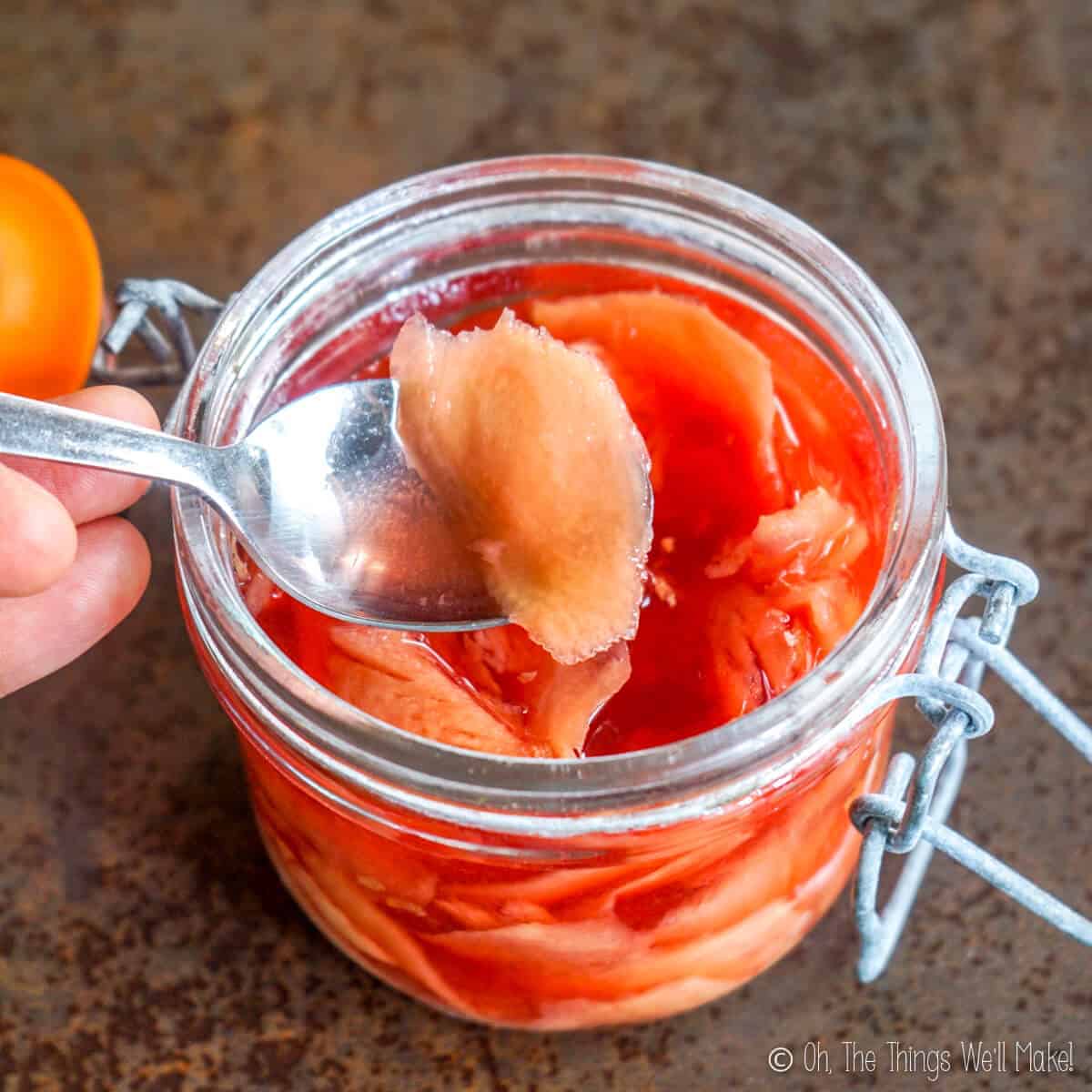 Video
Craving more?
Subscribe to my newsletter for the latest recipes and tutorials!

Pickled Ginger for Sushi
Tangy yet sweet, pickled ginger pairs perfectly with sushi, but you can use it to enhance the flavors of a variety of dishes. While you could buy it, it's simple to make from scratch at home.
Print
Pin
Rate
Servings:
15
teaspoons, approximately 10g
Ingredients
150

g

ginger root

(1 large root)

1

cup

rice vinegar

(Or other vinegar)

2

Tablespoons

sugar

(Or sweetener of choice)

1/2

teaspoon

salt

1

slice

beetroot

Or beet juice – optional- for color
For cooked ginger
1

teaspoon

salt

for salting the ginger before cooking it
Instructions
Peel the ginger root. This can be easily accomplished by using the edge of your spoon to help scrape the skin off.

Slice the ginger as thinly as you can. You can use a knife, vegetable peeler, or a food processor/slicer like I did.
For traditional cooked pickled ginger
Sprinkle a teaspoon of salt over the ginger slices and coat them well with the salt. Allow the coated ginger to rest while you fill a small pot with water and bring it to a boil.

Add the salted ginger to the boiling water and cook it for a short period of time. Remove after 1-2 minutes for a stronger, more pungent ginger. Leave it to cook longer for milder ginger.

Remove the ginger from the boiling water.
Prepare the pickling solution
Combine the vinegar, sugar, and salt in a small saucepan, and heat over low to medium heat, mixing together until the sugar dissolves. If using a strong vinegar, you can cook slightly longer to decrease the acidity slightly. Remove from the heat.

(For raw version, you can dissolve the sugar in the vinegar without cooking the solution.)
For raw or cooked ginger
Place the sliced ginger (cooked or raw) in a clean jar, and pour the vinegar solution over it.

Optionally add a slice of beetroot or radish to color the ginger pink.

Remove the beetroot once you've achieved the desired level of color.

Cover and store in the refrigerator.
Notes
For sweetener, you can use regular white sugar, unrefined sugar (like coconut sugar or panela), or use alternative sweeteners like honey, maple syrup, or stevia.
While rice vinegar is traditionally used, you can try using other kinds of vinegar like apple cider vinegar or a homemade ginger vinegar.
While you can store the finished pickled ginger at room temperature, it will keep longer in the refrigerator or in a cool, dry place. (Store up to a year.)
Serving:
1
teaspoon (10g)
|
Calories:
17
kcal
|
Carbohydrates:
3
g
|
Protein:
1
g
|
Fat:
1
g
|
Saturated Fat:
1
g
|
Sodium:
235
mg
|
Potassium:
42
mg
|
Fiber:
1
g
|
Sugar:
2
g
|
Vitamin C:
1
mg
|
Calcium:
3
mg
|
Iron:
1
mg
I would also like to note that I used less sugar and salt than most other recipes. I didn't feel that it needed that much, and quite like the way it turned out. If you want it sweeter or saltier, though, by all means, feel free to add more!