Many of you already know that I have been creating recipes for DIYready.com lately. It's a lot of fun, and gets me making some recipes that I wouldn't normally make.
Recently, they asked me for a recipe for sushi.
Sushi is perfect for me! I love playing with food, and sushi is the perfect medium for being creative with food.
I couldn't resist making my Wall-E obsessed toddler an Eve sushi figure. I'm dorky that way, I guess. 🙂
I found some pickled ginger to accompany my homemade sushi (I'll link to my sushi post when it goes up), but I was surprised to find that my favorite sushi garnish is made with artificial sweeteners and colors. I mean, I guess the color shouldn't surprise me, but the artificial sweeteners and conservatives did.
Thinking as I always do when I see an ingredient list I don't like,
Pickled ginger can't be that hard to make… can it?
Luckily for all of us, it is really quite easy to make! Plus, it ends up being a lot cheaper for me to make than it is for me to buy it here in Spain.
The main ingredients are ginger and rice vinegar. To sweeten it, sugar is added, and finally salt is added to taste.
Most recipes call for white sugar. It is said that if you find a young ginger root, and have a high enough quality rice vinegar, that the pickled ginger will turn a shade of pink by itself. I must not have fulfilled one of those conditions, because my ginger stayed a pale shade of yellow.
Probably in an effort to make it keep safely for longer, most recipes specified that the jar be sterilized before beginning, and then have you cook the vinegar solution. I found that I was able to dissolve all of the sugar and salt without heating the ingredients at all, and I made a batch of the ginger that is completely unheated and raw. I'm assuming that with the acidity of the vinegar paired with the conservative nature of both salt and sugar, that the ginger should keep for quite awhile (almost indefinitely) even without taking any special precautions. I guess it is always better to err on the side of caution, though, so I'll give you the cooked version recipe. Make it as you will, keeping that in mind.
In any case, weeks later, my unheated batch seems to be better than the day it was made, with no signs of going bad any time soon.
As for the color, having used a demerara sugar, the ginger turned a darker shade of golden brown. I imagine that using honey would result the same way. I think that actually helped make a prettier shade of pink later on. You see, beets are a more purple shade of red, while pickled ginger usually has a more coral tone of pink.
To turn my ginger that pretty shade of pink, I added a slice of beetroot to my jar.
Of course, I was impatient. The liquid was turning pink, but the ginger wasn't,
So I added in some beet juice, for good measure…
The result?
Red ginger! (I should have taken a picture!)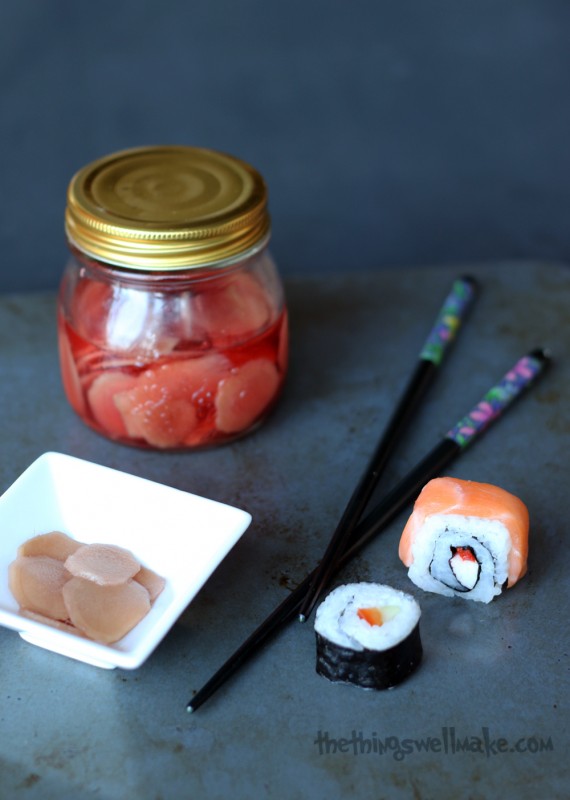 Ahhhh, yes, the problems that arise when one is impatient!
I ended up having to change my vinegar solution to a new one with no beet juice in it. The excess color in the ginger dissolved back into the new solution leaving me with pink ginger again.
My point for telling you this?
Learn from my mistakes. Don't be impatient, and keep an eye on the coloring process for awhile before adding more.
Enough said.
Let's make some sushi pickled ginger!
Ingredients
1

large piece

ginger root

1

cup

rice vinegar

2

Tbsp.

sugar

1/2

tsp.

salt

1

small piece of

beet

Or beet juice - optional- for color
Instructions
Peel the ginger root. This can be easily accomplished by using the edge of your spoon to help scrape the skin off.

Slice the ginger as thinly as you can. You can use a knife, vegetable peeler, or a food processor/slicer like I did.

Combine your vinegar, sugar and salt in a small saucepan, and heat over low to medium heat (Or don't. See my notes above!), mixing together until the sugar dissolves. Remove from the heat.

Place your sliced ginger in a sterilized jar, and pour the warm vinegar solution over it.

Let cool and refrigerate.

To add a bit of color, add a small slice of beetroot, or a dash of beet juice, to the jar. If you have used a piece of beetroot, you can remove it when you have achieved the desired color.

Keep in the fridge until you use it.
I would also like to note that I used less sugar and salt than most other recipes. I didn't feel that it needed that much, and quite like the way it turned out. If you want it sweeter or saltier, though, by all means, feel free to add more!
Now that you have some beautiful pickled ginger, it's time to try your hand at sushi. I'll post a link to my post as soon as it gets published.
Perhaps I'll even eventually dabble in trying to make a grain free version here. Only time will tell…