Fresh orange juice and cava take center stage in this agua de Valencia recipe. Learn how to make this popular Spanish cocktail reminiscent of the mimosa.
Years ago when I came to Spain as a student, one of our favorite pastimes was going to karaoke bars and singing the night away. That's where I first learned some popular Spanish songs. It's also where I first tried agua de Valencia.
What is Agua de Valencia?
Agua de Valencia, or "Aigua de València" in Valenciano, is a Spanish cocktail from the Valencian Community region of Spain. It's smooth and sweet and is reminiscent of the mimosa.
It's normally sold in pitchers and served in champagne-style cocktail glasses.
The Origin of the cocktail
The recipe is said to have been developed in 1959 by Constante Gil in the Café Madrid in Valencia.
In the book Valencia, Noche, by María Ángeles Arazo, the story of its origin is told. In the story, it's said that some Basque visitors were at the Valencian Café one night. They had been ordering cava, calling it "Agua de Bilbao" (or water of Bilbao).
Sick of always ordering the same drink, they challenged Constante to come up with something new. He offered them "Agua de Valencia" instead. He made it by adding a glass of orange juice and a shot of vodka and one of gin to the pitcher with the bottle of cava.
They loved the resulting cocktail so much that they came back and ordered it on future visits.
Eventually, it caught on, not only at the Café Madrid, but at other nearby cafés and bars.
It is also said that Constante tried to register his cocktail officially. He was denied the registration because it was said that the name was too generic for a trademark.
More information about the inventor of Agua de Valencia can be found here (In Spanish).
What are the ingredients?
This Spanish cocktail is not surprisingly made with freshly squeezed orange juice. Valencia is, after all, known for its oranges.
It also includes cava and a couple of spirits. Normally, vodka and gin are chosen, but the spirits used can vary depending on the recipe.
Valencia Oranges
When I first arrived in this region of Spain, orange trees were everywhere. I would go for walks through the orange groves in my city on the other side of the castle. Sadly, little by little, the orange groves are disappearing. This is especially true within the city limits where the cost of land is at a premium.
Even in the countryside, many farmers are abandoning their orchards as the price of the upkeep of the land is often much higher than the price that can be made by selling any harvested oranges. My aunt who now lives in Alicante, still owns what was once a successful orange grove in another city. Unfortunately, nowadays, she loses money with it each year.
Despite the progressive disappearance of the orange groves, The Valencia region of Spain is still well known for its sweet oranges. So, it's not surprising that a cocktail named "agua de Valencia" would have freshly squeezed orange juice as its main ingredient.
Cava
The other main ingredient in this cocktail is cava.
What is cava?
Cava is a Spanish sparkling wine similar to champagne. Some people refer to sparkling wines from all over the world as "champagne." That term, though, should really be reserved for only the sparkling wines made in the Champagne region of France using their regional grapes in the traditional champagne method.
Spain's Cava is actually very similar to champagne. It is made using the same traditional method but instead is made in Spain using grapes indigenous here. It also tends to be less expensive than champagne.
The lower price point of cava makes it perfect for mixing into cocktails such as this one. It's also commonly used to make a lemon champagne sorbet, or should I say Sorbete de Limón al Cava? The lemon sorbet is often served as a dessert or to cleanse the palate between the courses of a large meal.
Sorbete de Limón al Cava: Spanish Lemon Champagne Sorbet
One of Spain's signature desserts, the sorbete de limón al cava, or lemon champagne sorbet, is often served at weddings and fancy restaurants, but is simple enough to easily make at home.
Check out this recipe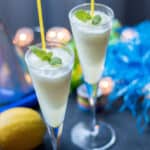 I once went on a tour through the bodegas of Cava Codorniu in Barcelona. It was really interesting to see the process of how cava was made. I loved touring the wine cellars filled with bottle upon bottle of cava. I also loved tasting the wines, of course.
Variations of the Recipe
There are many variations of the agua de Valencia recipe floating around the internet, some of which are quite strong. When I have ordered it here, though, it tends to be much less strong and the cava and fresh orange juice take center stage.
The original recipe
The original recipe can be found (in Spanish) on a Facebook page dedicated to Agua de Valencia. It uses an entire bottle of cava, a large glass of orange juice, and only splashes of gin and vodka.
Choosing a Sparkling Wine
If you don't have cava, you can substitute it with another sparkling wine.
Just like champagne and other sparkling wines, cava is made in a variety of sweetness levels. You can find it from very dry (Brut Nature) to sweet (Dolsec). From dry to sweet, it goes from Brut nature to Brut to Brut Reserve to Sec to Semisec to Dolsec. For this recipe, you can use whichever you prefer.
Despite normally liking drier wines, for this cocktail, I prefer using a cava on the sweeter side like a sweet or semi-sweet. Semi-sec is the type most popularly used for this cocktail. The semi-sweet varieties just seem to fit the drink perfectly.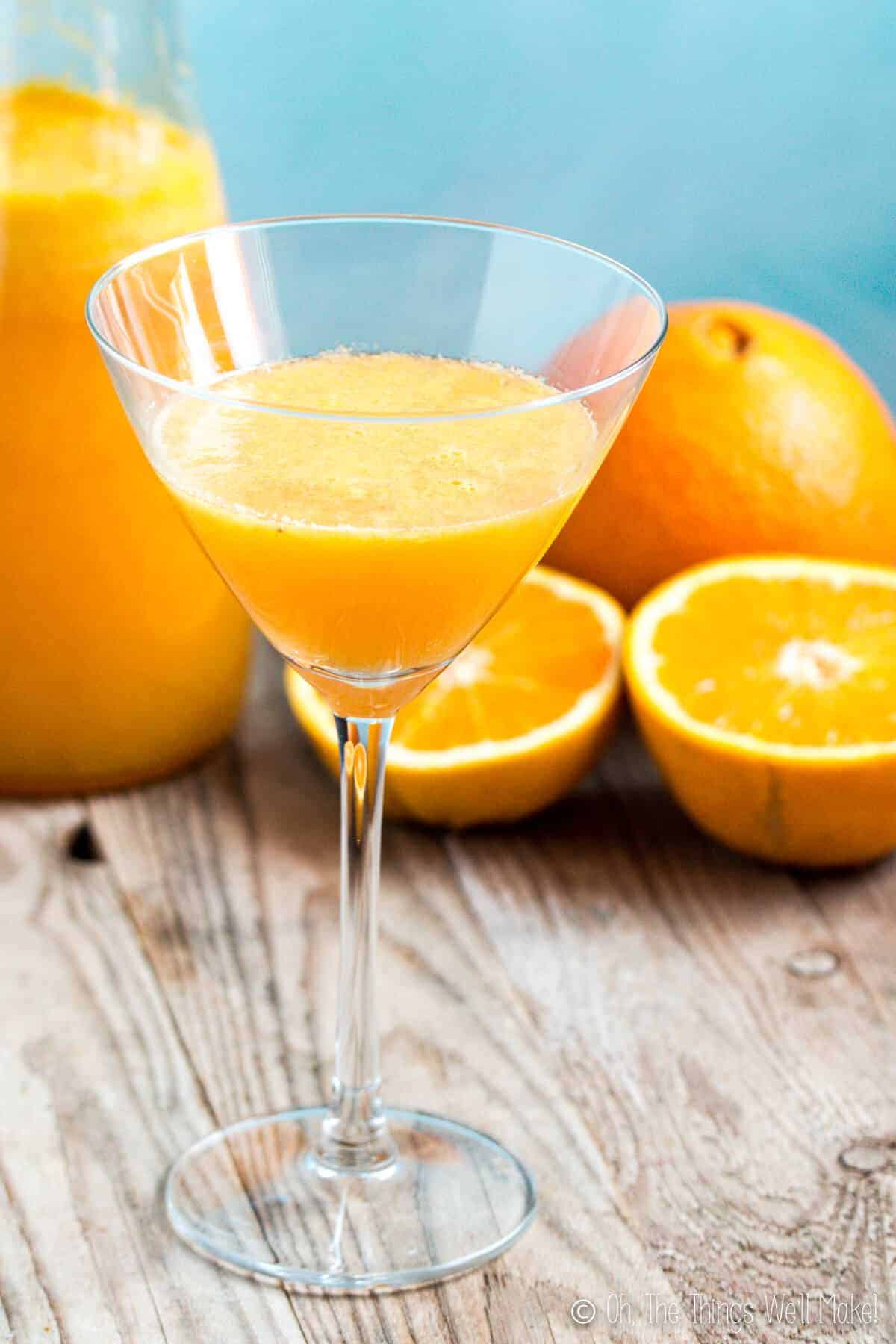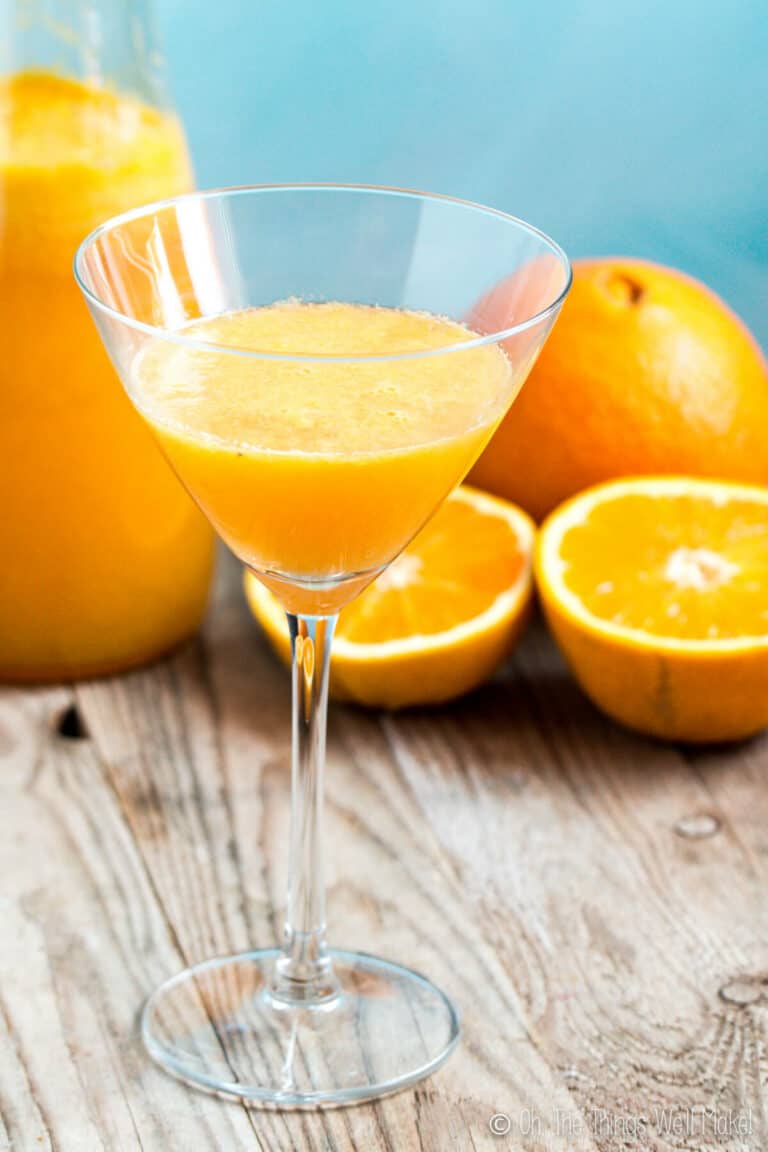 Choosing the Spirits
Apart from the orange juice and cava, vodka and gin are also incorporated into this cocktail. They are used in varying proportions depending on the recipe.
A stronger vs. milder cocktail
Some recipes use equal proportions of orange juice, cava, vodka, and gin. That combination is very strong and is nothing like what I'm accustomed to drinking in restaurants and bars here.
I experimented with varying amounts of vodka and gin and came up with the recipe I shared below. It ends up being one part of vodka and one part of gin for 3 parts cava and 5 parts orange juice. The final result is much more like what is served in restaurants here.
Adding Cointreau
Some recipes use less orange juice and then add Cointreau to increase the orange flavor. I've seen purists complain about the addition of Cointreau (regardless of the amount of orange juice added), saying it ruins the cocktail.
It is also said that Constante, the inventor of this cocktail, was opposed to people using Cointreau in the cocktail. He said it interfered with the flavor of the freshly squeezed oranges.
Sweetening the cocktail
Some people don't find the orange juice-based cocktail to be sweet enough. They add sugar to the mixture, something that I haven't personally done. I find this cocktail sweet enough on its own. That said, you can consider adding some if you have a sweet tooth, or if you are using oranges that aren't particularly sweet.
You may also want to add a sugar syrup to the drink if you more cava and less orange juice.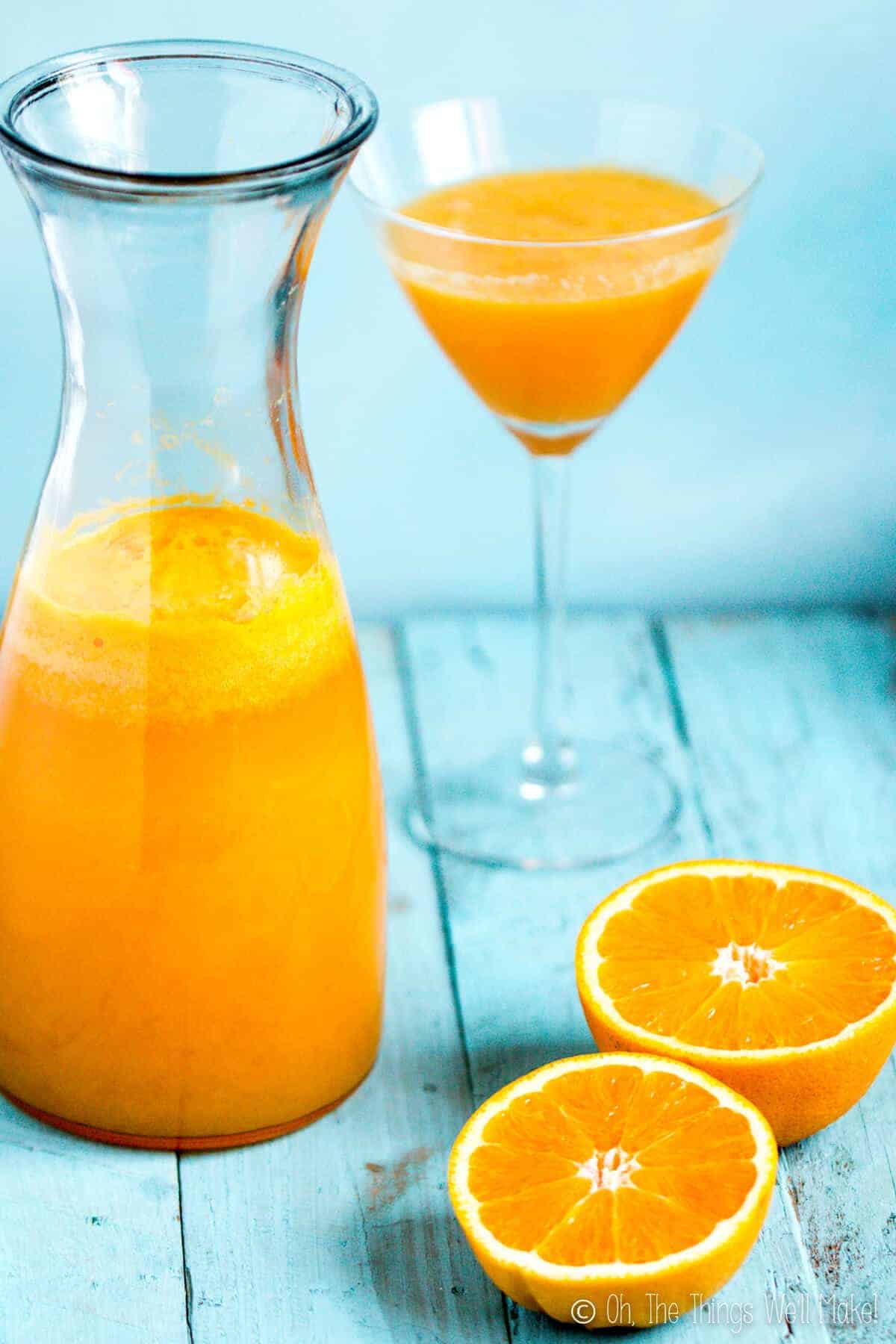 Agua de Valencia Recipe
Craving more?
Subscribe to my newsletter for the latest recipes and tutorials!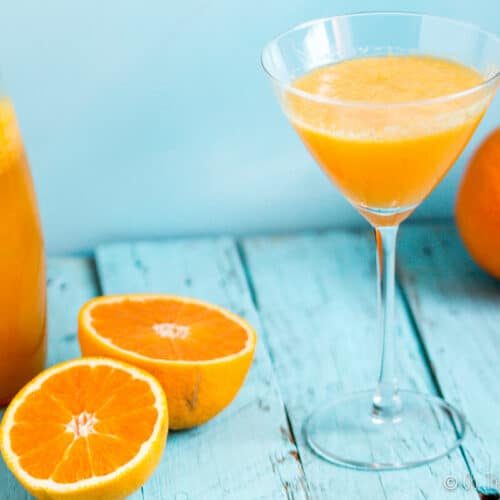 Agua de Valencia Recipe
Fresh orange juice and cava take center stage in this agua de Valencia recipe. Learn how to make this popular Spanish cocktail reminiscent of the mimosa.
Print
Pin
Rate
Servings:
8
125ml servings (1 liter)
Ingredients
500

ml

orange juice

freshly squeezed

300

ml

cava

semisweet sparkling wine- chilled

100

ml

vodka

100

ml

gin
Instructions
Mix together all ingredients in a 1 liter pitcher or carafe.

Serve in champagne or martini cocktail glasses.
Notes
This cocktail isn't typically served with ice, so it's best to use oranges that have been previously refrigerated for your orange juice, and use cava that has been chilled.
You can also make it several hours ahead of time and chill it in the refrigerator until it is ready to be served. That also allows the flavors to meld together properly. Mix the cocktail again before serving it.
Alternate recipes:
For a bit stronger version, you can try 2 parts orange juice, 2 parts cava, 1 part vodka, and 1 part gin.
I have since found a Facebook page with what is claimed to be the original recipe. It includes 1 full bottle of cava, 1 generous glass of orange juice, a shot of gin and a shot of vodka.
Serving:
125
ml
|
Calories:
225
kcal
|
Carbohydrates:
35
g
|
Protein:
5
g
|
Fat:
1
g
|
Saturated Fat:
1
g
|
Sodium:
3
mg
|
Potassium:
209
mg
|
Fiber:
1
g
|
Sugar:
6
g
|
Vitamin A:
125
IU
|
Vitamin C:
31
mg
|
Calcium:
15
mg
|
Iron:
1
mg
This post was originally published on August 1, 2015. It was rewritten with additional information in January of 2020.