Making a simple, basic homemade lotion is easy, once you understand the basics. I'll tell you how to formulate your own lotion and customize it for your skin type.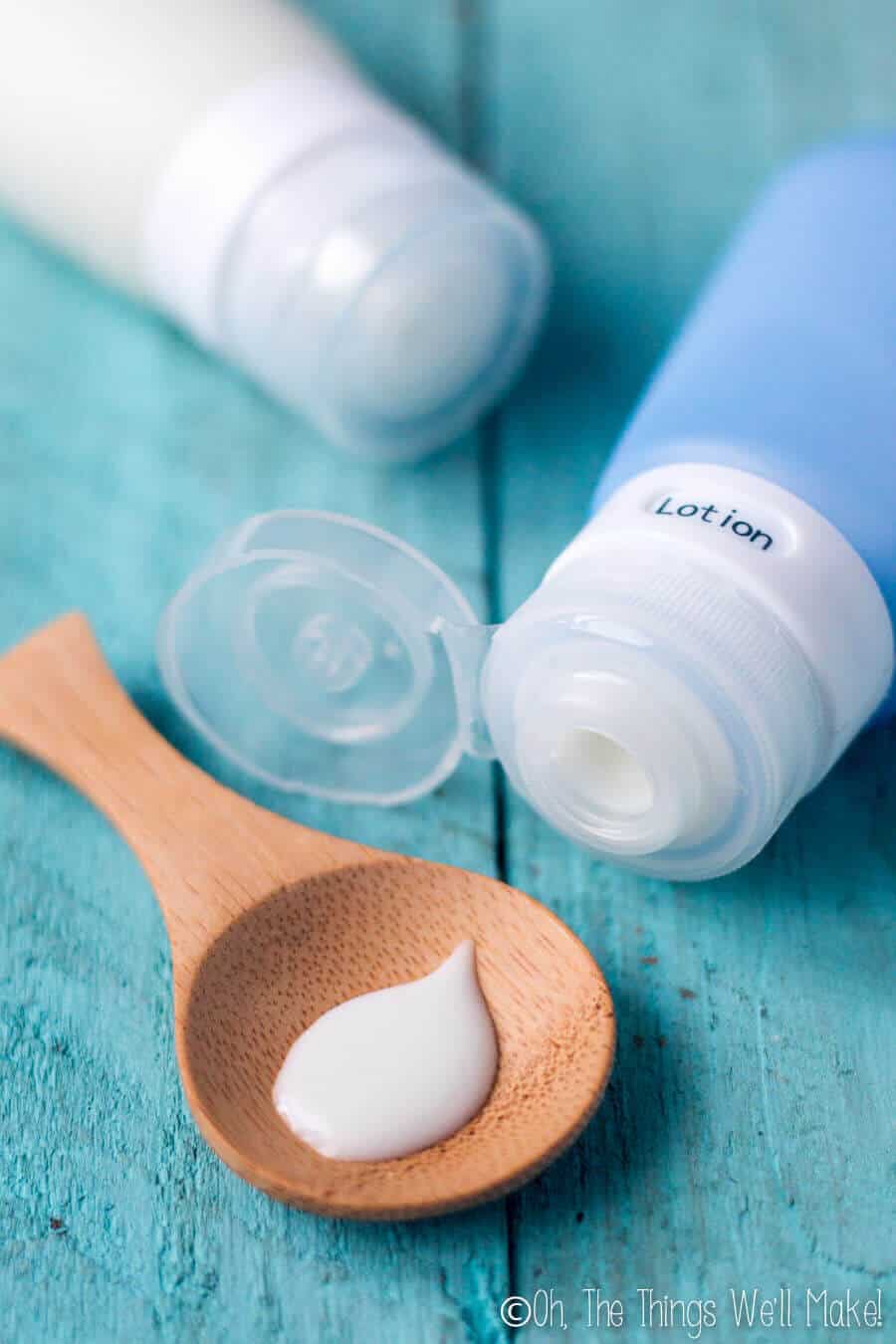 The last couple of weeks, I've been busy mixing up a bunch of different DIY cosmetics recipes. I've made lotions, makeup, a new roll-on deodorant, and even hair conditioner. I love my new homemade hair conditioner so much that I could barely wait to share it with you this week, but something happened that made me change my mind about posting it quite yet. (Don't worry, I will share it with you, and will share it with you soon!)
My husband ran out of his store bought roll on deodorant. While I've been enjoying my homemade deodorant for months and months now, my husband wasn't quite on board with the whole DIY natural products idea. He had suffered through my trying out all sorts of homemade deodorants that either didn't work or that used baking soda which was effective, but irritated my skin. It wasn't until I came up with my own formula, using zinc as a deodorizer, that I finally made a deodorant that worked, and worked well, and not only does it not irritate my skin, it actually soothes it.
When I asked my husband if he wanted me to make him a new deodorant, he was skeptical about whether or not it would work. That's when I mentioned how well mine has been working, even through the hottest days of the summer. That's also when it dawned on him that he hasn't had to complain about unpleasant odors in months now.
He decided to give my solid bar a try, and liked the way it worked, but had to admit to me that he prefers a roll-on type deodorant. So, I made him one. (And I'll share that recipe here too.)
Watch how to make a homemade lotion:
How to Make a Simple, Basic, Homemade Lotion
What does all of this have to do with how to make a simple, basic, homemade lotion?
Actually a lot.
While making the roll-on deodorant, after having made the hair conditioner and a few other homemade cosmetics, I came to the realization that once you know how to make a basic homemade lotion, you'll be able to customize the idea to make all sorts of homemade products. Why? Because they're fundamentally the same product with slightly different ingredients.
That's when it dawned on me, it took me forever to start making my own lotions and creams because I was intimidated and didn't know where to start. There isn't a lot of good information out there about how to make your own basic lotion or cream and how to customize it to suit your skincare needs!
After seeing how popular my recipe for a basic, beginner soap became, mostly because people were too intimidated by the soap recipes out there and needed a simple guide for how to begin making your own soap with ingredients that were easy to find, I realized that I needed to make beginner's guide to making lotions and creams.
Most recipes I've seen out there are either intimidating with lots of (unusual) ingredients, don't work (I tried one with beeswax that separated into liquid and oil layers), or are lacking important information like how to preserve the homemade lotion so that it is safe to use. People's fear about how to preserve lotions is probably the main reason that most bloggers stick to making body butters rather than lotions. (More about that in a second.)
What are the Main components of a simple, homemade lotion?
The aqueous phase:
The main component of lotion, which makes it differ from a body butter, is water. When you are buying all small tub of cream or a bottle of lotion, keep that in mind. In most cases over half of that container is really just water!
Once you introduce water into a product, you are making way for bacteria and mold formation, so you have to worry about using a preservative of some sort. That's another reason that a lot of bloggers fear making lotions. I'll get into making safe lotions in just a sec…
Why would you use water, then?
I personally hate body butters. Even if you whip up coconut butter into a fluffy, smooth body butter of sorts, it still goes on feeling greasy. Most body butters just don't have that silky feeling that a lotion does when you put it on. They don't absorb into your skin in the same way either. Plus, they are a lot more expensive to make because 100% of your ingredients are oils and other active ingredients.
There are also lots of beneficial ingredients that you may want to add to your preparations that are water soluble. I add things like rose water, witch hazel, aloe juice and gel, and hyaluronic acid to my creams and lotions as part of the aqueous phase.
Not only that, once you learn how to make a basic lotion which emulsifies water with oils, you'll be able to make all sorts of things like hair conditioners that you can't make with just oils alone.
The oil phase:
Oils and "butters" add nutrients and antioxidants to your lotions and creams. Different oils have different properties which can be beneficial for different types of skin.
Despite what many believe, not all oils provoke acne or are bad for acne prone skin. Some oils can actually help reduce acne and the inflammation caused by it by balancing the oils in your skin. Other oils are especially good for healing dry skin, clearing up eczema, and reducing the appearance of fine lines and wrinkles.
Some day I'll write a post about my favorite oils and their properties for all different types of applications. I'm using oils in everything from soap to face serums.
Emulsifiers and Waxes:
Oil and water don't mix well, so in order to get them to come together into a stable product, you need some sort of emulsifier or emulsifying wax. Emulsifiers have both a water loving and oil loving component to them, so they work as sort of a "glue" to keep both the oil and aqueous phases of your lotion together.
Because most of the emulsifiers are called emulsifying waxes, many people think that all waxes will work as emulsifiers for making lotions. Unfortunately, waxes like beeswax, candelilla wax or carnauba wax, can't be used as the emulsifier for making a lotion. (I found that out the hard way when I made a mess trying to make my first lotion with beeswax years ago.)
There are lots of different emulsifiers and emulsifying waxes on the market, each with their own properties. Some will give a different texture or weight to your lotions, others are used more for hair conditioners and similar products. Most emulsifiers are added to the oil phase of a lotion, but there are exceptions. Depending upon the emulsifier, you may need more or less for emulsification to take place or to get the right texture. When using a different emulsifier in a recipe, it's a good idea to check on its specifications and see how they differ from the emulsifier being used.
Let me give you an example of some emulsifiers I have bought and tested:
Emulsifying wax: Emulsifying wax is a plant based emulsifier made from wheat straw. In this simple recipe, I'm going to use emulsifying wax number 2 because it's a common emulsifier to find on the market. It's a good emulsifier for lotions with an oil phase of 25-40% of the recipe. (If using less than 25% oil, you'd need to add either some sort of gelling agent or a co-emulsifier like acetyl alcohol to help get a proper texture.) It should be used as 3-5% of the final recipe in most recipes.
Montanov 68: A new favorite of mine is this emulsifier that is made from coconut oil and the tapioca plant. (I guess the paleo diet lover in me loves those base ingredients.) 🙂 It's a non-comedogenic emulsifier that is 100% biodegradable and accepted by BDIH and ECOCERT as a suitable natural cosmetic ingredient. It should be used as 4-5% of the final weight in recipes.
Olivem 1000: This interesting emulsifier comes from the olive tree plant, as the name implies. It can actually be melted into either the aqueous or oil phase of your recipe. It can be used 1.5-3% in serums or light lotions, or 3-8% for thicker lotions or creams. It works in a wide variety of pH levels and for a wide variety of products like lotions, makeup, sunscreens, after sun products, hair conditioners, and baby products.
Emulsan II: Emulsan II is another plant based emulsifier that can be used for making hydrating creams and lotions for any skin type. It should be used as 3.5-7% of the weight of ingredients, obtaining a normal texture at around 4%.
Just because waxes like beeswax, carnauba wax, and candelilla wax don't make good emulsifiers doesn't mean that they aren't suitable for homemade cosmetics. Waxes will help thicken up your emulsion, and add staying power to certain cosmetics. They also help create a barrier that keeps moisture in your skin. I especially love waxes for making a simple homemade lip balm, a natural root concealer stick for your hair, or even a solid perfume.
The Preservatives:
Preservatives are the "scary," "non-natural" part of making lotions and other emulsions.
Once you add water to your product, it become lighter and melts into your skin better, but it also becomes a breeding ground for bacteria and molds. There are people who make their own homemade lotions without preservatives thinking they will use them quickly enough to not have any problems. I personally wouldn't risk it because even if you keep your preservative-free homemade lotion in the fridge, it will likely be filled with mold and bacteria within a couple of weeks.
I much prefer to use a mild preservative that will allow me to have a safe product for several months.
There are natural preservatives on the market that will give your finished product a shelf life of around 2-3 months, on average, if you make your lotion in hygienic conditions, even when you store your lotion outside of the fridge.
While you should use a preservative, you can choose to avoid the harsher chemical preservatives that most store bought products use to give extended shelf lives that will allow their product to last for months and months on end.
Here are some "natural," mild preservatives:
Rokonsal: This preservative is a mild preservative that is accepted for natural cosmetics by the BDIH and ECO-CERT. It can be used to give a 2-3 month shelf life of products whose pH is less than 5. I use a few drops of lactic acid to lower the pH of my lotions before adding this preservative. It works against a wide spectrum of bacteria and molds, and can be used at a dosage of .2% in shampoo recipes or .3-1% in lotions and creams. This is the preservative I used when I made the video of myself making a basic lotion.
Leucidal: This ECO-CERT approved preservative seems to be easier to find in the US, and it also seems to work on a wider pH range (3-8). It is made from fermenting radishes with the Leuconostoc Kimchii bacteria. (Kimchi? Yum! 🙂 )You need to add more Leucidal than other natural preservatives I've used, and it's dosage, when used alone, should be somewhere between 3-4% of the recipe. It does have the added advantage of being able to augment the hydrating ability of homemade lotions. It gives your lotion a shelf life of 2-3 months.
Geogard 221 (Cosgard): This mild preservative will help give a longer shelf life to products with a wider pH range. It works for products with pH between 2 and 7. It will give a shelf life on average of about 2 months, 3 months maximum. It should be used at .2-1% of the final recipe. It is ECO-CERT accepted for organic products certification.
Can't I preserve the lotion with essential oils and vitamin E?
Some people like to say that they are using essential oils, Vitamin E, grapefruit seed extract, potassium sorbate, or even coconut oil as natural preservatives.
While it is true that coconut oil and some essential oils can have antibacterial and antifungal properties, they alone aren't enough to preserve any type of homemade lotion. Vitamin E and grapefruit seed extract are high in antioxidants, and can help slow rancidity in the oils in your lotions. They won't prevent the formation of bacteria and mold, though.
Potassium sorbate can be used as a preservative against mold. The problem with potassium sorbate is that it doesn't prevent against bacteria formation. If anything, adding only potassium sorbate may actually make for a more dangerous lotion because the mold formation won't occur, which is what normally alerts you to something going wrong in your lotion! You could end up with a bacteria laden lotion that looks perfectly normal. Potassium sorbate can be used to help preserve certain cosmetics, though, as long as it's used with some sort of bacteria inhibitor like 10-12% alcohol in your recipe.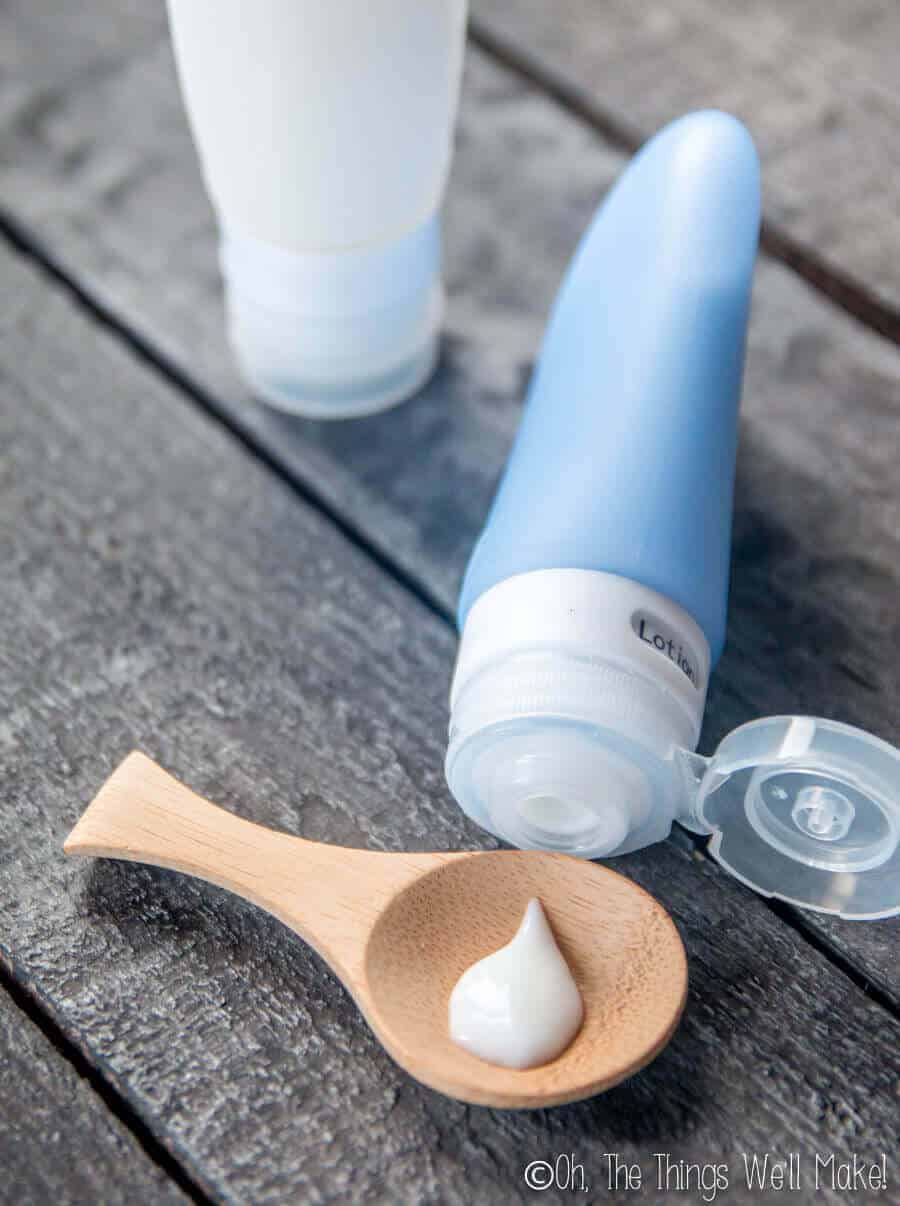 Handy Tools for Making Homemade Lotion:
How to Make a Simple, Basic, Homemade Lotion
Looking to make more?
Subscribe to my newsletter for the latest projects (and recipes)!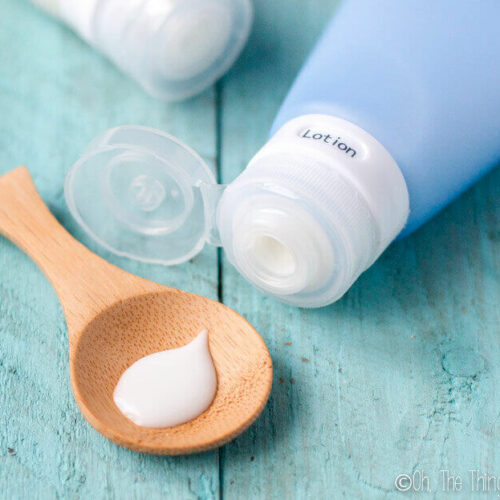 How to Make a Simple, Basic, Homemade Lotion and Customize it for Your Skin Type
Making a simple, basic homemade lotion is easy, once you understand the basics. Change up the oils to adapt it to your skin type.
Print
Rate
Servings:
100
ml (More or less)
Instructions
Make sure all utensils, containers, and pots are fully clean. I like to run what I can through the dishwasher to help kill of any bacteria. You can also clean utensils with rubbing alcohol to help clean and dry them.

Weigh out the water or aqueous phase ingredients. You should use distilled water to prevent adding any unwanted pathogens or minerals. You can substitute floral waters or other distillates for the distilled water.

Heat the water (or aqueous phase ingredients) to around 70º-75ºC/160º-170ºF. We are heating the water so that it will be around the same temperature as the oil(s) so that the emulsification process can take place correctly.

While the water is heating, begin weighing out your oil(s) and wax. I find that the best way of doing this is to tare the scale with a small double boiler pot on the scale, add the oil(s) to the pot until you reach the required weight, and then tare again before adding other oils or the emulsifying wax. Just this week I made a batch of sweet almond oil lotion, and a lotion made with mostly coconut oil and a touch of hemp seed oil. I assumed that the coconut oil lotion would be a bit thicker, especially now that it is still cold outside, but both lotions were pretty similar in texture. Use your oil(s) of choice. Soon I'll write a post about some of the qualities of certain oils so you can better choose oils that will best serve your skin type.

Heat the oil and wax over a double boiler, stirring until the wax has completely dissolved. You are aiming to get the oil to around 70º-75ºC/160º-170ºF, but the exact temperature isn't super important.

Some people advocate using a "heat and hold" method, where you heat both the oil phase and aqueous phase ingredients separately, and hold them at around 70º-75ºC/160º-170ºF each for around 20 minutes, before bringing them together. Some say it helps with the emulsification process. Others say it helps ensure killing off all possible pathogens. I personally don't use the "heat and hold" method myself, and until now haven't had any problems with lotions separating or going bad more quickly. This is a topic that would warrant a full post, but I don't want to go into it right now, so I'll leave you with

this post with some arguments against it

. If you are having problems with lotions separating after several weeks, it is something that you could try.

Add the hot water to the hot oil mixture and whisk the ingredients together. As the mixture cools, the liquid will get thicker and more opaque. If you are having issues with the emulsification process, it could be a problem with either the water or the oil(s) having cooled too much. This can be remedied by heating the mixture over a double boiler and whisking until the mixture is well emulsified.

Allow the mixture to cool slightly.

Meanwhile, as it cools, you can test the pH of your mixture. Leucidal allows for a wide pH range of 3-8, but Rokonsol works as a natural, mild preservative only when the pH is below 5.5. Your lotion will very likely be slightly higher than that.

Add a few drops of lactic acid, if needed for your preservative, and test the pH again. For Rokonsol, once it is lower than 5, you are ready to continue. With Leucidal it is likely that you won't need to add any acid.

Once the mixture has cooled and thickened, you can add in the preservative and any delicate, heat sensitive ingredients like essential oils.

Mix together all ingredients, and pour the mixture into the final containers. I like to use

"airless" containers

or

silicone tubes

because they allow you to dispense the lotion without putting your fingers into a container and contaminating the lotion.

Wait until the lotion is fully cooled to room temperature before capping. This is just a precaution to keep condensation from forming inside the container and floating on top of the lotion to prevent mold from forming. In any case, it's a good idea to shake the containers well once capped to ensure any humidity from possible condensation is incorporated into the rest of the lotion.

Enjoy your lotion. Natural preservatives like Rokonsol and Leucidal give the final product a shelf life of around 3 months. I make lotion in small batches so that I use it up before then. It's a good idea to date your containers so that you know when you should toss the remaining lotion and make a new batch. (Once you get the hang of it, you can easily make a new batch in less than half an hour, so this isn't really an issue!)