Soothe irritated skin and replenish its moisture after sun exposure with this homemade after sun lotion with aloe and other calming ingredients that nourish the skin.
Why use after sun lotion?
When you've spent the day out in the sun, your skin tends to dry out more than it normally would. If you haven't done a very good job of protecting your skin, and have allowed it to burn, you'll need to be even more careful about what you use on your damaged skin. UV rays can cause the production of free radicals that can lead to cell damage and can prematurely age our skin.
While an after sun lotion can't stop time, it can help provide some relief and can also replenish the moisture lost.
What does a good after sun lotion do?
A good after sun lotion will be comprised of ingredients that will help nourish and restore the moisture lost after a day in the sun.
Restore hydration
Because water is the main component of the lotion, moisture will be absorbed into the skin to help hydrate it. (To help increase that hydrating effect, especially if you have been out in the sun for a long time, it's a good idea to apply the lotion after you've rinsed off your skin in a cool shower with your skin still wet.) A lotion or gel is better than a body butter or solid lotion in cases like this one when extra hydration is needed. (An oil-based product without water can form a barrier that keeps your skin from getting the hydration it needs.)
Keep moisture in
While it's not ideal to cover the skin directly with oils or butters that can form a barrier while the skin is dry, once you've restored some moisture, the oils and/or butters can help keep that moisture in. I chose cocoa butter to help seal the moisture in, a popular choice in summertime cosmetic products, hopefully prolonging the life of your tan.
Help provide healing
While an after sun lotion can't turn back the hands of time and won't be able to undo any damage already done to your skin, certain plant extracts and antioxidants may help fight the free radical formation that leads to further damage.
Extending the life of your tan
Using a lotion like this one daily can help prolong the life of your tan by keeping your skin hydrated and preventing the peeling of your skin.
What's in a good after sun lotion?
So, a good after sun lotion will provide hydration, will seal in that moisture, and will provide ingredients that can help heal the skin.
Aloe Vera
One thing that most after-sun lotions and gels have in common is the addition of aloe vera gel. Aloe vera has a soothing, cooling effect on the skin, making it perfect for using after spending a day in the sun.
I decided to use both aloe oil and aloe juice in my homemade after sun lotion. I made the homemade aloe oil by infusing dehydrated aloe into coconut oil. Learn how to make your own aloe oil.
Too much aloe gel or juice or the addition of freshly harvested aloe gel can lead to preserving challenges. That's why we will use aloe juice or gel from a cosmetic supplier (that is already being preserved properly) and we will use a conservative amount.
To boost the soothing, healing effects of the aloe, you can apply a layer of aloe gel (fresh or store-bought) underneath this after sun lotion.
Vitamins and/or antioxidants
I chose to add vitamin E to extend the life of the lotion and also to help nourish the skin.
I also added d-panthenol, also known as provitamin B5. D-panthenol is one of my favorite ingredients for both skin and hair care products because it is known to help with wound healing and epithelial cell regeneration. (In haircare it helps restore moisture and aids in keeping the elasticity of the hair.)
While both of these are optional ingredients, I think that they provide great benefit to the after sun lotion.
I tried keeping this lotion relatively basic, but you could also consider incorporating other vitamins like Vitamin C or niacinamide.
Other extracts
Witch hazel is another ingredient that helps cool and soothe painful skin. It can help reduce inflammation and shorten healing time. While I think it's a great addition to the lotion, you can exchange it for more distilled water or use a hydrosol of some sort instead.
Cucumber extract is another skin soother that helps give a cooling sensation. It's a natural emollient (mine was glycerin-based) that will help draw moisture into your skin. Again, if you choose not to use it, you can either exchange it for water, glycerin, or another extract of your choice.
Cocoa Butter
Cocoa butter is an occlusive emollient. That means that it helps keep the skin moist by forming a protective barrier to prevent water loss. Cocoa butter helps keep skin soft and elastic which may help prolong the life of your tan by helping prevent peeling.
Watch how to make a homemade after sun lotion
Does an after sun lotion work?
It depends on what you want it to do. After-sun lotions aren't able to perform miracles and won't be able to undo the damage you may have done to your skin if you allowed it to get sunburnt.
On the other hand, they may help provide some relief, help you to recover more quickly, and may help prolong the life of your tan by keeping your skin soft and supple.
Ideally, you should protect your skin from damage, and use the after sun lotion to hydrate your skin and keep it healthy!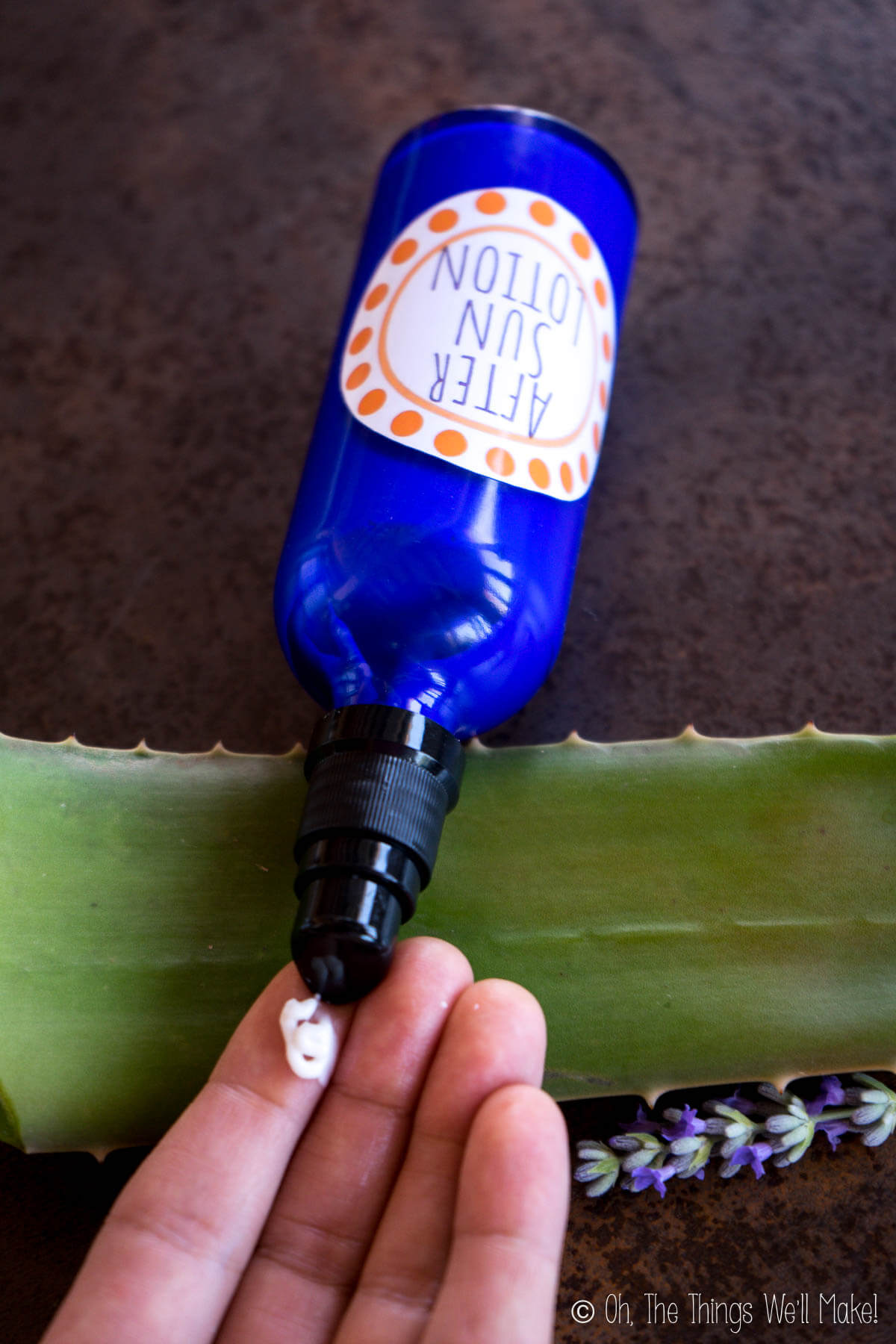 Is this lotion only for after sun?
Of course not!
This is a great general lotion with lots of benficial, skin-protecting ingredients. It is very soothing and gentle for all skin types. My husband has been using it on his face as a general moisturizer. I've been using it as a general body lotion.
How to make after sun lotion
Looking to make more?
Subscribe to my newsletter for the latest projects (and recipes)!
After Sun Lotion
Soothe dry skin with this versatile lotion that is perfect for hydrating and protecting your skin after a day in the sun!
Print
Rate
Instructions
Weigh out the witch hazel, aloe juice, lavender hydrosol, and cucumber extract in a double boiler insert or a heat-safe container that can be warmed over hot water. To make the process easier, you can tare the scale between additions so you can keep adding to the same container.

In a separate heat-safe container (or double boiler insert), weigh out the emulsifier, aloe oil, and cocoa butter.

Begin to heat both containers over hot water. A double boiler is ideal because it gently heats the ingredients and keeps them from burning.

We want the oil-based ingredients to fully melt and for both the water-based and oil-based ingredients to be at around 75°C/165°F.

When both are at around that same temperature, you can begin to add one to the other and blend with an immersion blender (aka. stick blender or hand-held blender.) You can also use mini blenders made for making creams.

While the mixture is still very warm, it will likely separate again. You will want to continue to blend it every few minutes while it cools. You will notice that it will start to thicken and stay together more easily as it gets cooler.

When the mixture reaches a temperature of around 45°C/110°F, you can add in the vitamins, EO's and preservative. Continue to blend occasionally until the mixture reaches room temperature.

Pour your mixture into prepared containers. (It's a good idea to prepare them by spritzing with alcohol and allowing to dry to help sanitize them.)

You can now use your homemade after-sun lotion!

This should keep for up to around 3 months if you are using a broad spectrum preservative as suggested.
How to apply after sun lotion
While you can just apply the after-sun lotion to your skin directly after sun exposure just as you would any other lotion, there are benefits to rinsing your skin in cool water first.
Showering in hot water can be drying to your skin. After a day in the sun, a slightly cool shower can be beneficial to gently remove salt, sand, and/or chlorine as well as any sunscreens or anything else you've used on your skin throughout the day. The cool water will also help begin to restore some hydration that has been lost during your sun exposure.
Once you have cleaned your skin and started hydrating it again, you can apply your lotion. If you apply it while your skin is still slightly damp, that can help hydrate your skin even more and then provide a barrier that will help keep that moisture in. If your skin is very dry and red, you could also consider applying a layer of aloe vera gel or juice underneath the after sun lotion.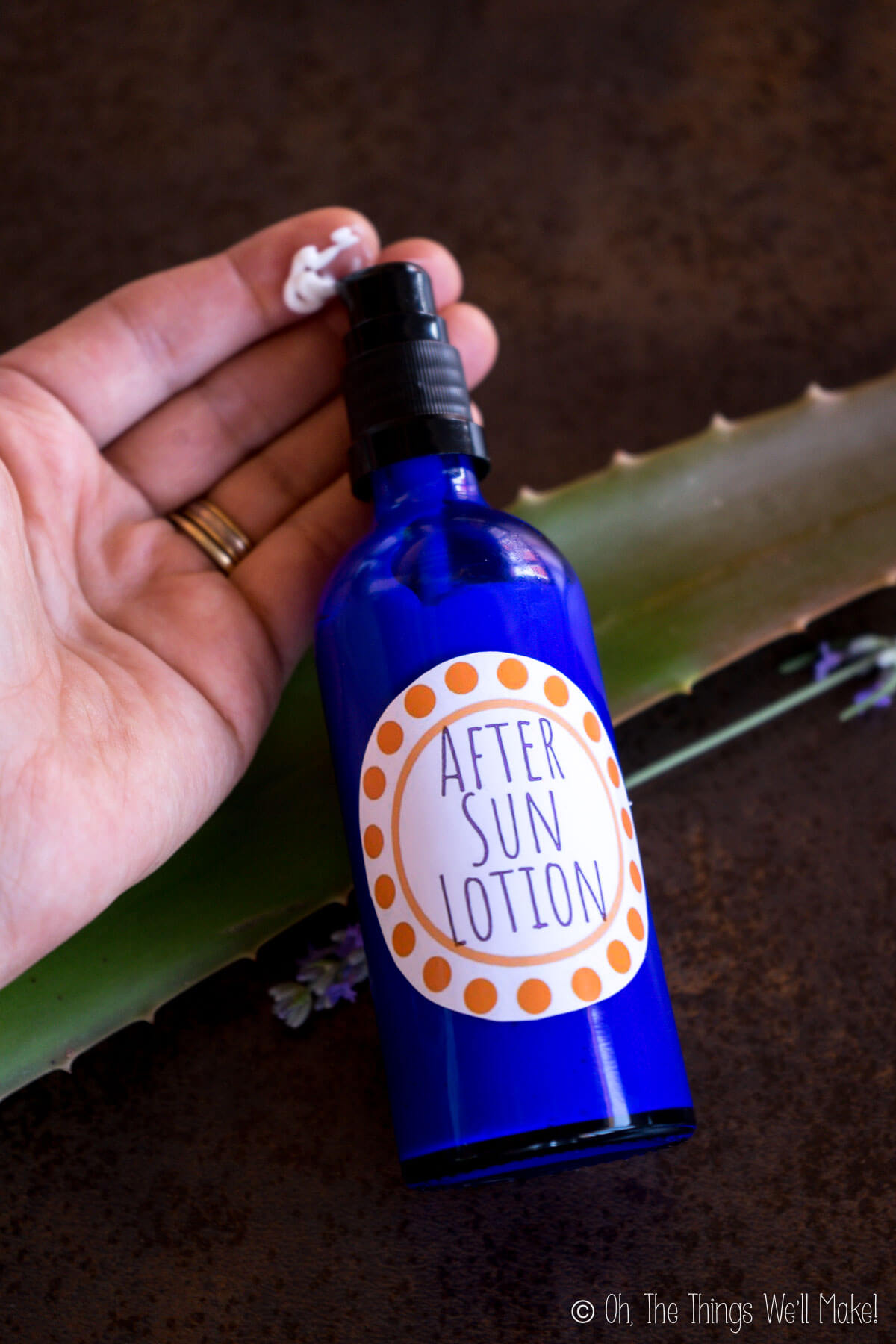 Customizing your after-sun lotion
While I tried making this lotion very basic, there are some ingredients that you may not have on hand and you may want to exchange them.
Water-based ingredients
For the water component of my lotion, I used a mixture of a hydrosol, witch hazel, and aloe vera juice. You can exchange any or all of those for distilled water instead. You could also choose different hydrosols. It's up to you! Just keep the total liquid amount the same. (I don't suggest using freshly squeezed aloe gel/juice if you are wanting to preserve this lotion and use it over a couple of months. Aloe can be very tricky to preserve, and as MIY-ers, most of us aren't going to be doing microbial testing to ensure that our aloe is well preserved. I used aloe from a cosmetic supplier and kept the amount relatively low.)
The d-panthenol and cucumber extract are also part of the total liquid amount. If you aren't using either of them, you can just use more distilled water instead. You could also consider using glycerin instead of the cucumber extract for its emollient properties. (I wouldn't suggest going above 5% of the total recipe so it doesn't feel sticky.)
Oil-based ingredients
I used my homemade aloe oil for the liquid oil in this lotion, but you can use plain coconut oil or another oil in its place. It really depends on preference and how your skin reacts to certain ingredients.
For the butter, I chose to use cocoa butter because it provides a nice occlusive barrier and is quite commonly used in after-sun products. If you don't have cocoa butter or don't want to use it, you could exchange it for another butter. Shea butter and mango butter would work fine.
Emulsifiers
Lately, I've been using Montanov 68 a lot again. I think it's one of my favorite emulsifiers because it gives a nice, light, silky texture to lotions. I also love that it is derived from coconut and the same plant as tapioca starch and that it is ECO-friendly and allowed in organic products.
That said, you can switch it out for another emulsifying wax, as needed. Depending on the wax used, you may need to slightly increase or decrease the amount used to get the texture you want. As you add more emulsifying wax, the product will get thicker and more cream-like. If you use too little it can be very thin or may even separate. Most emulsifying waxes will come with some guidelines for a suggested usage percentage.
Some day I hope to write a post about the different emulsifying waxes I have tried and give my thoughts on them. For now, I'm still experimenting.
Preservative
Because this product has water-based ingredients in it, it is prone to microbial growth if you don't use a broad-spectrum preservative.
What does that mean?
If you don't preserve it, it will start growing mold and bacteria and other nasties that you may or may not be able to see or smell. Without a preservative, you would need to treat it more like food: keep this in the fridge and dispose of it after several days (maybe up to a week?).
There are many good preservatives that we can use for our homemade products. I've actually already started writing a post about them because I get so many questions about them daily, but for now, I'll say that I used Sharomix 705 for my batch.
You can use whatever broad-spectrum preservative that you have on hand. Just keep in mind that you should use it at the percentage suggested by the manufacturer or supplier, and make sure that your lotion is in the effective pH range for your particular preservative. Some preservatives, like Leucidal, need to be used in higher concentrations (3-4%) to be effective alone. To compensate for that, you can subtract a couple of grams of water to keep the total recipe at 100g=100%.