Making your own facial moisturizer isn't difficult, and it can save you a lot of money. Learn to make a homemade moisturizer for oily, acne prone skin, and control the quality of ingredients absorbed by your skin.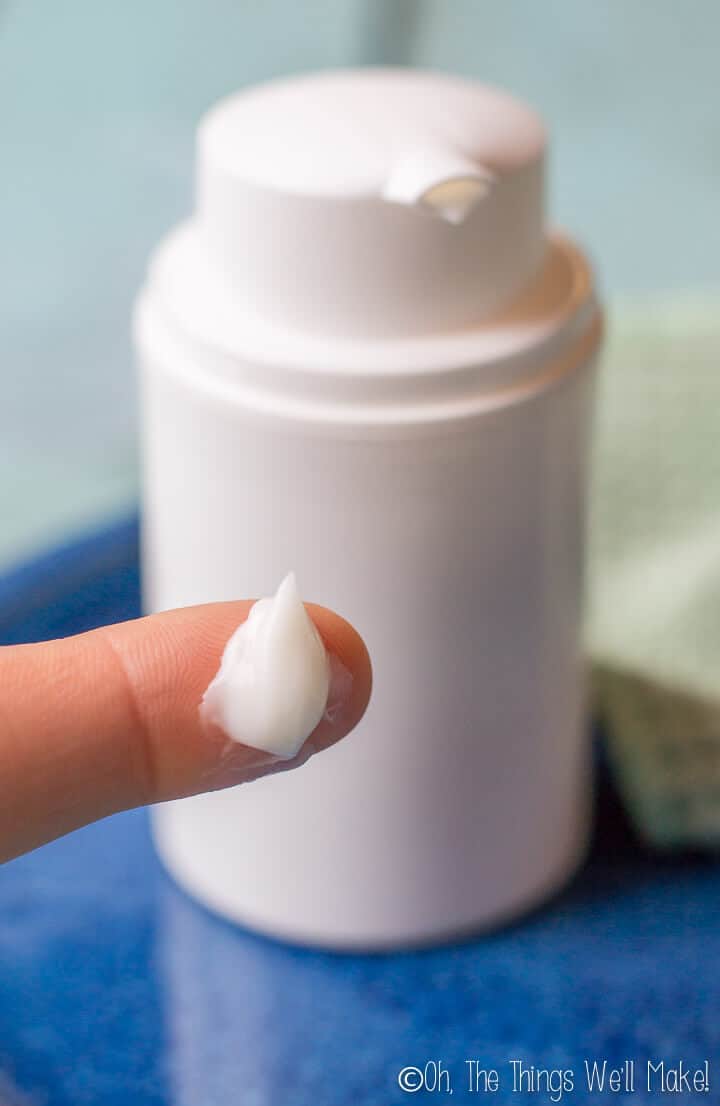 For the last 30 years or so, I've struggled with oily, acne prone skin. Of course, when I was 13 years old, it wasn't that unusual. I could blame it on the hormonal changes of adolescence. When I hit 20, I was excited that it was finally time for my skin to clear up, but it didn't; nor did it when I hit 30, or 40 for that matter!
To be honest, I've always avoided wearing any type of facial moisturizer because I was afraid that it would make my skin break out more than it already was.
As I've gotten older, though, I have started to worry about wearing some sort of moisturizer to prevent age lines and wrinkles.
The best oils for oily and acne prone skin
After a bit of studying, I realized that not all oils will cause breakouts, nor will they all make your skin feel oily. In fact, there are oils that are great for balancing the oils in your skin, so they can actually be beneficial to somebody like me who has oily or combination skin. When making your own homemade moisturizer, it's important to use the best oils for your skin type!
If you don't want to use all of the oils I used, you can use your own combination of the following oils. (Just make sure to keep the total oil weight the same.)
Hemp seed oil
Hemp seed oil may be my favorite oil for people with oily and/or acne prone skin!
Not only does it have a comedogenic rating of ZERO, but it is known to help balance the oils in your skin. It may also help clear up blackheads and small pimples. It does all of that while helping reduce dry patches, inflammation, redness, and fine lines!
It's a definite must have in any homemade lotion for oily and acne prone skin.
Argan oil
Argan oil was already one of my favorite oils for both skin and hair, but I love it even more knowing that it also has a comedogenic rating of ZERO.
The great thing about argan oil is that, because it helps balance the sebum production of the skin, it is a great oil to use on any skin type. It hydrates and works great on flaking or itchy dry skin. It is normally very well tolerated by people with sensitive skin, and it may help eczema, rosacea, or psoriasis.
Because it helps balance the sebum production of your skin, it's especially great for moisturizing oily or combination skin.
Sunflower oil
I was very surprised to find that sunflower oil is another oil with a comedogenic rating of ZERO! There is a catch, though: you shouldn't use sunflower oil with a high oleic content which may clog pores. Sunflower oil that doesn't specifically say it is high oleic, which is made from sunflowers that have been crossbred to be high oleic to help prolong their shelf life and make them healthier for eating, should be fine.
Otherwise sunflower oil is probably the very best oil to use on acne prone skin because it is the highest in linoleic acid of the oils with a comedogenic rating of zero. People who are acne prone tend to have lower levels of linoleic acid in their skin, and it is generally thought that oils high in linoleic acid will help with acne.
Shea butter
Shea butter is another one of those surprising oils because it's so thick that you would only imagine it would cause your skin to break out. Interestingly enough, though, it also has a comedogenic rating of zero! It also naturally blocks some UVB rays, which is great in a day cream, even if it only slightly helps against them.
One thing to note, some people (not all) with a latex allergy may also react to shea butter. If you are in doubt, sub out the shea butter for a different oil in the recipe!
Rosehip oil
Rosehip oil is great for helping combat the redness and inflammation from acne. I was first introduced to rosehip oil when my husband was badly burned in an accident on his fishing boat. During his rehabilitation phase, the doctors prescribed rubbing reshape oil into the scars daily to help reduce them and allow for mobility in the scarred areas of his skin.
Rosehip oil is thought to help with a lot of skin conditions: from fine lines and wrinkles, scarring, and skin discolorations like age spots to eczema, psoriasis, and stretch marks.
I think that with all of its benefits, that reshape oil makes a great addition to a homemade moisturizer for acne prone skin. That said, I should mention that it has a comedogenic rating of 1. That is still a very low rating and most people react well to it. Some people with acne like to use rosehip oil on alternate days and find that it helps them when used in that way. I chose to use it in a low percentage of the cream, and it's been working out for me. If you have issues with rosehip oil, though, or prefer to use a different oil instead, by all means sub it out for a different oil on my list!
Other beneficial Ingredients to use with oily and acne prone skin
Rose water
I used rose water in this recipe because it smells lovely, moisturizes, and it can also help fight acne and eczema. It also may help heal wounds and clear up scars!
While I normally add essential oils to my lotions and creams, the rose water left this facial cream with such a lovely fragrance that I didn't choose to add any. If you have moderate to more severe acne, though, you may want to consider adding some tea tree essential oil to your cream.
Which emulsifier should you use?
Because this is a recipe for acne prone skin, I chose to use an emulsifier that is known to be non-comedogenic. For my first batch, the one that I've been using for around 2 months now, I used Montanov 68 as the emulsifier. It's an emulsifier that is made from tapioca and coconut oil, and is said to be non-comedogenic. It gave my cream a light, yet thick, texture that goes on wonderfully, and makes my skin feel nice and smooth. I love it so far.
Since I started posting about how to make lotions, though, it has come to my attention that it is harder to find Montanov 68 in the United States, so I started researching other emulsifiers.
Olivem is another natural emulsifier that is considered non-comedogenic. It comes from the olive plant, and makes a nice creamy lotion, too. While I haven't tried it in this specific recipe yet, I have since bought it and began to use it in trials. I think it should make the perfect substitute for those who can't find Montanov 68. I plan on making my next batch, which will be within the next month, using Olivem to see how it works out. I've never had issues using Olivem, but I have read accounts of people who think it's a more difficult emulsifier to use. I suspect that they may be over-beating their lotions, though. I have never had issues using Olivem when hand stirring my creams.
Natural Preservatives
For this recipe, I chose Leucidal because it's a fairly accesible natural preservative both here in Spain and in the United States. That makes me think it's fairly accesible worldwide. (Hopefully)
Leucidal comes from fermenting radishes with a bacteria called Leuconostoc Kimchii. Using it as 3-4% of your recipe allows you to keep your finished lotion for 2-3 months (outside of the fridge) provided that you have made the lotion in hygienic conditions.
There are several other natural preservatives that you can use. I cover more about preservatives and emulsions in my post about how to make a basic lotion. If you haven't made lotions or creams before, it's a good idea to read through that post to give you a better idea of the process. (Don't worry, it's easy!)
Using essential oils
This is one of the few times that I haven't added essential oils to one of my homemade lotions. That doesn't mean that you can't add them, though. I mostly didn't add them because I loved the rose scent of this lotion that came from using rose water.
If you want to try to help increase the acne fighting benefits of this homemade moisturizer, though, tea tree oils is probably the best essential oil for treating acne. Not only is it gentle enough to be well tolerated by most people, it has been shown to kill bacteria on the skin, which may very well help clear up acne.
Lavender oil is often used in skin treatments for acne prone skin and it effectively helps clear up the skin of some people. Others, though, may find that it causes redness and makes the problem worse.
It may be a good idea to divide the batch of moisturizer up and test out any essential oils on your skin before adding them to an entire batch.
Should you use this as a day cream or as a night cream?
I use this cream for both day and night.
Normally, the only differences between day and night creams are that night creams often use photosensitive ingredients that can't be used in day creams. They are also sometimes a bit heavier and greasier than a cream that you would want to wear in the day under your makeup.
Because the heavier, greasier creams tend to be more beneficial to drier skin types, and this cream doesn't have any photosensitive ingredients, for now I'm sticking with this cream for my face for both day and night. As I get older, I'll likely try making something heavier for aging skin, especially at night.
Have I convinced you to give it a go?
Homemade Moisturizer for Oily, Acne Prone Skin
Looking to make more?
Subscribe to my newsletter for the latest projects (and recipes)!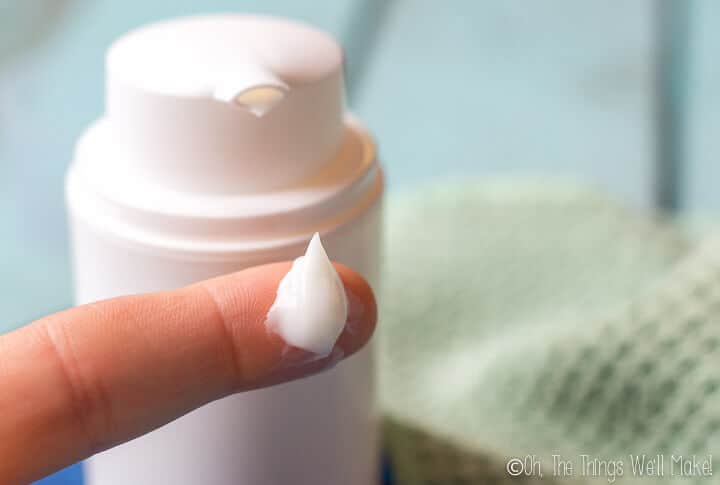 Homemade Moisturizer for Oily, Acne Prone Skin
Making your own facial moisturizer isn't difficult, and it can save you a lot of money. Learn to make a homemade moisturizer for oily, acne prone skin, and control the quality of ingredients absorbed by your skin.
Print
Rate
Instructions
Weigh out the distilled water and rose water, and heat them over a double boiler while you measure out the oils.

Weigh the oils and emulsifier on a scale. I like to use a double boiler insert for weighing them, which I can bring directly to the double boiler afterwards for melting and combining them.

Heat the oils and emulsifier until the emulsifier has melted and all are well combined.

Combine the hot oils and waters while hot, stirring until well combined. The mixture will thicken and become more opaque as it cools. (If your mixture isn't emulsifying well, it is usually a temperature problem. It can usually be fixed by stirring the mixture while heating it over a double boiler.)

Allow the mixture to cool before adding in the preservative and any essential oils you may decide to add.

Pour the facial cream into bottles. I love airless type dispensers like the ones in my photo because you can dispense the cream easily without contaminating the cream with bacteria from your fingers.
Notes
I was surprised by how fragrant my homemade moisturizer was with such a small amount of rose water. If you want a more pronounced rose scent, though, you can substitute part of the distilled water for more rose water. You can also change it out for another floral water or hydrosol of your choice.
I have the final amount listed as 100ml even though it is really a recipe that is measured in grams and not in milliliters. The oil component of ml to grams isn't exactly interchangeable, but the difference is so small that I left it in ml so that you could more easily find a container to hold your final product. You can adjust the amount of the recipe to suit whichever container you plan to use.