Aloe oil has numerous benefits for skin and hair, and can be used in a number of ways. Learn how to make aloe oil, why you would want to, and how to use it.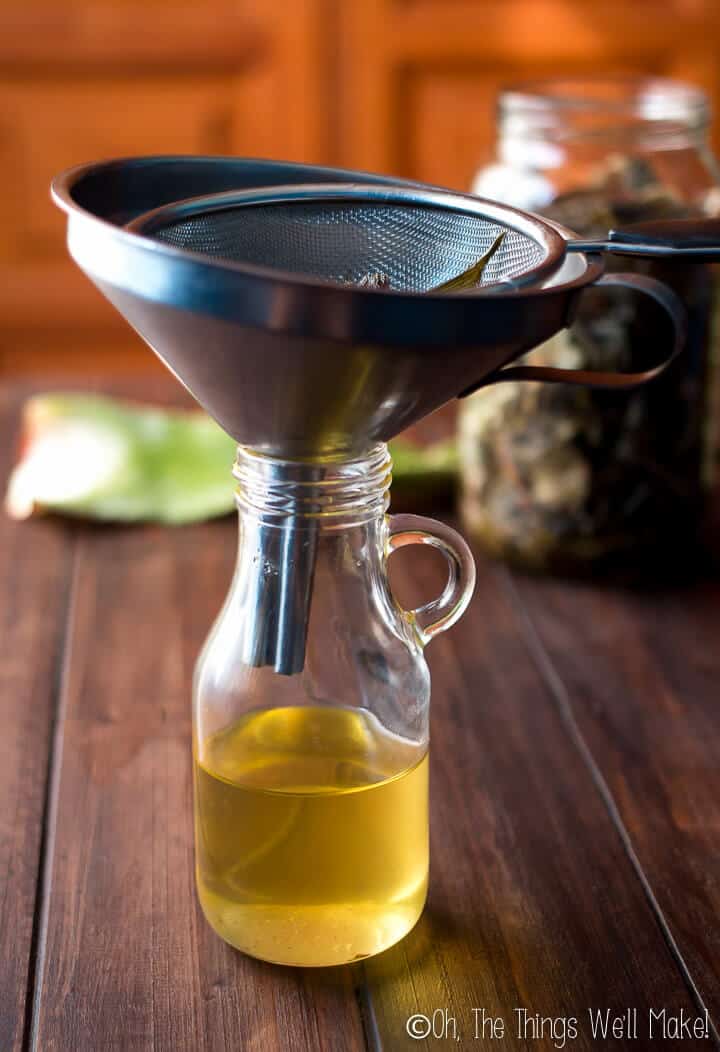 What is aloe oil?
When I saw aloe oil for the first time, I was confused by the term because I didn't know how oil could be obtained from the Aloe vera plant. I wasn't sure if it was made by pressing the plant, like olive oil, or distilled out, like essential oils. In the end, it isn't either of those.
Aloe oil is obtained through a macerating process. You basically infuse aloe vera in a carrier oil for several weeks. Depending on your final goal for your aloe oil, you can use different carrier oils, but in the recipe below you will see I used coconut oil. I love the benefits from the coconut oil paired with the aloe vera; it's a great, all-purpose combination. That's probably why most aloe oil for sale commercially uses coconut oil as a base. If you have a reaction to coconut oil, though, or it causes you to break out, feel free to switch it out for a different oil. That's a great added benefit of making aloe oil yourself. (Sunflower oil is an inexpensive non-comedogenic oil that you could use instead!)
Watch how to make aloe oil
Properties of the Aloe Vera plant
Aloe vera is a very therapeutic plant, making it useful in so many ways. When we infuse the aloe vera plant into the oil, we can take advantage of some of its beneficial properties in a new way!
Anti-Inflammatory – Aloe can help reduce inflammation which is the body's reaction to infections, irritation, and other injuries.
Anti-Irritant -Aloe vera can help reduce many types of skin irritation.
Antioxidant– Aloe vera may protect your skin from free radical damage.
Anti-Bacterial – Aloe can inhibit the growth of certain types of bacteria (especially when made with an antibacterial oil like coconut oil). It has even been shown to prevent plaque buildup when used as a mouth rinse.
Anti-Viral – Aloe has been shown to have antiviral properties, making it useful for cold sores and shingles, or other viral caused skin conditions.
Anti-Fungal– Aloe oil may be effective for athlete's foot, ringworm, and other fungal or yeast infections.
Moisturizer – Aloe gel can help hydrate the skin, but may feel drying to some people because it doesn't have a lipid component to help the skin retain that moisture. Aloe oil, on the other hand, has the beneficial properties of aloe along with the fats of the oil to help the skin retain hydration.
Cicatrizant– Aloe has been shown to help cuts and scrapes recover faster.
Sun Protection – Both coconut oil and aloe help protect your skin from harmful UV rays. (They each block about 20% of the sun's rays. While that isn't a lot of protection, it does make it a good addition to homemade sunscreens and moisturizers.)
Aloe vera nutritional profile
Most people use aloe oil topically, but if you infuse organic aloe leaves into a food safe carrier oil, you can also take it internally. I actually really like the slightly tangy flavor that the aloe gives your oil. Aloe oil could make a great addition to salads, giving you some of it's beneficial nutrients. Keep in mind that the anthraquinones in the latex of the aloe plant (in the yellow liquid that drips from the leaves) cause it to have a laxative effect, so ease your way into using it, and don't go overboard!
Amino Acids – Aloe vera gel, the inner portion of the leaf, has over 20 amino acids in it.
Mineral- Aloe is rich in calcium, iron, magnesium, sodium, potassium, and other beneficial minerals.
Vitamins – Aloe contains Vitamin A, C, E, Folic Acid, Vitamin B1, B2, and B6 and more. These help contribute to its antioxidant properties, and also help with cell growth and protection.
Salicylic acid in the aloe gel helps reduce acne and other skin inflammation.
Bradykinase and anthraquinones found in the plant both help reduce inflammation.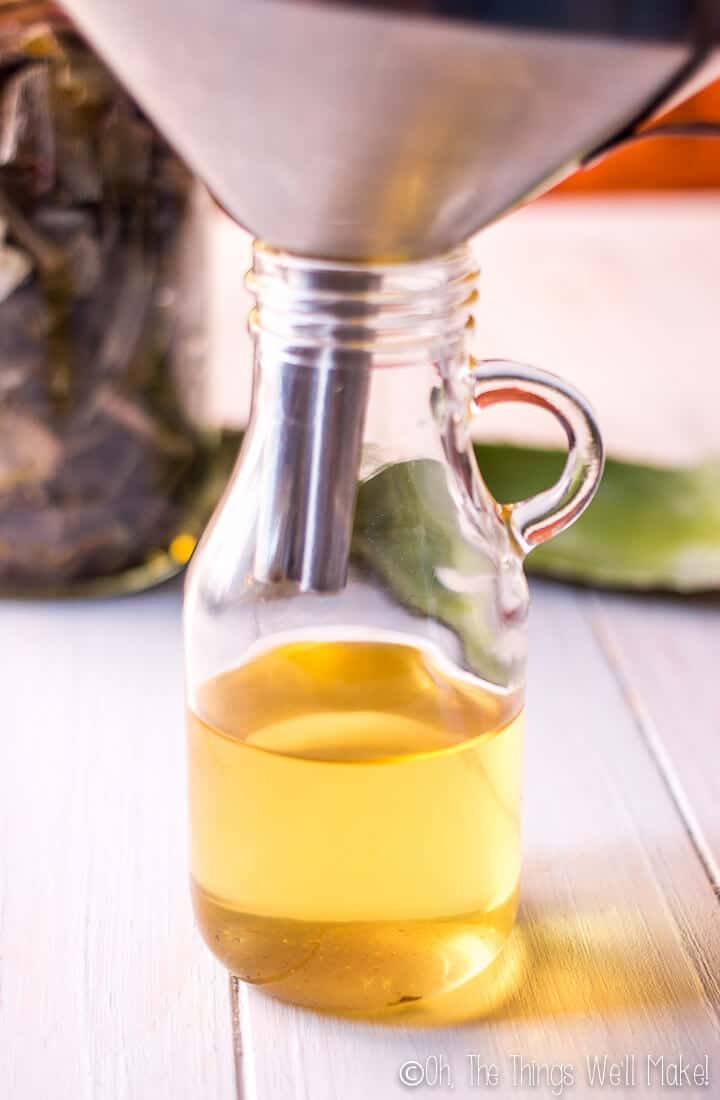 Uses for Aloe Oil
With it's numerous beneficial properties, aloe vera is a great oil to have on hand.
Aloe oil for skin
Aloe oil for soothing burns
Aloe vera is probably most often associated with after-sun products because lot of people use aloe vera gel after being out in the sun to help soothe sunburns. Not only is it soothing, but there is some evidence that aloe vera can help speed up burn healing. (I'm not just talking about sunburns here.) Adding aloe vera oil to homemade lotions is a convenient way to add some of its soothing, healing properties to your lotions.
Aloe for eczema and psoriasis
If you struggle with one or both of these conditions try aloe oil for relief. It can help add nutrients to the skin and clear up spots and rashes on your skin over time! Just apply once or twice daily on the areas that are flaring up.
Aloe oil as a facial oil
Aloe oil isn't just for summer; it can really helpful in the cold winter months when your skin gets really dry, and is especially good for those with oily, acne prone skin.
Aloe for insect bites
Because of its anti-inflammatory properties, aloe oil may help relieve the itch and swelling from bug bites like bees, wasps, mosquitoes, and other bugs.
Aloe for Healing Cuts
Aloe vera isn't just for burns! Aloe vera may help wound healing by speeding up reepithelialization of the skin. (The mechanisms by which it works aren't known.)
You can apply aloe gel to healing wounds to help speed up the healing process. While I wouldn't apply it directly to open wounds, it would be great for scrapes and bruises, or cuts that have already begun to heal, to help them heal faster. Aloe oil would probably help in the same ways, and would be a great addition to any homemade skin healing preparations.
Aloe oil may even help reduce the appearance of scarring by strengthening the collagen structure within the scar tissue. When my husband was recovering from a major burn accident on his fishing boat, aloe gel was one of the main products we were told to use on his scars. That, rosehip oil, stretching, and massages, were all supposed to help soften the scarring and to help him keep mobility in his arms and hands.
Aloe for Pain Relief
Many people swear by using aloe vera for relieving pain and inflammation caused by arthritis, but it may also help with other inflammatory pain. Massage onto sore areas to help alleviate the pain. To make it even more effective combine aloe oil with a peppermint or eucalyptus essential oil for a nice cooling effect. This works much in the same way as my homemade anti-stress and headache relief lotion.
Aloe for Aging skin
Not only is aloe oil a good addition to facial creams to keep your skin looking young, but taken internally, aloe vera has been shown to significantly reduce the appearance of facial wrinkles.
Aloe for fighting acne
Aloe's antibacterial properties can help prevent acne in the first place, but it's anti-inflammatory properties can also help reduce the swelling and redness caused by acne.
Aloe oil for hair
Aloe for dry scalp, hair growth, and hair loss prevention
The antiviral properties of aloe help prevent and reduce dandruff, while the proteolytic enzymes in aloe help remove dead skin cells on the scalp. This frees up the follicles for more efficient growth and helps stimulate dormant follicles. Aloe can also help clean excess oils from the hair and scalp, removing sebum which could be blocking hair follicles. This helps hair look better and grow more efficiently.
Aloe for hair health
Aloe can help moisturize and nourish hair in a way that can make it healthier and give it a better texture. This can help prevent splitting and breakage of your hair, improving its appearance over time.
How to Make Aloe Oil
There are many tutorials on the internet that make aloe oil by macerating fresh aloe leaves without dehydrating the leaves first. Because aloe vera has such a high water percentage, this makes a potential breeding ground for bacteria.
Other recipes call for mixing aloe vera gel, be it fresh gel from the plant, or commercial gels, with oil. This leads to several problems. First of all, the water component and oil component won't stay mixed without some sort of emulsifier. Plus, once you have added a water component to your oil, you now have to worry about adding some sort of preservative to your mixture. (Some commercial gels may have an emulsifier, and they should all have preservatives, to help combat some of these problems, but it still isn't an ideal way to make "aloe oil.")
I didn't think this was going to be a good idea, but after seeing so many people say to make an "aloe oil" by mixing aloe vera gel with oil, I decided to try it. I, as suspected, ended up with a non-mixing "mixture" of gel and oil. It definitely didn't make aloe oil, just a messy, unsuccessful attempt at making a lotion of sorts without an emulsifier. (Oh, and don't even think of taking that sort of "aloe oil" internally!)
I personally think that the ideal way to make aloe oil is to infuse the dry leaves in a carrier oil of your choice. It makes a safer, more natural, and very aromatic aloe oil that is perfect for using in your other homemade products.
Looking to make more?
Subscribe to my newsletter for the latest projects (and recipes)!
Materials
aloe vera leaves

coconut oil

or other carrier oil
Instructions
Rinse aloe vera leaves well, and cut of the serrated edges on either side, leaving as much of the leaf intact as possible.

Slide your knife down the leaves from the base of the leaf to the point, exposing the aloe gel inside.

Cut the leaf into pieces that will fit into your dehydrator. You can also dry this on the lowest heat convection setting of your oven, but it will take longer.

Dry the aloe leaf pieces until completely dry and brittle. At first they will appear dry, but will still be flexible. Continue to dry until brittle to ensure no moisture is left over that could cause bacterial growth in your oil.

Once fully dry, fill a glass jar with dried aloe vera leaves. Completely cover the pieces with the coconut oil (or other carrier oil of choice). Leave in a sunny spot for several weeks.

After several weeks in a warm spot, your oil should have a nice, clean aloe scent. It will also have taken up some of the color of the aloe leaves.

Strain the leaf pieces out of your oil. I place a strainer over a funnel, and pour the oil through the strainer into a storage bottle.

You are now ready to use your aloe oil!
Notes
You can speed up the infusion process by heating the oil with the aloe leaves. Be careful about not using too much oil, though, or it could affect the leaves and may lead to a bitter oil. I prefer to let the sun do its work gently over several weeks.
How to use aloe oil
For skin
Aloe oil can be applied directly onto your skin, or you can add it to other lotions or moisturizers.
My favorite way to use it is to add it as one of the ingredients in my homemade moisturizers. For example, you could substitute aloe oil for one of the other oils in my recipe for a homemade moisturizer for oily, acne prone skin. If you have acne prone skin, try macerating the aloe leaves into a non-comedogenic oil like sunflower oil instead of coconut oil. (Coconut oil causes breakouts in some people.)
For a great after sun lotion, use aloe oil as the main component of a homemade lotion. You could even use aloe gel as part of the water component to really concentrate aloe's benefits in your cream.
For hair
Add a few drops of aloe oil to your conditioner or use aloe oil as one of the components of your own homemade hair conditioner. If you prefer to use it separately, massage the aloe oil into your scalp along with your conditioner. Let it stand for a few minutes and then rinse like you normally would.
How do you use aloe oil? I'm always looking for great new ideas. 🙂