Ditch using deodorants with toxic ingredients, and make your own natural, homemade roll-on deodorant that is easy to use and glides on smoothly.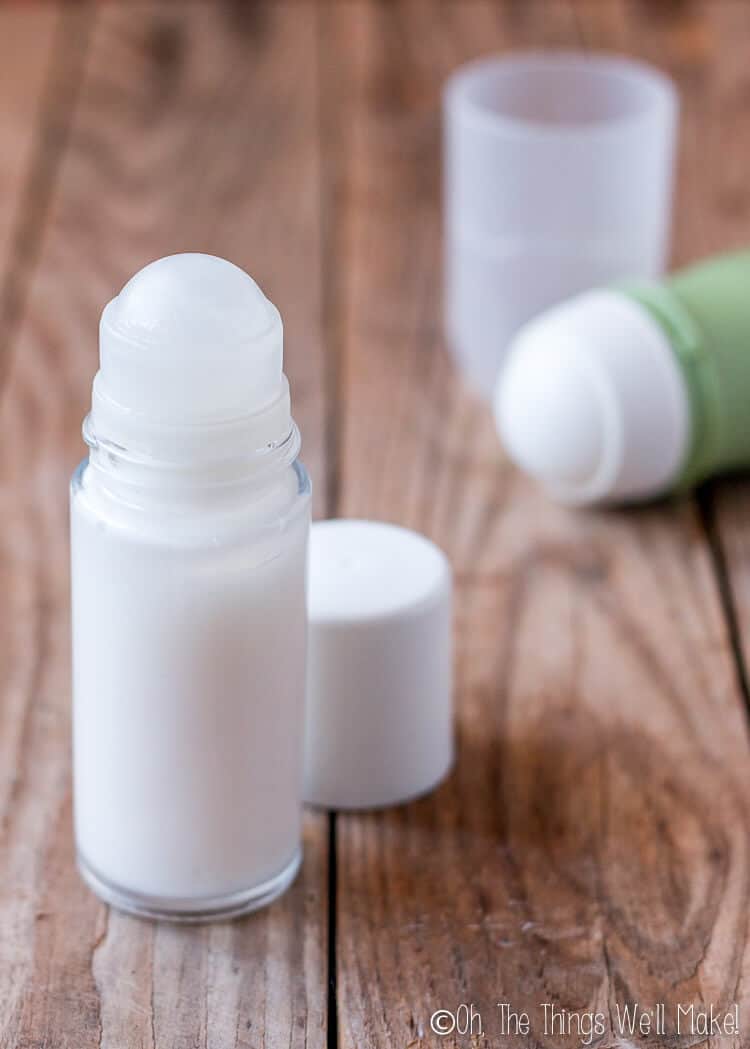 Last year I shared with you one of my favorite recipes so far, my homemade natural deodorant recipe. It was a huge achievement for me to come up with that recipe because up until that point, none of the homemade deodorant recipes that I had used had worked. At all.
I'd tried a plethora of different recipes, some using coconut oil an baking soda, others using bentonite clay and/or diatomaceous earth. Those that were effective (mainly the ones that used baking soda) were either really messy to use and/or irritated my skin. Those that didn't irritate my skin didn't work. And my husband let me know. 😉
I found that zinc oxide used in combination with zinc ricinoleate made a perfect deodorizing combination that was effective for me and not only is it not irritating to skin, but it actually soothes it. I formulated my solid deodorant recipe using those ingredients, along with several oils and waxes. It goes on smoothly and is super easy to use, and I loved using it for months and months.
If my other deodorant recipe worked, why did I formulate a new one?
I still love and use that deodorant recipe, but my husband doesn't like stick deodorants, so he pushed me to try to formulate a roll-on deodorant recipe for him.
His asking me for a new deodorant actually was a bit of a milestone at our house; or, at least, marked a changing point. I'd been using my homemade deodorant for months (years?) before he gave it a try. A case of cancer in the family pushed him into reading more and more about environmental toxins and how to eat healthier, though. Not only has he lost a lot of weight, but has gotten more and more excited about trying my homemade natural products.
In general, I've only heard good things about my other recipe, but some people seemed concerned about a solid deodorant staining their clothes. I figured my husband wouldn't be the only one to prefer a roll-on deodorant. So, I got to formulating one.
What are the active ingredients in my homemade roll on deodorant?
Months ago, I made my first successful batch of a roll on deodorant. I used a combination of zinc ricinoleate and zinc PCA, incorporating them into a light lotion for using in a roll-on dispenser. Basically a liquid deodorant is just that, a light lotion with active ingredients to help combat body odor. Zinc ricinoleate is a waxy type ingredient that gets melted into the oils in the recipe. Zinc PCA, on the other hand, is water soluble and should be dissolved into the aqueous (water) part.
Because I needed to combine water and oils, I needed to use an emulsifier. For that first batch I used an emulsifier called Montanov 68. It's an emulsifier that I happen to love because it is made from coconut oil and yucca, and it works really well for making successful emulsions effortlessly. Unfortunately, I noticed that it's harder to find Montanov 68 in the US. That's why I decided to try using a different emulsifier that would be easier to find so that you'd be able to successfully make this deodorant yourself.
That's when things got complicated. I've made lots of different batches since then. Some have worked better than others at emulsifying into a light, creamy liquid deodorant for using in a roll on dispenser. That's why it's taken me so long to get this recipe to you. I wanted to make sure it would work with emulsifiers most people can find, and that are generally useful for making a variety of natural products.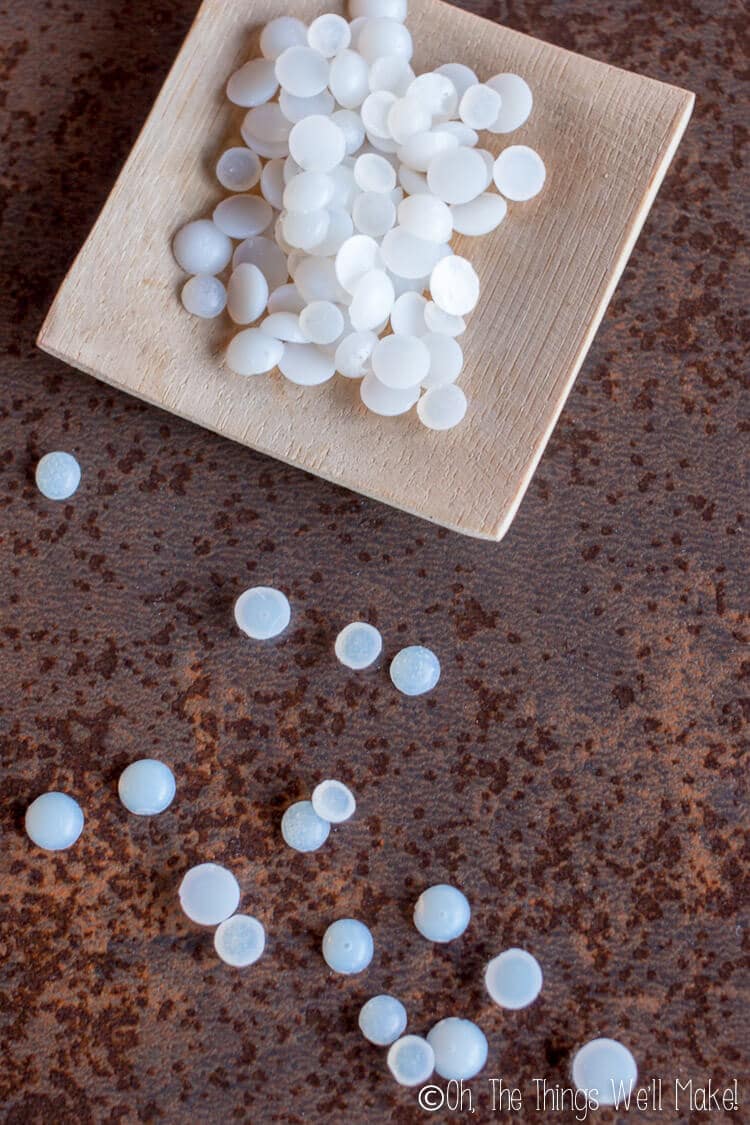 Zinc Ricinoleate
Zinc ricinoleate is a great ingredient that I also used in my first homemade stick deodorant recipe. It comes from ricinoleic acid, a fatty acid obtained from the castor seed. Like castor oil, it doesn't have the toxic ricin component, which is water soluble.
Zinc ricinoleate behaves as a wax, and gets melted into the oils in this deodorant recipe. It has deodorant properties that are said to absorb unpleasant body odors without keeping your from perspiring. It is generally seen as a safe ingredient, and is very effective in homemade natural deodorants.
Zinc PCA
Zinc PCA is a zinc salt of Pyrrolidone Carboxylic Acid. It's antimicrobial, which is probably why it works so effectively as a deodoraizing agent. It also may help fight acne if you were to add it to a homemade facial moisturizer for acne prone skin.
I didn't use zinc PCA in my other deodorant recipe because it's meant to be added to the water component of a recipe. With my stick deodorant being an anhydrous product (an oil based product without any aqueous ingredients), I couldn't really effectively incorporate the zinc PCA into it.
I bought zinc PCA from the same company where I buy most of my oils and and soap making ingredients. They specialize in natural type products, but do have a variety of ingredients for sale.
Zinc PCA is generally seen as non toxic and safe, but does show concern of bioaccumulation in wildlife. My thoughts on this is that we are using very low concentrations of Zinc PCA in this product, and we will be adding very small amounts to each batch. As long as we are responsible in our use of the product, we can avoid having a negative impact on the environment while using it. Be mindful when using zinc PCA, and try not to do anything that will warrant you needing to throw it away. (Try not to spill it; don't make overly large batches that may go bad prematurely, etc.)
Skin irritation with zinc PCA
In one of my experimental batches, I realized that I had a transparent cover on my digital scale when trying to measure out the ingredients. It was flexible enough to allow for the scale to take a reading, albeit an inaccurate one, which is why I didn't notice that anything was wrong when weighing out my water. When it came to a light ingredient used in a small amount, the zinc PCA, I had already added too much when I noticed that the scale was't accurately reading how much I was adding. As a result, that batch of deodorant had a much larger dose of zinc PCA.
For me, it turned out to be great. While this deodorant normally works well for me, there are days that I notice it being less effective by the end of the day if I don't reapply. (I never have that issue with the solid deodorant stick). In the batch with a higher dose of zinc PCA, though, I was set for the rest of the day, and never noticed it losing effectiveness by night time.
For my husband? The additional zinc PCA started to irritate his skin after using that batch of deodorant for a week or so. I ended up making him a new batch with less zinc PCA, and kept that batch for me.
In our not-so-scientific experiment, we found that a higher dose of zinc PCA may be more effective for some, but may also be more irritating to the skin.
This is good to know because if you have a hard time getting a deodorant to be effective (I've always had a hard time finding even conventional deodorants that work well for me), increasing the amount of zinc PCA may be enough to help you make an effective deodorant for yourself. If, on the other hand, you have sensitive skin, you may need to reduce the amount of zinc PCA used.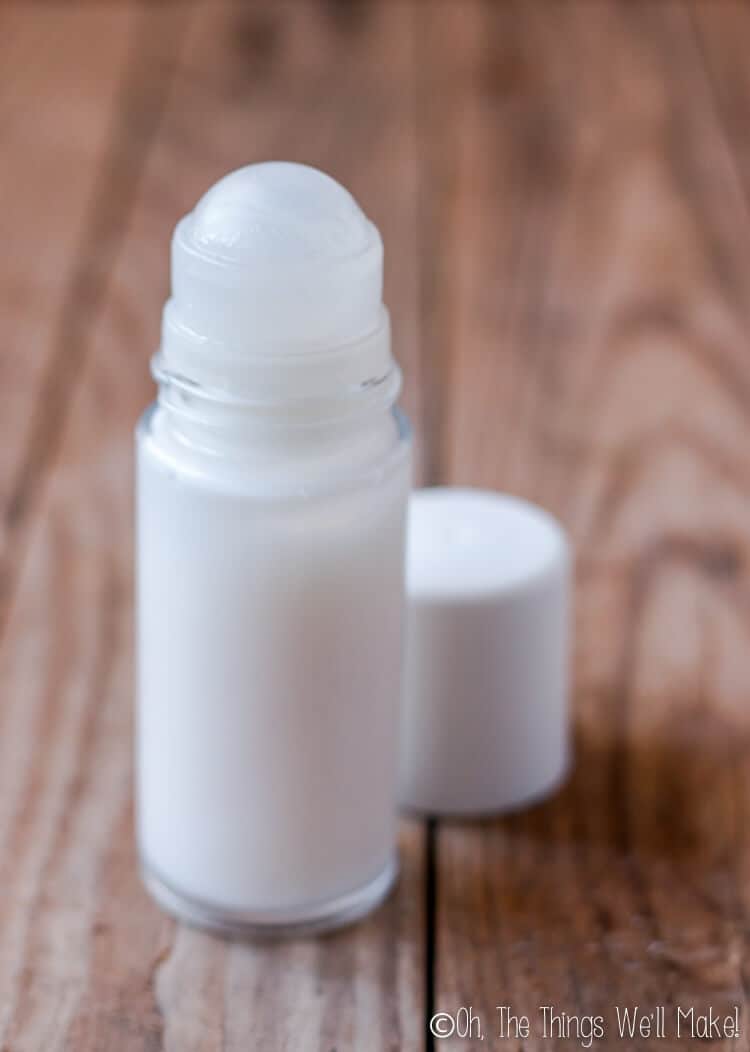 Emulsifying the liquid deodorant
When I first made a roll on deodorant, my first attempt at a recipe worked flawlessly, giving me a nice, light deodorant that rolled on smoothly. I had used Montanov 68 as my emulsifier, and it worked wonderfully.
When I went to share the recipe with you, I realized that Montanov 68 might not be an ingredient that is so easy to find everywhere, so I replaced the Montanov with a common emulsifying wax, and had issues getting a stable emulsion using such a small percentage of emulsifier. You see, to get the deodorant to roll on easily, you need a light lotion consistency. You don't want the thickness of a cream. To get the lighter consistency, you use less emulsifier. The problem with that, though, is that using less emulsifier can make it trickier to get a stable emulsion.
It's taken me several batches of not-so-great attempts to finally come up with a recipe using BTMS.
BTMS is a great emulsifier that I absolutely love for making a homemade hair conditioner. In fact, that is probably my second favorite homemade natural product after my homemade deodorant. (My homemade deodorant is my favorite because it took me years of trial and error to find something that actually worked for me!)
That's not the only great use for BTMS, though. It's also a wonderful emulsifier for making light lotions such as what you need for a homemade roll on deodorant like this one.
While I used BTMS, you are free to try a different emulsifier, but you may need to adjust the percentages of that emulsifier and the other ingredients to get it to emulsify perfectly. If you are having a hard time getting it to work, try using some sort of immersion blender or electric whisk to whip the ingredients together while they are cooling.
Watch how to make this homemade roll on deodorant
Finding roll on deodorant containers
Many places online sell empty roll-on bottles for homemade deodorants. The problem, if you take issue with plastic, is that most empty roll on containers for sale are made of plastic. You can occasionally find glass roll on bottles, but they tend to be pretty small for daily deodorant use.
There is also the possibility of upcycling a used deodorant container for dispensing your homemade roll-on deodorant.
How to re-use a roll on deodorant dispenser
First, you'll want to fully take apart all of the parts to ensure that you are able to clean the container thoroughly. I'll try to explain the process, but you'll be able to see it better in the video I made above. (I show how to take one apart and put it back together at the end of the video.)
I've taken apart several roll-on bottles by now, and while they may have minor differences, they tend to be pretty similar.
First, take off the cap to get a better look at the container itself. Normally the part with the roll on clicks into place on top of the rest of the bottle. The tricky part is getting them separated without making a mess. I've found that the easiest way to separate both halves is to press something like a butter knife into the seam where they are connected. You may need to slightly twist as you press on the seam to get the roller top to pop off.
Once you've removed the top section, you can usually further take it apart by removing the roller ball itself.
Before using the empty container for your new deodorant, you'll want to full clean all of the parts with soap and water. I like to give them all a final rinse with denatured or rubbing alcohol to disinfect and help dry them out. Once dry, you can reassemble all of the parts, and fill it for using with your homemade roll-on deodorant!
Homemade Roll On Deodorant
Looking to make more?
Subscribe to my newsletter for the latest projects (and recipes)!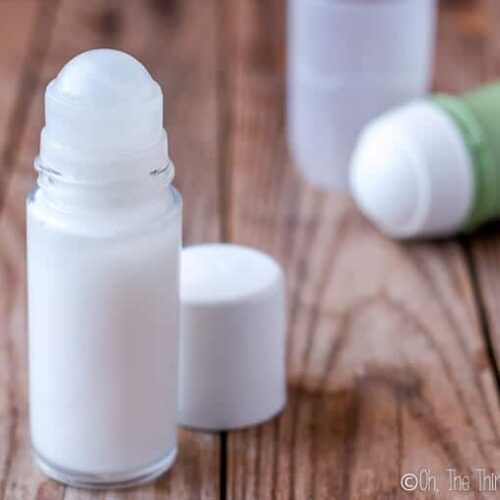 Natural Roll On Deodorant
This natural roll on deodorant uses zinc to combat body odors without staining your clothes. Makes around 100ml.
Print
Pin
Rate
Materials
15

g

almond oil

or other light oil

3

g

BTMS

or other emulsifier at its recommended dosage

2

g

zinc ricinoleate

70

g

distilled water

5

g

glycerin

1

g

zinc PCA

or more, as needed for effectiveness

3

g

Leucidal

or other preservative at recommended dosage

1

g

essential oils

optional, for fragrance
Instructions
Weigh out the almond oil, zinc ricinoleate, and BTMS in a double boiler insert or similar type container for melting over a double boiler.

Melt the BTMS and zinc ricinoleate, and stir together with the oil until all ingredients are fully combined.

Separately, weigh out the water, glycerin, and zinc PCA. (If you find you need a more effective deodorant, you can add more than 1g of zinc PCA, but it may make the deodorant more irritating for some people. I use around 1.5g for myself and 1g for my husband.)


Heat the water ingredients over a double boiler until they are fully dissolved. Ideally you will get both the water and oil ingredients around 70º-75ºC/160º-170ºF before combining them.

Add the hot oil mixture to the hot water mixture and stir together gently.

As the mixture cools, keep stirring occasionally. If the mixture doesn't appear to be emulsifying well, you can use the help of an immersion blender. I actually have a milk frother that I often use for mixing up smaller batches. The only inconvenience of using a milk frother is that it does tend to make some foam, but with this sort of light lotions of sorts, it should settle down relatively quickly once you've stopped mixing.


Once the emulsion has mostly cooled, you can add in essential oils for fragrance. I like using a mixture of lavender and citrus oils or herbal oils like rosemary for deodorants.


Add in your preservative. Depending on the preservative you are using, you may have to test for pH and then adjust the pH by adding lactic acid to get your deodorant mixture into the right range for your particular preservative. Add the amount recommended for your preservative. (This recipe adds up to around 100g, so add a gram for each percent amount needed. So, for example, if your preservative calls for usage at 1%, add 1g.)


You may add in a few drops of other active ingredients that you like. A few drops of vitamin E or D-Panthenol are great optional additions to this deodorant.


Mix together all ingredients, and pour the mixture into a roll on dispenser. If you can't find a decent sized roll on deodorant dispenser, you can repurpose an old one. Make sure to take it apart and fully clean all parts of it. I also like to give all parts a final rinse in denatured or rubbing alcohol.


Cap your deodorant, and it's ready for use!