Take control of the ingredients that go into your hair products by making them at home. This easy, DIY hair conditioner uses natural ingredients to leave your hair feeling soft and tangle free, and is light enough to use as a leave-in conditioner too.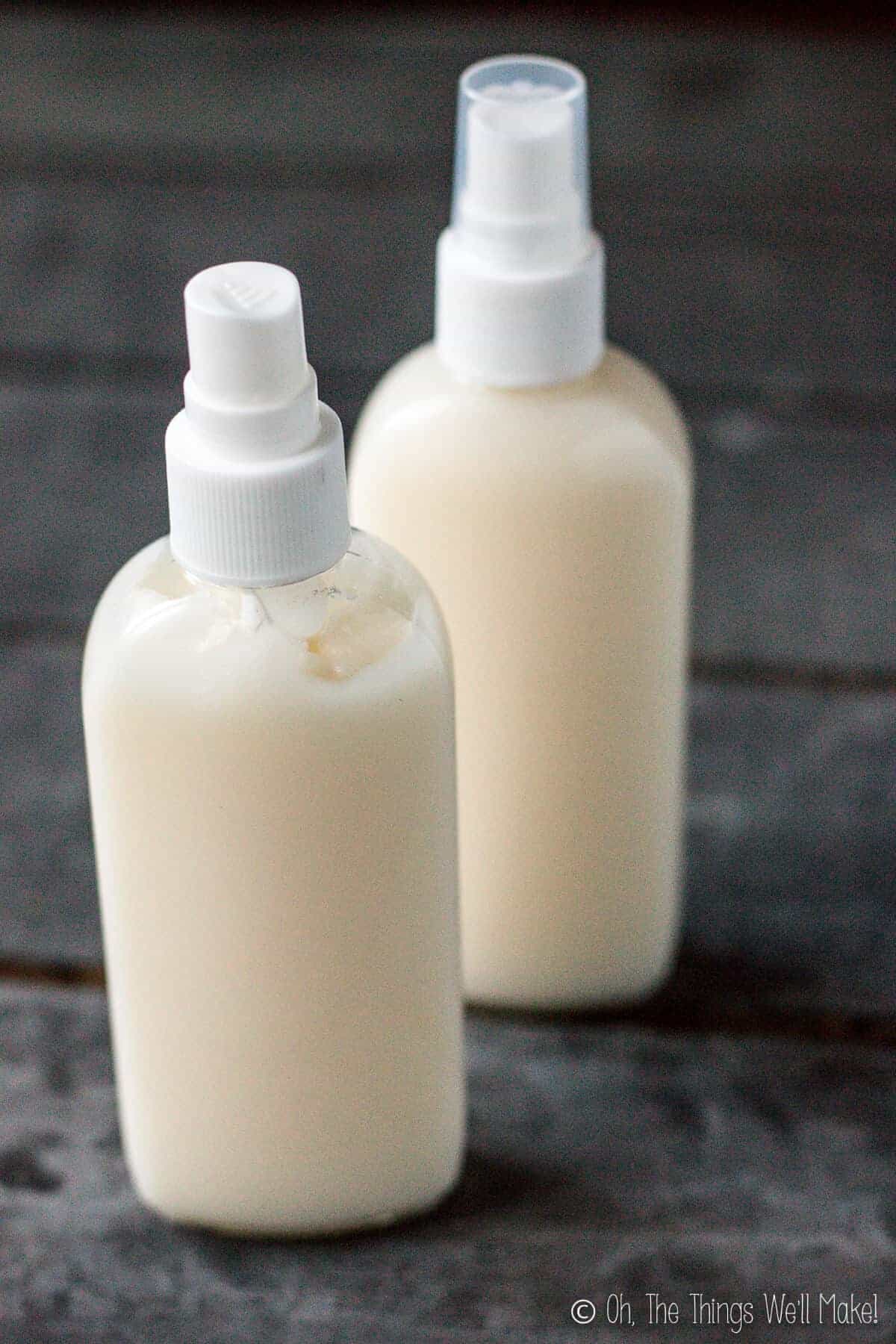 A couple of weeks ago I told you about how I had taken the Dressing Your Truth® course, and how I've been having fun trying to dress in a way that fits my energy Type. I've also been styling my hair differently and have been trying different colors when putting on makeup. As part of that process, I've also been letting my hair do its curly/wavy thing for probably the first time in over 20 years!
As I've gotten older, my hair has gotten more and more curly. I used to be really frustrated with it because I didn't know what to do with it. I never thought of it as being curly, but instead hated the uncontrollable waves which ended up really being hair that was curly on the bottom layers and almost straight on the top layers. It never looked very nice, so I was forced to straighten my hair every day.
As part of the Dressing Your Truth course, you get a bonus video about working with your hair, even (especially) unruly hair like mine, to get the curls that you might not even know you have. The video gave me some ideas to help manage my curls, allowing my hair to do what it wants and still look good. Heck, it probably looks better than it did when I spent a lot of time trying to style it straight! I ended up trimming and layering my hair in a way that it would do just that, thanks to their ideas about "pruning" it as needed in certain areas.
They also gave tips for not ruining your curls with shampoo, something I had discovered on my own when I stopped shampooing it for several months as an experiment. (No, I didn't stop washing it, I just stopped using shampoos that were drying out my hair.) I suddenly had new waves and curls!
Another thing that is really important for keeping your wavy, unruly hair from being a frizzy mess is a good conditioner.
Why make a homemade hair conditioner?
You probably know by now that I love to make whatever I can myself. I'm constantly experimenting with new oils, emulsifiers, waxes, etc., so that I can make more natural versions of the products that we would otherwise be buying. I love making my own products, not only because I love the challenge, but because I can choose every single ingredient that gets used.
The products you buy often boast that they use a certain oil or some other miracle ingredient, but most of the time they only use very minute traces of that ingredient and the rest of the product is filled with much more questionable chemicals (or is just water).
When you consider that the main ingredient of most conditioners and lotions is water, you begin to realize that you can save yourself a lot of money by making your own hair conditioner, even (especially) when you are using high-quality ingredients. In the end, not only is it possible to make high-end cosmetics yourself, avoid the toxic ingredients, and save yourself money, but it's actually very easy.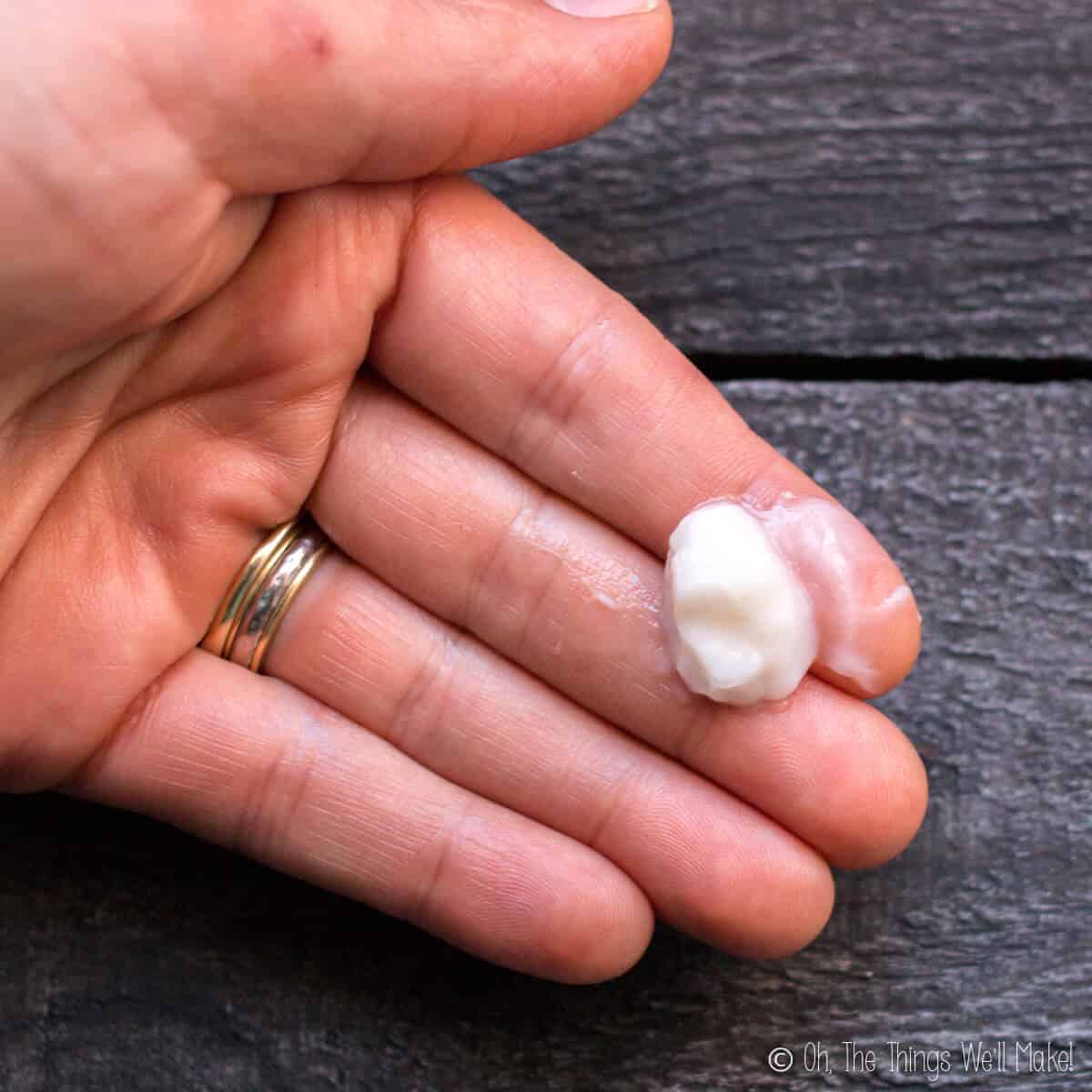 Making a natural hair conditioner: How natural is it?
For a while, I was trying to formulate all of my DIY beauty products and cosmetics using only "completely natural" ingredients, mainly whatever I could find in my refrigerator or pantry. Since then, I've come to the realization that I can live a natural lifestyle without feeling quite so crunchy (or greasy).
I've learned to make my own beauty products with safe ingredients, and they actually resemble the sorts of things I used to buy sans the extra chemicals.
I do use preservatives in my homemade conditioner and lotions because I don't consider it safe to make and use emulsions without any preservatives to keep bacteria and mold out, but I am very particular about the safety of each ingredient I use. There are several preservatives available for home use that have been accepted by natural certifications like ECO_CERT and the strict BDIH, and that will allow you to make safe emulsions that will keep for several months (normally up to 3 months), even out of the fridge. Whenever I formulate a product, I try to use the highest quality ingredients I can find.
How easy is it to make your own homemade hair conditioner?
It's so much easier than you could ever imagine, and once you try it, you'll be wondering why you were spending so much money on chemical ridden conditioners from the store! If you can bake a cake, you can definitely make your own conditioner!
I'm really proud of this recipe because I really, really love the way it turned out. It leaves my hair feeling clean and soft, and I have used it as a regular conditioner, as a leave-in conditioner, and even as a cleansing conditioner in place of shampoo.
It's a bit thick for a leave-in conditioner, but because I use a tiny bit of it in my hair after towel drying it, it is easy to get through all of my hair. I have to admit that I photographed the conditioner in spray bottles because I wanted transparent bottles that showed off the conditioner, and that's what I had on hand. While I am able to use it with the spray bottles, I prefer using a pump bottle or a silicone travel tube instead. If you only want to use this as a leave-in conditioner, you could slightly lower the amount of emulsifier used to keep it on the thinner side for easier use in a spray bottle. I love that it's light enough to allow my hair to curl as intended, all while conditioning it and keeping it untangled and frizz free.
As a cleansing conditioner (using the co-wash, aka. conditioner only, washing method) I have been able to use it for around two weeks without needing to resort to shampooing, but after about 2 weeks, I feel like my hair feels a bit heavy if I don't use some sort shampoo, albeit a "low" shampoo, to really give it a fuller cleaning. That said, I'm working on experimenting with making my own shampoo or more fully cleansing conditioner to share with you here on the blog. Once I'm happy with my results, I'll explain more about co-washing and how I use the method to clean my hair.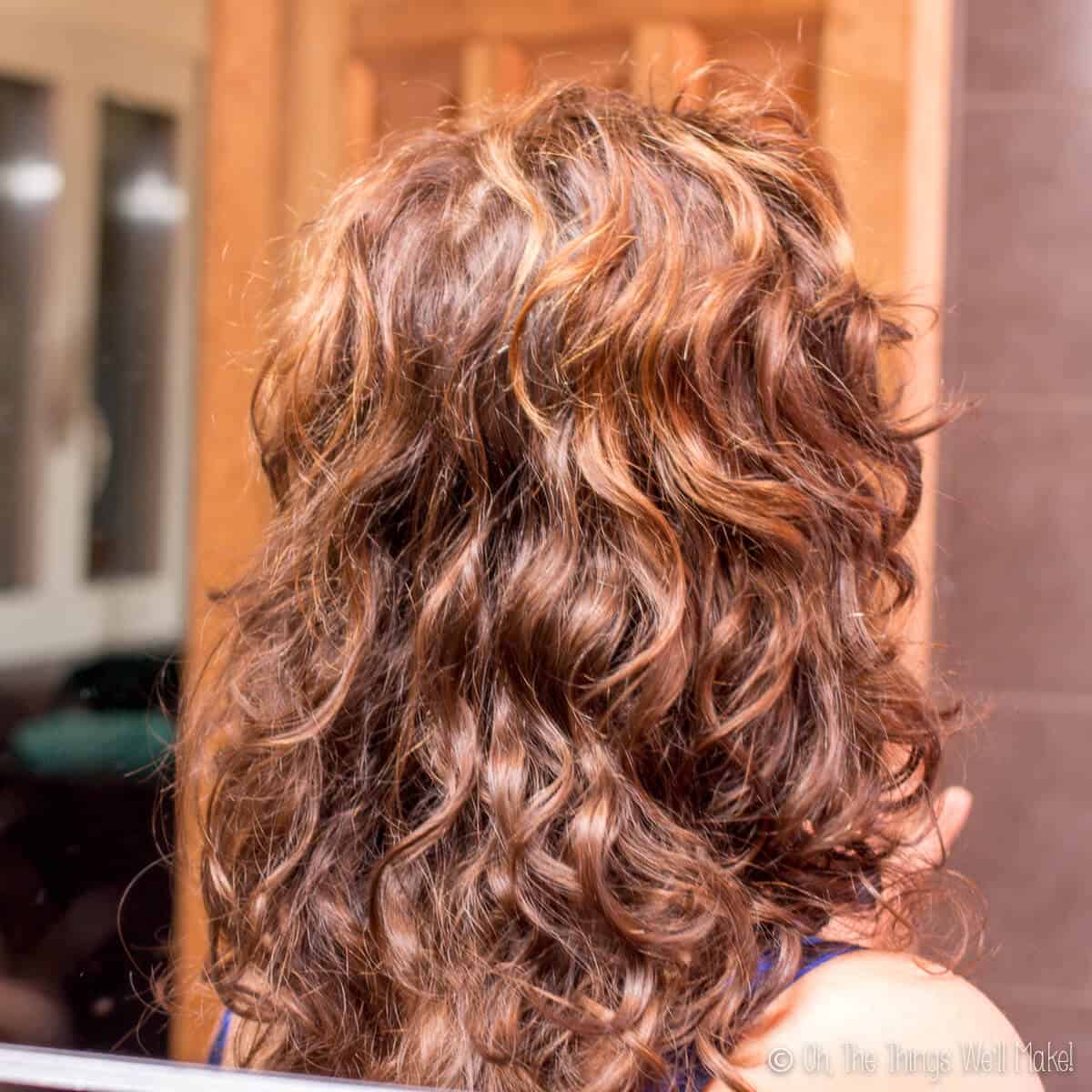 Can I personalize this hair conditioner recipe?
Why of course!
I wouldn't have it any other way.
I know that sometimes, even though I try to use simple ingredients, it isn't easy to find the same ingredients worldwide. Plus, you may want to use different oils or hydrosols than me. I'll share my basic recipe that can be easily customized, and then will share the specific recipe I've been using over the last months.
What is BTMS? Do I need to use it in this recipe?
The main, important, ingredient for making this conditioner is a special emulsifier that is really great for making hair products called BTMS (aka. Behentrimonium Methosulfate). BTMS is an emulsifier that is naturally obtained from rapeseed oil. It can be used as 2-10% of the final weight of the product, depending on the desired consistency. It's great for helping to detangle hair, but is light enough to use in leave-in conditioners.
I chose to use around 5% in my hair conditioner. If you were to use less than that, you'd end up with a thinner product but it may also be a bit harder to keep the emulsion stable unless you were to add some sort of co-emulsifier. Using more than 5%, and you'd probably end up with a thicker mixture.
Should I use BTMS-25 or BTMS-50?
When I originally wrote this post, I have to admit that I didn't realize that BTMS was marketed in different percentages. My supplier only referred to it as BTMS. I later found that mine was BTMS-25 which is a combination of Behentrimonium Methosulfate and Cetearyl Alcohol with the percentage of Behentrimonium Methosulfate falling between 25-30%. Many suppliers also offer BTMS-50 which is a combination of Behentrimonium Methosulfate, Cetyl Alcohol and Butylene Glycol, with the percentage of Behentrimonium Methosulfate being around 50%.
Let me start off by saying that I formulated my recipe using BTMS-25, so I know for sure it works well with that emulsifier. BTMS-50 has a higher percentage of the active conditioning agent, but less of the fatty alcohol that can help moisturize dry hair. It may also make for a thinner final product. You should be able to use either effectively, but I haven't personally tried this recipe with BTMS-50 as of yet, so I can't vouch for it. My best-educated guess, though, is that you'll end up with a wonderful, albeit slightly thinner conditioner, if you use BTMS-50 instead. If you do make this recipe with BTMS-50, I'd love to hear how it goes!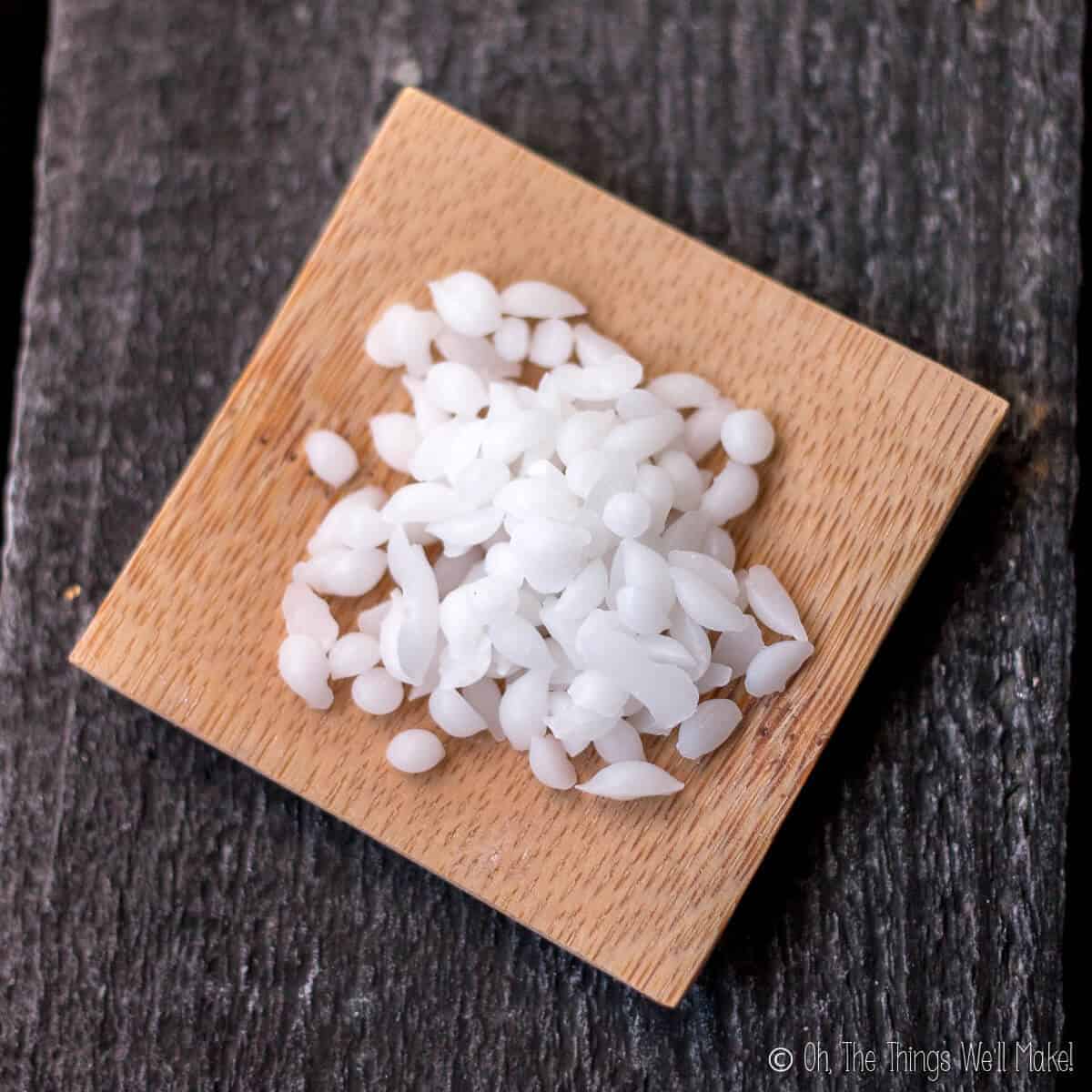 What oils can be used?
My favorite oils for hair products are argan oil and jojoba oil. I usually use a combination of the two when making a conditioner for my hair.
Other great oils for hair, especially dry and unruly hair, are coconut oil, avocado oil, olive oil. Castor oil is said to help hair grow faster, so you may consider using it if that's a concern for you, but it can also be drying and feel sticky in large amounts, so keep that in mind. (You may want to combine it with other oils.)
What can be used in place of distilled water?
If you want to customize the water component of your conditioner, you can substitute part of the water with hydrosols like rose water or lavender water, or something like aloe juice. Floral waters also help give a nice fragrance to the final conditioner. While I love adding floral waters and aloe juice, keep in mind that if you use too high a percentage of botanicals like aloe juice (or homemade floral waters) that your final product will be more difficult to preserve. Natural preservatives aren't as strong as the synthetics you are probably trying to avoid. Since you aren't likely going to be able to test your homemade product for microbes, the safest bet is to use smaller amounts of those sorts of ingredients, and make smaller batches so that you end up finishing your product within a few months.
Should you use glycerin in your conditioner?
Glycerin is a humectant and it's another water-soluble ingredient that you can use in place of part of the water component of your conditioner. It helps capture the moisture from the air to keep your hair moisturized, and it also helps with curl definition and frizz reduction! In the case of glycerin, you can definitely get too much of a good thing. Not only can it get too sticky if you use too much, but it could also end up working against you by actually pulling moisture from your hair and drying it in extremely dry weather if used alone. (It can actually cause problems for your hair in extremely humid conditions when overdone.) I'd recommend using up to 5% of the final weight of your conditioner, and if you are living in an extremely dry or humid climate, you may want to consider lowering than that or leaving it out altogether.
Which preservative should I use?
There are several natural preservatives that you can buy and use which will allow your homemade conditioners and lotions safe to use for around 3 months. Without a preservative, once you add water to a product you are introducing moisture that can be a breeding ground for bacteria and mold. A homemade product can have unsafe bacteria without you being able to see it. Without a preservative, you'd need to keep this mixture in the fridge to slow bacterial and mold growth, and, even then, I wouldn't recommend using it for more than a week or two. If the idea of making your own products is to ditch the chemicals, you don't want to replace those chemicals with potentially toxic bacteria and molds, right?
You can buy more potent preservatives, such as the parabens that many people are trying to avoid if you want your formulas to last even longer. I personally prefer to stick with more natural preservatives and make smaller batches, making a new batch every 2-3 months. Seeing as it takes me less than 30 minutes to whip up a new homemade lotion or hair conditioner, I think it's worth it to me to know that I'm using a more natural product that is relatively freshly made at all times.
At first, I was using a natural preservative named Rokonsal. It's a BDIH and ECO-CERT certified natural, mild, preservative that helps preserve an emulsion for 2-3 months as long as the pH is below 5. Most of the time I need to lower the pH of my homemade lotions and creams with a few drops of lactic acid when using Rokonsal as the preservative. An advantage of Rokonsal is that you only need to use a few drops, at a dosage of .2% of the weight in shampoo recipes or .3-1% in lotions and creams.
I recently bought and started using Leucidal, an ECO-CERT approved preservative mostly because it seems to be easier to find in the US (You can easily buy it on Amazon through the ingredient links). Now that I've tried it, I have to admit that it has some advantages, and I really like it. It works on a wider pH range (3-8), so in most cases you don't need to add lactic acid to lower the pH before using it. (It's still a good idea to invest in some inexpensive pH strips, just in case.) Leucidal is made from fermenting radishes with the Leuconostoc Kimchii bacteria. (Kimchi? Yum! 🙂 ) It doesn't get much more natural than that, right? You need to add more Leucidal than Rokonsal (It should be used as around 3-4% of the recipe by weight when used alone), but it also has the added advantage of being able to augment the hydrating ability of homemade lotions and creams. It gives your final product a shelf life of 2-3 months.
Cosgard, or Geogard, is another broad spectrum preservative that helps protect your conditioner from bacterial and fungal growth. While it is a synthetic preservative, it is authorized by ECO-CERT to be allowed in organic cosmetics. I've started experimenting with Cosgard and quite like it. It only needs to be used at .2%- 1% of your final product. I usually use around 1% as I'm not testing my homemade products for microbes.
First I'll Share with you the Basic Recipe, and then will share with you the recipe I've been using lately.
Video
Looking to make more?
Subscribe to my newsletter for the latest projects (and recipes)!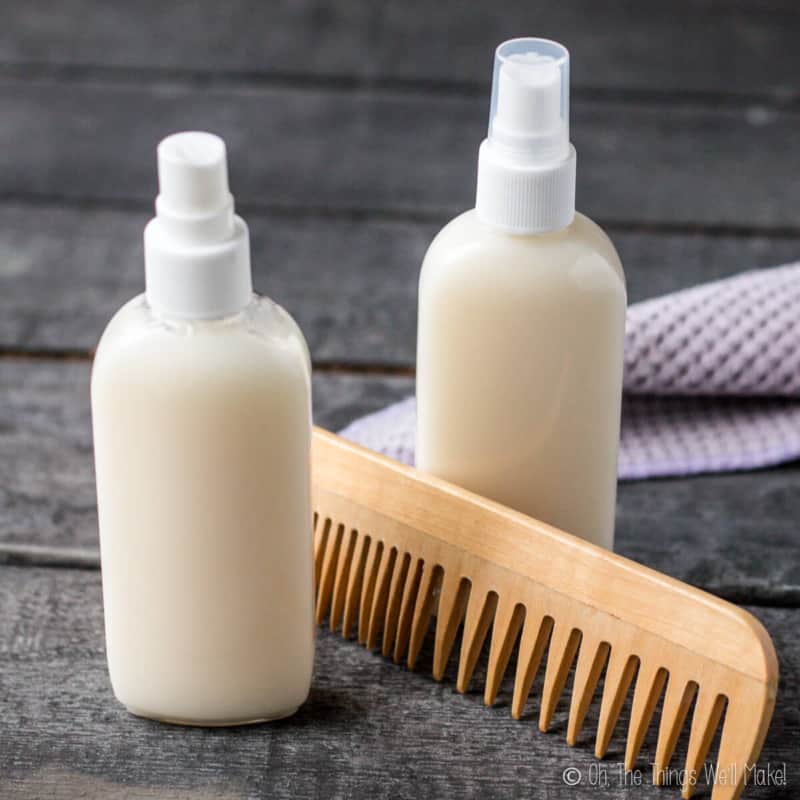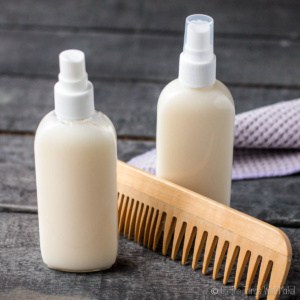 Natural DIY Hair Conditioner
This easy, DIY hair conditioner uses natural ingredients to leave your hair feeling soft and tangle free. It can be used as a rinse-off, a leave-in, or a cleansing conditioner.
Print
Rate
Instructions
Weigh out the distilled water.

Heat the water over a double boiler while you measure out the oil(s) and emusifier.

Tare the scale and add the BTMS (or another cationic emulsifier) to the oil(s).

Heat the oil and BTMS mixture over the double boiler until the BTMS has melted. Fully stir the ingredients together until well combined and remove from the heat.

Add the hot water to the hot oil mixture. Ideally the water and oils should be at around the same temperature (around 70º-75ºC/160º-170ºF). Keep stirring until the mixture comes together and thickens slightly.

If you find that the mixture separates like curdled milk rather than come together into a smooth, thick mixture, you probably had ingredients that were too cold or weren't of similar temperatures. You can usually easily remedy the situation by placing the double boiler insert with the mixture over the heat again, and stirring until everything comes together. Remove from the heat source again.

Allow the mixture to cool slightly before adding in delicate ingredients like the preservatives, essential oils, or any other additives like silk or wheat protein that are also good for your hair. (See my recipe below.)

Add in all of your final ingredients and stir together well. If you are using a natural preservative like Rokonsol that works at a pH of below 5, you may need to lower the pH with a few drops of lactic acid. With a preservative like Leucidal that works on a broader pH range, you probably won't need to do that, but it's a good idea to test your conditioner with inexpensive pH strips just to be on the safe side.
Notes
I love argan oil for hair and add it to pretty much every conditioner I make. I sometimes use it alone and other times combine it with other oils. You are free to substitute the argan oil for a different oil or a combination of oils.
For a more natural conditioner that uses an Ecocert approved emulsifier, BTMS can be substituted with either Varisoft® EQ 65 or Emulsense HC.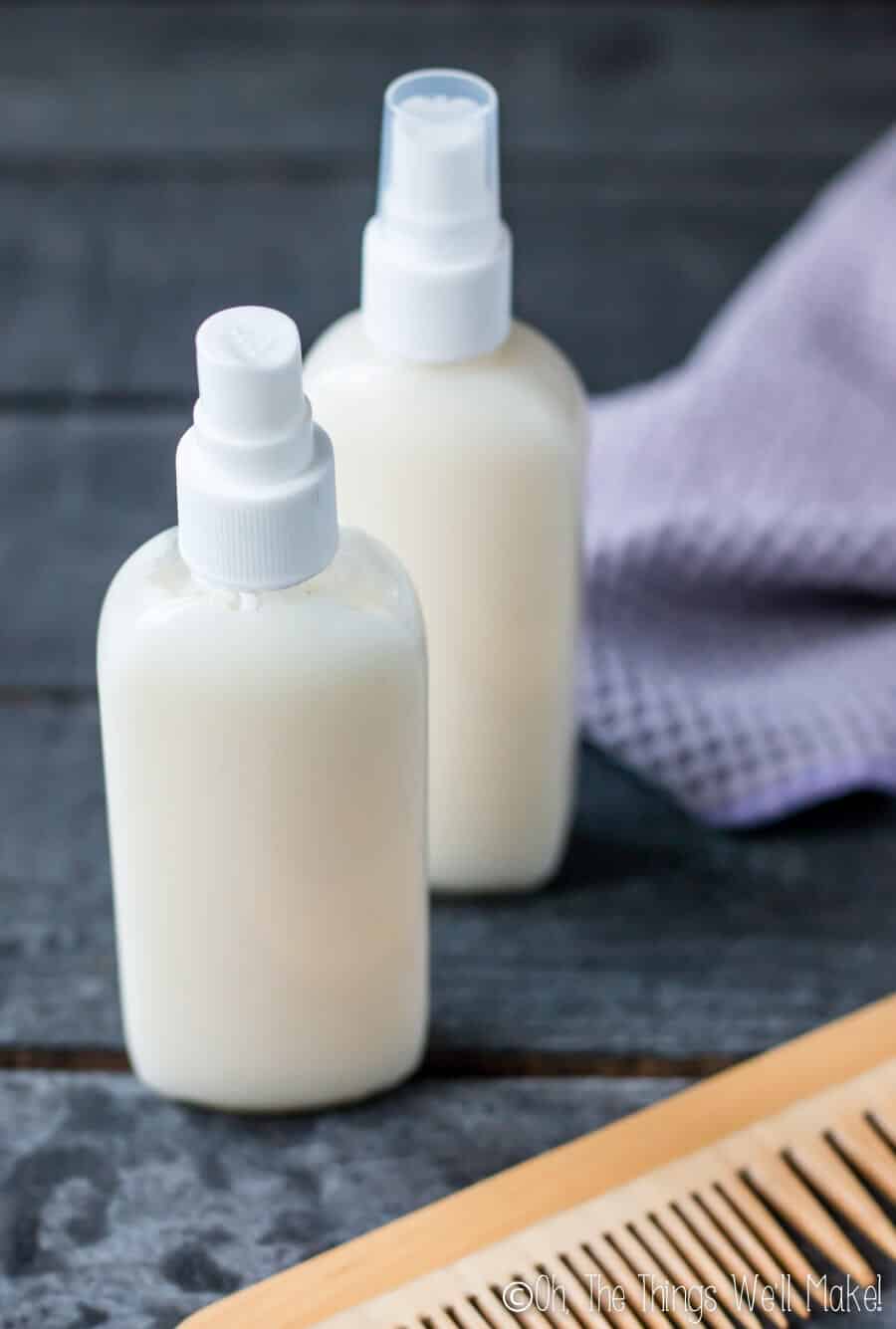 My customized, DIY hair conditioner recipe
Makes 100g, depending on the preservative used (close to 100ml)
Ingredients:
Preparation:
Weigh out and mix together the water, aloe juice, and glycerin. Heat in the double boiler while getting the other ingredients together. (I usually just pour the liquids into a glass that I place in the pot of heating water of my double boiler while I'm measuring out the oils and waxes.)
Meanwhile, weigh out the oils and BTMS in a double boiler insert.
Heat the oils in the double boiler (I remove the glass with the liquid ingredients to make room for the oils first). I use a double boiler insert, and hold it over a small saucepan of water. Heat, while stirring, until the BTMS melts and is fully incorporated into the oils. Remove from the heat.
Mix together the hot, water-soluble ingredients and the hot oil mixture (ideally both should be around 70º-75ºC/160º-170ºF), stirring constantly until all of the ingredients come together well and are emulsified. The mixture will continue to get thicker as is cools. (If your mixture separates, it's likely due to a temperature problem. You can usually easily fix the problem by stirring it over heat in the double boiler insert until it comes together.)
Once you've allowed the mixture to cool down, you can add in the more heat sensitive ingredients like the preservative, the wheat protein, panthenol, and essential oil(s). (If using a preservative like Rokonsol that needs a pH of under 5 to be effective, you may need to add a few drops of lactic acid to bring the pH down first. For more information about preservatives and emulsifiers, see my post about making a basic lotion.)
Bottle your DIY hair conditioner. Wait to put the cap on until the mixture reaches room temperature to keep water from condensing on top of the conditioner.
Use it within 3 months.
Want to learn how to make cosmetics professionally?
While I will continue to show you, as best I can, how to make your own cosmetics, Formula Botanica has classes that cover a lot of information that I don't- like the legalities of selling your own products.
They also have professional cosmetic formulators as tutors that can answer all sorts of questions.
Pre-register for the free masterclasses running from April 19-28th!