I have to thank a friend of mine for introducing this DIY flaxseed hair gel to me. We were talking about flax seeds one day, and she commented that in Columbia it wasn't uncommon to make a flaxseed hair gel out of them. I was fascinated, and had to try it out myself.
Watch how to make a nourishing flaxseed hair gel
If you've been following my blog for awhile, you've probably noticed that sometimes my hair is perfectly straight, and other times it's relatively curly. In reality, I have unruly, wavy hair that likes being curly in the bottom layers while straight on the top layers; It's pretty frustrating.
In the winter, I blow dry my hair to keep myself from getting cold, and that automatically mostly straightens it out, even when I don't try very hard. In the summer, though, I like to stay cool, while giving my hair a break, by letting it air dry. When I let it air dry, though, my hair's true colors start to show, and I have to try to wet and scrunch the top layers of my hair while it's drying to try to even it out and make it look wavy/curly all over.
For several months last year, I tried a "no-poo" method of cleaning my hair, and went months only washing my hair with baking soda and water. It had been something I had unsuccessfully tried years before, but the nature of the hard water in our region of Spain meant that I always had a buildup in my hair that made washing with only baking soda impossible. Once we installed a water softener, though, I gave it a try again and was hooked from he very beginning. My unruly hair was looking better, and my hair became more evenly curly all over. I think that part of the reason that the top layers tend to be straighter is that the hair there is dryer because it's most exposed to the elements. The no-poo methods clean your hair without stripping them as much, and I didn't need to condition my hair anymore; yet it still was softer and more tangle-free than before. It was also more evenly curly all over.
Something happened a few months ago to our water, though, and the baking soda method of washing my hair didn't work for me as well anymore. The first time I noticed something wrong with my hair, it was because the softener had run out of salt. After adding more, my hair improved, but I still ended up with a buildup in my hair! (The fact that our water immediately turned my red cabbage food coloring blue makes me think we still have a lot of calcium in our water which is building up in my hair. Perhaps our water softener just isn't working as well anymore.)
I went back to using small amounts of shampoo and conditioner, albeit less often, but my hair started to feel dryer again, and I started to get dandruff!!
Fast forward to just recently. A friend blogger, Krystal from Natural Fit Foodie, introduced me to soap nuts, and I've been experimenting with washing my hair with them. I'll tell you more about soap nuts some other day after I've experimented with them a little more. Meanwhile, I'll say that they've been working pretty well as a "no-poo" alternative.
Not long after beginning my new method of washing, I learned about DIY flaxseed hair gel. I decided to whip up a batch and give it a try.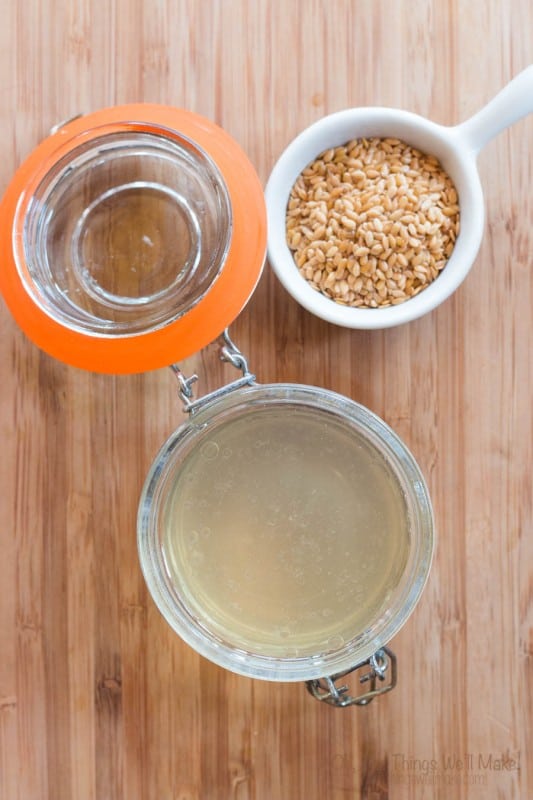 I have to admit that I was a bit skeptical.
I never really use any products on my hair, other than a bit of argan oil on the tips, because I hate the way they feel. If I have to be honest, the DIY flax seed hair gel doesn't look very appealing either.
I decided to add some essential oils to my newly made gel, making it smell better and helping to nourish my hair even more. (It is said that flaxseed hair gel in and of itself is quite nourishing to the hair while it is styling it because flaxseeds are high in omega 3 and several vitamins and minerals.) I researched which essential oils were best for the majority of hair types, and settled on using a mixture of rosemary and lavender essential oils. They make my hair smell wonderfully clean! (When washing my hair with soap nuts, my hair doesn't normally have a fragrance.)
I was worried that the DIY flaxseed hair gel was going to be sticky and gross, but I was pleasantly surprised. It wasn't sticky at all, and I didn't feel the need to go running to wash my hands off after applying it like I do with pretty much all other hair products! It just feels clean!
It is said that a DIY flaxseed hair gel works much better for curly and wavy hair than it does for straight hair. I'm not sure as I have only tried it on my own hair, but I've read that a fenugreek hair gel works better for straighter hair.
It's pretty easy to make, and I think it works really well, so let's get to it!
Looking to make more?
Subscribe to my newsletter for the latest projects (and recipes)!
Instructions
Add your water to a small saucepan and boil it.

Once boring, add in your flaxseeds and lower the heat. Keep heating over medium heat until the water starts thickening up and getting frothy.

If you want to avoid the straining step later on, you can choose to boil your flaxseeds in a tea strainer or drawstring bag. Some people find it easier that way. I've done it both ways, but most of the time just choose to boil them directly in the water and strain later because I feel like they release more gel that way.

If you are straining the seeds out of the gel, work quickly or the gel will get thick as it cools, making it hard to strain. Pour the mixture over your strainer and storage jar to remove your flaxseeds from your gel. If it is too thick to strain it, you can always add more water and heat a little more if necessary before trying to strain it again.

Add essential oils to your DIY flaxseed hair gel. (optional)

Store in the fridge for maximum storage time. Throw away and make a new batch when the gel starts to get cloudy. (Normally around 2 weeks)
Notes
Either golden or brown flaxseeds will work, but the darker flaxseeds seem to give off more gel than the golden flaxseeds, so you may have to play with the ratio of water and flaxseeds to get the consistency of gel that you prefer.
The gel may also be a bit darker when made with the darker colored flaxseeds, but it really depends upon how long you were boiling them in the water.
I have made the gel with both golden flax seeds and brown flax seeds and noticed that the golden flaxseeds don't give off as much gel as the brown flaxseeds do, so you may have to play with the ratio of flaxseeds to water to get the consistency that you want. You can always add more water in later, or boil a little longer so that your gel gets thicker. (You'll be boiling off some of the water, though, and will end up with a bit less gel.)
So, how does it work?
Well, here is a picture of before putting the gel in, and right after putting it in my hair without any further styling.
I'm pretty happy with that for quick and effortless summer styling.
Of course, I can always go back and define some of the curls better if I'm going out and want my hair to look even better.
When you first put the gel on your hair and let it dry, it will get a little bit crunchy. You can scratch your hair to make it soft again, and your curls will stay defined.
I find that when I'm using this gel, I don't have to reapply every morning, but instead brush out my hair and slightly wet it again to reactivate the gel. I only reapply after washing my hair.
It's really inexpensive and easy to make! I hope you try it and enjoy it!