Help relieve the stress and tension of the day by massaging some of this cooling, DIY stress and headache relief lotion into your neck and temples. It's cooling action and soothing fragrance will help relax you and ease your tension.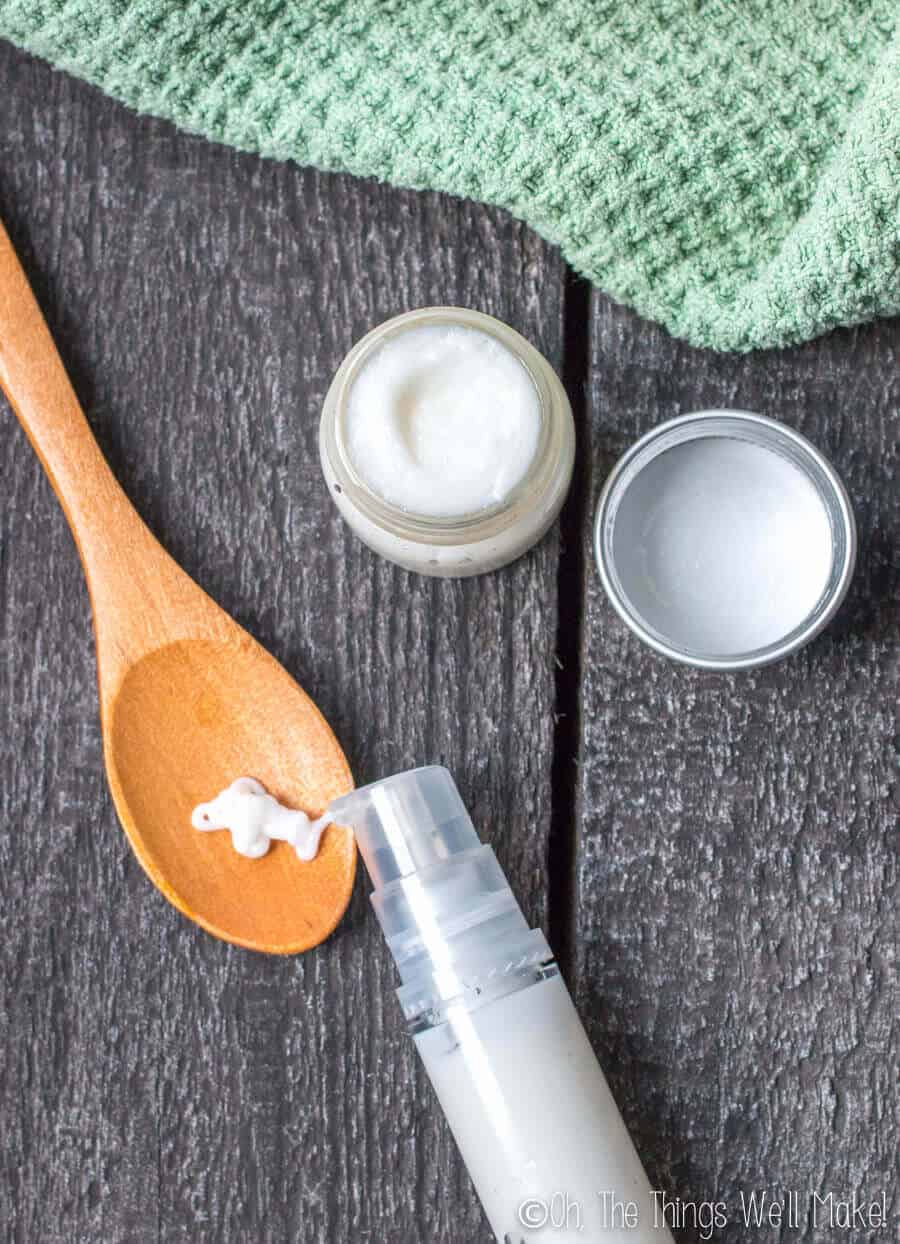 Years ago, my mom and I used to go hang out at the local lotion store at the mall, trying out their different creams, sprays, and lotions. I used to stock up on all of the new fragrances, and loved them. Ironically, I can't even stand to go into those sorts of stores anymore because the strong fragrances now give me a headache.
The one cream that I truly, truly loved, though, was an expensive anti stress cream that was sold in a tiny little bottle. I loved the calming fragrance, and that way that the cooling effect soothed my anxiety almost immediately.
With the cooling anti-stress lotion, or whatever it was called, you were supposed to take a very small amount and rub it into your temples and earlobes. You could also rub it into your neck and upper back to help relieve muscle tension in those areas that is cause by anxiety.
ORIGINS Sensory Therapy Peace of Mind® On-The-Spot Relief Copycat
When I began making lotions, I decided that making some sort of similar stress and headache relief lotion was at the top of my "to do" list. I had an idea about wanting to use menthol, but was looking for ideas from other products about what else to use. I couldn't find or remember the name of the original lotion that I had bought years ago, but found what I think is a similar type lotion online, ORIGINS Sensory Therapy Peace of Mind On-The-Spot Relief. Just like the lotion I used to buy, it's pretty pricey (more than $20 for just half an ounce).
I was pretty sure that I'd be able to make a similar type anxiety and headache relief lotion using menthol crystals and soothing and cooling essential oils.
The ORIGINS Sensory Therapy Peace of Mind® On-The-Spot Relief uses a mixture of water, rose water, mint water, rosemary water, and a mixture of essential oils to give it's cooling, relaxing action. Oils used include sweet almond oil, peppermint oil, basil oil, and eucalyptus oil. The rest of the cream is made up of a mix of different chemicals, some more familiar looking than others. (Many are probably preservatives that allow you to keep the cream for months or even years.)
I decided that it would be quite easy to use similar ingredients sans all of the unfamiliar chemicals. Instead, I chose to use a natural preservative that will allow you to keep your lotion unrefrigerated for up to 3 months.
Because I had rose water on hand, I chose to follow their lead and use some rose water as part of the water component of the lotion. If you don't have any, though, you can substitute it for more distilled water instead. You can also use mint or rosemary hydrosols in place of part of the water.
Which essential oils should you use?
The active ingredients that give the lotion its cooling and soothing properties are the menthol crystals and the essential oils. I didn't have any rosemary or mint waters, but decided that rosemary and peppermint essential oils would be more potent anyway.
I ended up using a mixture of peppermint, rosemary, and eucalyptus oils. I didn't have any basil oil, but decided to substitute it for a mixture of other essential oils known to help with muscle tension, cajeput, clove, ginger, and spearmint essential oils, to be exact. You don't need to use all of the oils I used, and can use a personalized combination of soothing oils. The main relief comes from the soothing cooling menthol and peppermint fragrance.
What are menthol crystals?
Menthol crystals are very concentrated and made by quickly cooling peppermint essential oil. They provide the cooling sensation of this lotion, along with the soothing peppermint scent. Not only does the scent help with congestion, but it can help you feel relaxed and can even help with headaches.
Menthol and Peppermint for treating headaches and migraines
Many people swear by the fact that either menthol or peppermint oil helps them ease headaches or even migraines. This triple blind, placebo controlled study seems to back up that claim. In the study, the researchers concluded that "Menthol solution can be an efficacious, safe and tolerable therapeutic option for the abortive treatment of migraine." They also found it to help with nausea, vomiting, phonophobia, and photophobia.
I even found several comments from people who bought the ORIGINS cream because of how well it helped them out.
Making your own stress and headache relief lotion is an inexpensive way to try it out yourself.
I'm lucky in the sense that I rarely, if ever, get headaches, but I do let myself easily get stressed out. At one point this week, I was so upset with my son's school that I could barely function. (They have decided to take away our right to allow us to have our kids learn in Spanish, and want to teach almost exclusively in Catalán, without allowing the parents to vote at all.)
I was so angry and overwhelmed by the stupidity and lack of common sense, that I ended up in a really dark place. I decided to get out the lotion and give it a try. While it didn't make me feel great about our current situation, it did help lessen the tension I was feeling, enough to allow me to take a deep breath and try to relax and refocus on something else. (Now I just need to mix myself up something to relieve the super puffy eyes that I woke up to this morning.)
I also sent a trial batch home with a friend who often suffers from migraines. I figured, what better way to do a little experimentation of my own. When I saw her a week later, she told me how much she loved the lotion, and how great it worked for helping reduce headaches and tension! So, I know it's not a quadruple blind placebo study with 2,000,000 participants, but her comment was good enough for me to be excited to post the recipe here. 😉
Safety Warnings for Children:
While most of the essential oils that I used are usually fine for children over the age of 6, it is often suggested to wait until the age of 10 to use eucalyptus and rosemary essential oils. That is because the high percentage of 1,8- cineole in those oils can affect the breathing, or even cause seizures, in a small percentage of children.
Menthol rubs like VapoRub are normally considered safe for children over the age of 2, with the warning to not rub it directly under their noses as that has been found to cause breathing problems in some children. Most of the time, though, it is cautioned not to use peppermint essential oil in children under 6 years of age.
While this lotion probably doesn't pose much of a risk for the majority of children over the age of 6, be extremely careful if you choose to try it on a child who is younger than 10 years of age. You may consider changing out the rosemary and eucalyptus essential oils, and using a lower concentration of menthol if needed for children between the ages of 6-10.
Cooling DIY Stress and Headache Relief Lotion
Note: This makes around 100ml, which is a large batch for this type of lotion because it is very concentrated and you only use a tiny bit at a time. Unless you plan on dividing it up, and making it for several people, you may want to consider halving the recipe, or even making just 1/4 of it!
Looking to make more?
Subscribe to my newsletter for the latest projects (and recipes)!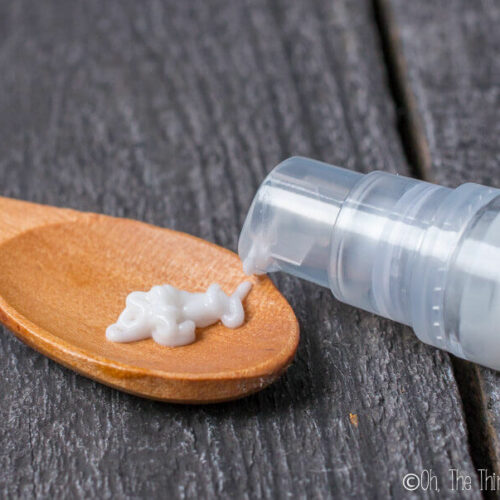 Cooling DIY Stress and Headache Relief Lotion
Help relieve the stress and tension of the day by massaging some of this cooling, DIY stress and headache relief lotion into your neck and temples. It's cooling action and soothing fragrance will help relax you and ease your tension.
Print
Rate
Instructions
Measure out the distilled water and rose water in a recipient and heat it over a double boiler while you measure out your oil and emulsifier.

Meanwhile, weigh the olivem, or other emulsifier, and almond oil in a double boiler insert.

Heat the oil/emulsifier mixture over the double boiler, stirring constantly, until the emulsifier melts and is well incorporated into the oil.

Add the hot water mixture to the hot oil mixture and stir until well incorporated. The mixture will thicken and become more opaque as it cools.

Add in the menthol crystals while the mixture is still warm, and stir until they have dissolved and disappeared into the lotion.

When the lotion has cooled, add in the Leucidal (or other natual preservative) and the essential oils. Once again stir until well mixed.

Pour the lotion into containers. I prefer small airless containers that allow you to dispense the lotion without touching it and possibly contaminating it with bacteria.
Notes
I ended up halving the recipe, and poured it into 3 very tiny containers: one for me, one to keep at home for whoever needs it, and one for my friend who is prone to migraines. Since the batch should be remade in around 3 months, I think that was a perfect amount for us!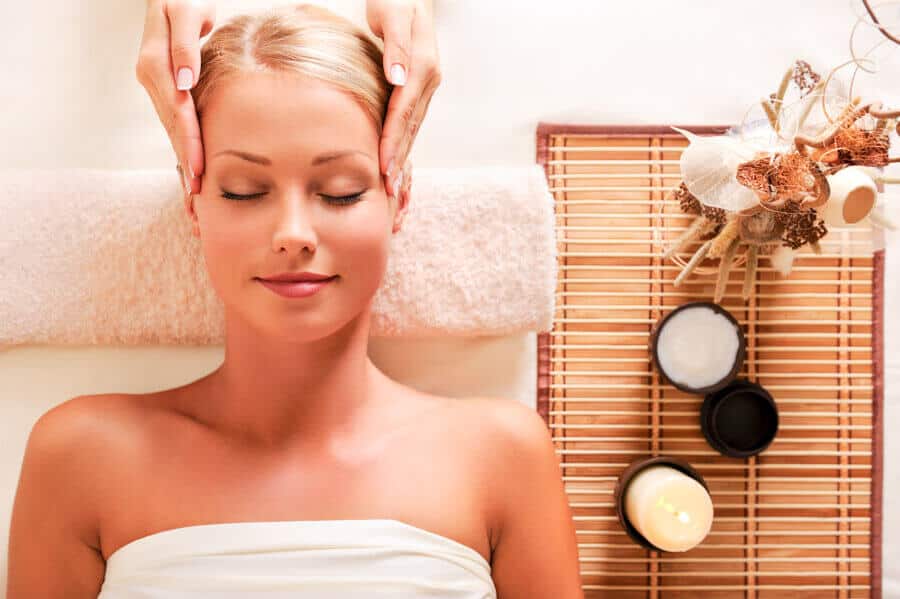 How to use the DIY Stress and headache relief lotion:
Once you've finished making the lotion, take a very small amount and rub it into your temples, concentrating on the area nearest your hairline and keeping it away from your eyes. You can also rub it into your earlobes, forehead, and neck muscles.
Be especially careful around your eyes. I like to close my eyes and relax while I rub the lotion into my temples, but if you keep your eyes open, be aware that the menthol is strong, and can give off "fumes" that can be irritating to your eyes. That's why it's best to concentrate on the area nearest your hairline, or to close your eyes when you are first applying it, until it gets absorbed into your skin.
After applying the lotion, I like to cup my hands up around my nose and take a deep breath and inhale, allowing the scent of the peppermint and other oils to relax me. I find that it's also helpful at relieving a stuffy nose. 🙂