An easy to make, gentle all-in-one cleanser, this DIY micellar water is perfect for sensitive skin. Find out what is micellar water and if you should use it.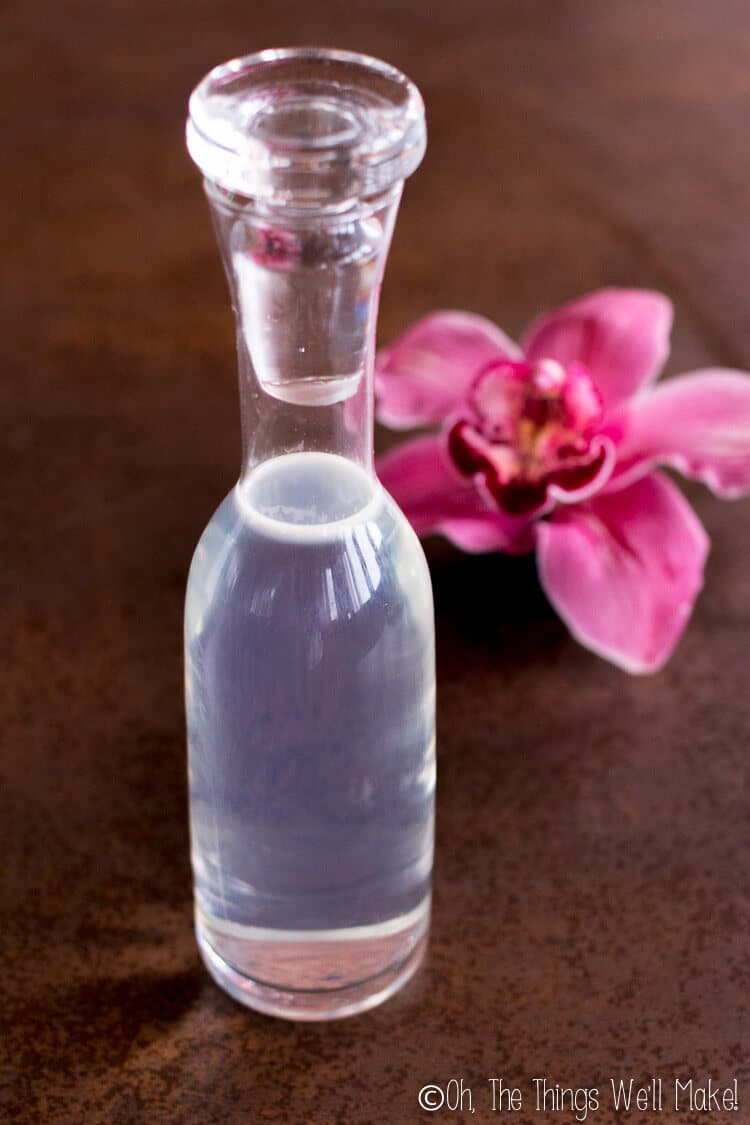 What is Micellar water?
Micellar water is a water based cleanser that is normally used to gently cleanse your face without the need to rinse it off afterwards. It pretty much looks like water, but it has gentle cleansing and moisturizing qualities. Micellar water can be used as an all-in-one cleanser, and is especially great for those who are always on the go (Who has time to rinse?) or those with sensitive skin.
While it is usually said to be good for all skin types, it may be a bit mild for those with overly oily skin or those who wear a lot of oil based or waterproof makeups. That said, I used it to remove my DIY Halloween costume makeup off my son's face between a school activity and a birthday party, and it worked perfectly. I've also found it to work well at removing long lasting type lipsticks.
Micellar water is made up of micelles that are suspended in the aqueous (water based) ingredients of the cleanser. It all sounds quite fancy, which is why most micellar waters are pretty pricey, but it is really quite simple and really doesn't distinguish these cleansing waters from other types of cleansers (which also have micelles).
What are Micelles?
Micelles are basically little formations of surfactants that come together and are suspended in the water or aqueous ingredients of the cleanser. When using a low concentration of surfactants, as you do in a non-rinse product like this one, the micelles stay in a sphere formation. Surfactants have a hydrophilic (water loving) head and hydrophobic (water "fearing") tail. So when you mix together the surfactants and water, the surfactants tails will start to hide from the water, coming together to form these little spheres of surfactants.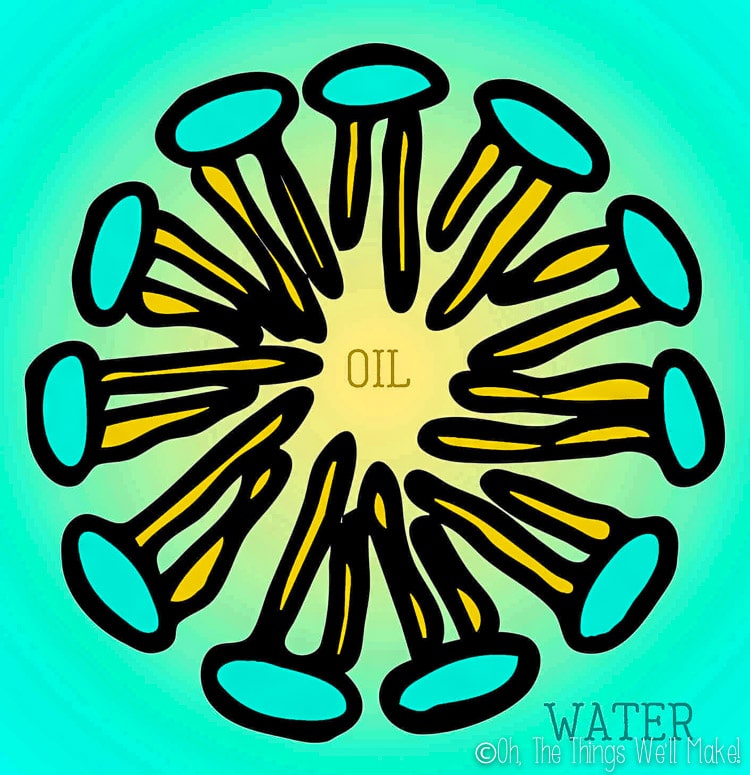 The idea when using micellar water is that the oils and dirt of your skin will join together with the hydrophobic tails of the surfactants, and be wiped away with them.
What are surfactants?
Surfactants lower the surface tension between liquids. They can act as detergents or emulsifiers, or have other qualities. Most detergents, shampoos, and shower gels are surfactant based.
Up until now, I have focused this blog on soap based cleansers because I wanted to give people a simple, natural way to clean their homes and bodies. In the natural communities, soaps are generally embraced by almost everybody, and it's quite easy to make your own bar soap or even make your own liquid soap.
On the other hand, I have heard many people say that they want to avoid surfactants because they are "chemicals" or they have heard bad things about some of the more commonly used foaming anionic surfactants like SLS (sodium lauryl sulfate) or SLeS (sodium laureth sulfate). The problem with some of these harsher surfactants is that they can be irritating to your skin, especially when used at high percentages. (I also make my own toothpaste to avoid SLS in toothpaste as it can cause canker sores, and my husband and I used to get them quite often.)
It is impossible to avoid all "chemicals", of course. Even soap uses NaOH (which is what scares many people away from making it) and, well, H2O, and sometimes NaCl. But, it is also pretty much impossible to avoid all surfactants, unless you only use soap and body butters for everything. Even emulsifiers like BTMS (that I used in my homemade conditioner and roll on deodorant recipes) and really any of the more common "natural" emulsifying waxes are surfactants. (mostly cationic and non-ionic in nature). So, if you've ever used a lotion, a cream with water in it, a "normal" shampoo (aka. not Castile soap), a conditioner, you've been using surfactants of some sort or other.
I don't want to get too far into talking about surfactants right now as that warrants a separate post, but I would like to say that surfactants are wonderful for many applications, and there are a lot of gentle, natural surfactants out there than can be used and that are great for people with sensitive skin.
Soap has a high pH, and that can be problematic for some people with sensitive skin as our skin pH is on the more acidic side. You can't just lower the pH of liquid soaps because it will fall apart. On the other hand, surfactants can generally be lowered into a desired pH range. I personally don't notice issues when using soap on my skin, but my hair can't handle the high pH of soaps, which is why I've never shared a recipe for a "shampoo bar" as of yet. I don't like sharing things that I don't use and love myself!
Gentle non-ionic surfactants
I decided to begin with micellar water as an easy recipe to introduce surfactants because it is simple to make and uses a nice, gentle surfactant that should be great for all skin types. This micellar water is nourishing, and doesn't need scrubbing or rinsing, making it great for people who are on-the-go and especially great for people with sensitive skin. (If you find it bothersome to leave traces of the product on your skin, though, you can always resort to rinsing it off, and keep using it as a super gentle alternative to cleansers with a higher concentration of surfactants.)
Non-ionic surfactants are generally quite mild cleansers and great for facial products like this one.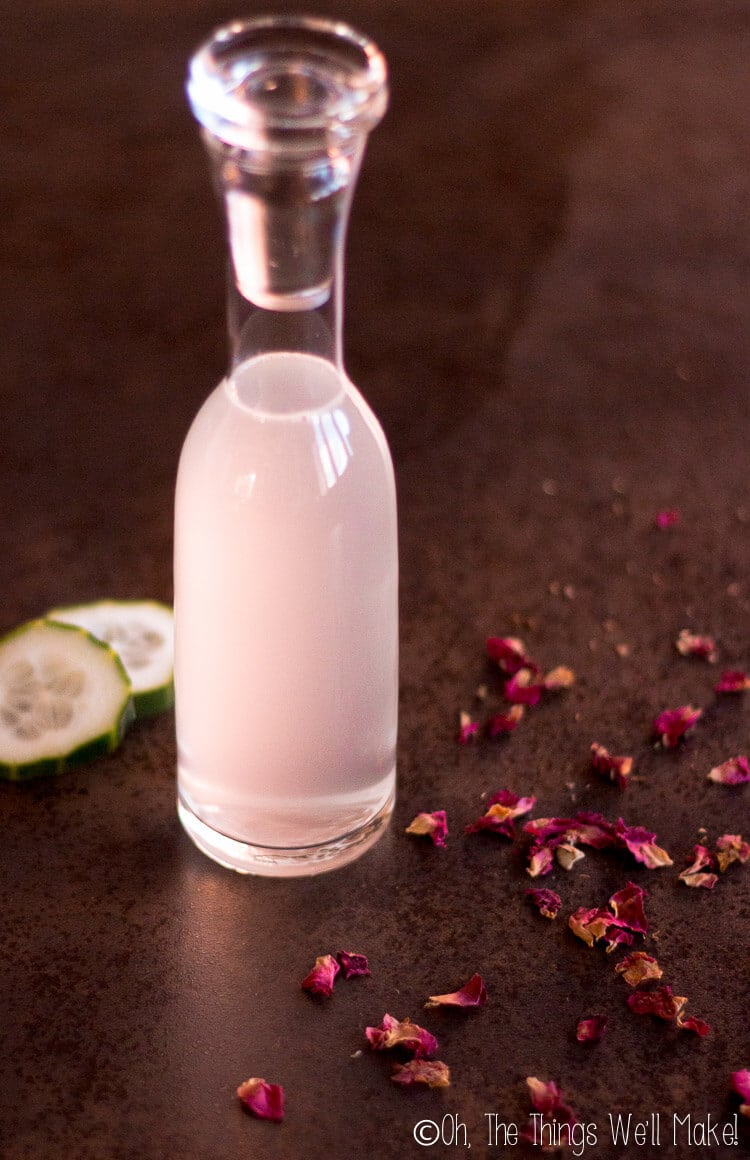 Nourishing additions to your DIY Micellar Water
With rinse off products, you are more likely wasting your money on adding large amounts of extracts, hydrosols, and more expensive type ingredients. Micellar water, on the other hand, isn't normally used as a rinse off product (you could rinse it off if you wanted to, but it's not how it's generally used). For that reason, the ingredients you use will stay on your skin, making micellar water a great place for adding fun, nourishing ingredients.
Understanding the ingredients
I'm giving you a sample recipe that has worked well for me, but you can switch things up to use different extracts and hydrosols to suit your purposes, or just to use up whatever you have on hand. I know a lot of you like that I explain why I use certain ingredients, to help you better understand if and how you can tweak the ingredients in the recipe, so let me explain why I chose what I chose.
Decyl Glucoside: This is the surfactant, and the active cleansing ingredient of your DIY micellar water. In my first batch, I used Coco Glucoside, a non-ionic surfactant that is considered safe and has a score of 1 on the EWG Skin Deep Database. It is a mild, foamy surfactant derived from coconuts and glucose. Decyl Glucoside appears to be the most easy to find on Amazon, and seeing as it was more readily available to more of you, I decided to make my next batch with it. It is also a glucose and coconut derived surfactant, and it also has a safe rating of 1 on the EWG scale. While Lauryl Glucoside is another very similar mild, non-ionic surfactant that you could just as easily use, but it also tends to be thicker and more opaque than the other two. It is an option, but I prefer the other two.
Rose water: I added rose water because it's fairly easy to find, inexpensive, and has a lovely scent and possibly anti-inflammatory properties. It works well on sensitive skin, and may help with redness, acne, eczema, etc.
Aloe liquid: Aloe is also anti-inflammatory and healing. It may help stimulate the growth of new cells. It's also has been known to help people successfully deal with acne, sunburns, and other skin conditions.
Glycerin: Glycerin is a humectant, meaning that it helps draw moisture from your environment, bringing it into your skin to help hydrate it. You'll want to keep the amount of glycerin at up to 5% of your recipe. Using more than that and it can leave your skin feeling sticky afterwards. If you are using glycerin based extracts in your micellar water, you'll want to reduce the glycerin amount, or leave it out all together to prevent that. (If you find that even at 5%, the water is too sticky for you, you can reduce the amount to suit your taste/your skin.)
Cucumber extract: Cucumber extract is very soothing and hydrating, and also has astringent properties that can help reduce puffy eyes. Cucumber extracts are usually glycerine based, so you could either switch it out for another glycerin based extract, or use just plain glycerin if you don't want to use any extracts.
Cosgard/Geogard: This is one of the few broad spectrum preservatives that is accepted for ECOCERT certified cosmetics. I like it because you only need to use at around 1% of the final concentration to preserve your product.
Distilled water: While I guess you could boil your water first and use that, I prefer to use distilled water to protect against any unwanted microbes as well as other unknowns that can be found in tap water.
Lactic acid: I didn't need to add lactic acid to my micellar water, but if you were to use different ingredients, a different water, or something that may alter the pH in some way, you could add a few drops of lactic acid to bring down the pH as needed. (An ideal pH would be between 5 and 6). You can use inexpensive test strips to get an idea of the pH.
Optional additions to play with (with cons)…
Jojoba oil: Jojoba oil is an oil soluble humectant. It helps moisturize your skin. I tried adding a few drops to the cleansing water in my first batch, and I think it helped slightly when it comes to removing oil based and other hard to remove makeups. Adding too much oil will cause a layer to form on top of the water. When I only used a few drops, it stayed pretty well suspended in the mixture, but left the water looking slightly cloudy. (Actually the pictures are from my first batch with some jojoba oil in it. The recipe below makes a very clear liquid that pretty much just looks like water.) If you wanted to add more jojoba oil, you'd have to either add some sort of solubilizer to your cleanser, or you'd have to shake it to mix it before using each time.
Essential oils: You can potentially add essential oils for fragrance, but again, adding too much will mean that they will float on top. The surfactant we are using isn't really a solubilizing one, so you'd have to mix the essential oils with a solubilizer before adding them into your water, if having a stable, unseparated liquid is important to you. I prefer to get a nice fragrance from the floral waters or hydrosols used.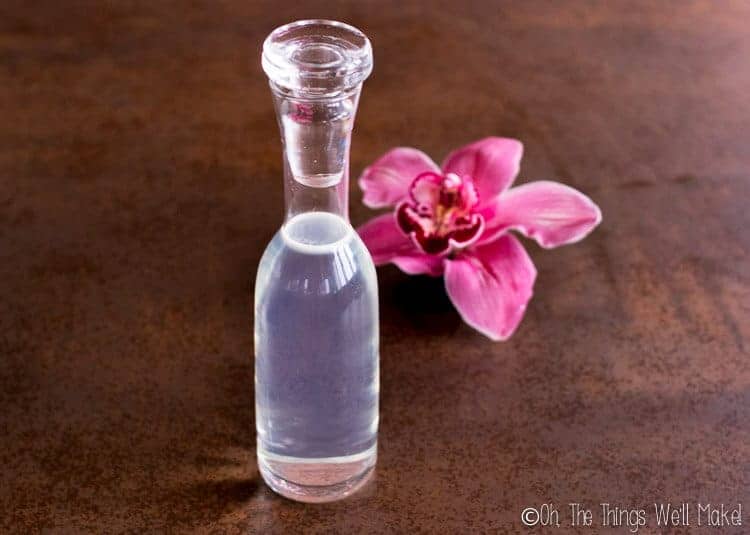 How to make Micellar Water
Looking to make more?
Subscribe to my newsletter for the latest projects (and recipes)!

DIY Micellar water
Great for those with sensitive skin, and those who are always on the go, micellar water is a gentle cleanser that is simple to make and nourishing for your skin.
Print
Rate
Instructions
Weight out and combine together the water, rose water, aloe juice, glycerin and cucumber extract.

While whisking, slowly add the the Decyl Glucoside, and whisk until it is fully incorporated into the other ingredients. Blending too vigorously will make a lot of foam.

Add the preservative of choice, and whisk into the other ingredients.

When any developed foam has settled, pour your micellar water into the dispensing bottle of your choice. Bottles with flip top caps are a convenient option for dispensing and using it.
How to use micellar water
Moisten a cotton pad or cotton cloth with the micellar water and gently wipe it across your skin. Repeat with a clear area of the cotton cloth or a new cotton pad until you see no remains of dirt or makeup coming off onto the cotton.
While it isn't necessary to rinse your skin after using the micellar water, if it feels tight on your skin, or you don't like the feeling it leaves, you can rinse it off after using.