A fun St. Patrick's Day activity for kids or adults, these hammered shamrock prints and clover hearts are a festive way to decorate cloth for all sorts of holiday projects.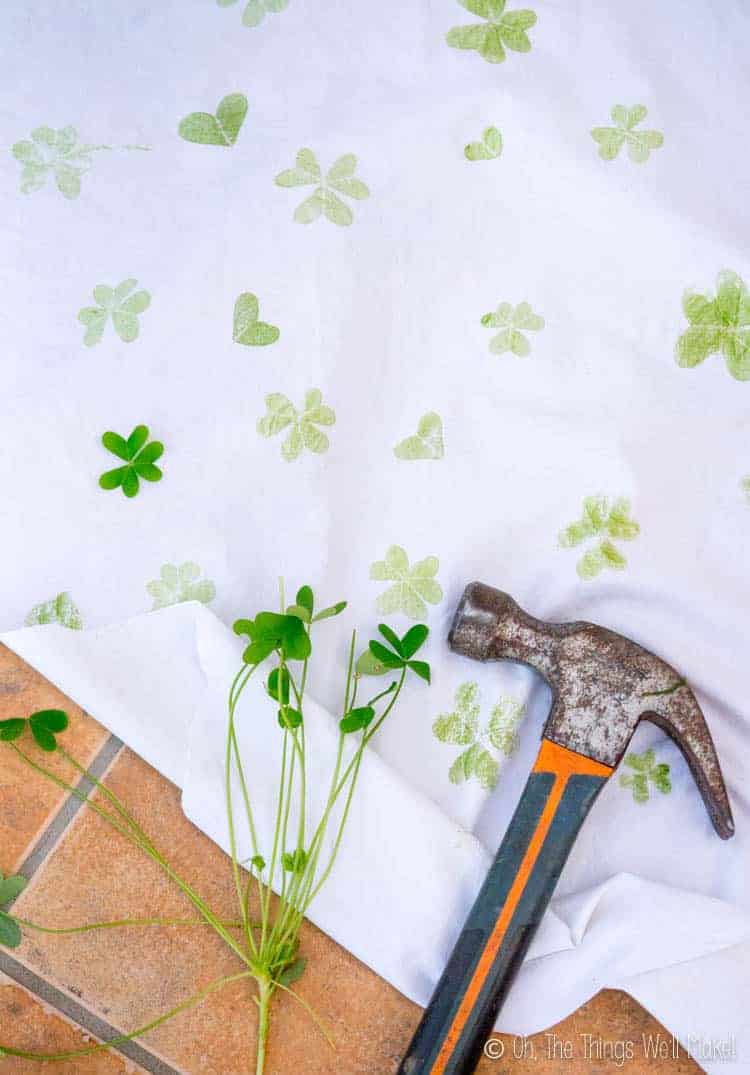 When I made the lavender sachets last year that were naturally decorated with hammered lavender flowers, I experimented with making hammered prints of all sorts of different leaves and flowers. My favorite leaf prints were the hammered shamrock prints that I knew would be perfect for St. Patrick's day.
What's great about the heart-shaped leaves of the clovers is that they are quite versatile and together they make very cute shamrock prints that are fitting for Irish themes or pretty much anything this time of year, but by using the leaves by themselves you can also make some beautiful natural hearts.
As a St. Patrick's Day activity for kids
Because we are working with a hammer, this activity will need some adult supervision. That said, even the youngest of kids can get involved and help you make these prints. Young children can go shamrock hunting for you and they can help you place the plants wherever you want to mark the cloth. Older kids can do the hammering themselves (with supervision, of course). Kids of all ages are amazed by the outcome.
I've done this project with my son several times over the years. When he was very little, he had fun picking clovers for me but got bored before it was his turn to bang on the clovers. I wasn't too upset about it because I have to admit that I was a bit worried about how I was going to get him to hammer the cloth without hurting himself and-or me!
This year, now that he's older, he was very excited to bang on the cloth for me. He quite enjoyed himself and loved seeing the outcome. It also ended up being a great excuse for getting outside just as the weather is starting to warm up (hopefully, depending on where you live!)
Watch us make these hammered shamrock prints
Shamrock Prints and Clover Hearts
A fun St. Patrick's Day activity for kids or adults, these hammered shamrock prints and clover hearts are a festive way to decorate cloth for all sorts of holiday projects.
Print Recipe
Pin Recipe
Instructions
Go on a nature hike and look for pretty clovers that you want to use for your hammered shamrock prints. (My son was still excited to help me out at this point.)

Decide where you want to make your print. The great thing about hammered leaf printing is that you can use it to decorate a variety of paper and cloth projects. Everything from cards and stationary to t-shirts and kitchen towels can be easily decorated.

Look for a solid, smooth surface over which you can place your fabric or paper. Use something that you don't mind staining or denting! Last time I used a pine board but found that the veining of the wood showed up. This time I used a wood cutting board, which was much smoother than my scrap wood was, and it worked much better.

Cover your work surface with the cloth or paper onto which you want to hammer your flower or leaves. With the clover leaves, a muslin type fabric seemed to work the best for me. It absorbed the dye well and evenly, making the prettiest prints.

Place your leaves or flowers into position on the board, and cover them with another layer of cloth or some paper towels. Covering them helps hold them in place and also absorbs some of the released dyes so that they don't bleed all over the place. While the paper towel worked OK, I think the cloth made a better backing and also has the advantage of letting me stamp two cloth pieces at once. 😉

Lightly tap over the entire surface of the clover or leaves you are using. This helps hold the materials in place. At first, we tried to use a rubber mallet, but it didn't make the most vibrant and clear prints. We later found a normal hammer to work best!

Once you've gone over everything lightly, start hammering all over the entire surface of your leaves with a bit more force. If you are using a cloth backing, you should start to see the dye from the plants starting to seep through.

When the dye seeps through pretty evenly, you have probably done a good job of hammering, and should be ready to open it up and admire your work. The plant material will probably be sticking to the fabric. You can either carefully peel it off right away, or let it dry a little and then peel it off.

That's all there is to it! Admire your work!
Notes
It takes a bit of experimentation to find out what types of paper or cloth are going to work best with different types of leaves or flowers, and I've found that when working with fabric, natural fibers like cotton tend to absorb and hold the dye from the plants better.
Setting your prints to make them more permanent
I've washed a few of the hammered cloth prints, and they've held up pretty well to regular washing. (You know how hard it is to get grass stains out, right? This is the same concept!)
To ensure that the prints don't wash away, it's probably a good idea to run a hot iron over the prints before washing your fabric. The heat will help set the "stain" and make it more permanent.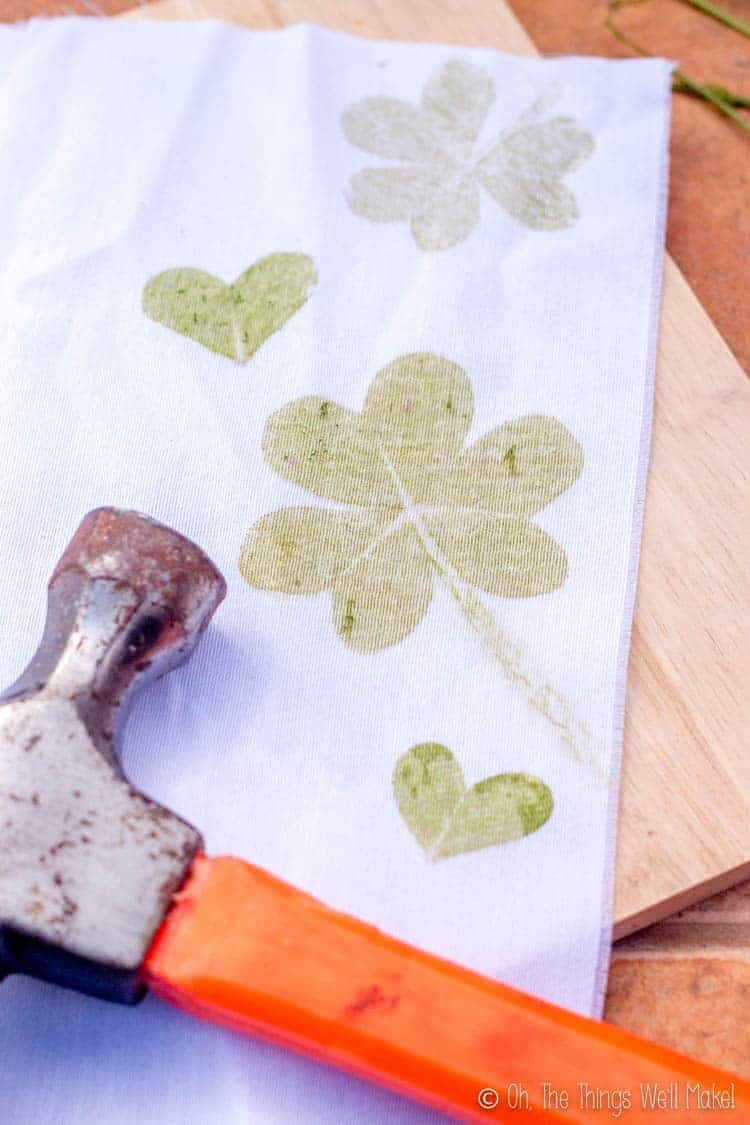 I think using individual clover leaves, making clover "Heart" prints, could be cute year round for all sorts of different projects.
If you try it, I'd love to see what sorts of things you make!
Happy St. Patrick's Day, everyone!