This take on a classic Basque chicken recipe combines chorizo, sun-dried tomatoes, tangy orange juice, thyme and olives, and can easily be made in the Instant Pot.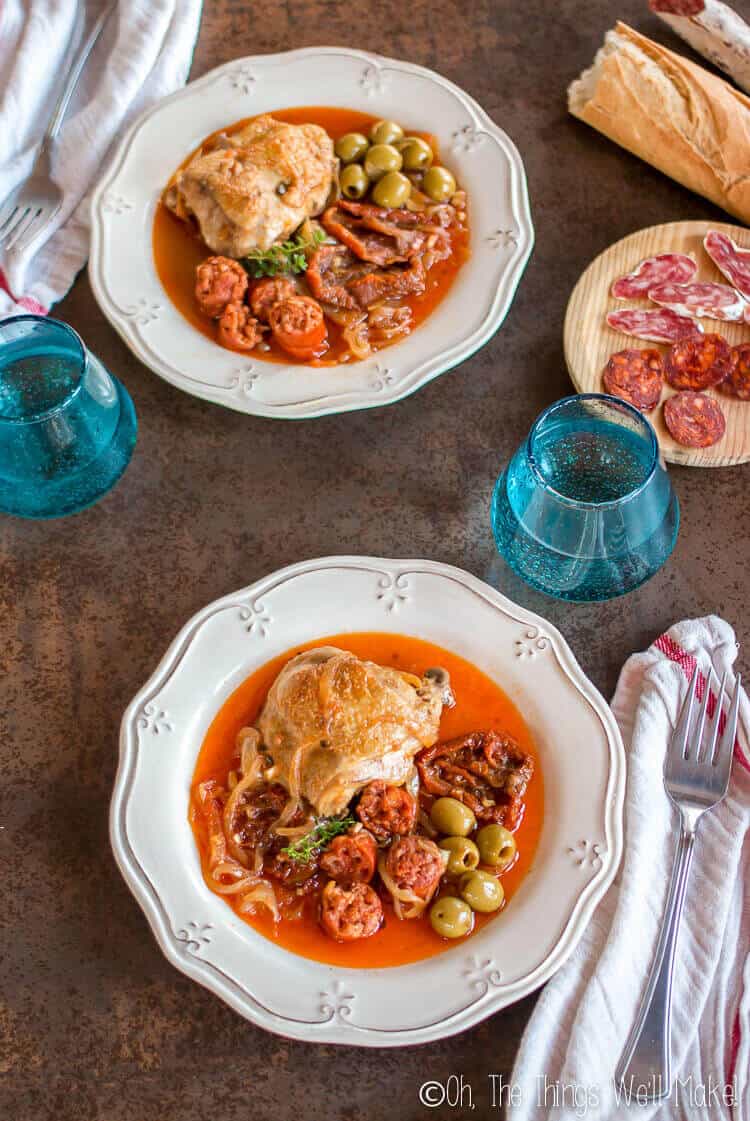 I have a confession to make. I don't own an Instant Pot.
Yep, I said it. And yet, here I am today reviewing a recipe from an Instant Pot cookbook. And an excellent one at that! (Both the book and the recipe, I mean).
Why on earth would I want an Instant Pot cookbook when I don't have an Instant Pot?
Well, when one of your favorite bloggers in the world writes a book, even when it's an Instant Pot cookbook when you don't even have one, well, you want to have that book be a part of your cookbook collection.
The Art of Great Cooking with your Instant Pot
When I heard that Emily, from Recipes to Nourish, was coming out with a new cookbook, I got excited!
I've known Emily, virtually, for a couple of years now. Not only does her gluten free, healthy living blog totally jive with me, but she is a genuinely nice person. She isn't one of these bloggers that just looks out for herself, but is always kind, willing to help others, and happy to help build other people up.
When you are looking to start eating healthier and living more naturally, you don't want help from somebody who is judging you along the way. I can assure you that you won't be getting judgement from Emily (or me- ha!) along the way.
What is an Instant Pot?
The Instant Pot is primarily an electric pressure cooker that actually is much more than that. You can use it as a rice cooker, slow cooker, yogurt maker, steamer, etc. so it can save you a lot of space in the kitchen by having one electric contraption to serve all of your needs.
I've really wanted to buy one, but the Instant Pot brand isn't readily available here in Spain as of yet. I did see if for awhile on Amazon, to be sent from the UK, and had even loaded it into my cart to buy one, but unfortunately it disappeared off Amazon before I was able to get around to it. (Note to self: actually buy the things in your cart if you really want them.)
Years ago, I bought a generic electric cooker here in Spain. I mistakenly thought that it was just like an Instant Pot, but later found that not only did it not have a slow cooker function, but that it had a non-stick coated pot inside. If you've been following me for awhile, you know that I like to make my own pantry foods like homemade coconut milk and homemade pumpkin puree to stay away from cans. Not only can you control the ingredients when you make things yourself, but you can avoid the toxins in the packaging.
It doesn't make much sense to go through all of that effort, and then make things in a pot with a most likely toxic non-stick pan. Needless to say, I don't use it that often, and have been looking out for an electric cooker with a stainless steel pot like the Instant Pot. (Luckily in the US, you have several great options for all-in-one cookers with a stainless steel pot. I've heard really great things about the inexpensive Gowise electric pressure cooker.)
For Emily, though, I made an exception and brought it out of storage.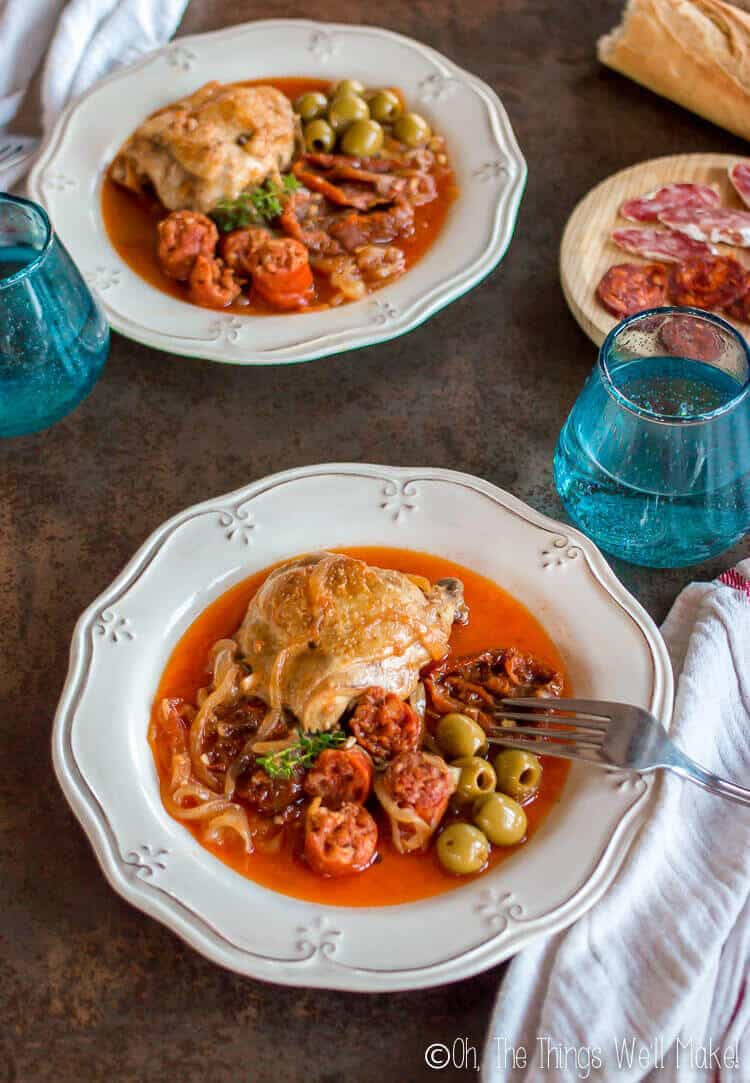 What is Basque Chicken?
Basque chicken finds its origin in Basque country, which mainly spans Northern Spain, but its community also spreads into the Pyrenees and Southern France. I made a trip to the Basque region of Spain years ago, and have friends who live in the area, but my trip took place in the summer. I haven't made my way up there in the cold of winter when a nice warm Basque chicken would really hit the spot. From what I recall, our meals were mostly seafood based instead.
Ironically, living here in Spain, I never have had the pleasure of trying Basque chicken, aka. pollo a la vasca, and was introduced to this recipe by Emily, an American blogger living in the US. I, on the other hand, live in the Valencian community where rice dishes reign supreme.
Both regions, of course, have their share of warm meat dishes that are perfect for cold winter days like today. Here in the Valencian region, the most common is Puchero or cocido valenciano, which I happen to love and make often. This chicken recipe from the north, though, has totally won me over, and I'm pretty sure it will be regularly served at my house, especially once I find an electric cooker with a stainless steel pot. (Or an Instant Pot, of course.)
I have to admit that I'm a bit of a Spanish food snob. So much so that my friend Krystal, of Dishing Up Balance, likes to tease me with recipes she finds on the internet of things like "paella" made with hot dogs, white sangría, or "Spanish" churros flavored things that are covered in cinnamon. (You can understand my objection to that in my post about how to make grain free Spanish churros.) So, it was maybe a bit risky to try an American blogger's recipe for a Spanish recipe, especially a blogger that I happen to like so much.
Luckily, after a bit of investigation, her Basque chicken recipe seems to be pretty true to the foods of the region. With as delicious as it was, even if it hadn't been legit, I probably would have let it slide. But, rest assured, it's both delicious and worthy of being called Basque chicken.
Basque chicken ingredients
Emily's Basque chicken recipe has a very unique set of very tasty ingredients. To be honest, while I happen to love the ingredients, I have to admit that I wasn't so sure about a recipe that combined chicken with chorizo, sun dried tomatoes, onions, olives, and orange juice. I actually loved the idea of chorizo with chicken, onions and dried tomatoes, but wasn't so sure about adding in the orange juice and olives. Together.
Let's be honest, cooked olives with such a unique combination of ingredients just didn't sound right to me.
Olives
Oh, was I wrong, though. While I normally like to eat my olives raw and by themselves (as I showed you in my salt cured olives recipe), they worked wonderfully in this recipe. The olives imparted their salty unique flavor to the final dish, all while absorbing the other flavors themselves. They were mild and soft and delicious!
Sun dried tomatoes
While I'm not a huge fan of raw tomatoes, I quite love sun dried tomatoes. I haven't seen dried tomatoes used much in my region of Spain, and I wasn't even sure I'd be able to find them in the supermarket, so I decided to use some homemade dried tomatoes from my garden instead. Since making the recipe, though, I've found that many stores here sell sun dried tomatoes, and you can even find them in bulk. Supermarkets also carry sun dried tomatoes packed in olive oil. I'll probably be using them a lot more in my recipes from now.
Despite not being an avid tomato fan, the dried tomatoes may have been my favorite part of the dish. Definitely don't leave them out!
Chorizo
My son's favorite part of the recipe was the chorizo. In fact, if I want to be able to eat some chorizo myself, I may have to add in more next time.
Emily didn't really specify which chorizo to use in the recipe, so I'd like to go out on a limb and add in my Spanish snob advice here…
When I lived in the U.S., it was impossible for me to find Spanish chorizo near home. I could find Mexican chorizo in the Latin American food stores, but found that not all chorizos are alike.
Spanish chorizo can be found in fresh and dried cured varieties. Either would work quite well in this dish, and I've seen people here use either kind in their soups and stews. Mexican chorizo, on the other hand, is a fresh sausage that uses a different type of paprika, so the flavor is quite different.
Spanish chorizo uses pimentón de la Vera, a smoked paprika that gives the chorizo its characteristic flavor. I personally thought that the light touch of smokiness totally made the dish. To keep it true to the region, you should use a Spanish chorizo.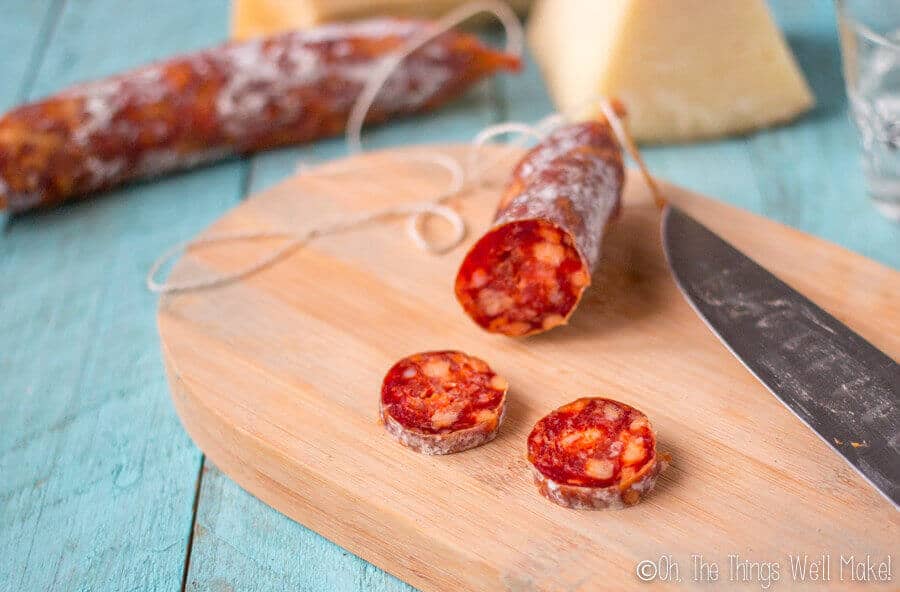 Can't find Spanish chorizo?
While nowadays the internet has made life simpler when looking for hard-to-find ingredients, you may not want to go through the hassle of buying imported Spanish chorizo from Amazon.
Don't worry, I have a recipe for homemade Spanish chorizo that can be made in a matter of minutes if you aren't planning on stuffing it into casings or dry curing it. (Neither of which is necessary in this recipe!)
You'd rather just use a Mexican chorizo?
While I haven't tried the recipe that way, I'd suggest adding some pimentón de la Vera (smoked paprika) to give the dish it's more characteristic Spanish flavor.
Some recipes for Pollo a la Vasca, a.k.a. Basque chicken, didn't use chorizo at all, but did add the smoked paprika to give the dish its beautiful red color and smoky flavor. So, you could theoretically swap the chorizo for smoked paprika, but I think you'd be missing out on one of the great components of the recipe.
My final thoughts…
Emily's citrus herb Basque chicken is a great recipe that is perfect for this time of year. It's hearty, but not heavy, and creates a wonderful sauce that you want to dip some crusty bread into. (If you eat bread, that is.) 😉 Everyone in my house (even my picky 7 year old) left their plates spotless, and we were happy to eat the leftovers the next day.
While I don't have an Instant Pot, I was able to easily make the recipe in my generic electric cooker. If you don't have an electric pressure cooker, I think this recipe could be easily adapted to other cooking methods. You could do the first steps on the stovetop, and then transfer the ingredients to a regular pressure cooker. Or, you could leave them in a regular cooking pot and cook everything a bit longer on the stovetop, until the chicken is tender.
While I haven't tried it (yet), I imagine that this would even work well in a slow cooker, on the high setting and cooking around 5 hours. (That's how I usually cook chicken in my slow cooker.)
No matter what your method, I highly suggest trying the recipe. You won't be disappointed. (Oh, and buy the book!) 🙂
Video
Craving more?
Subscribe to my newsletter for the latest recipes and tutorials!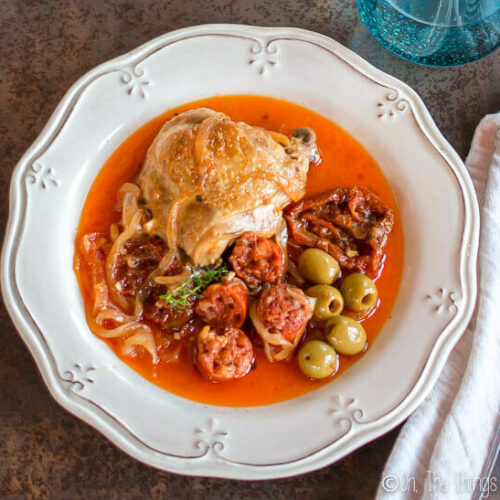 Citrus-Herb Basque Chicken
This delightful dish is full of spicy chorizo, sun-dried tomatoes, sweet and tangy orange juice, floral thyme and salty olives. It's meant to be shared family style with those you love.
Recipe reprinted with permission from The Art of Great Cooking with Your Instant Pot by Emily Sunwell-Vidaurri, Page Street Publishing Co. 2017.
Print
Rate
Ingredients
3

tbsp

grass-fed butter, ghee or avocado oil

divided

4

bone-in chicken thighs

1¼

tsp

sea salt

divided

1

medium yellow onion

thickly sliced

4

fresh garlic cloves

minced

5

fresh thyme sprigs

leaves removed and stems discarded

½

lb

230 g chorizo

casing removed

1/3

cup

sun-dried tomatoes

½

cup

pitted green olives

1/3

cup

freshly squeezed orange juice

¾

cup

chicken bone broth

1

handful

fresh cilantro

for garnish
Instructions
Add 2 tablespoons (29 g) of healthy fat of choice to the Instant Pot and press "Sauté."

Once the fat has melted, add the chicken thighs, sprinkle with ½ teaspoon of sea salt and brown for about 2½ minutes per side.

Remove the browned chicken to a plate and set aside.

Add the remaining 1 tablespoon (14 g) of healthy fat of choice, onion, garlic, thyme leaves and the remaining ¾ teaspoon of sea salt, sautéing for 5 minutes, stirring occasionally.

Add the chorizo and sauté for 5 minutes, stirring occasionally.

Press the "Keep Warm/Cancel" button.

Add the sun-dried tomatoes, olives, orange juice and bone broth. Give it a good stir.

Add the browned chicken, making sure it's submerged and some of the liquid is ladled over it.

Place the lid on the Instant Pot, making sure the steam release valve is sealed. Press the "Poultry" setting, then increase the time using the "+" button until you reach 20 minutes.

When the Instant Pot is done and beeps, press "Keep Warm/Cancel." Using an oven mitt, "quick release"/open the steam release valve. When the steam venting stops and the silver dial drops, carefully open the lid.

Serve immediately, topped with fresh cilantro.
Notes
This meal is delicious served alongside simple roasted vegetables.
Calories:
742
kcal
|
Carbohydrates:
17
g
|
Protein:
39
g
|
Fat:
57
g
|
Saturated Fat:
20
g
|
Cholesterol:
214
mg
|
Sodium:
2068
mg
|
Potassium:
1023
mg
|
Fiber:
2
g
|
Sugar:
9
g
|
Vitamin A:
695
IU
|
Vitamin C:
24.2
mg
|
Calcium:
67
mg
|
Iron:
3.4
mg