Upcycle an old t-shirt into a DIY trick or treat bag in a matter of minutes and then let the kids help decorate it with homemade craft foam stamps.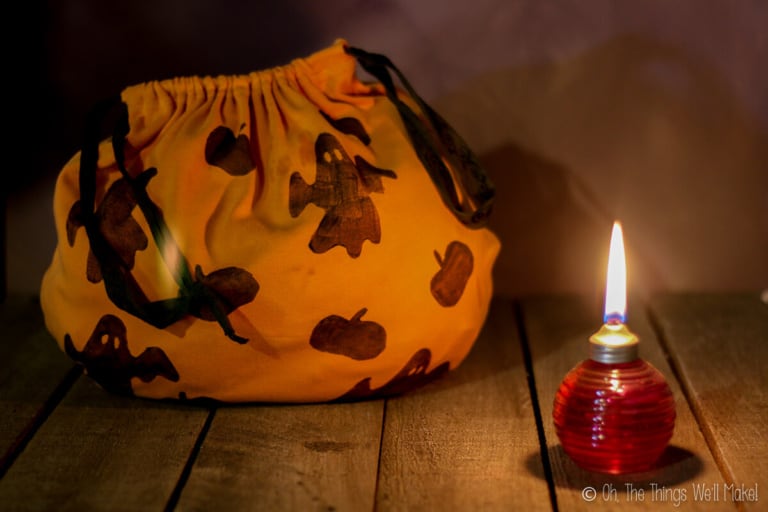 Halloween, here in Spain, wasn't really a holiday, until recently. The real holiday was/is November 1, All Saints Day.
Each year, though, the stores bring in more Halloween merchandise and more Halloween themed events are planned all over town. You can buy everything from jack-o'-lantern type pumpkins ?to candy decorated for Halloween. Our town now hosts a yearly "Tunnel of Terror," and many bars have also begun to hold Halloween parties complete with costume contests.
On the other hand, trick or treating hasn't really caught on yet. A few neighborhoods plan together to allow the kids in their neighborhood to trick or treat at a few houses and enjoy the experience, but most kids don't get that chance.
Luckily for me, my mother-in-law just happens to live in one of those special neighborhoods.
When my son was only a month old, he had his first opportunity to go trick-or-treating. Of course, he was way too young to know what was going on. The neighbors, on the other hand, enjoyed having us parade him around to show off how cute he was in his lion costume.
Any candy he received was promptly given away to the other kids. I appreciated him having the opportunity to experience something that I had always loved growing up; even if he didn't really understand it yet.
In the following years, we missed the trick-or-treating experience. The kids in the neighborhood were growing up, so they didn't start the activities until around 10 PM. (Things always seem to begin late here.) By that time, we had already gone home so that my young son could go to bed.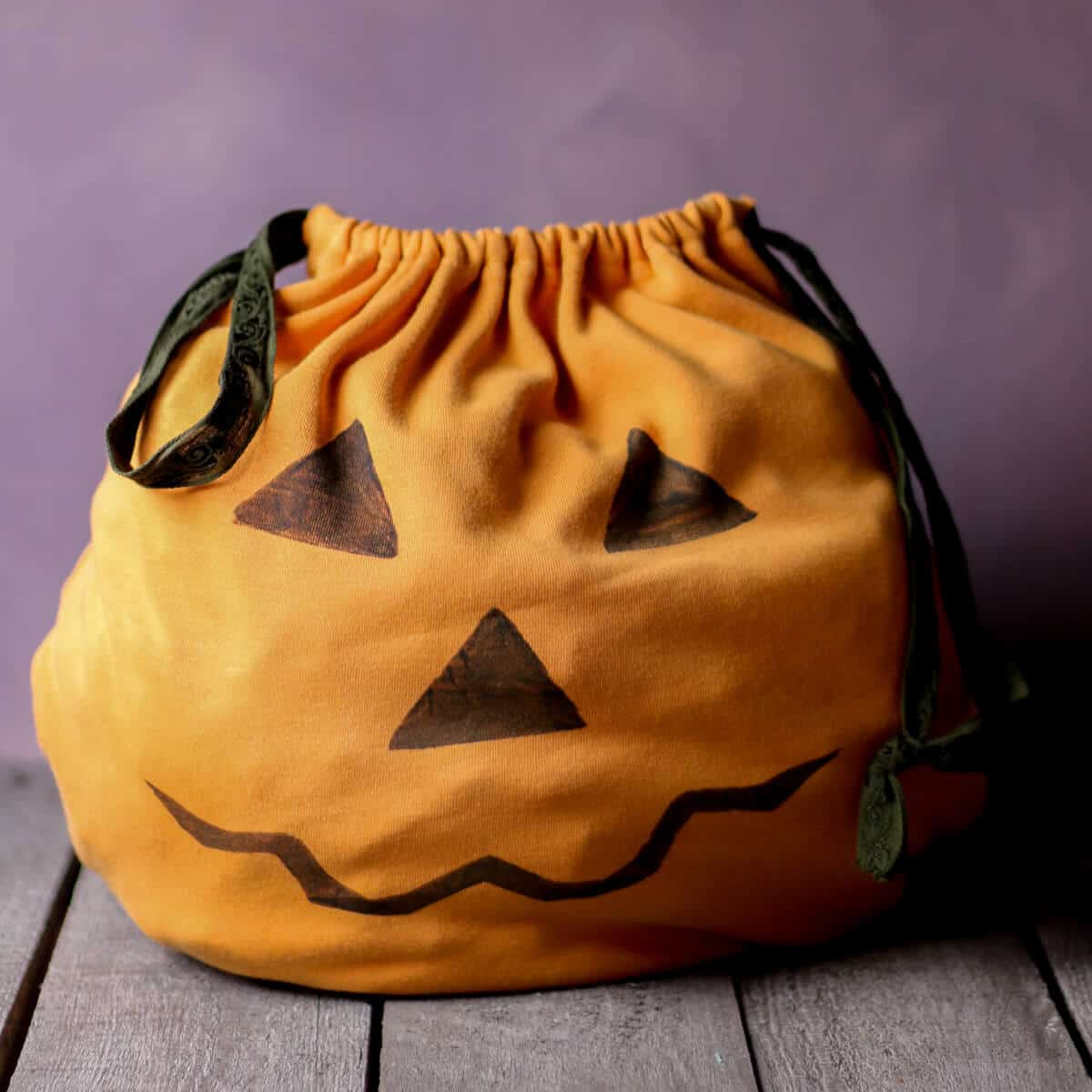 Because trick-or-treating isn't really "a thing," neither are trick-or-treat bags.
We could just use a pillowcase or any old bag, but that wouldn't be as much fun!
Upcycling an old t-shirt
If you've been following my blog for a while, you know that I love to upcycle things whenever I can. It allows us to reduce waste and save a little money.
Making bags from t-shirts isn't new to me either. Check out how I made all sorts of different shopping bags from t-shirts.
How to Make Shopping Bags from t-shirts
There are lots of ways to make a t-shirt into a bag or backpack. I'll show you eight great ways to do it, and you don't even need to know how to sew for some!
Check out this recipe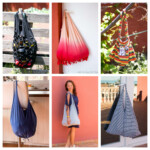 You'll need:
T-shirt
Scissors
Ribbon or Cord
Safety Pin
Choosing the t-shirt
For this project, I had the idea of making a jack-o'-lantern face on one side of the bag, so I was ideally looking for an orange t-shirt.
I raided our old clothes bin and was lucky to find a stained, old orange t-shirt with a hole on one sleeve. By using one of my son's own t-shirts, it made a bag around the perfect size for him.
Making the bag
For the main structure of the bag, we'll be making use of the hem enclosure that is normally found on the bottom of t-shirts as a sort of drawstring enclosure. This will allow us to quickly make a bag with only one seam.
To begin making your bag, cut off the neck and sleeves of your t-shirt. You can save and use the sleeves to make small drawstring pouches if you like. This cut will become the bottom of your bag. I kept mine rounded to make it more pumpkin-like.
How to Make a Drawstring Pouch from a Sleeve
Easily make a drawstring bag in less than 10 minutes by upcycling old t-shirts and taking advantage of the hem. You can also make a pouch from the sleeves.
Check out this recipe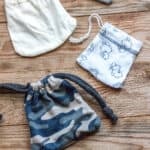 Unfold your shirt and turn it inside out before sewing across your cut. Turn the shirt right side out again. You are almost done!
Cut small slits through the top layer (only) of the hem in your t-shirt. Make four small slits, one on either side of the side seams of your shirt.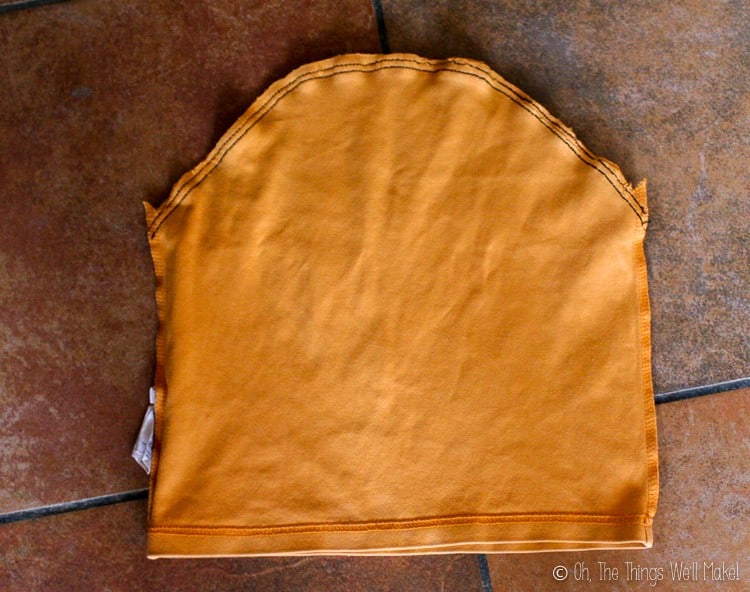 Find some cording or ribbon that you want to use for your handles. I wanted my trick or treat bag to slightly resemble a pumpkin, so I chose a dark green thick ribbon.
Pin a safety pin to one end of the ribbon and pull the ribbon through the front hem of the t-shirt, going from one side to the other. Then go through the back hem of the shirt back to the side you started on.
Before you cut your ribbon, pull enough of it out on either side of the bag to make a sort of handle. Keep in mind that it looks better slightly gathered when you are deciding how much cording or ribbon to leave.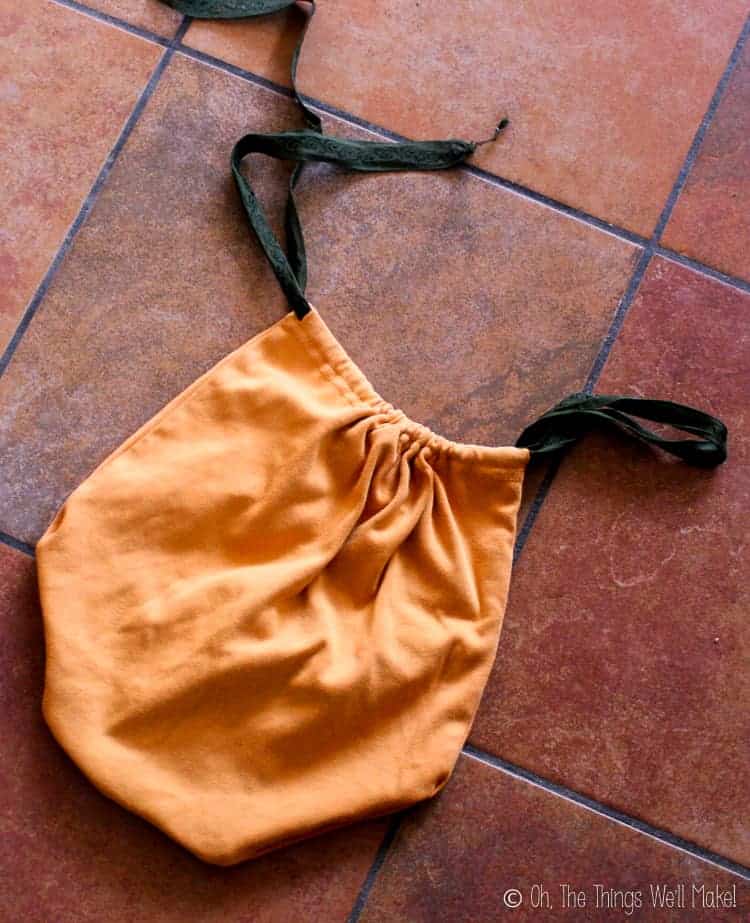 Cut the ends and tie the ribbon on one side. If you don't like seeing the knot, you can always pull it into the hem of the shirt to hide it.
Your bag is done!
Make Fabric Stamps from Craft Foam
To allow my young son to participate in making his trick-or-treat bag, I decided to use a stamping technique. He did love stamping on the balloons on our Up t-shirt!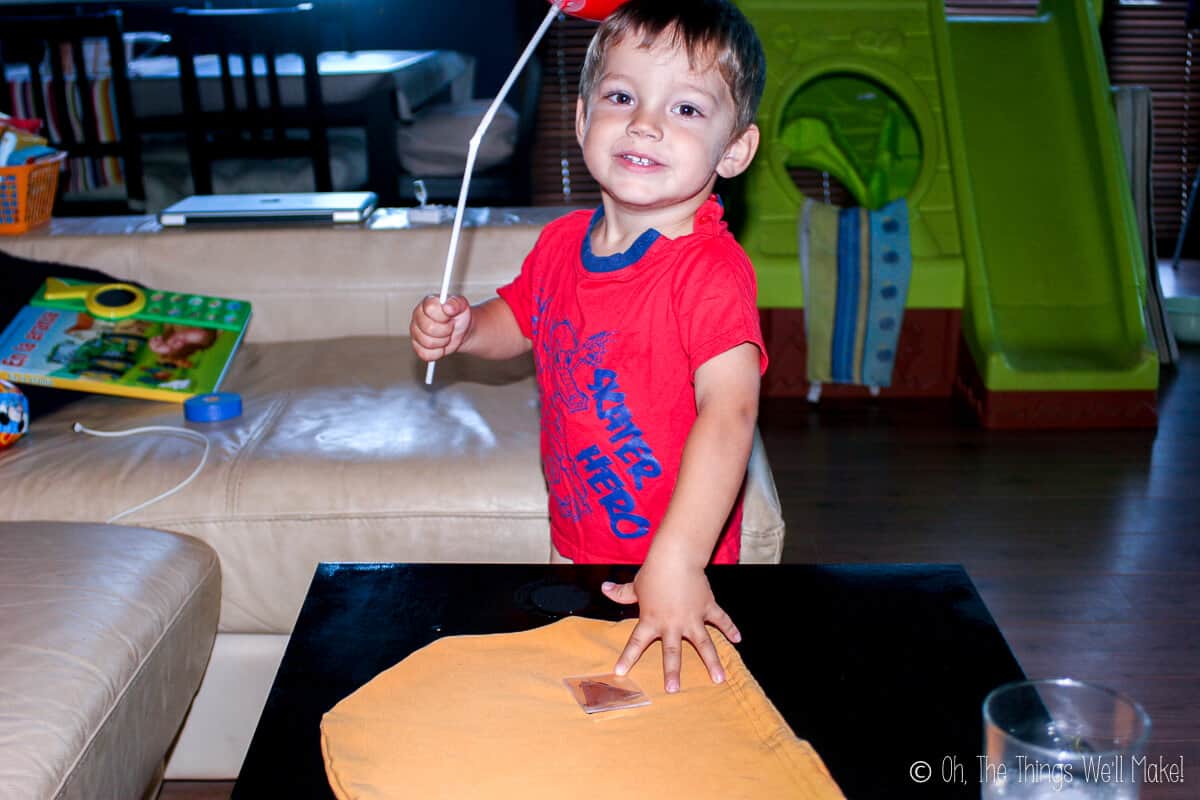 So, I started making some craft foam stamps for decorating our bag.
Because the bag looks like a pumpkin, I decided to make it look like a jack-o'-lantern on one side. We stamped the other side with ghosts and pumpkin shapes.
You'll need:
Scissors
Clear plastic or wood blocks for mounting the stamps
Glue
Instructions:
To make the craft foam stamps, decide on a design for each shape and draw it on the craft foam. Cut each shape out with scissors.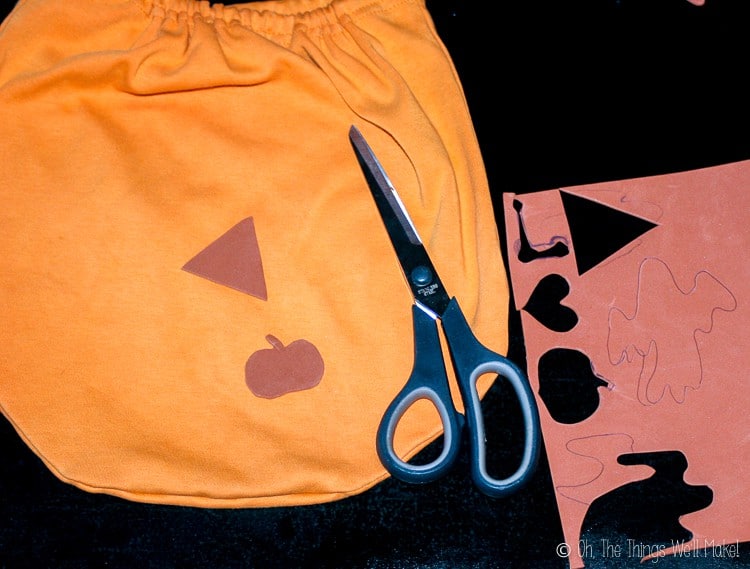 We made 4 different stamps: a ghost, a pumpkin, a triangle for the eyes and nose of our jac-o'-lantern, and a wide "w" shape for the mouth.
Look at the pictures to see how we stamped the mouth of the jack-o'-lantern. We just repeated the same w-shaped stamp 3 times across the bottom.
Once you have your shapes cut out, glue them onto a hard surface like a wooden block or a hard plastic. I like using transparent plastic from old cd cases because it allows you to see where you are stamping when using them.
To use your stamps, dab some paint onto your stamp and carefully stamp it on your bag. It's a good idea to place a piece of cardboard inside your bag to keep the paint from passing through to the other side.
Once you're happy with the design, allow the paint to dry. Set it (usually with an iron) according to the directions that came with your particular fabric paint.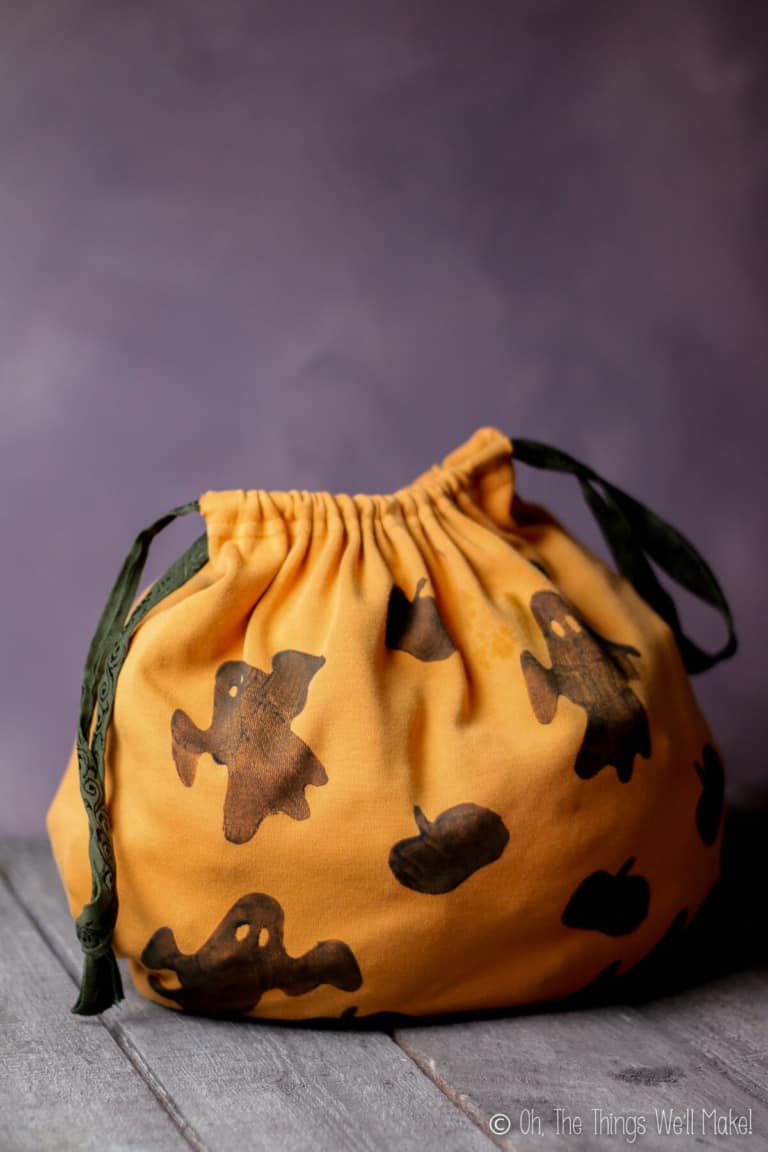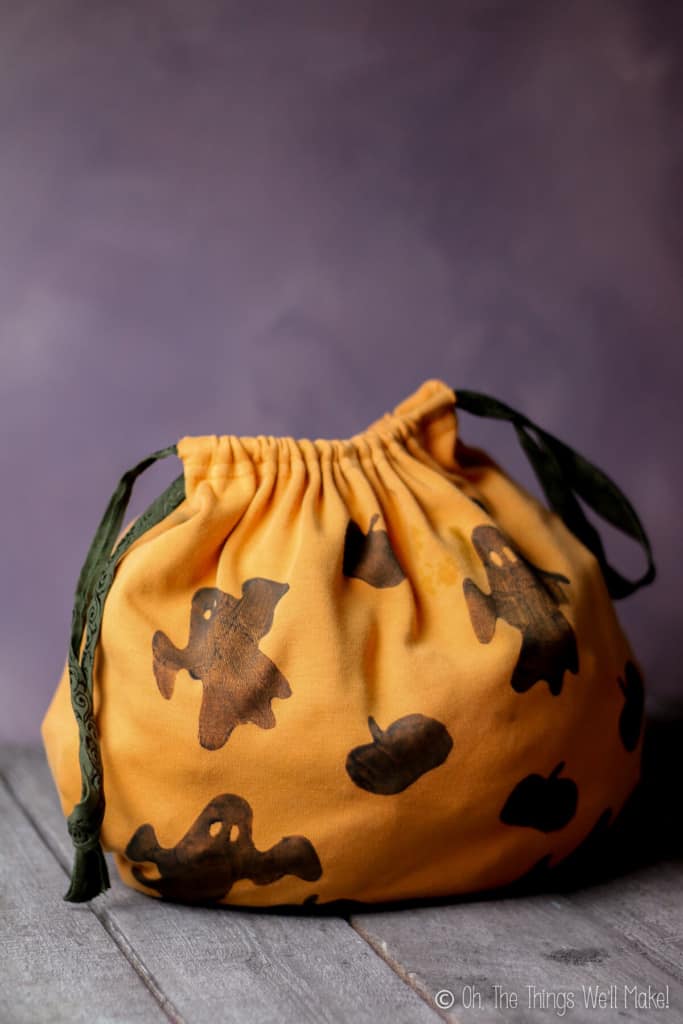 Enjoy trick-or-treating with your new super-cute bag!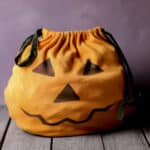 DIY Trick-or-Treat Bag
Quick and easy to make, this fun homemade trick-or-treat bag allows us to upcycle an old t-shirt. Kids can help decorate this project using homemade fabric stamps.
Print Tutorial
You'll Need:
For the bag
1

t-shirt

1

yard

ribbon

or cording
For the fabric stamps
1

piece

craft foam

3

pieces

hard, clear plastic

or wood pieces

glue
For decorating the bag
Instructions
Make the bag
Fold the t-shirt in half lengthwise.

Cut off the sleeves and neckline, forming a curve from the armpit area to the center of the neck.

Unfold the shirt. It should be rounded where the sleeves and neckline were removed.

Flip the shirt inside out and sew across the cut curved area.

Flip the shirt right side out again, and make 4 slits in the hem enclosure (only through the top layer of fabric). Make one on either side of the seams on each side of the shirt. (If your shirt didn't have seams, make 2 slits about an inch apart on either side of the hem.)

Pin a safety pin to one end of a ribbon or cord. Use the safety pin to help guide the ribbon through the hem enclosure of the t-shirt.

You want to go in on one side on the front of the shirt, through the hem and out on the opposite side. Then, go back through the nearby hole on the back of the shirt, through the hem on the back, and come out on the opposite side.

Leaving enough ribbon or cording to easily open the bag and cut off any excess. Tie the cut ends together.
Make the Fabric Stamps
Decide what you want to stamp on your bag. Draw out the shapes on craft foam and cut them out.

Glue the craft foam shapes onto a clear, hard plastic. (I've used broken cd cases and other plastic scraps.)
Decorate the bag
Dab some fabric paint onto your homemade fabric stamp and stamp onto the fabric.

To make the jack-o'-lantern mouth, stamp a W-shaped stamp 3 times, overlapping the edges. (See how it's a bit darker where it overlapped in the picture.)

We used a triangle for the eyes.
Notes
The fabric stamps can be glued onto any hard surface, but clear plastic makes it easier to see where you are stamping. (Plastic from old CD cases makes a great backing material.)
When stamping on the fabric, it's a good idea to insert a piece of cardboard in the bag to keep the paint from seeping through to the other side.
To set the paint, follow the directions for your particular paint. Normally, though, you should cover the dry paint with parchment paper and iron the design for around a minute.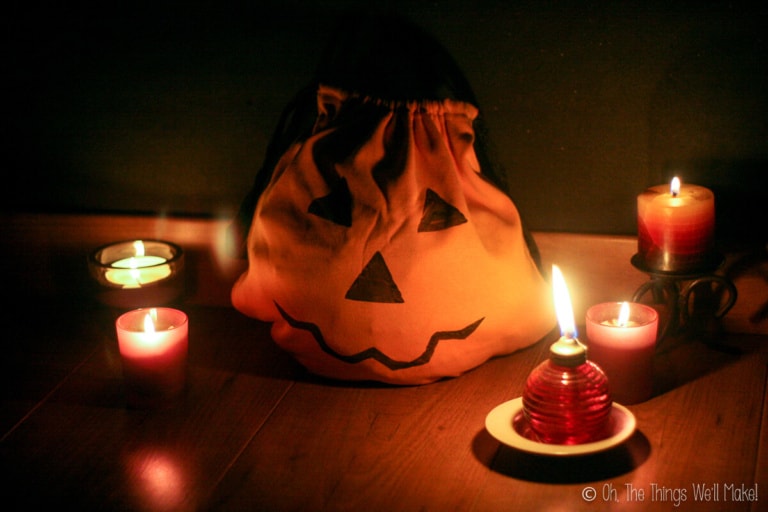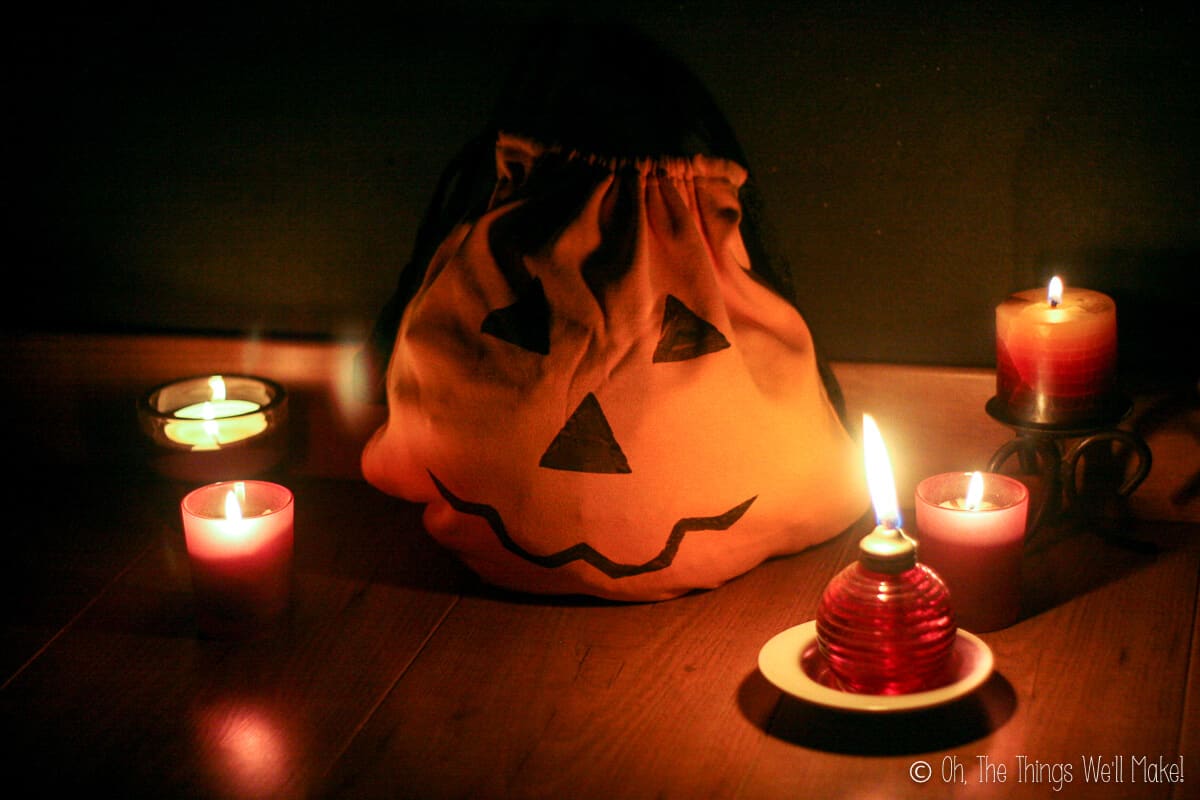 *This post was originally published on October 28, 2013. It was updated in October of 2019 with clearer instructions and printable instruction card.