Learn how to make coconut chips, or shredded coconut flakes, from fresh coconuts. It's easy!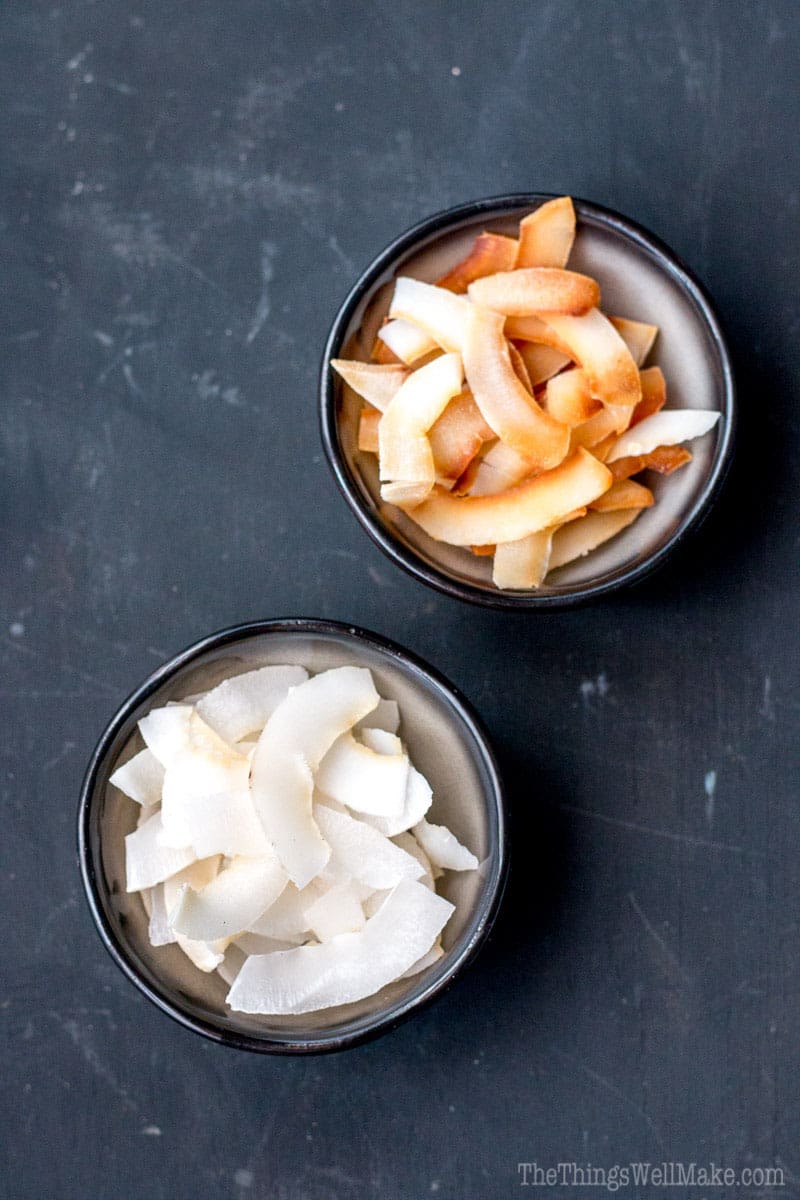 As I told you the other day, I've been on a bit of a coconut kick lately and have been buying a lot of fresh coconuts. Not only do I love drinking the fresh coconut water, but I can use the meat for making coconut milk, coconut flour, and coconut butter, and my new favorite, coconut chips. Not only have I made all sorts of recipes with the coconut meat, but I've even been making crafts with the coconut shell. In fact, I got so busy with all of it that I almost forgot to get to the blog to tell you all about it!
So, be warned, this is the second in a series of many posts about what to do with fresh coconuts. The first was a post about how to choose a fresh coconut and how to open it. I figured that was an important place to start if you start to buy fresh coconuts for these sorts of recipes. Choosing a bad coconut takes all of the fun out of the projects, and will make you quickly give up. Choosing a fresh coconut, though, isn't difficult and makes all of the difference!
Coconut chips on their own are a fun topping for smoothies and smoothie bowls, but I have to admit that I find them a bit boring plain.
So why would you want to go through the hassle of making coconut chips?
When seasoned, they are incredibly tasty!
Many of you have probably heard about coconut bacon. I've made it many times by now, and while I really enjoy munching on a handful of coconut bacon, or sprinkling it on my salads, it isn't my favorite way to season coconut flakes. For those of you who don't know how to make coconut bacon, though, I'll show you in the next few days. You really do need to try it!
I've been making all sorts of sweet, tangy, and salty coconut chip types that are crispy and one of the healthiest ways you can satisfy your cravings for chips.
While you can use store bought coconut flakes for making coconut chips, I've found that the ones I make at home are a bit thicker and make for more crispy coconut chips. The store bought variety are still tasty, but I don't get the same satisfaction that I get from biting into the crunchy homemade ones.
You can make regular coconut flakes or toasted coconut flakes by adjusting the temperature of your oven when dehydrating your coconut. I personally like the white flakes better, but I do have to admit that the toasted ones are great to use for making coconut bacon.
So, have I convinced you to give it a try?
Video
Craving more?
Subscribe to my newsletter for the latest recipes and tutorials!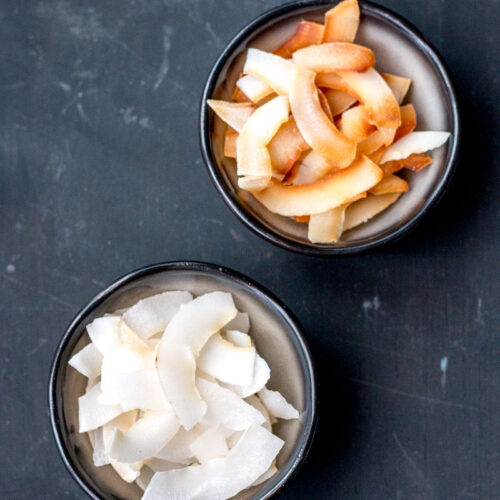 How to make coconut chips or flakes and toasted coconut chips
Learn how to make coconut chips, or shredded coconut flakes, from fresh coconuts. It's easy!
Makes about 2 cups
Print
Rate
Ingredients
1

fresh coconut

(See the link for how to choose a good coconut)
Instructions
Open the coconut and pry out the coconut meat. (You can find detailed instructions for choosing a good coconut and how to open the coconut

here

.)

Using a vegetable peeler, peel off the brown skin from the coconut pieces. (I usually dry out the skin and either munch on it separately or grind it into a powder which is great as an exfoliant for your skin.)

Rinse off and dry the white coconut pieces.

Using your vegetable peeler again, peel off strips of coconut until you have finished making coconut chips with the entire coconut.

Using either your oven or a dehydrator, dry the coconut chips until they are completely dried out. You can tell by trying to break them. If they are still somewhat flexible and hard to break, you should dry them out a little longer. They should easily snap in half. If you are using your oven, use the lowest heat and the convection setting if you have one.

If you want toasted coconut flakes, you can continue to heat the coconut in either the dehydrator or the oven and they will start to slowly become toasted. They will first start to turn a golden yellow, followed by a darker brown color. You can quicken the process by turning up the heat a little, but be very careful! Toasted coconut flakes burn very quickly and easily. Once burnt, they don't taste very good.

Store your dried coconut chips in an airtight container. They are now ready for eating as is or seasoning however you choose.
Serving:
0.25
cups
|
Calories:
175
kcal
|
Carbohydrates:
7
g
|
Protein:
1
g
|
Fat:
16
g
|
Saturated Fat:
14
g
|
Sodium:
9
mg
|
Potassium:
176
mg
|
Fiber:
4
g
|
Sugar:
3
g
|
Vitamin C:
2.1
mg
|
Calcium:
6
mg
|
Iron:
1.2
mg
I got a bowl of coconut chips from my coconut. (Although I do have to admit that I was eating coconut as I went, so you could probably get more from your coconut than I did if you don't eat it all during the process.) 😉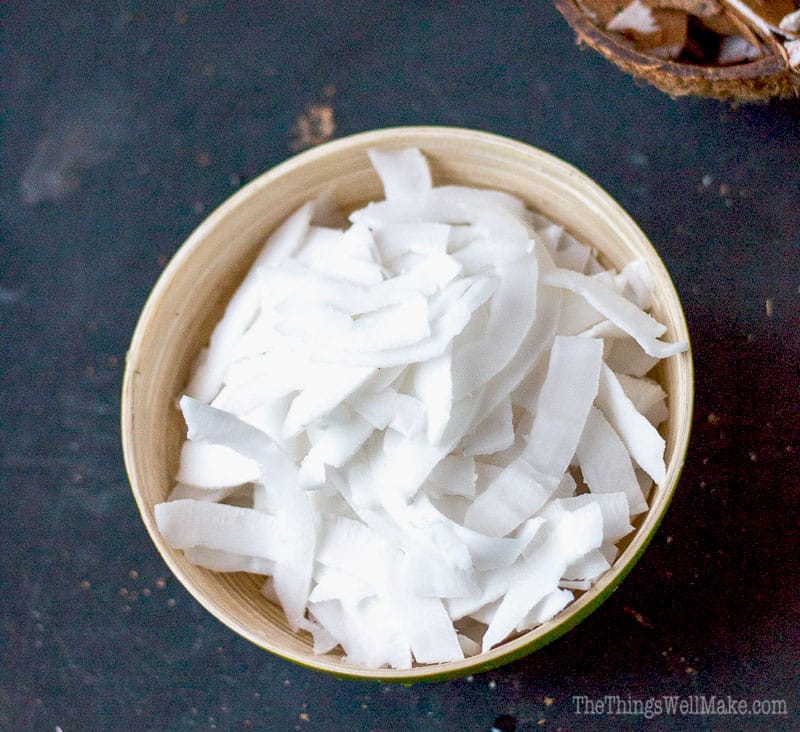 Over the next couple of weeks, I'll be sharing with you some of my ideas for making seasoned coconut chips. I've made everything from raspberry to matcha-lime coconut chips to coconut bacon, and they're all super yummy!!