Make your little (or big) superhero happy with this homemade captain america costume that can be made from recycled t-shirts.
Lately, my son has been obsessed with superheroes. He may switch favorites from day to day, but whether it be Hulk, Batman, Iron Man, or Captain America, one is sure to be the focus of his attention of the day.
So, when it came time to dress him up for Carnaval at his school this year, I wasn't surprised that he wanted to dress up like Captain America.
Of course, finding costumes for Spider-Man and Superman is "super" easy, but finding something for Captain America is a bit more tricky. I did manage to find a few things I could use, but since I hated them, I ended up going the DIY route.
I must admit that I spent a lot of time making the costume, but most of the time that went into it was time wasted on making things the wrong way and starting over. I even tried making a helmet out of cardboard, another out of craft foam, and another by repurposing a bought helmet from the dollar store. Then I realized that my son wasn't going to wear a helmet anyway. Once I had my final idea for the "helmet," it took me less than half an hour to make it.
So, hopefully my method will help you whip out a costume you like pretty quickly and somewhat effortlessly.
Today I'll start with part one, the Captain America outfit and helmet.
(Next time I'll show you how to make the Captain America shield and superhero boots.)
Every time I've done superhero costumes for my son, like the Batman costume a couple of years ago, I've always chosen to go the vintage route. Not only were the original costumes more colorful and fun for kids, but I think they just are so much cuter on them.
So, for the captain America costume, I chose to make the iconic royal blue top with a white star and red and white stripes on the bottom.
I chose to make it short sleeved and put it over a white, long-sleeved shirt, which proved to be a good idea because my son has wanted to play in it year round. In the summer he just wears the short sleeved t-shirt with some navy shorts. He insists on wearing the boots all year!
Let's start with the shirt:
You will need:
1 royal blue t-shirt (in the size of the person who will wear the costume.)
Scraps of white and red t-shirt fabric (if you cut the from the bottom of old t-shirts, you can save yourself the hassle of hemming the shirt later on.)
A piece of fusible web for the star
Instructions:
 Cut the bottom part of the blue t-shirt at a point below the chest level.
First, you want to determine the size of the star you want to use. I found a clipart star on the internet and printed it to a size that I thought looked good for my son's shirt size.
When you make your cut, you want to leave enough blue fabric to comfortably fit the white star and to have fabric for the seam allowance with the bottom striped section.
To make sure your cut is symmetrical, you can fold the shirt in half before making your cut.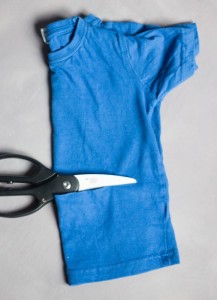 This post is also available in Español.