Cool and refreshing, this strawberry melon gazpacho is a fun new way to enjoy this Spanish classic soup without using any tomatoes.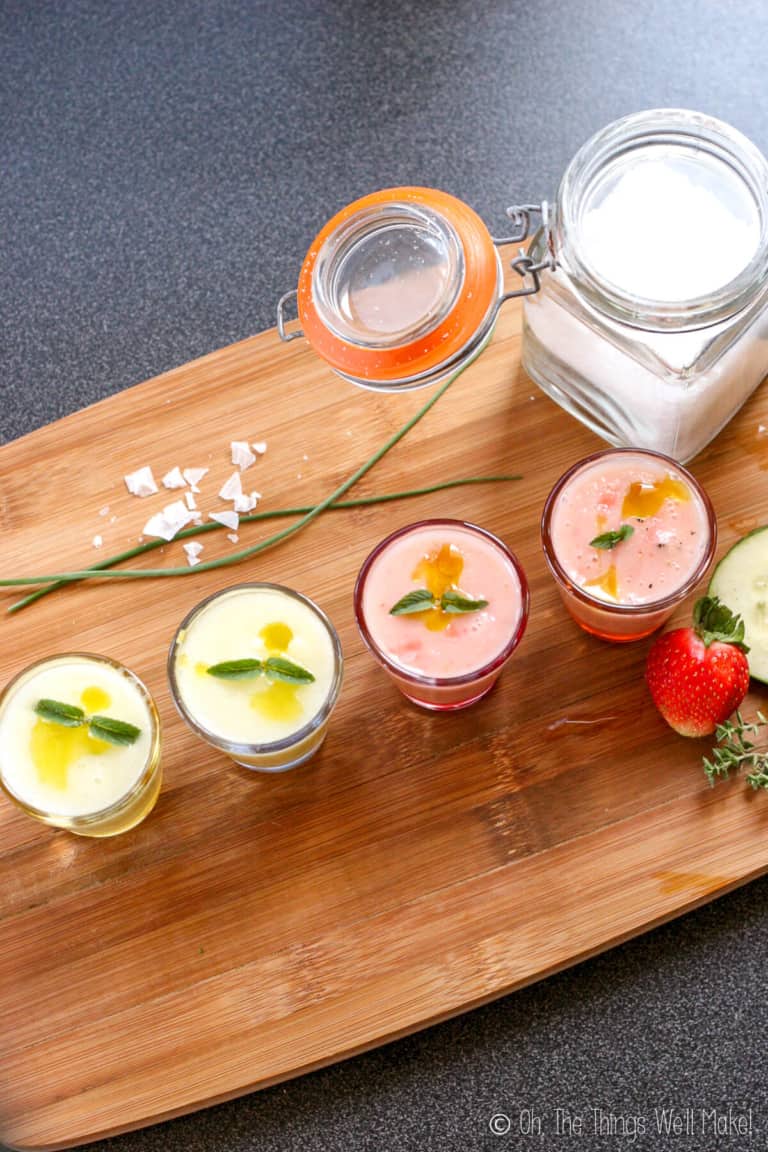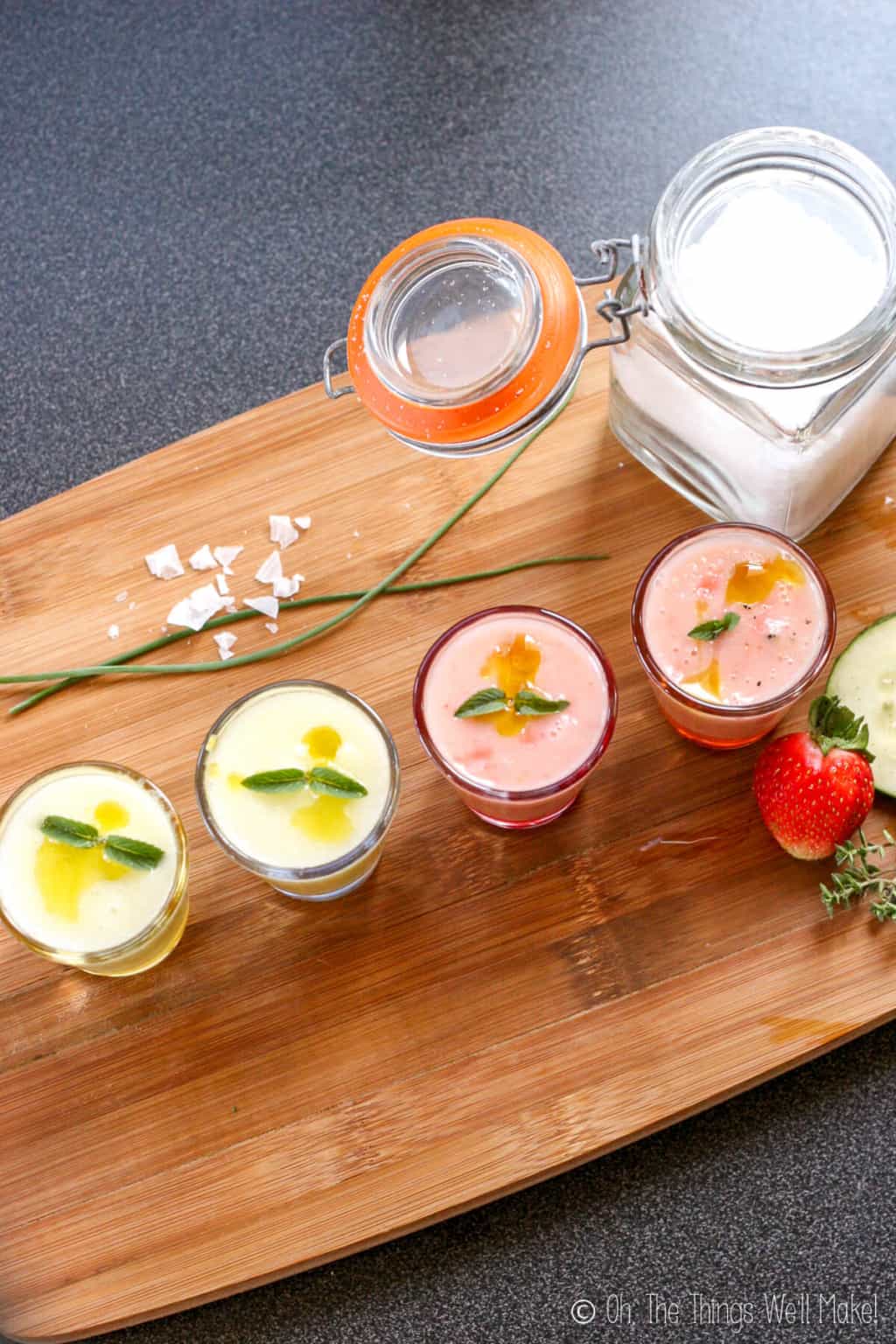 I hate tomatoes!
There. I did it. I admitted it.
Growing up, I seemed to be a picky eater. It wasn't necessarily because I was that picky, though, but more because there are a few foods that I don't like that just happen to show up everywhere.
Eggs and tomatoes are two of those foods.
So, yeah, despite having hens, I don't really like eggs that much either. I have learned to enjoy a good frittata or omelette, but I still can't stomach a fried or poached egg, and just the thought of me eating a small piece of hard boiled egg provokes unbearable nausea. Seriously!
Living in Spain, though, the epitome of a cool, refreshing soup to help cool you off in summer is gazpacho. I love the idea of gazpacho, but just can't enjoy it because it is mainly comprised of tomatoes.
I was on a mission to make my own, non-tomato gazpacho, and decided that cucumbers would be my base.
Green melons are very common here, and they are often served as an appetizer with jamón serrano, the Spanish equivalent of proscuitto. When melons aren't very sweet, people here, with disdain, say they taste like cucumbers. I just happen to love cucumbers, though. I figured if they were similar enough to be compared with each other, that they would be complementary enough to serve together.
So, I started off making a sort of melon soup with peeled cucumbers, and diced melon. Although that first version of a sort of melon gazpacho was good, it was a bit too sweet for me. After all, I am coming off of a diet that allowed no sugar or sweeteners or fruit, even. Plus, to make it a "real gazpacho," I figured it needed some good quality extra virgin olive oil, and a dash of salt!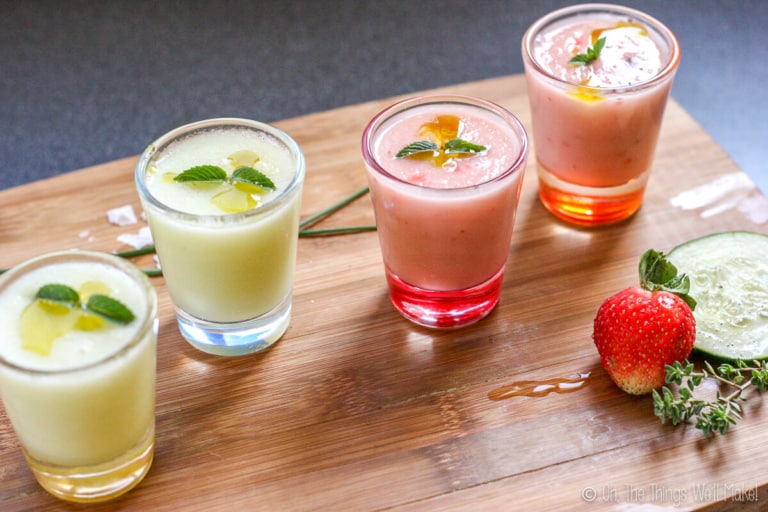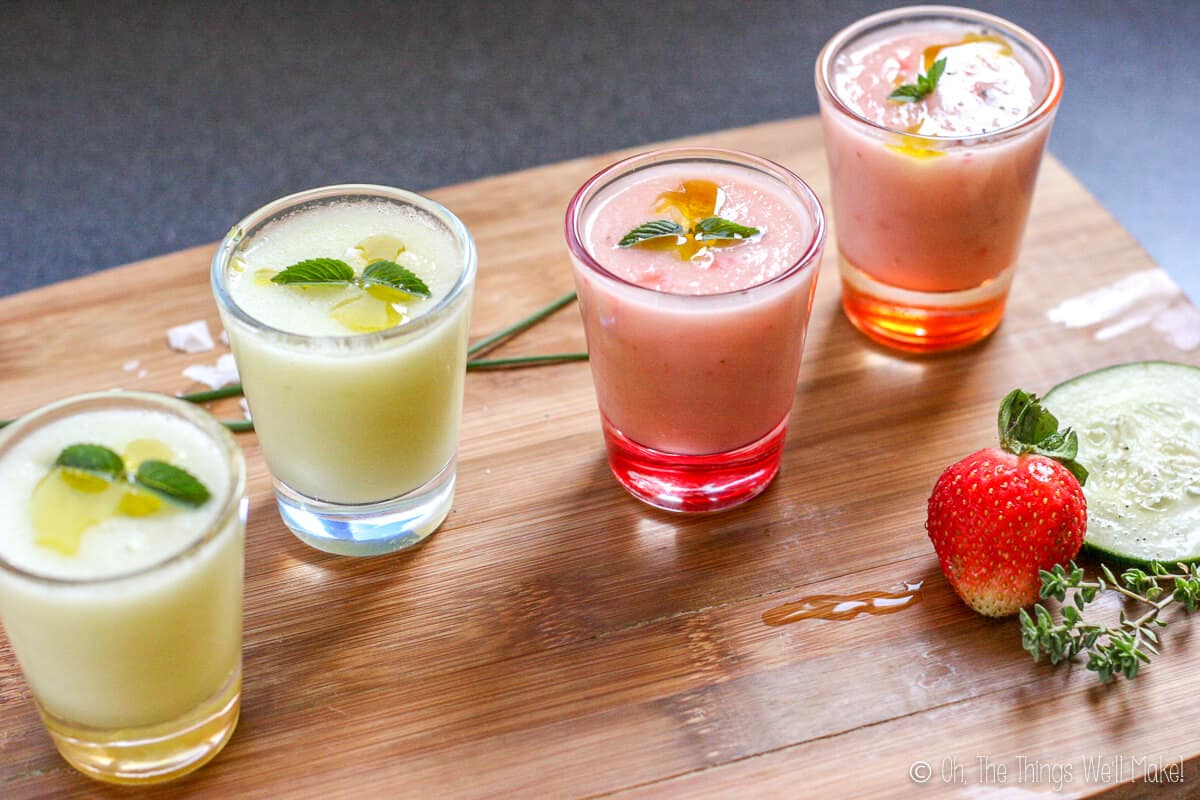 The nice thing about a recipe like this one, is that you can play with it; changing it up to suit your taste!
So, I took my overly sweet soup, and added a little more cucumber, and a dash of olive oil. I also added a bit of Himalayan salt, for good measure. Before doing that, though, I saved some, as is, just in case. I wasn't quite sure about how olive oil would work in a soup with fruit in it, until I tried it, that is.
After trying it, I decided I liked it better that way. So, I took my melon gazpacho, added a little more olive oil and a little more salt. I then separated it (again) so that I could do another experiment; I added a few strawberries to half of the mixture.
The result?
The Strawberry Melon Gazpacho was my favorite!
I really loved it, and quickly finished all of it!
So, now that I have found a new favorite, I may have to try mixing it up, and perhaps adding some veggies into the mix.
For now, though, here is the recipe thus far…
Craving more?
Subscribe to my newsletter for the latest recipes and tutorials!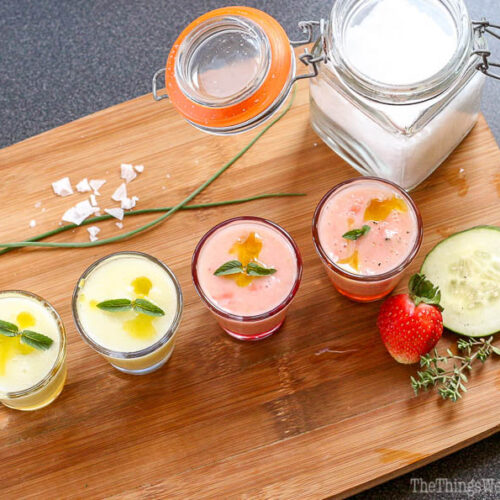 Instructions
Peel and dice the cucumber(s) and melon.

Blend in a blender or a food processor.

Add the extra virgin olive oil and salt, to taste. (I started with a small dash, and added more later.)

If you want to make the strawberry melon gazpacho, add in the previously washed and diced strawberries, and blend with the other ingredients until smooth.

Serve chilled with a dash of olive oil and some salt sprinkled on top.
If I had had some jamón serrano at home, I would have baked a slice or two until crispy, and served it as a garnish.