Creamy, stable, and easy to spread, this swiss buttercream frosting is by far my favorite frosting. I've tried many buttercreams and ganaches, but this one almost always ends up on at least part of every cake I bake.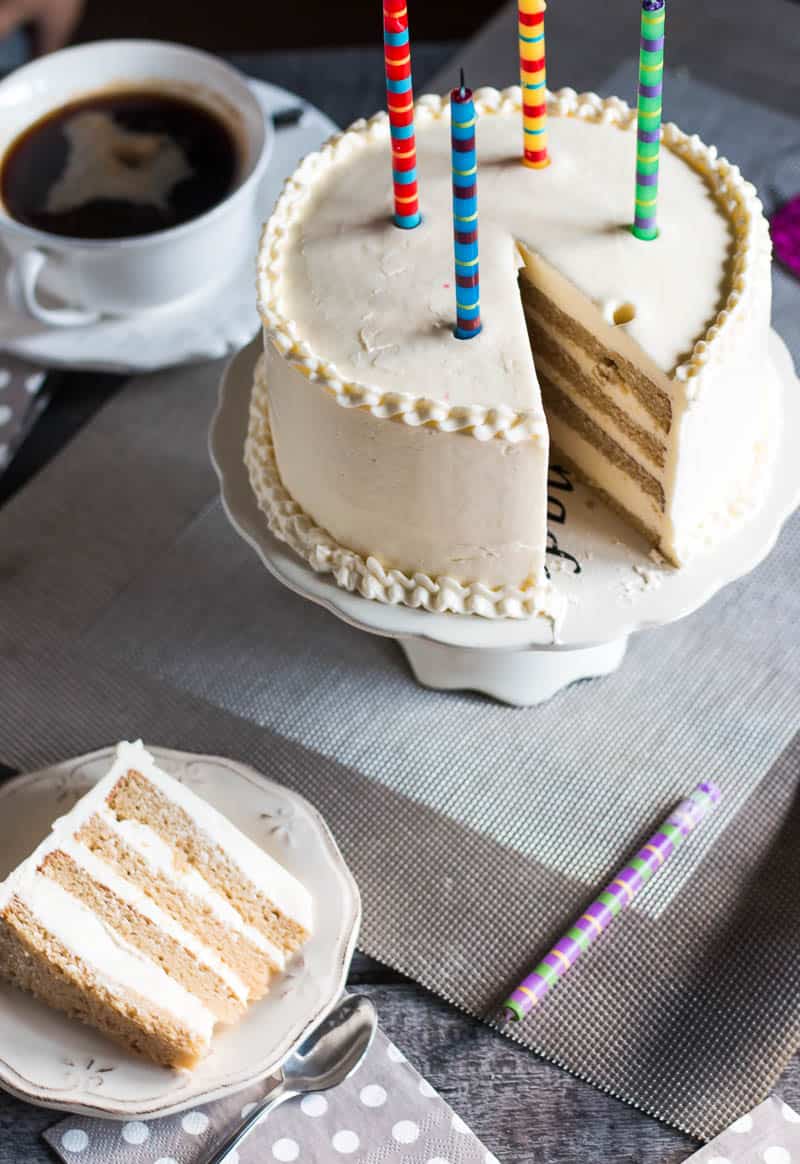 I've been baking cakes ever since I can remember. Just the other day, when looking through old photos, I even found a picture of a cake that I had proudly baked (ate age 10) when my baby sister was born.
Sure, it is likely that those first few cakes were baked with a mix, and I'm not just referring to the first few made with my Easy Bake Oven. I wanted to try to make cakes and frosting from scratch, but I didn't really know how.
When I moved to Spain, though, things changed. Even though I hadn't completely embraced a real food lifestyle yet, I couldn't just go to the local supermarket and buy a box of cake mix and a tub of frosting. If I wanted to make a cake, I was going to have to do it from scratch. When I first started making cakes from scratch I found a lot of decent cake recipes, but I found it difficult to find a good, easy frosting to make from scratch.
Frosting from a can pretty much grosses me out. To be honest, they always did, but I didn't know any better. My first attempts at buttercream were less than impressive and I had to keep trying and trying for a frosting recipe that was easy to make, easy to manipulate and that tasted great. I was motivated to try new ideas for making a decent frosting, and I even made one cake that was layered with different ganaches and buttercreams between each of the layers of the cake just so I could try out several recipes.
The most common buttercream recipes floating around pretty much use just a combination of butter and powdered sugar to make a frosting of sorts. The problem is that depending on the temperature, you can either end up with a solid block of frosting, or a runny mess. Without the addition of something like a chocolate bar, those buttercreams don't hold up very well to heat. The other problem with them is that they are very rich and very sweet. When you compare them to a Swiss buttercream recipe, the standard buttercream has a higher percentage of sugar and butter. That's why I find them too sweet and too rich. For me, the egg white merengue in the Swiss buttercream balances out the flavor of the frosting and also gives it a super smooth and silky texture.
You can probably guess by now that my preferred frosting is a Swiss buttercream. Swiss buttercream frosting is made with a swiss meringue, which is what helps make it stable. The whipped egg whites are heated with the sugar and then worked into a merengue before adding in the butter. Those added egg whites make for a lighter, tastier frosting; at least I think so. Those with a sweet tooth, of course, probably prefer other types of buttercream.
The swiss buttercream frosting does take a little longer to make than some of the others, but if you have a stand mixer, it is still pretty effortless and simple to make. In fact, I think it is probably one of the easiest frostings to make for beginners. The results really are worth it. I can't imagine ever going back!
So Let's Make some Swiss Buttercream Frosting!
Craving more?
Subscribe to my newsletter for the latest recipes and tutorials!
Swiss Buttercream Frosting
Creamy, stable, and easy to spread, this swiss buttercream frosting is, by far, my favorite frosting. Yield: enough to frost (generously) a 9-inch cake or two dozen cupcakes.
Print
Rate
Ingredients
5

egg whites

1 1/4

cups

sugar

(Yes, you can even use coconut sugar.)

2

cups

butter

softened (room temperature)

1

tsp.

vanilla extract
Instructions
Mix together the sugar and the egg whites in a double boiler over medium heat, stirring often and checking to see if the sugar has dissolved into the egg whites.

When the sugar has dissolved (After 5 minutes or so), pour the mixture into a large bowl. If you have a stand mixer, pour the mixture into the bowl of your mixer.

Beat the mixture with an electric beater until the mixture cools and stiff peaks form. This will take awhile (10-15 minutes), so if you have a stand mixer the process will be much easier and less frustrating.

Add in the vanilla and butter, little by little. Keep beating, even if the mixture looks like it starts to come apart. It may even look curdled, but keep adding in butter and beating until it all comes back together again.
Notes
I like to use the frosting immediately, but if you make it a day or two ahead, cover it and keep it in the fridge. Leave yourself enough time to let it come to room temperature before using it. You will also likely need to beat the mixture again to get it back to a nice, whipped consistency for frosting your cake.
Calories:
179
kcal
|
Carbohydrates:
10
g
|
Fat:
15
g
|
Saturated Fat:
9
g
|
Cholesterol:
40
mg
|
Sodium:
145
mg
|
Potassium:
14
mg
|
Sugar:
10
g
|
Vitamin A:
475
IU
|
Calcium:
5
mg
Another thing that makes this recipe great is that it is very versatile. If you want to make a chocolate frosting, you can add in some cocoa powder to taste!
As for the sugar, feel free to use whatever type of sugar you prefer, be it an unrefined cane sugar or even coconut sugar.
Happy baking!