Creamy, stable, and easy to spread, this swiss buttercream frosting is by far my favorite frosting. I've tried many buttercreams and ganaches, but this one almost always ends up on at least part of every cake I bake.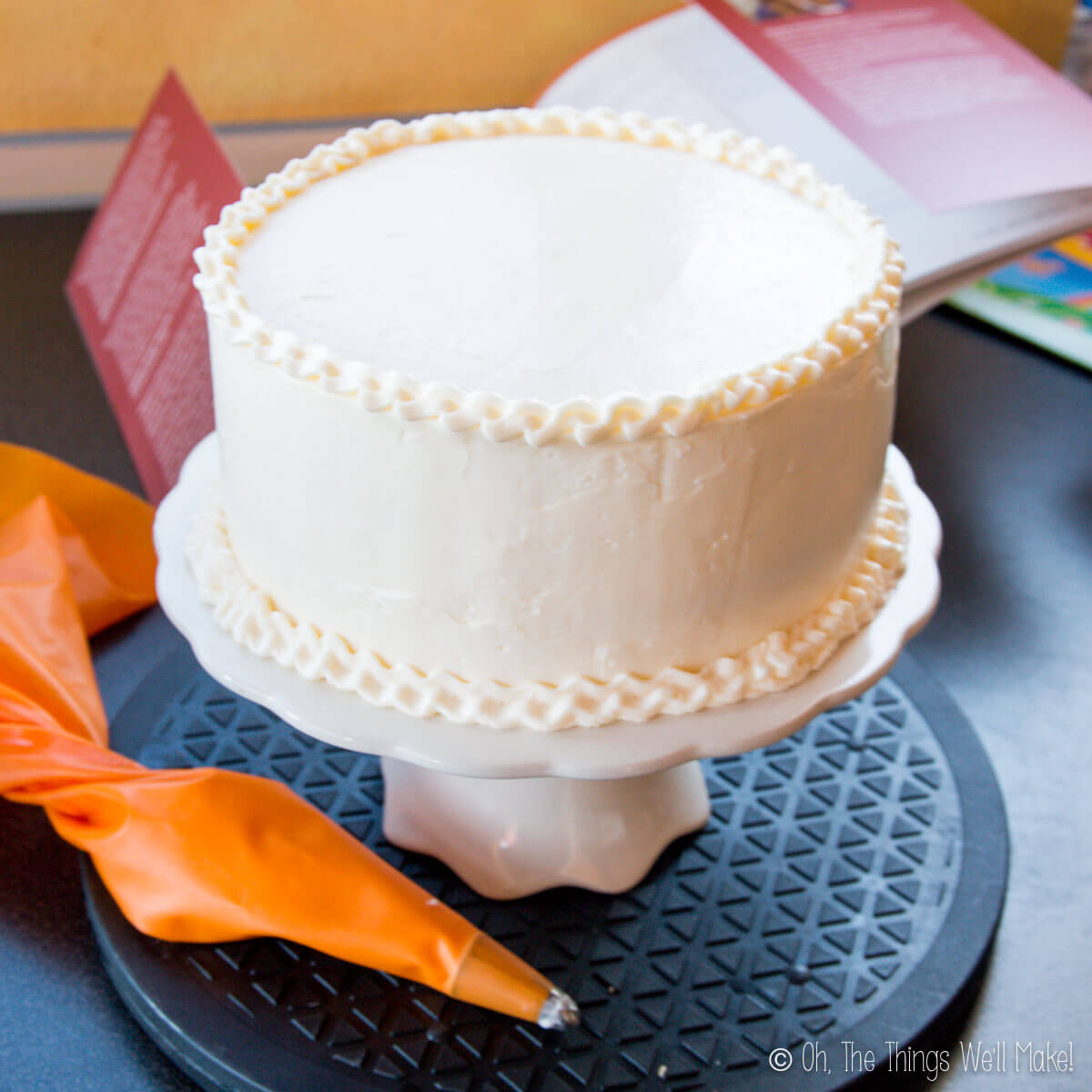 Over the years, I've baked many cakes. While difficult to admit, many of them were made with box mixes and packaged frosting.
When I moved to Spain, things changed. Here, people don't make cakes in the same way. You can't just go to the supermarket and buy a box of cake mix and a tub of frosting. I needed to start making cakes from scratch. While I found a lot of decent cake recipes, I had a hard time finding a good, easy frosting to make from scratch.
My first attempts at buttercream were less than impressive and I had to keep trying and trying for a frosting recipe that was easy to make, easy to manipulate and that tasted great. I was motivated to try new ideas for making a decent frosting, and I even made one cake that was layered with different ganaches and buttercreams between each of the layers of the cake just so I could try out several recipes.
Why make this?
This is probably my favorite frosting for several reasons.
Most importantly, it's delicious! This frosting isn't overly sweet and adds just the right amount of creamy goodness to your cakes.
The recipe is also pretty foolproof. It's not difficult to make and the resulting frosting is very stable. It spreads well and is easily shaped and piped.
American buttercream vs. swiss buttercream
At first, I tried making American buttercream. American buttercream generally combines butter or shortening and powdered sugar.
There are several things that I don't like about American buttercream. One problem is that it is very temperature-dependent. When cold, you end up with a solid block of frosting. When hot, it can be a runny mess. Without the addition of something like a chocolate bar, those buttercreams don't hold up very well to heat.
The other problem with them is that they are very rich and very sweet. Compared to Swiss buttercream, American buttercream has a higher percentage of sugar and butter.
Swiss buttercream, on the other hand, uses a meringue made from egg whites and sugar. The merengue helps balance the flavor of the frosting and also gives it a super smooth and silky texture.
Ingredients
While this recipe has a few more steps than American buttercream, it's still a simple recipe with simple ingredients.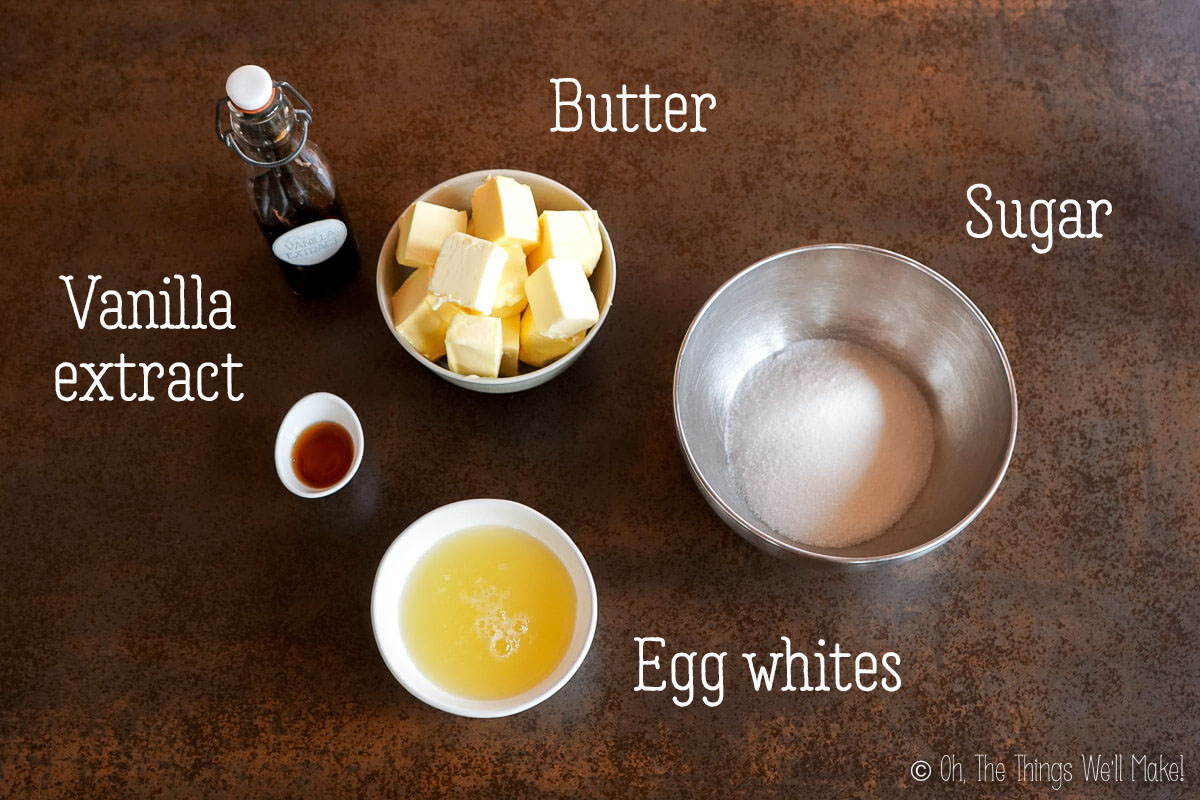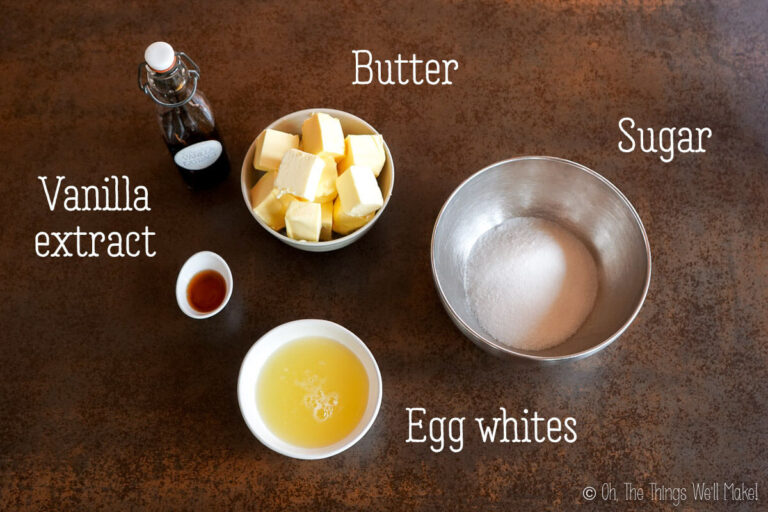 Like its American counterpart, this recipe uses butter, sugar, and vanilla extract. What mainly differentiates it, though, is the addition of egg whites.
Unlike American buttercream, this recipe uses granulated sugar (vs. powdered). The sugar is dissolved in the egg whites, so the resulting frosting is smooth, even when using granulated sugar. (Feel free to use whatever type of sugar you prefer, be it unrefined cane sugar or even coconut sugar. Dark-colored sugars may make a darker-looking frosting, though.)
For the egg whites, you can either use fresh eggs and separate the whites from the yolks or use bottled egg whites. (If using fresh eggs, the remaining yolks are great for recipes like homemade aioli.)
For great flavor, I love using my homemade vanilla extract. (Other extracts can be used to give the frosting a different flavor.)
Procedure
Swiss buttercream frosting does take a little longer to make than some of the others, but if you have a stand mixer, it is still pretty effortless. In fact, I think it is probably one of the easiest frostings to make and get right every time.
To begin, combine the sugar and egg whites in a heat-safe bowl or the top of a double boiler. Gently heat the mixture over hot water, stirring occasionally, until the sugar has dissolved. Be careful not to cook the egg whites.
Once the sugar has dissolved, remove the egg white mixture from the heat. If you have a stand mixer, add the egg white mixture to the bowl of the mixer. Beat the egg whites until stiff peaks have formed and the mixture has cooled.
After making the Swiss meringue, slowly add small pieces of butter to it while continuing to beat the mixture. Continue until you've incorporated all of the butter and have achieved a smooth frosting. For flavor, add the vanilla extract (and/or other extracts).
Using buttercream frosting
This frosting is pretty simple to use and can be used on cakes or cupcakes. It spreads well with a butter knife or spatula and also can be piped well with a piping bag and tip.
To get a smooth surface, it's a good idea to first apply a thin layer (normally referred to as the crumb coat). Then, chill the cake to harden it before applying another coat.
This first layer not only seals the moisture into the cake, but it catches all of the crumbs so that a second top layer can be applied smoothly. This makes frosting a cake much simpler.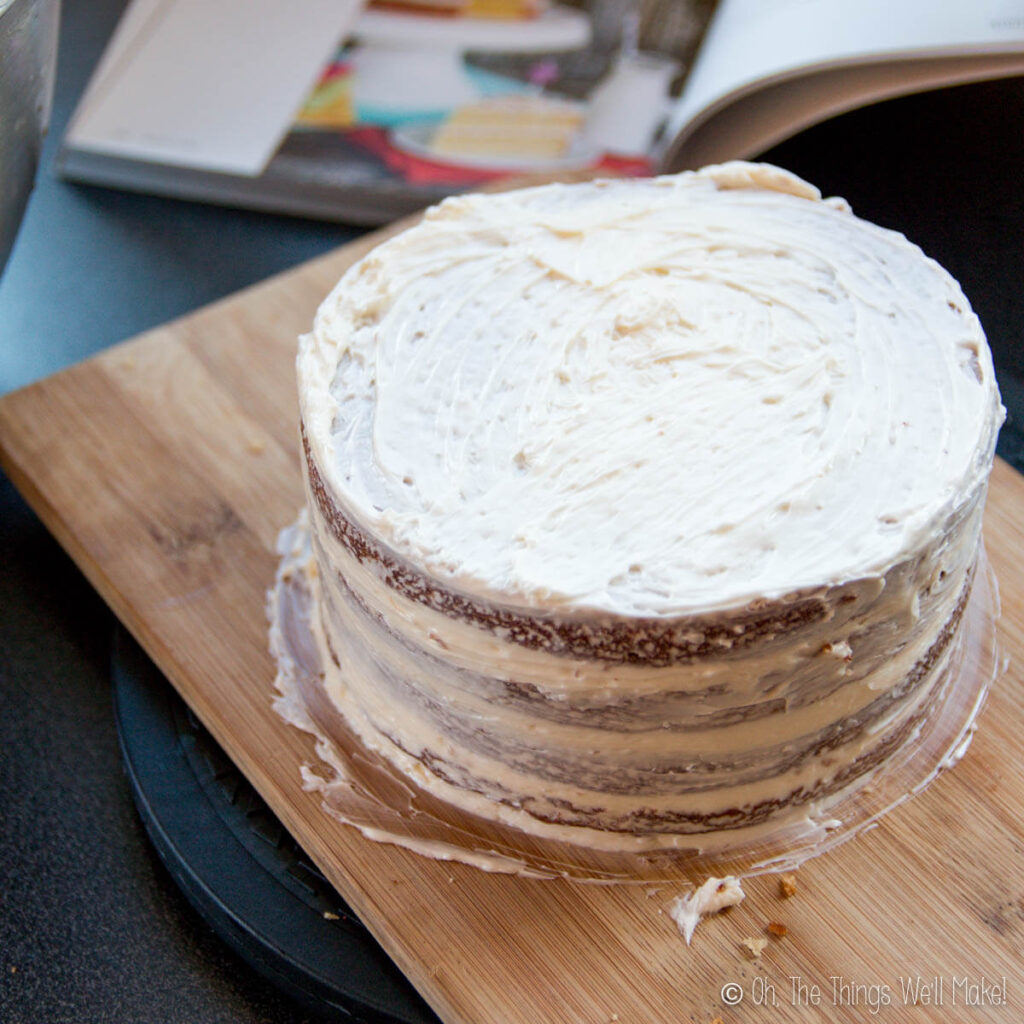 A turntable and/or an offset spatula can also make the job easier!
Serving
Cakes made with swiss buttercream should be served at room temperature. You can store the cake in the fridge, but when cold, the frosting will harden. At room temperature, the frosting will soften and recover its smooth, creamy consistency.
Looking for a great cake recipe? Why not try the grain-free birthday cake I was frosting in the photos above!
Troubleshooting
While this recipe is generally quite simple, you may find yourself with questions along the way.
When adding the butter, sometimes the mixture can take on a curdled appearance. You may be worried that something has gone horribly wrong. Don't worry, though. It's usually easily fixed by continuing to beat the mixture (while adding in the rest of the butter).
You may also find that it gets hard if you are using cold butter or storing in a cold environment. To solve the problem, allow the frosting to come to room temperature and beat the frosting again until smooth and workable.
Customizing the recipe
Another thing that makes this recipe great is that it is very versatile. If you want to make a chocolate frosting, try adding some cocoa powder or even some melted chocolate, adding to taste!
The flavor can also be changed slightly by using different extracts.
Storage
While this recipe is best made and used immediately, it can also be made ahead and stored in the fridge for up to. a week.
When storing in the fridge, the frosting will harden. To use it, allow it to come to room temperature and beat it again before using it.
It is also possible to freeze this frosting. Allow it to defrost and come to room temperature before beating the mixture and using it.
Video
Craving more?
Subscribe to my newsletter for the latest recipes and tutorials!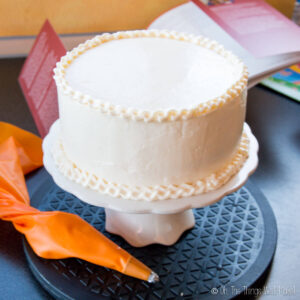 Swiss Buttercream Frosting
Creamy, stable, and easy to spread, this swiss buttercream frosting is, by far, my favorite frosting.
Print
Pin
Rate
Ingredients
5

egg whites

1 1/4

cups

sugar

2

cups

butter

(room temperature)

1

tsp.

vanilla extract
Instructions
Mix together the sugar and the egg whites in a double boiler or a heat safe bowl. Heat the mixture gently over hot water, stirring often and checking to see if the sugar has dissolved. Make sure not to cook the egg whites.

When the sugar has dissolved (After 5 minutes or so), pour the mixture into a large bowl. If you have a stand mixer, pour the mixture into the bowl of your mixer.

Beat the mixture with an electric beater until the mixture cools and stiff peaks form. This will take awhile (10-15 minutes). (Using a stand mixer makes the process much easier.)

Add the vanilla followed by chunks of the butter. Add the butter little by little.

Keep beating, even if the mixture looks like it starts to come apart. It may even look curdled, but keep adding in butter and beating until it all comes back together again.

Once smooth, your buttercream frosting is ready to use.
Notes
This recipe makes enough to generously frost 2 dozen cupcakes (probably with some leftover) or a 9-10 inch layered cake. (I've also used it to frost 2 6-inch, 2-layered cakes and had enough.)
Cakes made with Swiss buttercream should be served at room temperature. When cold the frosting hardens and doesn't have the same creamy texture and flavor.
Customizing the recipe
I used a homemade vanilla extract for flavor. For different flavors, use different extracts.
Cocoa powder or melted chocolate can also be added to make a chocolate buttercream frosting. (Melted chocolate will tend to thicken the frosting.)
Using the frosting
This frosting can be spread with a knife or spatula or piped with a piping bag and tip. It's perfect for use on cakes and cupcakes.
Storage
I like to use the frosting immediately, but if you want to make it ahead of time, cover it and keep it in the fridge. Leave yourself enough time to let it come to room temperature before using it. You will also need to beat the mixture again to get it back to a nice, whipped consistency for frosting your cake.
This Swiss buttercream can also be frozen for up to a couple of months. Again, leave time for defrosting and beating.
Serving:
35
g
|
Calories:
168
kcal
|
Carbohydrates:
10
g
|
Protein:
1
g
|
Fat:
14
g
|
Saturated Fat:
9
g
|
Cholesterol:
37
mg
|
Sodium:
10
mg
|
Potassium:
10
mg
|
Sugar:
10
g
|
Calcium:
1
mg
|
Iron:
1
mg
This post was originally published on January 20, 2016. It was re-written, adding new photos and video in July of 2021.