This grain free birthday cake isn't as good as a "normal" cake, it's better. It's moist and flavorful, and goes perfectly with a homemade buttercream frosting.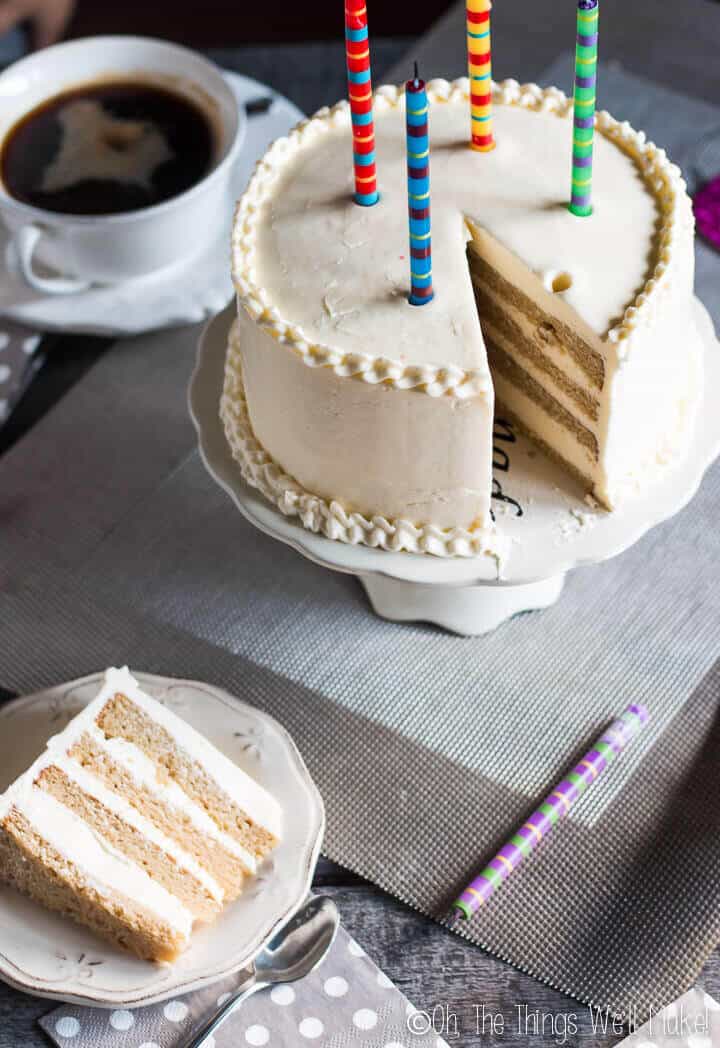 Today I have something fun to share with you that I've been meaning to share for quite some time now, but in the hustle and bustle of the holidays, it somehow slipped by me.
Today I get to share with you a recipe from a friend of mine, Hayley Barista Ryczek, founder of Health Starts in the Kitchen and author of the awesome cookbook that I'm going to tell you about today, Without Grain.
Without Grain Cookbook
Hayley's blog was one of the first blogs that I found when I first started networking with other real food bloggers. I loved her style because we tend to follow similar type diets, she shares great recipes (superb grain free waffle recipe anyone?), and just because she's fun to talk to; and, heck, who couldn't resist liking her cute pics of her dog on Instagram, right?
Anyway, when her cookbook finally came out, I was really excited to get my copy. I was afraid that my being in Spain was going to make the process of receiving it difficult, but it arrived without a hitch, and that very week I already dug in and made a couple of the recipes, despite being super busy with preparations for my son's birthday party.
Luckily, it conveniently had a recipe for a classic grain free birthday cake.
I had already made a "regular" wheat flour birthday cake for the twenty some kids at the party (and that I didn't bother tasting this year!), but I was excited to make and try her recipe for celebrating at home with our family, especially when she said it was one of her favorites.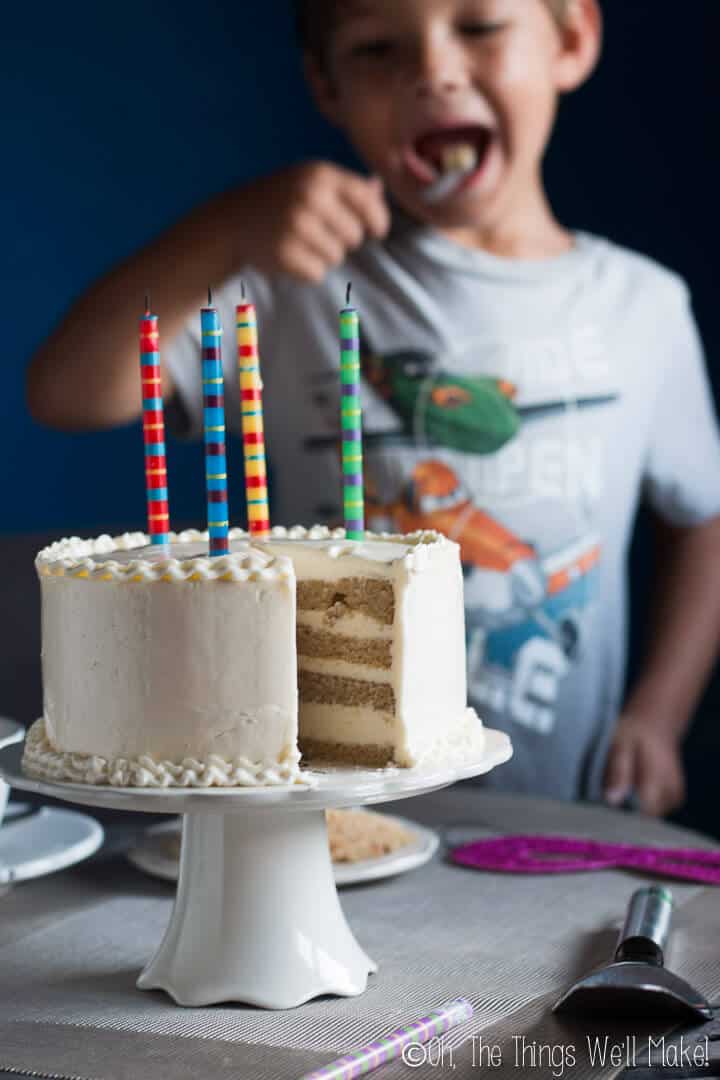 I enjoyed it, of course, but more importantly her cake was a hit with my son who immediately gobbled up his slice. Grain free baked recipes can hit or miss with him (although he is a huge fan of my paleo plantain pancakes and Megan Steven's grain free pizza crust), so I was very happy that he was able to fully enjoy it. What really surprised me, though, was how much he liked it, saying he liked it more than the other cake!
To be honest, at first I wasn't sure if I should be happy about that or a bit offended. I had spent hours days working on his cake and decorating it with handmade lego superhero fondant figures. He loved that cake too, of course, but for a very different reasons. I decided that I should swallow my pride and be happy that he preferred the grain free cake which I can always decorate in crazy ways for his party next year. 😉
If you're thinking it's just my family who is used to grain free cooking that enjoyed it, though, you'd be wrong. Having had so much leftover food from the party, I sent a friend home with a few slices of both cakes. When I saw her the next week, she told me that her family had liked both cakes, but that they had also preferred the grain free one! They said it was moist and flavorful…I love getting feedback from unbiased sources.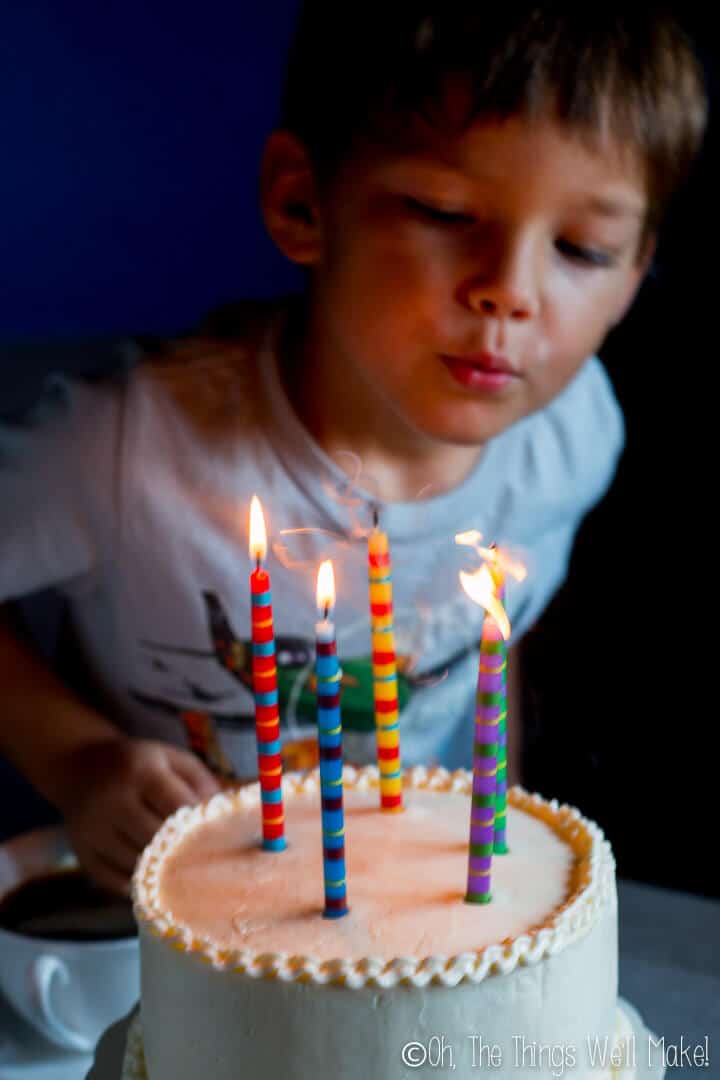 In the book, Hayley pairs this cake with her buttercream frosting recipe, but since I shared my swiss buttercream recipe with you the other day, maybe you'd like to give it a try. I'm a big fan of swiss merengue buttercreams because they are really easy to spread and hold their shape well. Plus, they tend to be a little less sweet than most other buttercream types because they use a merengue to help hold the frosting together, rather than just thickening it up with a lot of powdered sugar. Plus, the way it is made allows you to use pretty much any type of sugar you like (even coconut sugar) – so no need for powdered sugar.
//
With that, I'll leave you with Hayley's recipe for a classic grain free birthday cake.
Classic Grain Free Birthday Cake
Craving more?
Subscribe to my newsletter for the latest recipes and tutorials!

Grain Free Cake Recipe – Without Grain Cookbook
This grain free birthday cake isn't as good as a "normal" cake, it's better. It's moist and flavorful, and goes perfectly with a homemade buttercream frosting.

Print
Rate
Instructions
Preheat the oven to 350°F (180°C, or gas mark 4) and grease two 8-inch (20 cm) cake pans, with a round of parchment paper fitted into the bottom.

In a large bowl, lightly beat the eggs and then whisk in the half-and-half, vanilla, and sugar.

In a smaller bowl, combine the almond flour, coconut flour, baking soda, and salt. Add the dry ingredients to the wet and blend with a handheld mixer.

Pour half of the batter into each of the prepared cake pans and bake for 30 minutes or until a toothpick inserted into the center comes out clean.

Cool for 1 hour in the pan and then remove from the pans and place on a cooling rack to cool completely.

If the tops of your cakes are uneven or rounded, use a serrated knife to trim to create a flat surface. Place 1 cake on a plate or cake stand, then spread evenly with frosting. Place the other cake on top of the first layer. Spread the remaining frosting on top of the second layer.

Chocolate Cake Variation: Add ½ cup (40 g) cocoa powder, ½ teaspoon baking soda, and an additional ¼ cup (48 g) cane sugar to the dry ingredients.
Serving:
1
slice (15 per cake)
|
Calories:
224
kcal
|
Carbohydrates:
27
g
|
Protein:
6
g
|
Fat:
10
g
|
Saturated Fat:
3
g
|
Cholesterol:
108
mg
|
Sodium:
215
mg
|
Potassium:
68
mg
|
Fiber:
3
g
|
Sugar:
20
g
|
Vitamin A:
230
IU
|
Vitamin C:
0.2
mg
|
Calcium:
56
mg
|
Iron:
1
mg
As for the other recipes in the book?
I actually have a bit of a funny story…
I was craving bagels and decided to try Hayley's recipe for grain free bagels from the book. I was really impressed how by combining vinegar and honey with the other ingredients, the flavor of the bagels was really spot on.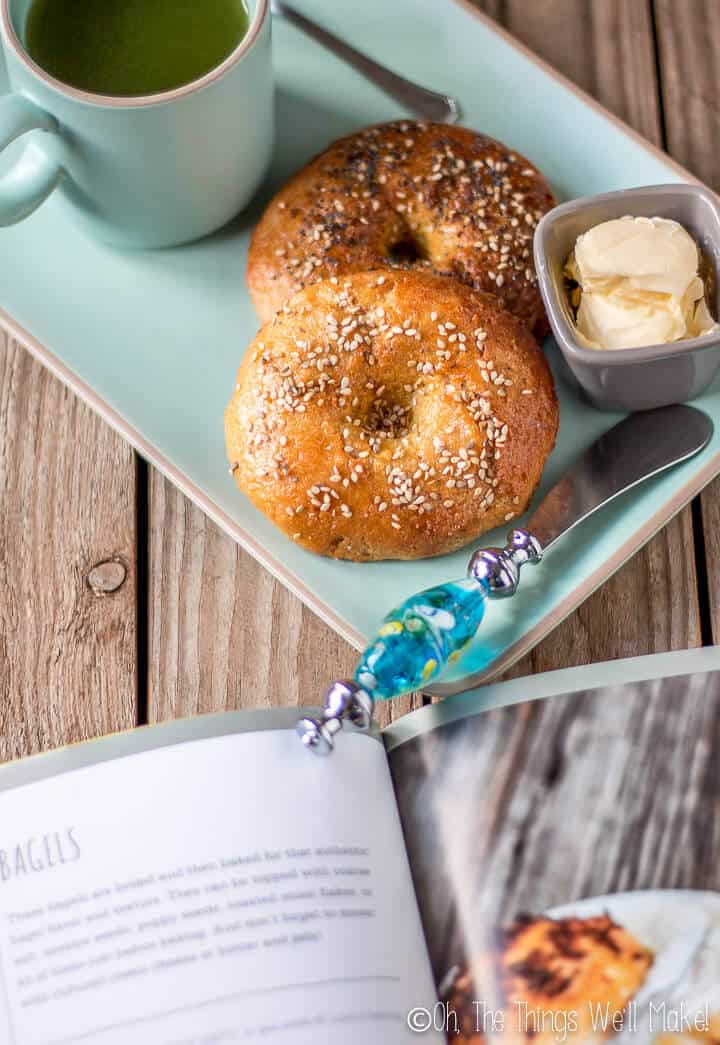 After eating my first bagel, though, I found the next one just a little too sweet. I was thinking that maybe next time I should lower the amount of honey in the recipe just a tad, right? (nope…)
Well, that night when I was looking for my tapioca flour to bread some chicken, I noticed that my breading was super sweet!?!?
Hmmmm- that's when I realized that my jar of what I thought was tapioca flour, was really an old jar of powdered sugar to which I'd added some leftover tapioca flour on top!
When making the bagels, I was likely mostly using the top layer of tapioca flour, but I'm pretty sure I had also scooped up some powdered sugar with it. Oops! So- my mistake, not Hayley's!!
Despite the mistake, I was really impressed with the recipe, and ended up making them again, with only tapioca flour, of course. I think they're really great, and hope you give them a try.
//
I've really enjoyed her book so far. If you are looking for a good grain free cookbook, I highly suggest you take a look at it. It has some of the most basic and kid friendly foods like bagels, biscuits, pasta, and waffles, but also incorporates fun and interesting recipes like grain free mozzarella sticks, calamari, and even corn dogs!
If you enjoy this book, I highly suggest you check out some of her others. For $2.99 her Grab-n-Go book is a bargain on Amazon!
Anybody already have the book? I'd love to hear what your favorite recipes are!