A little over a week ago we celebrated my son's fourth birthday with a big Wall-E birthday party, just in time before autumn decided to hit us hard.
We were lucky! The weather had a huge part in the party being a success because my husband decided to surprise me with the fact that he had bought an inflatable, aquatic bouncy castle with three water slides for this, and for future parties!
September was extraordinarily hot this year, up until a few days before the party. That had me worried. I was afraid that it was going to rain, or get too cool for the kids to want to get wet. With the changing weather in mind, we decided to throw the party in the early afternoon to give the kids plenty of aquatic play time before the sun started to go down.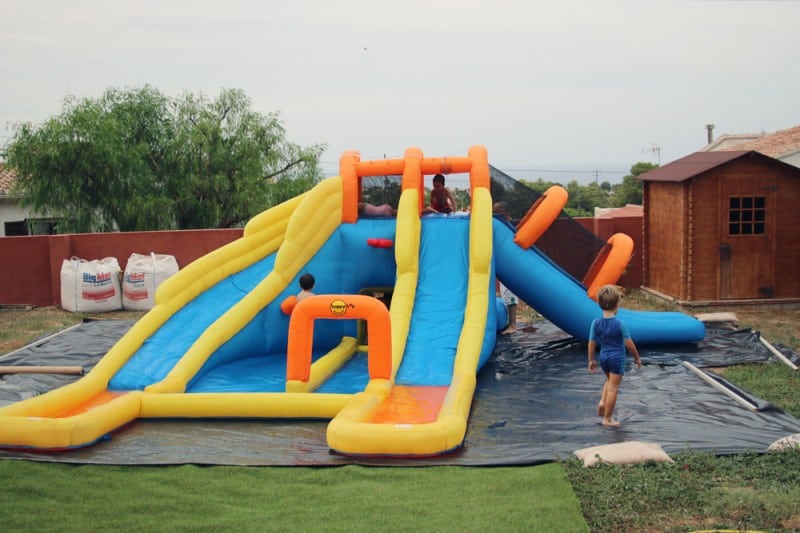 Despite it being a bit cloudy, luck was on our side, and we got one last warm day out of summer, and the kids were able to have fun on the slides. I guess to fit with the Wall-E theme, we can say that the party was thrown on the lido deck of the Axiom. 😉
As always, I really enjoyed the party, and loved planning it, but I have to admit that I'm also a bit happy that it's over. I can now relax a bit and have fun with Halloween ideas. I'm a sucker for some good Halloween fun!
Today I'll show you an overview of the party.
Then, over the next few weeks, I'll get into the details about how I made everything from the party favor bags, to the fondant figures on the cake.
I will start of by saying that I wasn't as strict about everything being real food at the party. I know that some parents are really good about that, throwing natural parties with sprouted grain cakes and the like, and I totally respect and admire them.
I, on the other hand, chose to relax for a day or two.
So, here's what we did…
Of course, I had to work ahead!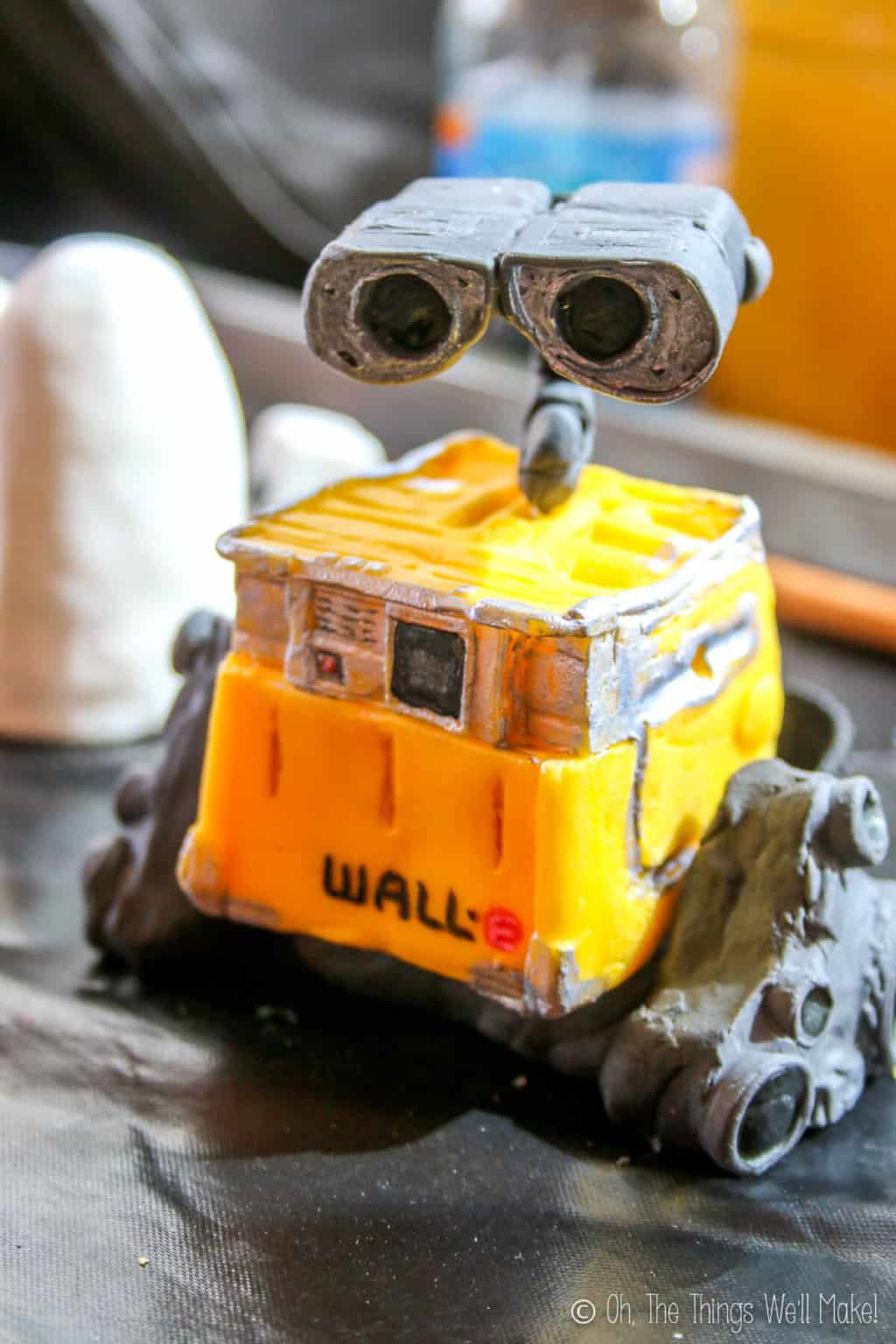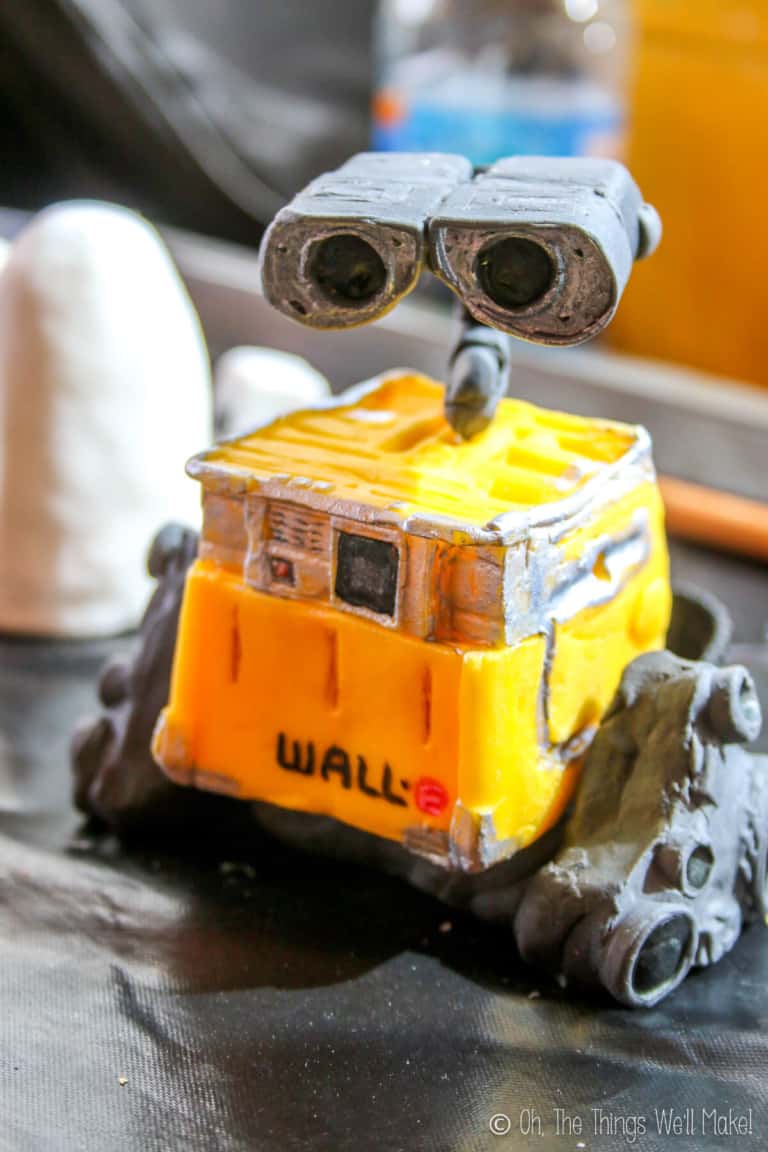 I began weeks before the party making everything from the party favor bags, to the fondant figures for the cake. Yes, I do make even those waaaaaay ahead of the party. Let's face it, fondant doesn't go bad, and the figures dry out and get hard and become permanent statues for your cake. While they are "edible," I never plan on letting anybody actually eat them anyway.
The favor bags were a lot of fun for me. I made them out of old t-shirt sleeves, and figured that using a recycled material was perfect for a Wall-E themed party. Don't ya think? See, I do use the t-shirt sleeve to bag technique a lot!!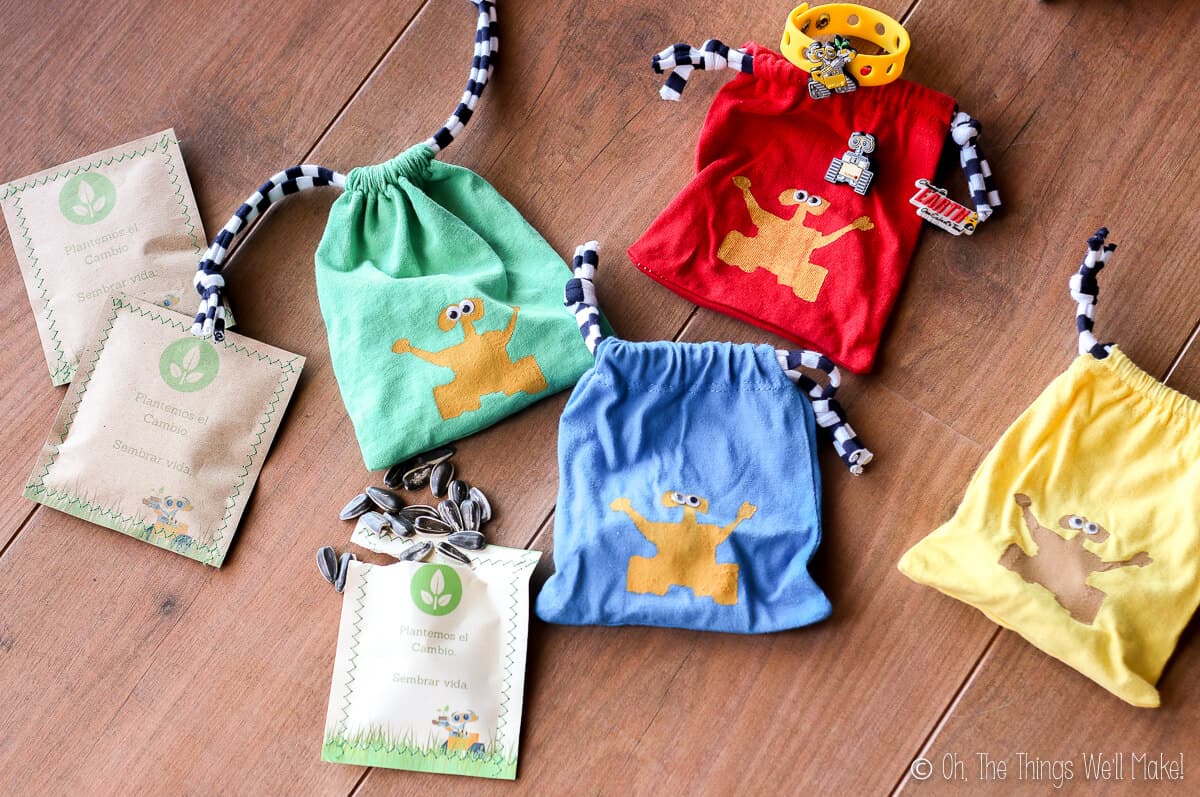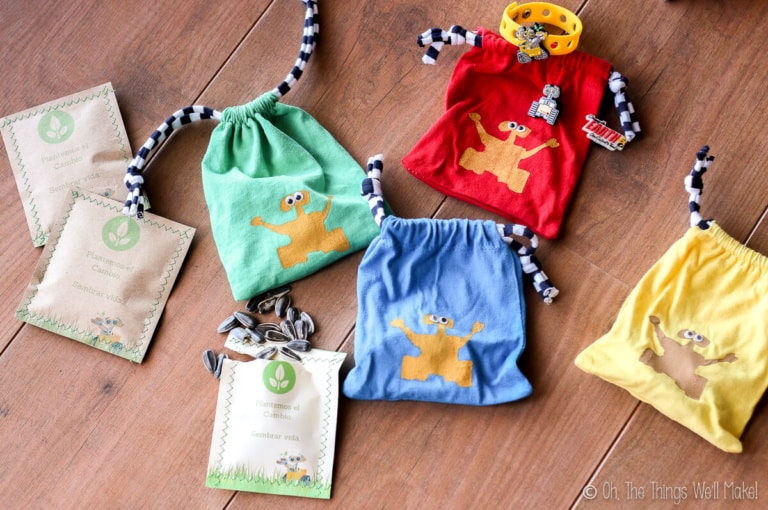 To make them fit with the Wall-E theme, I wanted to paint wall-E on each of the bags. For awhile I considered using my Silhouette Cameo machine to cut the design out of the vinyl, and ironing them onto the bags. After giving it more thought, though, I decided to try silkscreening them on.
I had never tried silkscreening, but it is something I've wanted to play with for quite some time. Not being able to find the materials I wanted, I ended up inventing my own way of doing things with the stuff I already had around the house. I'll show you how in another post.
Then came filling the bags with fun Wall-E favors…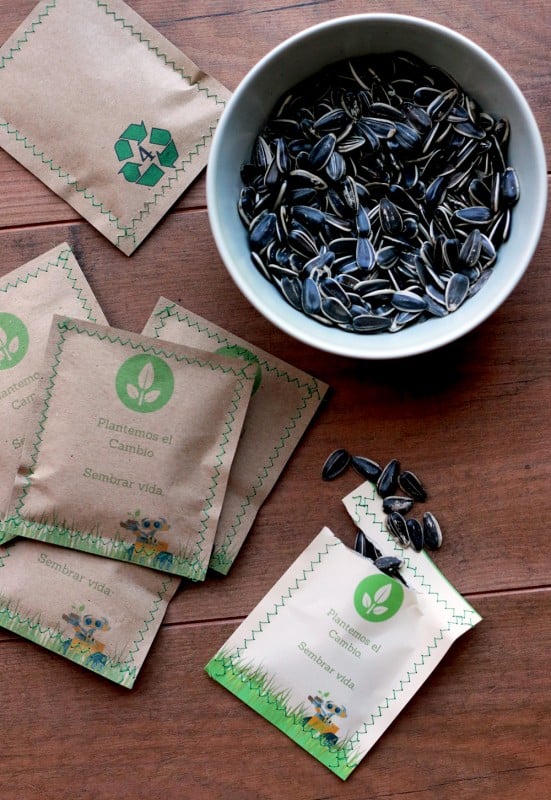 I had been wanting to try sewing paper for quite some time now, and figured that sewing little seed packet favors would be perfect for a Wall-E party. So, I sewed up some cute, Wall-E inspired seed packets. Perhaps some of the toddlers will actually plant their seeds and learn about how plants grow!
I found some cute Jibbitz type Wall-E charms online for crocs, and was going to make up some craft foam bracelets for gifting them, but I did have some silicone charm bracelets already at home. In the end, less kids ended up coming to the party than what I thought were coming, so I had enough of the silicone bracelets for everyone and ended up giving away those instead. Maybe I'll use the homemade version next year. They are really quick and easy!
Then, despite not being a huge fan of giving kids candy, I decided that I would probably be a social outcast, or hated by the kids, if I didn't at least give away some sort of candy. It's just the norm here after parties.
Rather than give away a whole bag of candy, though, I chose to tone it down, and give away one piece of candy with a creative twist. I whipped up some Eve pops, using tissues and small rubber bands. My son even helped me to decorate them. He was so proud of them that he kept grabbing them and "flying" them all over the house. He liked them so much that he didn't want to eat any. Win-win. 😉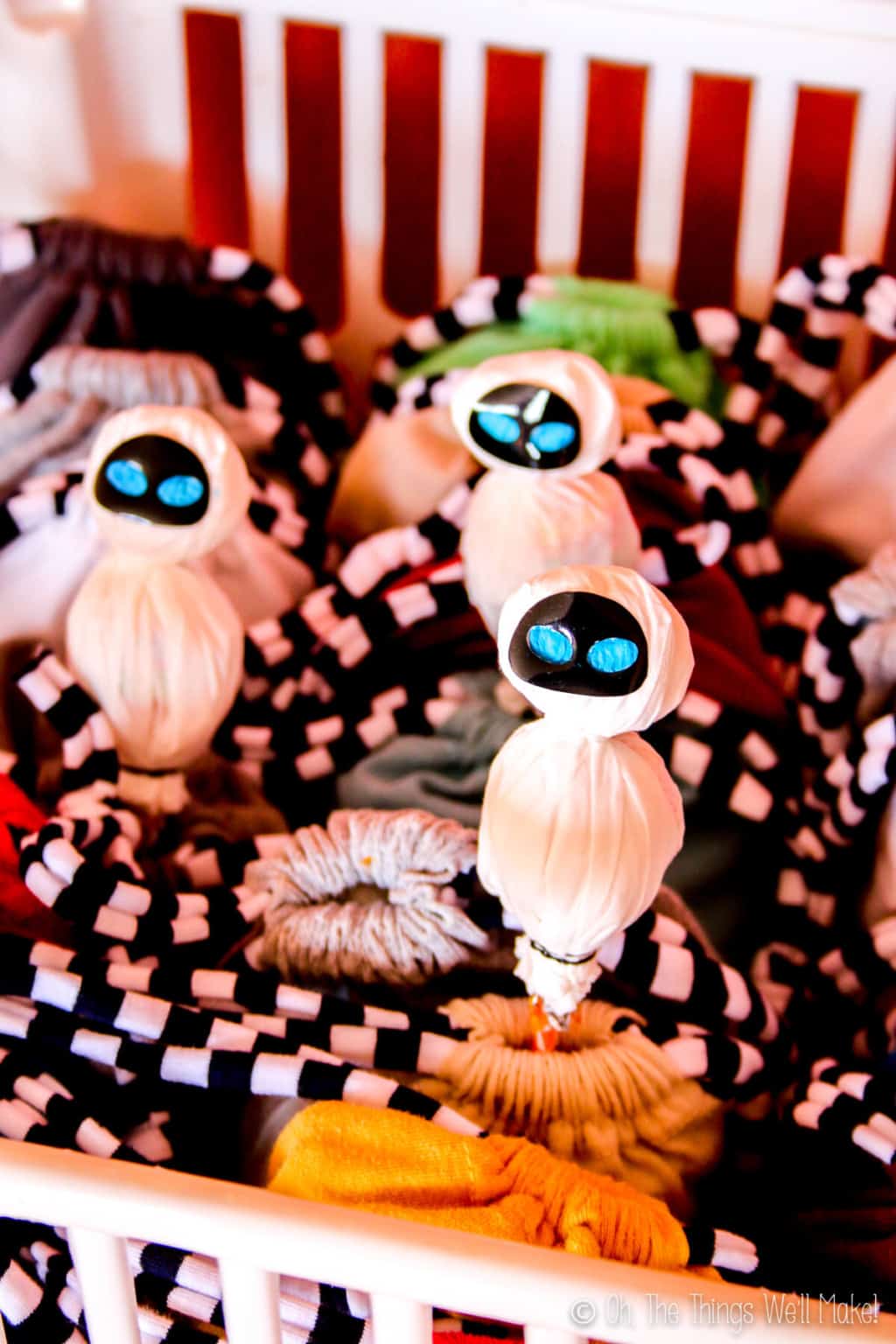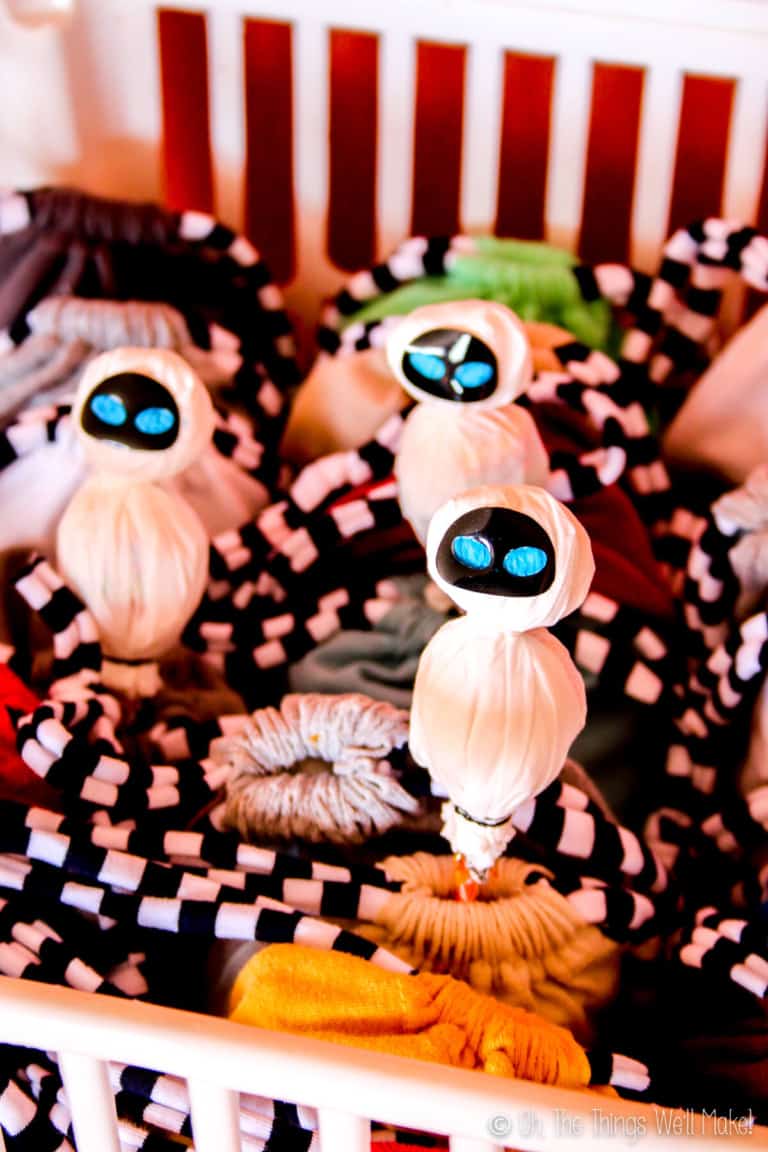 Why the big deal about a few pieces of candy?
The dentist in me is opposed to having sugar against kids' teeth, especially in a prolonged situation like you have with suckers. Apart form that, though, my son's eczema seems to be aggravated by those sorts of things. I don't know if it's the sugar, the acidity, the artificial colorings, or what, but I try to avoid them whenever possible. Luckily, we've never really had many sweets around the house, so he doesn't really pay that much attention to them.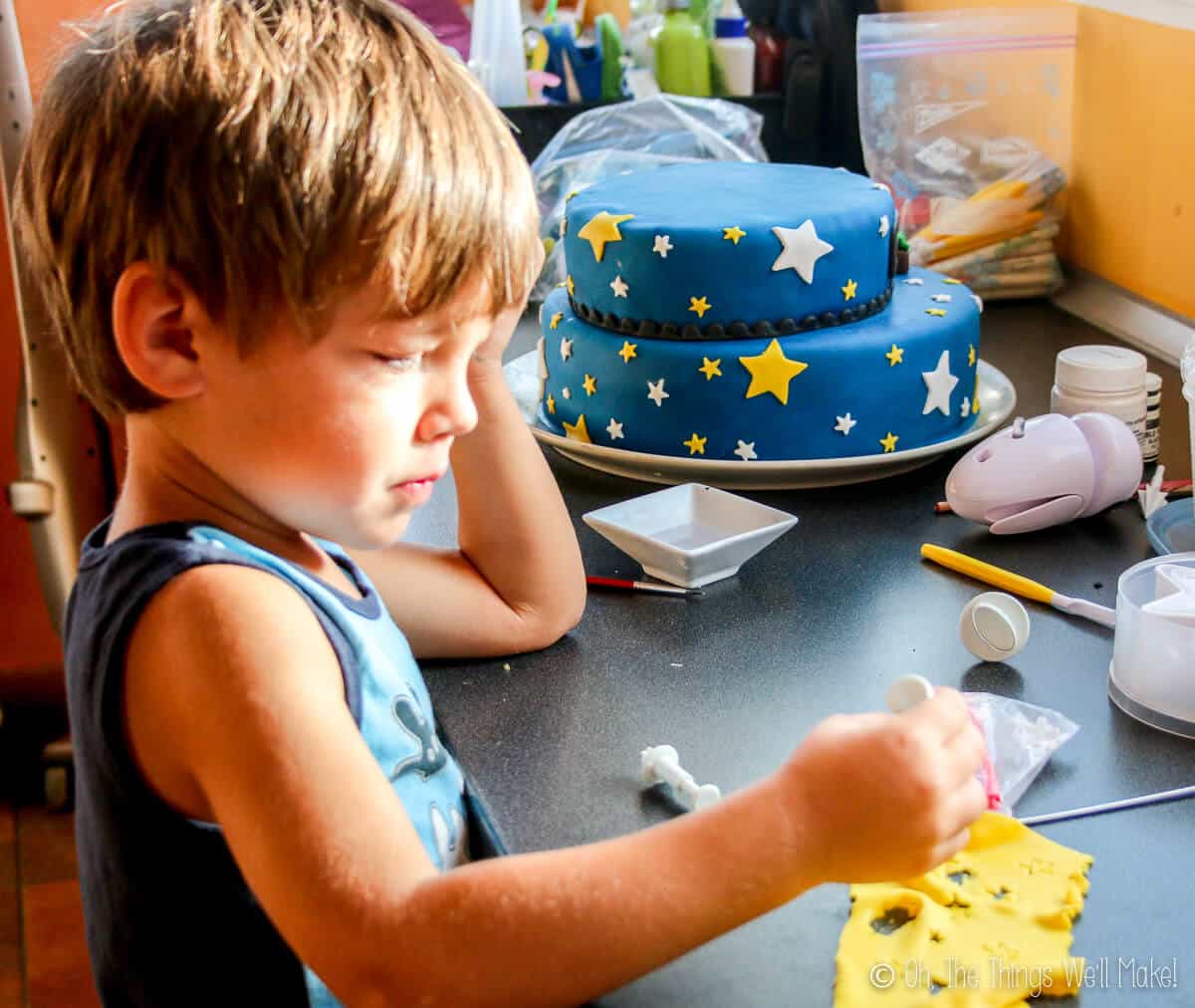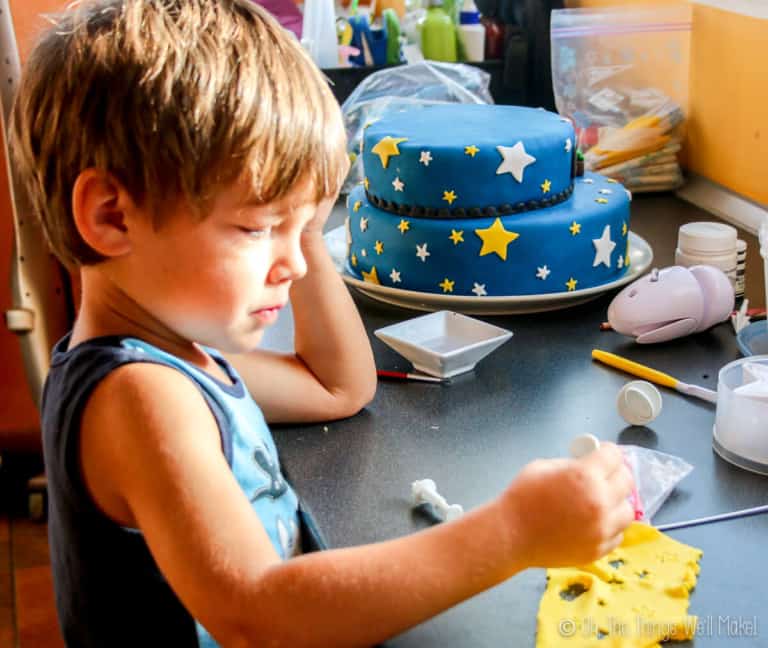 I loved getting help from my son with the suckers, so I figured it would be good to get his help with as many other things as possible. He loved helping me decorate the cake, especially cutting out the fondant stars.
We also cut out some fondant green hearts, and made them into "leaves" that I used for decorating some plant ice cream cups. Those ended up being one of the party favorites, and the kids loved the way they looked and tasted!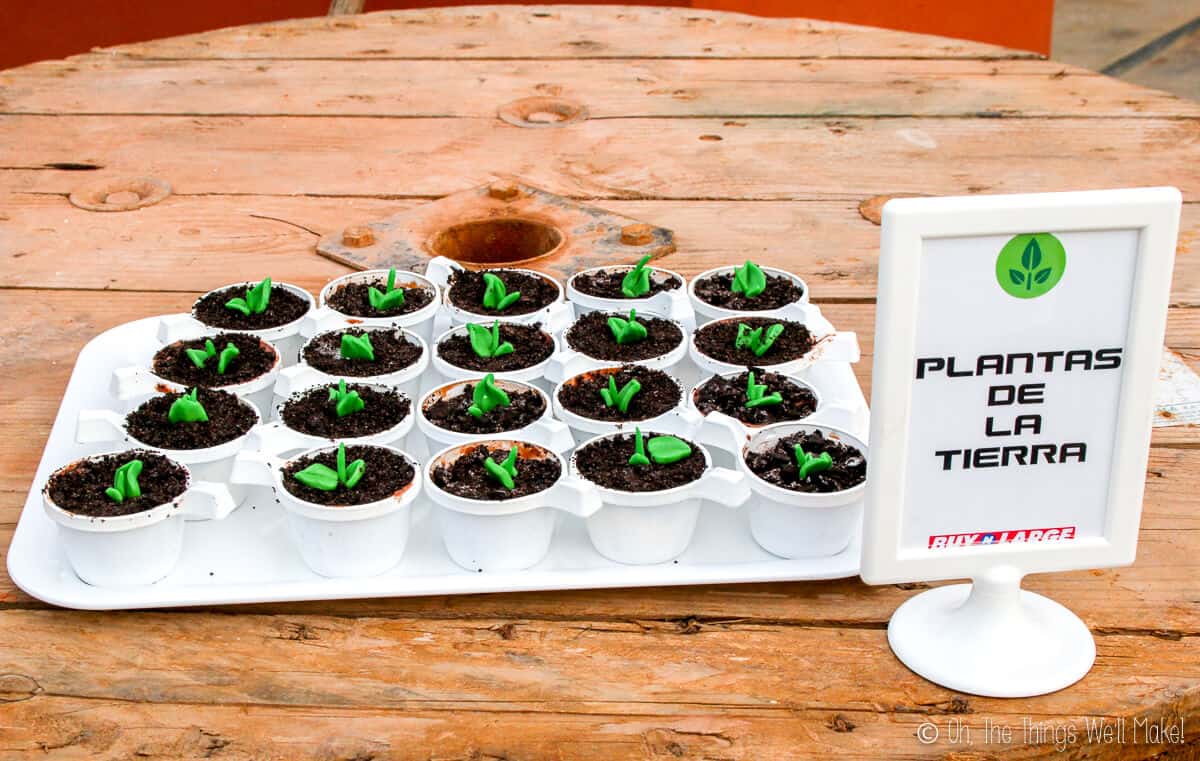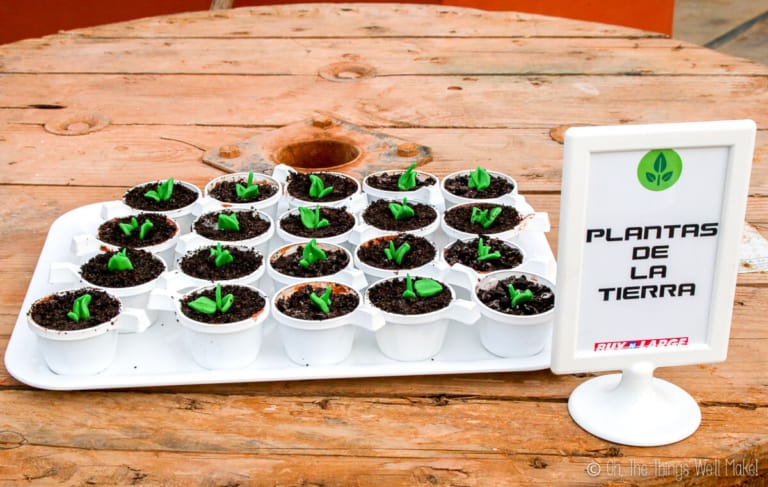 I made up a few Wall-E BNL signs for the ice cream plants, and for the drinks. There were also a couple that were just general, fun signs.
Other than that, I didn't really do too much else in preparation. I printed up some vintage wall-E posters, and decorated the table with an old boot with a plant in it.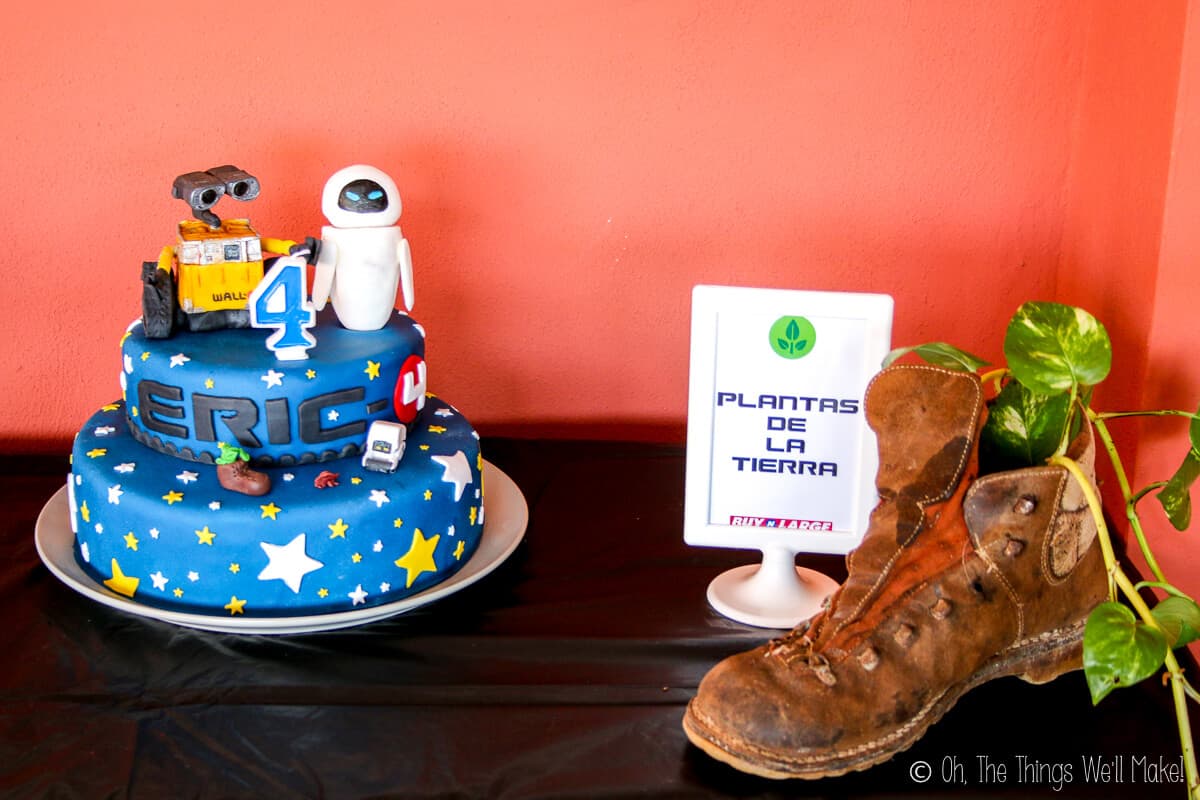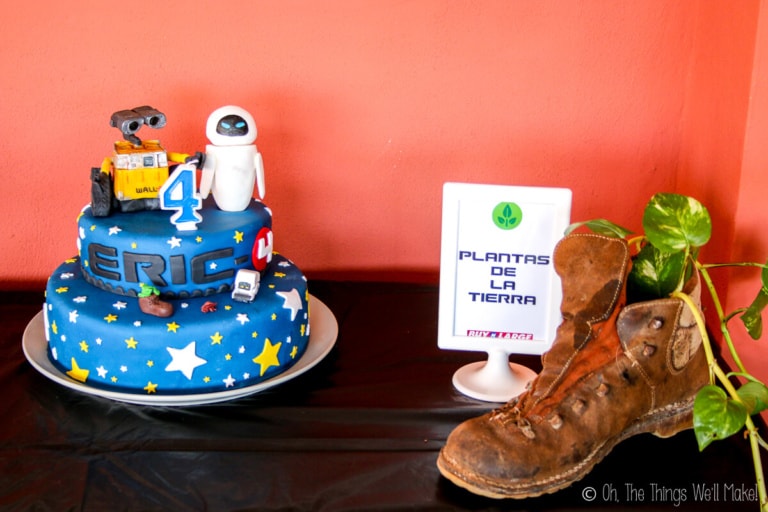 My son had fun admiring all of the Wall-E decorations. In this picture you can see the unplanned Eve cake pops that I ended up making too! (I'll explain why when I show you how I made them.)
Overall the party was a success and was a lot of fun. As much as I would love to say that my wall-E decorations were the best part, though, I think the water slides were the winning highlight of the party.
It's impossible to compete against water slides, I guess. 😉