Deliciously low carb, seasoned coconut chips make a great, healthy snack and making them yourself is the perfect way to preserve fresh coconuts. I'll show you how to make a variety of savory and sweet chips.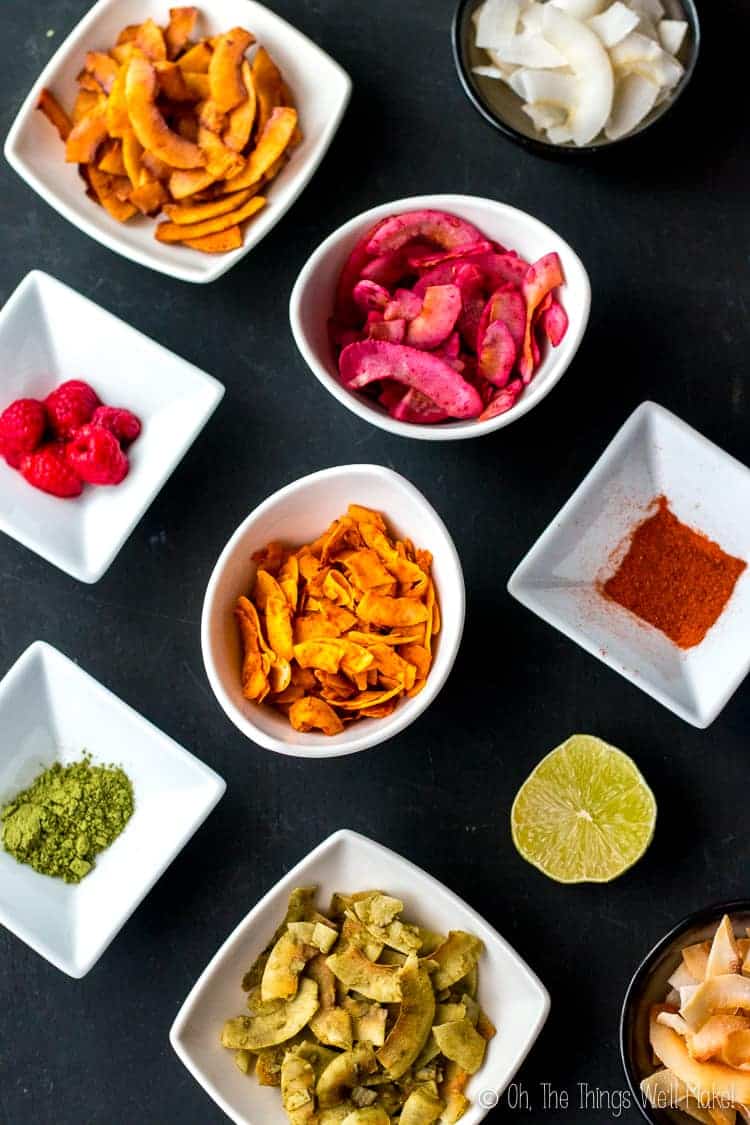 Today I'm going to share with you one of my favorite treats, seasoned coconut chips. I figured out how to make my first batch by accident. Some of my homemade coconut chips had fallen into some oil with spices that I was mixing up for a recipe, and I realized how good the coconut chips tasted when seasoned.
Not too long afterward, I came across some sweet raspberry coconut chips for sale at an ECO supermarket. I bought them, fell in love, and decided to try to recreate the recipe. I was able to make them with fresh ingredients, keeping control of the amount of sugar in them, and also save a lot of money.
Plus, making these seasoned coconut chips helps me solve a problem that was arising frequently for me…
Watch how to season coconut chips
Why Make Seasoned Coconut Chips?
One of my favorite treats is fresh coconut water.
The problem with buying it, though, is that it is sold in cans or plastic-lined cartons, and I've been trying to get away from using either. Not only do I want to avoid the possible toxic leaching of plastics into my foods, but I don't like contributing to that extra waste whenever I can avoid it.
I mean, why buy coconut water, when you can drink it directly from the coconut. Right?
There are several problems to buying a full coconut every time you have a craving for coconut water, though.
The trouble with buying a fresh coconut for coconut water
A lot of coconuts you buy aren't fresh
I used to get really frustrated when trying to buy fresh coconuts because almost half of the time, I ended up with coconuts that were off in one way or another. Sometimes, they'd have a crack that I missed where the coconut was starting to get moldy. Of course, when that happens, not only does the coconut start to taste bad, but so does the water.
Other times, the coconut wasn't very full of water, which sort of defeated the purpose of buying a coconut to drink coconut water in the first place. You know?
After buying a lot of coconuts, I ended up getting much better at it. That's why I wrote a post about how to choose a fresh coconut and how to open it.
Since then, I've also found that certain stores sell coconuts that tend to be in better condition than others. There is a brand of organic coconuts here in Spain that has always had coconuts in excellent condition with a lot of water in them. While they are more expensive than the ones that I find in most supermarkets, they are well worth it seeing as I have never bought a bad one yet! If you can find something like that locally, it will really help in your quest to find the best quality coconuts.
You may not be hungry for eating a full coconut at the time, but don't want to throw it away
This was one of my major issues when I was buying coconuts for coconut water. I might have been thirsty, but not hungry. (And even if I was hungry, a full coconut is a lot for one sitting or even for eating within a couple of days.)
While a coconut lasts for a long time when unopened, once you open it, it tends to start changing colors and get moldy relatively quickly. You may want to eat a few pieces, but trying to down a full coconut before it starts to go bad can be really overwhelming.
The solution?
Make coconut chips!
How to preserve your fresh coconut
So, I've begun to touch on one of the reasons that I started making coconut chips in general. Making coconut chips (or dried shredded coconut) is a great way to conserve coconut so you don't feel like you have to eat it all in one sitting. (I show you how easy it is in the post I just linked to.)
Once you remove the humidity from the coconut, you can store it for weeks/months vs. just a few days.
You can then use the preserved, dried coconut in lots of fun ways like making coconut butter, making coconut bacon, or just leaving them as-is for other recipes. I love using shredded coconut to make colorful paleo sprinkles that can decorate your healthy treats in a beautiful way!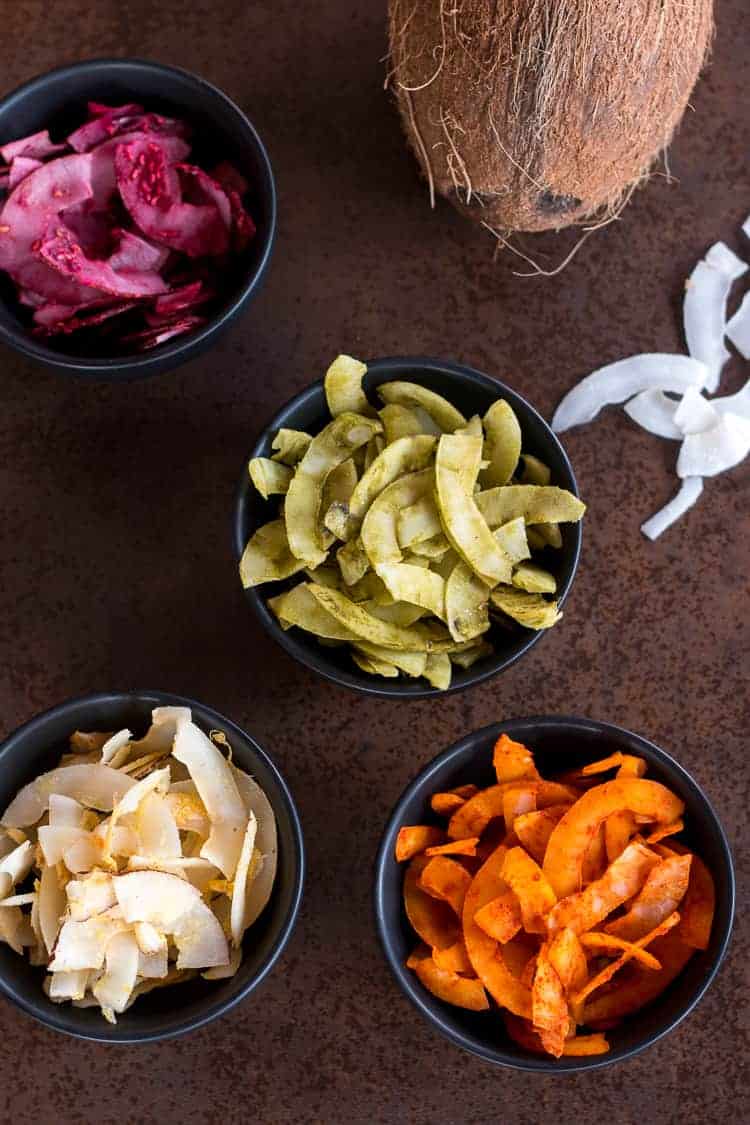 How to make seasoned coconut chips
Well, we've established that making coconut chips is a great way to extend the life of your coconut, but just plain coconut chips can get boring after a while. I mean you can add them to a lot of other recipes like homemade paleo "granola" bars and the like, but what about when you want something different?
By seasoning your coconut chips, you can eat them as-is without getting bored. Their high healthy fat content helps fill you up and keeps you from reaching for something not-so-healthy.
It doesn't matter if you are looking for something sweet or savory, I have several fun options for you. Feel free to experiment and come up with your own varieties. I'd love to hear which are your favorites so that I can give them a try!
Smoked Paprika Coconut Chips
These are the seasoned coconut chips that I make most often. I love the smoky flavor of "Pimentón de la Vera," a smoked paprika that is typically made in The Vera region of Spain. It's the spice that gives store-bought and homemade Spanish chorizo its characteristic color and flavor. While that's my preference for which to use, you can use any brand or type of smoked paprika to get the intense flavor that is perfect for seasoned coconut chips.
I'd also like to note that smoked paprika can be found in both "sweet" (aka. mild) and spicy varieties, so choose whichever you prefer!
While those are probably my favorite, sometimes I'm in the mood for something sweet. Kids also tend to prefer the following 3 recipes…
Matcha Lime Seasoned Coconut Chips
I've let it be known in the past that I'm addicted to matcha. I drink it almost every morning, sometimes combining it with other anti-inflammatory ingredients (like turmeric) to make a wake-me-up drink that doesn't get me jittery like coffee does. I also added it to my solid homemade deodorant recipe because of its beautiful color and anti-inflammatory properties.
I'm not sure how or why I came up with the idea of combining lime, matcha, and maple syrup to make seasoned coconut chips, but I'm glad I did. They are delicious!
Sweet & Tangy Raspberry Coconut Chips
I have actually seen raspberry-flavored coconut chips in the store. I bought them one day and fell in love! That's what inspired me to make my own. Not only can I control the ingredients this way, but I can also save myself a lot of money!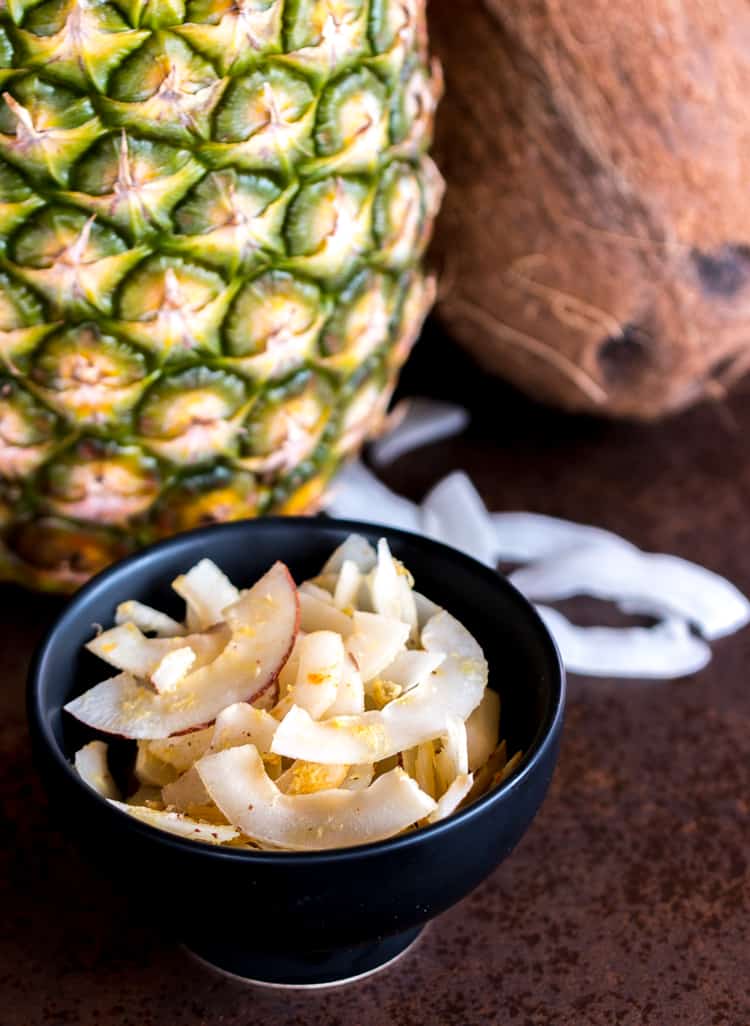 Piña Colada Coconut Chips
Seeing as one of the most popular combinations of coconut with another ingredient is the classic piña colada pairing of coconut and pineapple, I couldn't resist giving piña colada flavored coconut chips a try.
I am once again reminded of why this simple combination is so popular: it just can't be beaten! While I love all 3 of the sweet seasoned coconut recipes here, these are probably my favorite!

How long will these homemade seasoned coconut chips keep?
This is really going to depend a lot on how dry you are able to get them and how you choose to store them. For the above recipes, I started with already dried coconut chips. If you are making them as I showed in the video above, though, you'll want to dry them for longer.
Any residual moisture will allow for microbial growth- that means that you can get mold and/or bacteria growing that you can't see! To avoid that, dry them until they are crispy. You want to be able to crack them when you fold a chip over on itself. You don't want them to have any flexibility.
If you have fully dried them, and you store them in a well-sealed, cool and dry environment, they should keep for at least several weeks. I haven't had them last that long yet, though.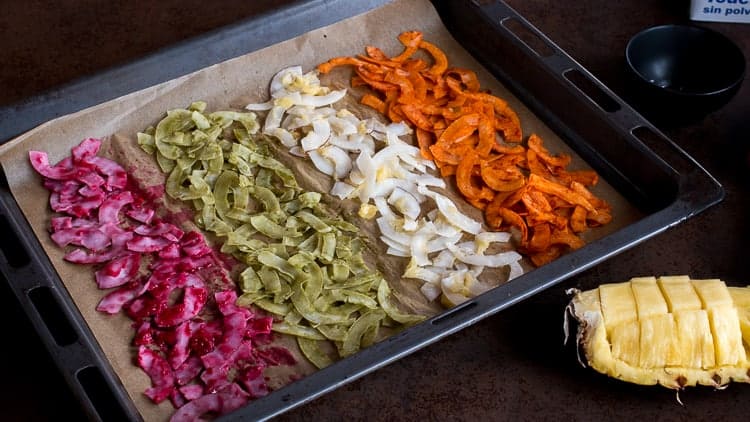 Other tips:
You definitely don't need to make the coconut chips yourself. You can save yourself some time by using store-bought coconut chips!
I like making several varieties at once to save myself time. I will make coconut chips from several coconuts, and then, after I've accumulated more of them, make several batches of seasoned coconut chips at once.
Lately, I've been storing the different varieties in reusable silicone zip bags. I find them very handy and safer for kids handling them than the recycled glass jars that I was using. They also take up a lot less room in my pantry when I've made several different flavors at once. (I still re-use glass jars for many other storage uses!)
Update notes: These recipes were first added in 2018 to the end of the post about how to make coconut bacon as alternative flavoring ideas. Most people weren't seeing them there, though, so I decided to give them a post of their own!
I also first shared the smoked paprika seasoned coconut chips recipe on Rubies and Radishes.