Buying fresh coconuts can be intimidating and frustrating when you choose the wrong one. Let me show you how to choose a coconut that is fresh, and how to open it easily.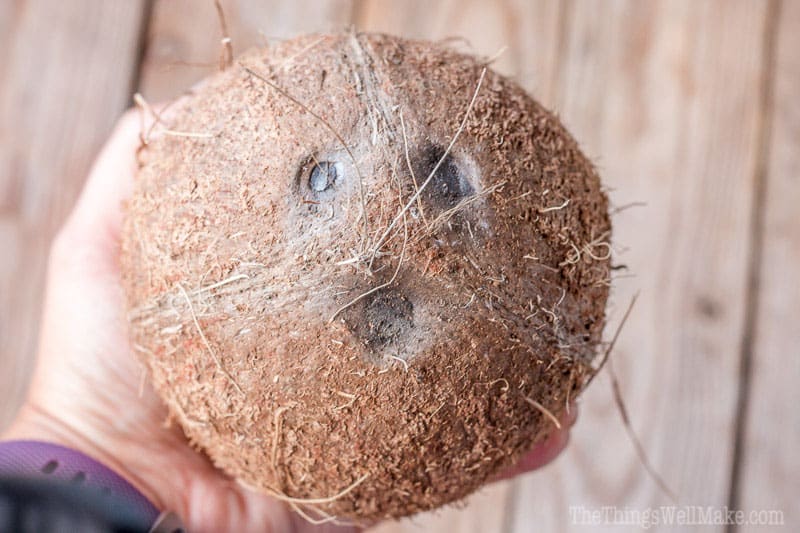 This summer I've been on a coconut kick. I've been drinking lots of coconut water, making all sorts of drinks and smoothies with coconut milk, and been snacking on homemade coconut chips. I've even been using the shell to make some fun crafts! I'll be telling you about everything I've been making soon, but today I'd like to concentrate on how to choose a fresh coconut, and how to open it once you have it home.
To be honest, I stopped buying fresh coconuts for quite some time after buying way too many that were moldy and unusable. When you are paying over a Euro for a coconut, and then you can't even use it, it's very frustrating. The coconut water and meat of a bad coconut not only taste sour, but they are probably pretty unhealthy if you choose to continue to eat them anyway.
I got into the habit of buying dried shredded coconut for making coconut milk, coconut flour, and coconut butter, and bought coconut water in cans.
Watch how to open a coconut and make seasoned coconut chips
When I started getting questions about how to make coconut milk, coconut flour, and coconut butter using fresh coconuts from people in Latin American countries where it's easier and cheaper to buy fresh coconuts than the dried, shredded variety, I decided I should give it a try. I began buying fresh coconuts again, and was just a lot more mindful about choosing them.
Ever since I've been pickier in my selection, I haven't chosen a bad coconut yet! That's not to say that you won't occasionally pick a bad one even when looking them over well, but your chances are a lot higher that you'll choose a fresh coconut.
How to choose a Fresh Coconut
1. Shake the coconut.
When you shake the various coconuts available, you want to choose a coconut that has a lot of coconut water inside. If you find a coconut that doesn't make a sloshing noise when shaken, do not choose it! Lots of coconut water is a good indication that the coconut is fresher. Those with less coconut water are more likely to have leaks or cracks where the coconut water has escaped, and mold may have gotten inside.
Plus, who doesn't love having a lot of coconut water to drink?
2. Look at the eyes of the coconut.
I used to just go by the amount of coconut water, but I found that a lot of times coconuts with a lot of water could still have areas that were beginning to mold, and most often than not the main moldy area was near the soft eye of the coconut.
When looking at a coconut, you will notice that it has three eyes.
Not all of the eyes are equal, though. One of the eyes is softer than the others, and because the shell is much thinner in the area of the soft eye, it is often the first place to go bad. (It is also the ideal place to begin opening the coconut- which I'll get to in a second.)
It may not be super obvious, but there is often a bit of greenish mold around at least one of the eyes of a coconut that is starting to go bad. Usually, when you open one of these coconuts, the water will be slightly sour and taste "off." You can usually rinse and use most of the coconut in these cases, but you'll have to discard any parts of the meat that are yellow (or any other color except white) and that don't taste as they should.
3. Search for cracks, mold, and wet areas.
Apart from the eyes of the coconut, you can also sometimes find other moldy areas. You won't usually see a full crack on a coconut that is full of water, but you may see small damp areas where a tiny hairline crack has begun to form.
Needless to say, don't choose any coconuts with visible cracks, mold, or wet areas!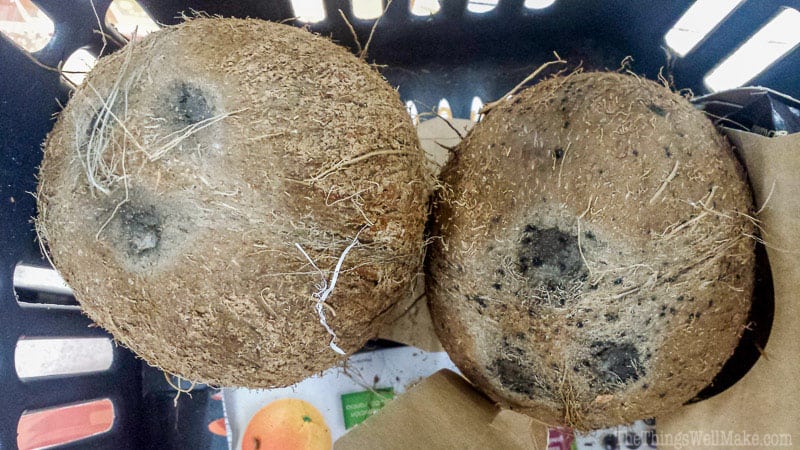 4. When in doubt, choose the heavier coconut for its size.
If you have followed the above tips and are still trying to decide between several coconuts that look pretty good all over, choose the one that is heaviest for its size.
It's not always easy to tell which coconut is heaviest for its size, but if you are comparing two coconuts that seem the same size, choose the heaviest one. The logic here is that a heavier coconut likely has more coconut water inside and is, therefore, more likely to be freshest of the two.
If you follow those 4 tips, most of the time you should have chosen a good coconut.
If you do end up with a coconut with yellow areas or any other color than white, discard any of those areas. If your coconut only has a small area that seems off, you can taste a small piece from the areas of that are completely white, but if you find that they don't taste right, discard the entire coconut. It's always best to be safe than sorry!
Now that you've chosen a good coconut, here's how to open it.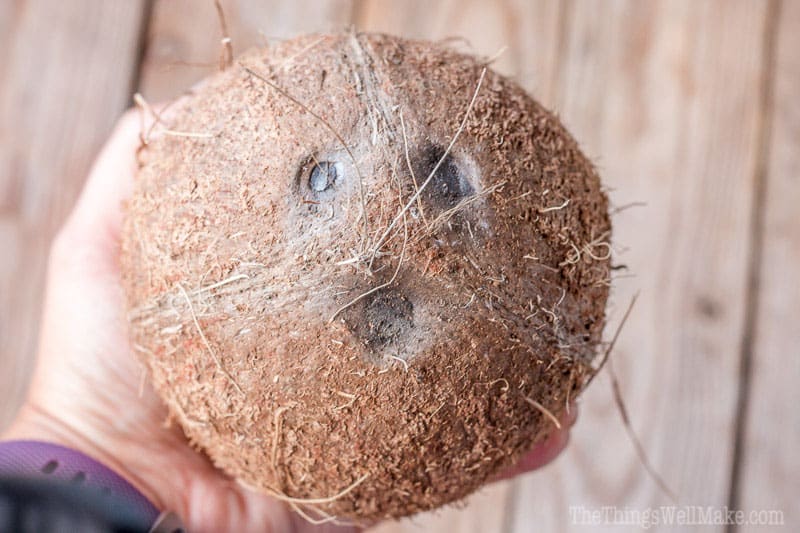 1. Pierce the soft coconut eye.
Look at the eyes of the coconut, and try to find which one is the soft eye. I can usually tell just by looking at the coconut which one will be the soft one because it looks slightly different than the rest. Usually the dark area around the soft eye is a bit bigger than the others, and the soft eye is often rounder and usually is rounded outwards.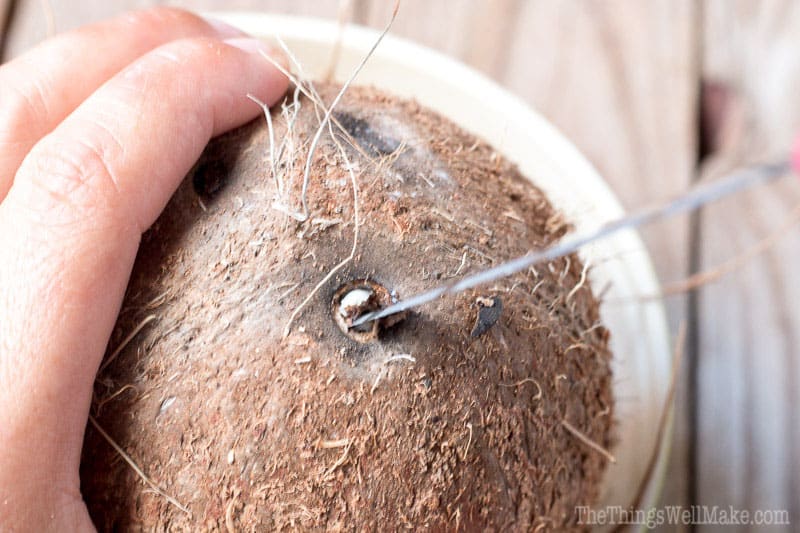 I have a very thin knife which I use to gently make hole in the soft coconut eye by pressing the point of the knife into the eye, and making a turning movement to clear out the coconut meat until reaching the center. If you choose the wrong eye, you'll find that it's much too difficult to gently open it with a thin knife. In that case, try with a different eye. There are people that choose to open more than one eye, or all three, but you'll usually need to open them with a screwdriver and a hammer. I personally, don't find it necessary.
2. Drain the coconut water from the coconut.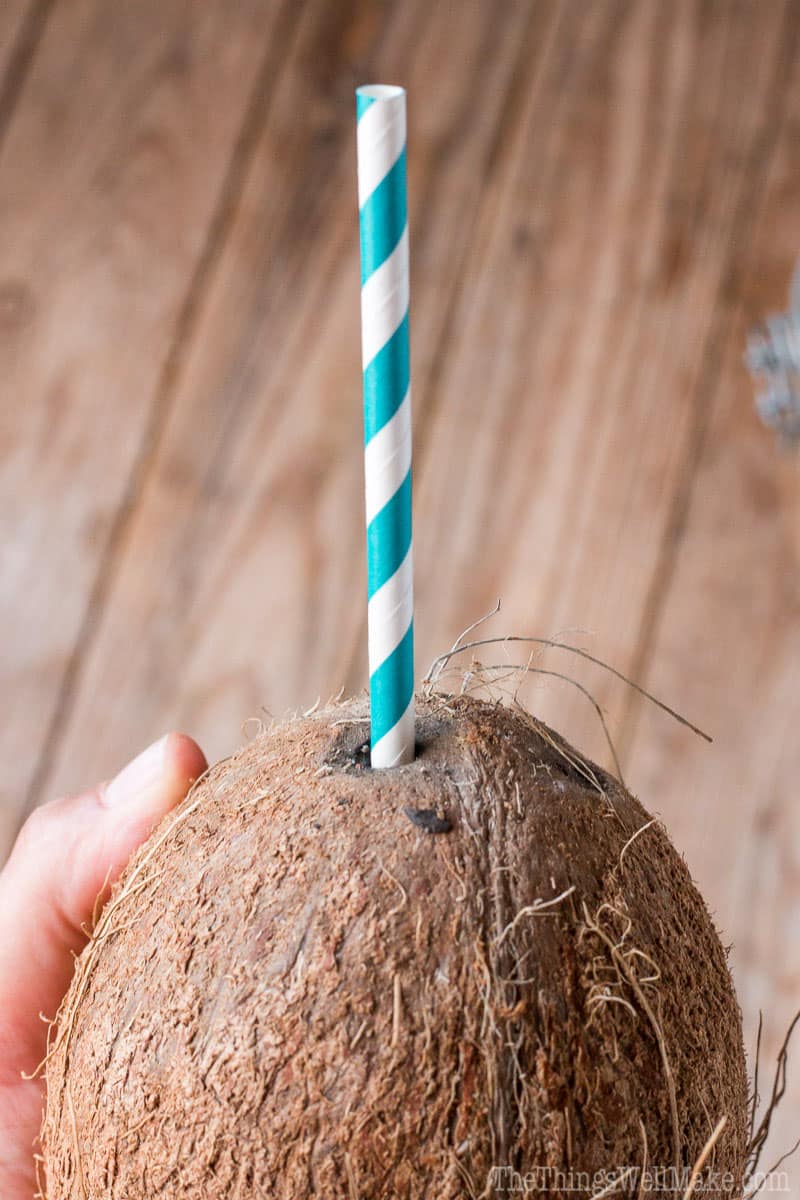 Once you've made a hole through the meat of the coconut, you can either stick a straw into the coconut and drink the coconut water out, or flip the coconut over onto and empty glass and let the coconut water drain out. Don't try to rush it out by pounding it against the glass. I've seen people break glasses that way! It will slowly run out on its own, even if you've only made one hole.
3. Crack the coconut open.
There are several ways to open a coconut.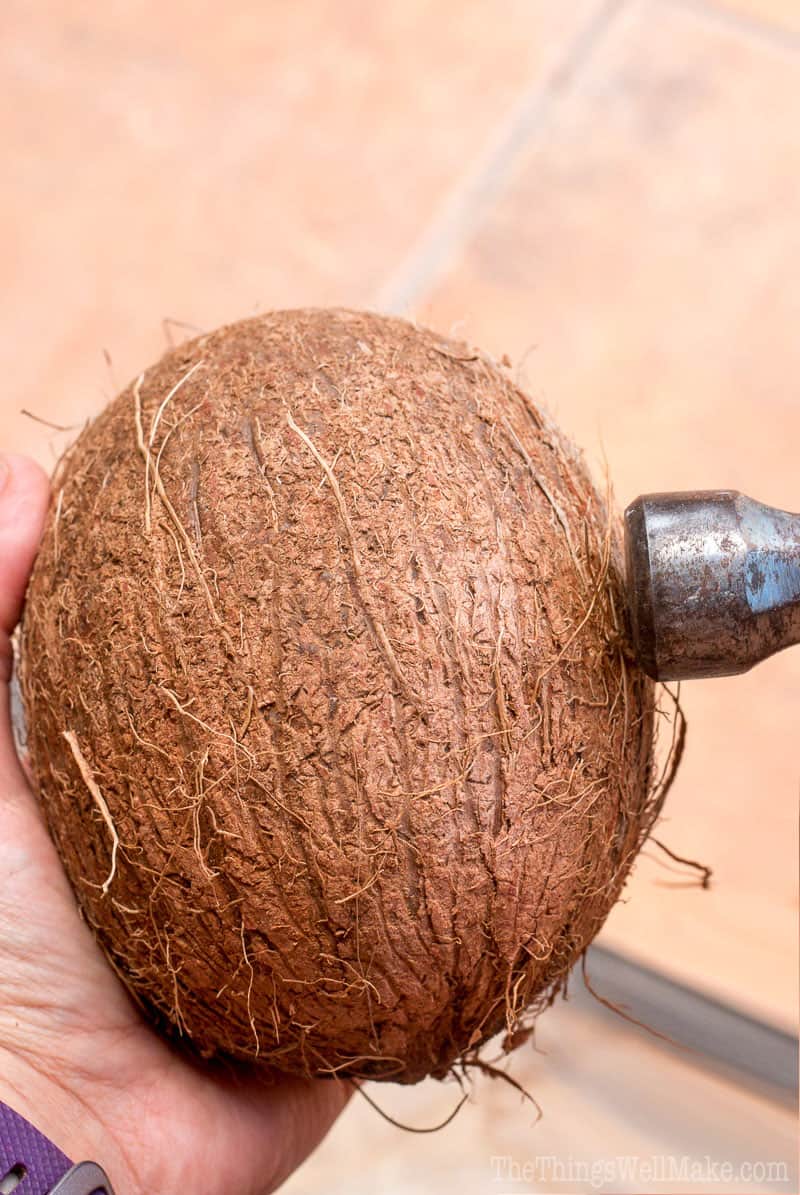 If you have a hammer on hand, I have found the easiest method to open the coconut is to hold the coconut in your hand and hit the center of the coconut with the hammer repeatedly while turning it. By repeatedly hitting it around the center, it will begin to create a fracture line that will get bigger and bigger as you keep going around the coconut. The nice thing about this method is that you don't need to use a lot of force when you hit the coconut. You just gently hit it repeatedly and eventually it will fracture, usually right around the line of where you continually hit it. (You do need to use a bit of force, though. Hit it hard enough so that it starts bouncing back at you, but not so hard that you hurt your hand!)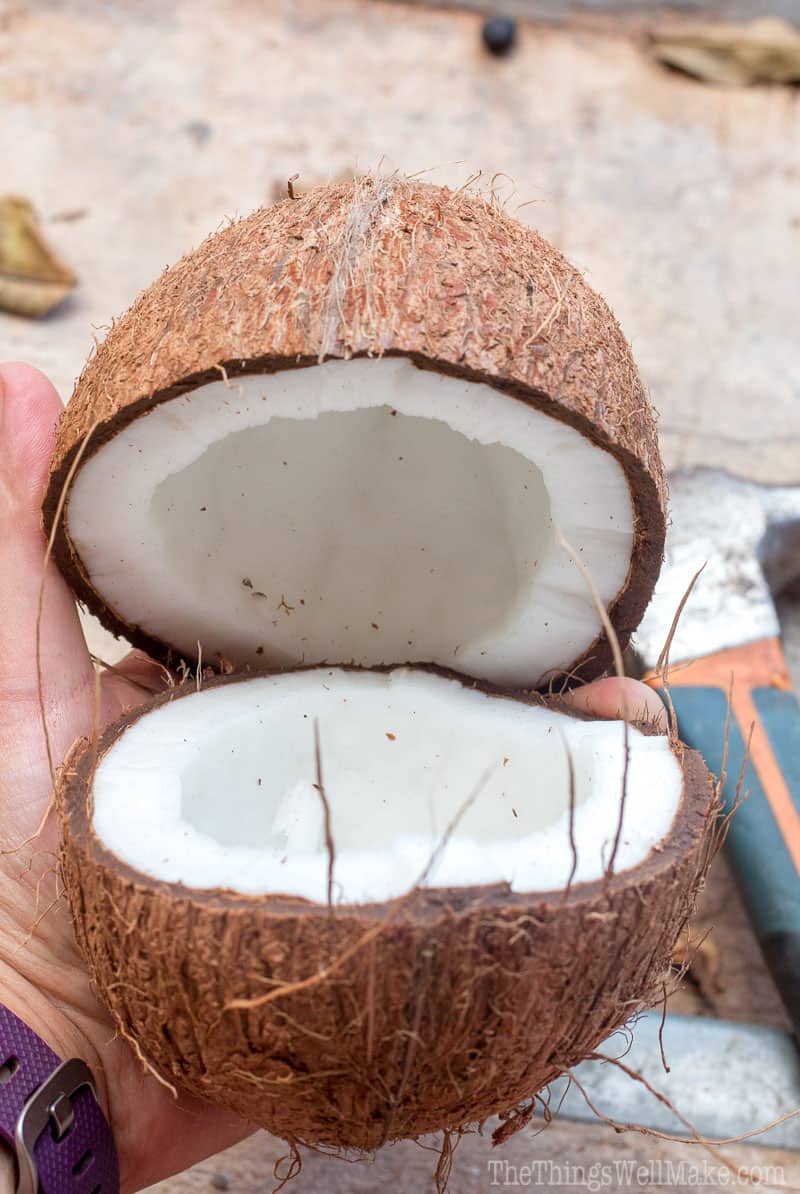 If you don't have a hammer, you can throw the coconut down onto a cement floor or sidewalk. If you choose this method, you can try placing it in a bag first so that the coconut pieces don't fly all over the place. You won't end up with two nice coconut halves with this method, but will instead end up with smaller coconut pieces. More often than not, you'll end up with small pieces of coconut and some pieces of the coconut meat will have broken apart from the coconut shell, making it easier to eat.
If you want to use the shell for other projects, you can also choose to saw the coconut in half. I've done it several times, and it's not the easiest thing to do, but if you have a bit of patience, you'll end up with two beautiful coconut halves with a nice cut surface.
3. Pry the coconut meat from the shell.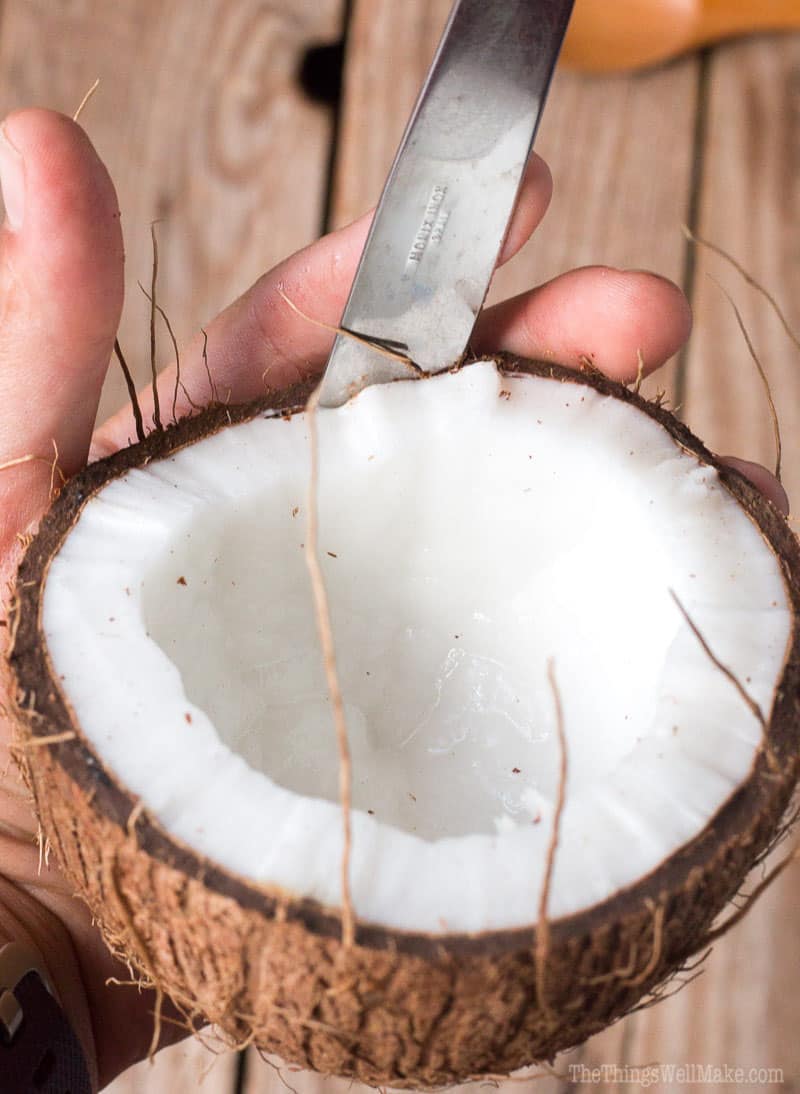 This is probably the hardest part of the process (unless you decided to saw the coconut in half in the last step). I usually use a butter knife and wiggle it in between the coconut meat and the coconut shell. Rather than trying to pry it out in small pieces, I push the knife down as far as I can, and then continue to do the same all the way around the coconut. In many cases with this method I can pry the entire coconut half out of the shell in one piece. Most of the time, though, it comes out in a few big pieces.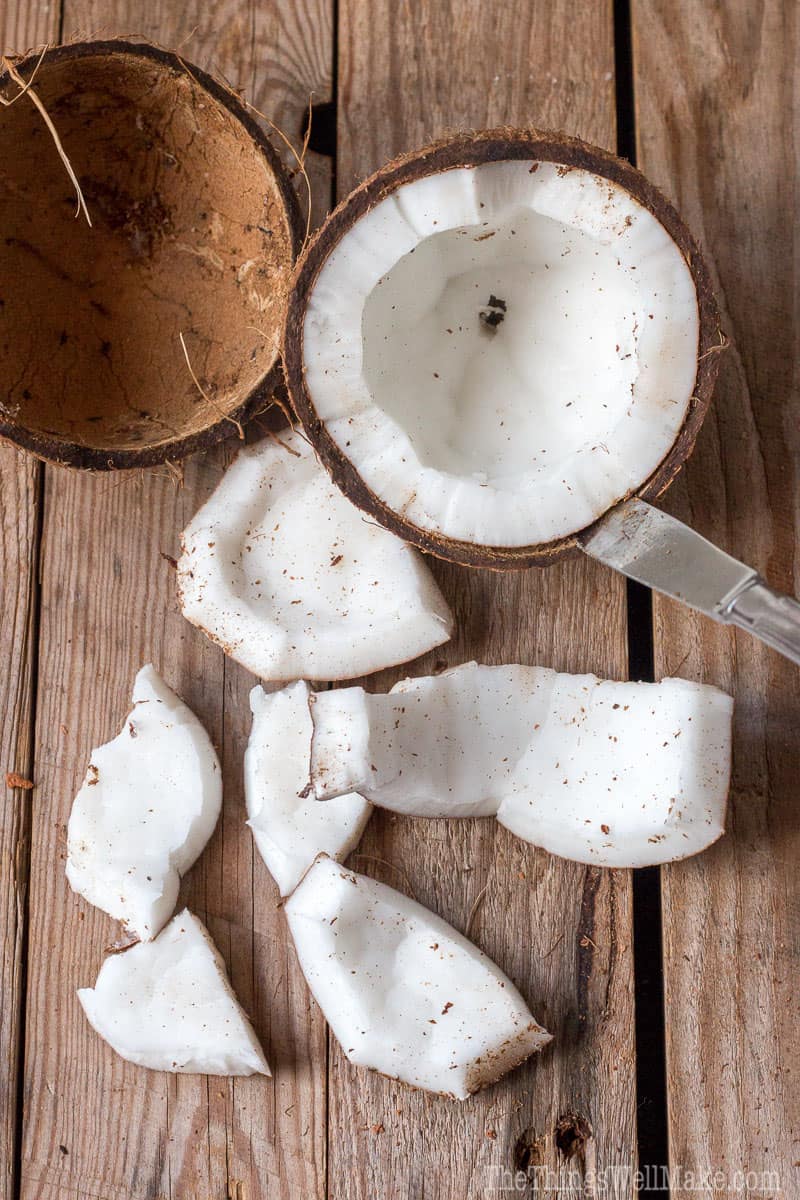 4. You can now eat the coconut meat
From this point, you can either eat the coconut as is, or use a vegetable peeler to peel the brown skin off from the white meat. It is now ready for use in your recipes.
I'll be sharing several new coconut recipes over the next couple of weeks, and will link to them soon!
Enjoy your coconut!