Start the day off right with this green turmeric lemonade, a superfood "wake-me-up" drink packed with antioxidants and vitamins.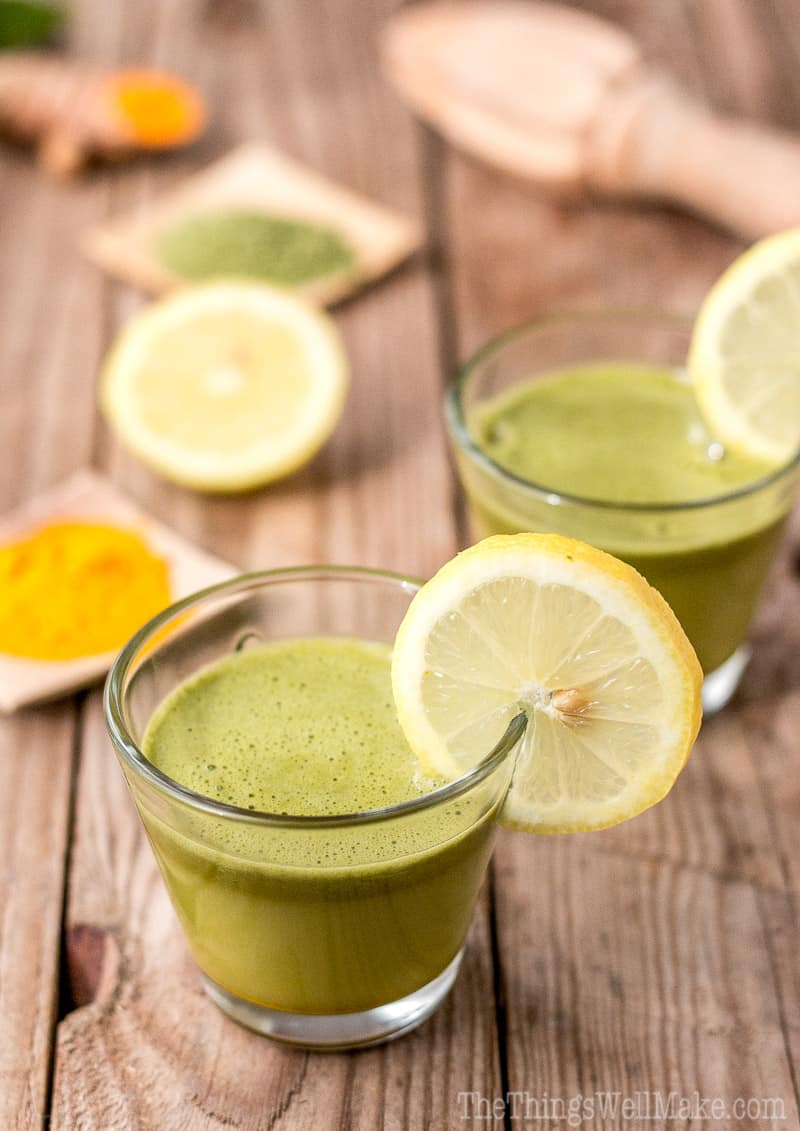 Last time I showed you a recipe for some brightly colored spring rolls that will help you eat the rainbow. You see, lately I've been really working to clean up my diet, lose a little bit of weight, and just to feel healthier overall.
Don't get me wrong; I don't usually eat junk food, I never drink pop/soda, and overall I think my diet is pretty healthy. Even when eating a paleo-type diet, though, it is easy to fall into the trap of relying on meat and "paleo approved" root vegetables and starches, and not eating as many different types of fresh vegetables as you should. I had been doing just that, and wasn't feeling as good as I should.
I decided to clean up my diet and make it more colorful. I've been actively making lots of fun new vegetable dishes to accompany small portions of clean meats and seafoods, and have been cutting out as much sugar as I can. I haven't gone back to the candida diet, especially now that spring is bringing in seasonal fruits to the market and I have fresh loquats on my trees, but I am very mindful of even the number of fruits I'm eating to keep my sugar intake low.
It does seem to be paying off. I've had a lot of energy lately, and I've been using it to bring my dog on long hikes (You can see some picture on my Instagram!) and get more blogging work done on my DIY treadmill desk. As a great pay off, I even seem to be shedding a few pounds.
One of the things that I think has been monumental in the way I've been feeling is this green turmeric lemonade that I make myself each morning. I think it's a great way to stimulate your body and immune system right from the beginning, bringing you the energy you need to start the day off right.
I've never been one to "need" coffee or caffeine to "wake myself up" in the morning, but for those of you who are trying to wean yourself off coffee, something like this might be just what you need.
Drink this superfood lemonade hot or cold?
I like to switch it up depending on the weather outside. If I need something comforting or something to warm me up, I add in warm water. Some say that cold lemon water can shock the system in the morning, and I guess I do usually use room temperature or warm water first thing in the morning, but if I want a refereshing pick-me-up after working out or working out in the garden, I use cold water and lots of ice and love it that way!
Why is this such a potent superfood drink?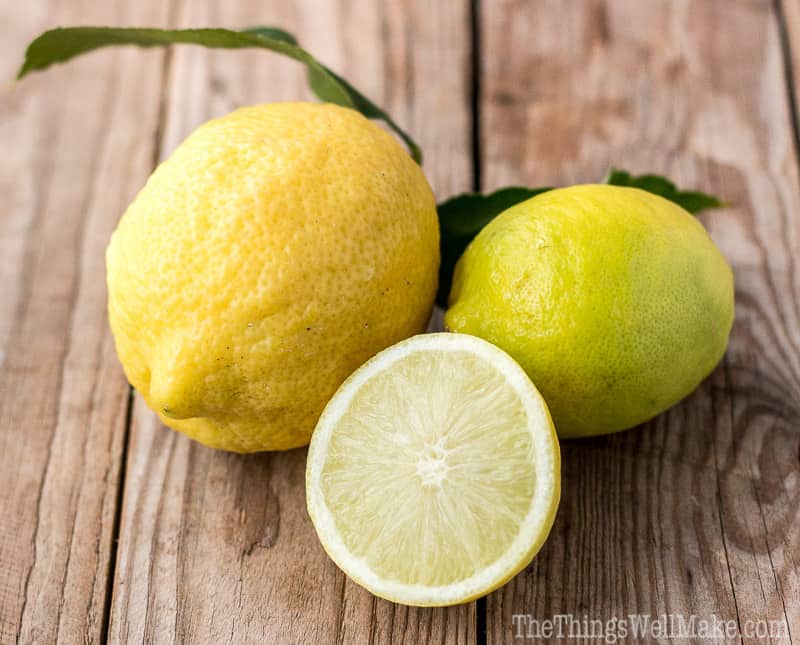 The health benefits of lemons & limes
I'm definitely not the first person to start off the day with lemon water. I recently learned from my dad that two of my aunts like to begin each day with a glass of it, and the internet is full of articles touting the benefits of drinking lemon water first thing in the morning.
Lemon water helps to stimulate bile production because it mimics the body's digestive juices. This helps to prepare your digestion for later on and can also help ease an upset stomach or indigestion. Drinking it first thing in the morning helps to clean and detoxify your system while providing you with its vitamins and minerals. (Even if you don't have any lemons or limes around, drinking a glass or two of water first thing in the morning is a great way to clean your system and boost your energy!)
Lemon water is a decent source of vitamin C. I've been trying to increase my vitamin C intake after having recurrent urinary tract infections, and, while it may be coincidental, haven't ever had an infection begin when I was actively drinking lemon water daily. (Unfortunately sometimes it isn't convenient or I have fallen off the bandwagon, and it happens to be during those times that I seem to get a new one.) Perhaps the acidity of the lemons and limes changes the pH of the urine making a hostile environment for bacterial growth too.

Beneficial properties of matcha & green tea
Matcha is a powerful superfood!
It provides the body with a large dose of antioxidants called catechins, and matcha powder provides a much higher dose than what is obtained from just drinking green tea by itself. Catechins counteract the negative effects of pollutants and radiation, making them a helpful addition to an anti-cancer diet.
Matcha can boost your energy, stimulate your metabolism and help with burning fat. Rather than making you jittery, like when you try to boost your energy with coffee and soda, matcha tends to keep you feeling calm and focused.
So, not only is matcha anti-inflammatory and good for your metabolism, but it can also stimulate your immune system which helps keep your body healthy and free of diseases. It can even help improve cholesterol and blood sugar levels! What more do you need to read? 😉

Healthy benefits of turmeric
Another powerful antioxidant and anti-inflammatory agent, turmeric has gained recent popularity as a potent superfood. I love the color and flavor of turmeric, and especially love it in Middle Eastern recipes like my tasty turmeric falafel.
Turmeric contains curcuminoids like curcumin, that have been shown to help prevent, and perhaps even treat diseases such as cancer, depression, degenerative diseases like Alzheimer's, and inflammatory conditions like arthritis. Like matcha, it is also thought to help improve blood sugar levels and metabolization of those sugars, and help you to detoxify your system and clear your skin.
Unfortunately, a lot of the curcumin in turmeric isn't easily absorbed and used by your body, but you can help improve its absorption by ingesting it with some freshly ground pepper and some healthy fats, both of which I include in my green turmeric lemonade for that very reason.
Healthy fats: olive oil & coconut oil
Both olive oil and coconut oil are healthy fats that will help with the absorption of the curcumin in turmeric.
Olive oil itself is anti-inflammatory and can help prevent cancer, Alzheimer's, and depression. It can help you maintain a healthy weight, keep your heart healthy, and can help with controlling blood sugar and insulin levels.
Coconut oil may also be helpful in burning fat and increasing your metabolism. It is antimicrobial, which means that it could help ward off viruses, bacteria and even fungi. It has been shown to increase "good" cholesterol levels, and may help prevent neurological disorders like Alzheimer's and epilepsy.
You can use either of these healthy oils in this cocktail, but I usually use extra virgin olive oil because I can find high quality EVOO's locally and it stays in its liquid form year 'round, even if I decide to drink the lemonade cold. Using a hand held blender, though, can help you incorporate whichever oil you choose.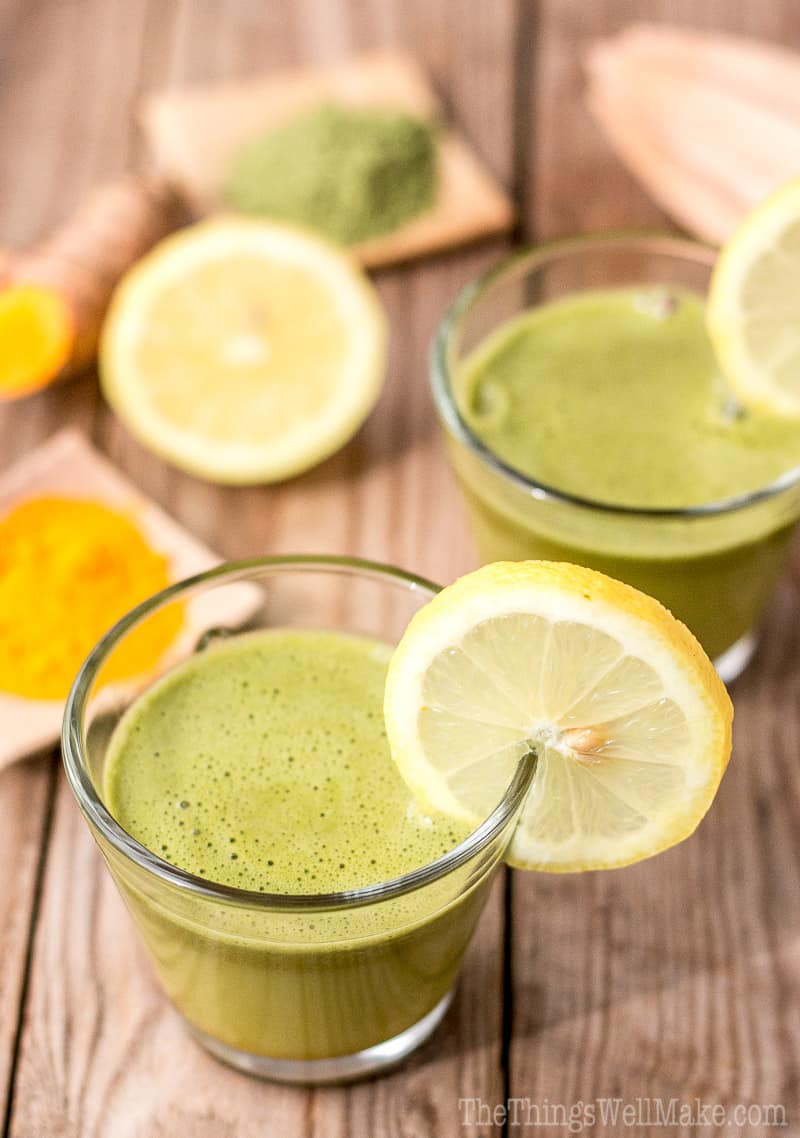 Green Turmeric Lemonade
Craving more?
Subscribe to my newsletter for the latest recipes and tutorials!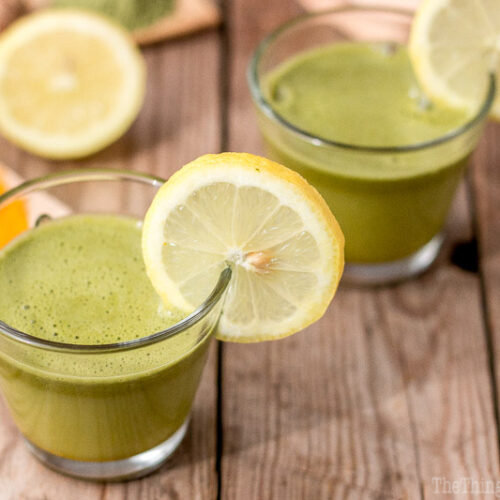 Green Turmeric Lemonade
Start the day off right with this green turmeric lemonade, a superfood "wake-me-up" drink packed with antioxidants and vitamins.
Print
Rate
Instructions
Juice the lime and lemon into a large glass. (You can use either/or or a combination.)

Add the matcha and turmeric, along with some freshly ground pepper and combine well. If you don't like turmeric, you can omit the turmeric and pepper and just make a green lemonade with matcha.

Fill the glass with water (warm or cold), and mix together well.

Add the extra virgin olive oil or coconut oil and stir. The oil will separate and float on top, which is OK. You can also use a hand held blender to help combine them better and make the mixture frothy and smooth (keeping in mind they will eventually separate again).

Serve immediately!
Calories:
75
kcal
|
Carbohydrates:
6
g
|
Protein:
2
g
|
Fat:
5
g
|
Sodium:
2
mg
|
Potassium:
136
mg
|
Fiber:
2
g
|
Sugar:
1
g
|
Vitamin A:
125
IU
|
Vitamin C:
28.6
mg
|
Calcium:
14
mg
|
Iron:
1.8
mg