Sweet, smoky, and salty, coconut bacon will remind you of maple sweetened bacon, but they are vegan! Learn how to make coconut bacon and other flavors of seasoned coconut chips!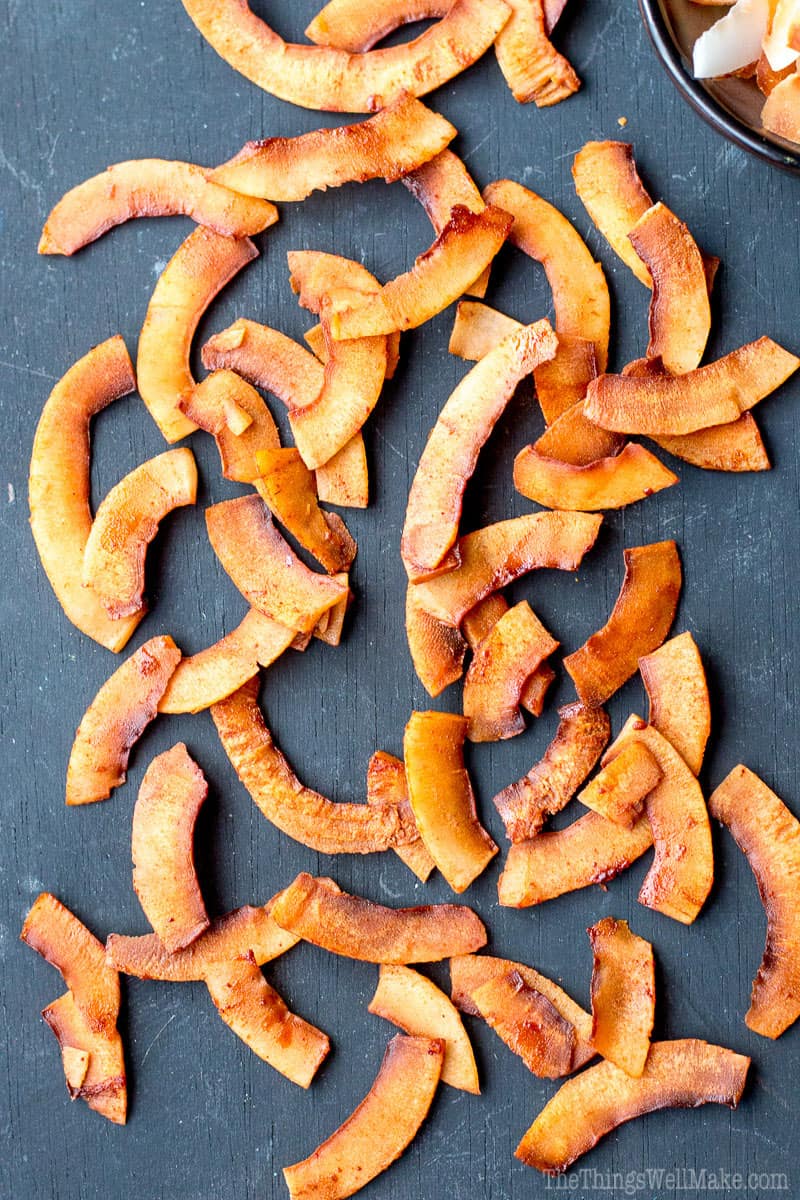 Over the last week, I've showed you how to choose a coconut (a fresh one) and how to make coconut chips. Both of those posts have been leading up to this post (and a few more to come).
I've been busy making all sorts of seasoned coconut chips over the last several weeks. My first chips were actually just seasoned with a bit of salt, and some other herbs and spices like smoked paprika. Today, though, I thought I'd start out with the most famous of all seasoned coconut chip recipes, how to make coconut bacon.
What is coconut bacon?
Coconut bacon is a type of seasoned coconut chip that is sweet, salty, and smokey, reminiscent of maple sweetened bacon. It's especially popular in vegan circles, not because they are looking for meat alternatives, but because it's tasty.
I guess there are probably a few vegan converts who were missing bacon and love having a healthy, vegan alternative. Maybe that's how it all started. Who knows? Once they started raving about its sweet, salty, crunchy goodness, though, more and more people started making coconut bacon and loving it.
The nice thing about coconut bacon is that it is really a quick and easy recipe. If you're beginning with a fresh coconut, it will take you a bit longer, but if you already have your coconut chips made (or bought), it will only take you a few minutes of working time to make coconut bacon.
Expert tips
Most coconut bacon recipes use a higher heat setting than what I'm going to suggest. On the one hand, that's helpful if you want to make coconut bacon quickly. On the other hand, if you tend to forget about what you're doing, it's very easy to burn your coconut bacon when using a high heat setting. Getting distracted for a few minutes could be disastrous. Burnt coconut bacon definitely isn't very tasty.
I prefer to dehydrate the coconut bacon, once seasoned, slowly either in the oven or in a dehydrator. Coconut is already delicate on its own, but add to that the maple syrup coating, and you have something that burns even more easily.
Coconut bacon is a very versatile recipe too that can be adapted to suit your taste. At first, I started making it with more tamari and less maple syrup because I figured most bacon isn't super sweet, and less sugar means healthier, right?
In the end, though, I upped the amount of maple syrup because I love the way it gives the coconut chips a bit of a crunchy coating. And, well, less sugar is healthier, but a little more sugar (at least in this case) tastes better to me. 😉
Customizing the recipe
Too salty? You can water the tamari down with a little water and use a bit less.
Too sweet? Use less maple syrup.
Too smoky? Use less smoked paprika or less liquid smoke. Or add more if you want it smokier. (Is that a word?)
Going back to that…
How to get that smoky bacon flavor
There are a few options for giving the coconut bacon a nice, characteristic smoky flavor.
I've been using smoked paprika. Here in Spain, they make a really great tasting smoked paprika, called pimentón de la Vera, for use in making chorizo. You can find it in both sweet and spicy varieties. For coconut bacon, I opted for the sweet variety, but if you like things spicy, try the other.
If you don't have, or can't find, a good smoked paprika, you can use regular paprika with a bit of liquid smoke instead.
Liquid smoke is one of those ingredients that I don't really use very often. I usually avoid it because I'm not sure how healthy it is, even if you find a brand without too many crazy added ingredients. In this case, since you aren't using much, I wouldn't get too hung up on it for occasional use. (Char broiling and smoking themselves are thought to be potentially unhealthy. They could form carcinogens during the smoking/cooking process. I'm not saying to avoid them because I love a good BBQ myself, but it's a good idea to not overdo any of these.)
If the idea of using liquid smoke (or even smoked paprika) worries you too much, try making coconut bacon without it! It won't have that smoky characteristic flavor of bacon, but the sweet/salty mix of tamari and maple syrup mixed with a tad of paprika is pretty darn good on its own!
Other Seasoned Coconut Chips Flavors
While I have to admit that coconut bacon is pretty amazing, it isn't my favorite of all of the seasoned coconut chips that I've tried. I've gotten pretty addicted to a few others…
I had originally given you some ideas for other flavors of seasoned coconut chips at the end of this post, but they were getting overlooked. On August 28th, 2019, I moved those recipes to a fresh new post: How to make seasoned coconut chips.
Video (For seasoned coconut chips and coconut bacon)
Craving more?
Subscribe to my newsletter for the latest recipes and tutorials!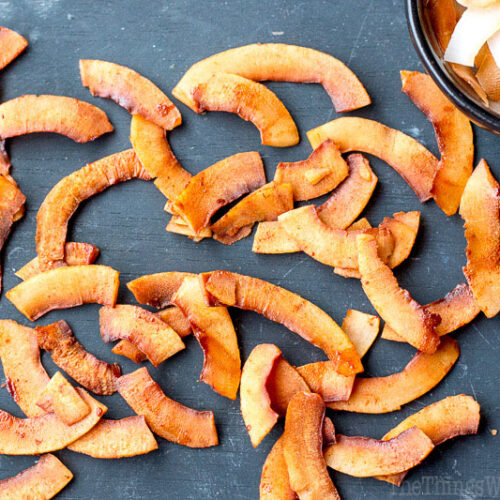 Coconut Bacon Recipe
Sweet, smoky, and salty, these seasoned coconut chips will remind you of maple sweetened bacon, but they are vegan! I'll show you how to make coconut bacon in just a few minutes!
Makes 2 cups
Print
Rate
Servings:
8
1/4 cup servings
Instructions
Mix together the tamari or soy sauce, the maple syrup, and the smoked paprika (or the liquid smoke and regular paprika) until well mixed. If you mix them in either a container with a lid or a bag, it will be easier to coat the coconut chips in the next step.

Pour the coconut chips into the container with the mixed seasonings. If you are using a container with a lid or a plastic bag, it's easy to coat all of the coconut chips by shaking them with the seasonings until fully coated.

Spread the coated coconut chips over a baking sheet (or a dehydrator tray) so that they don't overlap too much.

Dry them out by using the low heat and convection setting of your oven (if you have one), or by using a dehydrator. They will get nice and crispy.

If you want them to be a toasted color, you can either use toasted coconut flakes to begin with, or you can put them in the oven at a higher heat setting for a few minutes. Be very careful if you choose to do so, checking on them every minute or so, because they can burn pretty quickly at higher heat settings.

Eat as is or serve on salads or other dishes.
Serving:
0.25
cups
|
Calories:
148
kcal
|
Carbohydrates:
6
g
|
Protein:
1
g
|
Fat:
13
g
|
Saturated Fat:
12
g
|
Sodium:
145
mg
|
Potassium:
126
mg
|
Fiber:
3
g
|
Sugar:
3
g
|
Vitamin A:
75
IU
|
Vitamin C:
0.3
mg
|
Calcium:
8
mg
|
Iron:
0.8
mg