Crispy and coated with a tasty Mexican spice blend, these paleo Doritos like chips are a satisfying, healthy way to curb your junk food cravings.
Every once in awhile, even if you've been eating a healthy diet for awhile now and don't have many junk food cravings, you probably feel like eating something fun and crispy like those Doritos you used to eat a long time ago. (Or maybe not that long ago.)
I've been making my own paleo tortilla chips from flaxseeds for a while now, and have to say that I really love them.
One day, after having made some tomato powder, and having made a vegan pumpkin cheese, it occurred to me: I bet I could use the cheesy flavor of the nutritional yeast along with my tomato powder to make paleo Doritos like chips that would be just as satisfying, and a lot healthier. I think it may have turned into one of my favorite recipes ever. 🙂
Once you make the tortilla chips (find the recipe for easy paleo tortilla chips here), it's really only a matter of making a spice mix that you enjoy. Doritos have a sort of Mexican spice blend flavoring that combines tomatoes, cheese, onions and garlic with spices often found in Mexican food like cumin and chili powder. I was out of cayenne powder, so I used a spicy paprika, and that worked out well for me, but you can easily substitute the spicy paprika for chili powder or a mix of sweet paprika and chili powder instead. You can also adjust any of the ingredients to your liking.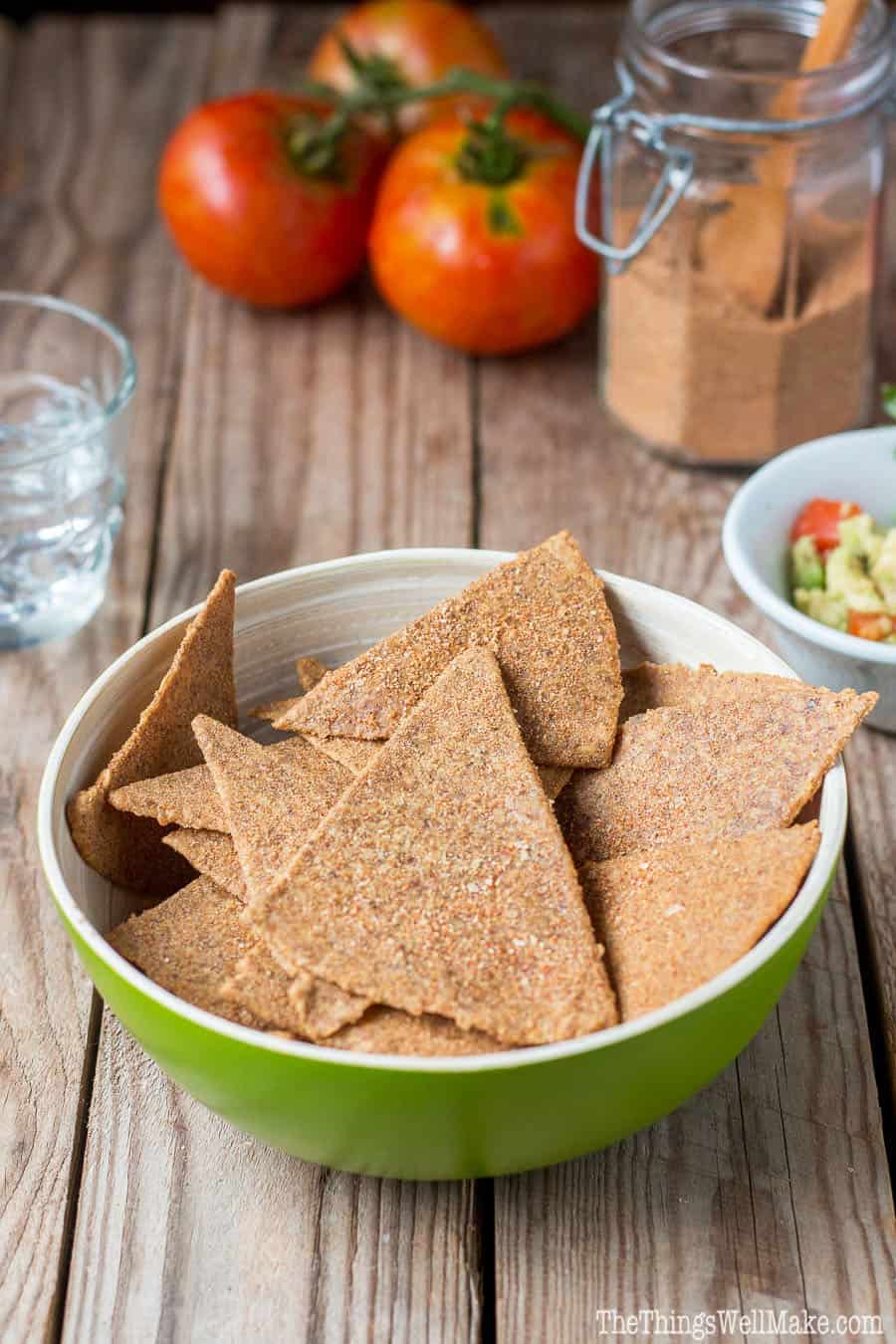 Overall, the spice blend I chose was pretty close to the real deal, but I felt that it lacked the tanginess of Doritos. After looking over their ingredients, sure enough, citric acid was one of them. I know that citric acid isn't exactly a paleo ingredient, and that some of you would be completely against ever using it in a recipe. For that reason, I tried adding some lemon juice to my spice blend, but it got all messy and I didn't like the final flavor. I have considered trying again by either spritzing the chips with lemon juice and baking them dry again, or letting them air dry before covering them with the Doritos like spice blend. If I try it and love the way they turn out, I'll let you know about it. I'd also love to hear any suggestions for getting a tangy Doritos like flavor without using the citric acid. (You could also just leave it out. The spice blend is pretty tasty even without it.)
Because flaxseeds have a good, healthy dose of fats, I didn't need to add any more oils to them to get the ingredients of the spice blend to stick. Basically all you have to do is to mix up all of the ingredients in a bag, throw some chips in there and shake the bag until the chips are well covered. That's all there is to it, and you can immediately enjoy the fruits of your labor.
If you haven't made my paleo tortilla chips yet, I can guess what you're thinking. "Making tortilla chips from scratch sounds like a long, tedious process that will take a lot of time."
You may be surprised to find that it's incredibly simple and quick, and you can just as easily use the same recipe to make taco shells.
Here is a video that shows how quick and easy it really is!
Paleo Doritos Like Chips Recipe
Craving more?
Subscribe to my newsletter for the latest recipes and tutorials!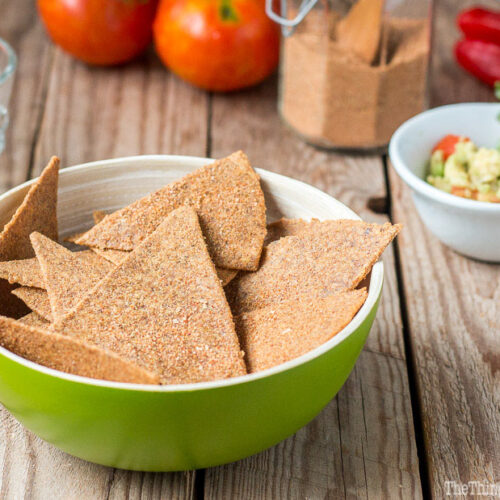 Paleo Doritos Like Chips Recipe
With fall apples giving this coffee cake its moist texture, which contrasts with its crispy crumb topping, this paleo apple crumb cake is definitely one of my favorite paleo treats.
Print
Rate
Servings:
4
6 chip servings
Ingredients
For the chips
1/2

cup

flaxseed meal

for the chips, recipe here

1/8

cup

water
Instructions
Mix together all of the spice blend ingredients.

Make a fine powder that easily sticks to the chips by grinding the spice blend in a coffee grinder, spice grinder, or high powered blender.

Fill a plastic bag or a large glass jar with the spice blend and the tortilla chips, and shake until the chips are fully coated with the spice blend. If your chips don't all fit in the bag or jar, work in smaller batches until you have coated all of the tortilla chips. I didn't have any problems coating the chips because of the fat content in the flaxseeds, but you can spritz them with a tiny bit of oil to get the coating to stick better if needed.

Remove the chips from the bag or jar and serve immediately, or store them in a well sealed container until you are ready to eat them.
Calories:
155
kcal
|
Carbohydrates:
13
g
|
Protein:
8
g
|
Fat:
9
g
|
Sodium:
17
mg
|
Potassium:
463
mg
|
Fiber:
8
g
|
Sugar:
1
g
|
Vitamin A:
335
IU
|
Vitamin C:
1.7
mg
|
Calcium:
73
mg
|
Iron:
2.5
mg