Growing up, we lived relatively near an apple orchard which had it's own restaurant. To be honest, I wasn't that impressed by the food. They had a simple menu of sandwiches, and I've never been a big fan of sandwiches in general. That said, I still loved going there.
The restaurant was decorated with lots of old pictures, newspaper cut outs, and fun antiques, and they served really great apple everything. Just as water is served and refilled at most restaurants in the US, this restaurant gave refills on their wonderful, homemade apple cider. Then, of course, there was dessert, and I loved trying something new every time we went. I especially liked the apple crisp, their hot caramel apple sundaes, and their apple dumplings.
Once our meal was done, we usually bought something to bring home. Sometimes it was fresh apples, sometimes it was apple cider doughnuts, and sometimes it was my favorite, apple butter.
Apple butter is easy to find in Michigan, of course. Michigan is, after all, the state of the apple blossom. Here in Spain, though, it is unheard of.
That's why I had been meaning to try making some spiced apple butter for quite some time now.
Here's how I made it…
Craving more?
Subscribe to my newsletter for the latest recipes and tutorials!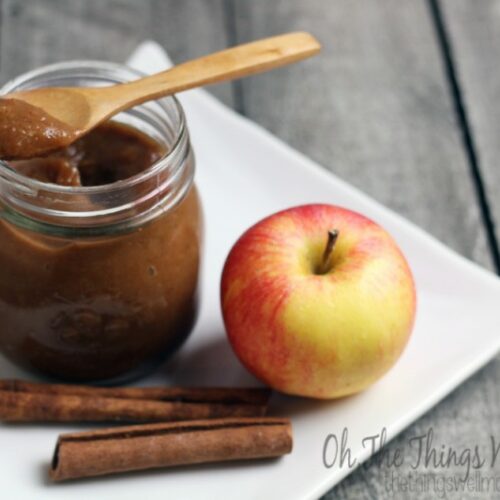 Instructions
Clean your apples, and peel them if you so choose. I often leave the peels on when using organic apples. They are almost unnoticeable when you purée everything together.

Cut the apples into large chunks, removing the cores.

Place everything in your slow cooker for a few hours on high heat until the apples begin to soften. If they appear to be getting too dark, without getting soft enough or without releasing enough of their juices to prevent burning, either add a little water or turn the temperature down. I haven't found that necessary with my slow cooker, but different models have different heat settings and they may vary.

Once the apples have softened a bit, use a hand held blender to purée the apples into a smooth paste.

To thicken the apple butter, take the cover off the slow cooker, and keep heating it on high heat, stirring occasionally.

Add in your cinnamon, sugar and spices, to taste.

Once it has reached the desired consistency, pour into jars for storing.