Learn to make a variety of compound butter types, flavored butters that can be used on meats and veggies to ensure a flavorful dishes, or alone as a tasty spread.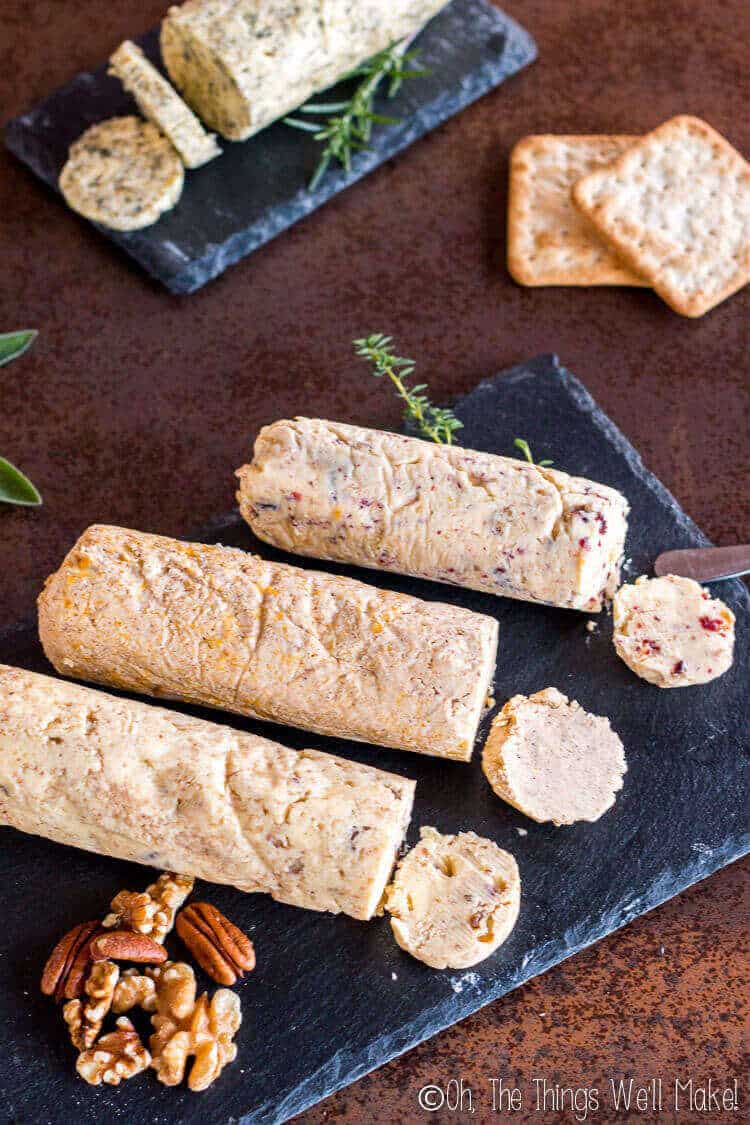 What is compound butter?
Compound butter is basically just a fancy term for flavored butter or herb butter.
It isn't just called herb butter, though, because it can include a variety of other ingredients like fruits, spices, herbs, sugar, or salt. The term "compound butter" includes many varieties of butters, both sweet and savory, where the butter is mixed with other ingredients. The final butter is served in a way that will enhance the flavor of other dishes.
Compound butters can be used in an infinite number of ways.
They are served atop steaks at restaurants. They are spread on turkey and chicken before roasting to help ensure a tasty roasted bird. They are served on top of fish to give its flavor some dimension.
Both sweet and salty varieties are often served with breads and dinner rolls. Herbal varieties are often used when making herbal mashed potatoes. Pancakes and waffles are tastier and fancier when topped with a pumpkin spice pumpkin butter or a sweet honey nut variety.
Really want to get extra fancy points?
Mold the sweet butters into small, decorative pats of butter using silicone candy molds.
Watch how simple it is to make compound butter:
Should you use dry herbs or fresh herbs in compound butter?
When making compound butters, you can add just about anything that comes to mind. That said, you should keep in mind that adding any ingredients with a water content will reduce the shelf life of your butter.
If you plan on using all of your compound butter right away, you can use fresh herbs right from your garden. If you want something that will last for more than a few days, though, I'd suggest using dried herb and spices instead. That said, you can freeze your homemade compound butter to make it last longer, and take it out of the freezer the day you want to use it.
Compound butter for steak
Love the taste of the steak served at your favorite steakhouse?
Or maybe you noticed that the fancy local restaurant served your filet mignon topped with a fancy looking herb butter?
The herb butter that is often served atop steaks to bring their flavor to a new, impressive level, is called compound butter. It can be made using a number of different herbs and spices, but for steaks herbs like sage and rosemary work especially well. Experiment to find your favorite combination of herbs.
Compound butter for turkey (and chicken)
I like to make compound butter every year before Thanksgiving dinner. At first, I made it with the sole purpose of roasting a turkey perfectly, but I've since found that the leftover butter is perfect for dinner rolls and mashed potatoes. Not only does the compound butter enhance the flavor of my turkey, but it also helps ensure crispy skin while keeping the meat from drying out.
To help add flavor and keep the turkey from drying, I slice discs of compound butter and slip them underneath the skin of the turkey, all over the breast. I then cover the rest of the turkey skin with compound butter to help crisp up and add flavor to the skin. (You can watch how I do that with pieces of turkey in my video about how to make compound butter.)
You don't have to stick to only using compound butter on turkey, though. Why not use the same idea to flavor your roasted chickens? I'll probably try using it next time I roast a whole chicken in the slow cooker.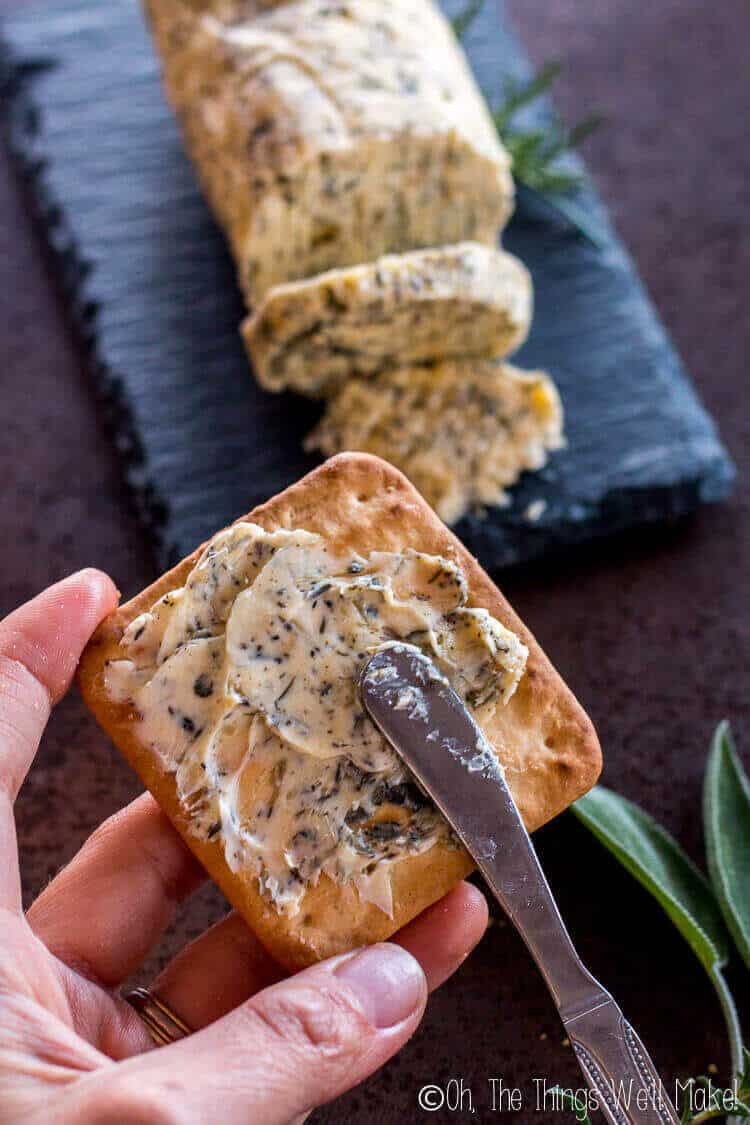 Compound butter for breads
When it comes to spreading on breads and crackers, the sky is the limit to the sorts of compound butter recipes you can try. Breads combine well with both the salty, herbal butters that are normally used on meats and veggies, but they also taste great with sweet flavored butters. Sweet compound butters are especially wonderful served atop homemade pancakes, waffles, and French toast.
This past Thanksgiving, I started playing around with several varieties of flavored butters. I added everything from a homemade pumpkin puree and pumpkin spices, to cranberry sauce and pistachios in another. So far, I haven't made any combinations that I haven't liked. Perhaps my favorite so far was a butter pecan flavored butter that was made simply by grinding up pecans, and adding the ground nuts along with some honey to the soft butter. I was surprised how much the simple mixture reminded me of butter pecan ice cream!
Compound butter for vegetables
The first time I used compound butter in a side dish was probably when I made mashed potatoes. Rather that use plain butter, I used my herbal butter to enhance their flavor.
I've since used the herbal butter on everything from green beans to pan fried mushroom slices. They add a personalized touch to your side dishes that is sure to impress your guests.
How to achieve a smooth compound butter
Keep in mind when adding liquid ingredients or those with a water component, like pumpkin puree or maple syrup, that water and oils don't don't generally mix well. To get the mixture to hold together, an immersion blender or food processor is a great aid for making a smoother blend. To get the mixture very smooth, you need to beat the mixture together well. Keeping the amount of humid ingredients small also helps get a smoother mixture that doesn't separate.
If you want more texture, you can hand mix in ingredients like pumpkin puree.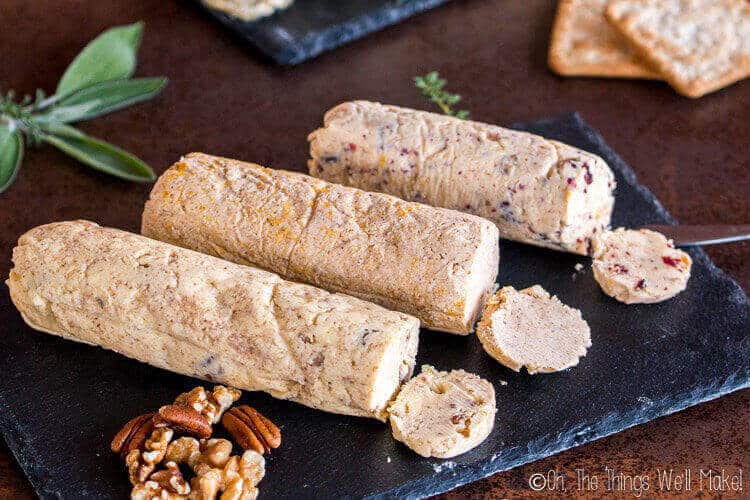 How to store compound butter
Compound butter stores well in the fridge if you'll be using it over the next few days. Herbal butters made with dried herbs will normally last longer than that, but any compound butters made with fresh herbs or wet ingredients won't keep for long because the extra moisture allows for microbial growth.
I recommend freezing any compound butters that you won't be using immediately, and defrosting small portions as you need them.
Whether you choose to refrigerate or freeze your butter, it will last longer if well wrapped. I usually wrap my homemade compound butters in the same parchment paper that I used to made the rolls in the first place. I then place the wrapped butter in a freezer bag to help further protect it.
Serving ideas
Most of the time, I make "logs" of compound butter by rolling up the butter in parchment paper. That's how I instruct you to make the butters in the recipes below. Once the log of butter hardens, you can slice the butter and use the butter disks however you need them. If you make narrow logs of butter, your slices make perfect, round disks that can be served as individual pats of butter.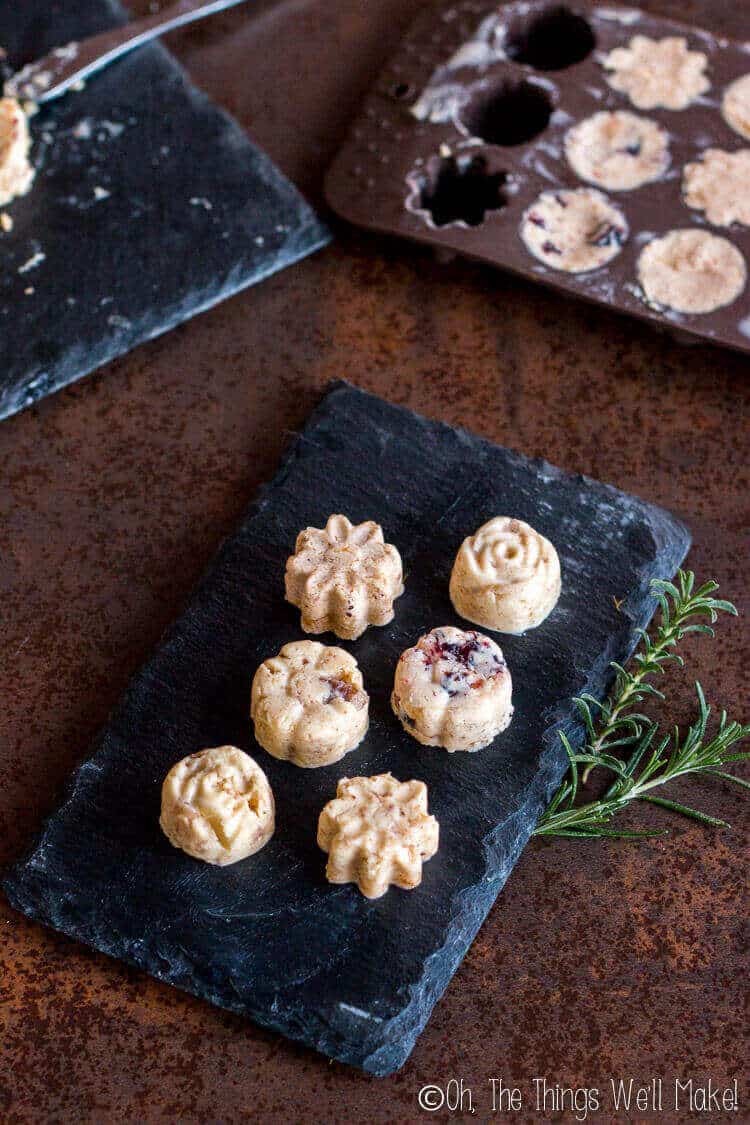 If you plan on serving the butter for a party or a special meal, though, you may consider molding it into decorative pats of butter in silicone candy molds. Press the mixed butters into the molds, and place the molds in the freezer until the butter hardens. Using the freezer will help ensure that the butter is hard enough at the time of unmolding so as not to deform the shape when removing the pieces.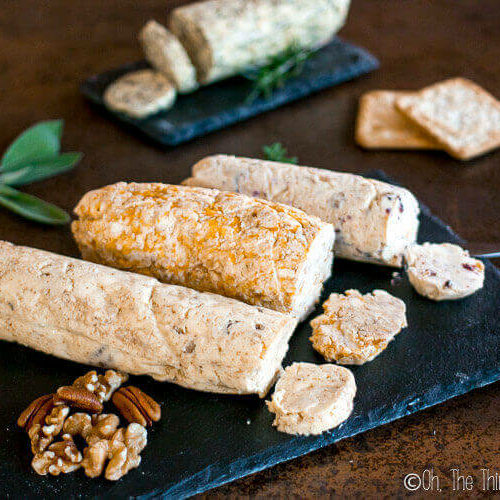 Compound Butter: How to Make Herb Butter
Whether you are looking at add flavor to steaks, turkey, or other meats, or you want a tasty spread for your bread, compound butter is a simple herb butter that will bring your cooking to a new level!
Print
Rate
Servings:
60
1 tsp. pats of butter
Ingredients
250

g

butter

softened

1

tsp.

salt

1

tsp.

garlic powder

1

tsp.

onion powder

1

Tbsp.

rosemary

1

Tbsp.

thyme

1

Tbsp.

sage

black pepper
Instructions
Allow butter to come to room temperature so that it is very soft.

Add the butter to a bowl with all of the other ingredients.

Mix together all of the ingredients until the herbs are well dispersed in the butter.

If you are short on time, and don't have fully softened butter, you can use a food processor to help mix the butter with the herbs. The blades of the food processor will help break up the butter enough to incorporate all of the herbs.

Scoop the herb butter onto the center of a sheet of parchment paper or plastic wrap.

Roll up the paper or plastic, forming the butter into a log shape. Roll up the ends of the paper like a wrapped candy.

Place the log of herb butter into the fridge or freezer until the butter has firmed up again.

Unroll the butter and slice it into disks to use on your meats or to serve for spreading on bread.
Notes
This is just an example of an herbal butter that I normally use for roasting a turkey or roasting a chicken. It would also be great served atop your steak. Feel free to customise the recipe with your favorite herbs!
Serving:
1
tsp.
|
Calories:
32
kcal
|
Fat:
3
g
|
Saturated Fat:
2
g
|
Cholesterol:
8
mg
|
Sodium:
61
mg
|
Potassium:
9
mg
|
Vitamin A:
140
IU
|
Vitamin C:
0.7
mg
|
Calcium:
10
mg
|
Iron:
0.2
mg
Sweet compound butters
These sweet butters are wonderful on sweet rolls and pastries. I love them on everything from pancakes to popovers.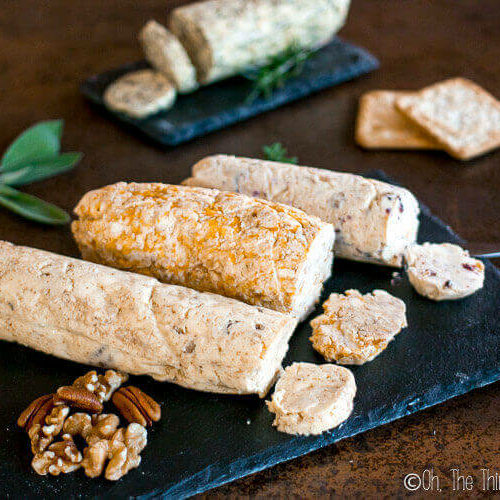 Pumpkin Spice Compound Butter
Perfect in fall and winter, this compound butter accompanies breads and pastries quite well, but would also be wonderful in holiday buttered coffees and teas.
Print
Rate
Servings:
65
1 tsp. pats of butter
Instructions
Mix together all of the ingredients. To get a smoother mixture, use an immersion blender or a food processor to whip the ingredients together.

Roll up the mixture into a log shape in parchment or wax paper, and place in the fridge until hardened.

Remove from the fridge, unwrap, and serve!
Serving:
1
tsp.
|
Calories:
29
kcal
|
Fat:
3
g
|
Saturated Fat:
1
g
|
Cholesterol:
8
mg
|
Sodium:
27
mg
|
Potassium:
4
mg
|
Vitamin A:
245
IU
|
Vitamin C:
0.1
mg
|
Calcium:
3
mg
|
Iron:
0.1
mg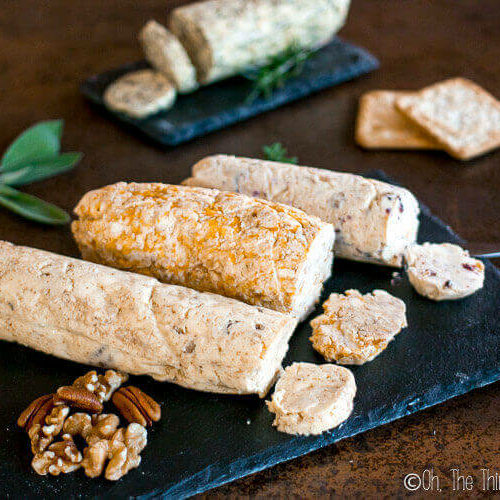 Butter Pecan Compound Butter
Reminiscent of butter pecan ice cream, this simple sweet butter is probably my favorite. It's perfect for serving atop pancakes and other breakfast breads year round.
Print
Rate
Servings:
65
1 tsp. servings
Ingredients
250

g

butter

softened (approximately 2 sticks)

1/4

cup

pecans

1

Tbsp.

honey
Instructions
Grind the pecans in a coffee grinder. Try to leave some bigger pieces, but allow the rest to grind into a coarse powder.

Add the ground pecans and honey to the softened butter, and mix well until thoroughly combined.

Wrap the butter in parchment paper and roll up into a log shape. Place in the fridge until the butter hardens.
Serving:
1
tsp.
|
Calories:
30
kcal
|
Fat:
3
g
|
Saturated Fat:
1
g
|
Cholesterol:
8
mg
|
Sodium:
27
mg
|
Potassium:
2
mg
|
Vitamin A:
95
IU
|
Calcium:
1
mg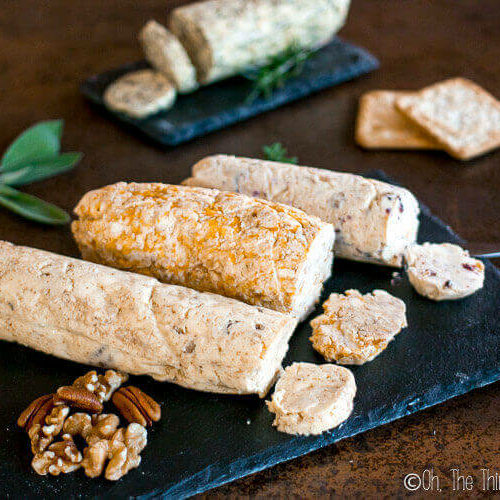 Cranberry Walnut butter
Festive and fun, this sweet cranberry walnut butter make the perfect spread for your dinner rolls and a beautiful topping for your breakfast pancakes throughout the holiday season.
Print
Rate
Servings:
65
1 tsp. servings
Instructions
Mix together all of the ingredients until well combined.

Wrap the butter in wax or parchment paper, forming a log shape. Place the wrapped butter in the fridge until hardened.

Unwrap, slice, and serve!
Serving:
1
tsp.
|
Calories:
30
kcal
|
Fat:
3
g
|
Saturated Fat:
1
g
|
Cholesterol:
8
mg
|
Sodium:
27
mg
|
Potassium:
1
mg
|
Vitamin A:
95
IU
|
Calcium:
1
mg
Making your own varieties
My recipes above are just a guideline to give you an idea of the types of flavored butters you can make and use. I love the butter pecan butter, and think it's wonderful to use on pancakes, waffles and French toast. The herbal butter isn't just for meats and veggies, but it's also great served on crackers.
Feel free to experiment with other fruits, herbs, spices, and whatever you like. You can also customize the sweetness level to better suit your taste.
I'd love to hear about your favorite combinations. Perhaps consider sharing them in the comments so others can enjoy them too!