Last Updated on
Living here in Spain gives me the opportunity to try foods that I had never seen before when I lived in the United States; one of those foods is dulce de membrillo (quince paste). In fact, I really don't think I had even seen a quince before coming here.
For those who are unfamiliar with the quince, like I was, it is a fall fruit that resembles an apple or a pear. Rather than being smooth, though, it has a fuzzy layer which can be easily removed. Also unlike an apple or a pear, the quince has a very astringent flavor, and isn't very tasty eaten raw!
Don't let that scare you away from the quince, though, because it has some wonderful qualities.
First of all, it has a lot of pectin, making it ideal for making a very thick paste. Here that paste is normally enjoyed over something salty, like cheese, to balance its sweet and tangy flavor. The quince also has a beautiful aroma, and people have been known to use the peels to give a pleasant scent to their rooms.
So, how does one go about making Dulce de Membrillo or Quince Paste?
I was up for some experimentation on the day that my friend came over to help me make it. She wanted to keep things easy, so she brought over her miracle food mixer, processsor and cooker. Honestly, I have to admit that I was skeptical, but her gadget really did all of the work for us and made it all very easy.
She came armed with the typical recipe for dulce de membrillo. I, on the other hand, was ready to try out new ways of doing things, despite never having made it before. I wanted to substitute raw honey for the sugar, and also wanted to try using an unprocessed brown cane sugar.
So, let's start out with her way, the typical way of making dulce de membrillo:
Ingredients
1

kg

quince

1

kg

sugar

We used around 700g of a light brown cane sugar.

1

lemon

(juice from)
Instructions
Clean the fuzzy layer off of the quinces, and remove their cores.

Cut into small pieces, and throw them into a food processor with the juice of the lemon.

Process into a puree. (This can also be done in the

Thermomix

if you have one)

Pour into a pot on the stove, add the sugar, and start cooking the mix over low heat

Keep stirring and allowing to cook for around a hour. Watch the mix to make sure it doesn't burn.

Once the mixture is thick enough to hold the spoon upright, you are ready to pour it into molds. (We used plastic kitchen storage containers.)

Let cool and then put into the fridge for several hours.

Serve with cheese or yogurt, or as desired!
We made the first batches with her fancy kitchen gadget, so we didn't have to worry about adjusting temperatures or constantly stirring. In fact, it even made the puree for us!!
While she was at my house, we actually made two versions: one with brown sugar and another with a similar weight of honey. The honey version was runnier and lighter, so we decided to add in some gelatin, just in case. I think we should have just let it cook longer to help evaporate off the excess liquid from the honey instead.
I don't know if the lighter color was a result of the excess liquid not allowing it to caramelize well or not, but I do know that adding gelatin only made it even lighter in color. It's not really a big deal, but people here are used to membrillo having a darker color.
Both were good. I think I liked the honey version best when it was runnier because it combined really well with my homemade yogurt! Once we thickened it with gelatin, I have to admit that her original recipe was the best. Sigh.
Tired of making membrillo, she left me with the rest of the quinces from her parents' tree. I was free to experiment on my own…
…and so I did.
I decided to try to make a different version that I had read about online, and boiled the quince pieces in water first. Once I strained the quinces out, rather than process the quinces in the food processor, I mashed them with a fork. I thought it would be interesting to end up with a sort of chutney.
To half of my mix, I added a dark, brown unprocessed sugar. To the other half, I added my raw honey. I didn't add any lemon juice this time.
The version with honey (front) was once again lighter in color, but this time it was more what one would expect. The other used a dark sugar which darkened it.
Once that was done, I cooked it all over the stove until the mixtures had thickened.
Just like before, I poured the mixes into molds. Before I did that, though, I separated some out and added in some pie spices. They seemed like a good fit with the brown sugar quince paste.
How did they turn out?
Well, I have to admit, once again, that the original method was the best. I wasn't happy with the pieces of quince peel in my chunky membrillo, and I also missed the tangy flavor of the lemon!!
It was an easy fix, though. The next day I took all of the chunky membrillo and heated it over the stove again with some lemon juice. I then pureed it into a smoother paste with a handheld blender. Once again I poured the mixtures into the molds, and waited for them to cool.
They weren't as thick as I would have liked, and I think that came from having boiled the quinces first. A large percentage of the pectin from the skins probably got lost into the water. In fact, they often evaporate that water off, to obtain a sort of "gelatin" to be used over the fruit in their pies.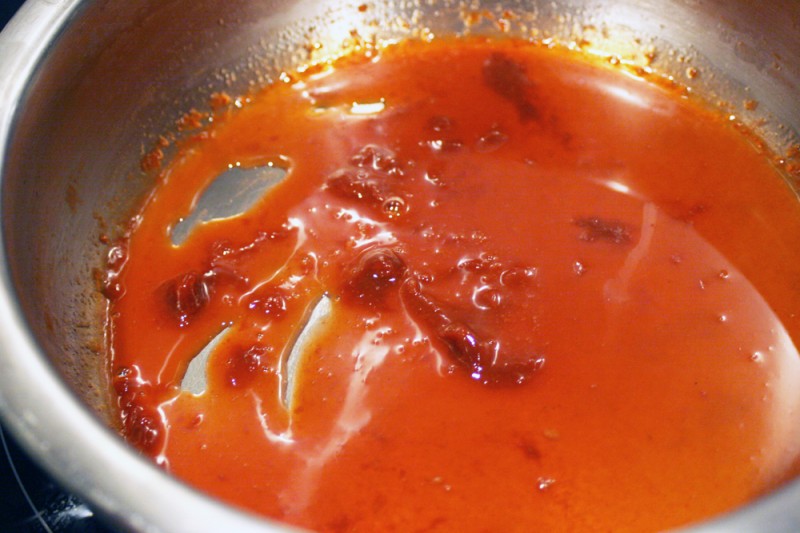 If you boil off the water, you end up with a red "gelatin." I should have added mine back into my paste.
Instead of being a thick paste, I ended up with more of a thick spread that still was wonderful spread over cheese.
Membrillo is typically served in slices overtop a soft cheese called "queso fresco." That is how I usually serve it, but then I realized that homemade membrillo deserved better!!!
So, I tried it with several types of cheese, including Brie and a Spanish Manchego. While both were excellent, the combination with Brie was my favorite.