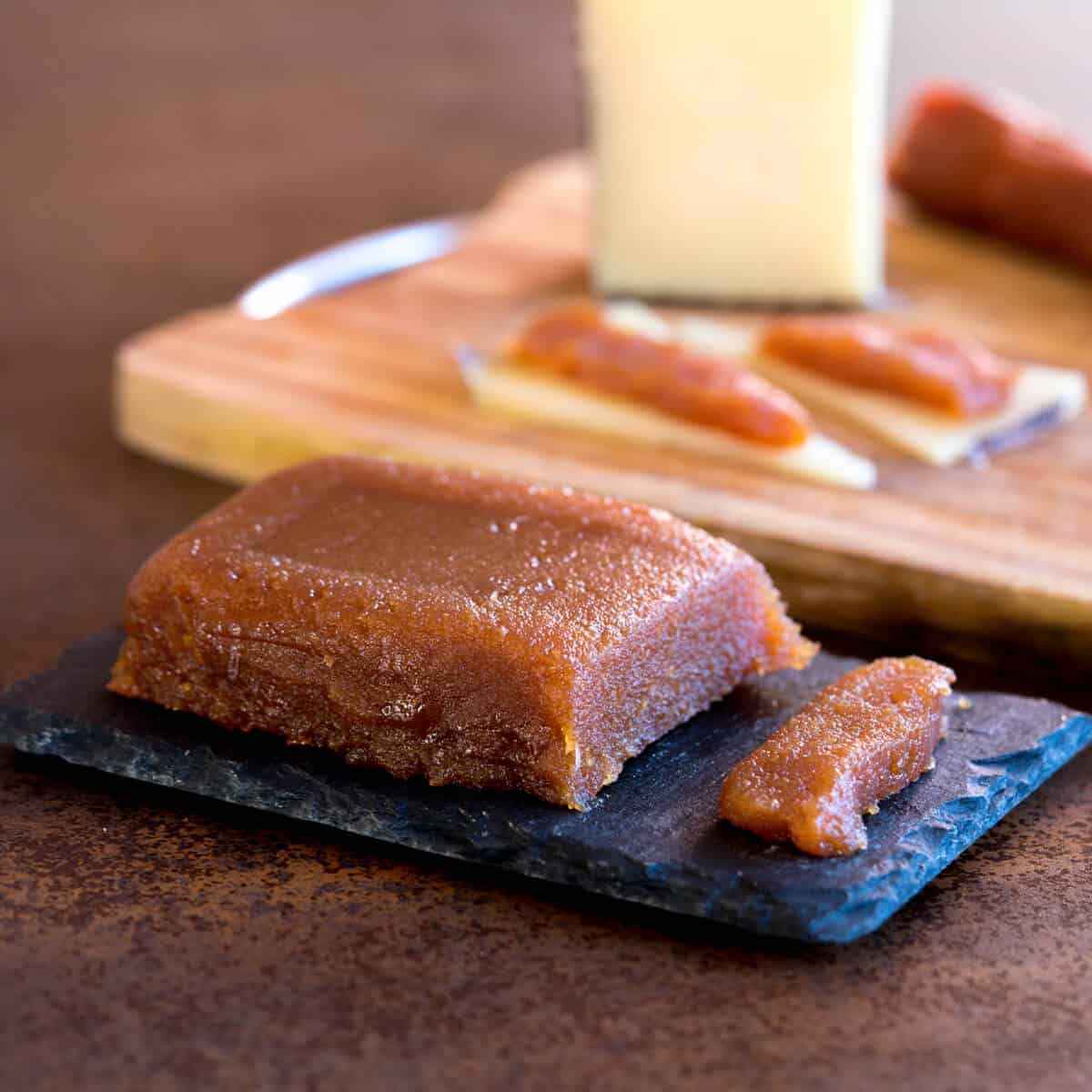 Sweet, yet slightly tangy, dulce de membrillo is a thick, sliceable jelly made from the quince fruit. It is also known as quince cheese, or quince paste, and it pairs deliciously with cheese.
Living here in Spain has given me the opportunity to try foods that I had never seen before when I lived in the United States. One of those foods is "dulce de membrillo," a sweet quince paste that is normally served with cheese.
To be honest, I hadn't even seen a quince before coming here.
What is a quince?
For those who are unfamiliar with the quince, it is a fall fruit that resembles an apple or a pear. (It's actually from the same family, the Rosaceae family, or rose family!)
Unlike smooth apples and pears, quinces have a fuzzy layer over their skin that can be easily removed. Also unlike an apple or a pear, the quince is very hard and has an astringent flavor, making it unpleasant to eat raw!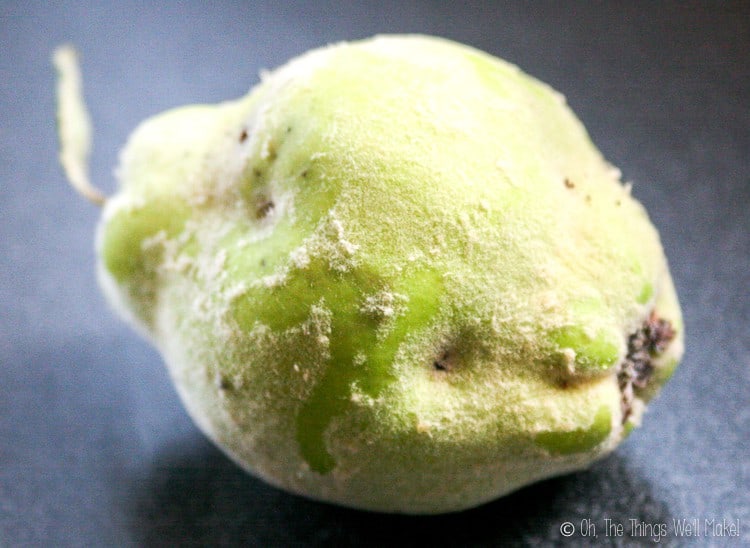 How to use quince
Don't overlook the quince just because it isn't normally eaten raw, though. it has some wonderful qualities…
In jams and jellies
First of all, the quince is high in pectin, making it ideal for making this very thick, sliceable paste known as quince cheese in some places. You can also cook it for a shorter time to make a more spreadable jelly.
As an air freshener
The quince also has a beautiful aroma, and people have been known to use the fruit to give a pleasant scent to their rooms. People place the fruits in closets or small rooms, allowing them to slowly dry out and give off a fresh frangrance.
How to make Dulce de Membrillo or Quince Paste?
I made membrillo for the first time several years ago. A friend of mine came over armed with a basket full of freshly picked quinces from her parents' tree.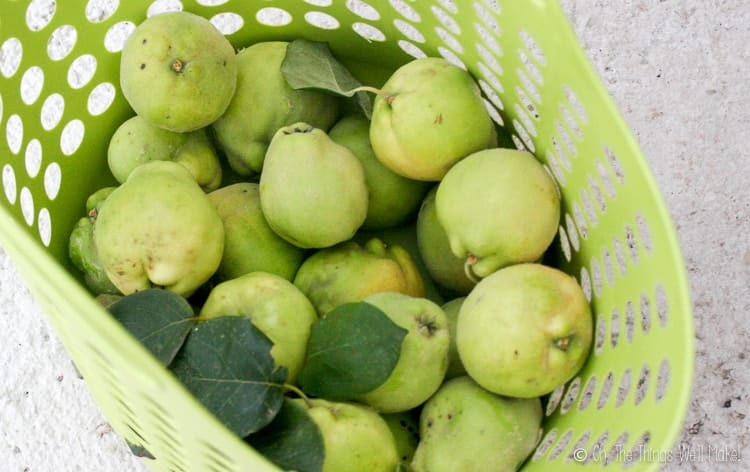 She had been planning on making some membrillo, but didn't want to undertake the task alone. Knowing that I'm always up for a "making it" challenge, she knew where to look for help.
The day she came over, I was up for experimentation. She kept things easy and chose to use her miracle food mixer, processor, and cooker to make the sweet paste from start to finish. I have to admit that I was amazed by how the Thermomix made an excellent membrillo with minimal work on our part.
Knowing that most of you don't have a Thermomix, though. I decided to make mine in a more traditional manner. I wanted to be able to teach you how to make this sweet quince paste over a stove.
You'll need:
Around 2.5 lbs. quince fruit
1 kg sugar (2.2 lbs.) (You can use white sugar, brown sugar, or a 50/50 mix.)
1 lemon
How to choose quince fruit
When making membrillo, it's best to choose quinces that are turning yellow. These fruits are riper than green fruit so they will have the best flavor.
If you smell the quince, you'll find that ripe quinces are more aromatic. Choose quinces with the strongest, most pleasant fragrance.
You also want to avoid dark spots or soft spots, when possible. You can always remove any unwanted areas when cutting the quince into pieces, but it's always easiest to start with unbruised fruit.
My friend brought over fuzzy green fruit. While they may not have been as flavorful as riper yellow fruit, green quinces are said to have more pectin. Our resulting membrillo was still quite tasty and was quite solid and easy to slice.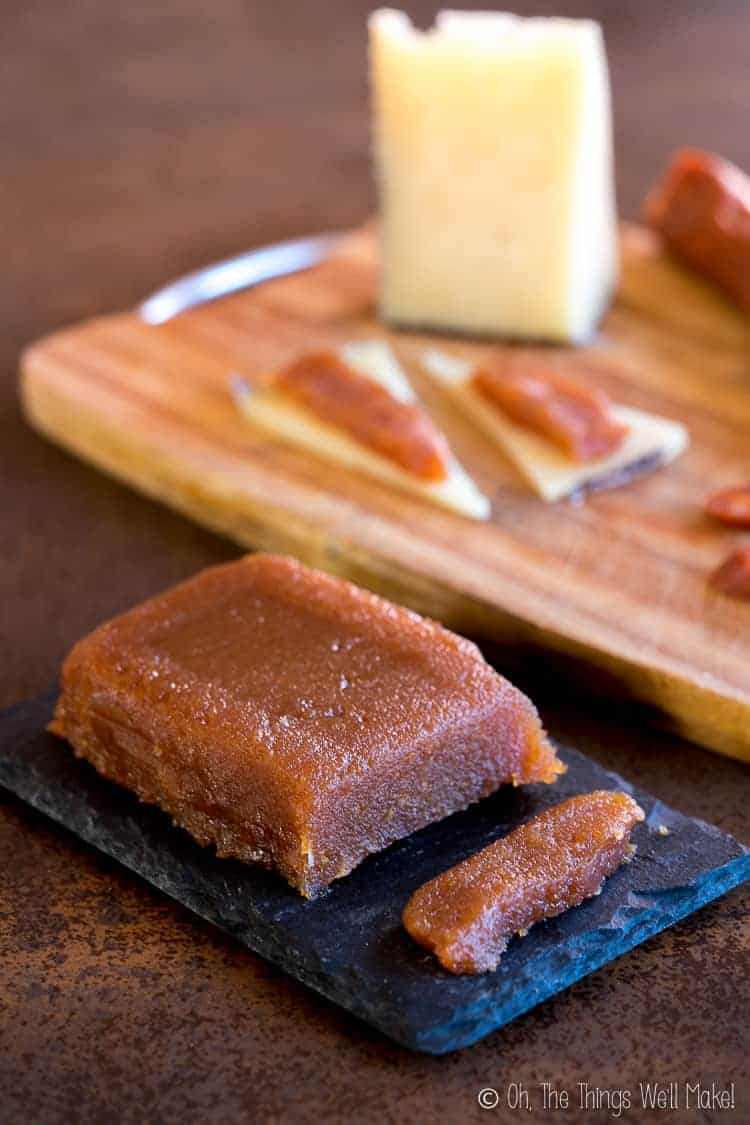 Preparing the quinces
Once you've chosen your fruit, wash it and remove the outer fuzzy layer.
While you can rub on the skin with your fingers while holding the fruit under running water, I find that the easiest method is to rub the fruit with a clean microfiber cloth while rinsing.
After cleaning the fruit, cut it into cubes, removing the stem, core, and seeds. Be careful when cutting as the fruit is very hard.
You don't need to peel the quinces. In fact, it's best to leave the peel on as that's the part of the fruit with the most pectin. (The pectin is what thickens up our paste.)
Cooking the quinces
There are 2 main methods for cooking the quinces:
Boiling the fruit chunks in water until soft, and then processing the fruit once cooked. You then continue to cook the purée, evaporating off the water.
Processing the fruit into a mush and then slowly cooking it. The fruit releases its own moisture, so no water is needed.
Cooking the quince purée without the addition of water means that you don't need to cook it as long to evaporate off the liquid.
On the other hand, people who don't have a powerful food processor may find that they prefer boiling the fruit first.
If you want to avoid boiling the fruit in water but are afraid that your food processor isn't going to cut it (pun intended), you could begin by baking or microwaving the fruit until soft. Once soft, you can process until smooth and then continue cooking over the stove.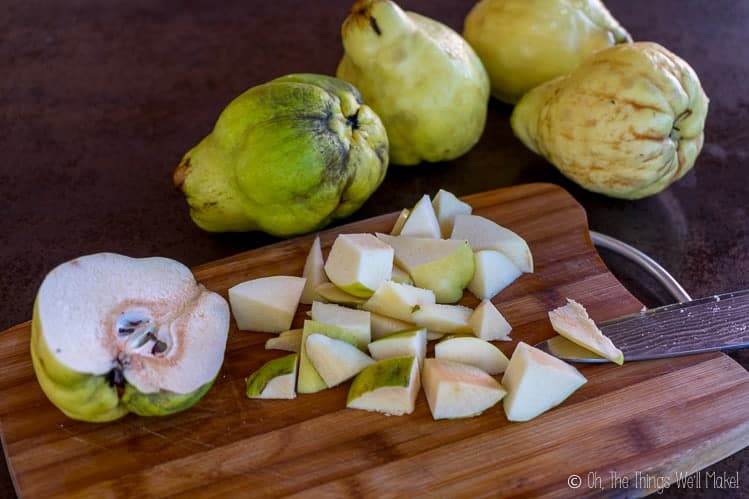 Ensuring a thick, sliceable paste
Membrillo is normally a very thick paste that is almost gelatinous in consistency. It is unmolded onto a plate and then cut into slices that are served atop cheese.
While you can make a spreadable quince type jam that is just as tasty, if you want to achieve the typical solid, sliceable membrillo, I have a few tips for you:
Do NOT peel the quince fruit as you want the pectin in the outer layer to help thicken the paste.
You can boil the cores of the fruit (seeds included) in some water for a few minutes. Strain out the cores and add the infused water to your purée. The cores and seeds will release more pectin into the water, and that will help solidify it more.
Add a bit more lemon juice (or some citric acid) to help the mixture gel more. Lemon juice lowers the pH of the mixture which, in turn, neutralizes the negative charge on the pectin strands. This allows the strands of pectin to form together into a more solid structure. An ideal pH is around 3-3.5.
Don't cut down too much on the amount of sugar. Not only does it help preserve the finished paste, but it also helps thicken it.
If you aren't happy with the thickness of your finished paste, you can put it back in a pot and cook it longer. Some people also leave it molded and bake it in the oven at around 135ºC/275ºF until it firms up.
Customizing the recipe
Using different sweeteners
Using honey
The day my friend came over, we actually made two versions: one with brown sugar and another with a similar weight of honey. The honey version was runnier and lighter, so we decided to add in some gelatin, just in case. I think we should have just let it cook longer to help evaporate off the excess liquid from the honey instead.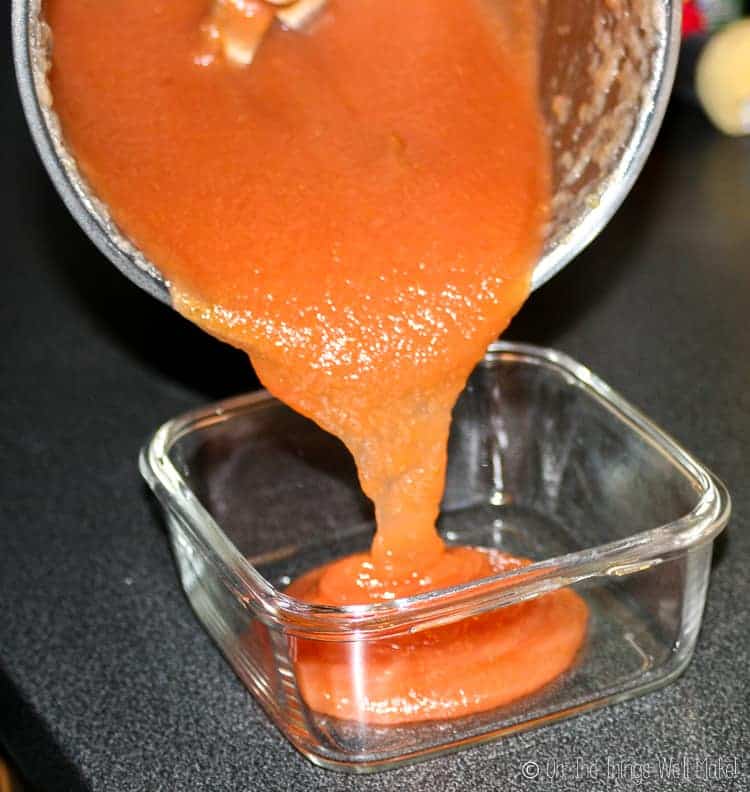 I don't know if the lighter color was a result of the excess liquid not allowing it to caramelize, or if it was only from the addition of the gelatin.
To be honest, I didn't really care for the version with gelatin. I think I would have preferred it be thinner anyway as the honey-flavored membrillo paired well with homemade yogurt.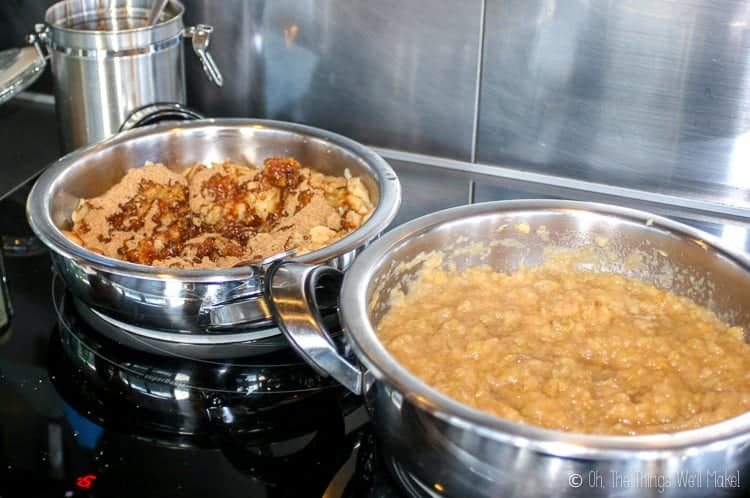 Using brown sugar
You can use either white sugar or an unprocessed darker sugar to make membrillo. I usually use a 50/50 mixture of the two.
Keep in mind that a darker sugar will also make a darker looking quince paste.
Using less sugar
While you can reduce the sugar amount slightly, I wouldn't recommend going below 80% of the weight of the cut quince.
Normally, when calculating how much sugar to use, you should weigh the cut fruit and add the same amount of sugar by weight. So, if you end up with 1 kg of fruit, you add 1 kg of sugar. (I know, it's a lot!)
While you can reduce this to around 800g of sugar for each kilogram of fruit, it's not a good idea to lower the amount much more than that. Not only does the sugar help conserve the membrillo paste, but it also helps thicken it more.
Adding other flavors
Traditionally, membrillo only uses the flavors of the quince and lemon. While the lemon juice is primarily added to lower the pH of the paste, it also adds a tangy flavor. You can enhance the lemon flavor even more by adding in the zest of the lemon to your mixture.
While I haven't tried it myself, I've seen more Americanized versions of a quince paste that adds vanilla extract. You can definitely try that too!
In one of my experiments, I added in some pumpkin pie spices (mainly cinnamon, nutmeg, and cloves). That was a delicious addition that also fits well with the autumn theme. ?
Serving Membrillo
There are many ways to enjoy your homemade membrillo.
Here, this sweet quince paste is normally enjoyed over something salty, like cheese, to balance its sweet and tangy flavor.
In my region of Spain, membrillo is typically served in slices over a soft, gelatinous cheese called "queso fresco." In other regions of Spain, it is typically served on Manchego cheese instead.
By now, I've tried serving it with several types of cheese, including Brie. Surprisingly, the least common combination with Brie turned out to be my favorite.
If you aren't a fan of cheese, membrillo is also quite tasty on toasted bread. It can also be used between layers of cake or to hold together Swiss rolls.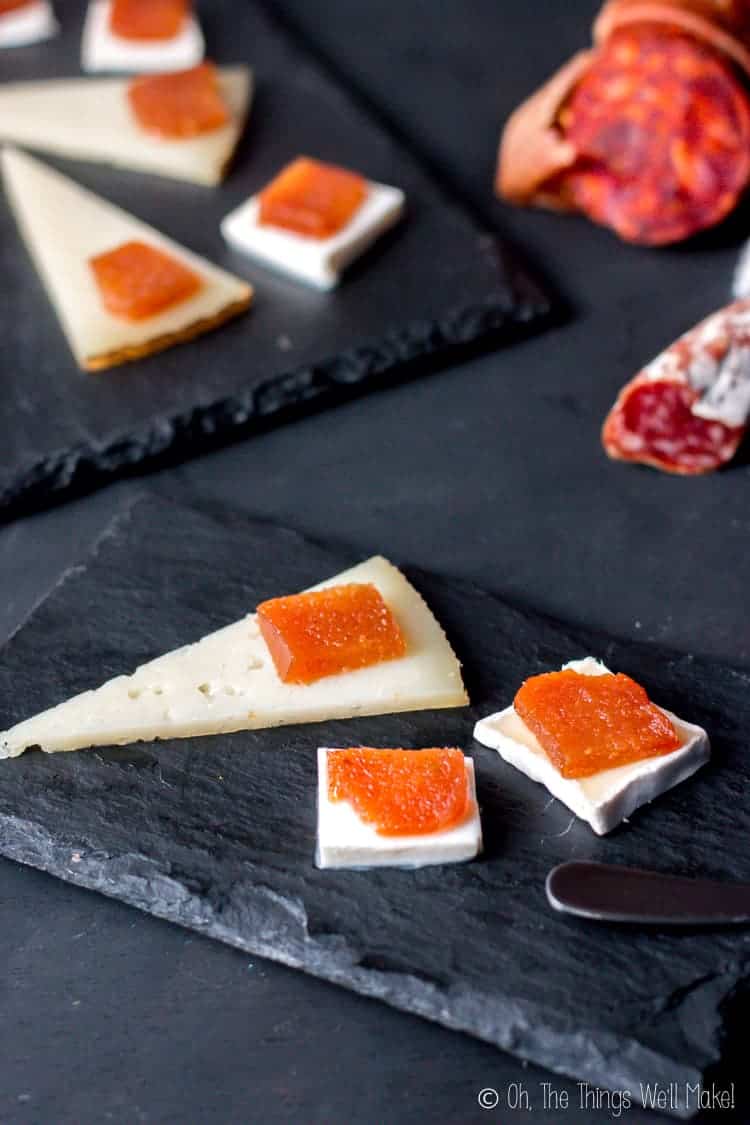 Storing your membrillo
Because of its high sugar, low pH, and low moisture content, homemade membrillo can keep well for several months in the refrigerator. (I've even seen people store it for almost that long outside of the fridge!)
The length of time that you are able to keep your membrillo will depend a lot on how long you cooked it, how much lemon you added, and how much sugar you added. Definitely throw it out at any sign of mold or unusual changes in taste or scent.
To keep membrillo even longer, wrap it well in parchment paper or plastic film, pressing either tightly against the paste. Place in a freezer-safe bag and freeze for up to a year.
Because quinces are an autumn fruit, people make large batches and store enough to last them until the following year!
Watch how to make membrillo
Craving more?
Subscribe to my newsletter for the latest recipes and tutorials!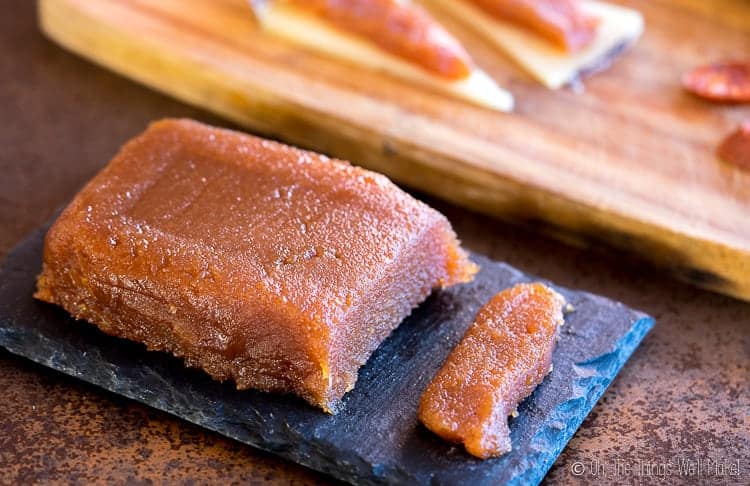 Homemade Dulce de Membrillo (Quince paste)
Sweet and slightly tangy, this quince paste, also known as quince cheese, is a solid, sliceable jelly made from the quince fruit. It pairs deliciously with cheese.
Print
Pin
Rate
Servings:
40
Tablespoon servings
Ingredients
1

kg

quince

Once core is removed; around 4 fruit

1

kg

sugar

can use white, brown, or a combination

1

lemon
Instructions
Rinse the quinces, and clean the fuzzy layer off of their skin. Rubbing the fruit with a clean microfiber cloth while rinsing helps make the removal easier.


Cut into small pieces, removing the core and seeds.

Weigh the cut fruit. (We'll be adding an equal amount of sugar, by weight.)

Pour the fruit pieces into a powerful food processor with the juice of the lemon. (You can also add the lemon zest if you like.)
Process into a puree.

If you don't have a powerful food processor, you can bake the quince pieces, at around 135ºC/275ºF until the fruit has softened, before processing them in a food processor or blender. (You can also microwave at 80% power for around 10 minutes. Stop periodically throughout the 10 minutes to mix the fruit and check its consistency.)

Pour the quince purée into a pot and add the sugar. (Use enough sugar to equal the weight of the cut quince pieces.)


Cook the mixture over low heat for several minutes, stirring occasionally, allowing the fruit to release its moisture.

Raise the temperature to medium heat. Keep simmering, uncovered, for around an hour. Keep an eye on the mixture, stirring as needed, to make sure it doesn't burn. If it begins to bubble up and spatter, you can try lowering the heat slightly or just stir it more constantly until the moisture is released. (Once this happens it will no longer spatter.)


Once the mixture is thick enough to hold a wooden spoon firmly upright, you are ready to pour it into molds. (It should also stay in place when moved to one side of the pan.) You can optionally prepare the molds with parchment paper for easier removal before pouring the mixture into them.


Let the mixture cool to room temperature. Then place in the refrigerator for 8-12 hours to set.
Notes
Choose ripe yellow fruit, when possible, for best flavor.
You can also boil the quince pieces before processing them into purée in the food processor, if you prefer. To avoid losing the pectin in the water, you shouldn't strain the fruit, but instead should cook the mixture longer until the liquid evaporates.
If you aren't happy with the consistency of the membrillo, you can bake it in the oven at around 135ºC/275ºF until it firms up. You can also add the membrillo back to a pan and cook it longer over the stove. Once thickened, you can pour it back into prepared molds.
You may reduce the amount of sugar, but I don't recommend going below 80% of the weight of the quince pieces.
At the beginning to midpoint of cooking the membrillo, it may start to form large bubbles and spatter out. To avoid this, reduce the heat slightly and continue to mix it, allowing the vapor to escape. Once it gets thicker, it will no longer do that and you can leave it alone for longer periods of time without issues (making sure it doesn't burn).
Store well covered in a cool, dry place or in the refrigerator for up to several months. For longer storage, wrap it well and freeze it.
Nutritional value is calculated on ending up with around 2.5 cups of finished paste, with a serving size of 1 Tbsp. This will vary, depending on how much liquid evaporates off.
Serving:
1
Tbsp
|
Calories:
112
kcal
|
Carbohydrates:
29
g
|
Protein:
1
g
|
Fat:
1
g
|
Saturated Fat:
1
g
|
Sodium:
1
mg
|
Potassium:
53
mg
|
Fiber:
1
g
|
Sugar:
25
g
|
Vitamin A:
10
IU
|
Vitamin C:
5
mg
|
Calcium:
3
mg
|
Iron:
1
mg
*This post was originally published on Oct. 24, 2013. It was rewritten in October of 2019, with the addition of new photos, methods, tips, and tricks.