Learn how to make coconut milk, coconut butter, and coconut flour from shredded coconut. It's easy, inexpensive, and you control the ingredients.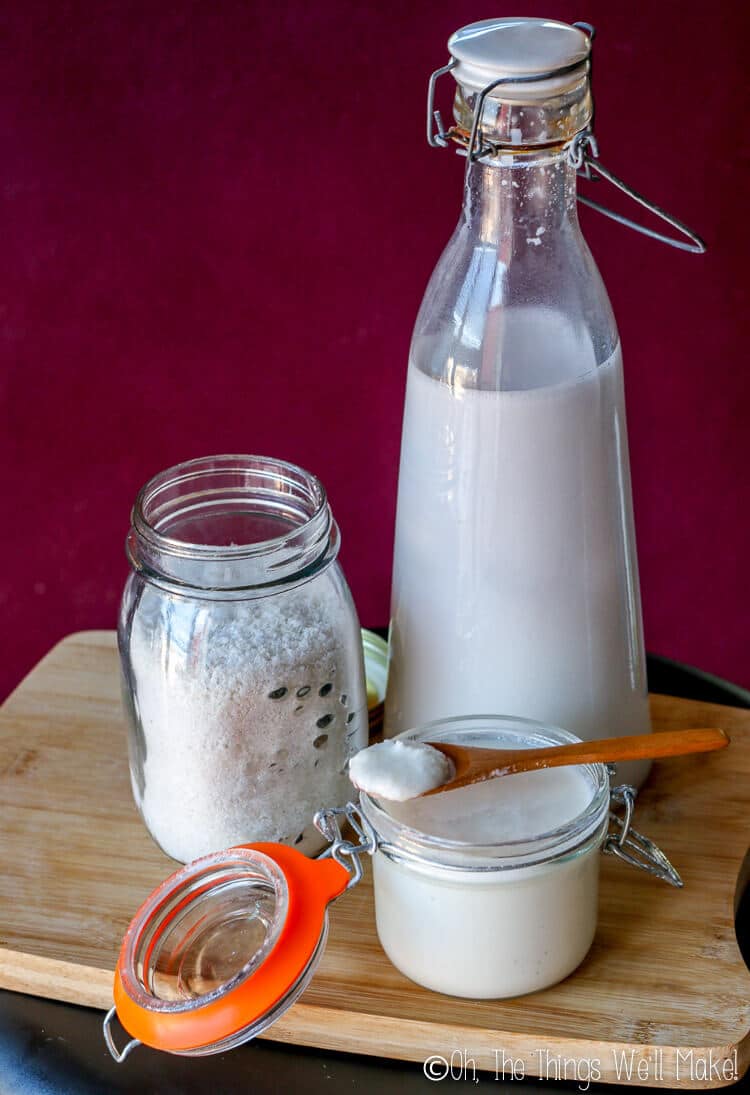 Those who know me well know that I should have been born somewhere with coconut palms.
Not only do I love coconuts, but I also love the tropical climate that coconut palms need to survive.
While I have moved a bit closer to the tropics by moving to the Spanish Riviera from Michigan, I don't live in a climate that allows for coconut palm trees; nor do I live in a place where it is easy to find coconut butter or coconut flour. I can find coconut milk in a can, but it costs an overpriced three and a half euros.
Why make homemade coconut milk?
Not only is homemade coconut milk much cheaper than the coconut milk that you buy in the stores, but it's a lot more natural. It doesn't have all of the unwanted ingredients found in canned coconut milk, nor do you have to worry about the BPA or other endocrine disruptors in the lining of the cans.
Making the coconut flour is really just processing a byproduct from making coconut milk, so I'll show you how to make both at once.
How to make coconut milk
First, decide how much coconut milk you want to make. To make the coconut milk, you'll use 2 parts water to 1 part unsweetened shredded coconut. So, if you need 2 cups of coconut milk, plan on using just over 1 cup of shredded coconut and add slightly more than 2 cups of water to it. Some of the water will remain with the fiber of the coconut, so you want to account for that.
I was working on a coconut flan recipe for the blog but also wanted to make coconut milk for making kefir and smoothies. (My son loves smoothies, and it's a great way to sneak him foods, like spinach, that he won't normally eat! If you love smoothies, here's a roundup of over 100 healthy smoothie recipes and a great Popeye smoothie recipe for kids!)
That day I decided I wanted to make about 4 cups of coconut milk, but didn't need it to be precise, so I used two cups of shredded, unsweetened coconut and 4 cups of water. Most of the time I make smaller batches, so I wrote the recipe for making 2 cups of coconut milk. You can easily adapt it to make as much as you need.
How to use and store homemade coconut milk
Keep in mind that homemade coconut milk doesn't have any added thickeners, emulsifiers, or preservatives, so it's best used immediately. It won't work for every recipe that uses coconut milk either, as some depend on the thickeners and emulsifiers of the commercial coconut milks to work. This is true for recipes like "whipped cream" made from the thick layer that forms on a can of coconut milk when you store it in the fridge. That also goes for recipes like my easy no-bake strawberry cream pie. (You may be able to make it with homemade coconut milk if you add more gelatin to help stabilize it, but the resulting texture will be different.)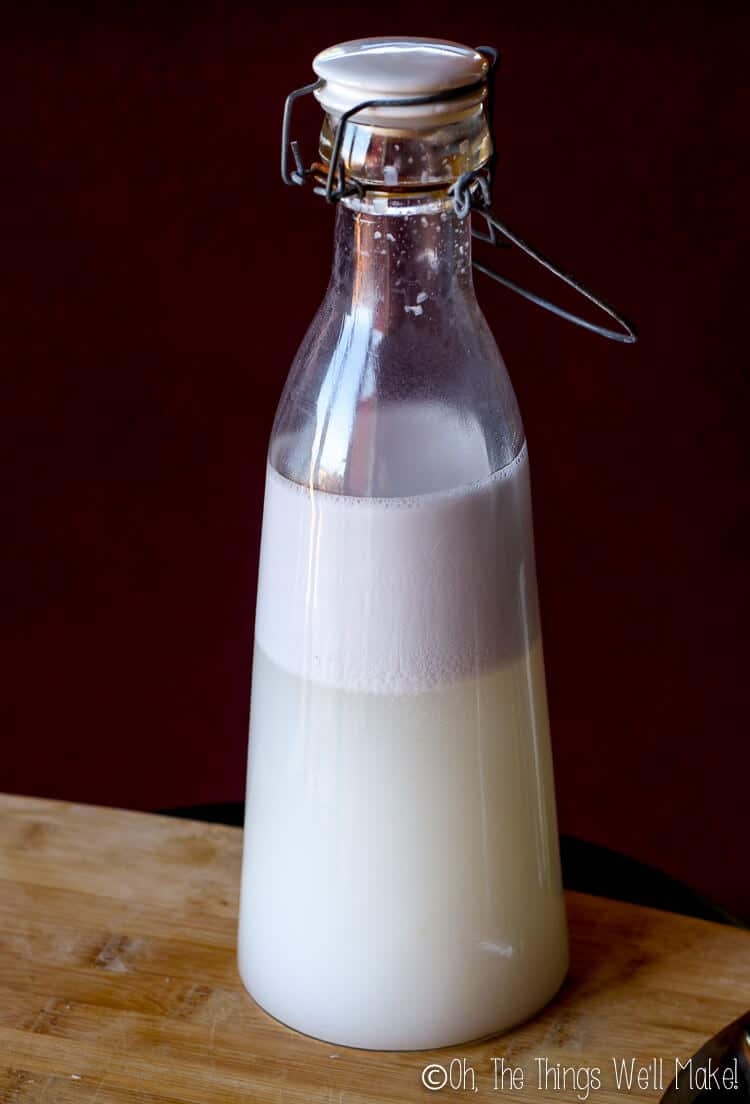 Homemade coconut oil is best when used immediately. If you leave homemade coconut milk sitting around, it will begin to separate into two layers, a watery layer below and a thick, creamy layer above.
Another difference between homemade coconut milk and the coconut milk that you buy in stores is that it tends to separate. Coconut milk is made of the fat of the coconut and water. Because fat and water don't mix, and we aren't adding any emulsifiers, the coconut milk will slowly start to separate into two layers. If you store homemade coconut milk in the fridge, it may develop an oily, solid layer on top and a liquid, watery layer below. If you do need to store it, it's best to reheat it and stir it to help combine the layers before using it. Use it within a couple of days or it will start to sour.
How to make coconut milk and coconut flour
I'm combining these 2 recipes into one because making coconut flour just follows the process of making homemade coconut milk, as you will see below.
Craving more?
Subscribe to my newsletter for the latest recipes and tutorials!
Coconut Milk and Coconut Flour
It's easy to make coconut milk and coconut flour from shredded coconut. It's an inexpensive natural alternative to commercial milk with thickeners and other additives.
Print
Rate
Servings:
4
1/2 cup servings (See notes below)
Instructions
Soak the shredded coconut in the water for 1-2 hours. I let it soak in my blender jar because I'll be using it in the next step anyway.

Blend the coconut and water mixture in a blender for a minute or two.

Meanwhile, prepare a cheesecloth or white cotton towel and a bowl.

Pour the mixture into the cloth, and strain.

The liquid that you squeeze out of the cloth is your coconut milk. You can use it right away, store it in the fridge for a couple of days, or freeze it in ice cube trays (I use and love these) for easy future dispensing.

Don't throw away the coconut fiber in the cloth. It will soon become your coconut flour!
For the Coconut Flour
Take the pulp that is left over after straining your coconut milk, and spread it out in a thin layer on a baking sheet. I lined the sheet with some parchment paper first.

Bake on low heat until it feels completely dry. You are almost done!…

Grind in a coffee grinder or a food processor until you get as fine of a powder as you can with your particular machine. Even if it doesn't get completely powdery or flour-like, it should still work quite well in recipes that use coconut flour.
Notes
Nutritional information assumes approximates one 1/2 cup serving of coconut milk plus 1/4 cup of the resultant coconut flour.
Serving:
0.5
cups
|
Calories:
153
kcal
|
Carbohydrates:
5
g
|
Protein:
1
g
|
Fat:
15
g
|
Saturated Fat:
13
g
|
Sodium:
14
mg
|
Potassium:
126
mg
|
Fiber:
3
g
|
Sugar:
1
g
|
Vitamin C:
0.3
mg
|
Calcium:
10
mg
|
Iron:
0.8
mg
What is coconut flour?
Coconut flour is a high fiber, low carb "flour" that can be used in place of wheat or other grain flours in cooking and baking. It is especially used in recipes for diets that seek to eliminate wheat flour like gluten-free diets, GAPS, and paleo diets.
You have to be a bit careful when replacing it in baking as coconut flour tends to be a bit drier (you'll probably need to add some more liquid to compensate) and it has a different consistency than wheat flour. You could substitute a small percentage of it, though, in a recipe to reduce your flour intake. Luckily, there are a lot of good recipes out there that use it.
When making homemade coconut flour, depending upon the type of food processor you have, you likely won't be able to "mill" it as fine as store-bought coconut flour. For most recipes, that shouldn't be a problem, but it is something to keep in mind. To get it finer, you can try running it through a coffee grinder after the food processor.
What is coconut butter?
Coconut butter is a cream made from pureeing dried coconut. It is a whole food that includes the fat and fiber of the coconut.
Not too long ago I mistakenly thought that coconut butter was just a term that people used for coconut oil when it reached its solid state at cooler temperatures. I later found out, though, that coconut butter and coconut oil are really two different, wonderful things!
Coconut oil is different from coconut butter because it coconut oil is the fat of the coconut, separated from the coconut fiber. It is white as a solid, but it is a clear, transparent liquid when the temperatures are warm enough.
On the other hand, Coconut butter has coconut pulp in it. So, even when temperatures are high, it is white and more like a nut butter, definitely not a liquid.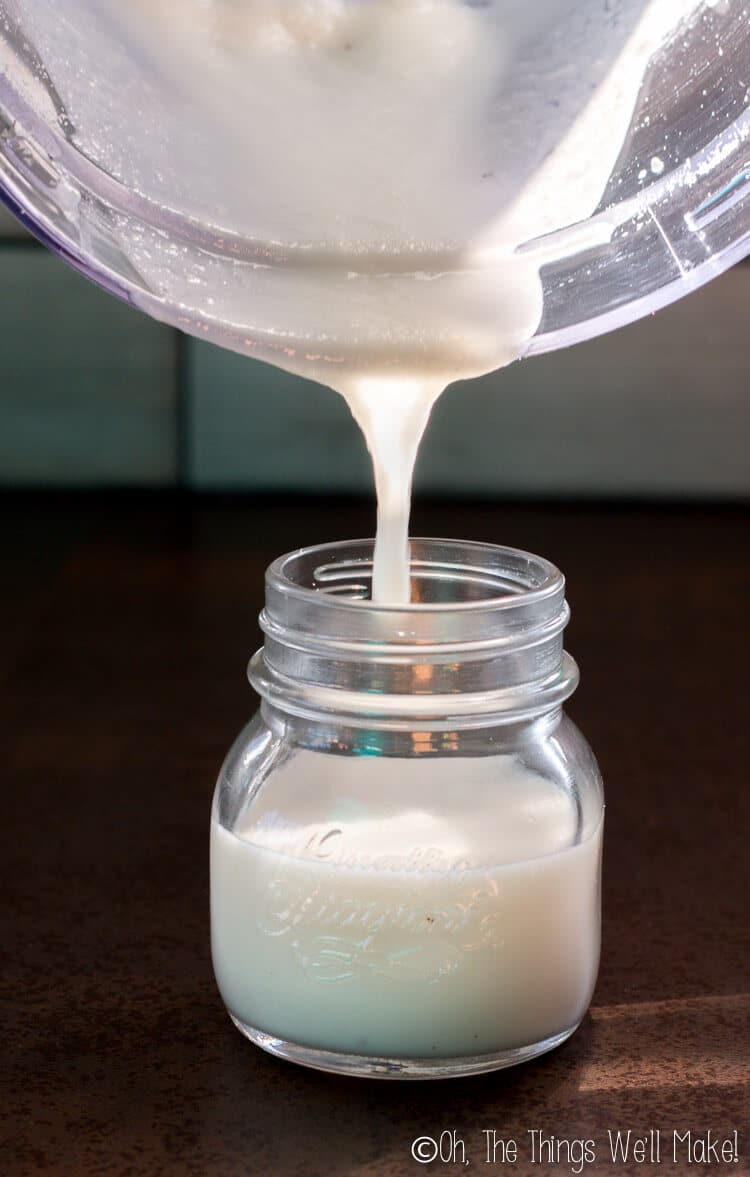 Now, in the summer heat, mine has separated with a thin layer of coconut oil floating on top. In the winter, it's a lot harder to coconut butter because it becomes almost rock solid! That's why you want to pour the homemade coconut butter into a storage container right away after making it. You don't want it to solidify in your food processor making it almost impossible to remove later on.
Another way to be able to easily use coconut butter in the winter is to pour it over a prepared baking sheet lined with either silicone or parchment paper. When the coconut butter solidifies, it's in a thin sheet that can easily be broken into small pieces for easier use. Another great idea is to pour it into silicone candy trays, making little coconut butter "truffles."
How to make coconut butter
Craving more?
Subscribe to my newsletter for the latest recipes and tutorials!
Coconut Butter From Scratch
Smooth and creamy, coconut butter can be used as a spread or used in smoothies and other recipes.
Print
Rate
Instructions
Add the shredded coconut (or coconut chips) to a food processor and process until smooth. Depending upon the strength of your food processor, this can be a quick and easy process or a long one that doesn't appear to be working…

If you are having problems getting your coconut butter to form, stop every minute or so, at first, and scrape down the sides so that your blades can reach all of the coconut mixture. Also, make sure you use enough coconut to have a big enough mass for your blades to reach it all well. If you have a high potency blender, you can also use that, but you will likely have to stop to push the coconut down from the sides more often.

At first, you will notice the coconut getting a little bit clumpy. Keep processing, and it will start to release its oils. Once some of the liquid from the oil is released, it makes it easier for your food processor to work the rest of it. Keep processing until you get the consistency you like.
Notes
Even in the winter, this should work because the heat from all of the blending makes the coconut butter creamy. Pour your recently made coconut butter into the container you want to keep it in as soon as you can, though, because in winter it will soon harden up as it cools off. You may also choose to pour it over a baking sheet lined with parchment paper or silicone so that it hardens into a thin, easy to use layer.
In the summer it will stay creamy, so you can leave it out of the fridge for easy use. I actually like to eat it plain, as is. I'm a coconut fanatic, though. Basically you should be able to use in the same ways that you would use nut butters.
Serving:
15
g
|
Calories:
153
kcal
|
Carbohydrates:
5
g
|
Protein:
1
g
|
Fat:
15
g
|
Saturated Fat:
13
g
|
Sodium:
8
mg
|
Potassium:
126
mg
|
Fiber:
3
g
|
Sugar:
1
g
|
Vitamin C:
0.3
mg
|
Calcium:
6
mg
|
Iron:
0.8
mg
Shredded coconut seems way to dry to turn into something so creamy without needing to add anything else. If you blend it for long enough, though, it will eventually turn into coconut butter! My old food processor actually took much less time to make the coconut butter. I think the blades hit much lower and so it really kept moving the coconut better, making the process much easier. I was starting to doubt that my newer food processor would even be able to make coconut butter at all, but it eventually did.
I experimented with making coconut butter with toasted coconut chips, and I ended up with a delicious toasted coconut butter.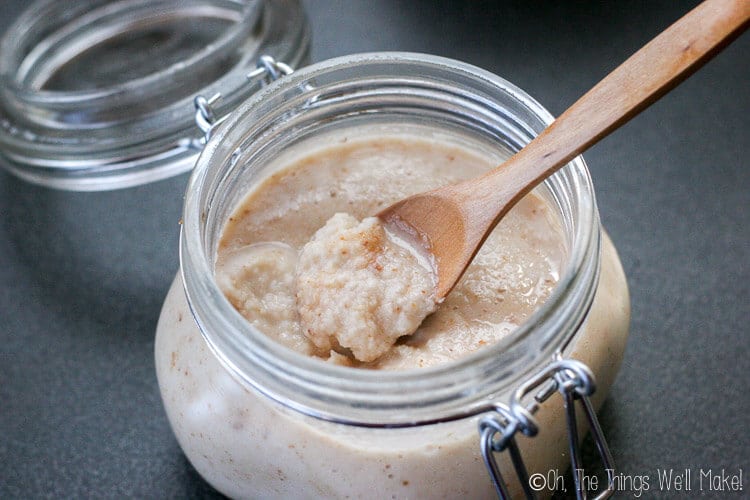 I used part of my first batch of coconut butter in my coconut flan. It's also super good in my coconut date balls, a sweet snack that is even autoimmune paleo safe.
Do you love coconut as much as I do? Which of these is your favorite? How do you use them?