Indulge in the velvety texture and rich, irresistible flavor of this guilt-free carnivore cheesecake. With no crust, it's a simple yet scrumptious dessert that is perfect for those following a low-carb, carnivore, or keto lifestyle.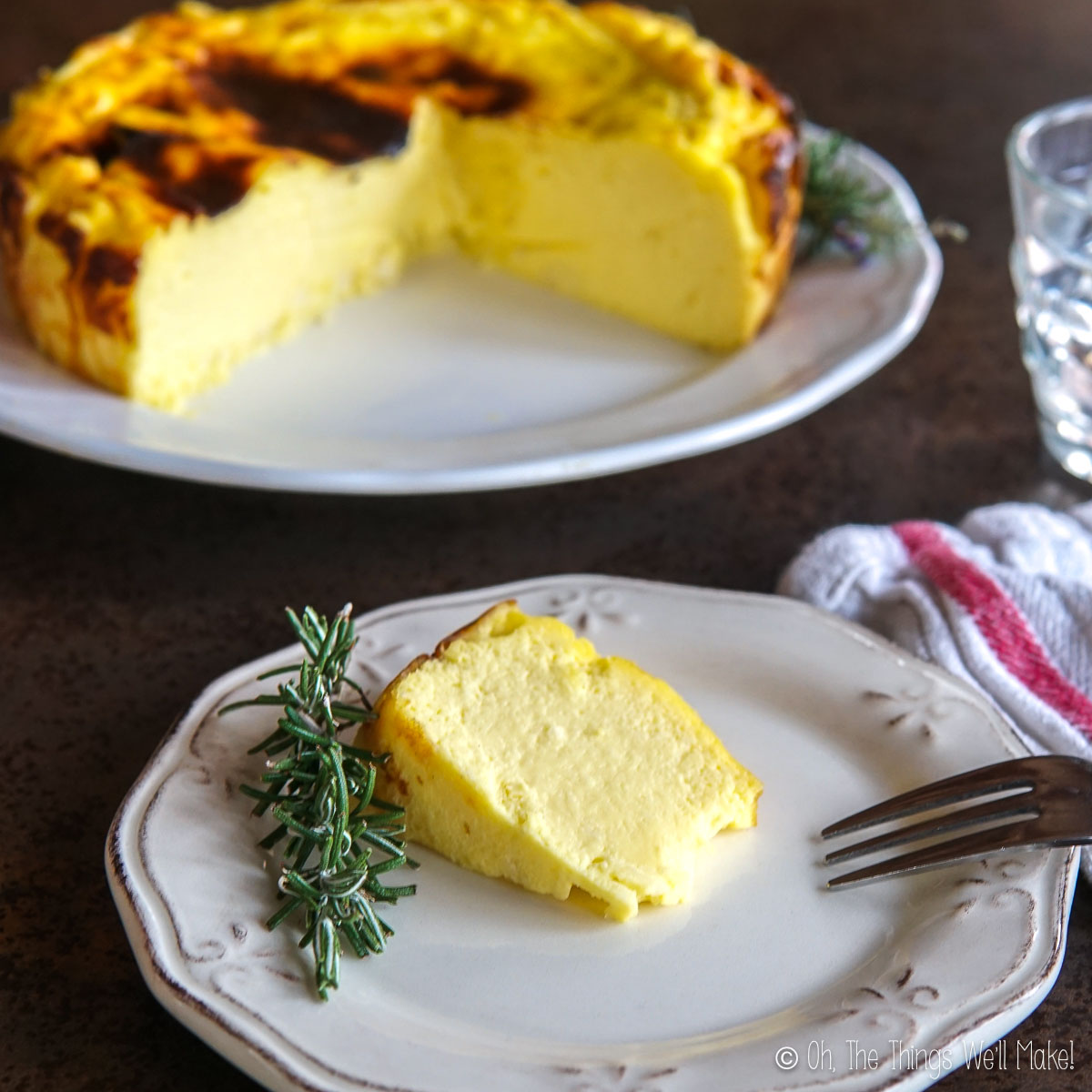 When beginning a keto or carnivore diet, it can be very difficult to transition into a new way of eating. It can be challenging to find a dessert that satisfies our cravings or "need" for something "different" for dessert. This simple recipe allows you to indulge in a rich, creamy cheesecake without compromising on taste or nutritional value.
Unlike traditional cheesecakes, this recipe omits the need for a crust, which eliminates unnecessary carbs. In addition to its delicious taste, it's easy to make and requires minimal prep time. This recipe is a must-try if you want a quick and tasty dessert for a family get-together or a delicious snack.
Why make a carnivore cheesecake?
Unlike traditional cheesecake recipes, I specifically designed this recipe for those following a carnivore or ketovore diet. This carnivore cheesecake is my take on a crustless Spanish Manchego cheesecake. We tried Manchego cheesecakes for the first time at one of our favorite restaurants. We loved the delicious touch the Manchego cheese gave the dessert.
Basque cheesecake style
To keep things simple and low-carb, I combined the idea of using a Manchego-type cheese with another Spanish style, Basque cheesecake. Basque cheesecakes don't generally have crusts, making it easier to make a no-plant, low-carb treat. They're generally cooked to be darker on the top and creamier inside, but you can adjust this recipe to suit your taste. (Cook it longer at a lower temperature for a lighter top and more solid texture.)
This tasty dessert is great for people on a low-carb or ketogenic diet. It's rich in healthy fats and protein, but low in carbs.
Ingredients
Made with only four main ingredients: Manchego cheese, eggs, heavy cream, and cream cheese, this cheesecake is simple to make yet sure to please! Unlike traditional cheesecakes that typically use graham cracker or cookie crusts, this recipe completely eliminates the crust. Despite that, it holds its shape well while staying nice and creamy!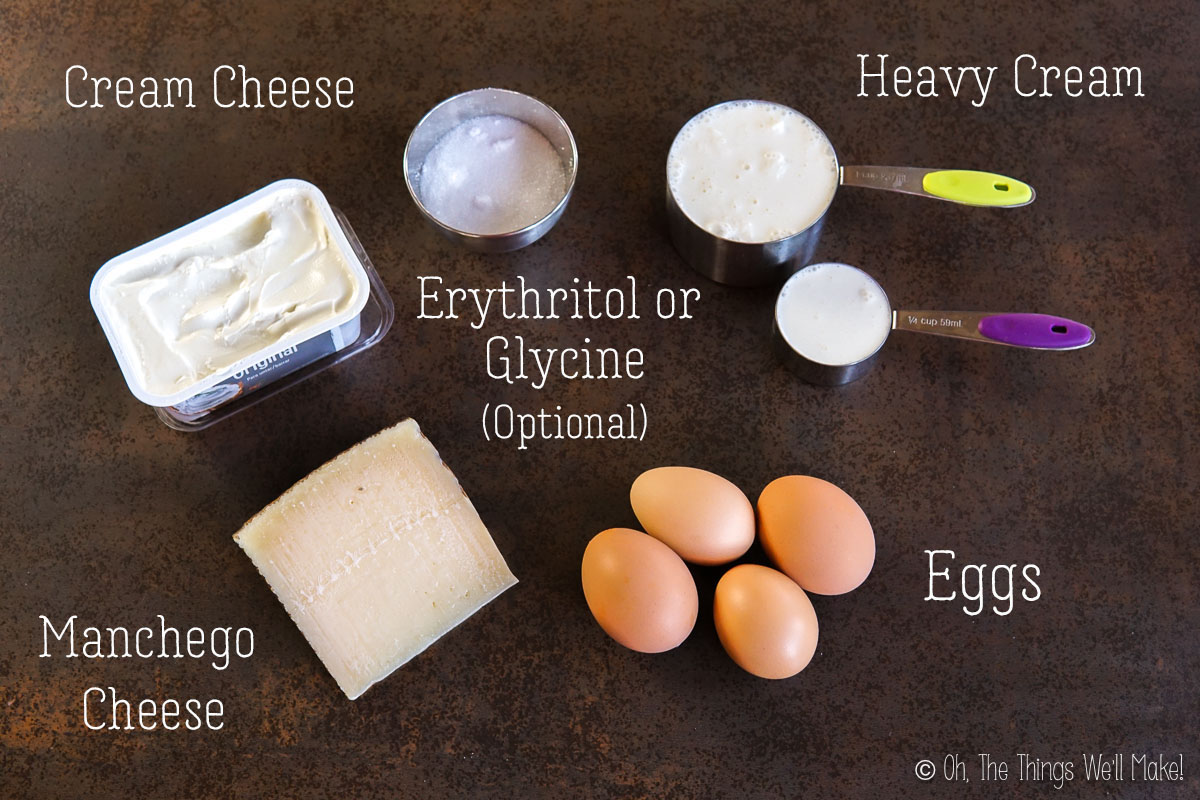 I infuse Machego cheese into the heavy cream to add flavor and consistency to the cheesecake. You don't have to use Manchego cheese, though, and can use any aged sheep cheese (or, really, any solid cheese you choose). To save money, I often use inexpensive brands of aged sheep cheese and save the Manchego cheese for savoring on its own. For a keto cheesecake, I shouldn't have to say this, but choose the highest fat options for the cream and the cream cheese.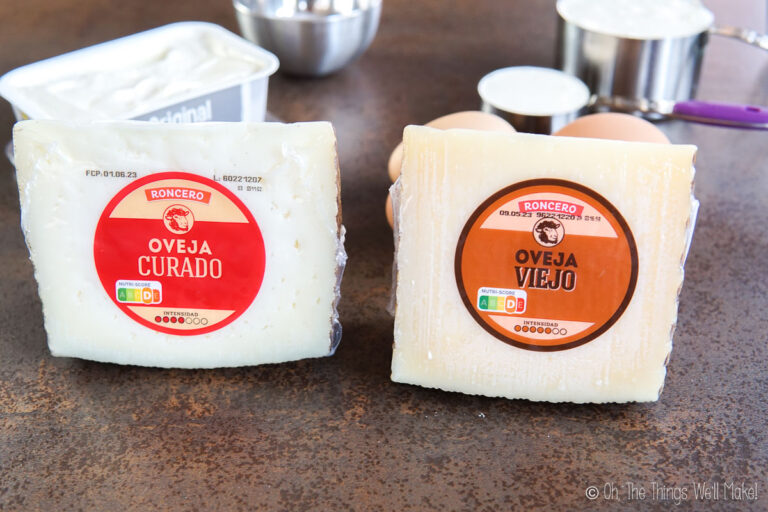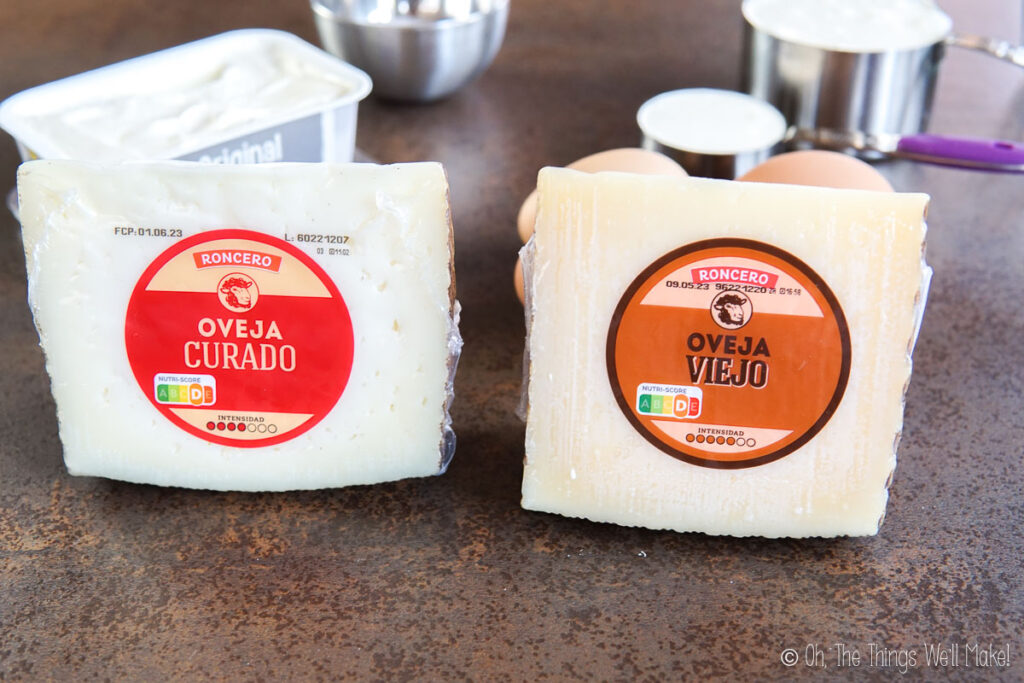 Adding sweeteners (or not)
To add a touch of sweetness, you may choose to sweeten this cheesecake with erythritol or glycine, but that is totally optional. Erythritol is a zero-carb sugar substitute commonly used in keto recipes. Glycine is an amino acid with a sweet flavor that can be used to add a touch of sweetness to some recipes. Some in the carnivore community use it, others are against it. As always, this isn't a religion; choose to do what you feel works best for you and your family.
For a true carnivore cheesecake, don't add any sweeteners. I happen to like it that way, but the rest of my family isn't quite as excited about it. There are a few options to consider if you want to please everyone with your cheesecake. You could make a compromise by adding a hint of sweetener and sharing it with others. On the other hand, you could split the batter and bake individual smaller cheesecakes, adding some sweetener to one and none to the other. (You'll have to adjust down the baking time slightly.) You can also suggest to family members who desire more sweetness to enjoy their cheesecake with a topping of jam or maple syrup.
Making a carnivore cheesecake
First, you'll want to prepare your pan and oven. Preheat your oven to 210ºC/410ºF. Because crustless cheesecakes tend to stick to their pans, you'll want to line yours with parchment baking paper.
For best results, bunch the paper up into a ball and get it wet. This will allow you to easily press the paper into place, adapting it to your pan.
Preparing the cheese mixture
Next, you'll want to infuse the heavy cream with the flavor of the Manchego cheese by slowly melting the cheese into it. For easier melting, cut or grind up the cheese before mixing it into the heavy cream and heating the mixture over low to medium heat.
Once you've mostly melted the Manchego cheese into the cream, remove the pan from the heat source. Add the cream cheese and blend it into the mixture carefully.
Next, add 4 large eggs to the mixture, one at a time. Beat each egg into the mixture until it is fully incorporated before adding the next one.
When adding a sweetener, ensure you incorporate a small amount into the mixture at a time. Taste it as you go to make sure you have added the perfect amount that suits your preference.
Once the batter is well mixed, pour it into the prepared baking pan. Use a spatula to smooth out the top and ensure an even distribution of the batter.
Baking the cheesecake
Place the pan in the preheated oven and bake for approximately 35-40 minutes, or until the edges are set, and the center is slightly jiggly. The cheesecake will continue to set as it cools.
I prefer to make this cheesecake so that it is browned on the top and less dense and creamy on the inside, Basque cheesecake style. If you prefer a more dense and lighter topped cheesecake, you can lower the temperature a bit and cook the cheesecake longer. If you notice that the top is browning too much, you can protect it by covering it with aluminum foil or parchment paper towards the end of the baking process.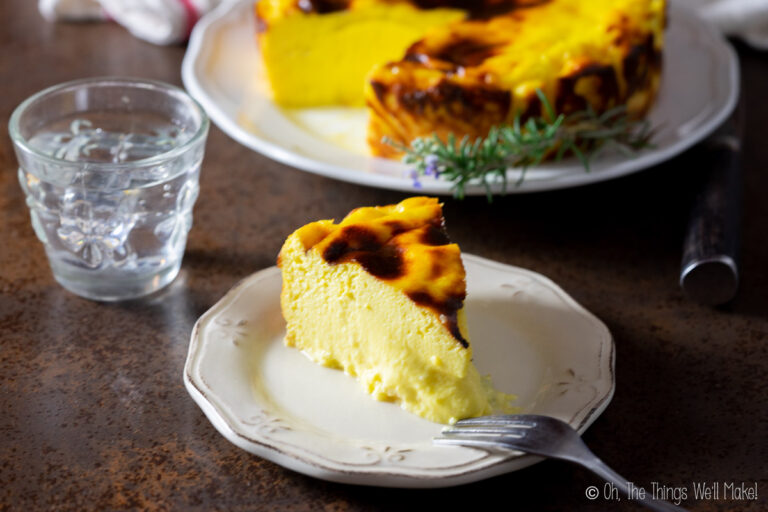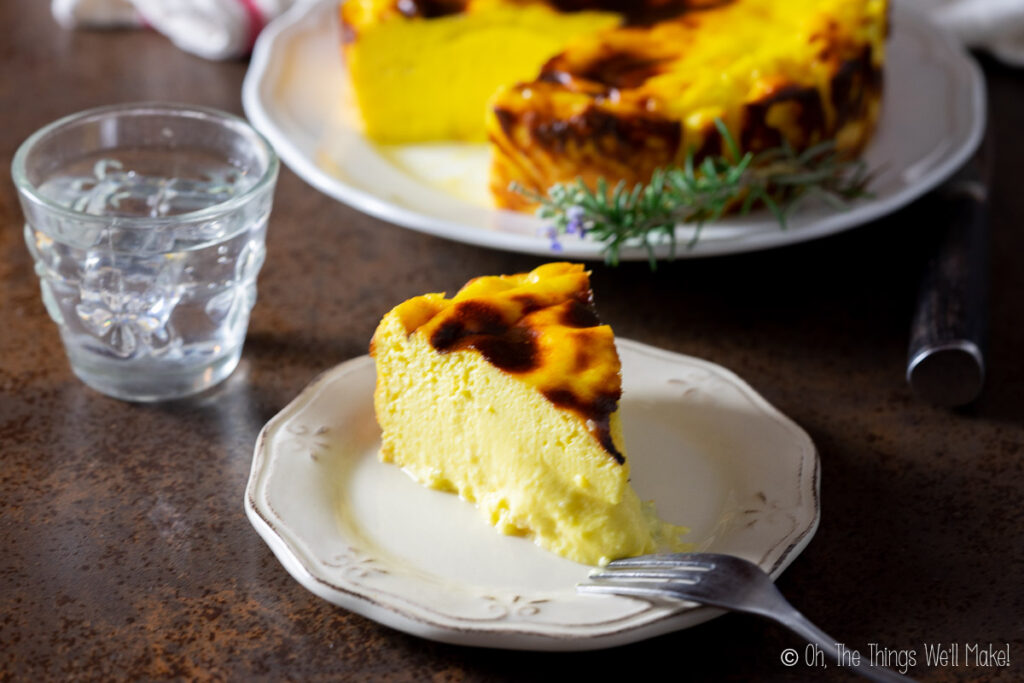 Once the cheesecake is done baking, remove it from the oven and let it cool to room temperature. This cheesecake is delicious when served slightly warm or at room temperature. While you can chill it in the refrigerator, that will set the cheesecake further and change the texture, making it more dense.
Storage
Any uneaten cheesecake should be covered and stored in the refrigerator and eaten within a week.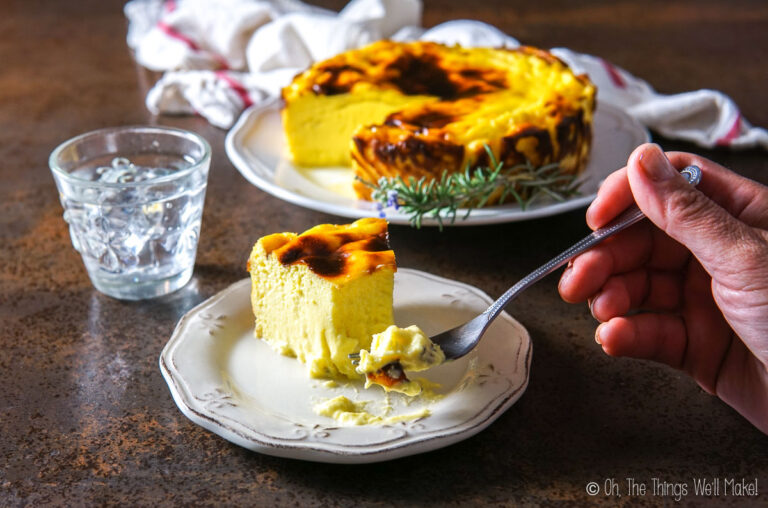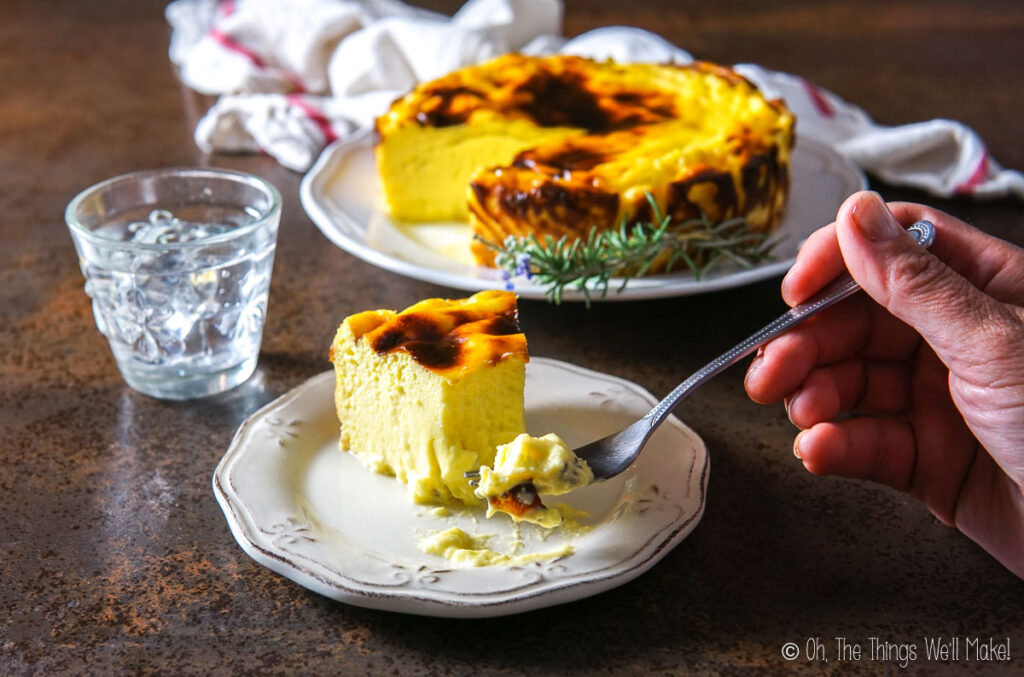 Other Carnivore Treats
Looking for more carnivore desserts? Why not try my carnivore keto custard recipe or brown butter bites?
If you prefer a salty snack, why not try my carnivore meat chips?
Video
Craving more?
Subscribe to my newsletter for the latest recipes and tutorials!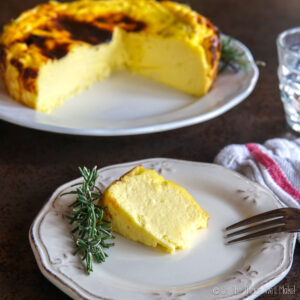 No Crust Carnivore Cheesecake (Keto)
Made with cream cheese, heavy cream, eggs, and Manchego cheese, this no-crust carnivore cheesecake is a satisfying and guilt-free indulgence.
Print
Pin
Rate
Ingredients
100

g

Manchego cheese

300

ml

Heavy cream

300

g

Cream Cheese

4

eggs

50

g

erythritol

optional
Instructions
Preheat the oven to 210ºC/410ºF.

Prepare the pan by lining it with parchment paper. For the easiest lining of the pan, wad the parchment baking paper into a ball and get it wet. When opened, it is easily molded into place in the pan.
Make the cheesecake mixture
Grind the Machego cheese or cut it into small pieces.

Add the Manchego cheese and the heavy cream to a saucepan and heat them over low to medium heat, stirring occasionally, until the Manchego cheese has melted into the cream.

Once the Manchego cheese has melted, remove the pan from the heat source and stir in the sweetener (if using) and the cream cheese.

Add in the 4 eggs, stirring them in one by one, until they are all fully incorporated into the mixture.
Baking the cheesecake
Pour the mixture into the prepared pan and place it on a tray in the center of the pre-heated oven.

Bake for 35-40 minutes, checking on the cheesecake after about 30 minutes. If the top is browning too much for your taste, cover the top with some aluminum foil or baking paper.

Once the sides are set, but the center is slightly jiggly, remove the cheesecake from the oven.

Allow the cheesecake to cool to room temperature.

This cheesecake can be served immediately at room temperature. It maintains its luxuriously smooth consistency when unchilled. The cheesecake can also be served cold. Chilling it will result in a denser, more solid cheesecake.
Notes
Nutritional information is based on the unsweetened cheesecake when cut into 10 slices.
Serving:
1
slice
|
Calories:
276
kcal
|
Carbohydrates:
3
g
|
Protein:
7
g
|
Fat:
26
g
|
Saturated Fat:
16
g
|
Polyunsaturated Fat:
1
g
|
Monounsaturated Fat:
6
g
|
Trans Fat:
0.01
g
|
Cholesterol:
141
mg
|
Sodium:
188
mg
|
Potassium:
93
mg
|
Sugar:
2
g
|
Vitamin A:
997
IU
|
Vitamin C:
0.2
mg
|
Calcium:
166
mg
|
Iron:
0.4
mg