Quick and easy, this homemade barbecue sauce recipe allows you to whip up a delicious, healthy sauce without a lot of effort or added sugar.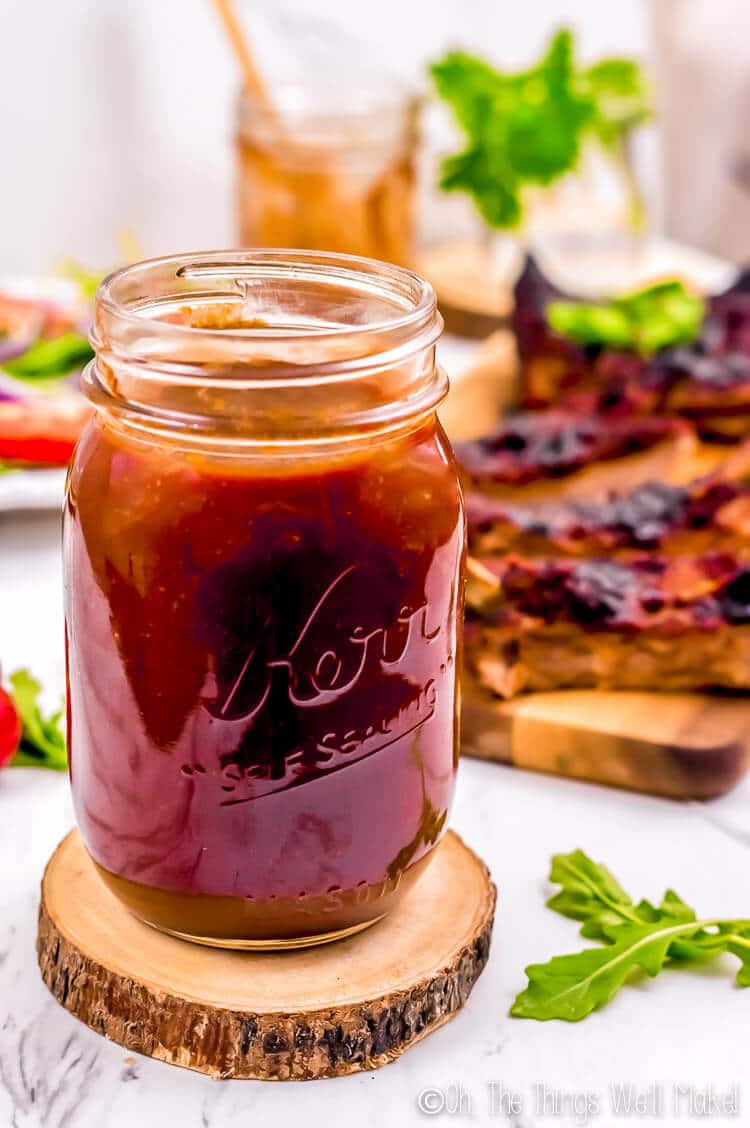 When my husband went to the US with me the first time, the first meal he ate on the night we arrived in Chicago was a plate of BBQ ribs at Buddy Guy's Legends. Those ribs were so good that he fell in love with barbecue ribs, and ordered them quite often during the years we were living in Michigan.
While I have to admit that I like barbecue ribs too, I don't like the fact that most commercial barbecue sauces are loaded with sugar. There have been many times that I've made ribs and only put barbecue sauce on my husband's half just to avoid all of the extra sugar, thickeners, and other questionable ingredients in the store-bought barbecue sauces. Rather than miss out on being able to use barbecue sauce myself, I decided it would be better to make my own.
Why make your own barbecue sauce?
When making a homemade barbecue sauce, you control the ingredients. That's my main reason for making my own barbecue sauce. Not only can you choose the quality of the ingredients, but you can control the amount of sugar and other not-so-healthy additives.
I used to make my homemade barbecue sauce completely from scratch, but I realized that I didn't always have time to start from fresh tomatoes. I also figured that you wouldn't be wanting to make barbecue sauce completely from scratch every time you had a craving for it.
Making your own condiments can take a lot of time and seem overwhelming, so I wanted to make things easier for both of us. This recipe allows me to use up some of my frozen homemade tomato paste, something I almost always have on hand from the summer's tomato harvest. If you don't make your own tomato paste, though, you can also use a store-bought one. Add to it a jar of either homemade tomato sauce, or a sugar-free store-bought alternative, and you can have a healthier homemade barbecue sauce ready in no time flat.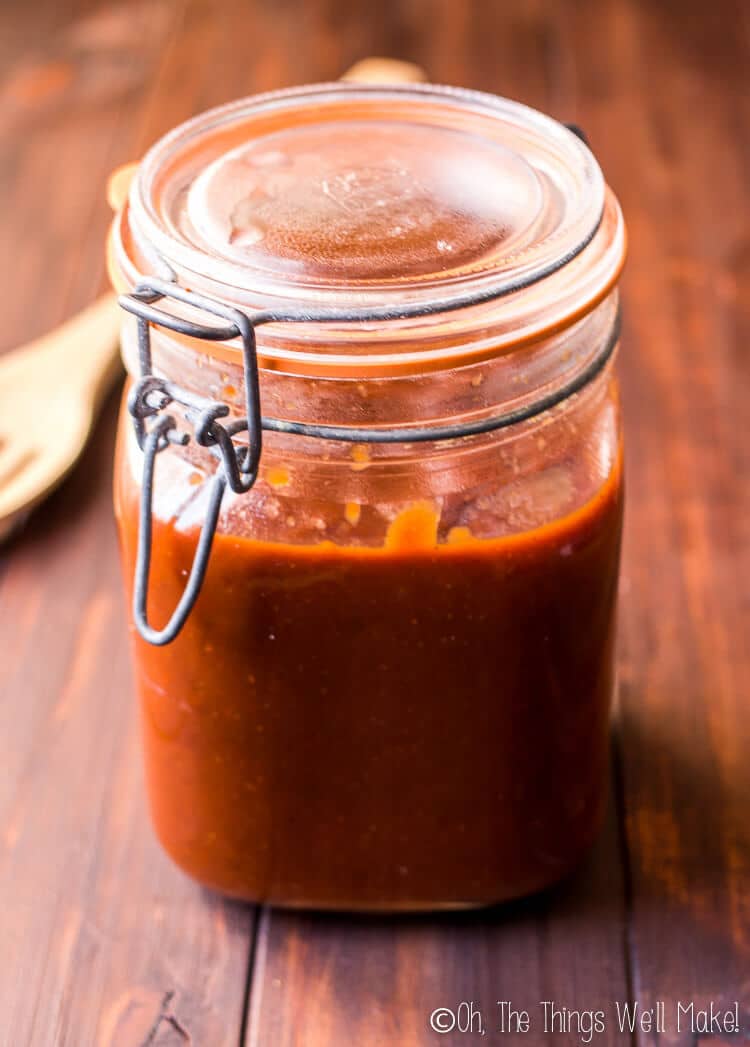 Making a paleo barbecue sauce
Depending on how strict you are, you can make this barbecue sauce fit into your vision of the paleo diet. The main ingredients you have to keep an eye on are the tomato sauce and tomato paste that you choose as well as the Worcestershire Sauce. All of these can be made yourself for a completely from-scratch sauce. I've already posted a recipe for tomato paste on the blog, and hope to show you how to make a basic tomato sauce and how to make Worcestershire Sauce soon.
To make your life a bit simpler, though, store-bought sauces will cut down the time to make this recipe. Look for a basic tomato sauce in a glass jar without any added sugar or non-paleo ingredients. If you can find organic, all the better. Worcestershire Sauce that fits into the paleo diet is a bit harder to come by. If you can't find a clean and paleo friendly Worcestershire Sauce, you can either make your own (I'm working on getting you a recipe), skip it completely, or use coconut aminos instead.
Watch me make this easy homemade barbecue sauce
Customizing the barbecue sauce recipe
Leave out the Worcestershire sauce or replace it with soy sauce or coconut aminos.
If using Dijon mustard instead of mustard powder, reduce the amount of apple cider vinegar to 2 tablespoons.
Like it spicy? Using ancho or chipotle chilies give nice smoky heat to the BBQ sauce. If you can't find them, you can use cayenne pepper instead or leave it out completely for a milder BBQ Sauce.
Like it sweet? This recipe for Paleo BBQ Sauce is not very sweet. In case you want sweeter, add about ¼ cup of raw honey. You can also add stevia or another sweetener to keep the sugar amount low.
Want it tangier? Add some lemon juice or a bit more vinegar to the recipe.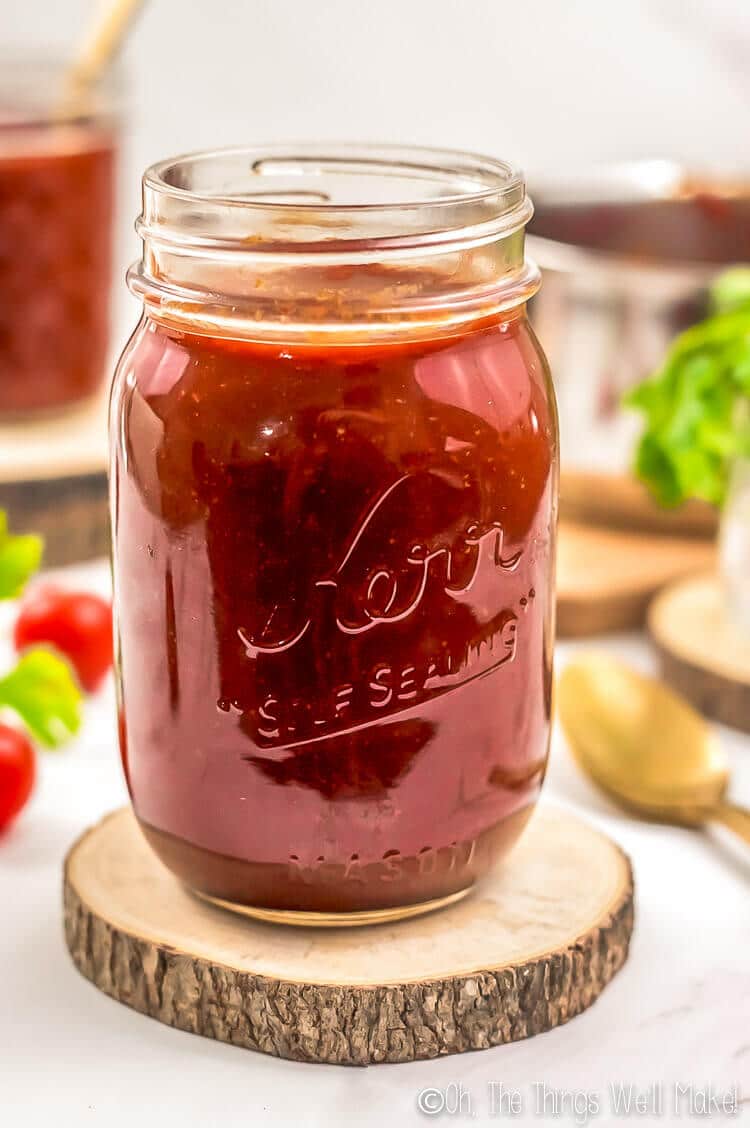 Getting that typical BBQ smoky flavor
A lot of homemade barbecue sauces use liquid smoke as one of their ingredients. Liquid smoke isn't something that is easy to come by here in Spain, though. I'm not really sure about how healthy (or not) it is either.
That said, BBQ sauce without its characteristic smoky flavor just isn't the same. When I first arrived here in Spain, I bought a few different bottles of barbecue sauce that apparently were a European version of what a barbecue sauce was supposed to be. For me, those sauces didn't taste like barbecue sauce at all because they were missing that characteristic smoky flavor. The first years I was here, I have to admit that I brought back a few bottles of BBQ sauce, and also a bottle of liquid smoke to mix with the store-bought BBQ sauces when I ran out, to get something closer to what I was looking for.
Luckily for me, I realized that it's easy to get a great smoky flavor from smoked paprika. Smoked paprika is actually quite common here in Spain because it's what gives Spanish chorizo its characteristic flavor. (Yes, I also like to make homemade chorizo.) While I can now buy a decent tasting store-bought American style barbecue sauce, I've gotten so used to making my own that I rarely buy it.
Easy Homemade Barbecue Sauce
Craving more?
Subscribe to my newsletter for the latest recipes and tutorials!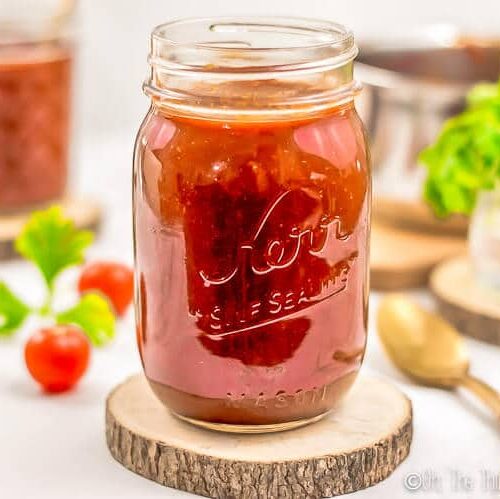 Easy Homemade Barbecue Sauce Recipe
This recipe makes about 3½ cup of BBQ Sauce.
Print
Pin
Rate
Servings:
14
1/4 cup servings
Instructions
Place all ingredients for the Paleo BBQ Sauce into a large pot and mix together well.

Bring to a boil over medium heat then reduce heat to low and let simmer for 15 to 20 minutes. The longer you simmer the darker the color of your BBQ Sauce. If it becomes too thick, add about ¼ cup of water to thin it out.

Do a taste test and adjust salt, sweetness and the heat to your liking.

Either use immediately or pour into clean Mason jars and freeze for later use. You can also store in the fridge for up to 2 weeks.
Serving:
0.25
cups
|
Calories:
62
kcal
|
Carbohydrates:
15
g
|
Protein:
1
g
|
Sodium:
457
mg
|
Potassium:
477
mg
|
Fiber:
1
g
|
Sugar:
12
g
|
Vitamin A:
610
IU
|
Vitamin C:
6
mg
|
Calcium:
39
mg
|
Iron:
1.6
mg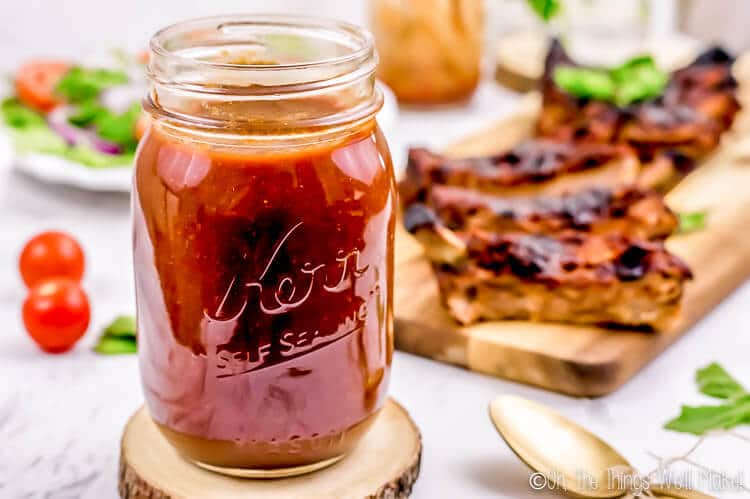 Storing your homemade barbecue sauce
I normally make just enough barbecue sauce for making BBQ ribs or chicken wings (I'll try to share my recipes for those soon), but sometimes I also freeze a small portion of the batch using the same method I use for freezing fruit purees without wasting space in the freezer. (Hint, I love using perfectly cube shaped Tovolo ice cube trays so that everything fits together perfectly.)
If you do want to keep some homemade BBQ sauce in the fridge for a longer period of time, though, to use as a condiment for hamburgers and the like, I'd suggest fermenting it so that it will keep longer. You can use the method explained in the post about making a homemade fermented ketchup. Not only will fermenting it allow it to keep for longer, but it also gives you some beneficial probiotics.