It's easy to add fermented foods to every meal when you serve this homemade fermented ketchup that everybody in the family will love.
By now, you know that I love to make pretty much everything I can myself. Right?
There have been a few exceptions, though, and one of those is ketchup.
I knew I could make my own ketchup, but I was afraid of going through the process and then having it go bad very quickly. My son LOVES ketchup on pretty much everything; even Spanish tortilla. I pictured myself slaving over a hot stove once a week in the interest of making homemade ketchup. As much as I often love being in the kitchen, that wasn't going to happen. 😉
What I hadn't considered, though, is that you can make a homemade fermented ketchup whose good bacteria will not only help your digestive system, but will also allow you to make a homemade ketchup that will keep for much longer.
How long will homemade fermented ketchup keep in the fridge?
Well, the recipe states that the ketchup will last for several months in the fridge. So far I've had mine for couple of months. I've been keeping a small amount in the fridge as a bit of an experiment, and it seems to be looking/smelling/tasting great still. I've seen people recommend using fermented ketchup within a couple of months, just to be on the safe side, and others who say it's fine for 3-6 months.
In any case, we tend to use up ketchup much more quickly than that at our house, so pinpointing exactly how long it will keep isn't that big of a deal to me. I just love having a homemade product that will keep for so long.
Fermented Foods at Every Meal
So, what, exactly, got me to give making homemade fermented ketchup a try?
The newest book from a great blogger that I'm happy to call my friend, Hayley Barista Ryczek from Health Starts in the Kitchen, had a recipe that caught my attention. Hayley has been very productive lately, and getting out some very useful and very beautiful cookbooks that I proudly display in my cookbook collection. Last year I shared with you her recipe for a delicious grain free birthday cake that my son absolutely loved from her appropiately titled Without Grain cookbook.
This year, she's letting me share her recipe for a homemade fermented ketchup from her newest book, Fermented Foods at every meal.
Her new book begins with an introduction explaining the health benefits of fermented foods, and basic tips for fermenting just about anything. Most of the book is comprised of fermented recipes like her recipes for sour cream, kefir and yogurt, kombucha, and fermented veggies such as sauerkraut, salsas, chutneys, and, well, fermented ketchup, of course. The book finishes up with troubleshooting tips and resources.
It isn't just about the recipes, though; she also gives ideas of how to easily sneak fermented foods into your diet.
How can you easily sneak in fermented foods to every meal?
I made my batch of homemade fermented ketchup from homemade tomato paste made with tomatoes I had grown in my garden. You don't have to be a homesteader or even a gardener, though, to make your own ketchup. In fact, you don't even need to make your own ketchup to make a fermented ketchup!
Her recipe calls for tomato paste that you can just as easily buy at the store, but let's say that you already have a ketchup whose flavor you love, or you just don't feel like making your own even though the recipe is very simple.
Hayley explains how to ferment store bought condiments like ketchup, mustard, salsa, and even mayonnaise!
So, no, you don't have to eat sauerkraut at every meal just to get in some healthy probiotics. There are plenty of tasty wheys to do it. (Forgive me, it's a dreary Monday morning here.) But, yes, whey is a great ally for helping to ferment condiments…
What is whey, and where can you find it?
Whey is the liquid part of milk that remains after curdling and straining it. It's a byproduct of making cheese, and it's also the liquid that floats on top of your yogurt. So, even if you don't make cheese, you can easily obtain whey from either a homemade yogurt or a store bought one. To get more whey from your yogurt, you can let it slowly strain through a tightly woven cheesecloth over a bowl. You'll end up with a thick yogurt or yogurt cheese in the cloth, and liquid whey in the bowl below.
Are you vegan or prefer not to use whey?
From what I understand, you should also be able to make a fermented ketchup using the liquid from fermented veggies such as sauerkraut.
Personalizing this recipe
My husband hates cloves, so I decided to split up the recipe and make half of it according to the recipe, and half without the cloves, which I substituted with some onion powder. I thought I would like the half without them better, but I have to admit that once the fermentation process was over, I liked Hayley's recipe better. It's different than the ketchup I was buying, but not as different as I thought it would be, and it is really good.
Making homemade ketchup without cloves was pretty much unnecessary as I found that my husband rarely uses ketchup and never got around to trying either. So to this point, I have no official comment from him.
As for my son? Well, he liked the homemade ketchup, and happily ate it, but did say he prefers the organic ketchup I buy now. The store bought ketchup has a mix of spices and herbs that include celery powder, onion and garlic powder, etc. For my next batch, I plan on trying to make a spice blend more similar to the ketchup he already loves. If I come up with a successful blend, I'll update the post with my alternative recipe in the notes section. If not, I may use Hayley's tip and try fermenting the ketchup my son's already used to eating. 🙂
Enough chatting! Let's make some!
Homemade Fermented Ketchup
Craving more?
Subscribe to my newsletter for the latest recipes and tutorials!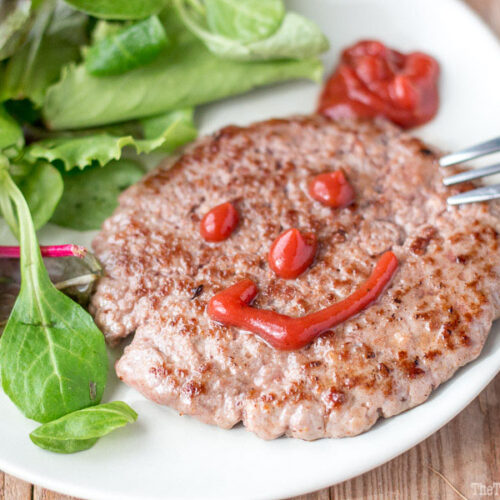 Easy, Homemade Fermented Ketchup: Fermented Foods at Every Meal
It's easy to add fermented foods to every meal when you serve this homemade fermented ketchup that everybody in the family will love.
Makes around 3 cups.
Print
Rate
Servings:
48
1 Tbsp. Servings
Instructions
Mix the tomato paste and honey in a bowl.

Whisk in 1/4 cup (60ml) of the whey, vinegar, salt, allspice, and cloves. Continue blending until all the ingredients are evenly dispersed and the mixture is smooth.

Spoon the homemade ketchup into a glass jar, top with the remaining (28ml) whey, and cover with cheesecloth secured with a rubber band or string. Let sit undisturbed at room temperature out of direct sunlight, for 3 days.

After 3 days, uncover the ketchup and stir it throroughly. Cover with an airtight lid and transfer to the refrigerator for storage. You can use it immediately, or store it in the refrigerator for several months.
Calories:
22
kcal
|
Carbohydrates:
3
g
|
Protein:
1
g
|
Sodium:
132
mg
|
Potassium:
133
mg
|
Sugar:
2
g
|
Vitamin A:
215
IU
|
Vitamin C:
3
mg
|
Calcium:
14
mg
|
Iron:
0.5
mg