Quick and easy, this no bake, paleo strawberry cream pie can be whipped up in a matter of minutes for a light, creamy dessert.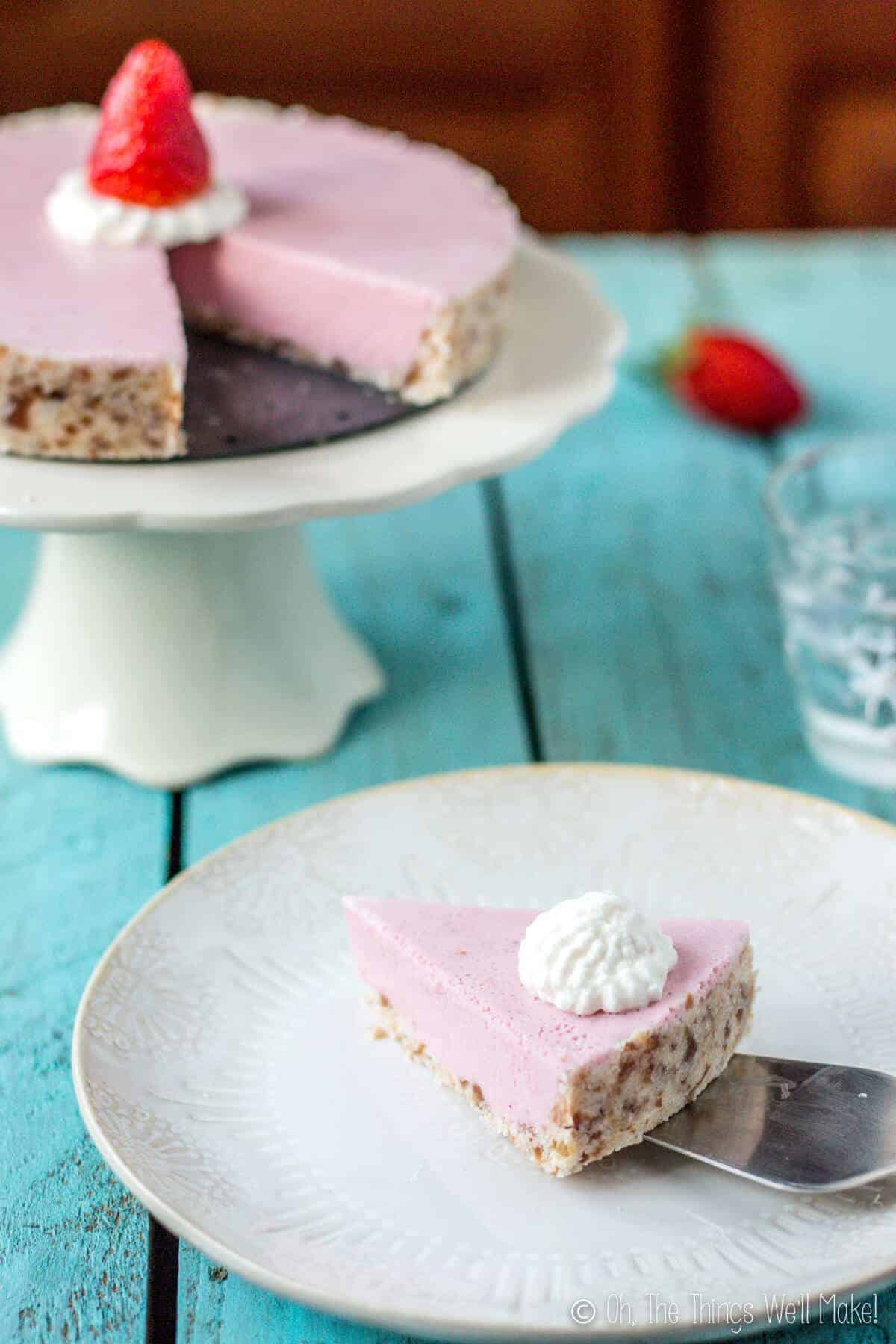 Through blogging, I have made some great friends. I've also found a lot of great people who think like me and with whom I can talk with about food and health topics. There are days when we surf Pinterest together and chat about the great (and not-so-great) recipes we come across.
One of those days a friend of mine came upon a strawberry pie on Pinterest made with strawberry Jello and Cool Whip. Her immediate reaction was "Yuck!"
OK, I get it. We're real food bloggers. We do n0t use packages of artificially flavored and colored foodstuffs made with questionable ingredients, and I was supposed to wholeheartedly agree.
And so I did.
Kind of.
But only after admitting that I used to make a strawberry Valentine's Day pie made by mixing ice cream with strawberry Jello myself.
My first strawberry cream pie
Yep, I said it. When I was a kid, I used to make a totally artificially flavored strawberry cream pie. I also made Fluff and Nutter sandwiches and numerous other non-paleo treats that would make most of you cringe. So were the days…
That pie recipe was in one of my favorite kid's holiday cookbooks, and I used to love it. But even if I were to want to make a pie with strawberry Jell-O and Cool Whip here and now, it's not a possibility. I can't find either of those ingredients here in Spain. By now I wouldn't want them anyway, but sometimes I'm happy that scarcity keeps me from possibly falling into those sorts of dietary trap again. 😉
In any case, once you get accustomed to eating real foods, you tend to crave only real foods. I haven't really craved Cool Whip in a long time. For now, I'd much prefer whipped cream that is either made with whipping cream or coconut cream, and I'd much rather make strawberry gelatin with fresh strawberries too.
Making a paleo version of the strawberry cream pie
I was pretty sure that I'd be able to come up with my own version of the Valentine's Day Strawberry Cream pie. Not only would it be just as quick and simple to make, but that it would be healthier.
In the end I like my paleo version quite a bit more than the original one I made as a kid. Interestingly enough, even my husband who normally won't even look at any dessert that isn't made with chocolate, admitted that he quite liked this pie too. (Of course, if it had been made with chocolate, he'd like it even more. Sigh. New post idea?)
This pie is super quick to make, and sets pretty quickly because it uses both gelatin and the fat and thickeners in the coconut milk to help solidify it into a pie that holds its shape when you slice it. Despite that, it's nice and light in texture (not in fat, of course).
The texture of your pie will depend a lot on the fat content of your particular coconut milk (and any thickeners in it).
If you use a brand that doesn't have a nice, thick layer of coconut cream floating on the top when you chill the can in the fridge, you may need to add more gelatin to the recipe to get the pie to hold its shape.
That's also why I don't think this would work with a homemade coconut milk. (If you were going to try using homemade coconut milk, you'd definitely need to increase the amount of gelatin, and I'm still not sure it would work.)

Enough said? Let's no-bake a pie!
Paleo Strawberry Cream Pie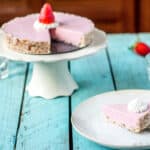 Easy Paleo Strawberry Cream Pie
Quick and easy, this no bake, paleo strawberry cream pie can be whipped up in a matter of minutes for a light, creamy dessert.
Makes 2 6-inch pies
Print Recipe
Ingredients
For the Filling
13.5

oz.

coconut milk

1 can, pre-chilled for several hours

10

strawberries

large (Or around 180g strawberry puree)

2

Tbsp.

gelatin

3

Tbsp.

honey
Instructions
Pre-chill the can of coconut milk. It should be cooled for several hours or overnight.
Making the crust
If using a drier-type date, soak the dates in a glass of water while you gather the rest of your ingredients.

Add the shredded coconut to a food processor and begin to process it until the coconut begins to stick together.

Drain and add the dates to the food processor, one at a time, and continue to process the mixture until the dates are well chopped and a paste is formed.

Press the coconut date mixture into the bottom of the pan(s), pressing part of the mixture up and onto the sides of the pan.
Making the filling
Remove the can of coconut milk from the refrigerator and scoop the solidified cream off the top. Place the solidified cream into a blender.

Rinse and dry the strawberries. Remove the stems and add the strawberries to the blender with the coconut cream.

Pour the remaining liquid from the bottom of the can into a saucepan along with the gelatin. Heat them over low to medium heat, stirring constantly until the gelatin is well dissolved. If the can of coconut milk was mostly coconut cream and there was very little liquid left, you may need to add a couple of tablespoons of water to fully dissolve the gelatin.

Once the gelatin is dissolved, add the honey to the warm gelatin mixture and stir until it is completely incorporated.

Add the gelatin mixture to the blender with the strawberries and coconut cream and process until obtaining a smooth puree.

Pour the filling mixture into the prepared crusts, and refrigerate until set. (It's best to give yourself at least an hour, but it does tend to set pretty quickly.)

Slice, serve, and enjoy!
Notes
I use two 6-inch pie pans with removable bottoms for this recipe. You can probably make this with one larger, 9-inch pie instead without needing to alter the quantities. 
Some coconut milks set more solid in the refrigerator than others. If using a thinner type coconut milk, you may need to add more gelatin to make a pie that holds its shape when sliced.
To save time, you can use frozen strawberries rather than fresh ones. The cold temperature of the frozen berries will help set the mixture more quickly. 
The honey can be substituted for maple syrup or other sweetners. 
Nutritional Information
Serving:
1
slice
|
Calories:
124
kcal
|
Carbohydrates:
8
g
|
Protein:
2
g
|
Fat:
9
g
|
Saturated Fat:
8
g
|
Sodium:
9
mg
|
Potassium:
132
mg
|
Fiber:
1
g
|
Sugar:
5
g
|
Vitamin C:
4.8
mg
|
Calcium:
10
mg
|
Iron:
1.1
mg
If you love light, fluffy desserts and want to change things up a bit, you can also make a strawberry mousse with the same ingredients used in the filling. I'm about to post my paleo strawberry mousse recipe on Rubies and Radishes and will link from here when I get it up.