Quick and easy, this no-bake, paleo strawberry cream pie can be whipped up in a matter of minutes for a light, creamy dessert.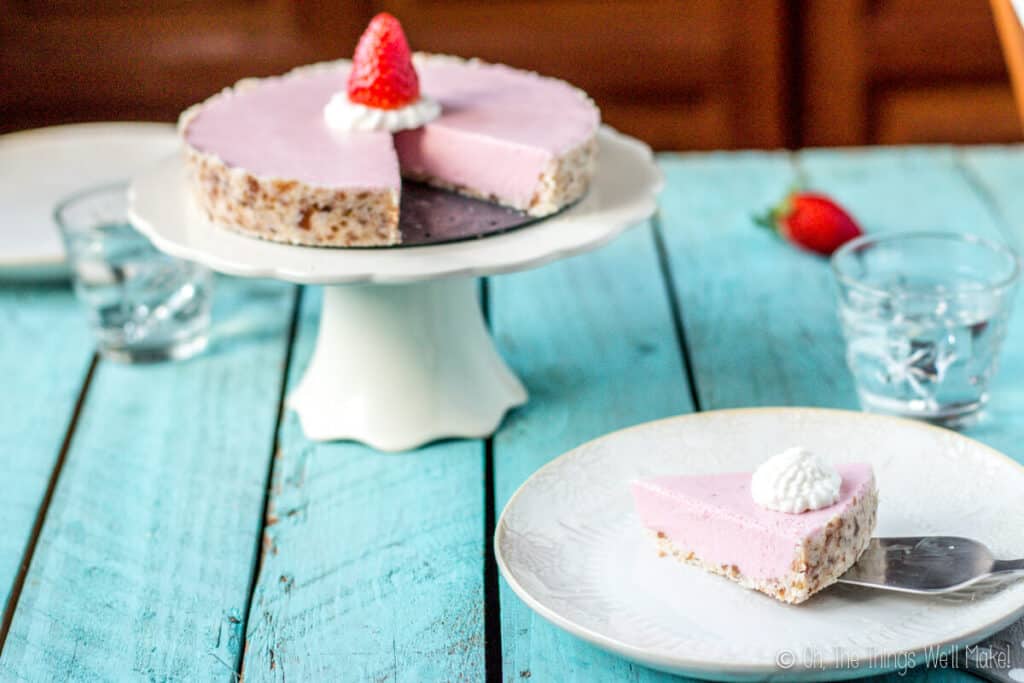 Through blogging, I have made some great friends with whom I can talk about food and health topics. There are days when we surf Pinterest together and chat about the great (and not-so-great) recipes we come across.
One day, a friend of mine found a strawberry pie on Pinterest made with strawberry Jello and Cool Whip. Her immediate reaction was "Yuck!"
OK, I get it. We're "real food" bloggers. We don't normally use packages of artificially flavored and colored foodstuffs. They have questionable ingredients. I was "supposed to" wholeheartedly agree.
And I did.
Kind of.
But only after admitting that I used to make a strawberry Valentine's Day pie made by mixing ice cream with strawberry Jello myself. And I loved it.
The original strawberry cream pie
When I was a kid, I used to make that totally artificially-flavored strawberry cream pie. (I also made "Fluffernutter sandwiches" and numerous other non-paleo treats that would make many of you cringe.)
That "strawberry cream pie" recipe was in one of my favorite holiday cookbooks (for kids), and I thought it was the best recipe ever.
Things have changed a lot since then.
Even if I were to want to make a pie with strawberry Jell-O and Cool Whip, I can't. Here in Spain, we don't have either of those ingredients! By now, I can proudly state that I wouldn't want them anyway. Sometimes, though, I'm happy that scarcity keeps me from falling into that sort of dietary trap again. ?
Luckily for me, once you get accustomed to eating real foods, you tend to crave real foods. So, I haven't really craved Cool Whip in a long time. I now prefer homemade whipped cream made from heavy cream or coconut cream. I also prefer to make strawberry gelatin desserts (aka. "Jell-o") with fresh strawberries.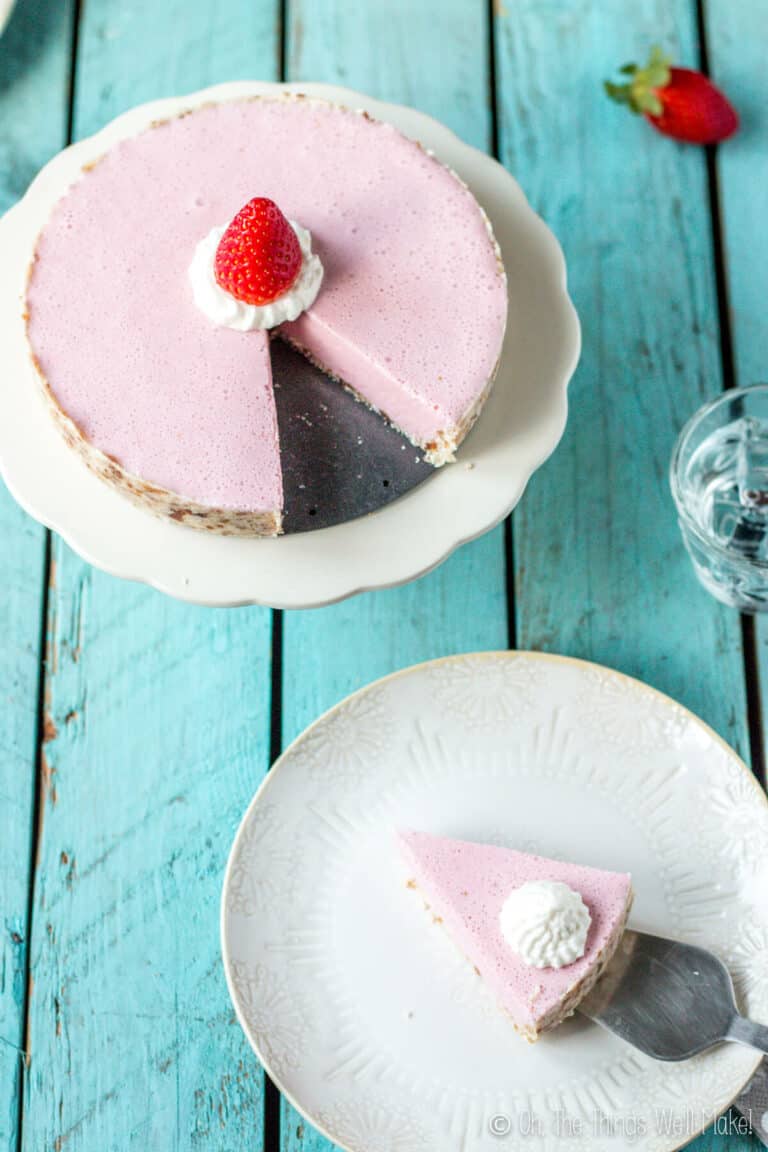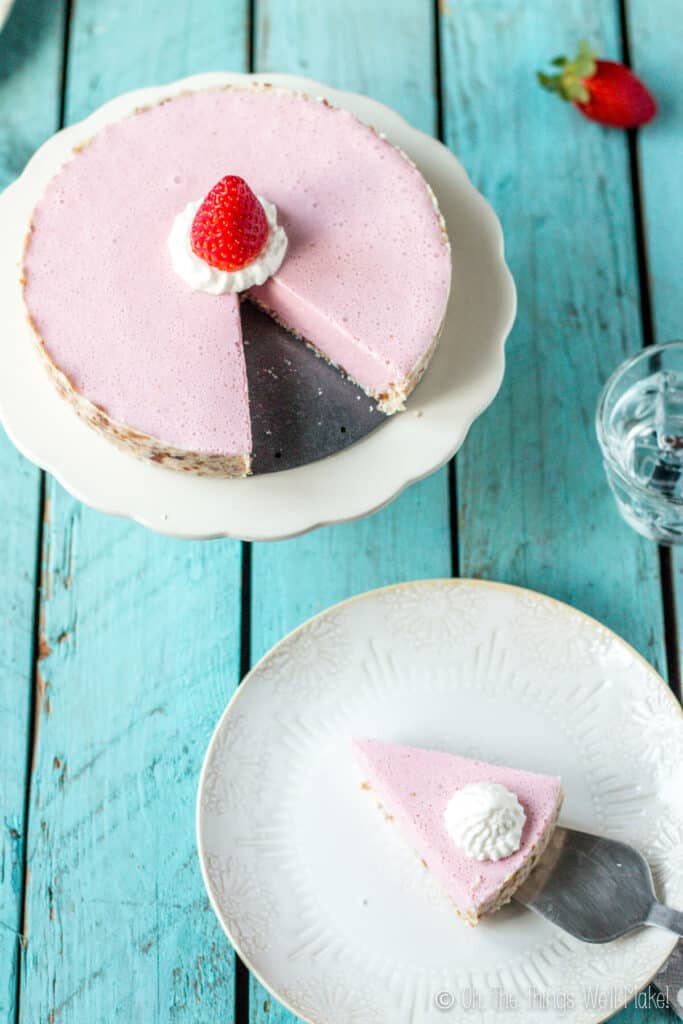 Making a healthier strawberry cream pie
I was pretty sure that I'd be able to successfully make a "paleo" version of the "Valentine's Day Strawberry Cream pie". It would be just as quick and easy to make, and healthier. But, would it taste as good?
In the end, I'm happy to say that I like this paleo version better than the original pie. Interestingly enough, even my husband who normally scoffs at desserts that aren't made with chocolate, admitted that he quite liked it. (Of course, if it had been made with chocolate, he'd probably have liked it even more.)
Adapting for Valentine's Day
To make this pie perfect for Valentine's day, just like the original pie from which I adapted this recipe, try making it in a heart-shaped pan. You can also decorate it with heart-shaped strawberries.
Making a paleo crust
To give this pie a "crust" of sorts, I borrowed an idea from my coconut date balls recipe. While experimenting with different combinations, I found that coconut and dates can be processed together to make something that holds its shape well. It's also delicious, even on its own!
Choosing the dates
This works best with Medjool dates or those that aren't too dry. When using other drier-type dates, soak the dates in water before blending them with the other ingredients. That will help them bind the ingredients better.
Blending the coconut
The dates aren't the only thing that holds the crust together. It also helps to fully blend the dried shredded coconut until some of the fat is released. This helps make a more workable mixture.
Forming the crust
Once you've formed a moldable mixture, press it into the bottom of the pie tins. I used 2 6-inch pans with removable bottoms, but you can use one 9-inch pan instead.
Use your fingers to extend the mixture up the sides of the pan.
Making the filling
The filling uses fresh strawberries and coconut cream. Before making the filling, though, you need to pre-chill the can of coconut milk…
Getting the right consistency
This pie sets pretty quickly because it uses both gelatin and the fat and thickeners in the coconut milk to help solidify it. The combination makes for a solid yet creamy texture that holds its shape when you slice it.
The texture of your pie will depend a lot on the fat content of your particular coconut milk (and any thickeners in it).
To prepare the coconut milk for this recipe, leave the can of coconut milk in the fridge for several hours or overnight. You'll notice upon opening the can that a thick layer of "coconut cream" will float on top of a much thinner liquid below.
If you use a brand that doesn't have a nice, thick layer of coconut cream floating on the top, you may need to add more gelatin to the recipe to get the pie to hold its shape.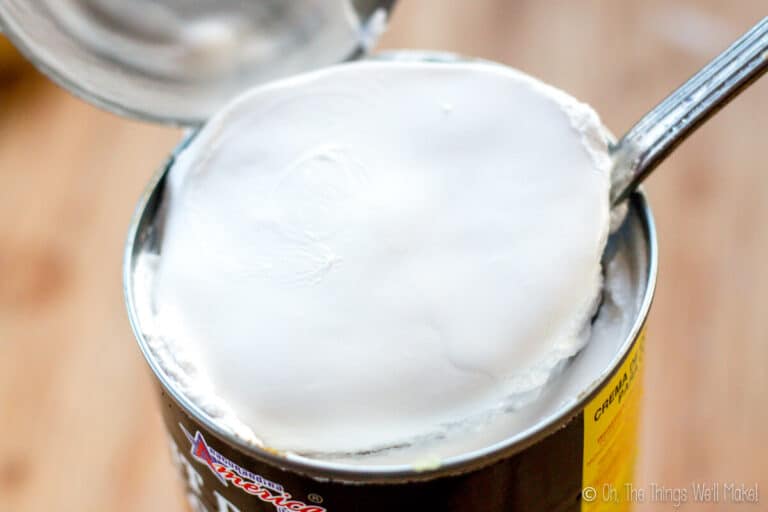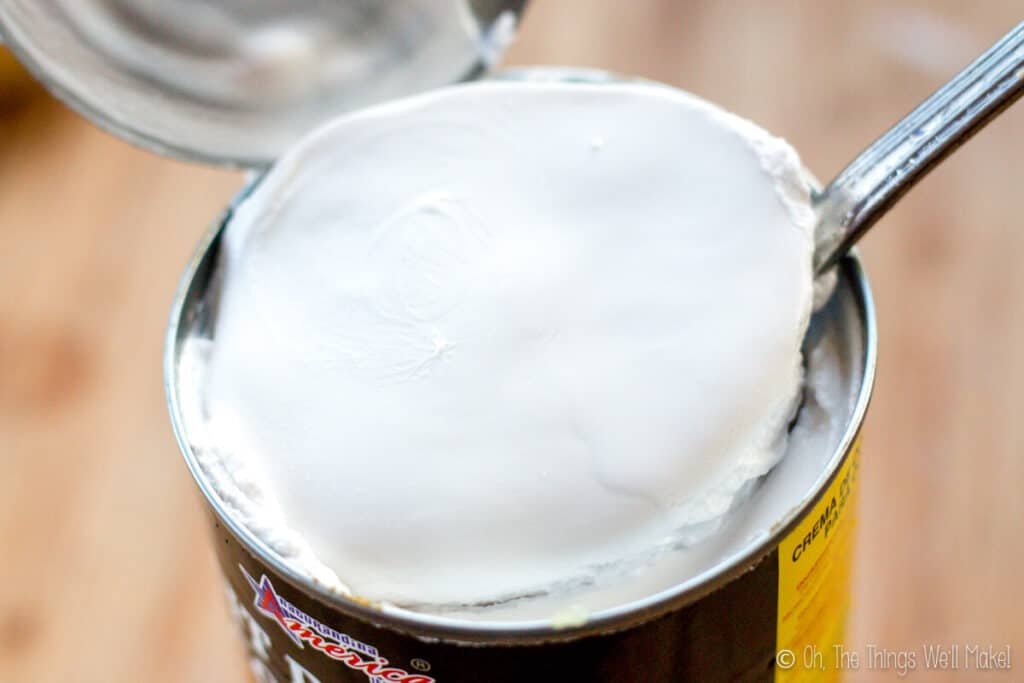 Can you use homemade coconut milk?
Because this recipe relies on the thickeners that are present in canned coconut milk, I don't think this recipe would work well with a homemade coconut milk, at least not as written.
If you do want to try using homemade coconut milk, you'll definitely need to increase the amount of gelatin. I'm not sure what the resulting texture would be.
Combining the filling ingredients
Open the chilled can of coconut milk. Scoop off the solidified coconut cream and add it to a blender jar.
Pour the remaining liquid into a pan and dissolve 2 tablespoons of gelatin into it.
Once the gelatin is dissolved, add some honey, to taste. Remove the mixture from the heat and add it to the blender with the coconut cream.
Rinse the strawberries and remove the stems. Add the berries to the blender jar with the coconut mixture.
Blend all of the ingredients together and pour them into the prepared crust.
Customizing the recipe
There are several ways that you can customize this recipe.
Changing the crust
If you want to avoid using coconut, this crust also works with ground almonds. You can also use part coconut and part almonds. (I've used 1 cup of coconut with 1/4 cup almonds many times, including when I made the video for this post.)
Changing the filling
The filling for this pie can be adapted to suit your taste.
The coconut can be blended with other fruits, instead of strawberries, to give different types of cream pies. I've added a homemade pumpkin puree and pumpkin spices to make a paleo pumpkin pie. I've also made a paleo key lime pie by using lime juice and the zest from the limes. They're all delicious!
As for sweetening the filling, I used around 3 tablespoons of honey. The sweetness can be adjusted by changing the amount of honey used, to taste. You could also use a different sweetener instead. Keep in mind that the crust is quite sweet because of the dates, so the filling doesn't need to be overly sweet.
Watch me make this pie
Paleo Strawberry Cream Pie
Craving more?
Subscribe to my newsletter for the latest recipes and tutorials!

Easy Paleo Strawberry Cream Pie
Quick and easy, this no bake, paleo strawberry cream pie can be whipped up in a matter of minutes for a light, creamy dessert.
Makes 2 6-inch pies
Print
Pin
Rate
Ingredients
For the Filling
13.5

oz.

coconut milk

1 can, pre-chilled for several hours

10

strawberries

large (Or around 180g strawberry puree)

2

Tbsp.

gelatin

3

Tbsp.

honey
Instructions
Pre-chill the can of coconut milk. It should be cooled for several hours or overnight.
Making the crust
If using a drier-type date, soak the dates in a glass of water while you gather the rest of your ingredients.

Add the shredded coconut to a food processor and begin to process it until the coconut begins to stick together.

Drain and add the dates to the food processor, one at a time, and continue to process the mixture until the dates are well chopped and a paste is formed.

Press the coconut date mixture into the bottom of the pan(s), pressing part of the mixture up and onto the sides of the pan.
Making the filling
Remove the can of coconut milk from the refrigerator and scoop the solidified cream off the top. Place the solidified cream into a blender.

Rinse and dry the strawberries. Remove the stems and add the strawberries to the blender with the coconut cream.

Pour the remaining liquid from the bottom of the can into a saucepan along with the gelatin. Heat them over low to medium heat, stirring constantly until the gelatin is well dissolved. If the can of coconut milk was mostly coconut cream and there was very little liquid left, you may need to add a couple of tablespoons of water to fully dissolve the gelatin.

Once the gelatin is dissolved, add the honey to the warm gelatin mixture and stir until it is completely incorporated.

Add the gelatin mixture to the blender with the strawberries and coconut cream and process until obtaining a smooth puree.

Pour the filling mixture into the prepared crusts, and refrigerate until set. (It's best to give yourself at least an hour, but it does tend to set pretty quickly.)

Slice, serve, and enjoy!
Notes
I use two 6-inch pie pans with removable bottoms for this recipe. You can make this with one larger, 9-inch pie instead without needing to alter the quantities.
Some coconut milks set more solid in the refrigerator than others. If using a thinner type coconut milk, you may need to add more gelatin to make a pie that holds its shape when sliced.
To save time, you can use frozen strawberries rather than fresh ones. The cold temperature of the frozen berries will help set the mixture more quickly.
The honey can be substituted for maple syrup or other sweeteners.
Serving:
1
slice
|
Calories:
124
kcal
|
Carbohydrates:
8
g
|
Protein:
2
g
|
Fat:
9
g
|
Saturated Fat:
8
g
|
Sodium:
9
mg
|
Potassium:
132
mg
|
Fiber:
1
g
|
Sugar:
5
g
|
Vitamin C:
4.8
mg
|
Calcium:
10
mg
|
Iron:
1.1
mg
Update Information
This recipe was first published on February 14, 2016. It was rewritten in January of 2020, adding new information, pictures, and video.
Related posts: