The most popular Spanish Christmas pastry in my area of Spain, pastissets are a type of empanadilla that is often filled with a sweet boniato (white sweet potato) filling.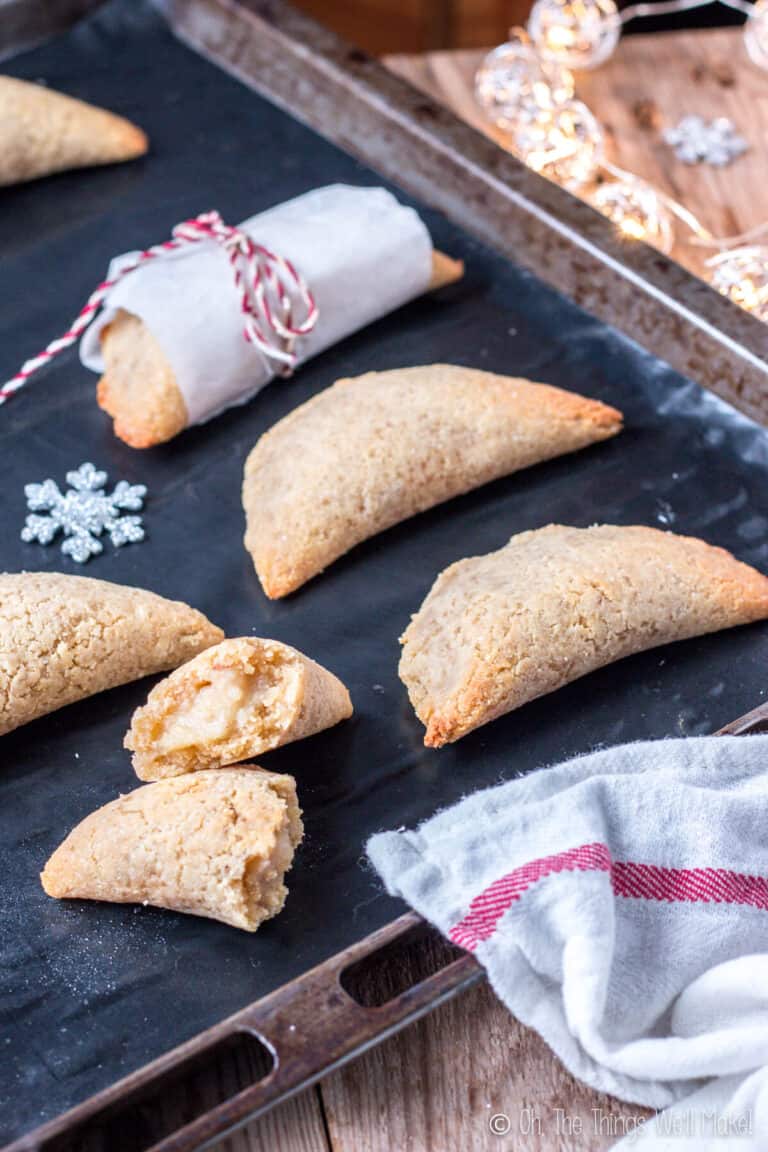 Yesterday, I shared with you how to make dulce de boniato, a Spanish pastry filling that is popular at Christmas time. It is made with boniato, a white sweet potato.
Today I am going to share a recipe for a grain-free almond pastry dough that can be used for making pastissets, the most popular Christmas pastries in my area of Spain. Pastissets are a type of sweet empanada often filled with dulce de boniato. They are also referred to as pastelitos or empanadillas dulces when speaking in Spanish. The term "pastissets" is actually the Valencian and Catalonian name for them.
Pastisset pastry types
Pastissets can be made with either a wheat flour-based dough or an almond flour-based one. While the wheat flour-based pastry is probably more commonly used, I much prefer the almond flour-based one. It isn't just because it's gluten-free and grain-free.
Wheat flour is probably more commonly used when making the pastries because it is a lot cheaper and a little bit easier to make. The almond flour-based pastry is more delicate, so you have to be more careful when forming your pastries, but it is definitely worth the extra effort.
Once they are made, the results are spectacular. The pastry itself is reminiscent of marzipan, which combines perfectly with the sweet boniato filling.
Ingredients
This recipe only uses a few simple ingredients. The pastry is mainly made from almond flour, an egg, sugar, and honey. You can also add a bit of cinnamon for flavor.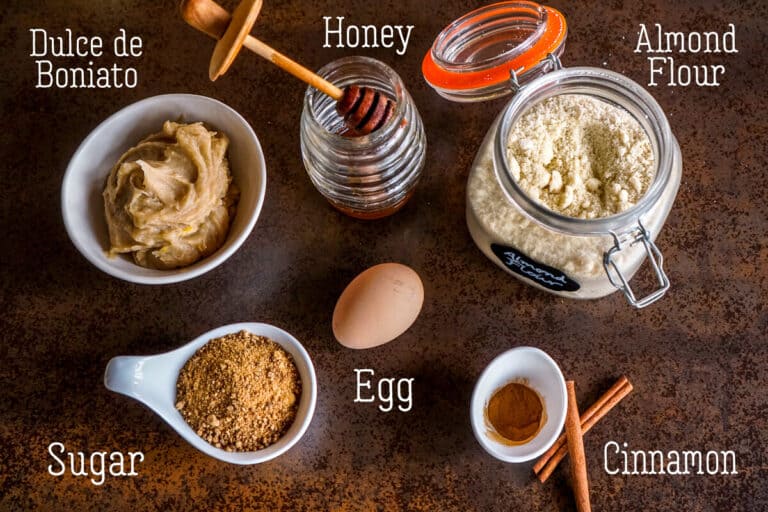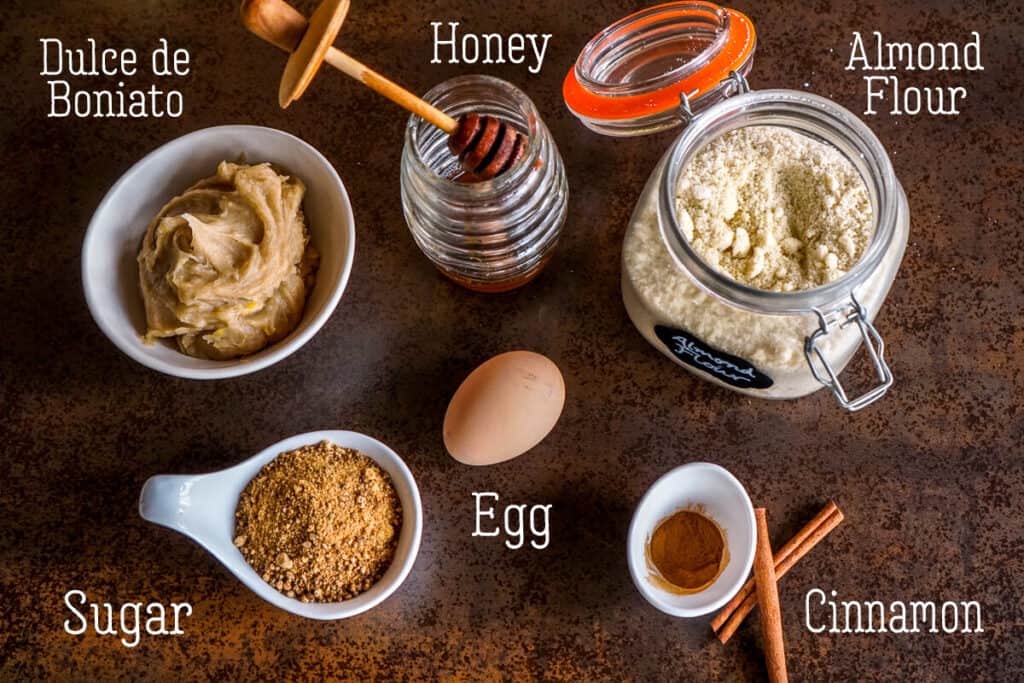 This recipe is an adaptation of a recipe from a friend of mine, Victoria Monera, who also has two blogs of her own. If you are looking to practice your Spanish, they might be of interest to you. She shares her recipe for the pastry dough on a blog filled with recipes, stories, and other articles. Her other blog, españolextranjeros.com, is filled with grammar exercises for those who are either studying or teaching Spanish.
My friend's recipe uses a kilogram of almond flour. That reflects how most people here make pastissets. They get together with family and friends and make a large batch so that they can share with others. I decided to quarter her recipe to make it more practical for making in one home. When quartered, this recipe makes 6 large pastissets.
Apart from the amount used, I also changed the amount of sugar and the type of sugar used. The original recipe calls for white table sugar, but I replaced it with coconut sugar and honey. The honey adds flavor and helps make a more easily moldable dough.
You can use whatever sugar you prefer, though! Lighter sugars will result in lighter colored pastries!
Making the dough
Making the dough for pastissets is simple. Combine all of the ingredients together in a medium to large bowl, mixing them well to form a dough. This step is probably easiest using clean hands to work the dough together.
The dough may be slightly sticky at first, but should become workable as you incorporate all of the flour. If you are using a large egg and find that the moisture of the egg and honey may make the dough too sticky, adding some more almond flour should help you fix it.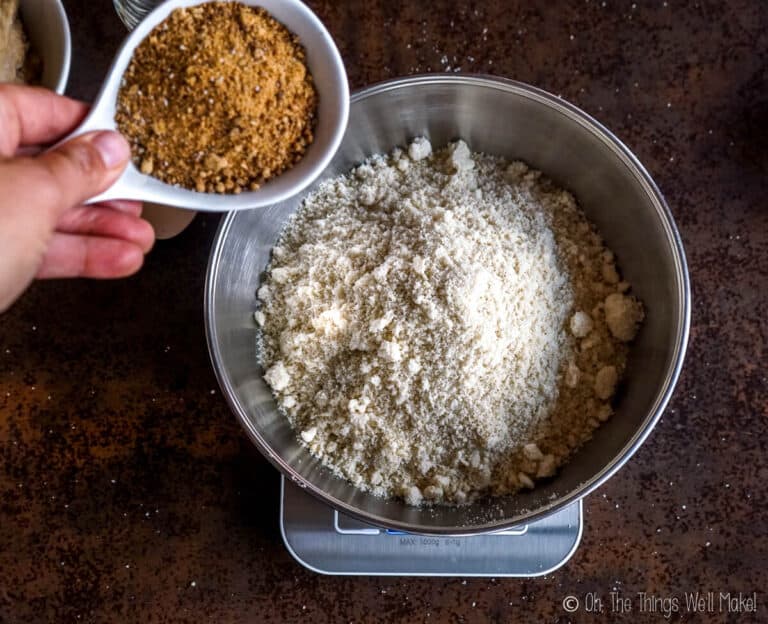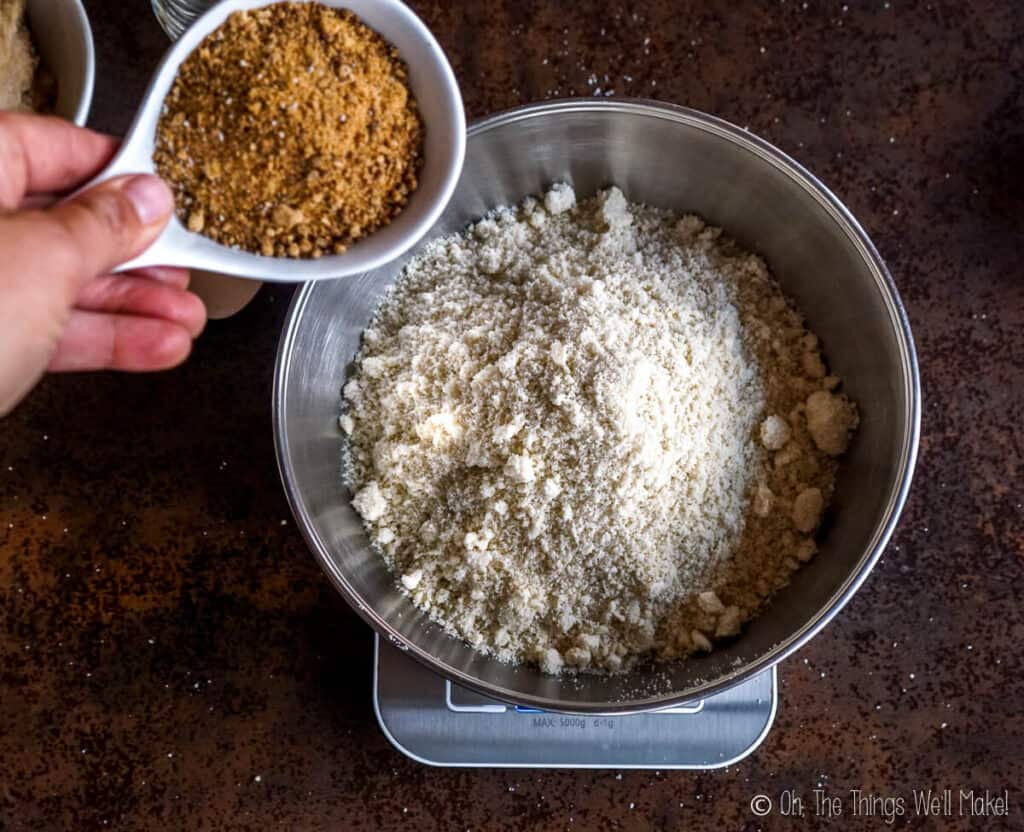 Once you have a workable dough, divide it into six equal parts. Roll each of the parts into a ball. I find it's easiest to work the dough if it has been chilled first, but you can make them right away, if you like. (If you are having a hard time working with the dough, though, consider placing it in the fridge for a while before continuing.

Making the pastries
Once you have the balls of dough ready, press them into flat circles that are about half a centimeter thick (just under a quarter of an inch). Pressing the dough on parchment or wax paper can help flatten the dough without it sticking.
Scoop some filling into the center of the dough circle and fold the pastry circle in half over the filling. Use the paper to help fold the dough over onto itself. Seal the edges shut.
Place the sealed pastissets onto a baking sheet lined with parchment paper.
Once you've filled all of the pastries, bake them until they are a light golden brown.
Other fillings
If you aren't a fan of boniato, you can fill these almond-based pastries with other sweet fillings. Common pastisset fillings used here are almond paste and "cabello de angel," a sweet filling made with cooked Siam pumpkin.
That said, you can really let your imagination run wild. Why not try some of your favorite pie fillings. I bet an apple filling would be delicious. (I'd try pre-cooking anything you plan on using, though.)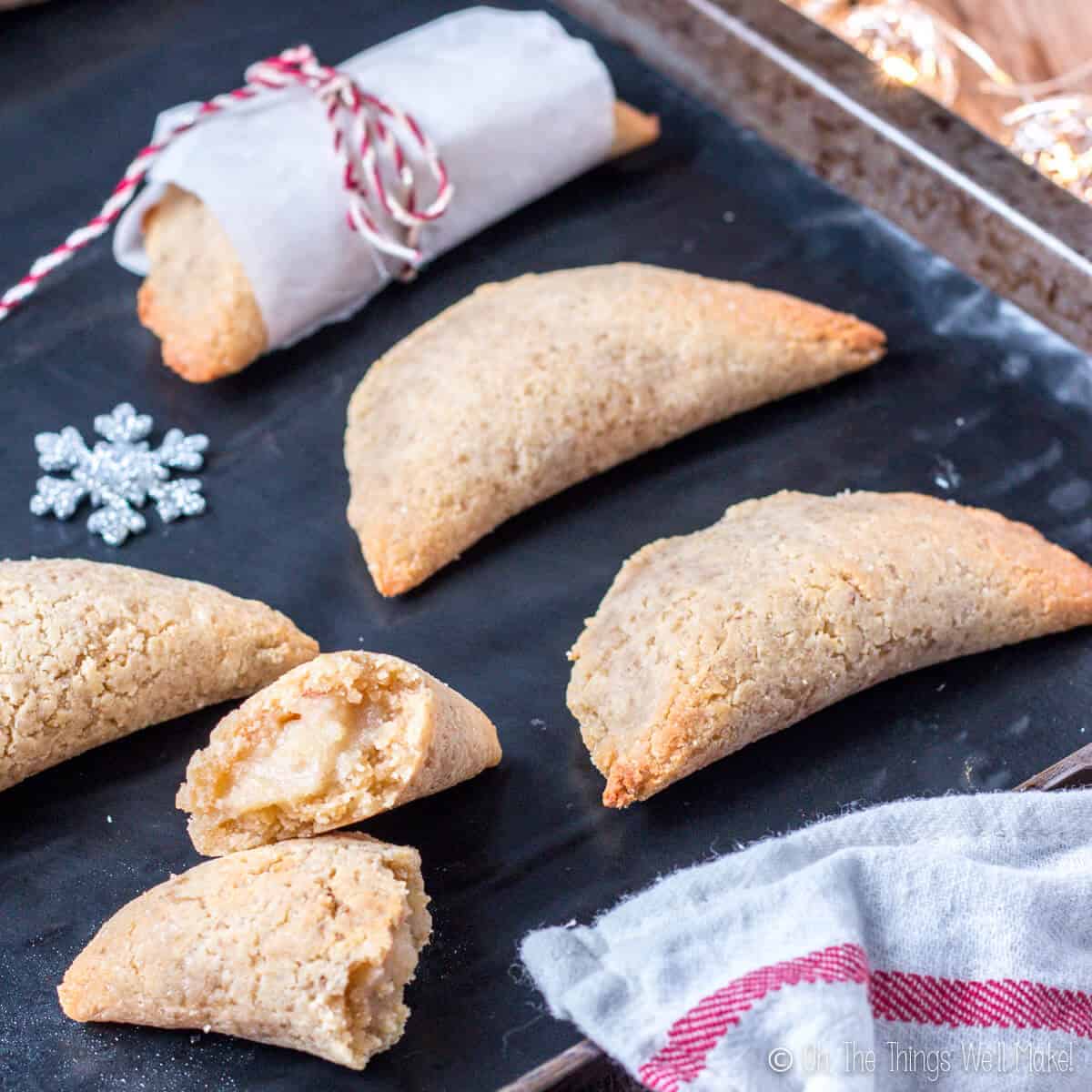 Serving
Pastissets are usually served after meals around Christmas time. They are often accompanied by other typical Spanish Christmas treats like mantecados, polvorones, and turrón. (I have recipes for both the soft turrón de Jijona and the hard turrón de Alicante.)
You may have noticed that almonds take center stage in Spanish Christmas treats. If you'd like to read more about other Spanish Christmas treats, check out my post about the top traditional Spanish Christmas foods.
Video
Craving more?
Subscribe to my newsletter for the latest recipes and tutorials!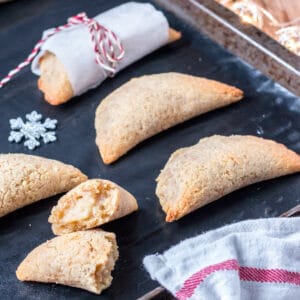 Pastissets de Boniato: Sweet Spanish Christmas Pastries
The most popular Spanish Christmas pastry in my area of Spain, pastissets are a type of empanadilla that is often filled with a sweet boniato (white sweet potato) filling.
Print
Pin
Rate
Servings:
6
large pastissets
Instructions
Preheat the oven to 320ºF/160ºC.

Mix together all of the ingredients for the pastry dough in a bowl until well combined.

Divide the dough into 6 equal parts and roll each into a golf ball-sized ball.

Wet your hands and press the dough flat into a disc with around a half centimeter thickness. You can use a humid cloth to help press it flat, or can also use some parchment paper or a rolling pin. I found the combination of using my hands and using the parchment paper to be the easiest.

Spoon around 2 tablespoons of dulce de boniato, or another pastry filling, into the center of the dough circle.

Carefully fold the pastry in half over the filling and seal the edges by pressing them together.

Place the sealed pastries on a baking tray that has been previously lined with parchment paper or that is well-greased. Bake for 10-15 minutes, until the pastry loses most of its moisture and slightly crisps. While there is no need to let them turn golden brown, their turning a light golden brown is a good indication of their doneness.

Remove from the oven to cool and then serve.
Notes
Customizing the recipe
These can be made with any sugar of choice. White sugar will give lighter colored pastries. The honey can be substituted with either maple syrup or more sugar.
Troubleshooting
If the dough is too sticky, add more almond flour.
If it is too dry, add a touch of water.
If you are having a hard time forming the dough, try chilling it before shaping it again. Using parchment paper can help you form the dough without it breaking.
Pastry filling options
While these are commonly filled with dulce de boniato, they can also be filled with almond paste or "cabello de angel," a pastry filling made from the Siam pumpkin.
Serving:
1
large filled pastry
|
Calories:
396
kcal
|
Carbohydrates:
48
g
|
Protein:
11
g
|
Fat:
22
g
|
Saturated Fat:
3
g
|
Cholesterol:
27
mg
|
Sodium:
72
mg
|
Potassium:
186
mg
|
Fiber:
6
g
|
Sugar:
29
g
|
Vitamin A:
7040
IU
|
Vitamin C:
1
mg
|
Calcium:
107
mg
|
Iron:
3
mg