In the past, we had been celebrating Christmas Eve at my husband's parent's house. Ever since my son was born, though, we have begun celebrating here at home so that we could put my son to bed and dinner could continue on.
Seeing as that I was the only one who used to put up a Christmas tree, it also made things more festive to celebrate here.
Last year, though, I decided against a tree because having an overactive toddler around made a tree seem like a danger that I didn't want to have to deal with. I didn't want to completely miss out on the festivities, though, so I did put up some lights and tinsel and tried to make my food a little more festive.
So, I decided to make a snowman cheese ball.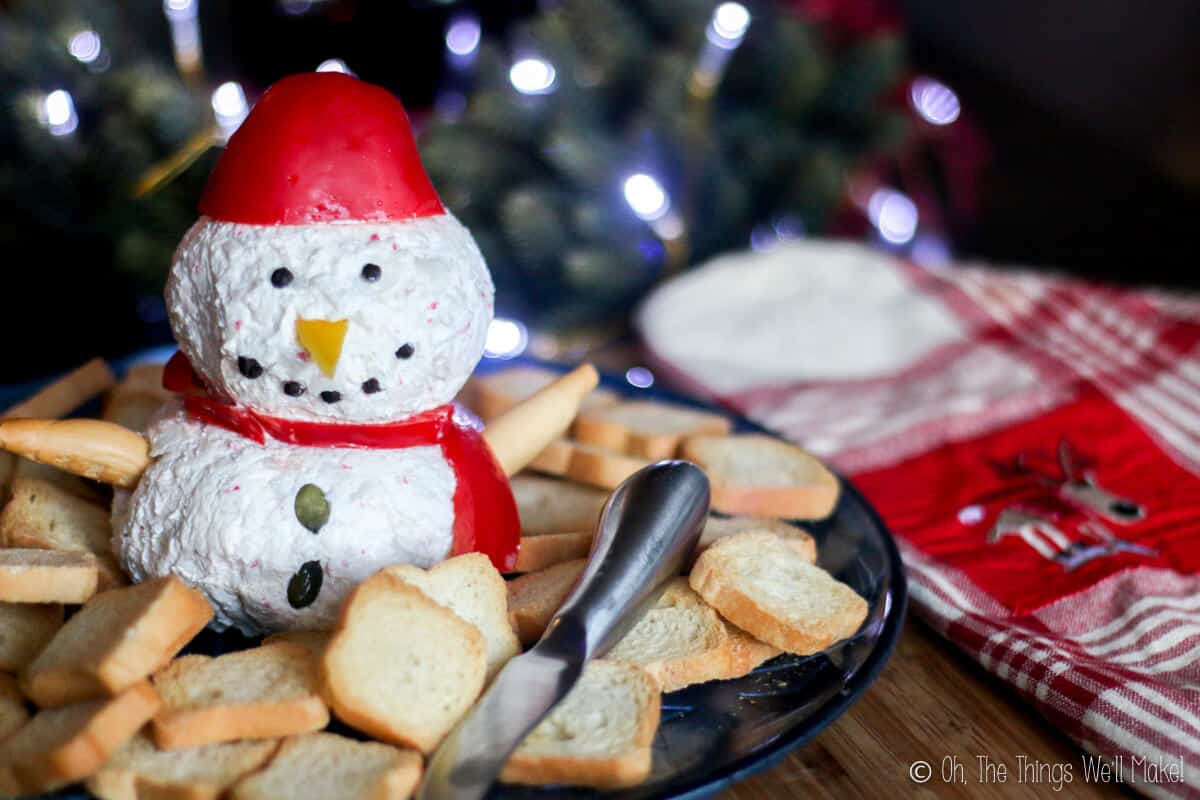 To be honest, I have to admit that my standby cheese ball has always been one made with cream cheese and shred up surimi. It's tasty, but I have been trying to eliminate processed and imitation foods from our diet, so this year I will probably be making another snowman cheese ball, but I will try using a different recipe for it.
I should say, though, that making a cheese ball with something solid in it, like the surimi, really helps it keep its shape. I think I may try processing some freshly caught shrimp from my husband's boat to give my cheese ball a similar flavor and consistency. I'll let you know how it turns out if I try it.
In any case, regardless of the recipe you choose, the making of the snowman cheese ball is always the same.
How to make a Snowman Cheese Ball
Mix your cream cheese with your other ingredients. You can make a sweet version with fruits and honey, to can choose a savory one with garlic, herbs, other cheeses, etc.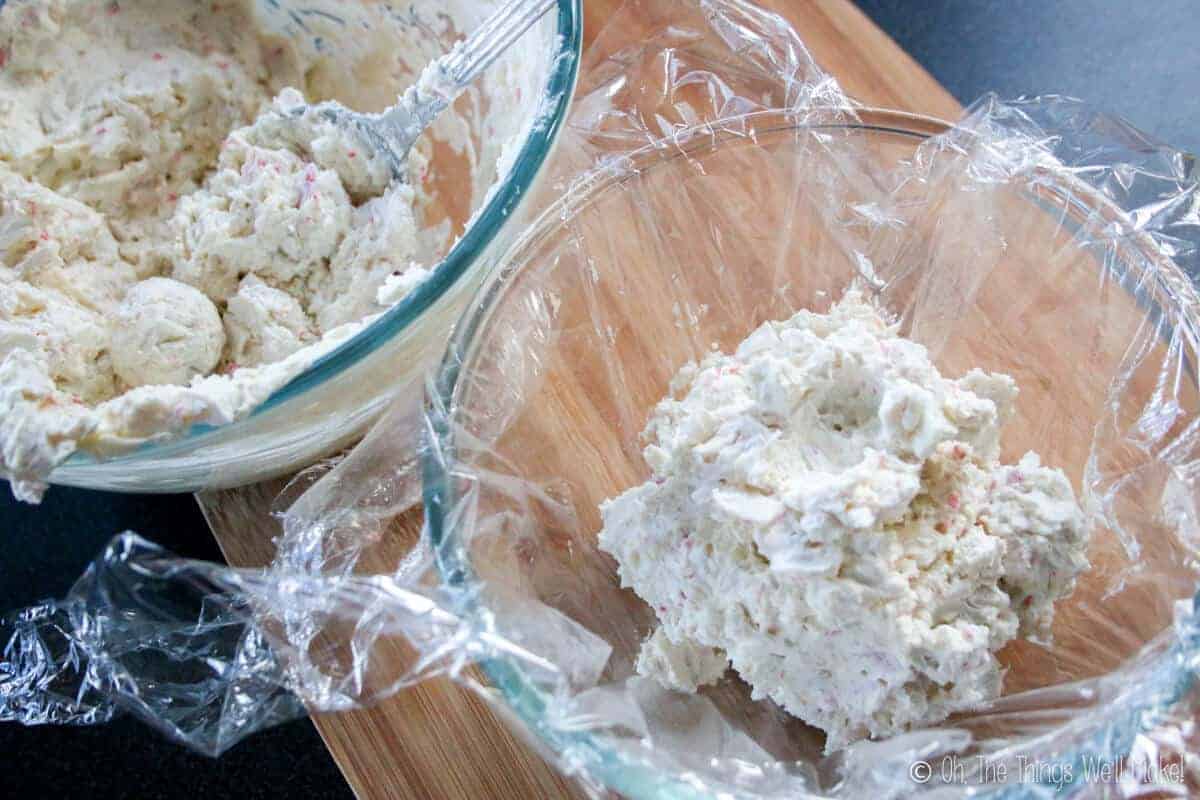 To form the balls, I like to begin by lining a small bowl with plastic wrap. I take my cream cheese mix and roll it into a ball, as best I can, and set it in the bowl. I then cover the ball with the surrounding plastic wrap, and place the bowl into the fridge so that the cheese will set up again.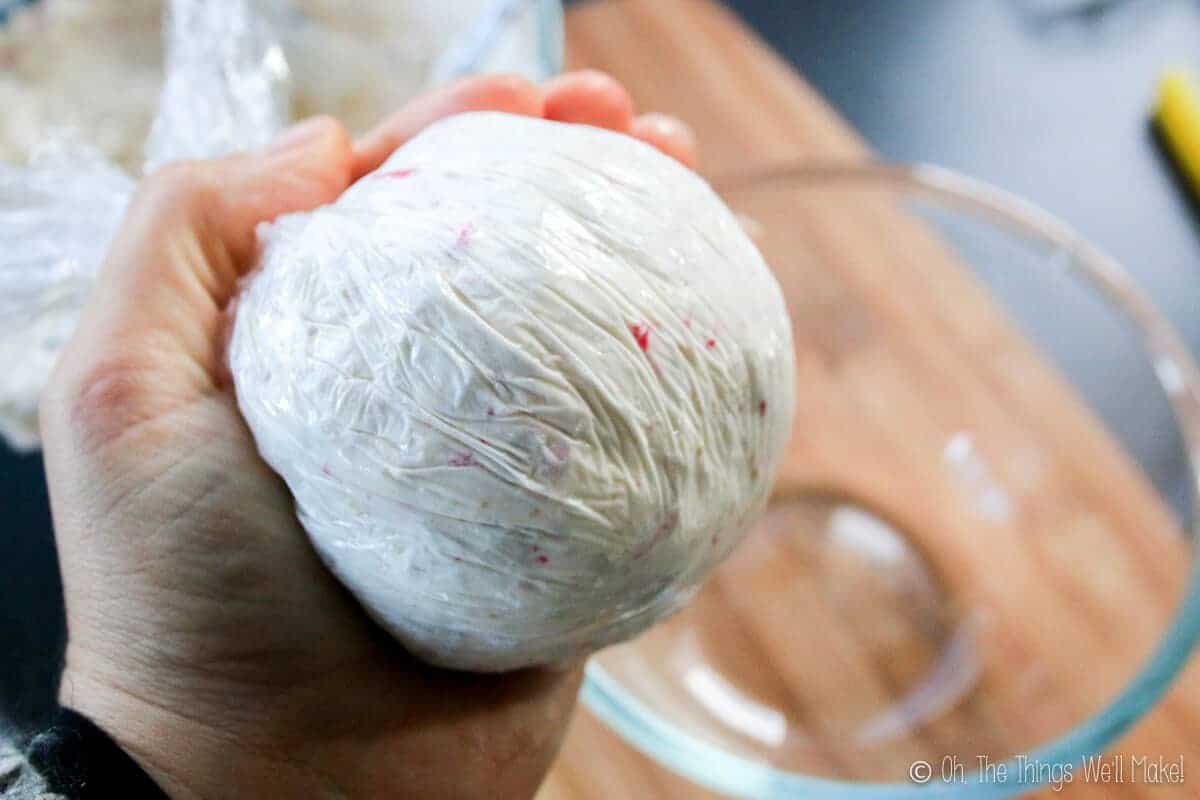 For my snowman, I used 2 balls, one larger than the other. I suppose you could attempt to make a classic 3 ball snowman, but that would make you much braver than I was.
I used the same cheese for both, but, again, you could take advantage of the fact that it is comprised of 2 balls, and try out 2 different recipes.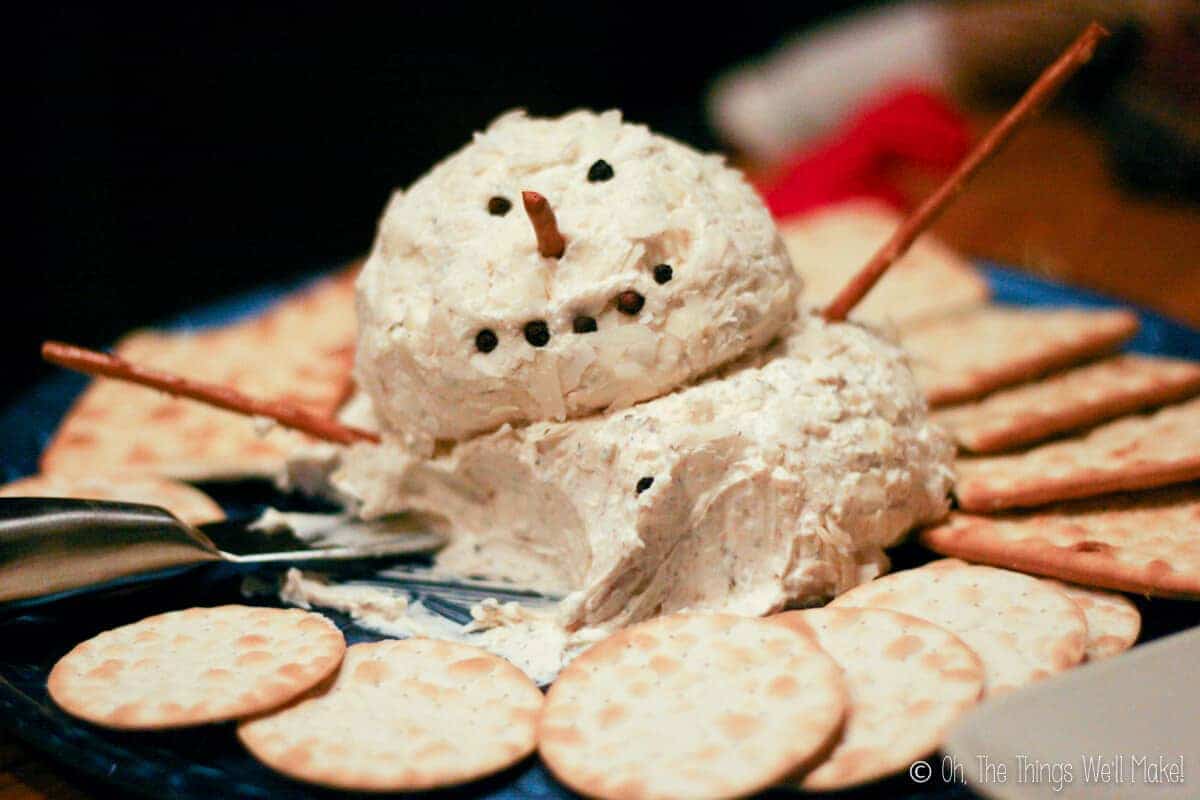 Once the cheese has hardened up again and can hold up its shape, you call roll it in something to help keep its form, give it some texture, and keep it from drying out so easily. If you want a white snowman, I suggest using something like a grated "white" cheese like Parmesan or mozzarella. You could also use ground almonds, or another light colored nut, smashed up crackers, or light colored bread crumbs. For a sweet snowman cheese ball, you could try using grated coconut or even smashed up cookies for covering the balls.
To decorate the cheese ball, use your imagination!
Black peppercorns make great "coal" for buttons, eyes, and a coal mouth. I imagine tiny chocolate chips being perfect for a sweet snowman.
The carrot nose can be made with, well, carrot cut into a small piece. I have also used yellow or orange bell peppers, or whatever else I had around. Perhaps you could try something like cantaloupe or persimmon for a sweet snowman cheese ball.
I made a scarf out of red pepper, but you could use fruit leathers for a sweet version.
A snowman cheese ball is fun, easy, and appeals to kids of all ages. I hope you try it out, and let me know how it goes!
Merry Christmas, everybody!