Lighten up the burden of having to wear a face mask with these fun and creative face masks that you can make or decorate yourself at home.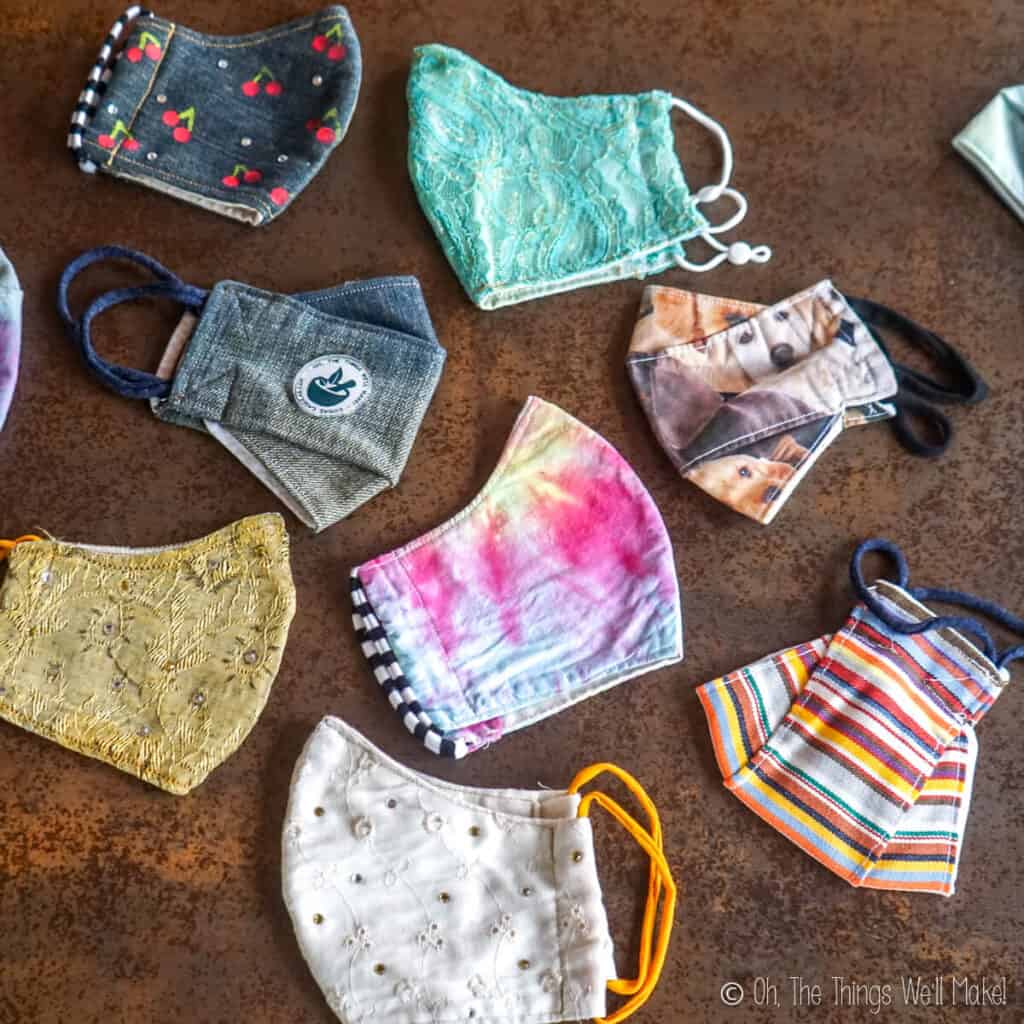 No matter what your thoughts are about needing to wear a face mask, it's very likely that no matter where you live, there are times when you will be forced to wear one. As a dentist, I could give you my thoughts on the subject, but, in the end, it doesn't really matter. What I believe won't change matters much. Nor will scientific studies, apparently.
Here in Spain, my son started school this past September. Originally, the kids his age weren't going to have to wear a mask as long as they were within their small class group. In the end, though, the government changed its mind. We have no option to homeschool and have been threatened with fines and jail time if we don't want to bring our kids to school despite the present situation.
I would actually have no problem sending my son to school if it weren't for the fact that they want them in masks. All. Day. Long. With absolutely no breaks, other than to eat or drink.
Making face masks fun
While I'm not sure mask wearing will ever really be "fun," using creative designs can make wearing them a little less of a burden.
Whether you are using cloth masks or surgical masks, many of these techniques can be used to make your mask stand out, keeping you a bit less faceless.
If you're looking for a comfortable pattern for making your own face masks, check out my post on comfortable, breathable face mask patterns!
Fun and recycled fabrics
It may sound obvious, but using cute cloth makes for cuter masks. Using fabrics with fun designs on them is the simplest way to make a fun mask. It also allows you to choose 100% natural fabrics.
One of the reasons I avoid using surgical masks, apart from the sustainability issue of one-use plastics, is that I don't like the idea of breathing in plastics whenever I'm wearing them. Some people may not realize that that's exactly what is happening when you use polyester and other synthetic fabrics for making your mask.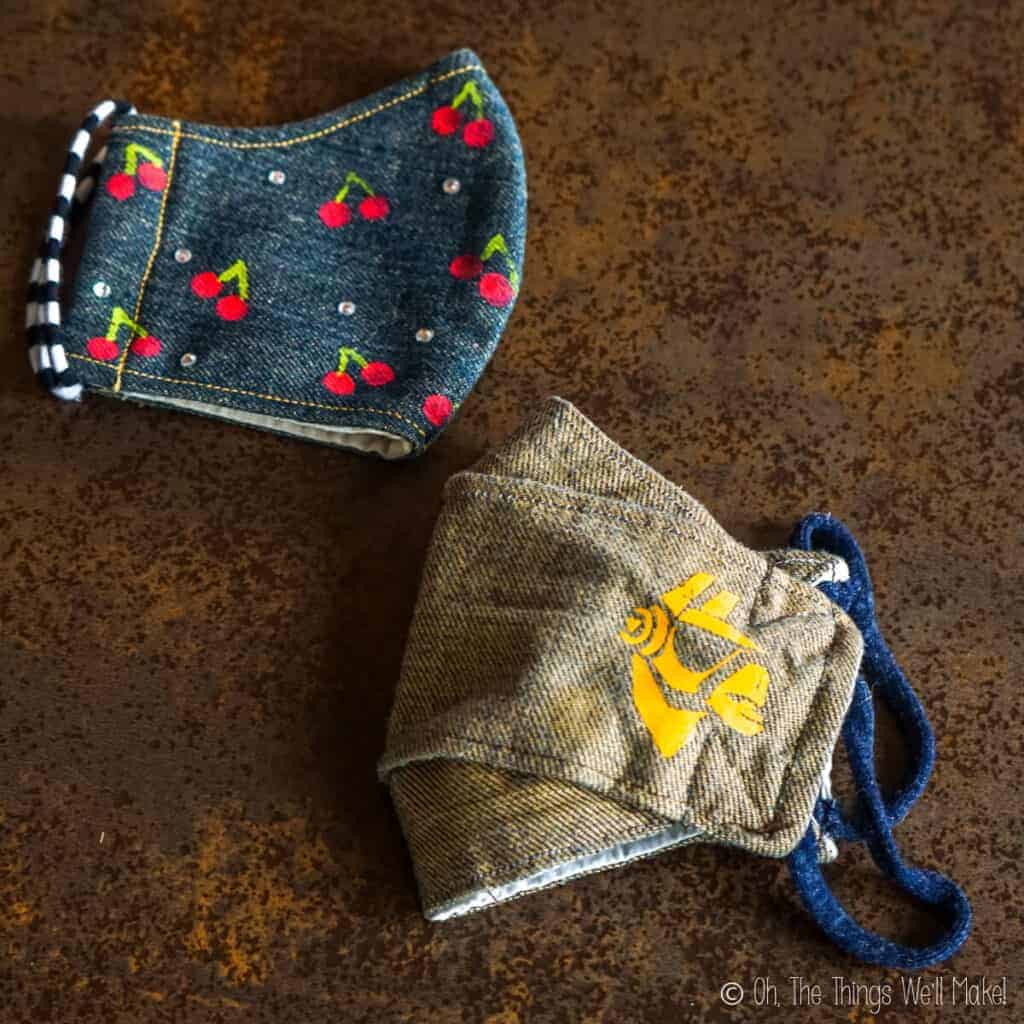 Denim masks
A fun idea is to recycle old jeans and other clothing into fun face masks.
By upcycling old clothes, you can give them a new life rather than throw them away. Another benefit, though, is that clothes that have been washed multiple times are less likely to have toxic chemicals that you wouldn't want to breathe in. Even natural fabrics like cotton, unless organic, may still have leftover herbicides, for example.
One of my favorite masks to wear is one that I made out of a pair of old jeans. I then painted some cherries and polka dots on it and embellished it further with some iron on rhinestones.
Tie dye masks
One of my son's favorite masks is one that I made him from tie dyed fabric. For the fabric, I took an old, white cotton sheet and cut it into smaller squares of fabric. Some of the squares are now in my kitchen drawer, where I keep them for straining things like homemade coconut milk.
The others, I tie dyed for masks and other projects. I even cut out his favorite llama from iron-on vinyl to further embellish his mask!
To get really bright colors for your mask, choose Procion dyes and use 100% cotton fabric, if possible.
Cartoon and Holiday designs
Kids and adults alike enjoy having fun prints on their masks. You can buy fabrics with fun motifs on them. (My son's favorite store-bought fabric was one I bought with dog faces all over it.)
Lace and fancy cloth
I wouldn't suggest making a full mask out of lace, but I did have fun making some masks using a decorative layer of lace over another layer of cotton fabric.
For the gold mask, I cut up a metallic gold blouse. I first made a mask using the cloth, and then embellished it with white and gold iron-on rhinestones.
For the turquoise lace masks, I cut up a sari that I bought for only a euro at the local flea market. That was layered over an old sheet. It also made a beautiful mask.
Embellishing face masks
If you can't find fun fabrics, or don't want to make your own masks, there are other ways to make masks more fun!
It's really fun to add decorative design elements to your face masks. That can be done by painting with either fabric paints and/or markers, or adding other design elements. They can be glued on, painted on, and/or sewn on.
Keeping in mind the potential of toxicity, choose your materials accordingly. Most masks for sale on the market do use synthethic materials, so obviously, most people don't seem too concerned about it. I prefer to err on the side of caution, though.
It's not just about the materials chosen. It's also a good idea to keep the decorated area small (and maybe off to the side of the mask).
If you will be wearing the mask for prolonged periods, it may be better to use a natural fabric without much, if any, further embellishing. You could always further embellish by sewing on a cotton or metal applique.
Polka dots
Using fabric paints or inks and the eraser of a pencil, you can make some cute polka dotted masks. While it may sound very basic, it can end up being really cute.
To get a really cute design, I like making the dot pattern random. It can work with both one color dots or a variety of colors.
You can also add some cute cherries to the pattern.
Cherries
Like the polka dots, it's easy to make a cute cherry printed design using the same pencil eraser and a fine paintbrush.
First, Make two red dots that are placed near to each other. Then, draw a little green stem coming up diagonally from each red dot, having them meet in the center, above the "cherries".
To make the pattern even more fun and random, add some colorful polka dots around the cherries.
Stamping the fabric
Another great way to make a mask look better is to stamp fun prints on it. You can use rubber stamps (choosing those with very simple designs) or homemade stamps made from potatoes, wine corks, erasers, or craft foam.
I showed you how to make your own craft foam stamps in my posts for how to make a trick-or-treat bag and how to make a minion t-shirt. Using the same concept, you could stamp on some really cute designs. How about simple snowflakes, colorful pawprints, or yellow batman logos on a black mask?
Vinyl cutouts
If you have a Cricut or Silhouette Cameo (or other similar cutter), you can also cut designs out of iron-on vinyl to embellish your masks. I guess you could also cut out a design by hand with an x-acto/hobby knife, but that would be a bit more difficult.
In the section about denim masks at the top of this post, you can see that I decorated one of my son's denim masks with an orange llama design.
Animal Faces
Using either t-shirt transfers or special printing cloths, you can print out fun designs for your plain masks. I have several designs that you can download and print out onto transfer paper. They can then be ironed onto your mask.
You could also consider painting on a face using fabric paints or markers. Markers work especially well on surgical masks.
When I first did this, I hadn't considered the possible toxicity of breathing in the plastic of t-shirt transfers. (There are transfers made for both light and dark colored fabric, so choose accordingly.)
I've since looked into other options, and sublimation transfers may be a better option, but, from what I've read, it also seems like they don't usually work well on natural fabrics.
If anybody has suggestions for non-toxic options for transferring onto a mask, I'd love to hear them!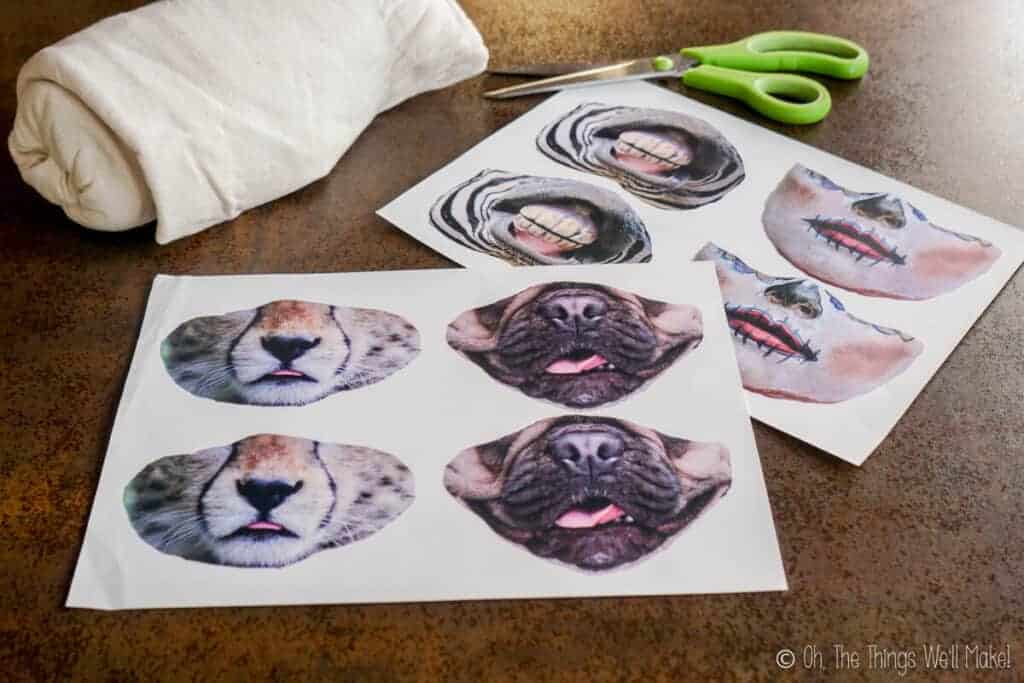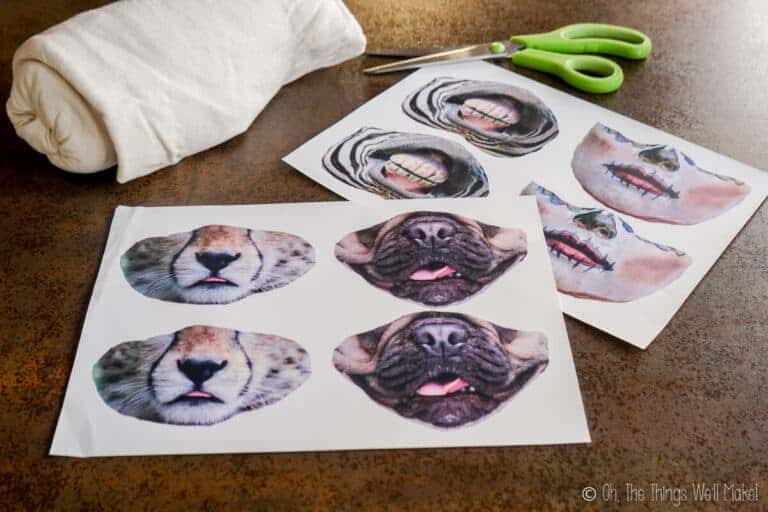 Keeping the forewarned in mind, if you want to download the photos I was using, you can download them here.
I printed mine out 4 faces to a sheet of transfer paper. Depending on your transfer paper, you may need to print it backwards if you want it to look exactly the same. (This has no writing on it, so it's not really a big deal if you don't mirror the image.) Follow the instructions that came with your particular transfer paper.
This obviously works best if you use a mask with a flatter front (vs. one with a lot of seams or folds).
Using the same concept, you could iron on a photo of the bottom half of your face. It would be a fun way to be a lot less faceless. 😉
Sequins and rhinestones
A great way to glam up your mask is to add either sequins or rhinestones. The easiest option is probably to use iron-on rhinestones, but you can also buy rhinestones with holes in them that can be sewn on by hand.
The same goes for sequins. You can glue or sew on sequins individually, or use some sequin trimming for easier application.
Appliques, charms, pins, and stickers
Perhaps the easiest way to customize a mask, though, is to add some sort of applique or charm to your mask. Appliques can be sewn on or ironed on. Charms or buttons can be sewn on or glued on with fabric glue or hot glue.
For fun, not to long ago, I bought some acrylic pins with my blog logo on it. I used one my pins to decorate a simple denim mask I made, and think it's a fun way to show off my brand. If using a pin, make sure to place it in an area where the backing won't rub against your face.
For a one time use, try adding stickers to yours masks. That's an especially great option for disposable surgical masks.
Matching your mask to your outfit
Another fun way to stand out is to have your mask match your outfit. The easiest way to do that is to use the same fabric to make a sash as you do to make the mask itself. You can tie the sash around your waist as a belt.
Other ideas?
Well, hopefully these ideas have given you a starting ground for making your masks more fun. I may try making a Wall-E galaxy mask this weekend. Or maybe I'll make some fun snowflake embellished masks.
What have you or will you make?
Related Posts
DIY Fun and Cute Face Masks
Lighten up the burden of having to wear a face mask with these fun and creative face masks that you can make or decorate yourself at home.
Check it out!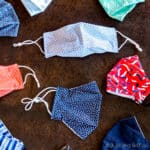 Hand Sanitizer Spray
Fight germs with this easy, yet effective DIY hand sanitizer. Make either a spray or a gel.
Check it out!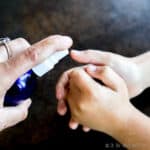 Natural Homemade Disinfectant Spray
Avoid toxic cleaners by making this DIY disinfectant spray using some of the best essential oils for cleaning and disinfecting.
Check it out!