Few recipes intimidate like how to roast a turkey. With the stress of the holidays, perhaps we build it up too much. Fortunately, as long as you plan ahead, roasting the perfect turkey isn't as difficult as it may appear in the sitcoms on tv.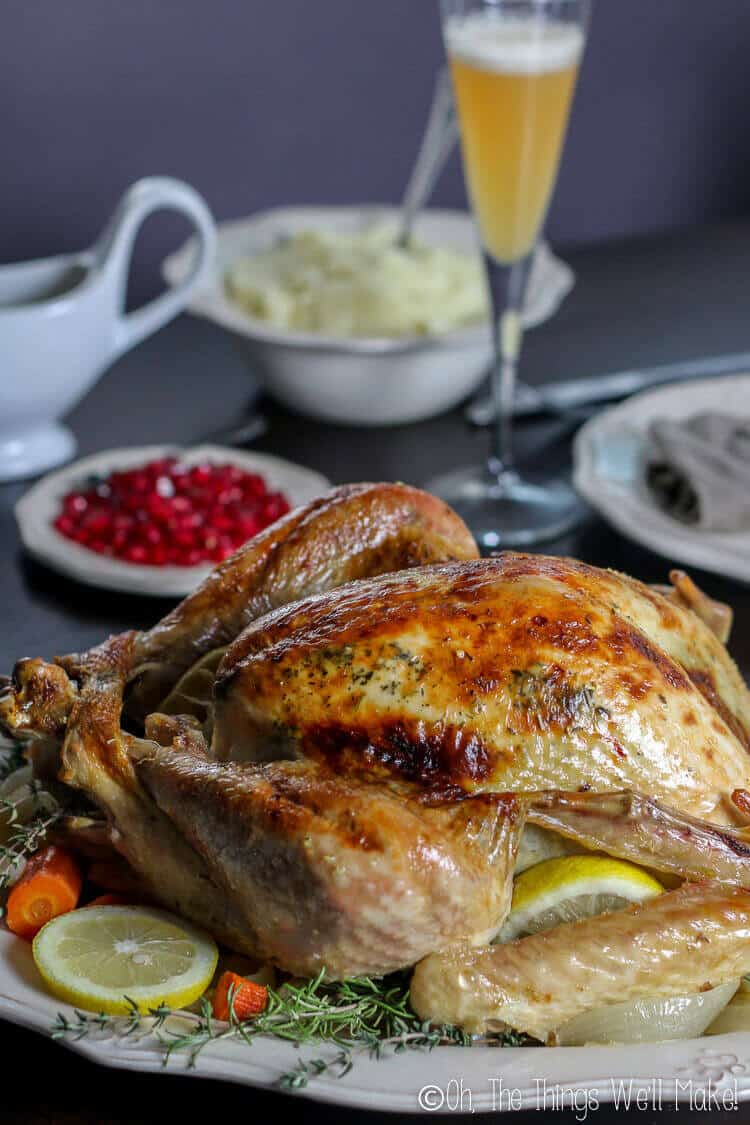 Growing up, we always went to my grandmother's house for Thanksgiving. By the time we arrived, a perfectly roasted large turkey was already being sliced and ready to be served with homemade mashed potatoes and gravy.
Never having been around to see the process of roasting a turkey, and after seeing so many disastrous Thanksgiving dinners on sitcoms on tv, I have to admit that I was a bit intimidated the first time I attempted to roast one myself.
I bought an inexpensive frozen turkey, and followed the basic instructions written on the packaging. I didn't improvise, add any herbs or veggies or do anything too fun with it. At least it turned out well enough that I don't remember how it was. (Had it been bad, I'm sure I'd remember!) 😉
Roasting a whole turkey for Thanksgiving doesn't have to be difficult, though. It's actually quite simple, and you can improvise and change things up to suit your tastes by using a variety of different fruits and vegetables in your roasting pan. The important thing is to plan ahead and avoid many of the common errors. My goal is to give you a basic recipe with standard guidelines for roasting a flavorful bird so that you can also have a tasty, uneventful meal. 😉 (Let's avoid having to go out for a turkey deli sandwich!)
How to cook a frozen turkey
Perhaps one of the biggest mistakes people make when cooking a turkey is not allowing enough time for either cooking it or defrosting it.
If you have a large frozen turkey, it can actually take days, and not just hours to thaw! Prepare ahead and don't wait until the last minute to defrost your turkey.
The best way to defrost a turkey is to let it thaw slowly in the fridge.
For every 4 pounds of meat, it can take a full day to thaw if you are slowly defrosting in the fridge!
Most people that haven't already gone through the process have no idea that it can take that long for the turkey to completely thaw.
If you've waited too long, and need to speed up the process, you can thaw the turkey by submerging it in cold water instead. Even then, it will take around a half hour for every pound of meat to defrost.
You've defrosted your turkey… Now what?
What are giblets? What should you do with the giblets?
Whether or not you have bought a frozen turkey, most turkeys sold for Thanksgiving can be found with a bundle inside them comprised of the neck and a few organs like the heart and liver. This little package is normally referred to as the giblets. The giblets may not look too appealing, but they are great for making a flavorful stock that can be used to help baste the turkey. This stock also adds flavor to homemade turkey gravy.
As soon as I remove the giblets, I immediately add them to a pan and completely cover them with water and bring it to a boil. I want to get the flavorful broth started right away so that I can pour it over the turkey and veggies in the roasting pan at the beginning of the baking process.  
Once you have removed everything from the turkey cavity, fully rinse rinse the turkey inside and out, and pat it dry. You'll then leave it our for at least an hour, while you are cooking your giblet stock, to help the turkey come to room temperature.
Should you brine your turkey?
One of the secrets to avoiding a dry turkey, is to brine your turkey before baking it.
Many or most frozen turkeys have either been pre-brined or injected with sodium to ensure they will be juicy and flavorful. Make sure to check if yours has been pre-brined before brining your turkey (again) or you may end up with a very salty bird!
If you are using a fresh turkey, and decide to brine your turkey, you will need to find a container that is large enough to hold the entire bird that will also fit in your refrigerator.  Once again, prepare in advance because you will have to cover your turkey with your brine solution for at least a few hours before baking it.  
I won't get into the logistics of brining a turkey as there are many recipes that you can use and I think the process probably deserves a post of its own. That said, I did want to make you aware of the option. I normally prefer to use a fresh turkey, but I was unable to find one here in Spain this time of year, so I ended up using a pre-brined, frozen turkey myself this year.
Compund butter: My secret to a tasty turkey!
While the turkey is coming to room temperature, I like to make a log of herbed butter that I can slice and stick under the skin of the turkey. The herbed butter helps flavor the meat and keeps the turkey from drying out. I usually make a large log of compound butter, more than what I need for the turkey, and then use the leftovers for the mashed potatoes and dinner rolls. I absolutely loved herbed butter, and it's has become one of my favorite components of my Thanksgiving dinner!
How long does it take to roast a turkey?
I like to plan for around 15 minutes per pound of turkey. The average time needed for roasting a turkey is said to be around 13 minutes per pound, but I like to give myself a little extra time, just in case. Any leftover time can be used to allow the bird to set so that the juices can be reabsorbed into the turkey before carving it.
How to prepare and roast a turkey
Craving more?
Subscribe to my newsletter for the latest recipes and tutorials!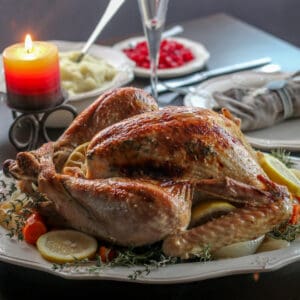 Ingredients
1

turkey

1/2

cup

compound butter

2

onions

5

carrots

2

stalks

celery

1

lemon

halved

salt

to taste

2

sprigs

rosemary

1

bunch

sage leaves

5

sprigs

thyme
Instructions
Preheat the oven to 425ºF/220ºC.

If your turkey has been filled with a bag with the neck and giblets, remove the bag. Rise the neck and giblets and add them to a small pot. Cover the neck and giblets with water and bring to a simmer while you continue preparing your turkey.

Clean out anything else that may have been left inside the turkey cavity, and fully rinse the turkey inside and out. Once clean, pat it dry. Leave it out for 1-2 hours to allow it to reach room temperature. Meanwhile, you can begin to prepare the compound butter.

Prepare the turkey for the oven by slicing the compound butter, and sliding the disks of the herbed butter underneath the skin of the turkey.

Spread the rest of the compound butter over the skin of the turkey.

Slice a lemon in half, and place both halves, along with the sprigs of fresh herbs, inside the turkey. These help flavor the bird from the inside.

To keep the turkey together, you may choose to "truss" the turkey by tying it up with cotton string. While I don't normally fully truss my turkey, I do usually either tie the legs together with some baking twine. If you don't have twine on hand, you can also cut a slit in the skin of the tail part of the turkey, and slip the ends of the legs into the slit to hold them in place.

Once you've secured the legs, tuck the tips of the wings underneath them.

Rest the prepared turkey, breast side up, in a roasting pan surrounded by vegetables. I usually chop up onions, carrots, and celery to place around my turkey, and then cover them with a stock that I make from the neck and giblets (1-2 cups).
You can, of course, choose to be creative with the vegetables that you use, and can add in fruits like apples and oranges to add your touch to the basic recipe.

Before placing the prepared roasting pan into the oven, lower the temperature to around 350ºF/175ºC.

If you choose to baste your turkey, do it every 45 minutes to an hour. You baste your turkey by taking the pan drippings and drizzling them over the turkey breast. You can use either a spoon or a turkey baster. I normally don't baste the turkey during the last hour of baking, and instead rub it down with olive oil or melted butter, to ensure nice, crispy skin.

Most turkeys take around 13 minutes per pound to finish baking. As you near the end of the baking time, you can start checking the temperature of your turkey. You want every part of the turkey to have reached at least 165ºF, but you don't want to bake it so that it gets too much higher than that, or you risk baking it too long and drying it out. I usually take the temperature in two main places: at the thigh, near, but not touching the bone, and deep into the turkey breast.

Once your turkey has reached the right temperature, pull it out of the oven and let it rest for around half an hour. This will help the juices reabsorb into the meat. Now is the perfect time to take a break, admire your work, and get all of your side dishes together.

Once your turkey has rested, you can begin to carve it.

Serve it immediately. Be Thankful for your wonderful meal and your perfectly roasted turkey! Happy Thanksgiving! 🙂
May I suggest that you don't throw away the carcass and any other leftover skin, bones, and other bits?  They can be made into the most delicious and nourishing Turkey rice soup.  That is, by far, my favorite way to enjoy the leftovers!
Enjoy your turkey!!