Save the waste of wrapping paper by using beautiful reusable gift pouches. Learn how to paint a snowflake Christmas gift pouch made from recycled t-shirt sleeves. This is a fun craft for both adults and kids.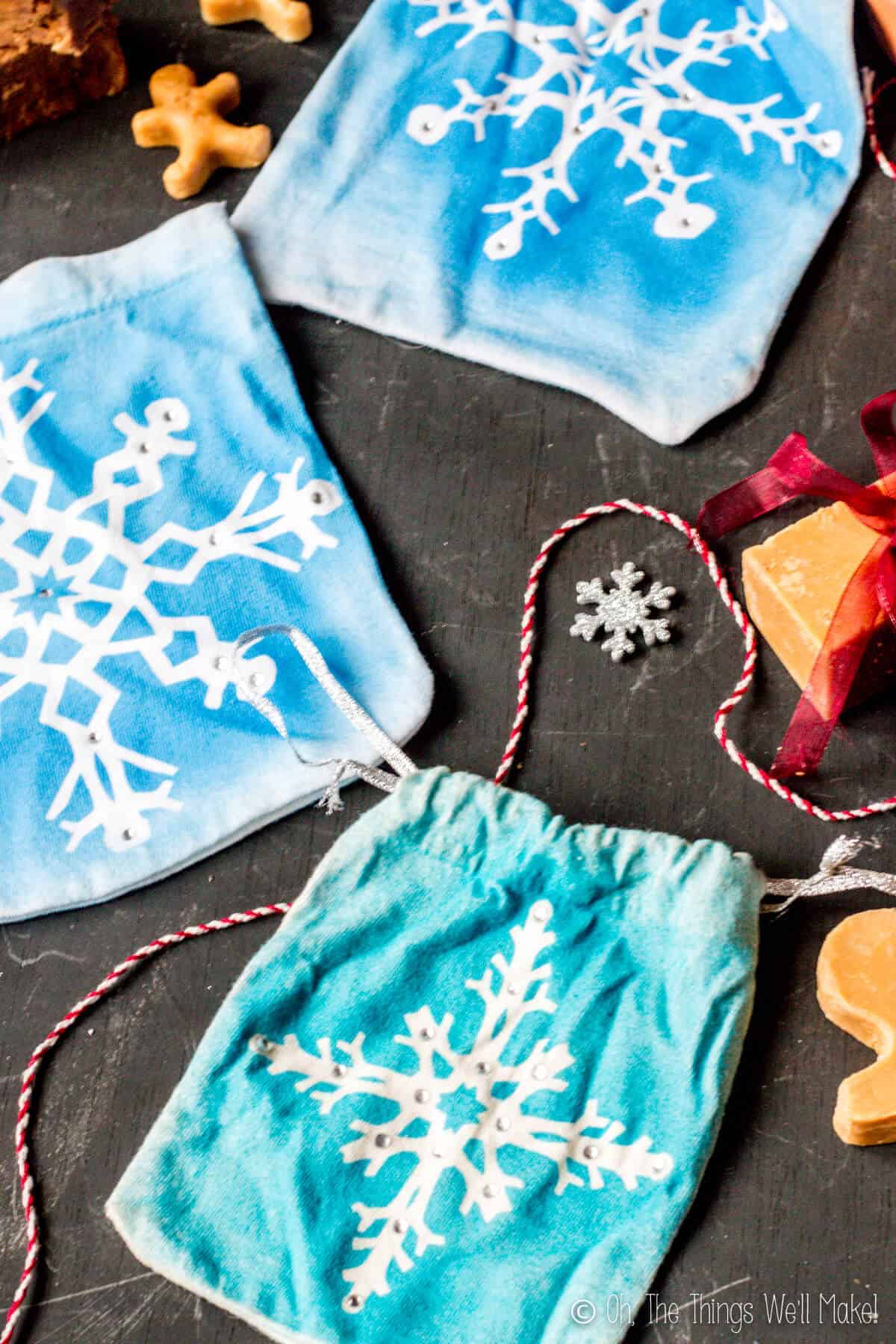 When giving gifts at Christmas time, or any other time of year, of course, the presentation shouldn't be ignored. In some cases, the packaging can be a beautiful gift in itself. Such is the case with these easy snowflake gift pouches.
Recycling old t-shirt sleeves into pouches
You may have noticed from some of my other posts that I like to recycle old t-shirts for many different uses. (One of the most popular is my post on 8 ways to make shopping bags from a t-shirt!)
Old t-shirts are perfect for making all sorts of quick and easy projects. Not only does the fabric not unravel when you cut it, but normally the hems are neatly sewn into a tube which can be very handy for making an easy drawstring closure without any extra effort!
You can use the main body of the t-shirt to make easy, drawstring sacks that can be used in a number of ways. I showed you how I do that in my tutorial for making a trick-or-treat bag. That's a fun, easy project that even small kids can help you decorate. (Click on the link for the instructions!)
When you make projects like shopping bags or trick-or-treat bags, you'll find yourself ending up with leftover sleeves. While you might be tempted to throw away those cloth "scraps," don't do it!
T-shirt sleeves are ideal for making quick-and-easy pouches that are perfect for tons of projects.
Uses for small pouches
I'm constantly making more small pouches out of t-shirt sleeves, and they come in handy for all sorts of things. I use them to help organize my son's small toys and for storing small items like safety pins, q-tips, or buttons, but they can be used for all sorts of things.
Party favor bags (While these would be perfect for a Frozen themed party, I also showed you how to quickly decorate them with silkscreening which is how I made my Wall-e party favor bags
For storing makeup or other items in your purse
For storing jewelry so that chains don't get tangled
As gift pouches to present small gifts to others
Decorating your pouches
Since I intended these pouches to be used for Christmas gifts, I decided that I would use my freezer paper snowflake stencil technique to paint pretty snowflakes on the pouches. I love snowflakes! I think they're beautiful and especially love the combination of snowflakes in turquoise blue with silver and rhinestone accents. If you aren't sure how to cut snowflakes, just click on the link to the freezer paper stencil technique and you'll see that I share how, exactly, to cut out the snowflakes, and the process that we'll be using here.
This is an easy craft and can be done by older kids, resulting in a surprisingly professional effect. With a bit of help, though, even small kids can help you make these by helping you paint the fabric or by helping you embellish the pouches afterward.

How to Paint a Snowflake Christmas Gift Pouch
You Will Need:
scissors
iron
your pouches, of course, in the color you want your snowflake to be (I used white.)
1. Cut out a snowflake from freezer paper. See how here. To make the paper look more like a snowflake than a mandala, you'll want to cut a wedge out of the center of the folded triangle of paper, leaving more of a v-shape rather than a triangle. You'll want to do this in a decorated manner, of course, as shown below.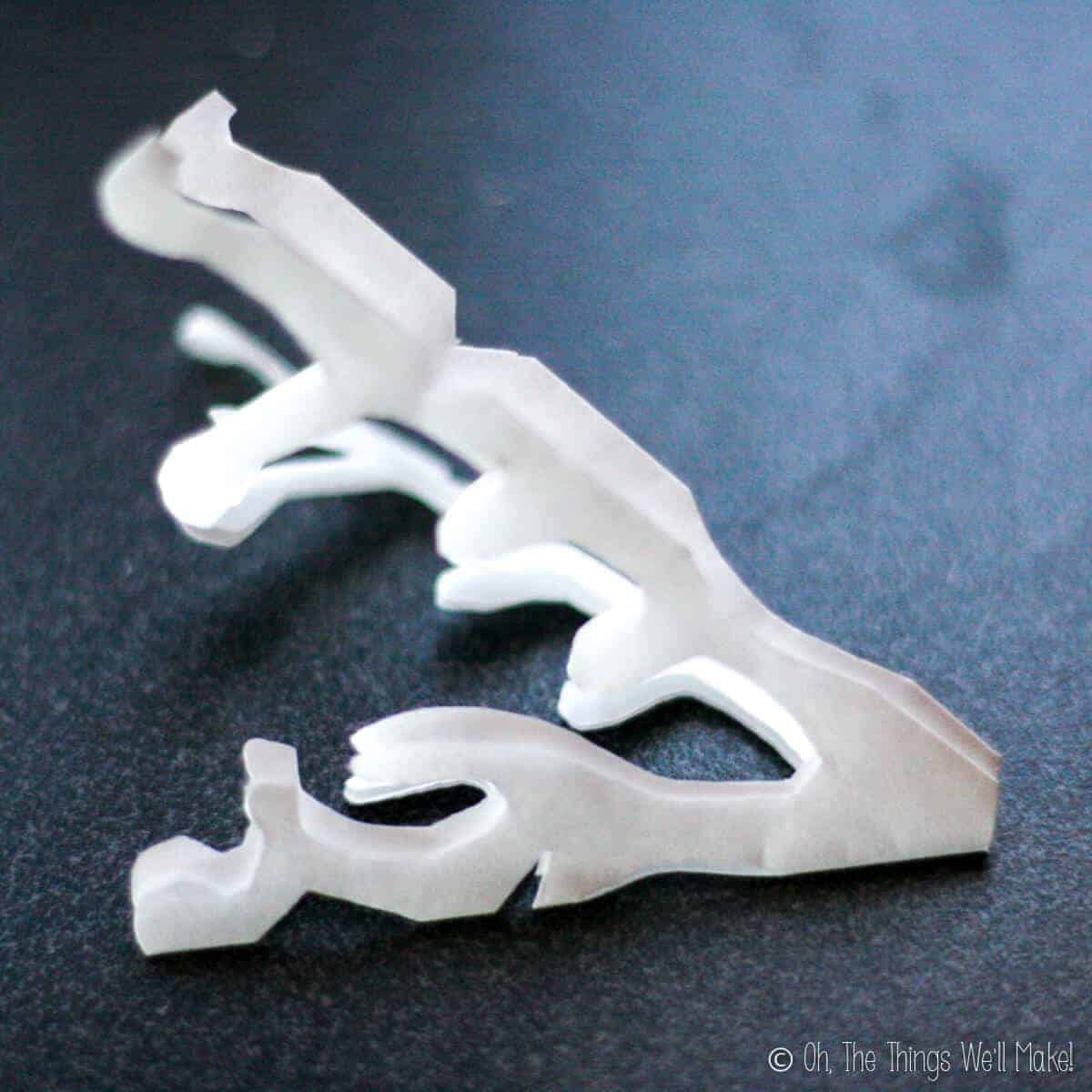 2. Iron the freezer paper snowflake(s), shiny side down, onto your pouch. Slip a piece of cardboard inside the pouch to keep the paint from bleeding through to the back once you start painting.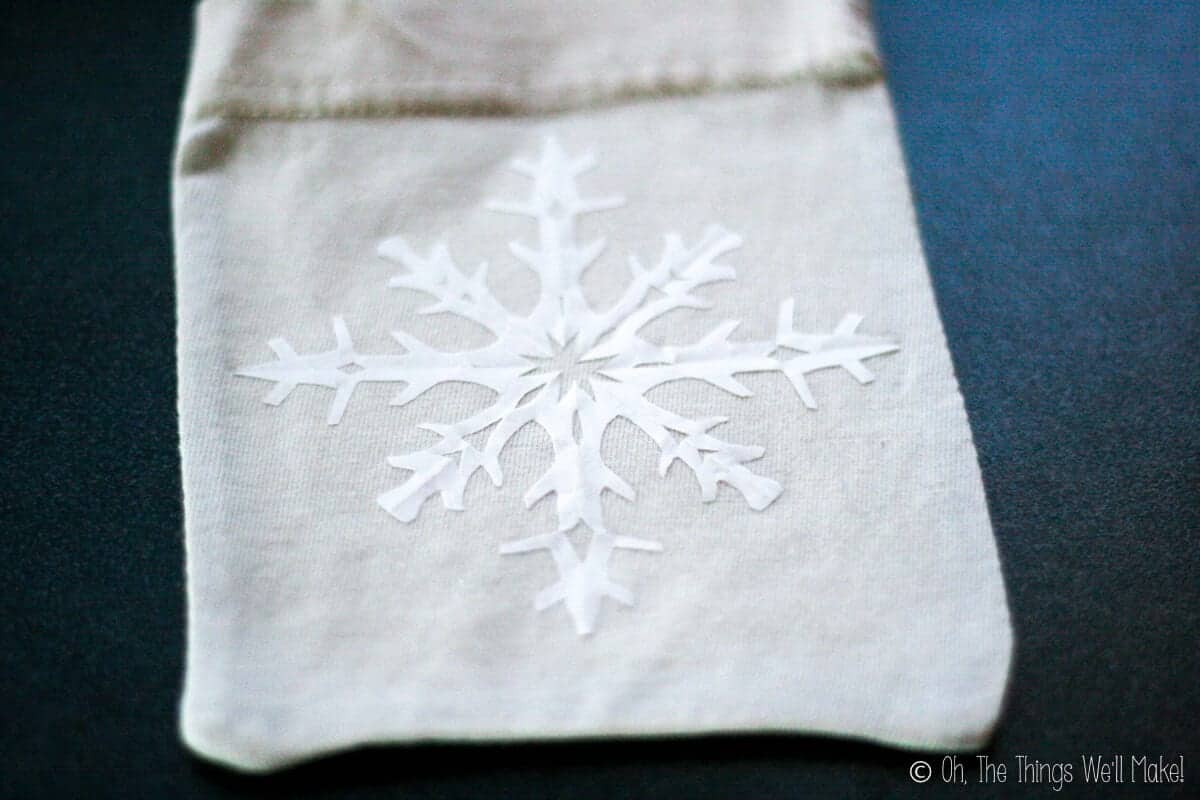 3. Carefully paint around and over the snowflakes with fabric paint. I used my airbrush because it evenly disperses a thin, even layer of paint, giving a professional looking result. If you don't have an airbrush, though, you can carefully dab the paint onto the pouch, being especially careful as you paint around the edges of the freezer paper snowflake so that the edges don't lift, allowing paint to get underneath.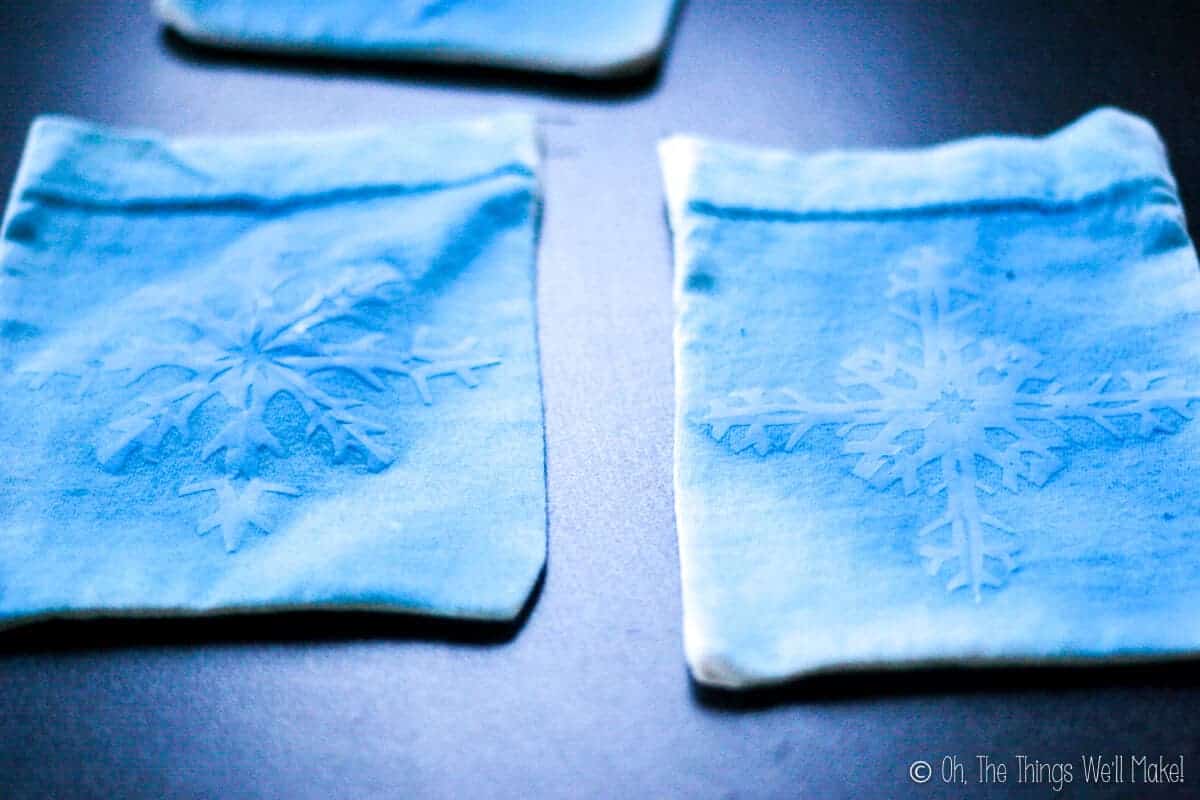 4. Let the paint dry, and then carefully peel the freezer paper snowflake off of your pouch. Admire your beautiful snowflake!!
5. Iron the pouch to set the paint according to the directions for your particular fabric paint.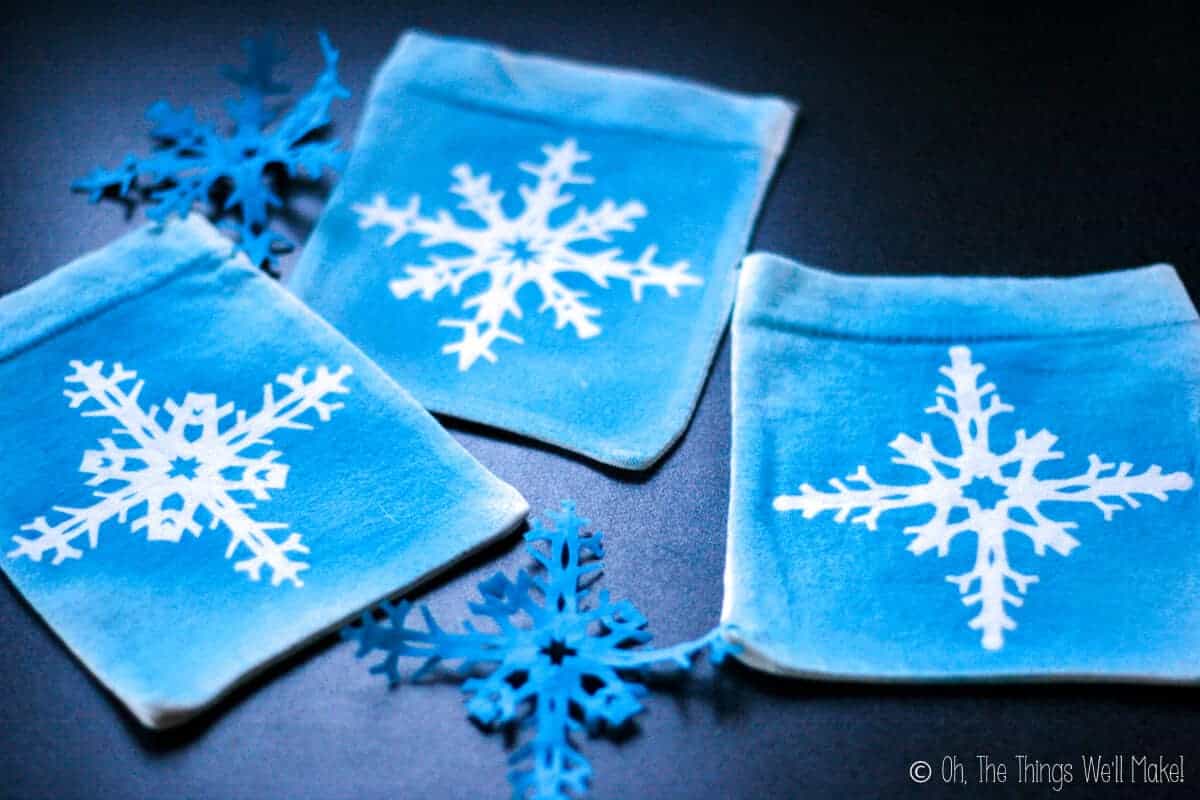 6. Embellish the pouch(es) more, if you like. I ironed rhinestones onto mine, but glitter fabric paint can also give beautiful results.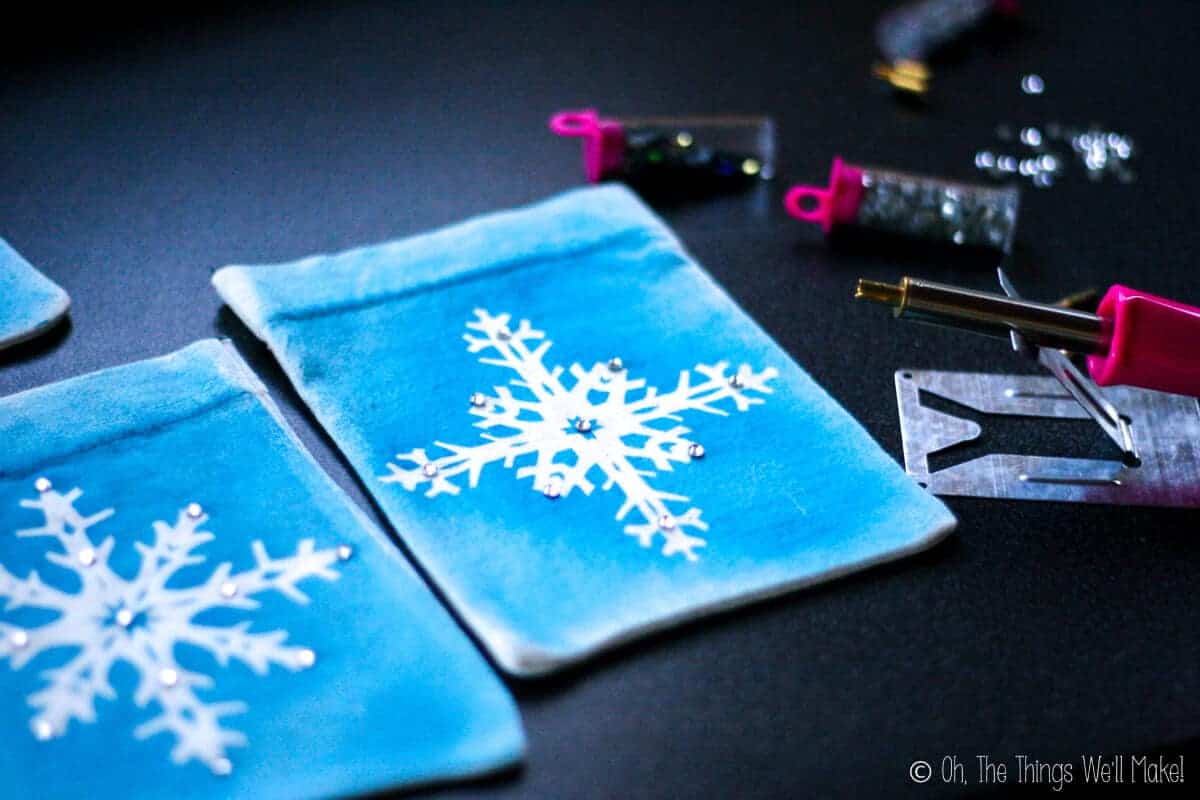 Now that you have finished making these beautiful pouches, you have the difficult task of deciding how to fill them. Maybe I can help you think of some small, homemade gifts worthy of slipping inside these beautiful pouches. If you have other ideas, I'd love to hear them!
Homemade gifts that can fit in small pouches