Dr. Bronner's soap is a versatile, all purpose cleaner that is a great addition to any household. But let's face it, it's can be quite expensive. Learn how to make a multipurpose liquid Castile soap at home. It's easy, frugal, and very rewarding.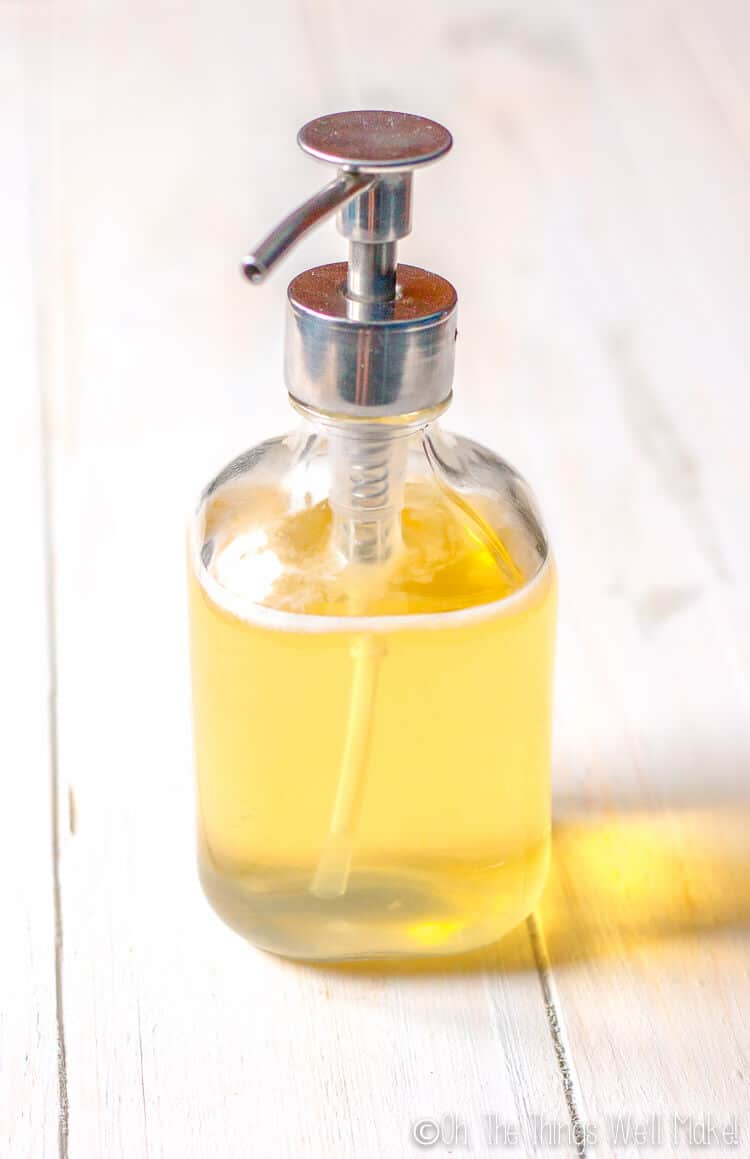 If you've been following my blog for awhile, you know by now that I love making soap.
Making bars of soap is a lot of fun, and you can experiment with all sorts of ingredients, colors, and other additives to customize your soap exactly as you like. If you've never made a bar soap before, take a look at my easy, beginner soap recipe, which shows you exactly how to start making bar soaps and also gives you  ideas for customizing the soap to suit your needs. That beginner soap recipe is a modified Castile soap recipe, just like this one.
What is Castile soap?
I call this recipe a modified liquid castile soap recipe because it uses a variety of vegetable oils. Pure Castile soap normally refers to a soap made with only olive oil.
Over the years, the definition of "Castile soap" has been extended to include other soaps made with not only olive oil, but that also add in other vegetable oils. Other vegetable oils are added to change the properties of the soap, normally to give it more lather and make it more cleansing.
Soaps made with only olive oil are on the conditioning side, meaning that they are mild, and not stripping, when used on skin. On the other hand, they don't form as much lather and aren't considered highly cleansing soaps.
Coconut oil in soap makes a nice lather and is very cleansing, but it can be drying on the skin when used alone.
Combining a variety of oils allows you to add the beneficial properties of each oil in the soap, making a soap that can be ideal for a number of uses.
Why make your own liquid soap?
While it is fun to make bar soaps, I find it more rewarding to make liquid soaps at home.
Let's face it, Dr. Bronner's Liquid Castile soap is a very handy soap to have on hand, but it can be pretty pricey. By making your own liquid Castile soap at home, you can save yourself a lot of money. (And it's actually pretty easy to do too!)
Watch how to make a liquid Castile soap:
What's in Dr. Bronner's Liquid Castile Soap?
Despite the fact that they call it a "pure Castile soap," it isn't a soap made only with olive oil. In fact, coconut oil is the main ingredient of the Dr. Bronner's soap that I tried to copycat (and of all the Dr. Bronner's soaps that I can find here.)
I chose to try to make a soap similar to the Dr. Bronner's 18-in-one Hemp Baby Unscented Pure Castile Soap. One of the reasons I chose that particular soap is that it is unscented, and it allows for me to see if my homemade liquid Castile soap has a similar natural scent. (I've noticed that my homemade liquid coconut oil soap and my homemade pure liquid Castile soap don't have the same scent. Both have a mild natural soap scent, but my coconut oil soap smells a lot more like the Dr. Bronner's soap than my soap made with olive oil.
Interestingly enough, I'm seeing that the version sold on Amazon in the US appears to be different from the bottle I bought at a local shop here in Spain.
Here in Spain palm kernel oil wasn't listed at all, but in the US it is the oil that is used in the highest concentration after the coconut oil.
In the US, the soap has this ingredient list: Water, Organic Coconut Oil, Potassium Hydroxide, Organic Palm Kernel Oil, Organic Olive Oil, Organic Hemp Oil, Organic Jojoba Oil, Citric Acid, Tocopherol
You'll notice that the main oil used is coconut oil, and that all of the other oils are used in a lesser quantity than even the lye itself. (In the case of liquid soaps, potassium hydroxide is the lye used.)
When I made my copycat liquid Castile soap, I didn't use palm kernel oil because I was trying to copy the bottle of soap that I had at home. I had no idea that they made different formulations of their soap here in Europe.
I tried to make my recipe as similar to theirs as possible, so I used coconut oil as the base oil for my liquid Castile soap recipe, and used the other oils in descending order, using a smaller amount of those oils than the potassium hydroxide just like theirs.
The last two ingredients in Dr. Bronner's soap are citric acid and tocopherol. Citric acid is likely used to neutralize the soap to keep it on the mild side. (You can read more about that in the section below about superfatting.)
Tocopherol is a form of vitamin E. It is often added to soaps to help extend the life of the soaps as it can help keep any excess oils from going rancid. In the case of liquid soaps that aren't normally superfatted, it probably doesn't help as much in this way, but it still may somehow help extend the shelf life somewhat. (Keep in mind that while the antioxidant properties of vitamin E can help extend an oil's shelf life, Vitamin E is NOT a preservative, and won't prevent bacterial or mold growth.) Still, vitamin E is a nice addition to any beauty product that will be used on face and body as it helps add moisture and can help soothe skin. You can most definitely add a few drops of vitamin E to your homemade liquid soap when you dilute it to help gain some of its positive benefits when using your liquid soap.
Differences between different oils in liquid Castile soap
When I first started making liquid Castile soap, I made the pure Castile soap with only olive oil as often as I made a liquid soap using coconut oil. I figured that for face and body use, the pure liquid Castile soap would be a lot better to use because soaps made with olive oil are milder and more conditioning than soaps made with coconut oil.
I wanted versatility, though, so I was making batches of both types of liquid soap to later combine them dependent on each paticular use. The nice thing about liquid soaps is that you can combine the soaps after having made them. I used a mixture of different liquid soaps, using mostly olive oil soap for general bathing and mostly coconut oil for cleaning around the house.
Since then, though, I've found that I use my homemade liquid soap made with coconut oil much more than I use the liquid Castile soap made with only olive oil. I even occasionally use it 100% in the shower, and don't find it to be drying on the skin. I think part of that may have to do with me using the glycerin method of liquid soap making. I use glycerin as part of the water component of the soap. I do it to help make an easier to use soap, but I think the extra glycerin (all soaps have glycerin in them that is made during the soap making process) likely helps prevent drying and makes a more conditioning soap.
Despite its popularity here on the blog (more than twice as many people check out the olive oil liquid castile soap recipe over the coconut oil liquid soap), I have to admit that I rarely make that recipe anymore. I find myself often making double batches of the liquid coconut oil soap, though. I think people are so used to seeing "liquid Castile soap" for sale, and assume that the olive oil soap, being called "Castile soap," will be closest to what they would normally buy.
That's part of the reason that I decided to come up with another recipe that would be a nice, versatile, all purpose cleanser like Dr. Bronner's liquid Castile soap. This new recipe would combine coconut oil and olive oil, along with a couple of other oils, to make one batch of all purpose liquid Castile soap. Some people had no desire to make two different batches of liquid soap, and I totally understand! Don't get me wrong; either of the other recipes is pretty multi-purpose as well, but this one allows you to make just one batch and use it for pretty much anywhere you'd want to use liquid soap.
How does this homemade soap compare to Dr. Bronner's Unscented Baby Mild Liquid Castile soap?
Scent comparison
While this soap had a similar scent, Dr. Bronner's has a natural fragrance somewhere between this soap and that of my coconut oil liquid soap. I think my soap smells a bit more like hemp oil than Dr. Bronner's version, which makes me think that I used higher concentrations of hemp and jojoba oils than Dr. Bronner's does. (This, of course, is all guesswork on my part!)
Seeing as how hemp oil and jojoba oils are the more expensive oils in those recipe, that would make a lot of sense. To save even more money, you could definitely reduce those oils in this recipe, but you'd have to run the new formula through a lye calculator first to make sure that you use the right amount of potassium hydroxide. When formulating liquid soap recipes, I usually use the Summer Bee Meadow lye calculator, as I've often read that it's the best calculator for liquid soap making. Not only does it take into account the water compnent in KOH vs. NaOH, but it also allows for calculating in glycerin and alcohol should you choose to use them.
Color comparison
My diluted soap is slightly lighter in color than my bottle of Dr. Bronner's. Dr. Bronner's soap is closer in color to my liquid soap paste. That likely means that their soap is a bit more concentrated than the soap I diluted to use as a hand soap. That makes sense when you consider that Dr. Bronner's soap is marketed as being very concentrated, and most people dilute it further before using it. If I were to dilute my liquid soap paste with less water, I'd likely be able to make a liquid soap of the same color as theirs.
I would like to say that I've also had the bottle of Dr. Bronner's soap for longer than my homemade liquid Castile soap. I've found that my liquid soap pastes tend to get slightly darker with time, so that could be another factor that affects the difference in color.
Use comparison
When using them, both soaps lather up nicely, and neither is drying on the skin. I don't really notice any differences while using them.
Why use Glycerin to this liquid Castile soap recipe (When Dr. Bronner's doesn't list it)?
Adding glycerin does add to the cost of making your own liquid Castile soap, but it does have several added benefits.
When I first started developing liquid soap recipes, I remember reading about people who replaced all of the water in the recipe with glycerin. The idea was that it makes the process more fool proof and speeds up the process of making a clear liquid soap.
I wanted to make the process of making liquid soap at home the easiest I could, so I chose to substitute part of the water component for glycerin. I've found that not only does it help move the process along quickly, converting the soap quickly into a liquid soap paste, but it also seems to make a very nice, mild liquid soap, even when only using coconut oil. When you take into consideration that liquid soaps aren't normally superfatted, that's saying a lot.
When making a homemade glycerin bar soap, I learned how glycerin can be a solvent of sorts that helps make a more transparent soap. My guess is that the addition of glycerin to my liquid soap helps to make it a bit more transparent even when I don't use excess lye in the recipe.
I also think that the addition of glycerin helps make a liquid soap paste that easily dissolves in water. I've read horror stories from people who have a difficult time trying to dilute their soap paste in water. On the other hand, I've always easily dissolved mine just by adding some water to it and leaving it alone for a few hours.
What is superfatting?
Superfatting is the process of adding more oils to a soap than what are needed to react with all of the lye used. The idea is that not only will all of the lye be safely converted into soap, but that leftover oils also remain in the soap to help leave the skin conditioned and soft.
While most bar soaps are superfatted, especially those meant for face and body, leftover oils in a liquid soap can cause cloudiness. Because most people are aiming to make a transparent liquid soap like the ones sold in stores, liquid soaps aren't normally superfatted. In fact, they are normally made with a lye excess and later "neutralized" to bring down the pH from the unreacted lye. You can read more about how to check the pH of soap and how to neutralize liquid soaps here. (The term neutralizing is a bit misleading as it will only bring the pH down slightly to a non-irritating range. You won't be bringing the soap to a neutral pH. It will still be alkaline.)
You'll notice that Dr. Bronner's liquid soap lists citric acid as one of the ingredients. My best guess is that they are using the citric acid to help neutralize their soap so that the pH isn't too high and doesn't irritate your skin, all while allowing for a nice, clear, transparent soap.
To simplify things, I've calculated all of my liquid soap recipes to be 0% superfatted. Basically that means that if the recipe is followed precisely, you shouldn't have any unreacted oil or any unreacted lye left.That said, it's very possible that even if you follow the recipe precisely with a well calibrated scale, that you may have the tiniest bit of one or the other leftover, but it shouldn't be enough to throw things far enough in either direction to make a big difference. If the soap is slightly cloudy, you may have some unreacted oils, but that will also make for a more conditioning soap. I personally don't have a problem with cloudy liquid soap, but if it bothers you, you can try making with a lye excess and neutralize the soap later. Or you could go the easy route and use an opaque soap dispenser. (There are some beautiful stainless steel and ceramic ones available.) 😉
If you do end up with some unreacted lye, as long as it isn't enough to bring the pH high enough so that it irritates the skin, it shouldn't be a problem. If you find the soap irritating to your skin, though, you can check the pH and try neutralizing the soap. Up until now, I've never had an issue with any of my homemade liquid soaps using the recipes I've shared with you.
How to make liquid Castile soap from scratch
Liquid Castile Soap - Dr. Bronner's Unscented Baby-Mild Copycat
Dr. Bronner's soap is a great all-purpose cleaner, but it can be quite expensive. Learn how easy and rewarding it is to make your own liquid Castile soap at home.
Ingredients
25

oz.

coconut oil

8

oz

olive oil

5

oz

hemp oil

3

oz

jojoba oil

9.68

oz

KOH

21.05

oz

distilled water

8

oz

glycerin
Instructions
Weigh out all of the oils and add them to a slow cooker on low heat.

Weigh out and mix together the distilled water and glycerin.

Dissolve the Potassium hydroxide (KOH) in the distilled water and glycerin mixture in a well ventilated area. Add the KOH to the water and not the other way around. Use gloves and safety goggles when working with potassium hydroxide. the mixture will heat up and get hot. Avoid inhaling the fumes.

Add the potassium hydroxide solution to the oils in the slow cooker and begin to slowly mix them together.

Use an immersion blender to blend the oils and potassium hydroxide solution together. At first it will get opaque and thicken slightly, then it will look curdled. Keep blending!

Continue blending until it gets more opaque and begins to get too thick to blend with the immersion blender. I stopped blending as soon as I felt too much resistance so as not to burn out the blender, and my soap paste turned more solid almost immediately after I stopped.

Continue to heat the paste, stirring as best you can with a spatula or spoon every half an hour or so. You want to continue to cook the soap paste until it becomes translucent. A good way to check what your final soap should look like is to dissolve a small amount in some distilled water and see if it dissolves clear. If not, continue to process a little longer. You'll probably end up cooking the paste for a few hours.

Once processed, you can store the soap paste in glass jars in a cool, dark place until you are ready to dilute it to make your liquid Castile soap.

Depending upon how concentrated you want your soap, dissolve the soap paste in distilled water. I usually use somewhere between 2-4 parts water for every 1 part of soap paste. I dissolve small amounts at a time and leave the rest as a soap paste until I need to use it. The soap paste will keep for longer than diluted liquid soap.

You can now add in any essential oils that you want to use to add a fragrance to your soap, or you can keep in unscented. You can also add in a few drops of tocopherol (vitamin E) at this time.

Enjoy using your homemade liquid Castile soap.
Recipe Notes
This recipe makes 4-4.5 lbs. of soap paste which can be diluted to 10-20 lbs. of liquid soap, or 1-2 gallons, depending on your dilution rate.
Keep in mind that liquid soap is not as thick as commercial gels and surfactants. You'll find that this soap, like Dr. Bronner's, doesn't need to look thick to be a concentrated, effective cleanser.
Read more about checking the pH and neutralizing liquid soap here.